An island in the middle of the Caribbean, Puerto Rico is home to lush tropical forests, beautiful waterfalls, and majestic mountains. Known in Spanish as La Isla del Encanto or the Island of Enchantment, there's more to this Caribbean hotspot than sun and sand.
Delicious local rums and tantalizing cocktails welcome you to the world's capital of rum, while local flavors come alive through a variety of dishes.
From mofongo and tostones to tembleque and coquito, there's so much to savor in this island nation. Here are the 20 most popular Puerto Rican dishes to sample on your next visit.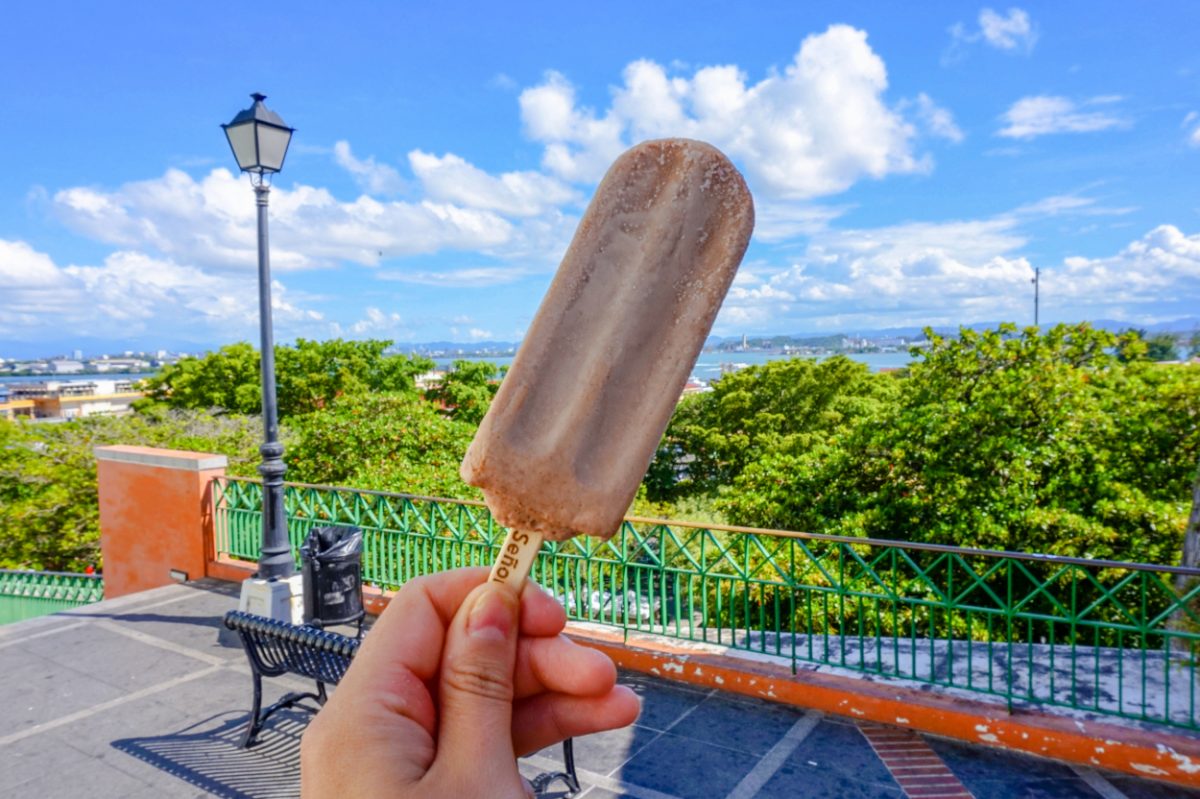 BEST PUERTO RICAN APPETIZERS
1. Aranitas (Fried Plantains)
Looking like the legs of spiders sticking out of the food, this popular Puerto Rican snack is named aranitas or 'little spiders' – a derivative of the word arana or spider.
Green plantains are shredded and fried with cilantro and mashed garlic to form aranitas, a crispy snack and a Puerto Rican staple often found served with garlic sauces and guacamole.
Taste them at cafes, restaurants, or street stands!
2. Pasteles (Meat Pies)
Pasteles are meat pies that owe their origin to the Spanish colonizers who brought enslaved Africans to Puerto Rico in the 19th century.
Made just like tamales, the pasteles are a popular Christmas dish in Puerto Rico. Eaten the rest of the year too, the traditional pasteles de masa are made with green plantains, calabassa pumpkins, potatoes, white yautia seasoned with milk or meat broth and stuffed with a mix of meat and spices.
The pasteles are wrapped in banana leaves and then steamed, boiled, or barbecued.
A similar dish, pasteles de yuca also includes cassava flour in the masa.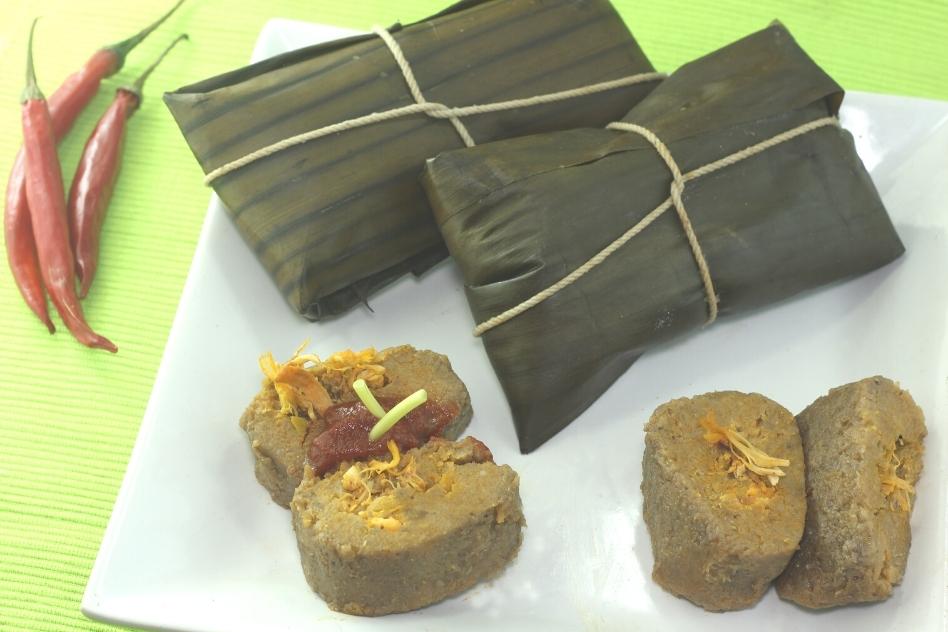 3. Bacalaitos (Cod Fritters)
You can't visit Puerto Rico without being exposed to seafood. All along the Caribbean coast, you can find stalls selling a variety of seafood or corn-based dishes.
The Latin American version of fish and chips, bacalaitos are smaller fritters of bacalao or cod. The salted cod is soaked in water overnight to remove the salt. It's then boiled, grated, breaded, seasoned with adobo and sofrito, and deep-fried in oil.
The flavorful fritters can be eaten as a warm snack or appetizer.
4. Tostones (Fried Plantains)
Yes, yet another banana dish. Plantains are very popular in Puerto Rico, and are used in many dishes from snacks to meals to desserts!
Tostones are made by frying unripe sliced plantains in oil, then squashing or flattening them into something that looks like a fritter using a tostonera which is a hinged utensil made for pounding food, and then refrying them in oil.
Tostones can be sprinkled with salt and eaten plain, or served with mojo de ajo, a garlic sauce.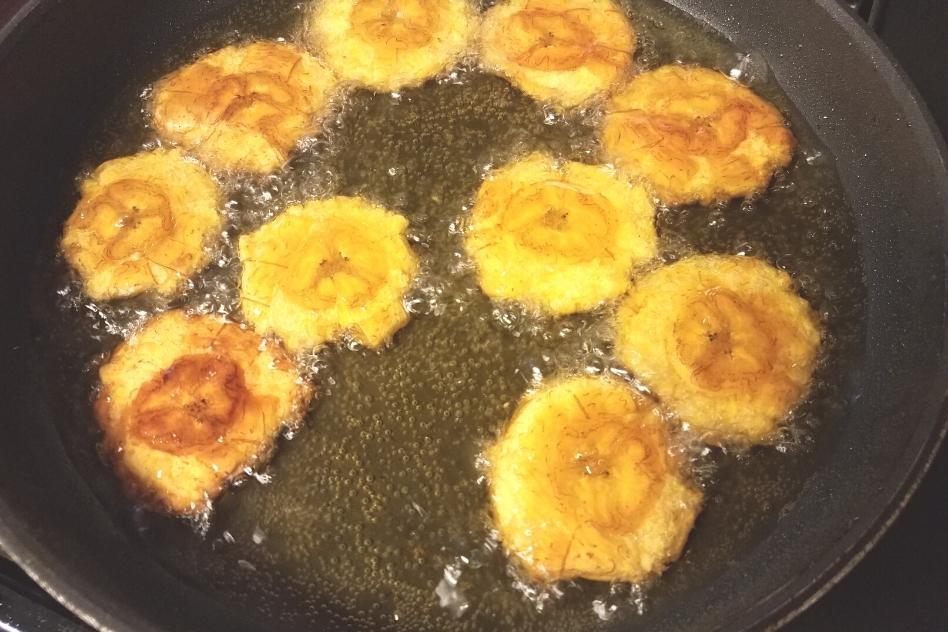 ---
PUERTO RICAN DINNER DISHES YOU CAN'T MISS!
5. Asopao de Pollo (Chicken Soup-Stew)
Asopao, derived from sopa or soup is a cross between a soup and a stew.
Considered the national soup of Puerto Rico, the dish consists of meat, pigeon peas, spices, and rice cooked with tomatoes, onion, olives, peppers, and more. The other ingredients in the soup may change, but parboiled rice is always included.
The most popular version of asopao is the traditional asopao de pollo or chicken stew. Rich and filling, you'll find it in restaurants and homes across the country.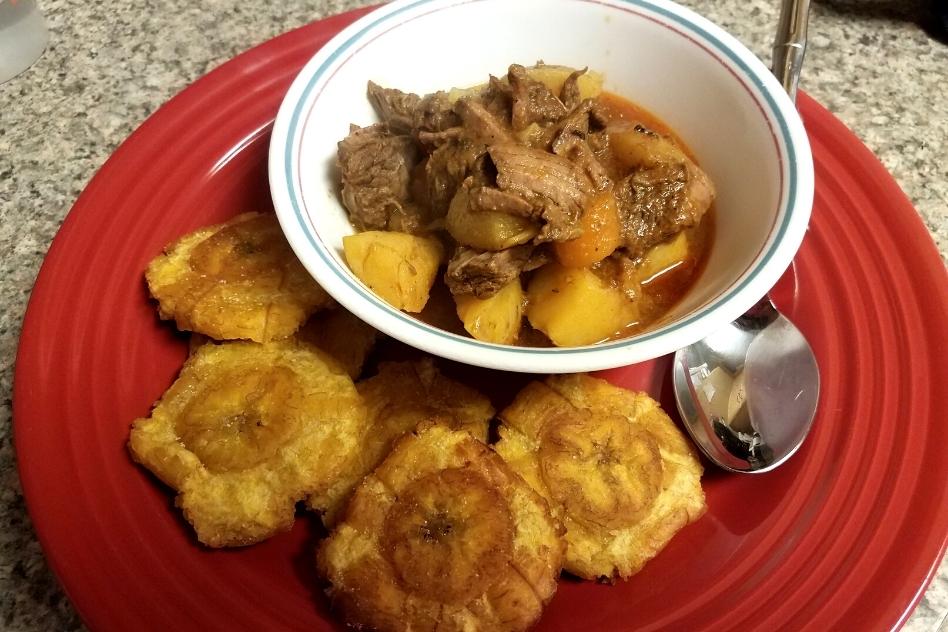 6. Pinon or Pastelon (Lasagna-type dish)
Ever wondered what lasagna would taste like if it included fruits instead of sheets of pasta? You don't have to wonder anymore.
Pinon or pastelon is the Puerto Rican version of the Italian lasagna. Made with banana slices instead of lasagna, it tastes different to the palate.
But the fact that there's minced beef, tomato sauce, and plenty of cheese, redeems the dish, in my eyes at least! Depending on the region, you'll also find versions that include green beans, sofrito, olives, and more.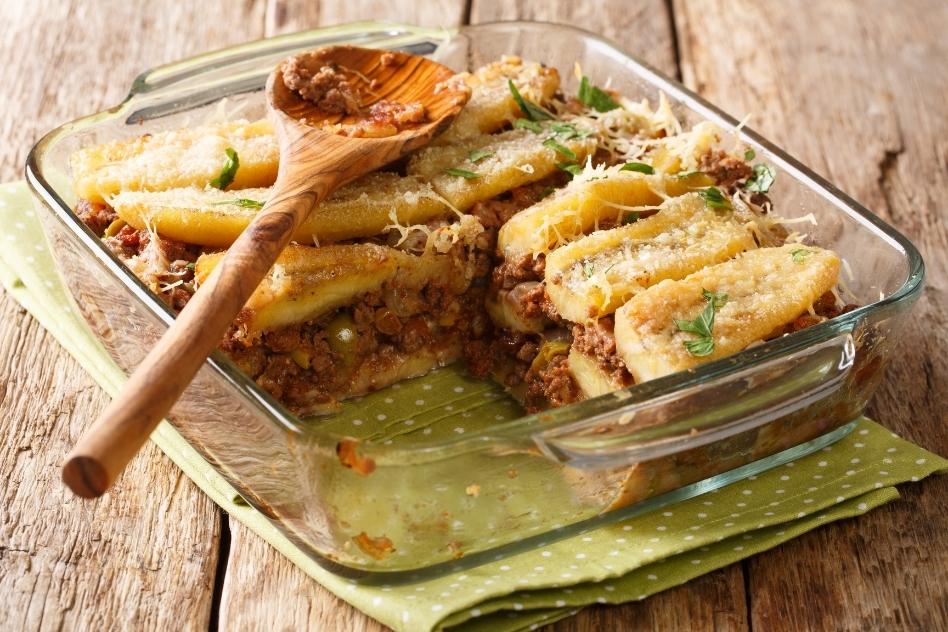 7. Tripleta (Sandwich with 3 types of meat)
If you're looking for a sandwich that needs at least two people to finish it, this is it!
The tripleta is a Puerto Rican favorite made with three different types of meat – beef, chicken, and ham. It also contains layers of tomatoes, cabbage, cheese, onions, ketchup, mayonnaise, lettuce, and more.
You'll find tripleta everywhere, but the best places to taste some are the street vendors out at night selling this meaty heaven!
8. Mofongo (Mashed Plantians)
Once made of unripe plantains mashed together and seasoned with spices, the mofongo is credited to the West African slaves who were brought to Puerto Rico by the Spanish invaders.
Nowadays, of course, the plantains are fried before being mashed with garlic and bacon bits.
Formed into a ball, the mofongo looks a lot like mashed potatoes and is served with pork, shrimp, or chicken. Here's a good recipe for the traditional mofongo.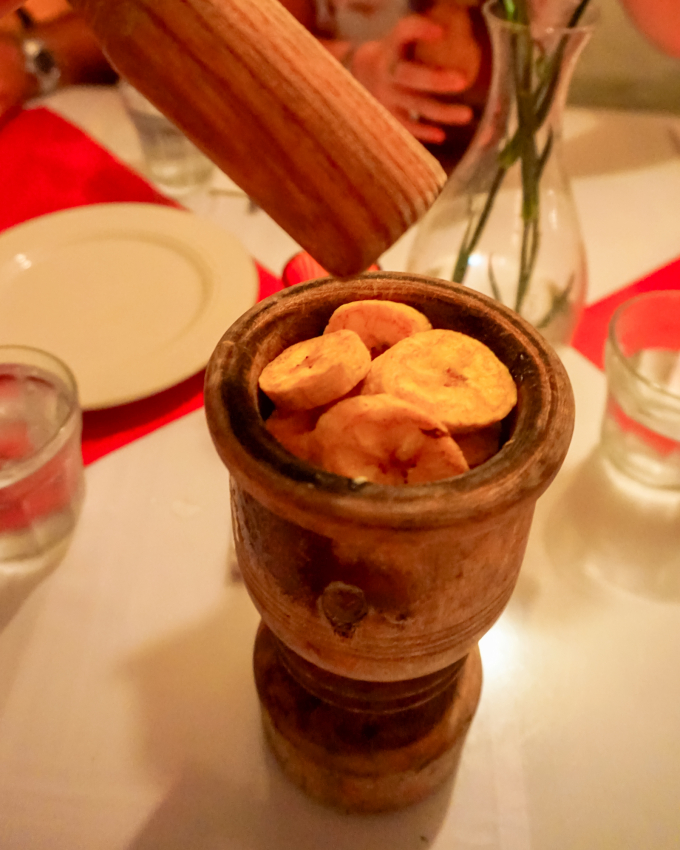 9. Pernil (Roasted Pork Shoulder)
Pork shoulders seasoned with an adobo marinade and left alone for a day, then slow-roasted till it's succulent and juicy.
Called pernil or pernil asado, the dish calls for the use of the whole pork shoulder or pork butt. It's cooked till the meat falls off the bones and the skin is nice and crispy. You'll often find it served with arroz con gandules.
Pernil is usually popular during Christmas, festivals, birthdays and weddings, but available throughout the year in Puerto Rico.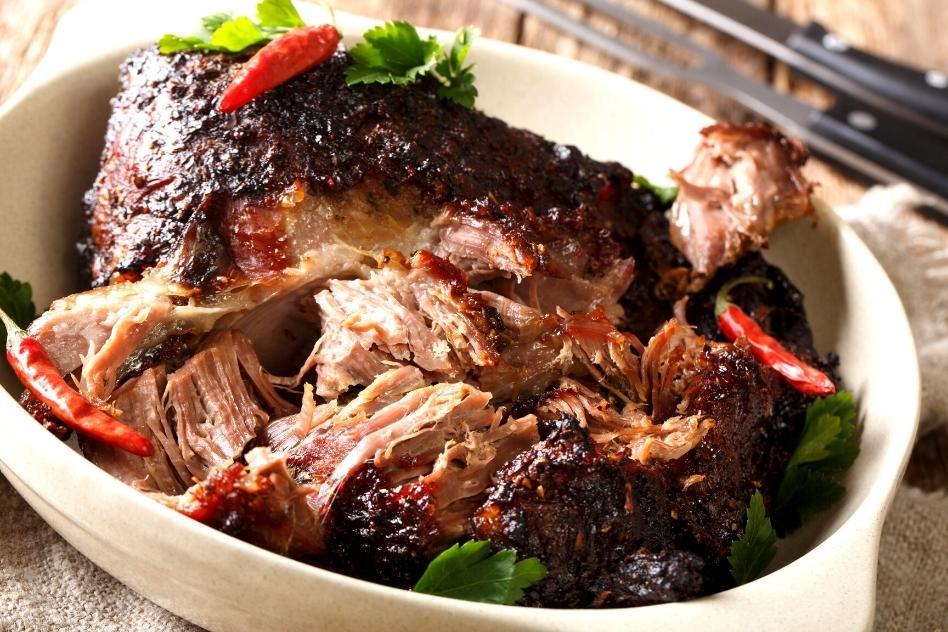 10. Pollo Guisado (Chicken Stew)
Almost every culture has its own version of stew, and Puerto Rico is no less different. Chicken stew Puerto Rican style is more flavorful and spicy than any other you've tasted.
Made with sofrito, tomato sauce, red and green peppers, chicken broth, potatoes, garlic, seasonings, and of course chicken, this dish will have you drooling in no time!
Served with white rice or mofongo, the pollo guisado is so spicy and tender you might want to eat just this one dish everywhere in Puerto Rico.
11. Bistec Encebollado (Beef )
Beef is sliced so thin and marinated with spices such as adobo and vinegar. Left alone for the whole night or at least 12 hours, the beef is bursting with flavor the next day.
The marinated beef is cooked with onion rings and sofrito or adobo sauce. Hence the name encebollado, or cooked with onions.
You'll often find bistec encebollado served with white rice and fried plantains.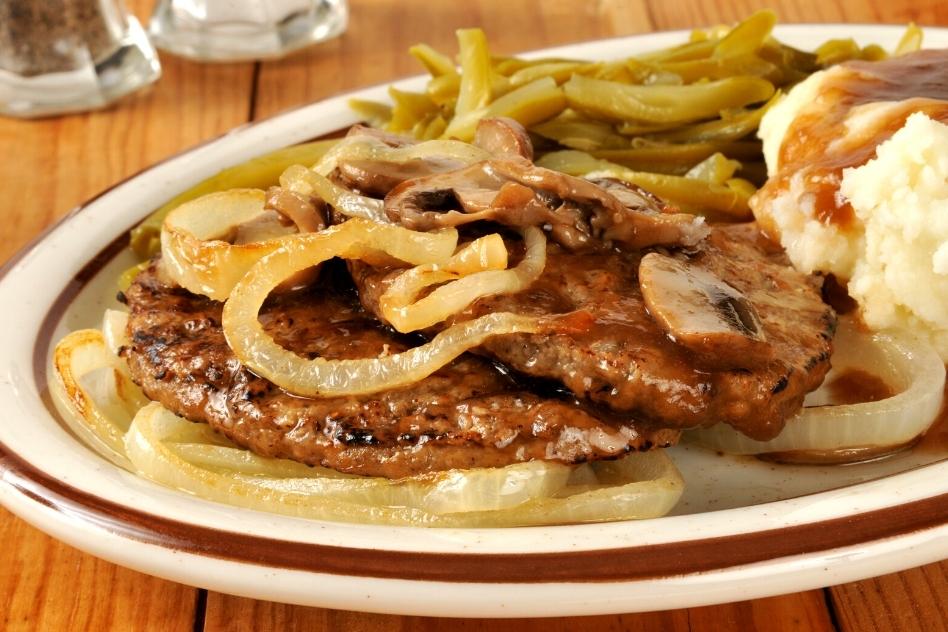 12. Arroz Con Gandules (Rice with Pigeon Peas)
One of the national dishes of Puerto Rico, the recipe for arroz con gandules will vary from city to city and region to region.
The main ingredients in this one-pot dish are sofrito, rice and pigeon peas. Pigeon peas are not native to Puerto Rico, but that were originally from India, then made their way to the New World via Africa.
Many local variations also include pork in the form of ham, bacon, sausages, or pork belly. If not cooked with pork, the dish will often be served with roasted pork.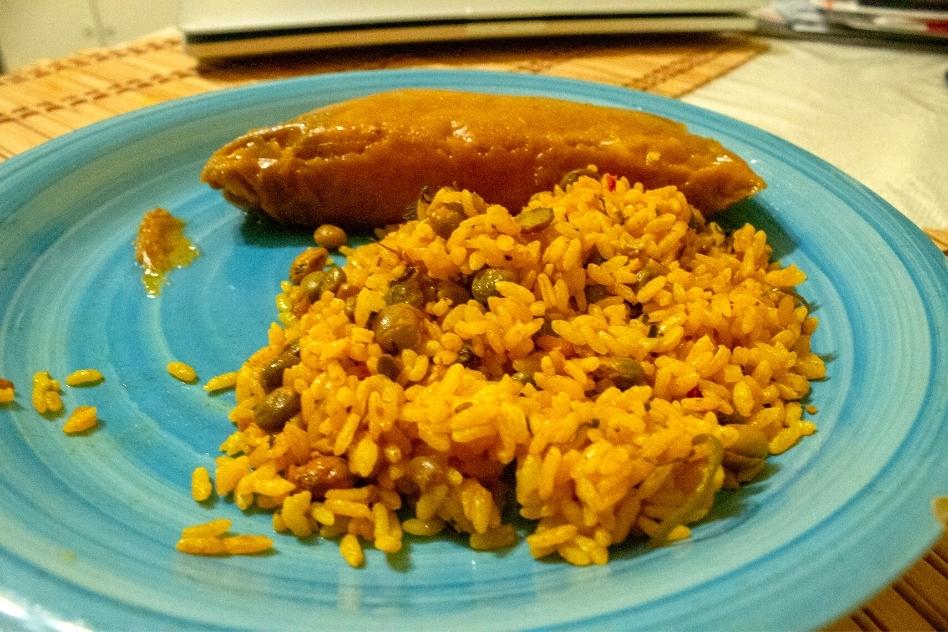 13. Empanadillas (Deep fried meat pies)
Empanadillas are buttery, flaky Puerto Rican pastries filled with ground meat from chicken, pork, or beef, cheese, or other savory mixes. The smaller version of empanadas, these handmade pies are moon-shaped and fried or baked.
Vegetarian versions are made with boiled potatoes or yams, cheese, or other chopped veggies. Seafood empanadillas made with shrimp or fish meat are also popular along the coast.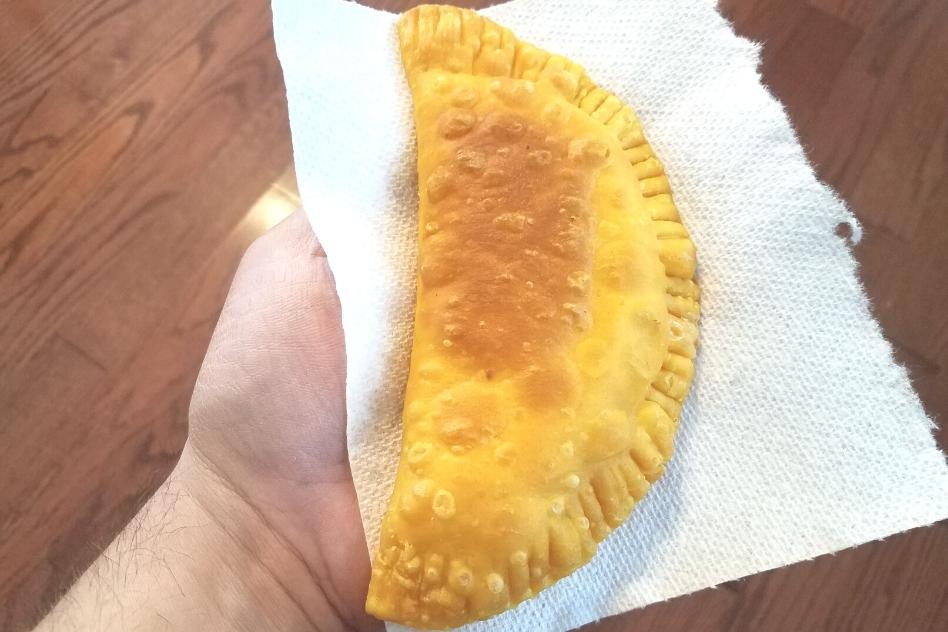 ---
TASTY PUERTO RICAN DRINKS
14. Puerto Rican Rum
Puerto Rico is the largest producer of rum in the world. No wonder rum is the country's national drink. Ron del Barrilito is the country's oldest rum that's still in production.
Pedro Fernandez from the Hacienda Santa Ana returned from his studies in France in 1871.
Following the European custom of families producing their own rum, he created his rum in a barrel. It became popular, and his guests would often as for some "rum from the small barrel" or "ron del barrilito".
In 1880, Pedro started selling the rum under that name, and it's stayed the same since. You can find out more about San Juan's oldest rum on this tour.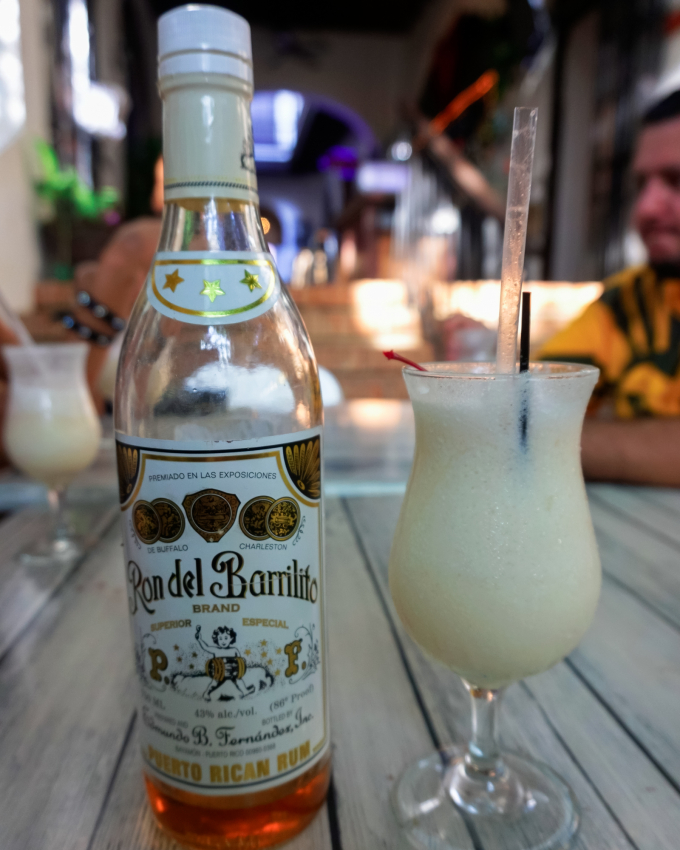 15. Coquito (Little Coconut)
A traditional holiday drink, Coquito means 'little coconut'. It's made from cream of coconut, evaporated milk, condensed milk, white rum, cinnamon, and vanilla.
Often referred to as Puerto Rican Eggnogg, you must definitely try a shot!
Some versions of coquito are also made with guavas, pineapple juice, pumpkin spice, Nutella, or honey.
16. Refresco de Avena
Refresco de Avena literally means oatmeal soda. It's an oatmeal-based drink made with oatmeal, cinnamon, cloves, and sugar steeped or stewed in milk and water.
Other spices that may be added are vanilla, nutmeg, allspice, ginger, and citrus peel.
Refreshing and cooling, it has similarities with the Mexican horchata made of rice and can be found in restaurants and stores everywhere!
---
DELICIOUS PUERTO RICAN DESSERTS!
17. Arroz Con Dulce (Rice Pudding)
A rice-based pudding, the arroz con dulce is made by cooking rice in milk and coconut milk with nutmeg, cinnamon, cloves, and other spices till it's pudding-like in texture.
A derivative of its Spanish influences, this rice-based dessert is creamy and sometimes flavored with raisins or ginger.
The holiday version of this dessert also includes rum. Another popular version that you must try is the arroz con dulce y queso, sweet rice pudding with cream cheese.
18. Alfajores (Dulce De Leche pastries)
Another dessert brought to Puerto Rico by the Spanish, the alfajores or 'alfajor' in singular is a bit different than its other Latin American cousins.
The traditional pastry is made of two rounds of flour and almonds and a filling of dulce de leche. However here in Puerto Rico, the pastry is made with cassava flour.
The native Creole alfajores were made by draining the cassava, frying it into a fine cake, then crumbling it, mixing it with grated ginger and sugar, and cooking in a banana leaf.
Modern alfajores however look more like biscuit pastries and have fillings of dulce de leche, fruit paste, honey, or citrus zest. Sometimes the filling is mixed with almond flakes, coconut flakes, or sesame seeds.
Taste a few and try to spot the differences between these alfajores and their Latin American cousins.
19. Tres Leche (Three milks cake)
Tres leche is a sponge cake made by soaking it with three different kinds of milk – usually regular milk, heavy cream, and evaporated milk. The fully soaked cake is topped with whipped cream and served. One might think there's too much milk in this cake, but taste a bite, and you'll find it amazing!
Popular all over Latin America with Cuba, Nicaragua, Puerto Rico, and Guatemala claiming they invented it. But it's quite possible that tres leches was invented in Mexico.
The Puerto Rican-style version of tres leches takes the cake to new heights by adding cream of coconut and rum!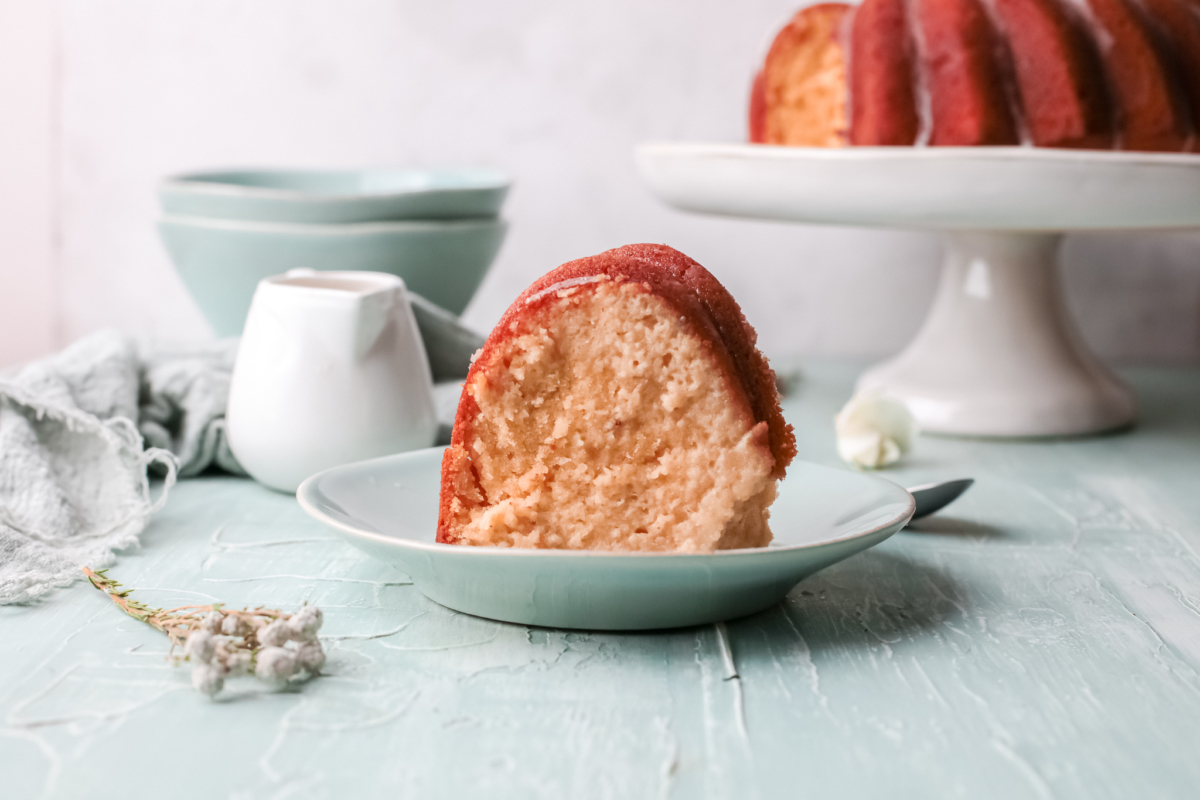 20. Tembleque (Coconut Milk Pudding)
Tembleque de Coco, or tembleque as it's referred to is a dessert made by cooking coconut milk, coconut cream, sugar, cinnamon with cornstarch. Sometimes orange peel or orange blossom water is also added.
One of the most eaten Puerto Rican desserts, tembleque originated in Puerto Rico as a jiggly coconut delicacy. In fact, the name tembleque describes the act of shaking or shivering like a jelly.
The rich and flavorful coconut pudding is considered the national dessert!
You could enjoy some traditional Puerto Rican dishes on these street food tours: