Upon landing in Dominica, located in the Caribbean, you'll be met by a valley covered in waterfalls and trees. It's a true pearl of the Caribbean islands and there are many things to do in Dominica.
This island, also referred to as Nature Island, is one of the most sought-after diving regions in the world due to its diverse marine life and wild rainforests.
Compared to other nearby countries, visitors to the island don't crowd the streets and villages of its cities. Instead, they can explore the island at their own pace. Take a dolphin or whale watching tour, hike the many varieties of hiking trails, or go scuba diving!
From the commercial capital Roseau to the fishing villages of Scotts Head, there are plenty of things to do on Dominica whether you're looking to get active or slow down.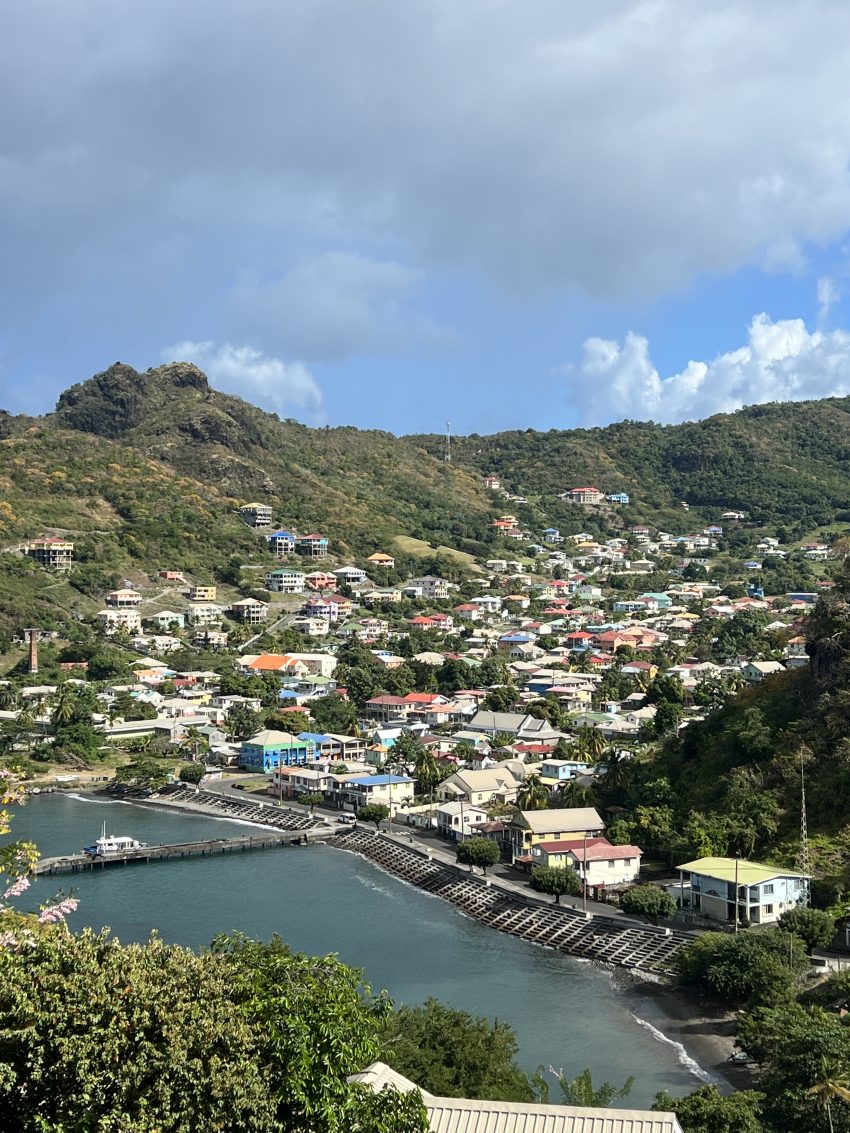 1. Spot Some Whales And Dolphins On a Tour
Whale watching is one of the most popular activities in Dominica. The island's waters are home to various types of whales such as the short-fin pilot, the pygmy sperm whale, and the false killer whale.
The largest concentration of these animals is the pod of sperm whales living in Dominica's waters.
Whale-watching tours operate using hydrophone technology, which allows the operators to track the animals' location. Although sightings on these tours are not always guaranteed, they're pretty standard!
Recommended Tours:
PH Whale Watch & Dolphin Cruise in Dominica
Roseau: Guided Dolphin and Whale Watch Tour With Drinks
---
2. Hike to Boiling Lake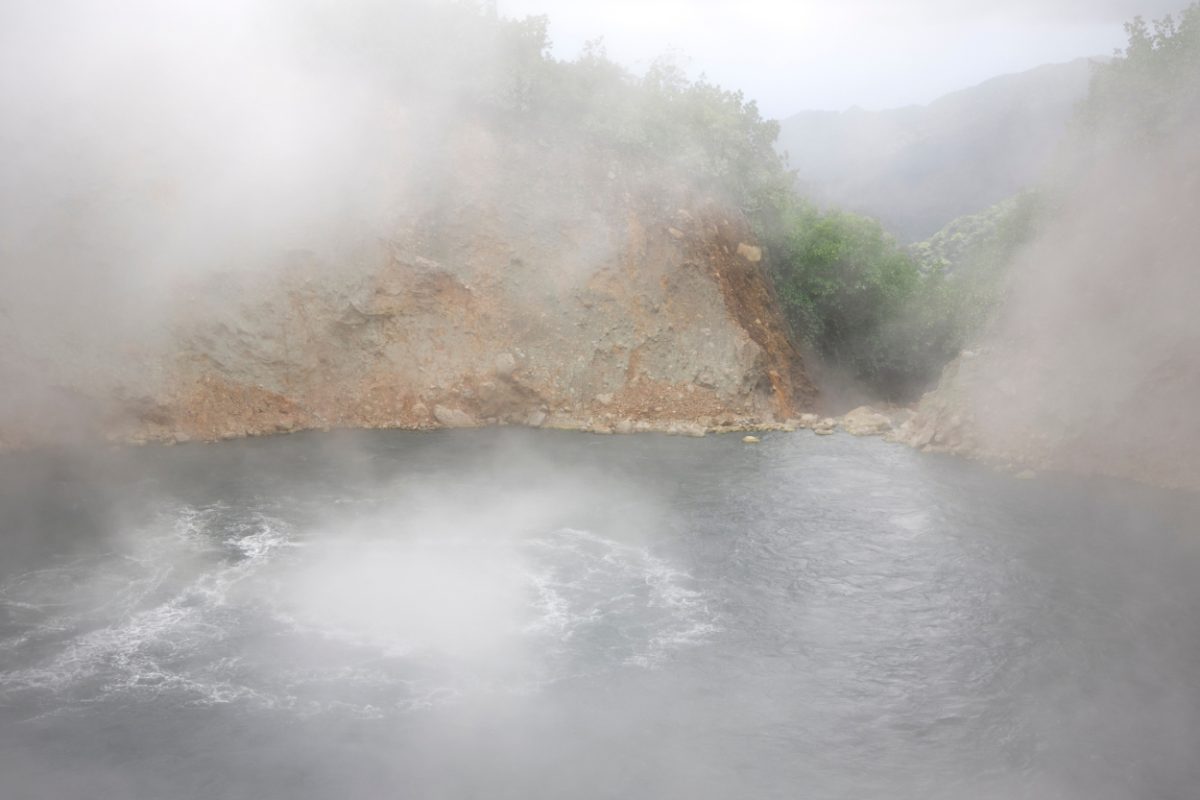 Boiling Lake is the second biggest of its kind the in world! Getting its name from the heat of the water coupled with the rising steam which often forms clouds of vapor above its surface, visiting this lake is a very unique experience!
This lake is formed by a steam vent in the Earth's crust and the rising water vapors create an ethereal atmosphere, making it a great reward for the trek to get here.
To reach the lake you must hike the Boiling Lake Trail to the Valley of Desolation, a challenging 8-mile walk that only experienced hikers should attempt without a guide. The trail, which features numerous steep inclines and rugged terrain, takes around three hours to complete.
Recommended Tours:
Boiling Lake Hike in Dominica
Roseau: Boiling Lake Challenge Hiking Tour with Local Guide
3. Check Out A Spa Heated By A Volcano
Nestled in the small village of Wotten Waven in the Roseau Valley, you will find various attractive spa facilities, built thanks to the area's numerous hot springs and streams.
The spas are set in colorful gardens and feature multiple pools, with water temperatures regulated through a network of bamboo channels and pipes.
Remember that the various pools at the spa are filled with the aroma and color of sulfur, but a soak in these pools can be ideal at night, as the sounds of the forest and the clear skies can be enjoyed!
Recommended Tours:
Dominica Half-Day Tour: Mero Beach, Waterfalls, Mineral bath Wotten Waven
4. Take A Trip To The Emerald Pool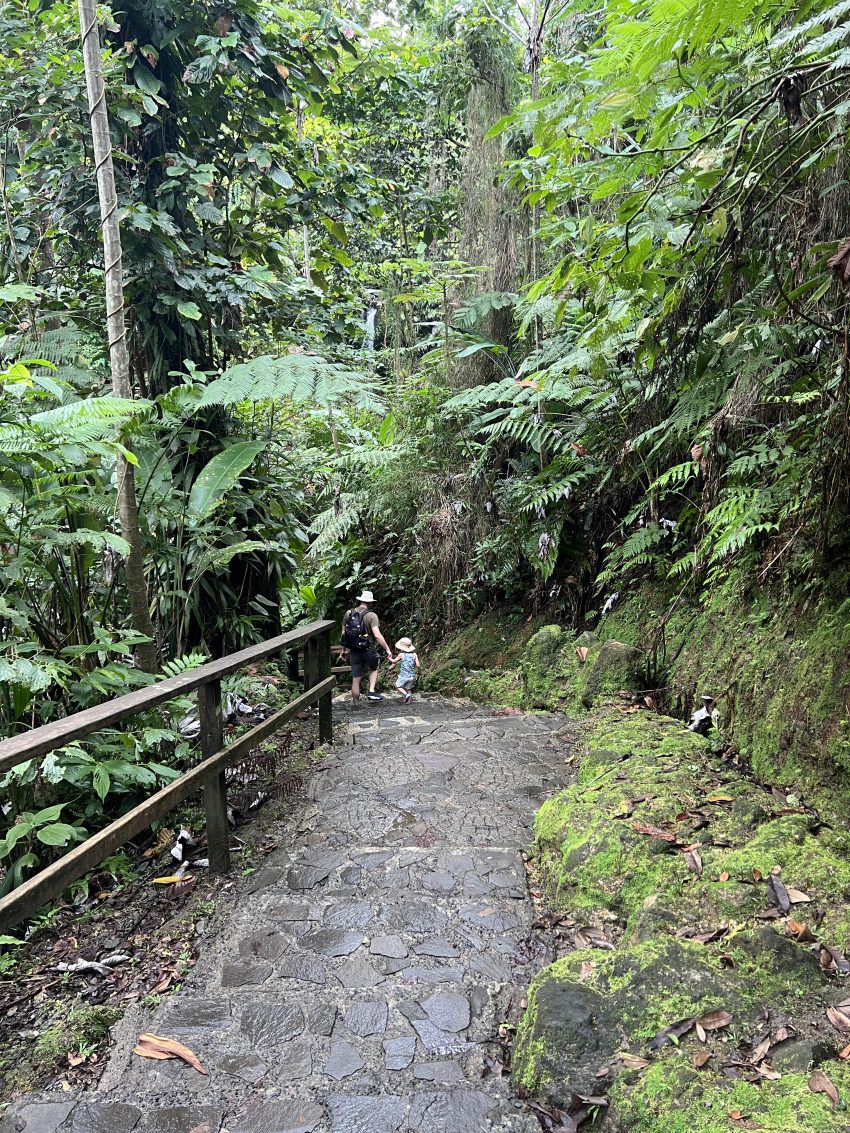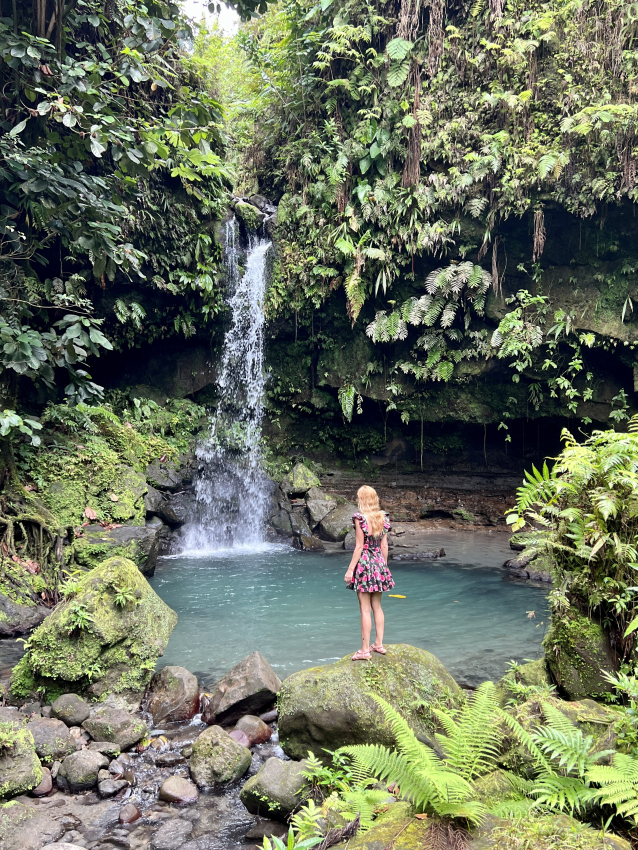 The emerald-green waters of Dominica's Emerald Pool are a must-visit for anyone planning a trip to the island.
This natural wonder features a waterfall that's fed by clear mountain water and its dramatic and vibrant colors have been used as the backdrop for numerous movies and weddings.
The beautiful Emerald Pool waterfall is located in the Morne Trois Pitons National Park. It's a great place to cool off and enjoy the outdoors with a forest view, and it's only a ten-minute drive from Bruce Road.
Recommended Tours:
Guided Day Trip to Popular Dominican Waterfalls
Pepper's Choice : Waterfalls, Sulphur Spa & Volcanic Black Sand Beach
5. Go Canyoning in Titou Gorge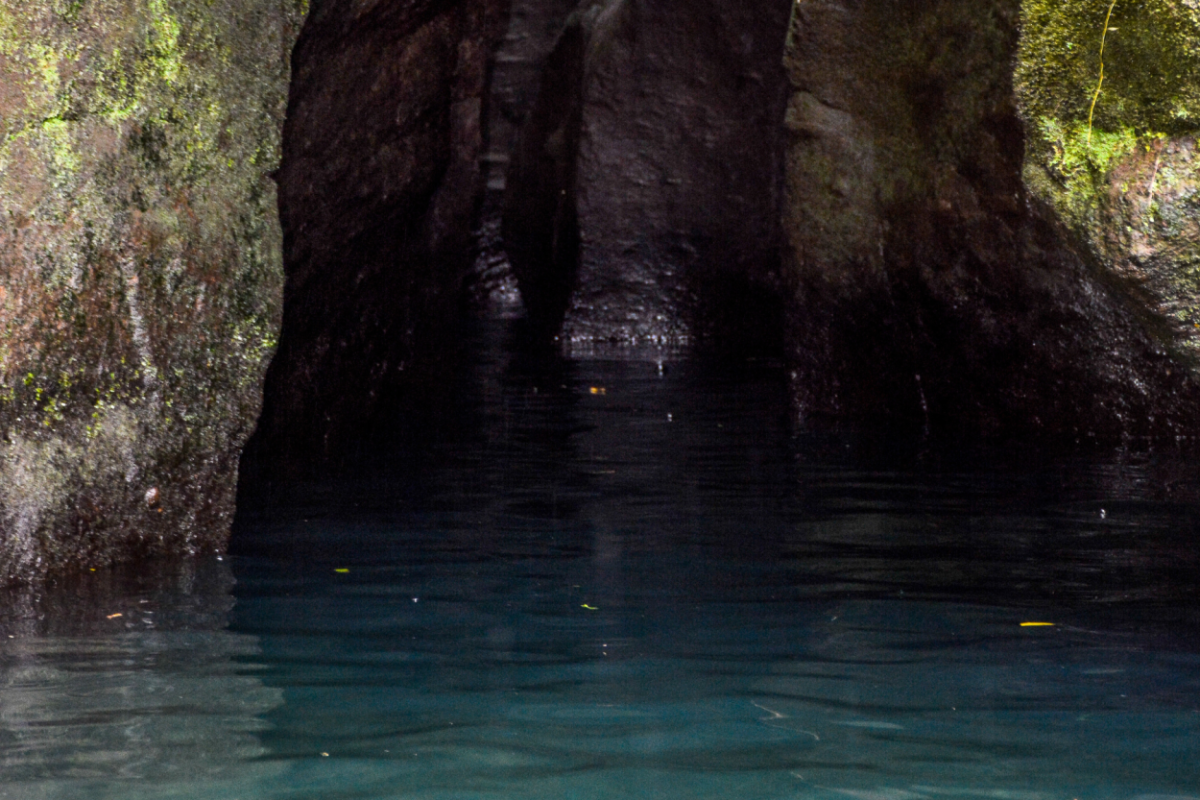 If you're a fan of Pirates of the Caribbean, you'll also want to visit Titou Gorge, where Captain Jack and his crew go after escaping from a tribe in the second movie.
This natural cave was formed as a result of volcanic lava that cooled after it was split open. The waters of this cave are crystal clear and have an excellent, refreshing feel.
Canyoning is a great way to experience the thrill of adrenaline whilst experiencing nature up close. Jump off cliffs, swim through rivers, and repel down waterfalls for a fun day of adventure.
You can also enjoy a hot spring outside the cave if the temperature gets too cold!
Recommended Tours:
Middleham Falls and Titou Gorge Half-Day Hiking Trip
6. Hike On The Waitukubuli National Trail
The Waitukubuli National Trail spans the entirety of Dominica, featuring various facets of the island's culture and heritage, divided into multiple segments, so starting and ending at any point along the way is easy.
It's the first long-distance trail in the Caribbean and there are plenty of must-do activities along the way, such as organic farms, waterfalls, homestays, and sulfur spas.
The Amazing Race fans can also participate in the Nature Island Challenge, where teams race across the island completing challenges as they go.
7. Tour The Dominica Museum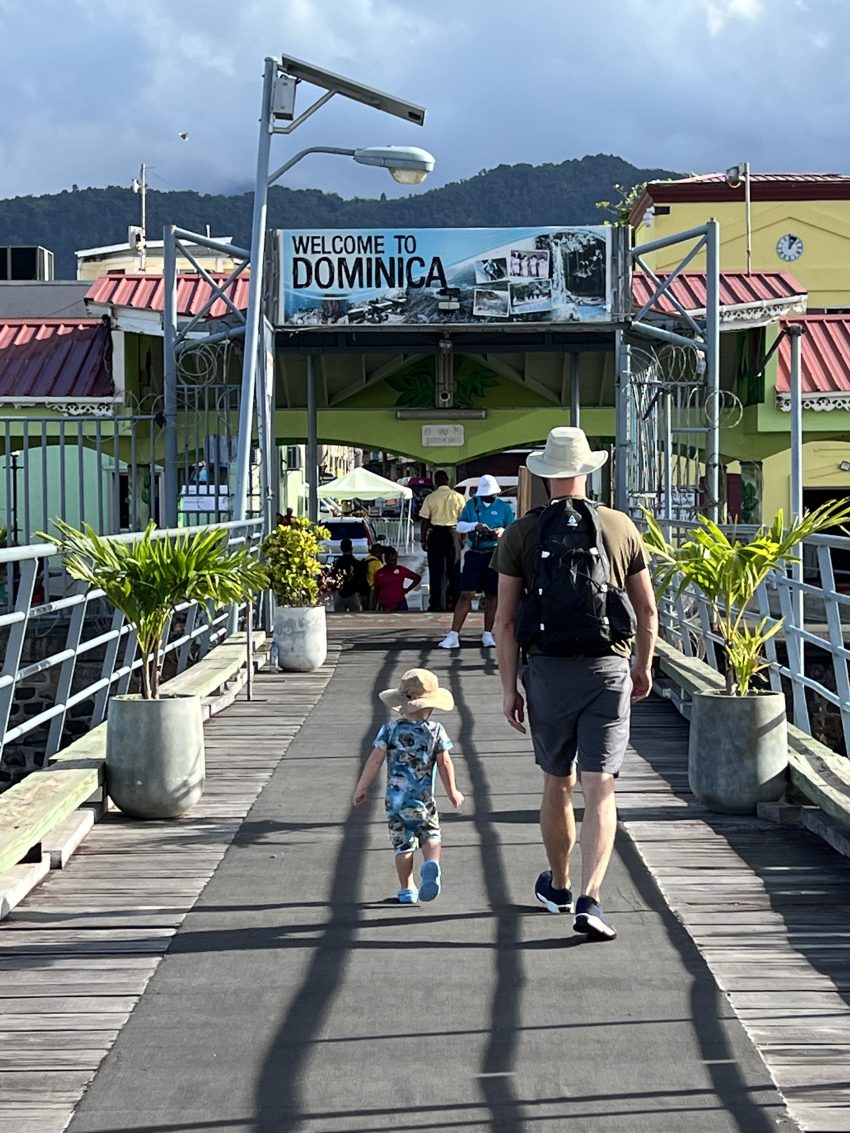 The Museum of Dominica is located in the Old Market area of Roseau, which used to be a slave trading center. Just in front of the cruise ferry terminal.
There's not much information about it online so if you are searching for it, it is above the Tourist Information Center which can be found on the street level.
Lennox Honychurch, a prominent historian, is the director of the museum. It's a small but significant facility that showcases various items related to the island's history and culture. Some of the exhibits include old musical instruments and volcanology displays.
8. Hike Around Trafalgar Falls
Located in the mountains just a 20 min drive from the city, the twin Trafalgar Falls flows into both hot and cold mineral springs near the bottom where you can bathe in the pool of your choice.
One of the most popular activities in Dominica is the walk to Trafalgar Falls. This waterfall, which is referred to as Mother and Father, is located near a forest filled with vanilla orchids and ginger plants making it a delightful walk with a great reward
Recommended Tours:
Roseau City Tour with Botanical Gardens & Trafalgar Falls
Guided Day Trip to Popular Dominican Waterfalls
9. Take Part In Dominica's Festivals
The island's various festivals are popular with both locals and tourists, celebrating the island's heritage, music, and ties to the ocean.
The country's Carnival season kicks off with various events, such as a calypso competition and a carnival queen contest which is held during the two weeks prior to the start of Lent.
This event is an excellent way for families to get together enjoying the vibrant outfits and tasty treats that are offered at the carnival.
Next up is the Dominica Festival of Arts which takes place in May featuring various genres of music, literature, and dance.
In July, the Dive Fest is held, and in October, the World Music Creole Festival takes place. Both events draw water lovers as well as music lovers.
Lastly, the country's Independence celebrations take place throughout October and November. This event is held to honor the island's past and its Creole customs with various events such as the Miss Wob Dwiyet pageant and the Timarador competition taking place throughout the weeks of celebration.
10. Book A Ride On The Indian River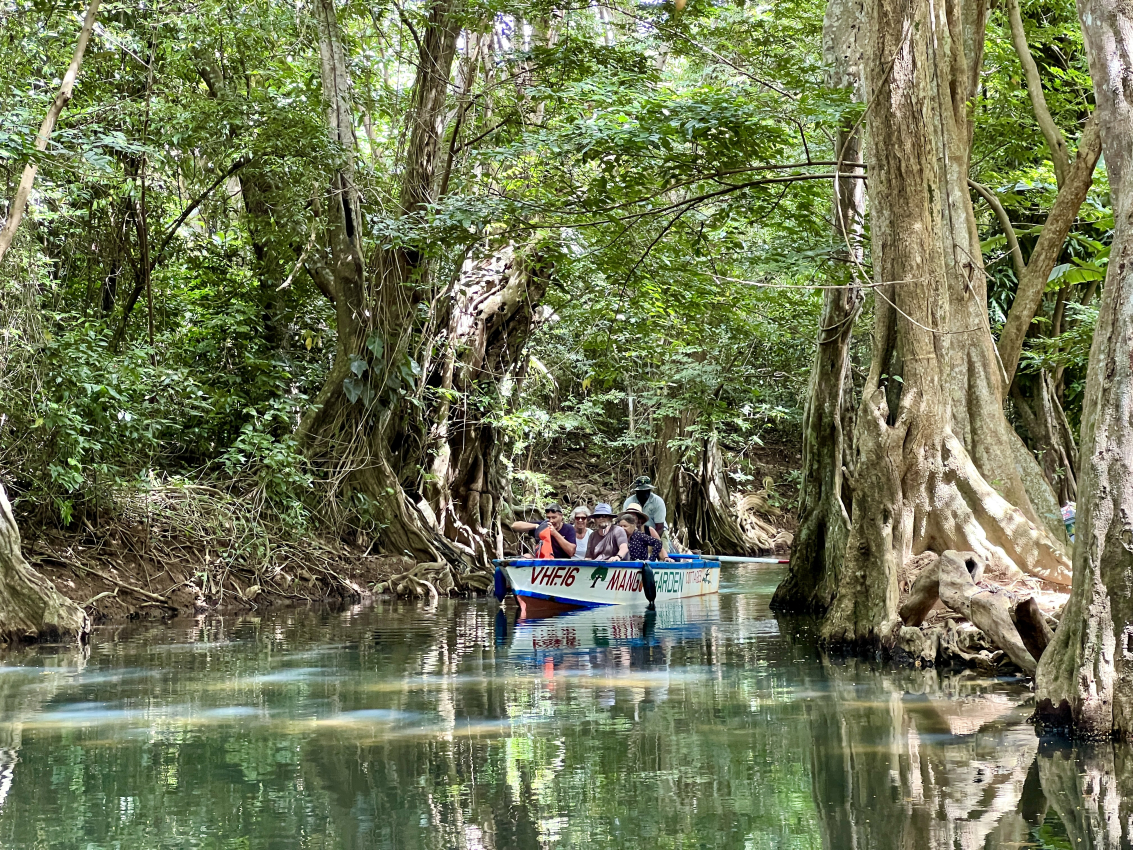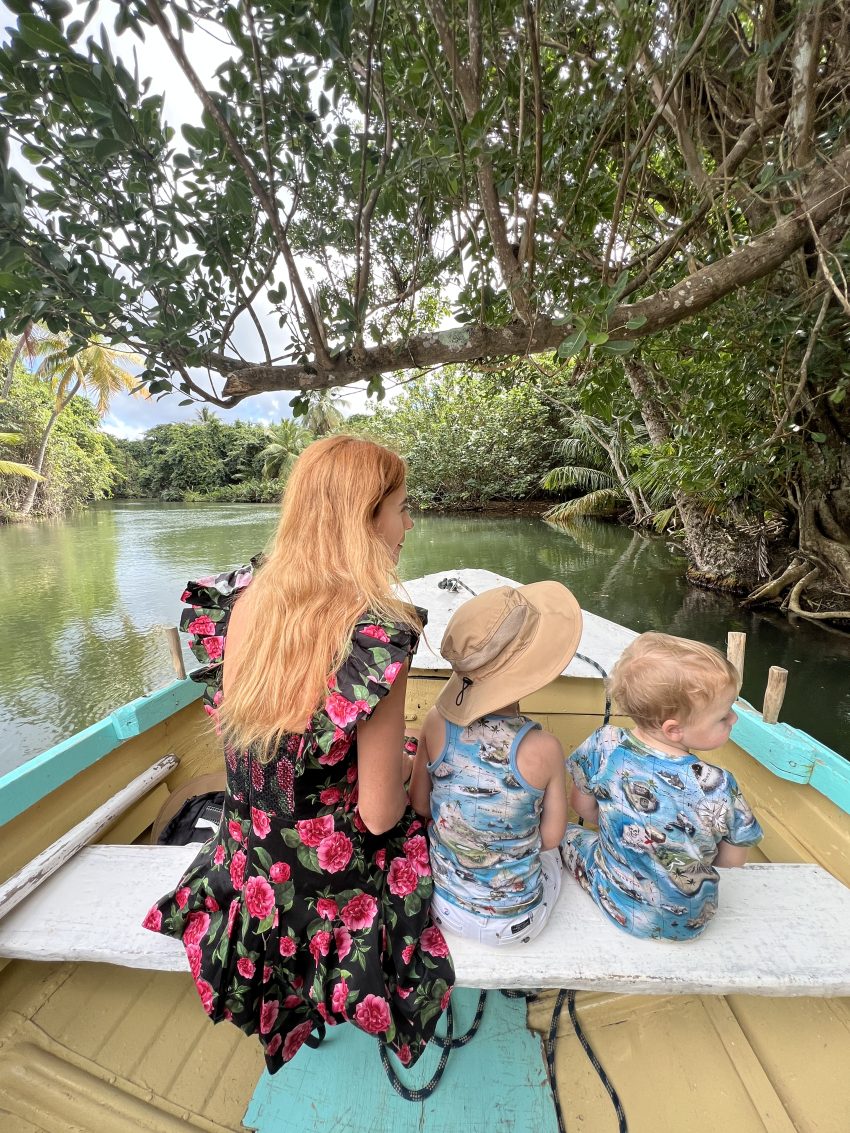 A tranquil boat ride through the Indian River is highly recommended for any fans of the "Pirates of the Caribbean" movies as you will be transported into a beautiful coastal wetland.
This river is a great place to watch the birds and take in the unique scenery while enjoying your trip in a colorful wooden boat, but you will even get the chance to visit the unique bush bar and grab a local rum drink!
Recommended Tours:
Indian River & Ft. Shirley Private Tour with Lunch
---
11. Learn To Cook Creole Dishes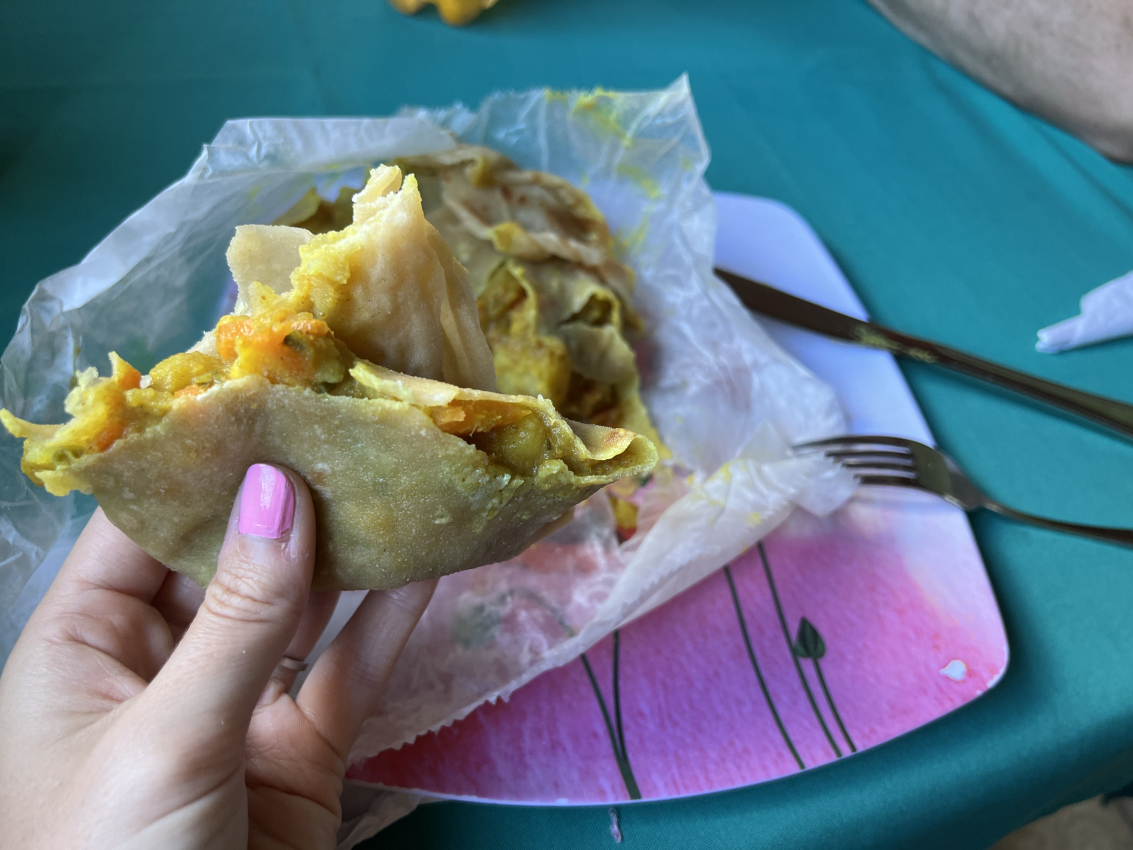 Dominica's Creole heritage features a variety of traditional dishes and music which can be enjoyed all over the island, any time of the year.
But for those who would like to take home the ultimate souvenir, signing up for a cooking class is a great way to learn to cook these delicious meals yourself.
During the class, your small group will learn how to prepare various Creole dishes such as callaloo soup, braf, and pelau, in the home of your chef/teacher!
After the hard work is done you can relax in the garden and enjoy the food that you've cooked!
Recommended Tours:
Caribbean Cooking Class with Daria
---
12. Sunbathe On Dominica's Beaches
If you're visiting the Caribbean you have to spend at least one day unwinding on a sandy beach! In Dominica, you have more than enough beautiful beaches to choose from, so let's go through the best options.
Many tourists visit Champagne Beach because it gives you access to Dominica's famous Champagne Reef. This area is also known for its warm waters and vibrant geothermal activity (I will talk about this more in #14).
Another one of the island's most beautiful beaches is Batibou Beach. This remote and wild area is located on Dominica's far north coast. Getting to this beach can be an adventure, as 4WD vehicles are required to access it but you'll be rewarded with a beautiful beach that features thick coconut palm forests and green peaks
Lastly, Portsmouth is the second-largest town in Dominica where you'll find many things to do including a beach named Purple Turtle. This is a lovely stretch of sand with a restaurant located on its edge and is the location where many turtles lay their eggs each year.
13. Learn about The Kalinago Culture
When visiting another country it is always beneficial to learn about the area's indigenous people, in Dominica, this is the Kalinago People.
Members of the Kalinago tribe are the descendants of the Lesser Antilles' pre-Columbian indigenous people who live on what nature provides. The 3,000 members of the Kalinago tribe live on approximately 3,700 acres of land that's part of Dominica's eastern side.
There are many ways you can learn about the history and customs of the Kalinago people, with tours designed to provide you with an opportunity to connect with the culture while benefiting the local community.
While you can choose between tours, day trips, or overnight stays, a visit to the educational village of Kalinago Barana Autê is a good choice.
The village is situated amid breadfruit and banana trees, featuring wooden buildings and houses, allowing you to explore the area and learn about the Carib Indians' traditions. You can also see them carving dugout canoes and weaving mats.
The Caribs depend on agriculture and fishing for their livelihood and sell their products to tourists. Although this village is a bit off the beaten path, it offers a unique perspective on Dominica's fascinating history.
Recommended Tours:
Day Trip to Carib Cultural Village with Local Lunch
14. Scuba Dive In The Champagne Reef
One of the most alluring attractions for scuba diving fanatics is the Champagne Reef. The Champagne Reef is a fascinating place to dive because of the volcanic gas that flows from the seabed, creating bubbles and an illusion of being in a large glass of Champagne.
Aside from the bubbles themselves, the Champagne Reef features vibrant colors and patterns of corals, including the yellow tube, purple vase sponges, and pink azure.
The vibrant colors of the sea creatures in this area are also sure to catch the attention of divers. Some of these include trumpet fish, frogfish, and octopus.
Recommended Tours:
PADI Discover Scuba Diving at Champagne Reef Dominica
Champagne Reef Snorkeling Tour at Champagne Beach in Dominica
15. Check Out Fort Shirley
Part of the Cabrits National Park, Fort Shirley is most famous for the revolt of African slave soldiers in 1802. The eventual result of this revolt was the freeing of all British slave soldiers 5 years later.
Nowadays, the fort is a combination of ruins and rebuilt buildings which you can explore to get a feel of what it was once like. And aside from the history, the area is also a great lookout point, providing unspoiled views over the ocean and surrounding landscapes!
Recommended Tours:
Indian River Rowboat Tour, Fort Shirley Ruins and Purple Turtle Beach
Indian River & Ft. Shirley Private Tour with Lunch
---
Is Dominica Safe To Visit?
Yes, Dominica has a great reputation as being a safe place for tourists to visit and the locals are always willing to help you out.

That being said, it's still essential that you take extra measures to ensure that your valuables are secure. This can be done by keeping a close eye on your possessions and ensuring that your car is locked.