Home to the Rainbow Mountain and Machu Picchu, Peru is also a popular foodie destination.
Peru is a melting pot of flavors that were brought here by the Spanish, Italian, Japanese, German, Chinese, and African immigrants and incorporated into local Peruvian cuisine.
Apart from the traditional staples of corn, potatoes, beans, and kiwicha (amaranthus), many foods such as maca beans, chili peppers, quinoa, and kaniwa (goosefoot) have become popular reflections of traditional Peruvian cuisine.
With Peruvian cuisine gaining popularity the world over, you're spoilt for choice about what to eat in Peru when you visit. So here is a list of foods in Peru that are not to be missed while visiting this gastronomically rich country.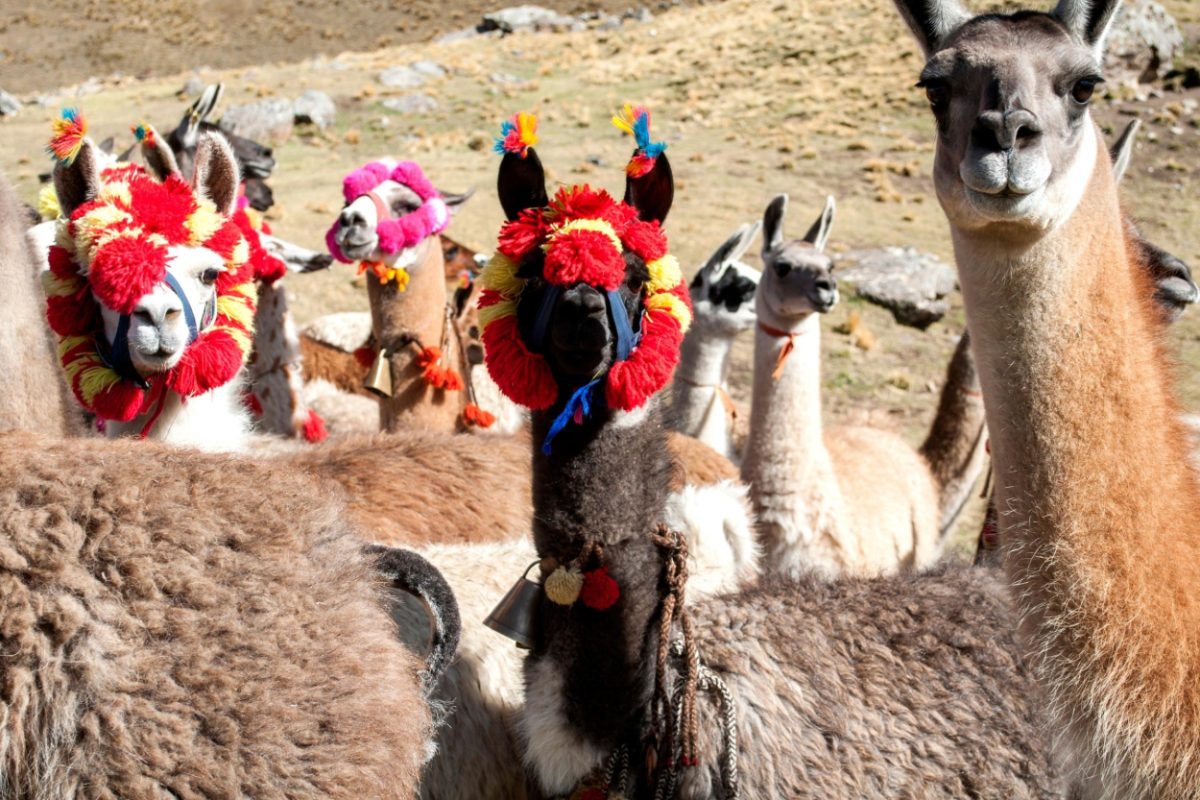 What is the traditional food of Peru?
Many people claim that ceviche is the most famous dish in Peru, but with over 400 original dishes it can be difficult to decide which one is Peru's national dish.
You will find ceviche all over the coast and in Lima, but if you go to Cusco other dishes will be more common. In fact, during my last visit alpaca meat was surely dominant.
BEST PERUVIAN APPETIZERS
1. Papa a la Huancaina (Cheesy Potatoes made in the Huancaina way)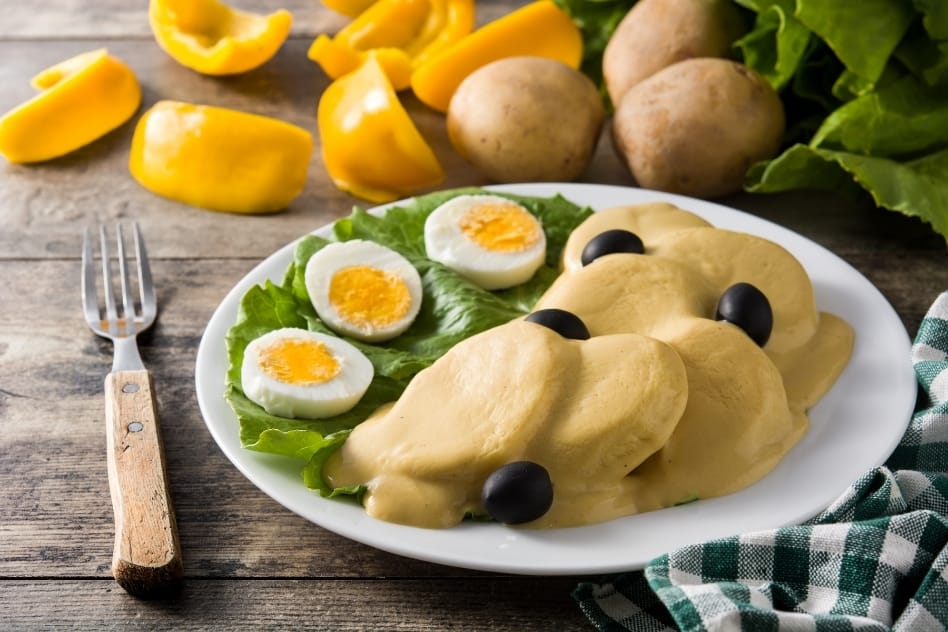 Originating in the Andes east of Lima, this classic Peruvian appetizer is made with potatoes, queso fresco, and Amarillo peppers. The controversial history of the Papa a la Huancaina surrounds the construction of the Ferrocarril Central Andino railway, once the highest railway in the world.
Refreshing and light, the papa a la huancaina is one of the must-try dishes in Peru.
---
2. Ceviche (Raw Fish)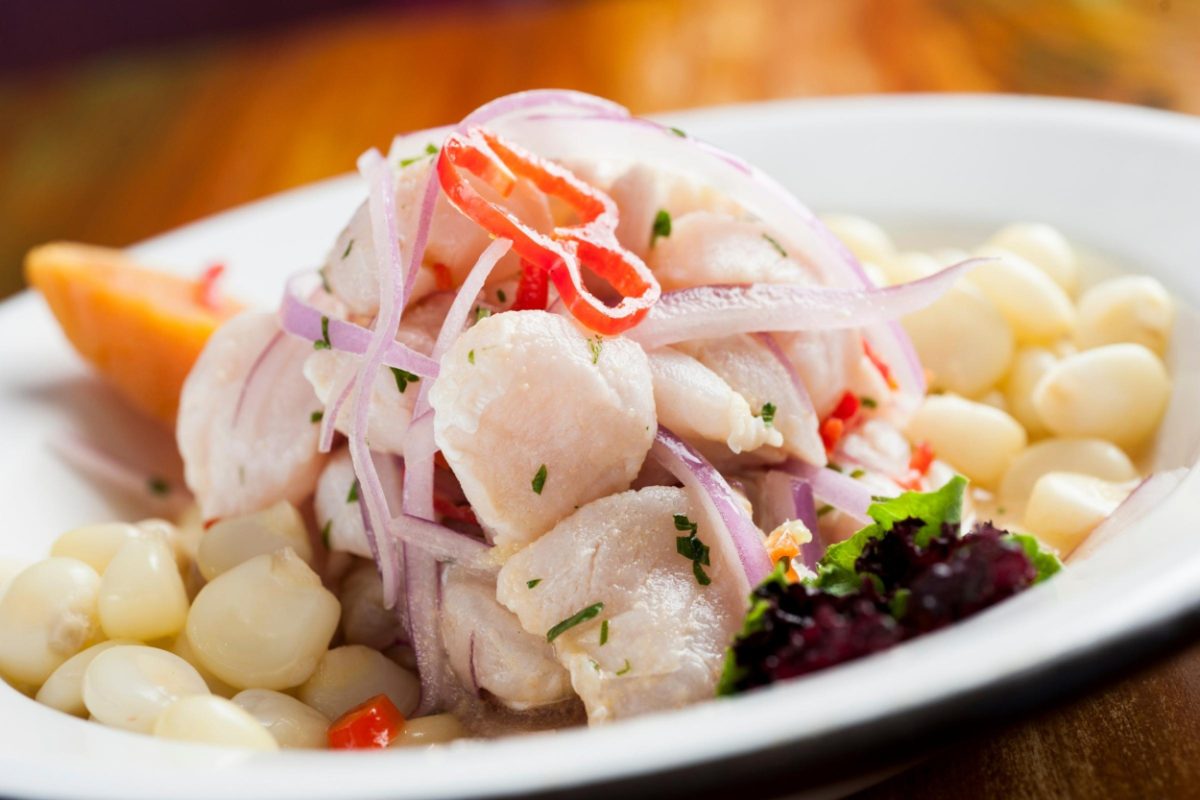 Raw fish may not be everyone's cup of tea, but ceviche or cebiche has become synonymous with Peruvian food. The dish consists of fresh raw fish that has been cured using lemon juice. Historically, bitter orange juice was used instead of lemon juice. The Incans used a maize beverage called chica for fermentation.
The lemon from the juice releases acids that allow it to go through a process similar to cooking. So leaving the marinated fish alone for an hour or so makes it edible.
The Peruvian ceviche soon became popular in other Latin American countries and grew to include a variety of choices such as fish, shrimp, or octopus.
---
3. Anticuchos de Corazon (Beef heart skewers)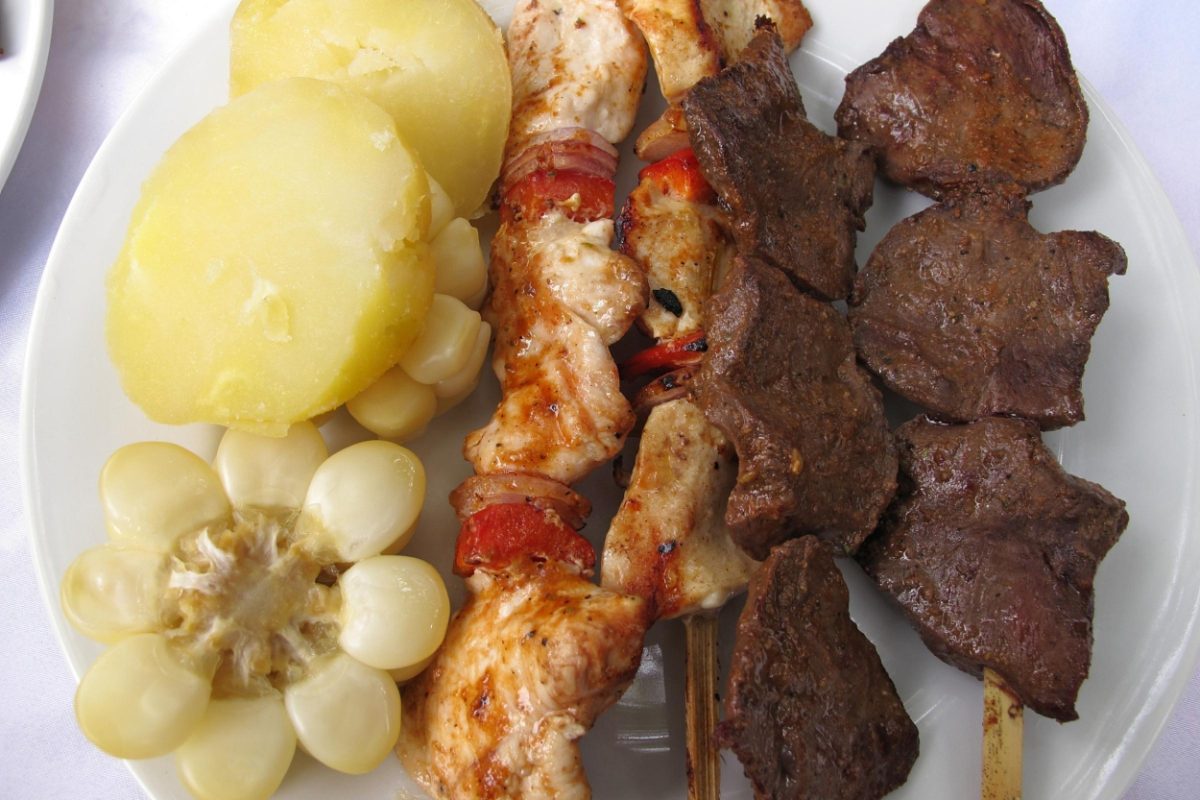 Anticuchos de Corazon or anticuchos as they're locally called are definitely another must-try. These grilled skewers which are a popular Peruvian street food consist of beef hearts marinated and cooked similar to shish kebabs.
They came into existence as a result of the African slaves that were brought to Peru by the Spanish conquistadors. the slaves were given offal to eat and used vinegar, garlic, and chilles to disguise the taste of the meat. Over time the dish became popular as street food.
Don't let the thought of eating offal stop you. The skewered cow hearts have been marinated in spices and have a delicious smoky flavor. They're paired with sliced potatoes or onions and drizzled with lime before serving. Pair the anticuchos with a few local beers and you'll enjoy them!
If you're visiting Cusco you'll most likely encounter Anticuchos de Alpaca – the same thing, but made from alpaca meat.
---
4. Chicharron (Deep Fried Pork Rinds)
Street food in Peru won't get better than this. Carts lining the streets sell fried pork rinds or pork belly called chicharrones.
A dish introduced into Peruvian cuisine from Spanish influences, the pork skin fried in its own fat is more than delicious, albeit fattening. The pork was fried in its own fat as a means of separating the lard and saving it for later. It was by happenstance that the deliciousness of the chicharrones was discovered.
Nowadays, you'll also find chicharrones made with mutton, chicken, fish, or other meats.
As street food, Chicharrones are often eaten on their own with a spicy dressing. They're also served with sweet potatoes or stuffed in a bread roll and called pan con chicharron.
Peruvian chicharrones are eaten for breakfast too!
---
POPULAR PERUVIAN DINNER DISHES
5. Saltadito or Lomo Saltado (Stir Fried Beef)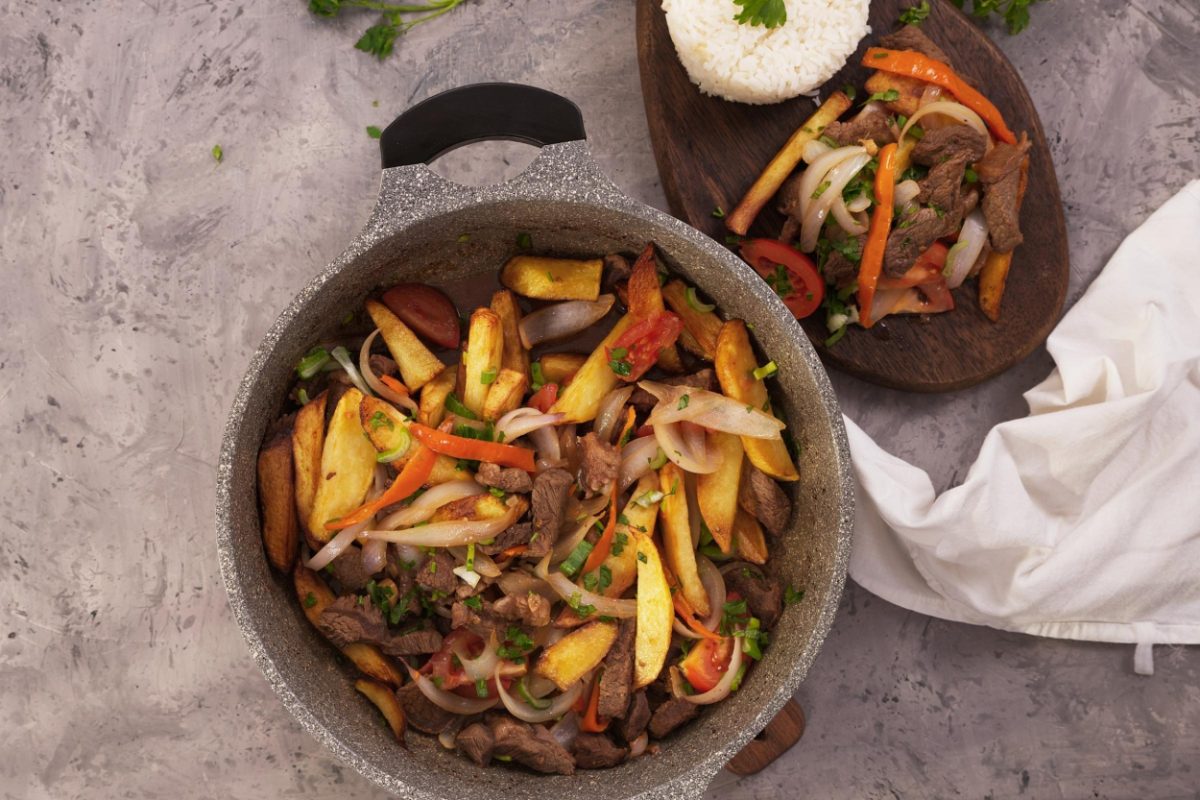 Lomo Saltado is a traditional Peruvian dish assimilated from the Chinese immigrants that moved to Peru. The 'Chifa tradition' created by the merging of Peruvian and Chinese Cantonese food traditions created some amazingly tasty dishes.
Lomo Saltado or Saltadito as it's sometimes called is made by marinated strips of sirloin beef with soy sauce, vinegar, and spices. The marinated beef strips are then stir-fried with onions, tomatoes, and aji Amarillo paste. Served with white rice and french fries, this chifa dish is popular all over Peru.
---
6. Arroz con Pato (Rice with Duck)
One of the most popular dishes in Lima and other parts of Peru, the arroz con pato with green-colored rice catches the eye.
The dish consists of roasted duck served with green rice and veggies such as diced carrots, peas, yellow peppers, onions, butter, garlic, and cilantro. The large amounts of cilantro added to the rice give it the green color!
Depending on the region, you'll find different versions of arroz con pato.
Arroz con pato a la Limeña is the Lima version that contains tender duck meat, mashed avocado, carrots, mayonnaise, beer, pisco, and other ingredients.
Arroz con pato a la Chiclayana is typical of Northern Peru and is made with tender duck meat cooked in black beer along with coriander, peas, peppers, and chica de jora.
7. Aji di Gallina (Rich and Creamy Chicken Stew)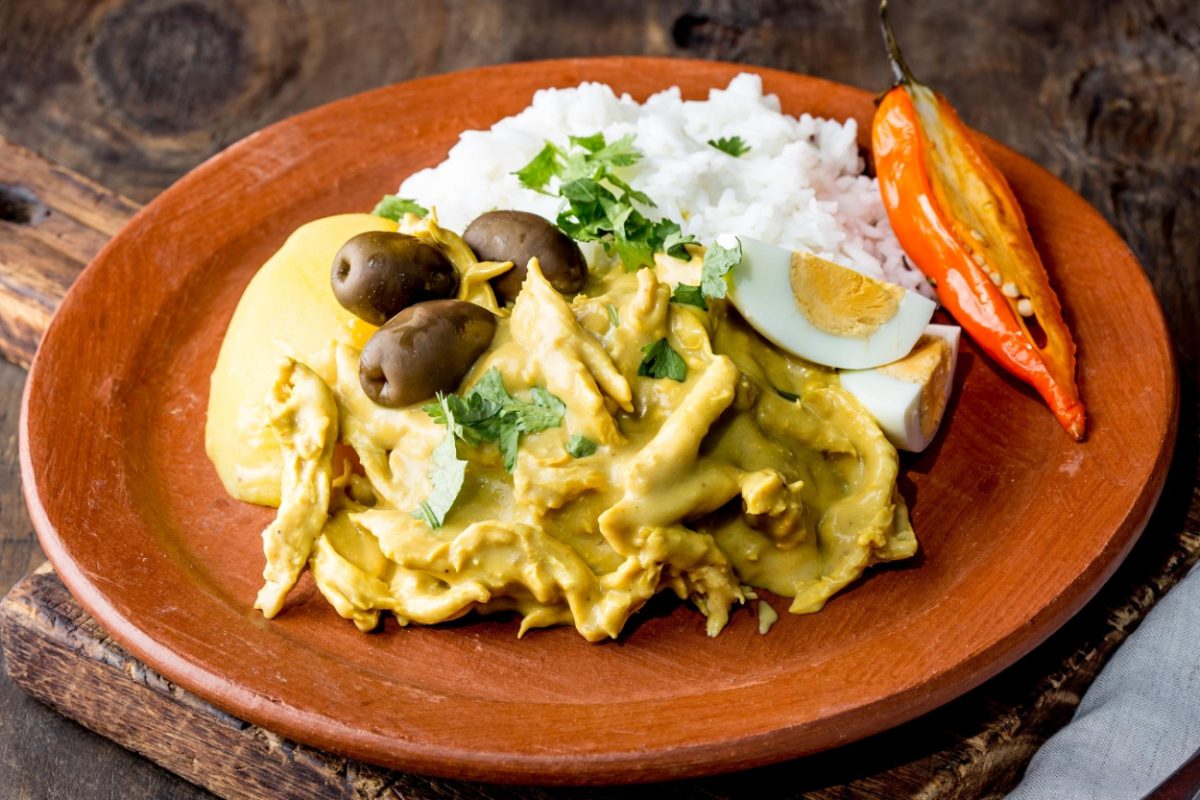 The best of traditional rustic food from the Peruvian kitchen, the aji de gallina is a creamy dish made with yellow chilies, garlic, onions, and peanuts in a sauce made of cream and cheese.
Based on the recipe for the manjar blanco or white dish made with milk, almonds, sugar, and meat, the Moors introduced the dish to the Spanish who then introduced it to Peru and other countries they conquered.
The yellow color of the dish comes from the mildly spicy aji amarillo chilly that the Peruvians added to the dish.
Aji di gallina is typically served with rice and boiled potatoes and garnished with hard-boiled eggs and black olives. Eat this heavy dish and you'll be dreaming of Peruvian adventures all night.
---
8. Rocoto Relleno (Stuffed Red Peppers)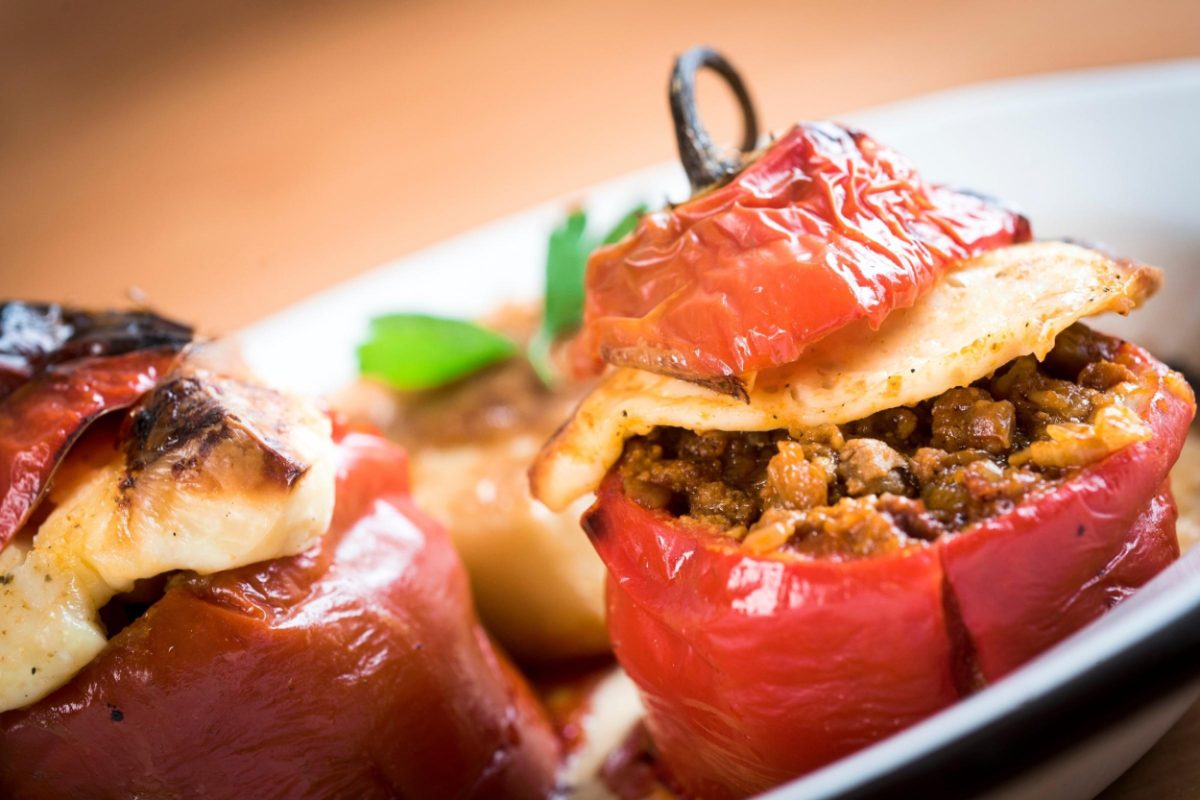 Rocoto relleno is the Peruvian version of stuffed peppers. A mix of ground beef, onions, garlic, raisins, olives, and herbs is cooked and stuffed into the peppers, and topped with queso fresco!
But these are no ordinary stuffed peppers. They come with a major twist. Rocoto peppers from the Andes may look like ordinary capsicum peppers, but they range from 30,000 to 100,000 units on the Scoville scale.
That means the aji rocoto is 20 times hotter than a jalapeno and at par in heat levels with the cayenne pepper, Thai peppers, chiltepin peppers, or chile de arbol.
So make sure you have a glass of water or milk read when you taste the fiery rocoto relleno!
9. Cuy (Guinea Pig)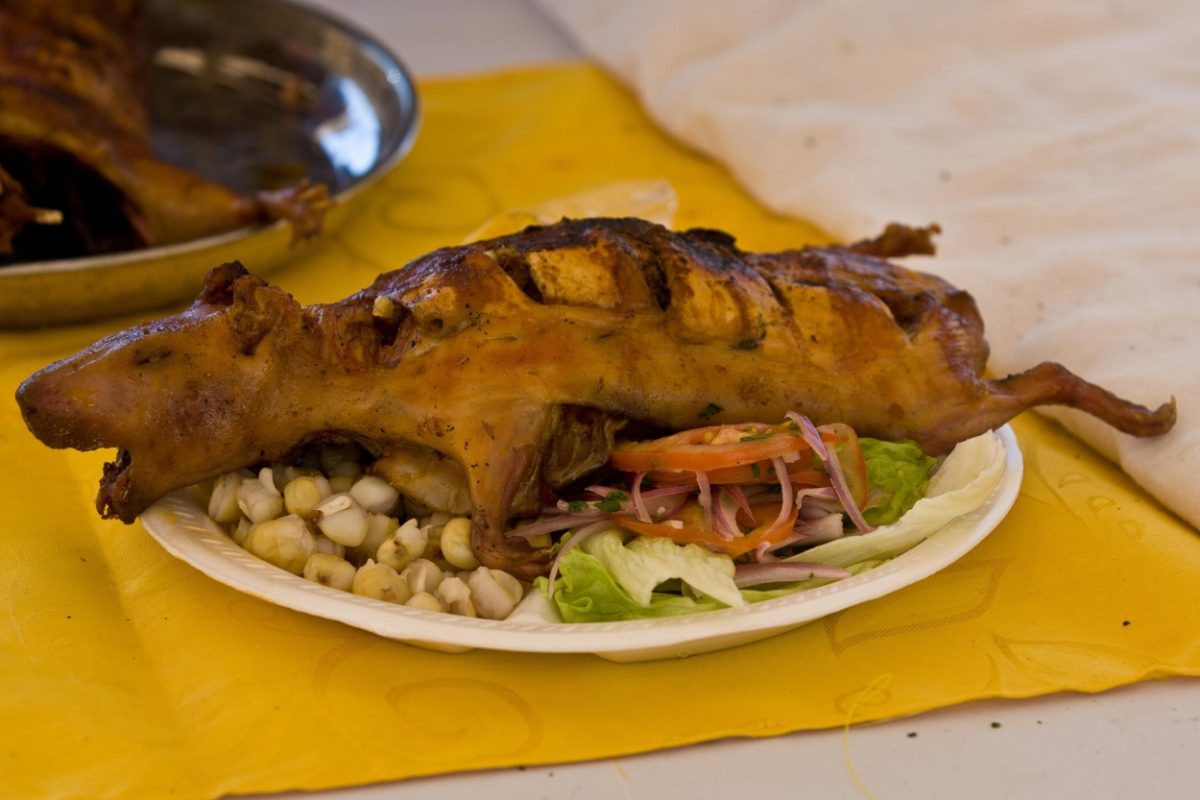 The most classic of all Peruvian foods is the cuy or guinea pig. These cute-looking rodents are often considered pets in Western countries. But head over to Peru and you'll find that guinea pigs have been a popular source of meat for centuries.
The meat of the guinea pig is tender and succulent and is marinated in such a way that it melts in your mouth.
The guinea pig is roasted whole over a spit and served with potatoes and a salad, so there's no way you don't know what you're eating. One of the top favorite Peruvian foods, eating the cuy may be a challenge for Westerners visiting Peru. But there's no harm trying it at least once!
---
10. Chupe De Camarones (Shrimp Soup or Shrimp Chowder)
Originating in the Peruvian city of Arequipa, the chupe de camarones is a seasonal shrimp soup that provides perfect warmth for the colder months.
More of a rich chowder than a soup, the chupe de camarones is made with shrimp, cream or evaporated milk, oregano, aji amarillo chilies, and queso fresco cheese. Variations may also include rice, aji panca, potatoes, green peas, corn, eggs, cumin, broad beans, and tomato paste.
Local picanterias are the best place to find the creamy chupe de camarones!
You could enjoy some of the local Peruvian foods on these street food tours!
---
DELICIOUS PERUVIAN DESSERTS
11. Arroz Con Leche (Rice Pudding)
A Spanish dessert that imbued itself in Peruvian culture, the arroz con leche or rice pudding can be found in every home or bakery in Peru.
Rice is cooked in milk with raisins and cinnamon to turn it into a delicious pudding that can be consumed hot or cold. Sweeter than the Spanish version, it'll leave you feeling satisfied.
12. Mazamorra Morada (Sweet Purple Corn Pudding)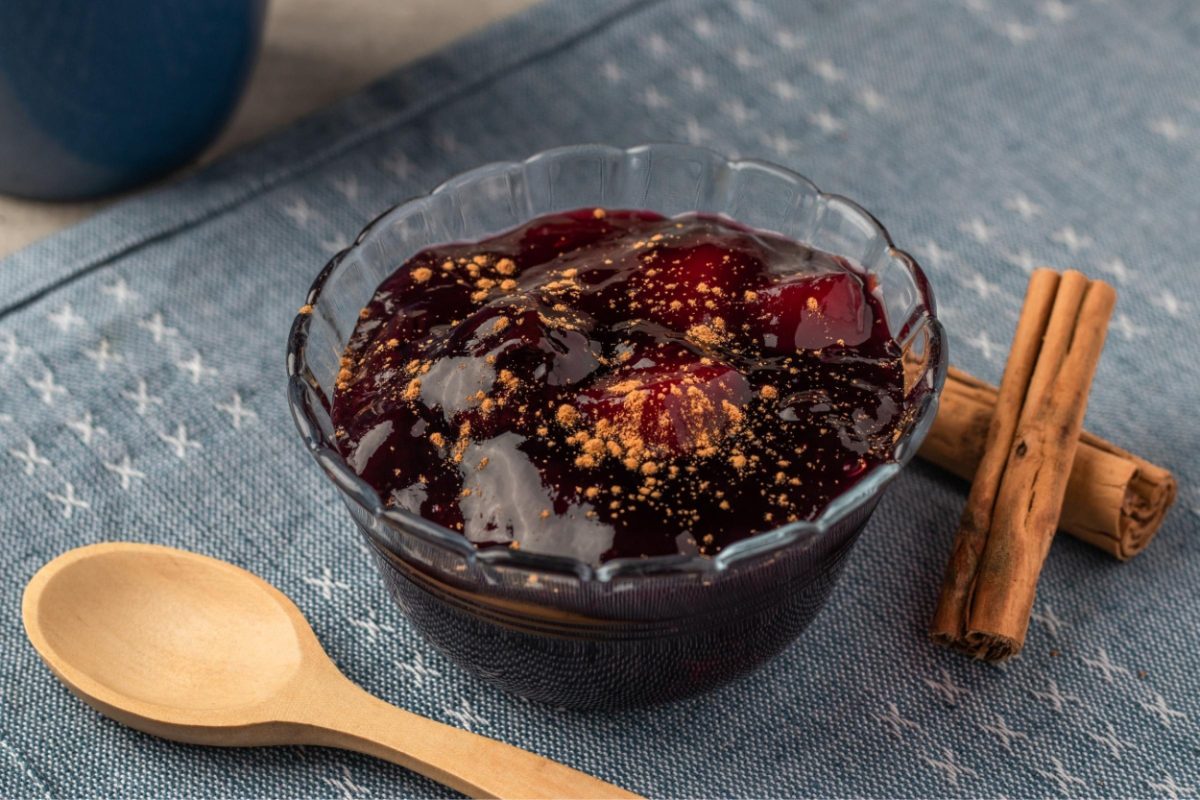 One of the most popular puddings in Peru, the mazammora morada is made with purple corn and pineapple to which dried fruit such as raisins, prunes, dried apricots, and more are added.
Thickened with potato flour, this Peruvian delicacy looks jelly-like in texture and can be identified by its purple color.
---
13. Susipro a la Limena
A dessert that takes the name of the city it comes from, Lima, the susipro a la Limena has a bottom layer of egg yolks, milk, and caramel and a top layer of meringue mixed with port wine.
Legend says that the dessert was named by Peruvian poet Jose Galvez. He is quoted to have said that the dessert was "soft and sweet like the sigh of a woman". Hence the name – 'Sigh of the lady from Lima' or 'Susipro a la Limena'.
---
PERUVIAN DRINKS
14. Pisco Sour
A cocktail of Peruvian origin, the Pisco Sour is made using Peru's national drink, a brandy named Pisco made from fresh grapes.
Although pisco-based beverages have been around since the 1700s, the Pisco Sour in its current form was invented in the 1920s. It's made by combining pisco, lime juice, egg white, and simple syrup.
Other popular pisco-based cocktails that you might want to try while in Peru include the Apple Pisco, Chilcano de Pisco, Leche de Monja, El Capitan, and Bull Pisco.
15. Inca Kola
You can't miss this soft drink in Peru. Available all over the country, Inca Kola is almost akin to a patriotic drink. In fact, it's the most sold soda in Peru, striding ahead of Coca-Cola in local sales.
This Peruvian drink has a sweetish taste and is flavored with lemon verbena. A must-try, at least once! It honestly grew on me during my trips.
---
Other Peruvian Dishes That You Should Try That Almost Made It To This List!
Alfajores – Spanish-influenced dessert of round baked pastries filled with a sweet cream
Algarrobina – A syrup from the Black Carob tree
Alpaca a La Plancha – Grilled alpaca meat served with potatoes, rice, and salad. Any forms of alpaca meat are very popular in Cusco and Puno regions.
Caldo de Gallina – Peruvian soup made with hens instead of chicken, onions, potatoes, and boiled eggs
Charqui – Dried pieces of alpaca or llama similar to jerky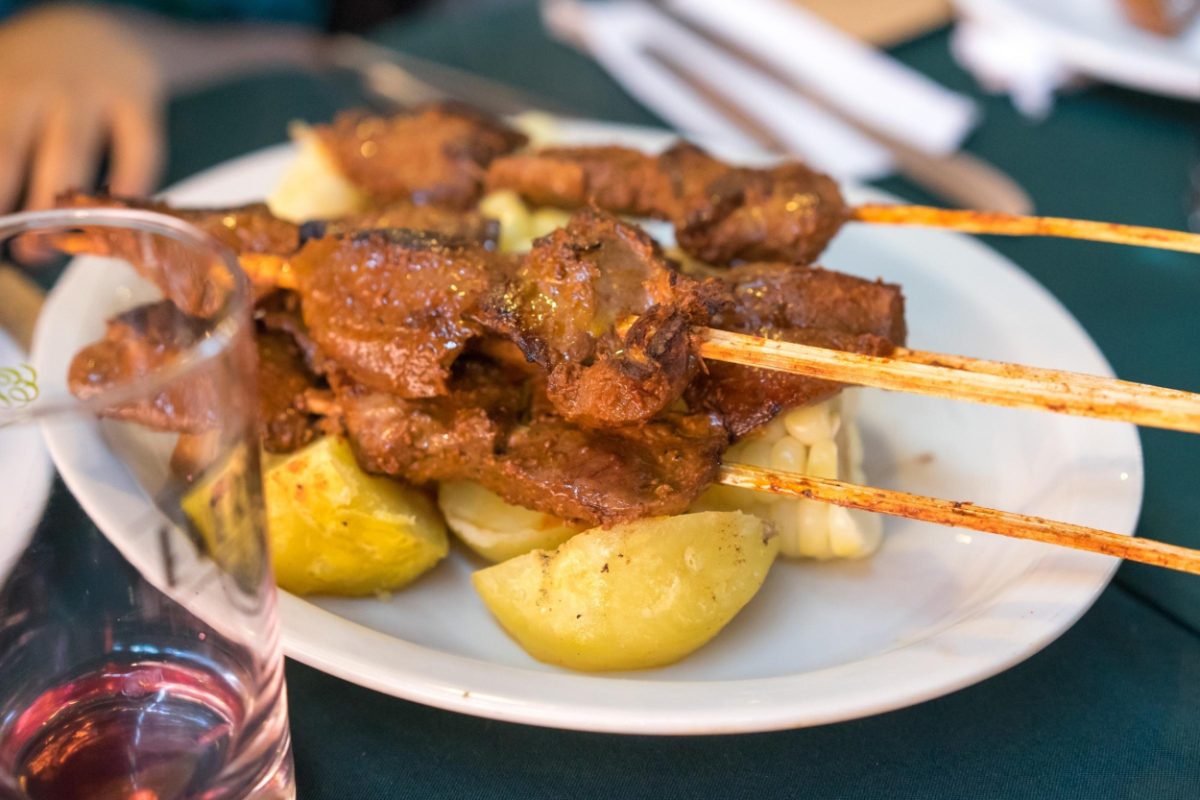 Chica de Jora – Fermented maize and herb drink
Chica Morada – Fermented purple corn juice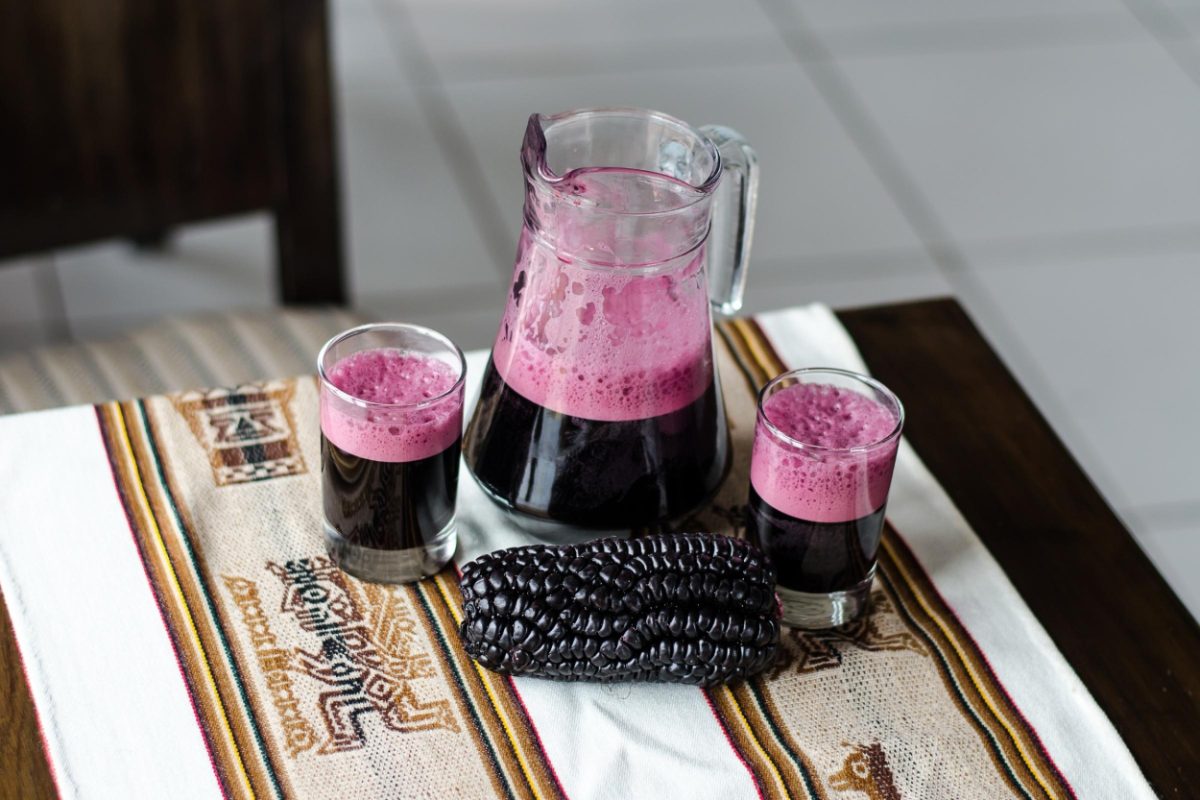 Lucuma Ice Cream – Made from the local Lucuma fruit
Mate de Coca – Tea made from the leaves of the coca plant. It's served to travelers who don't deal well with high elevation. Many people had to suck on coca candy on the way to the Rainbow Mountain
Picarones – The Peruvian version of doughnuts made from sweet potatoes or pumpkin and served with molasses

How many of these Peruvian foods have you tried? Which are your favorite?