If you've been following me on Instagram for a while you must have seen that my cat, Poofy, is a great travel cat. He travels with us on planes, he goes on road trips and walks on a leash like a dog. But, we've only traveled with him around the US before. Unsurprisingly, when we moved to Europe and Poofy obviously came with us straight away, one of the most popular questions became: how did you move with a cat to Europe?
Let me tell you that if you're coming from the US to Europe because you're moving or simply want to take your dog or cat with you on a holiday, transporting your pet couldn't be easier. Here is how to do it.
How to Travel with a Pet from the US to Europe
Many people prefer to hire a company that specializes in pet transportation, but after I saw their prices I found it ridiculous. It's so easy to transport pets on your own and arrange all the necessary paperwork for less than $400, that there's no point in paying someone $1000-35000 to do it for you. It feels like a robbery to me.
I'll give you some tips on what to do to arrange your travels and describe my own experience at the end.
---
Where Can My Pet Travel With Me?
Most EU countries have pretty straightforward rules, with an exception of Ireland, United Kingdom and Iceland. However, some airlines have banned 21 dogs breeds and 4 cat breeds as they're more sensitive. If your pet is on this list below you might want to check directly to find out how to proceed. I know that for instance Lufthansa asks you to sign a form saying that you take full responsibility if your dies.
Dog Breeds
Affenpinscher
American Bully
American Pit Bull Terrier
Amstaff
Belgian Malinois
Boston Terrier
Boxer
Brussels Griffon
Bulldog
Cavalier King Charles Spaniel
Chow Chow
English Toy Spaniel/Prince Charles Spaniel
Japanese Chin/Japanese Spaniel
Lhasa Apso
Mastiff
Pekingese
Pug
Shar-Pei/Chinese Shar-Pei
Shih-Tzu
Staffordshire Bull Terrier/"Staffys"
Tibetan Spaniel
Cat Breeds
Burmese
Exotic Shorthair
Himalayan
Persian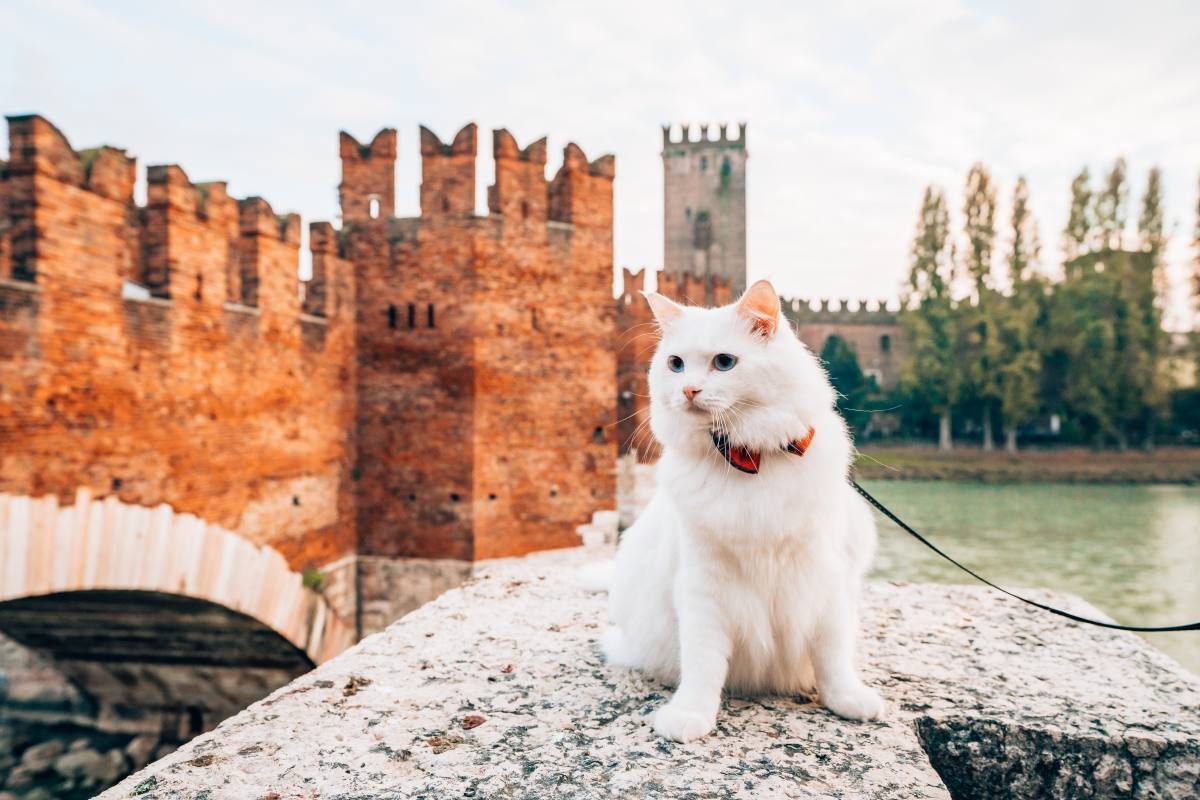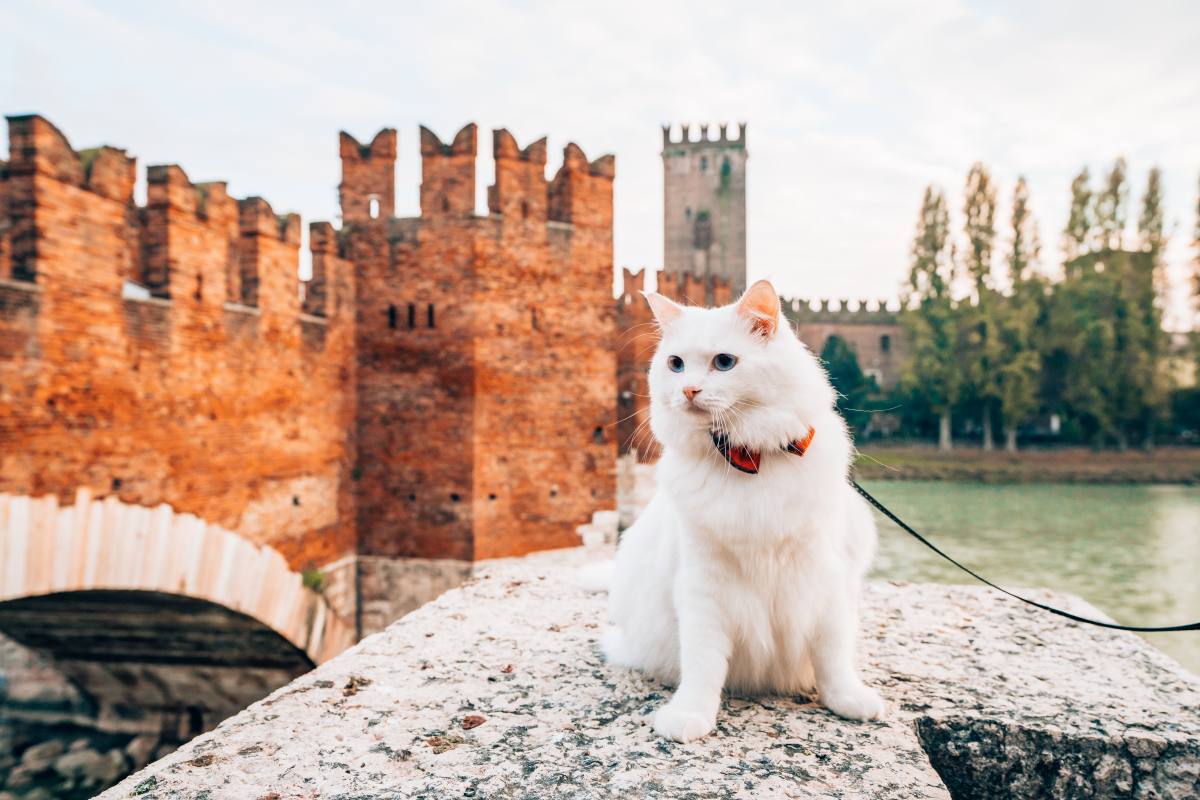 ---
Can My Pet Travel in the Cabin, or in Cargo?
Pick an airline accordingly, as some as more pet-friendly than others. I can only speak for Delta, as I've flown my cat with them on several occasions, but I also heard that KLM and Alitalia are great for pet travel. KLM even has a special pet terminal in Amsterdam where you can go and visit your pet traveling in cargo.
If your pet is small enough avoid cargo at all cost. I heard multiple stories from people whose pets almost got lost and whose posts did get lost, unfortunately.
When you want to travel with your pet, the first thing you need to figure out it whether your pet will be able to travel with you in a cabin, or has to be shipped as cargo. This depends on the airline, size and type of your animal and country you're traveling to. If you're traveling to any of the countries from the list below, you can only ship your pet in cargo:
Australia
Barbados
Dakar
Dubai
Hong Kong
Iceland
Jamaica
New Zealand
Republic of Ireland
South Africa
United Kingdom
United Arab Emirates
For any other destination, especially in Europe, small dogs, cats, and household birds can travel in the cabin for a one-way fee, collected at check-in. They require a container and officially should remain in them for the duration of the flight, but it's not a strict rule that's being enforced if the animal behaves and doesn't bother other passengers. I've actually never seen a dog even having a container, leave alone being inside it.
Poofy is actually better outside of the container, but usually spends 50% of the time sleeping in it. If he had to be locked in a container all the time on a long flight, without a possibility of peaking out, he'd cry and bother people. This way he doesn't even make a meow once and many people are later surprised that they never heard him during the flight.
Full Disclosure: The way your pet travels obviously depends on your pet, airline, staff and situation. If your cat is nervous, doesn't walk on the leash, and isn't used to people, don't ever let him out of his container. Poofy is a bit special, unusually calm and never bothers anyone – in fact everyone just wants to pet him.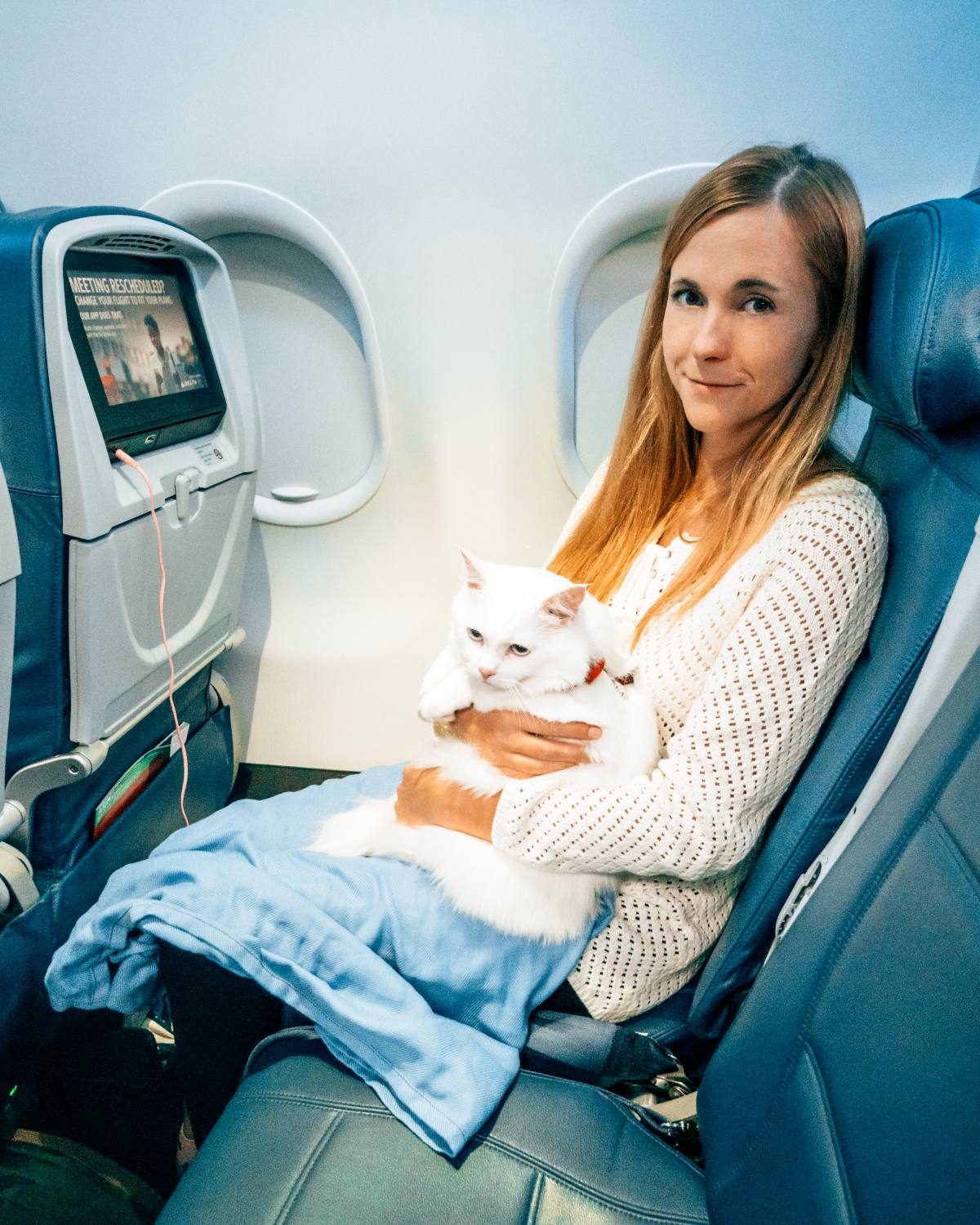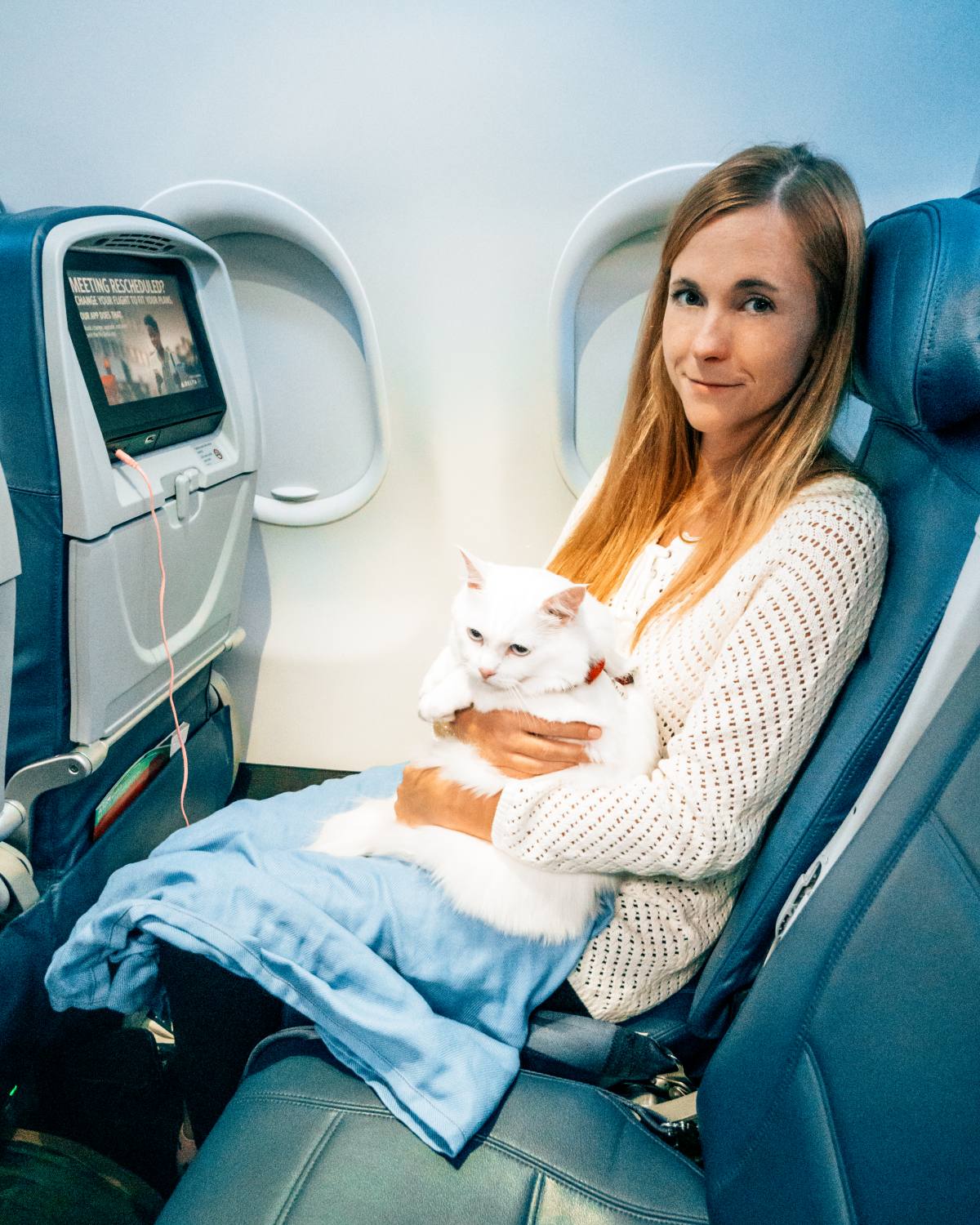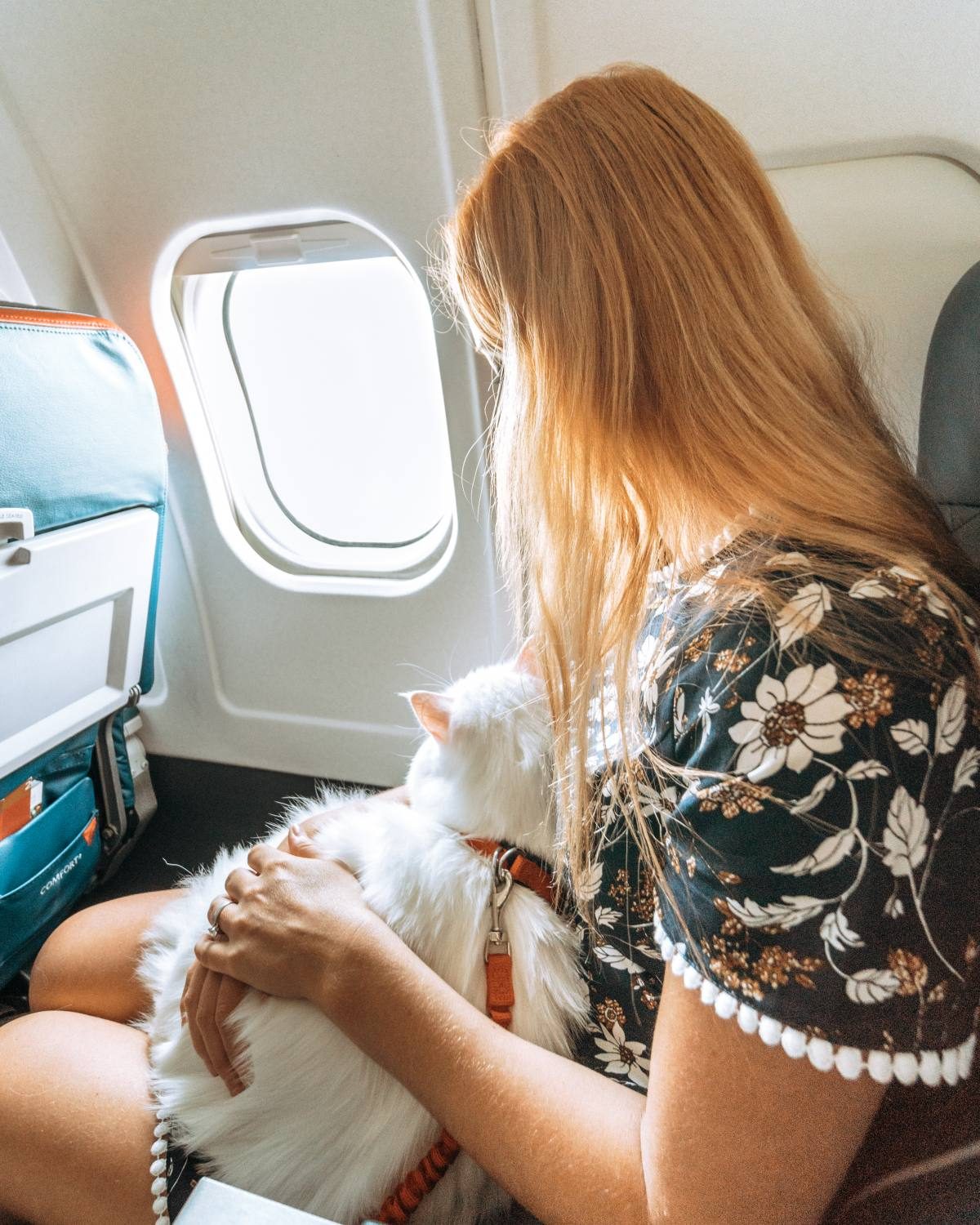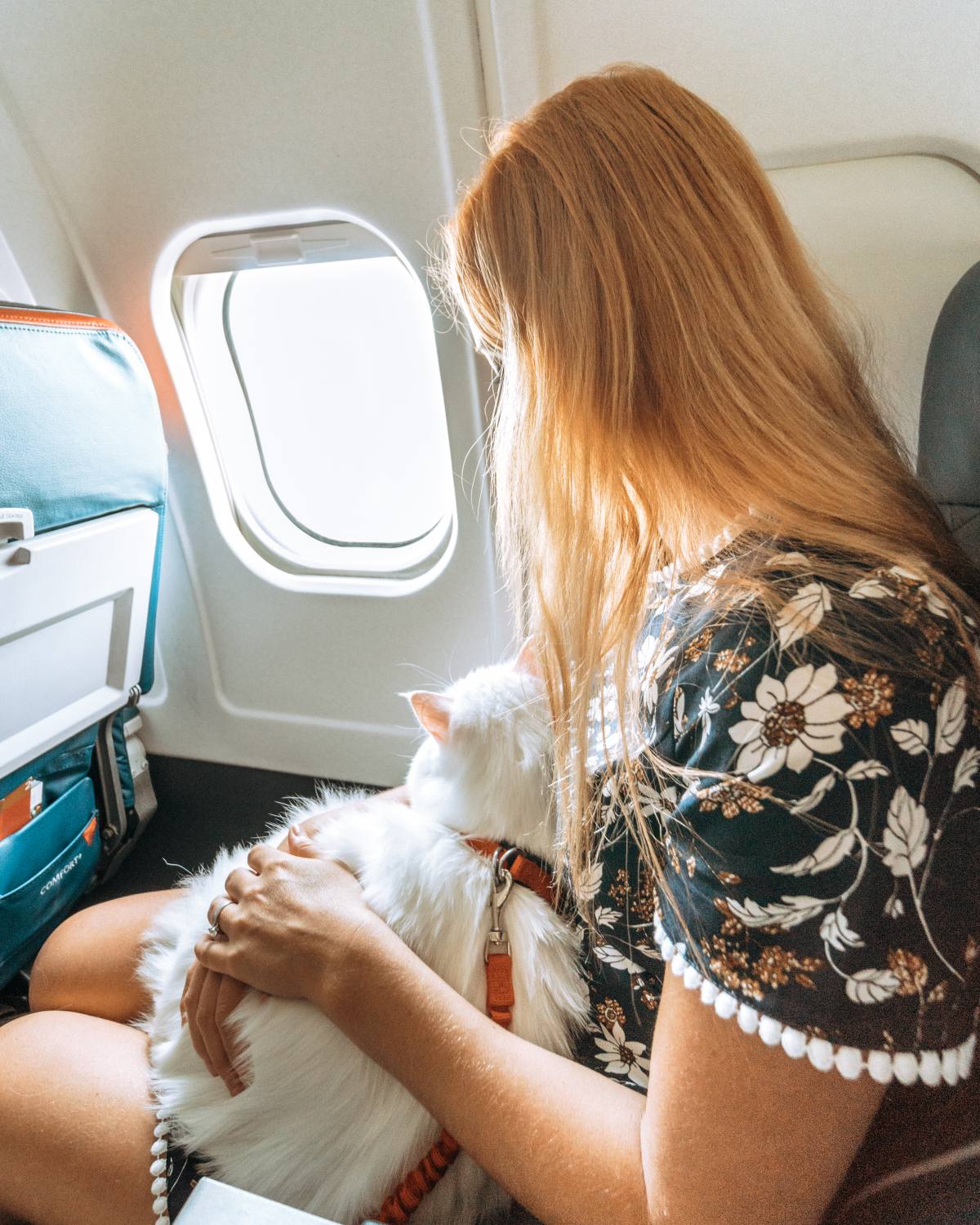 ---
How to Book Your Pet's Plane 'Ticket'?
Each airline only allows a certain amount of pets in the cabin (either 2 or 4 depending on the aircraft), so the moment you book your flight call the airline and book your pet in. The agent will ask you about the weight of your pet, his age, and dimensions of the kennel.
You'll be required to pay a pet fee at the airport upon check-in. For US domestic flights the fee is usually around $125 each way but including stopovers. Internationally, if your pet travels in the cabin or kennel in cargo is about $200, BUT only if you fly directly to a country of your destination. What does it mean?
If I'm flying to Italy, but I choose to have a layover in Germany it means that in Germany I'll have to pay a pet fee again (it applies to both pets in the cabin and those traveling in cargo). If it's your first time flying with a pet I'd advice against international layovers because paying a layover fee often gets complicated because you have to find a place where you can actually pay and it's not at a check-in counter and definitely not at the gate and no one really knows who to pay.
---
---
Pet Travel Requirements for International Travel
There's no quarantine for pets coming to/from the EU from/to the US, so you don't have to worry about it. You can bring your pet home straight away.
Other rules are very straight-forward:
Your pet must be 16 weeks old if traveling to the U.S. from other countries and must be at least 15 weeks old for European Union travel.
Your pet has to be microchipped at least 1 month prior to your trip.
Even if your pet is entering from a "rabies free" country (US is considered rabies free), it will still need a rabies vaccination after microchipping. The vaccination must be done more than 21 days before entering the country.
You will also need to arrange a Veterinary Certificate filled by the vet whose USDA certified. Call your vet and ask if they have anyone, and if not they'll point you to another place.
The Veterinary Certificate must be filled in by a licensed veterinarian within 10 days of your flight out. Don't leave it for the last minute, because after you get it you'll have to overnight it to USDA to receive a stamp.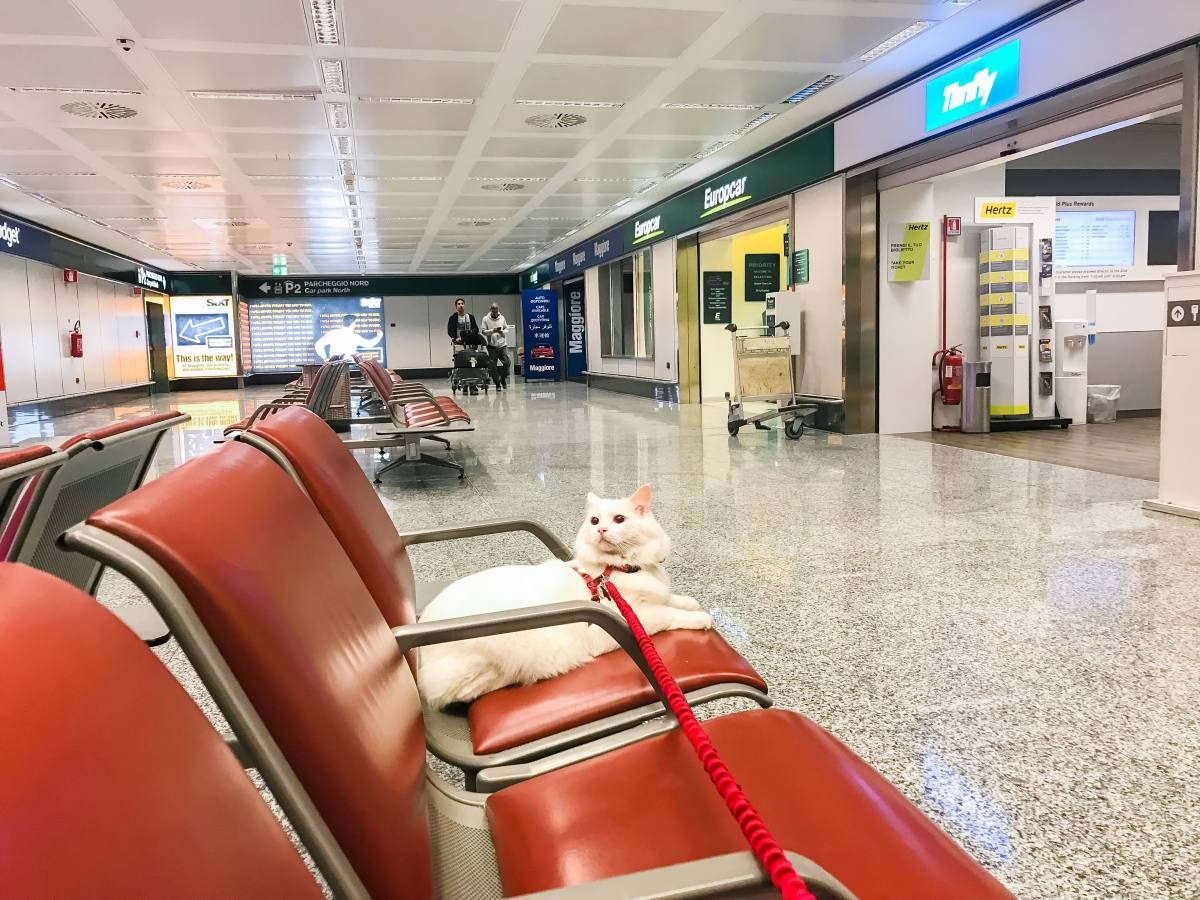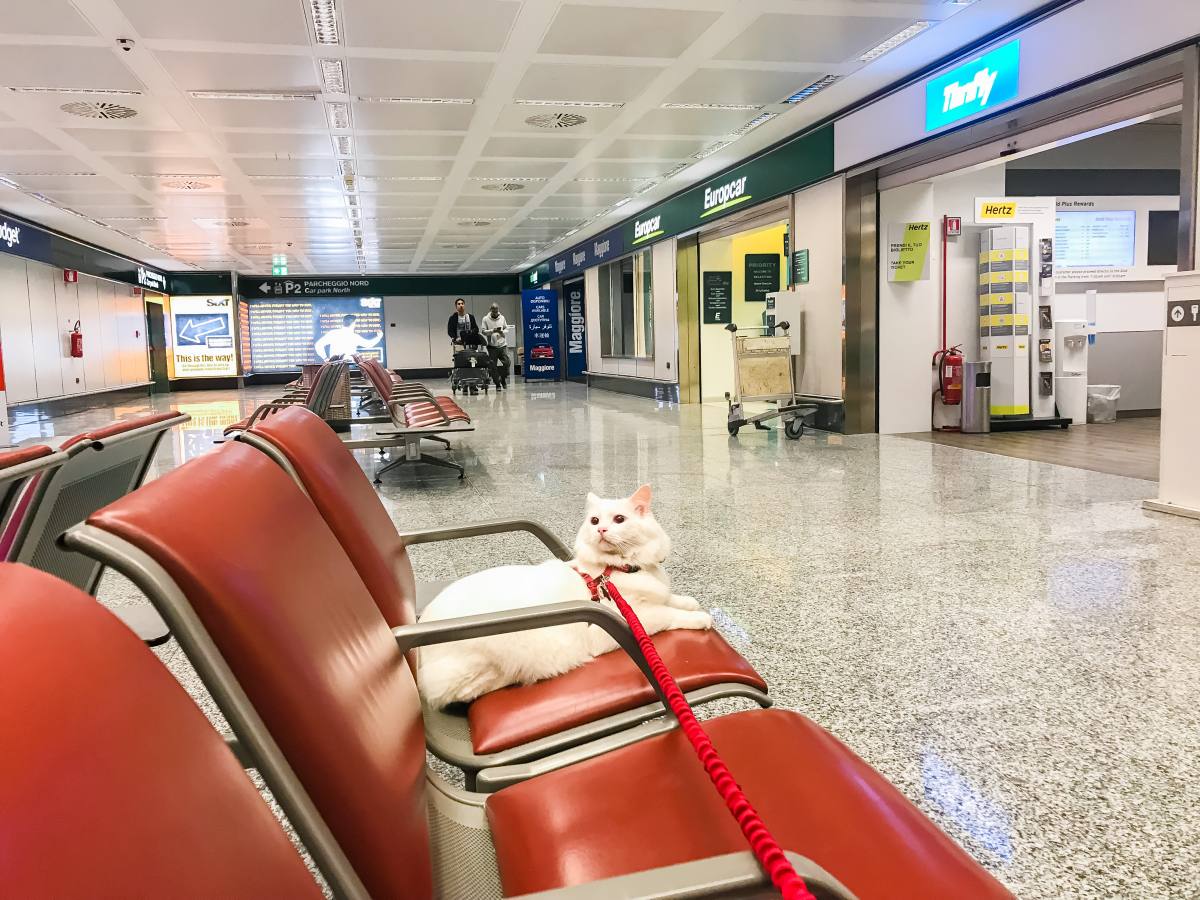 ---
My Experience Traveling with a Cat to Italy
Our experience moving with a cat from the US to Italy was pleasant and easier than we imagined. However, we've traveled with Poofy numerous times before, so we knew what to expect from the flying itself. He doesn't mind traveling by plane and being in the car, and usually enjoys looking at his surroundings at the airport.
Poofy has been microchipped and vaccinated shortly after he turned 4 months, so we didn't have to do it again. Basically, all we had to do was to schedule an appointment with an accredited vet 10 days before departure from the US. As we were traveling from Texas to New Hampshire and before and staying there for a week, we got an appointment in New Hampshire.
We gave the vet a paper needed for Italy downloaded from USDA website (link here) and that was it. The vet had to inquire about the number of his rabies vaccination with his old vet, but it was just a matter of a quick phone call.
Once we got his health certificate filled out it was the matter of getting the stamp from USDA. We could have overnight it to Albany, NY office, but as we were flying out to Milan from NYC (it was cheaper and the flight was direct) we decided to schedule an appointment and stop by on our drive. They scheduled our appointment very easily and we spent about half an hour waiting for the paperwork to be checked and stamped.
At the airport we processed to the check-in and apart from paying the pet fee, no one ever asked us to show his documents. We usually book a window and middle seats when we travel with Poofy, so he can enjoy some privacy, but this time we got upgraded to Delta Comfort seat and had to sit in an aisle and middle seats. The cat didn't seem to mind though and as usual, spread out on both of our laps and slept there for most of the flight, before crawling back to his carrier for more naps.
When we arrived in Italy, we took his carrier and just walked out. No one asked us for cat paperwork at the immigration (in fact, we went through the automated one), or when we were leaving customs. I heard it's a common thing that you're never asked to show any paperwork for your furry friend in Italy, but it's better to be on the safe side and have it ready. Please don't risk your cat or dog getting deported for not having necessary paperwork!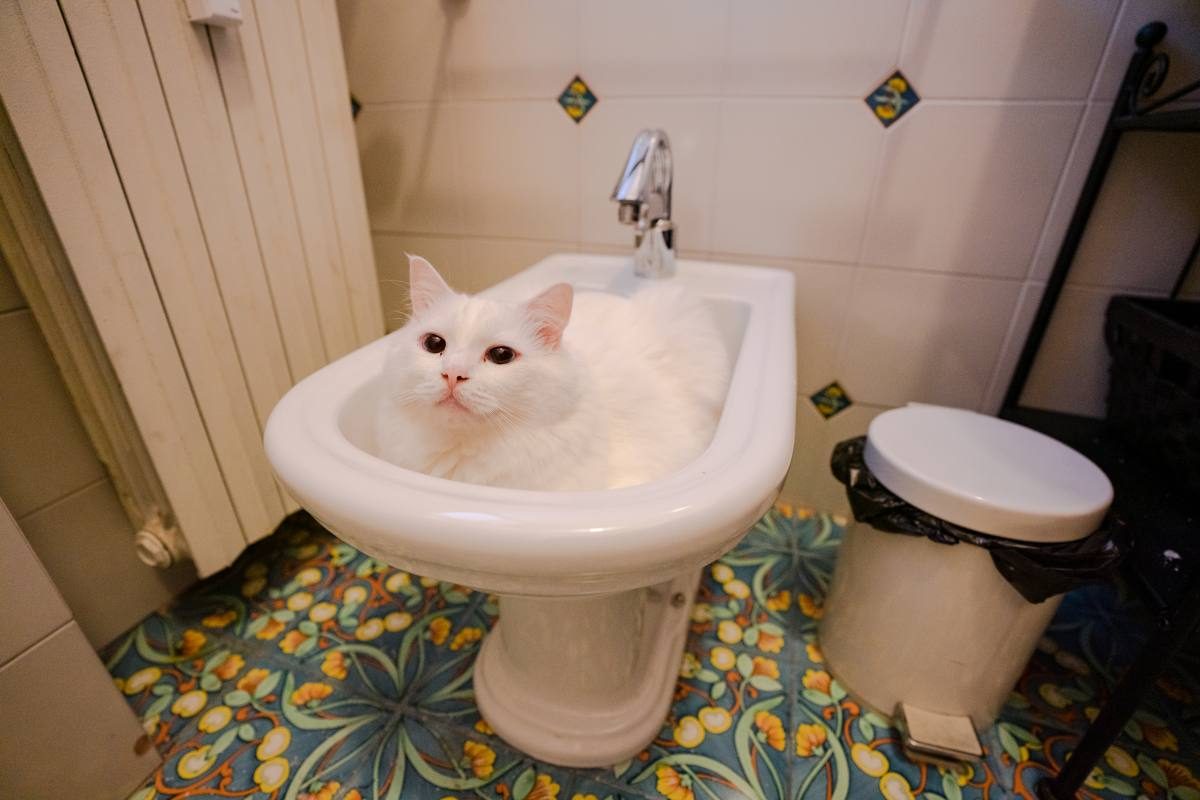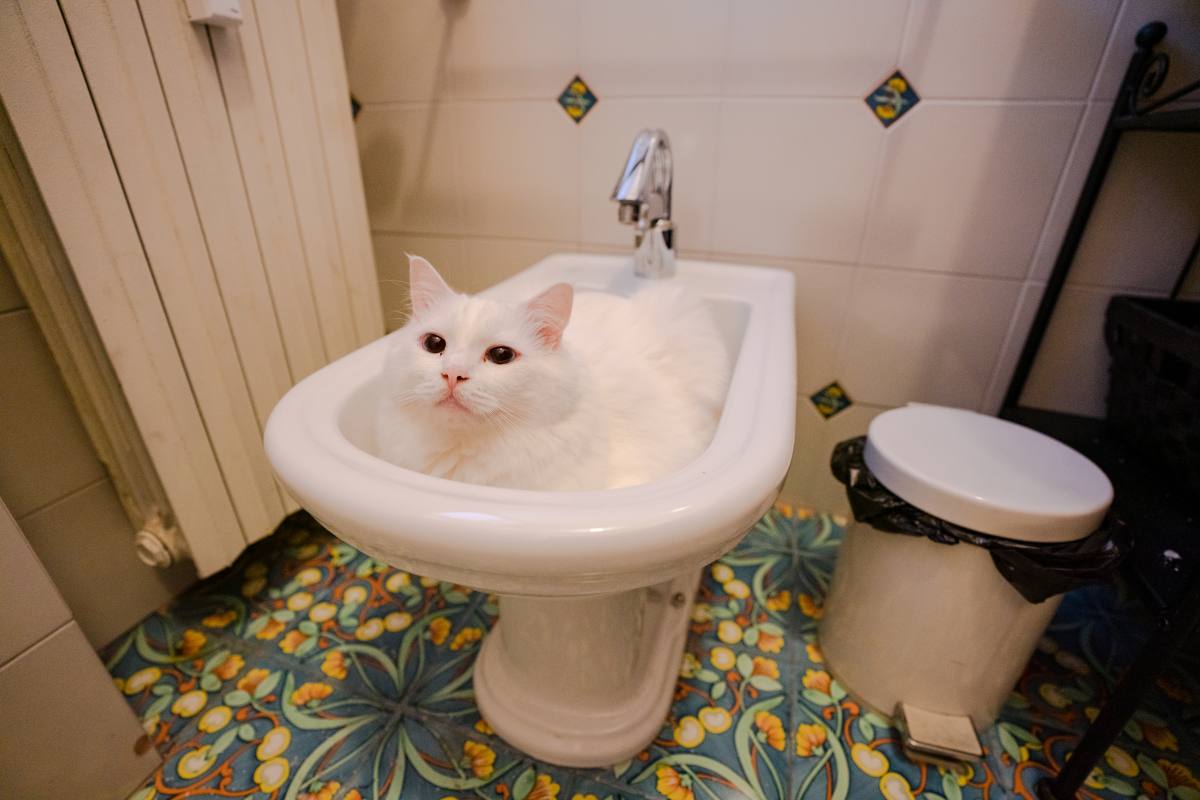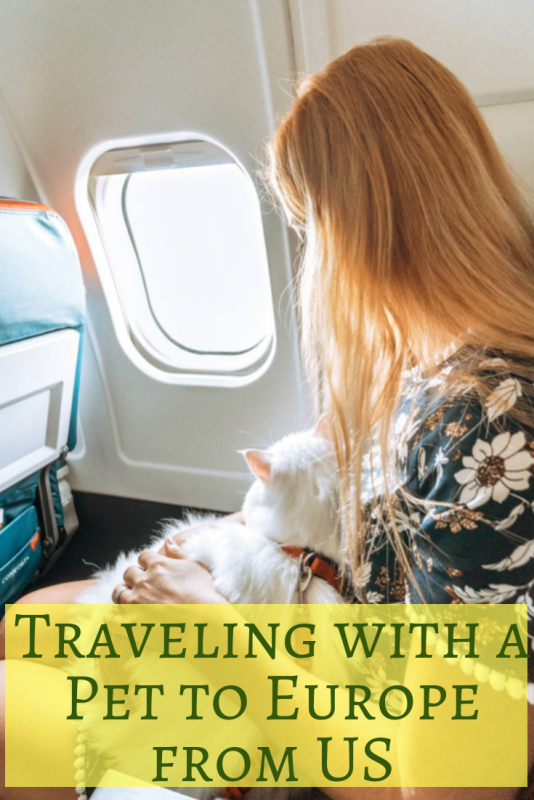 Do you have any questions about transporting your pet to another country? Ask ahead!