Everyone wants to see Versailles. Palace of Versailles, Château de Versailles, Versailles Castle – we've all heard about it in schools as it's one of the most impressive palaces in the world so unsurprisingly the place is always busy.
Constructed by the great Sun King Louis XIV, Versailles is famous for its castle as well as its huge park which features one of the most accomplished French gardens.
I've been to Versailles numerous times over the years and I can tell you honestly that it's possible to experience it without having to bump into people nonstop. In fact, I took this photo in the Hall of Mirrors without people quite easily and I surely didn't spend a fortune on private tours of some kind 😉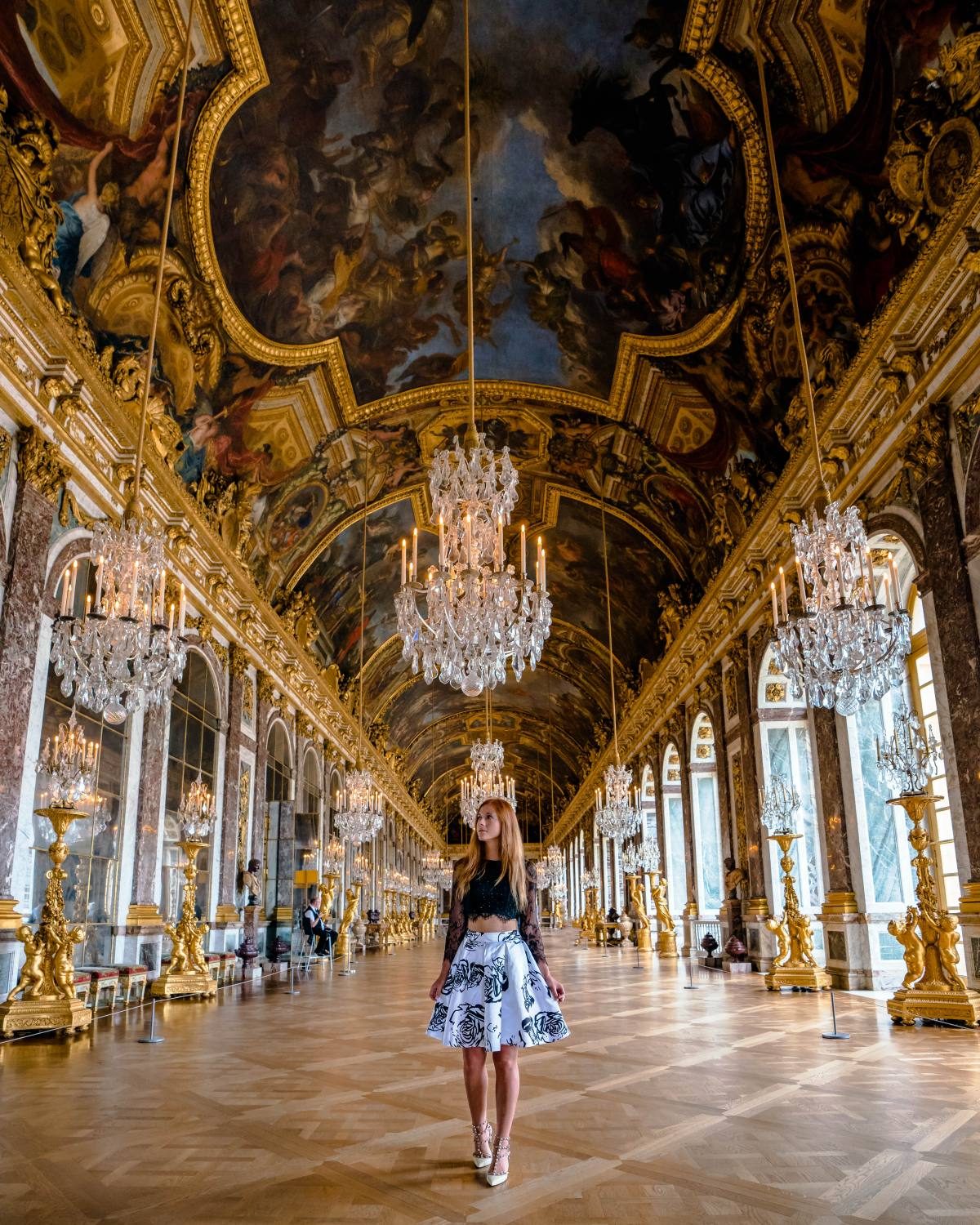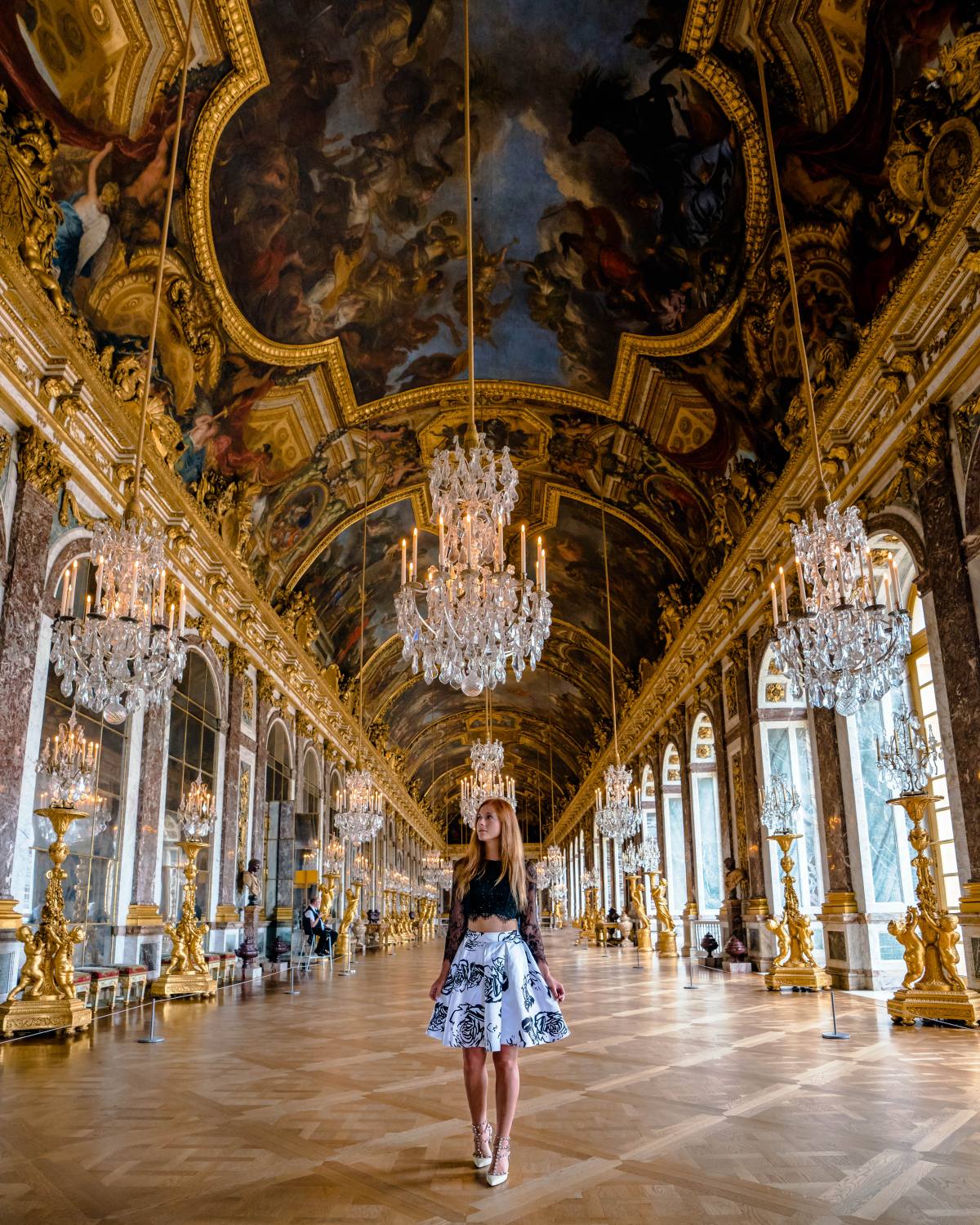 How Much Time Do You Need to See Versailles?
Plan to spend a whole day at Versailles as day trip from Paris, even if you're not super into French history or castles. Trust me on this – you'll thank me later.
There are plenty of tours offering half-day tours to Versailles, or those combining the visits to Versailles with a visit to Giverny. I'm yet to meet someone who's not complaining after taking those tours. Group tours still need to wait to enter Versailles and as they're short on time by the time you enter you end up running through the palace as they only have an hour and get a glimpse of the garden without actually visiting it.
If you only have half a day you will be better off visiting Vaux le Vicomte castle – a "mini Versailles", which isn't so crowded so lines are next to none. It's actually my favorite one and I enjoy it much more than Versailles as it feels more peaceful.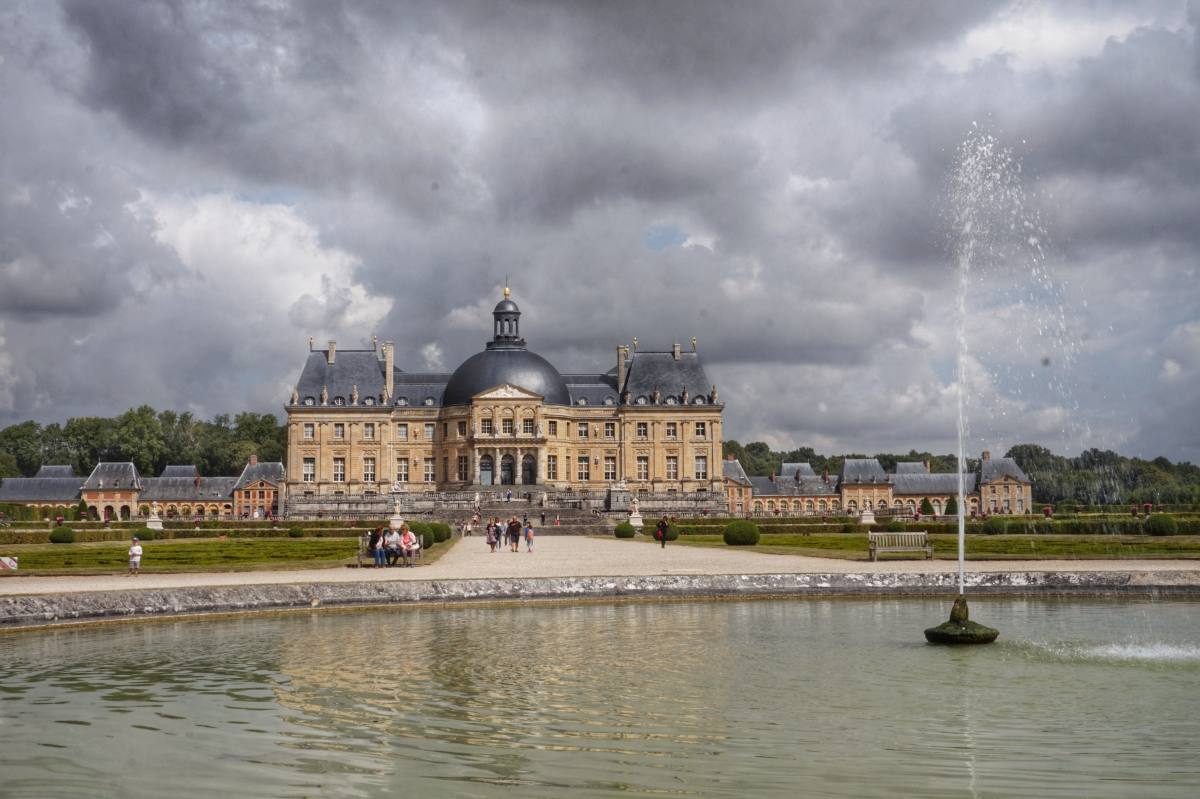 ---
How to Get to Versailles
You really don't need a tour to get to Versailles. It's incredibly easy to just hop on a train and walk for about 5 minutes from the train station. There are signs everywhere or you can just follow the other tourists 😉
By taking a train you won't only save some money, but also you won't be bound to a certain timeframe which is incredibly convenient. You will also be able to arrive early enough to enter the palace before it becomes crowded.
However, you do need to pre-book your tickets to Versailles. While you can buy them at the entrance, do yourself a favor and buy them in advance – unless you like to spend hours waiting in multiple lines.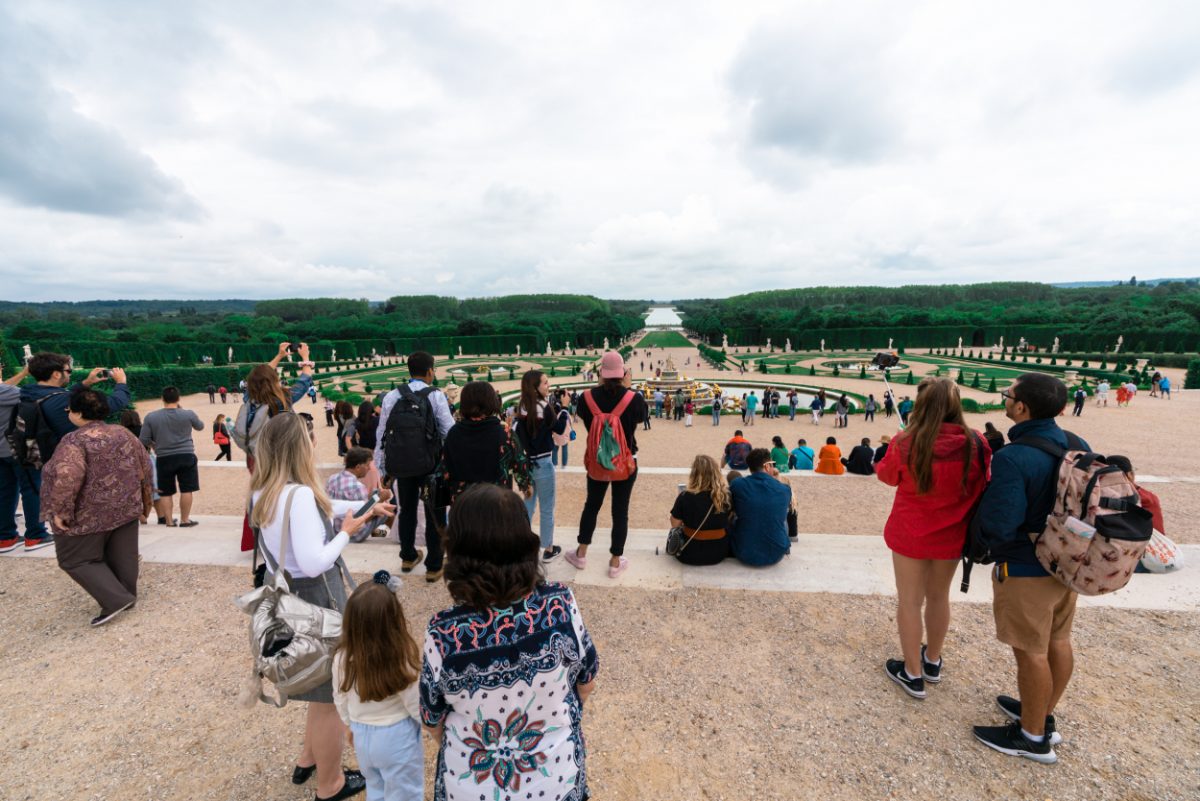 ---
Skip the Line Tickets for Versailles
The skip-the-line tickets ensure that your guide takes you into the Château de Versailles through a separate entrance. That way you don't need to stand in both lines.
Now, I'll be real. Even with skip a line ticket, you will be queueing for a while as there are simply a lot of people with those tickets. They're basically an essential purchase.
Answering the most common question: can I buy the ticket directly from the Versailles website instead?
Yes, you can but the reason I recommend buying via Get Your Guide is because quite often they have more availability and when morning tickets (the best ones, because you don't want to start in the afternoon!)are sold out on the Versailles website, you can still buy them via Get Your Guide.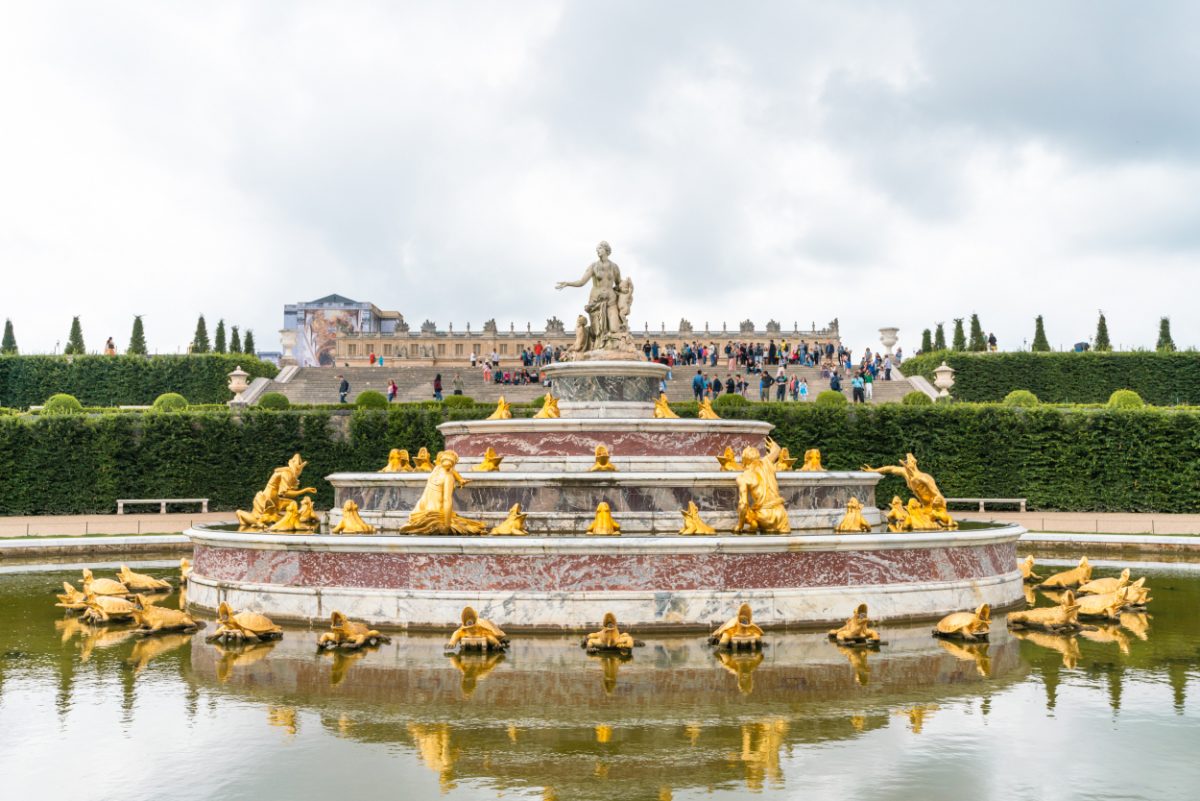 ---
How to Get Hall of Mirrors to Yourself
The Hall of Mirrors is a highlight of Versailles. The way you get it all to yourself or almost to yourself is simple. Get to the palace almost an hour before opening and start lining up with your skip-the-line tickets to Versailles.
Once you enter, grab an audio guide, map, and head straight to the Hall of Mirrors. Don't stop anywhere. If you can't find your way around ask the guards, they'll direct you. The Hall of Mirror starts getting crowded about half an hour to an hour after opening so you have some time.
Bonus, you can go back to the previous rooms after. Versaille doesn't have one-way traffic so you lose nothing 😉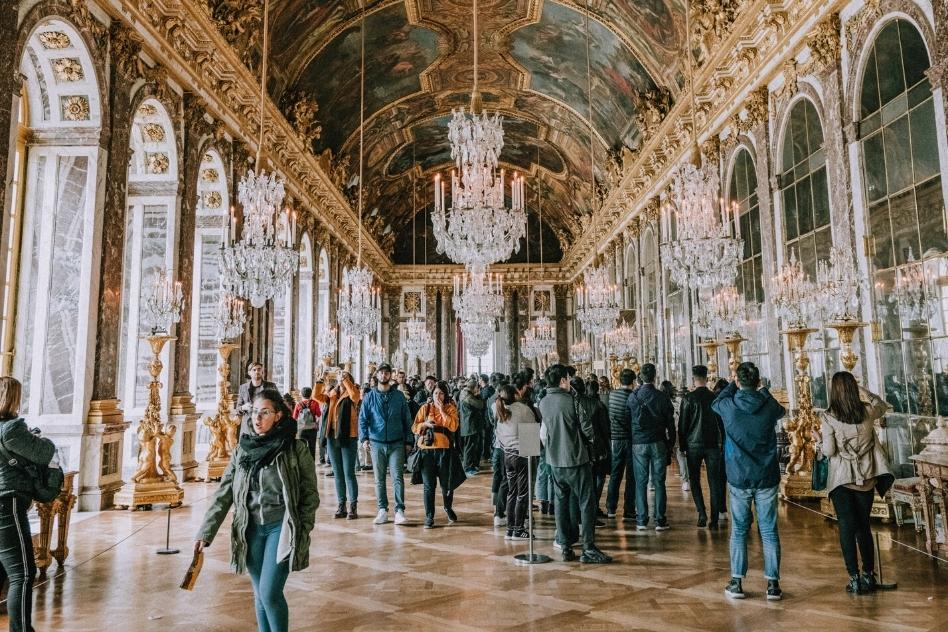 ---
Save the Gardens and Petit Trianon for the Last
People usually leave the gardens for the last, unless they visit separately. The gardens are so huge that even if you go mid-day on a Saturday in the summer it's still going to be fine, because people spread out.
Petit Trianon is best visited right before it closes and you can rent a bike to drive around – I highly recommend it!
Another option to avoid any sort of crowds is to rent a boat in the gardens. Not many people do that and it's a nice quiet activity.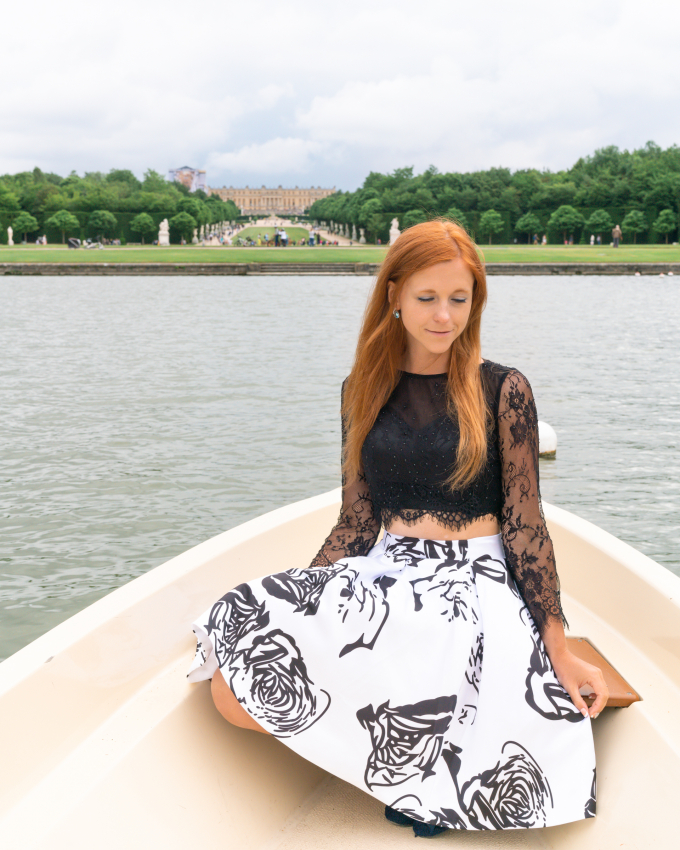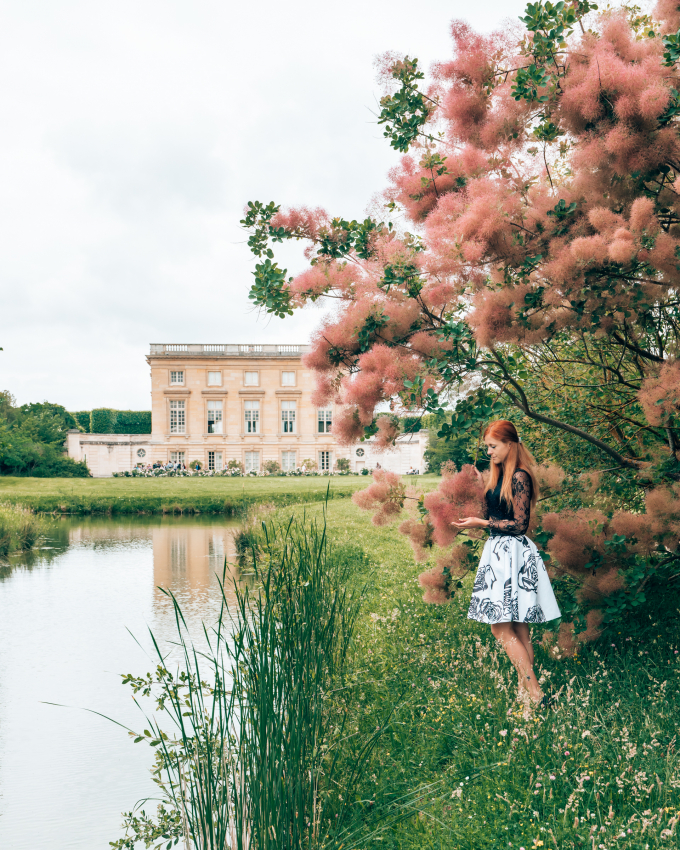 ---
Other Options for Seeing Versailles Without Crowds
There are a few options to experience Versailles in a different way. While the palace doesn't officially offer after-hours private tours, it doesn't mean they don't exist.
The first option is to book a night at Hotel Airelles. It's the only hotel at Versailles Palace and while you won't be sleeping in Louis XIVth bed or looking for ghosts at night by yourself, you'll be able to book special after-hour tours of the Hall of Mirrors.
The second option, and honestly the most unique one is to purchase tickets to the Grand Masked Ball at Château de Versailles which takes place every June. There is an outdoor ball and parts of it take place in the Hall of Mirrors, so it's a unique way to experience it when everyone must be in costumes and masked.