Neuschwanstein Castle (German-Schloss Neuschwanstein) is best known as the fairytale inspiration for Disney's Cinderella Castle.
Located in Hohenschwangau, Bavaria, southeastern Germany, Neuschwanstein translates to "New Swan Stone" and is not only beautiful, but has an interesting history as well.
Here are several tips for visiting Neuschwanstein Castle, and to make your journey as smooth as possible.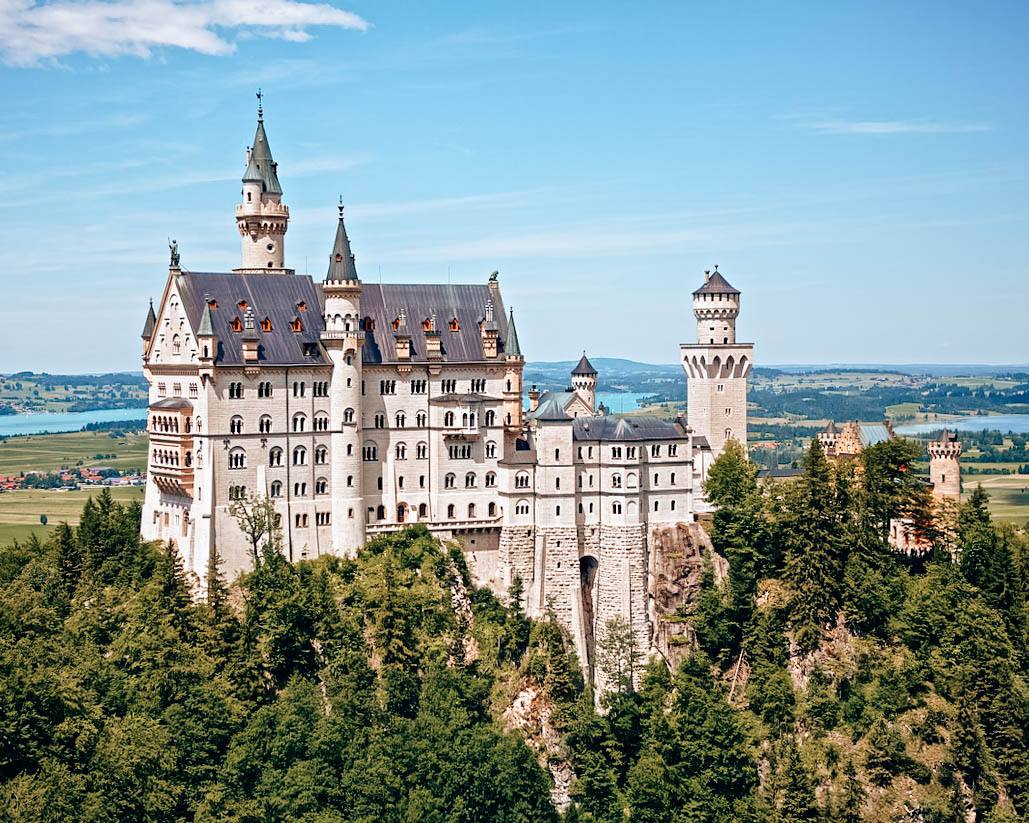 Brief History of Neuschwanstein Castle
This German Disney castle was built in the late 19th century and was inspired by previous castles in the region (including the ruins of Schwanstein Castle).
King Ludwig II of Bavaria commissioned the construction of the castle as a private retreat, with no intention of it ever being opened to the public. His motivation to build Neuschwanstein stemmed from a personal love of fairytales and a desire to have a private retreat.
The original name of Neuschwanstein was "New Hohenschwangau" in tribute to a castle that Ludwig's father had built just 'next door'.
Ludwig hired a set of designers to create the castle, which explains some of the romantic and dramatic flairs for which the castle is known. Contrary to popular belief, Ludwig paid for the castle himself without using public funds, which put him into debt.
The castle was constructed using brick and several types of rock, including limestone. The eccentric king loved the arts and was a big fan of the composer Richard Wagner. There are influences of his admiration throughout the castle.
In fact, the name of the castle comes from a character in Wagner's opera, "The Swan Night." However, this name was not applied until after the castle's patron, King Ludwig II, died.
It's also rumored that Walt Disney stopped at the castle on a trip to Europe, prior to creating Sleeping Beauty's Castle in Disneyland, and Cinderella's castle in the 1950s movie. When you visit Neuschwanstein you will see the remarkable resemblance.
---
Tips for Visiting Neuschwanstein Castle
Neuschwanstein is one of the most famous German castles and gets a lot of tourist traffic regardless of the time of the year. At Neuschwanstein, there's no low and high season.
Over a million people visit Neuschwanstein Castle each year, and ticket lines tend to get long very quickly before the office even opens.
Luckily, you can book a date and time slot ahead of time through the official website. You are not guaranteed another time slot if you miss your designated time, so don't be late!
When & How to Book Tickets to Neuschwanstein?
You can book approximately 3 months in advance, to 2 days before (although they may be sold out if you wait). Combination tickets are available for Hohenschwangau Castle and the Museum of the Bavarian Kings.
If you choose to buy tickets at the ticket office in Hohenschwangau then you need to buy them for the same day.
There are also many third-party websites such as this one or that one that allow you to buy skip-the-line tickets and tours with private guides. If you're short on time, that's a great option.
Cost and Opening Times
Neuschwanstein is open year-round, except for Christmas Eve, Christmas Day, New Year's Eve, and New Year's Day.
In the winter (approx. October 16 to March 31), the castle is open from 10:00 AM- 4:00 PM, and in the summer (approx. April 1- October 15) the hours are extended to 9:00 AM to 6:00 PM.
Tours are available in German and English, with audio guides available in additional languages.
Entrance fees are 13 EUR, 12 EUR reduced, and free for anyone under 18 years old. Private guides, skip-the-line tours, and tours with transit are available through third parties and are more expensive.
---
When to Visit Neuschwanstein Castle?
You have flexibility when choosing a time of year to visit the castle. There are reasons to visit during every season.
Neuschwanstein Castle is very popular in the fall because the surrounding Bavarian Alps provide a beautiful fall landscape.
July and August are the busiest times of the year, so avoid those months if you don't want to be bogged down in abnormal tourist crowds.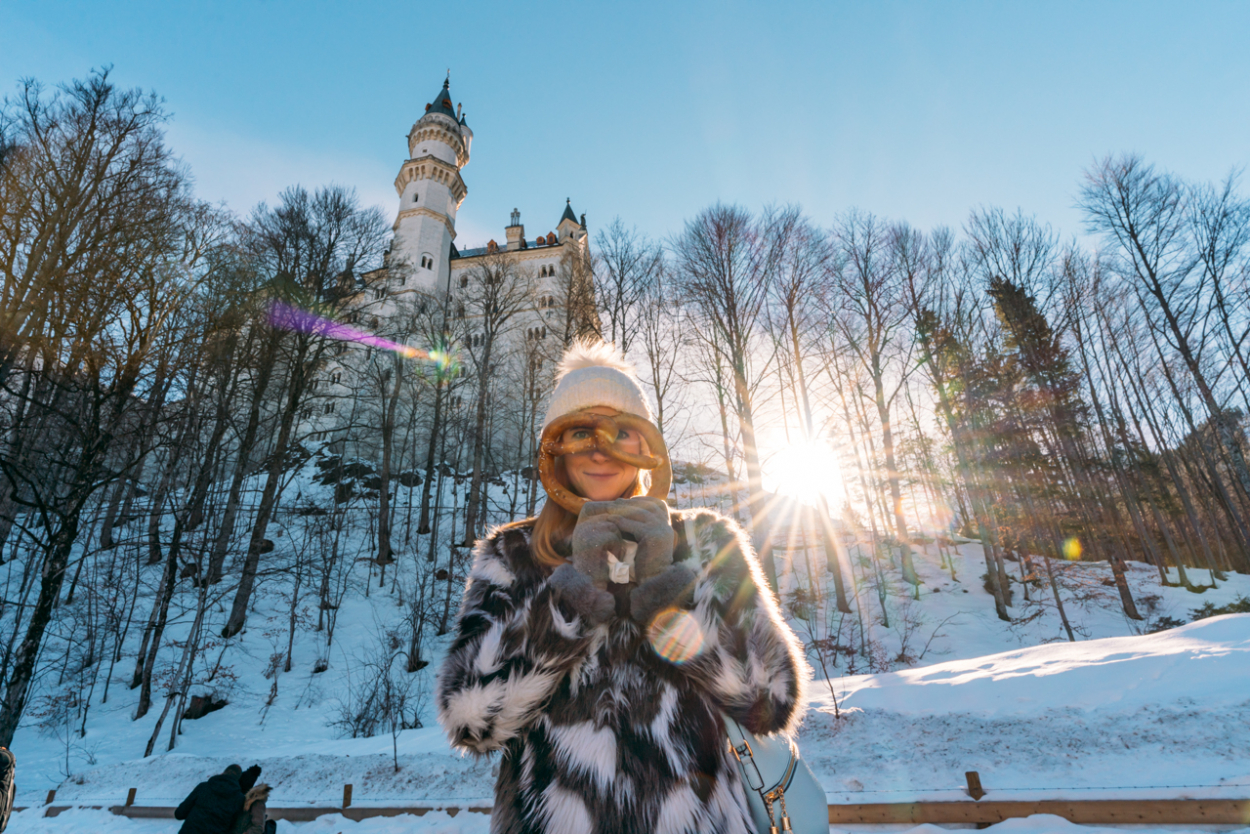 Visiting Neuschwanstein in the Winter:
In the winter, this region does get plenty of snow, which also creates a magical scene, hence why I opted for visiting in the winter.
After the fact, I can tell you that it wasn't the best idea and if you have a chance – go any other time. Here's why:
Undeniably, Neuschwanstein is best looking from the outside and not inside, so walking around the castle is a must. There are actually numerous trails around it, which not only makes for great photo spots but also nice scenery.
In the winter, however, 90% of trails are closed as it's too icy, including the Marienbrucke.
Bad news for those that don't want to walk is that shuttle buses heading to the castle are also not working during the winter, so you'll have to walk a steep hill to get there. Walking takes approximately 30-40 minutes.
While snow makes for nice photos if you experience a snowstorm combined with fog during your visit you won't be able to see the castle from the outside at all.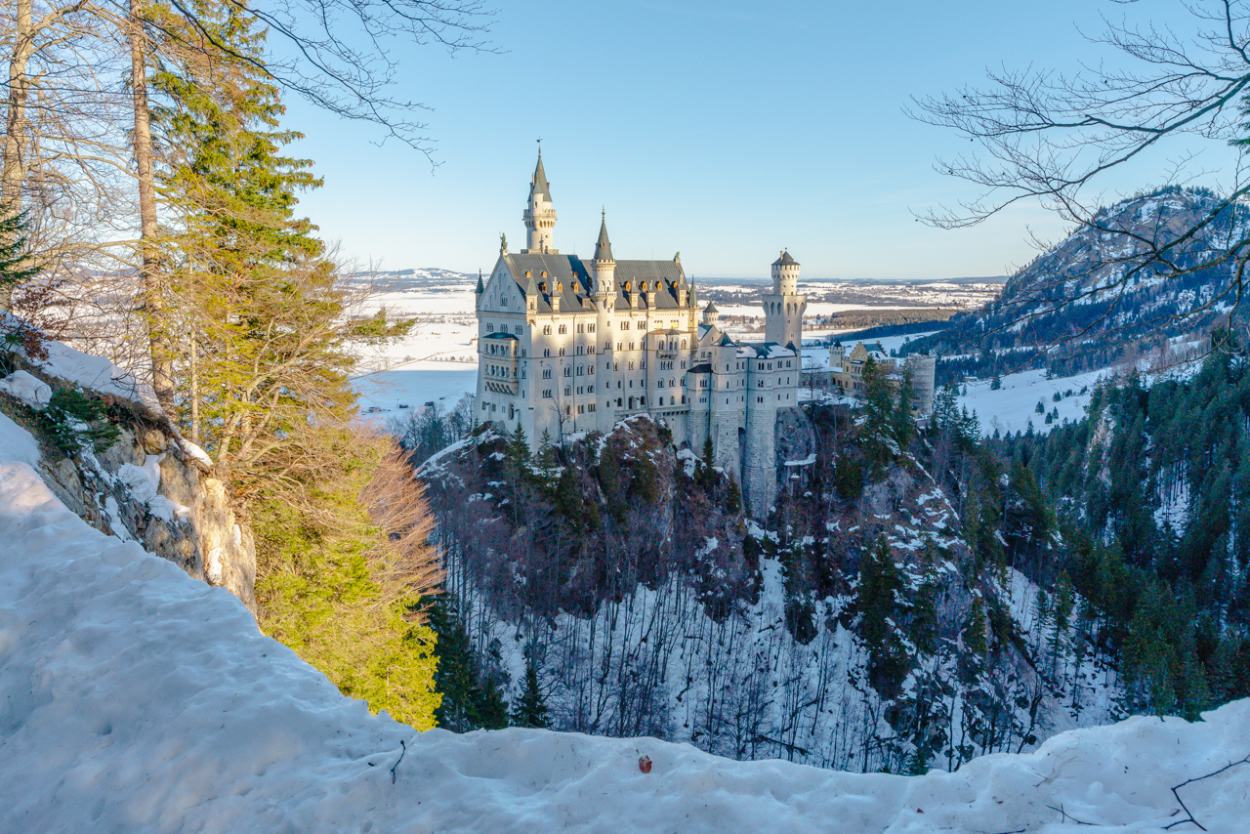 ---
How to Get to Neuschwanstein Castle?
Neuschwanstein is in southern Germany right near the border between Germany and Austria. Because of its location, it is common for people to drive from several different countries in order to visit.
If you're flying, you should get to either Munich or Innsbruck, and then continue your journey.
If you rent a car, it takes about 2 hours from either city via the A7 highway.
There are also group tours (including transport) available from both cities if you don't want to drive. I can vouch for this reliable tour from Munich.
How to Get to Neuschwanstein on Public Transport?
You can also take a train from several cities into Fussen. The station is only a 6-minute drive to Hohenschwangau, the town where the ticket office for Neuschwanstein is located.
Once in Hohenschwangau, you have several options to get to the castle. You can walk, take a horse carriage, or take a bus (not in the winter) for 2.5 EUR.
(!) Make sure to allow at least an hour from the time you arrive in Hohenschwangau to get to Neuschwanstein.
---
Rules Inside the Castle
In order to get into the castle, you must be on one of the guided tours provided as part of your ticket. Photography is not allowed inside.
Currently, there are renovations being undertaken in parts of the castle both inside and outside, so there may be detours or areas that are unavailable to view.
Because you will be on a guided tour, you don't have to worry about missing any specific sights inside Neuschwanstein. Make sure to pay close attention to the frescoes and tapestries that decorate the walls. They tell the stories of Ludwig's favorite plays and fairytales!
The Hall of Singers is the largest room, and the Grotto is one of the most famous, with its artificial waterfall.
The Throne Room contains impressive murals and a mosaic. It's also interesting to note the "modern" features that were included in the castle, including running water, heating, special lighting features, and advanced cooking equipment.
---
Things to Do Around Neuschwanstein Castle
Marienbrucke (Queen Mary's Bridge) and Other Viewpoints
A trip to Neuschwanstein is not complete without a visit to Marienbrucke, just 15 minutes walk from Neuschwanstein.
This bridge was named after King Ludwig II's mother and has one of the best views of Neuschwanstein Castle. But, visiting Marienbrucke is not for the faint of heart, it hangs 295 feet (40m) over a gorge, and is often jam-packed with visitors. Click here for a detailed map how to get there.
If you have additional time, there are several hiking trails in the Allgau area along with the most famous photo spots (pictured below), which are marked out once you pass the bridge. This is a smart way to see Neuschwanstein without the crowds.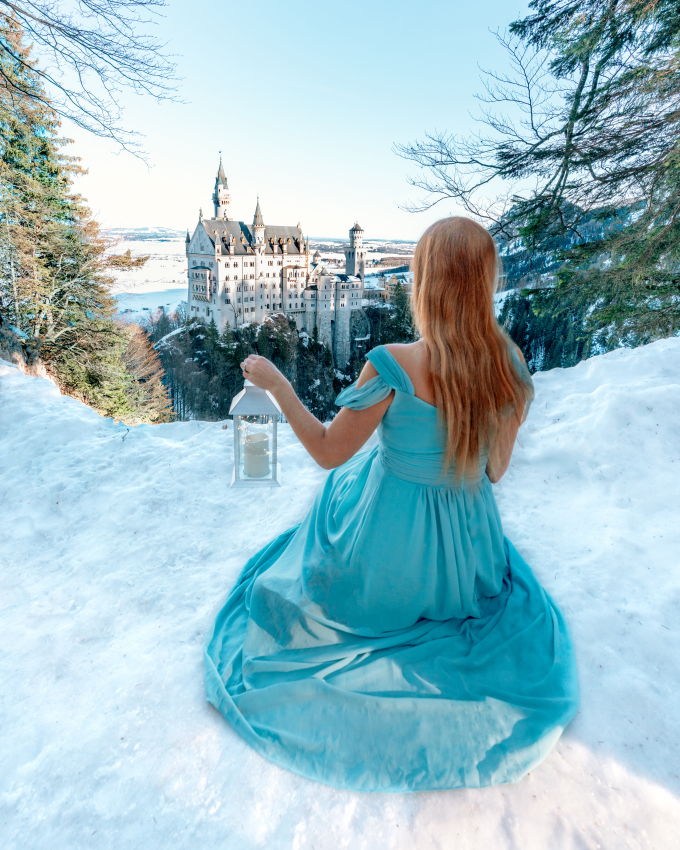 Visit Museum of Bavarian Kings
It is worth visiting the Museum of Bavarian Kings in order to get a background on the town, castles, and region. This museum also has interesting objects, including jewelry and clothing.
The Museum is located in the former Grand Hotel Alpenrose (Alpseestraße 27, 87645 Hohenschwangau).
See Hohenschwangau Castle
Hohenschwangau is the less popular sister of Neuschwanstein Castle with a bit less of the magic. During the late 18th century, it served as a residence for the rulers of the area but unfortunately got quite damaged over the years.
You can buy combination tickets with Neuschwanstein and/or the Museum of Bavarian Kings or purchase them separately for 13 EUR and you must book at least two days in advance.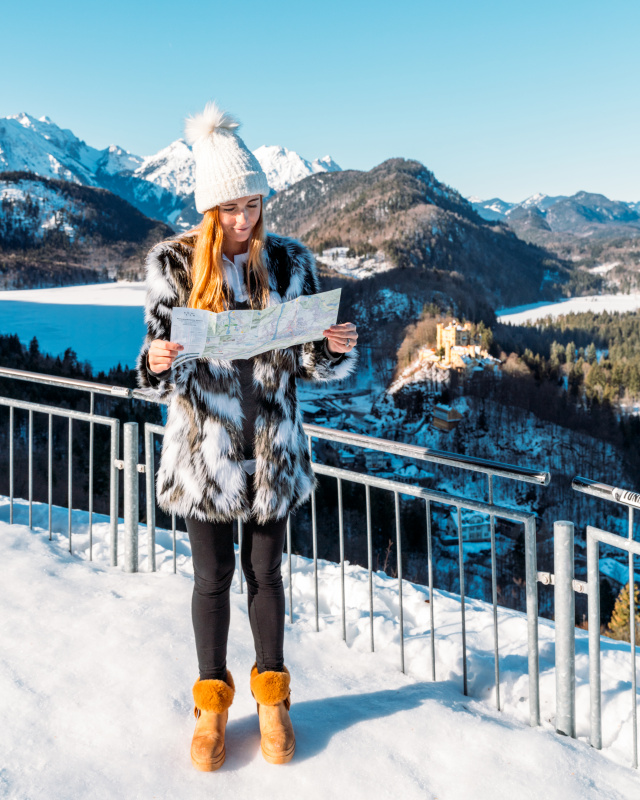 The Romantic Road
The Romantic Road is a route through Southern Germany that offers views of beautiful landmarks and natural scenery.
It was formerly a trade route and cuts through a UNESCO German wine region, ending in the Bavarian Alps. Neuschwanstein Castle is also a part of this road.
The road is over 220 miles (350 kilometers) and the best way to follow it is by car or bus. Following the Romantic Road is a great option is you have time to spare and want to get an in-depth experience of fairytale Germany.
---
Where to Stay near Neuschwanstein Castle
Neuschwanstein can be experienced as a day trip from many convenient locations. However, if you choose to stay near Neuschwanstein, there are a few hotel options.
Hotel Das Rubezahl is a fantastic luxury hotel situated very close to the castle. You can admire Neuschwanstein while sitting in an outdoor pool there.
For a slightly cheaper option, Villa Ludwig is a convenient boutique hotel that is sure to please. Some rooms even have ceilings full of stars!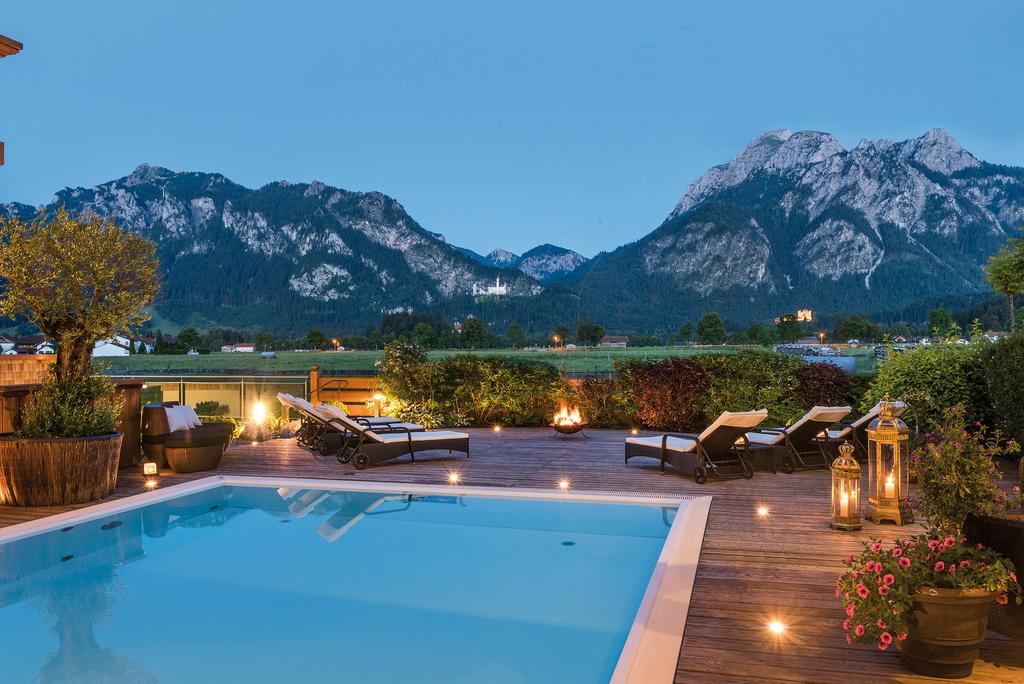 *
I hope these tips help you to live your own fairytale at Neuschwanstein Castle. Make sure to plan ahead and pack your camera! This Disney castle in Germany is definitely worth a visit, for the beauty and history.
For more famous German castles, check out the most beautiful castles in Germany.