The Edge fo the World (Jebel Fihrayn) is one of the most popular spots in Saudi Arabia, along with Madein Saleh in Al'Ula. I can honestly say that it's a big rival to the Grand Canyon, if not better as there aren't any cheesy tourist facilities there.
Just an hour from Riyadh, these rocks drop down 1,000 feet into an ancient ocean bed.
I knew I wanted to go there, but as tourism is still brand new to Saudi, your traditional tourist companies don't exist yet and if they do their websites don't exist or aren't in English.
What doesn't mean you won't meet other tourists there. Tourism really exploded in Saudi since they started issuing tourist visas, so you might hike around the Edge of the World with other visitors.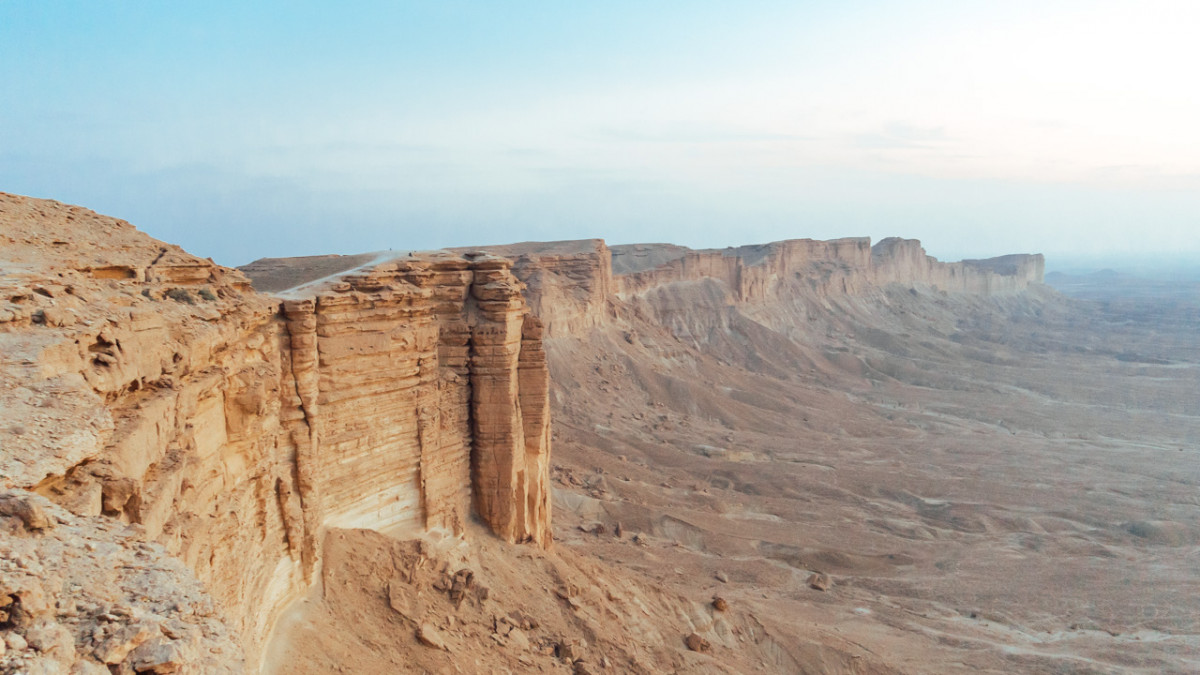 The Edge of the World Tour from Riyadh
Public transportation in Riyadh is pretty much non-existent, as they're still in the process of building Metro. Naturally, you cannot reach the Edge of the World by public transport.
While Uber works great, no one will bring you to the Edge of the World as it's simply too far and at some point, there are only dirt roads or no roads at all.
That said, you only have two options to visit the Edge of the World: rent a car and drive on your own, or find a tour that will take you there.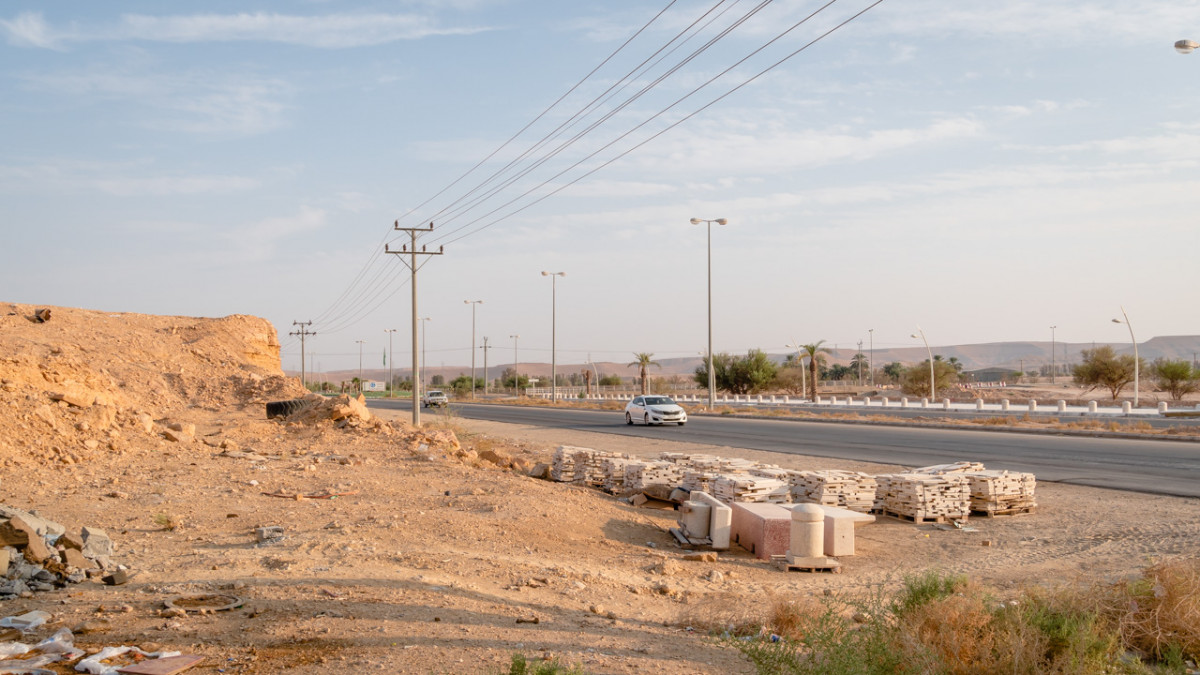 1. Self-Drive to the Edge of the World
I was close to renting a car and self-driving to the Edge of the World. It's totally legal for women to rent a car and drive themselves, but it doesn't mean that you'll see many solo travelers traveling there.
I drove by myself around Jordan before, which brought me a few strange stares from locals and laughs from the Bedouins. Even my Jordanian friends were surprised I drove myself but frankly, I had no issues there and would recommend renting a car in Jordan.
But, everything I read said that I'll need a 4×4 because it's easy to get stuck. While it's technically possible to do it with a regular car I decided it probably isn't the best idea to head to the desert alone without someone who knows the way.
Especially considering the fact that there were absolutely no signs, roads end at some point and you'll be without a signal for a significant portion of time.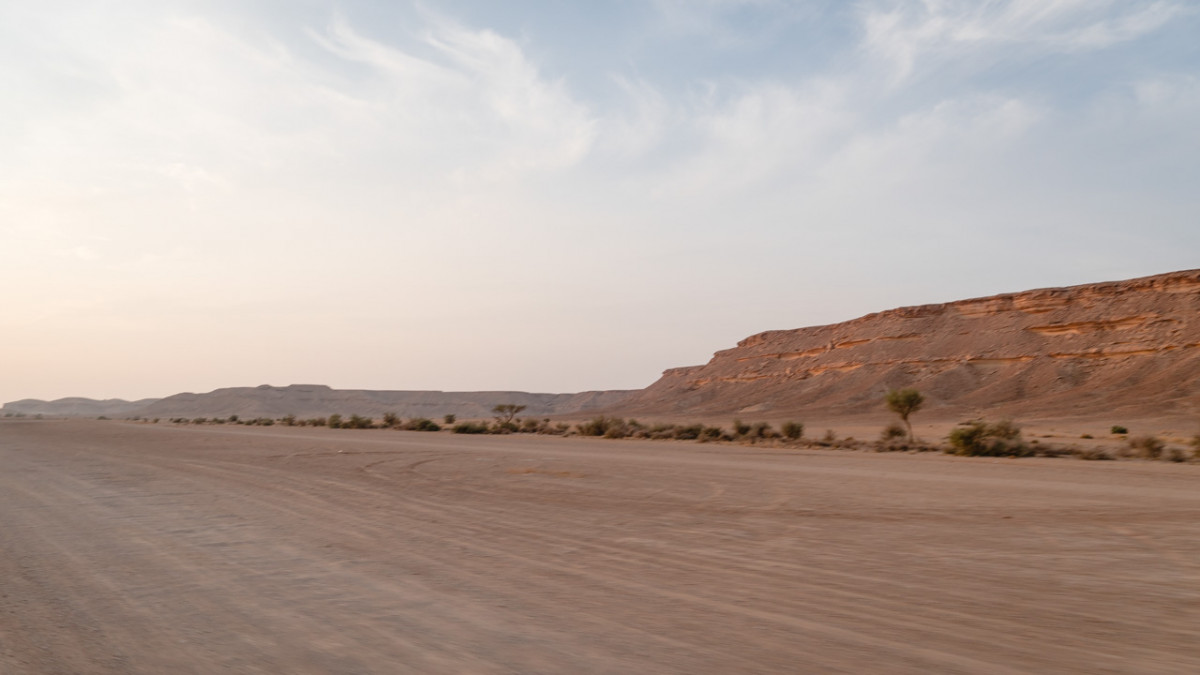 ---
2. Finding a Tour to the Edge of the World
The only tour companies I was able to find I have through Instagram, but most of them offered group tours only on specific days (mostly on weekends) and none of the dates suited me.
Tours I was able to find a good tour on Viator, but it was over $600 it was private. If you're traveling in a group or want to spend more on a private tour this might be an option. Especially if you're a photographer – more on this further down.
I knew there was a great tour with Four Seasons that also stops at Ad'Diriyah, but their customer service really threw me off. I called and emailed multiple times and no one bothered to reply.
In the end, I was able to arrange my tour with Ghazi Tours and I can recommend them. They offer both private and group tours – I joined one of their group tours for 300 SAR (about $90).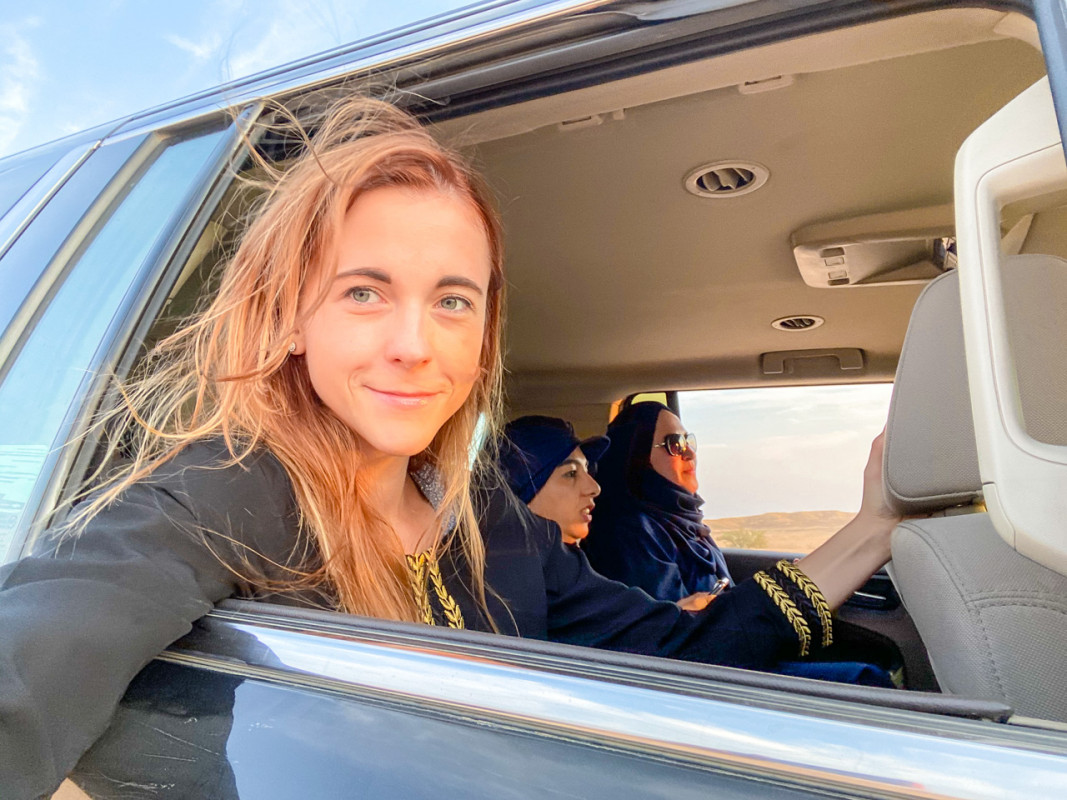 ---
My Trip to the Edge of the World from Riyadh
No company will bring you to the Edge of the World in the middle of the day, as it's way too hot and sunny. Tours to the Edge of the World tend to either start at 6am or 2pm. If you decide to join a group trip it's mostly going to be the afternoon option.
The tour starts with a drive out of Riyadh with a quick pit stop at an oasis full of palm trees. Group tours will consist of a convoy of a few cars, but by the time yo get to the desert every car pretty much does its own thing.
My driver was very experienced, so we had a desert roller coaster ride which was a lot of fun. The only other place I was able to experience something like this was Tunisia.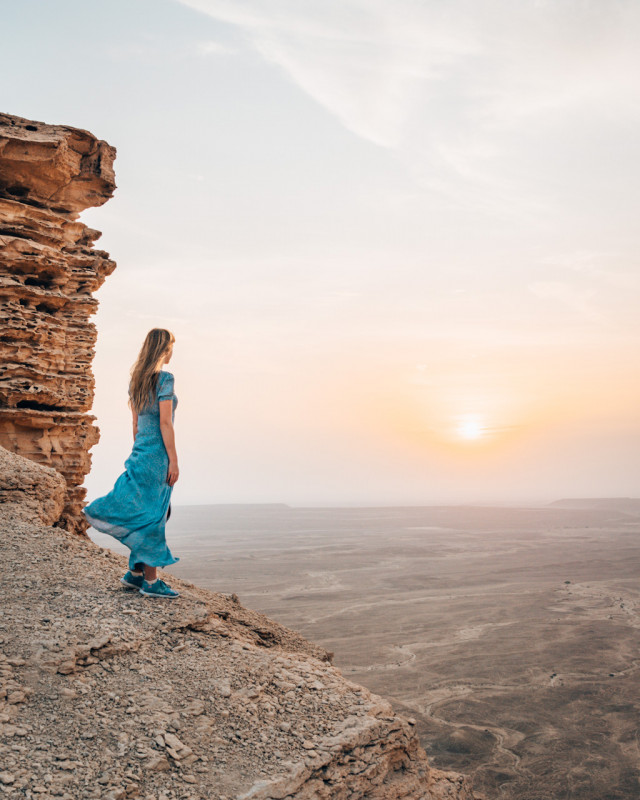 One thing I wish that was different with my tour was leaving early in the morning, not in the afternoon as we had a bit of a delay and missed most of the light.
Most people prefer to hike around when it's later and cooler, but if you're a photographer, you might want to do a private sunrise tour.
Quite frankly, while everyone enjoyed my tour I had about 5 minutes of sunset to enjoy and another 5 minutes of post-sunset decent light, so I ran around like a crazy person and still didn't get any spectacular shots. I could have easily spent a few hours there, so I wish the tour wasn't so late.
The tour finished with riding on top of the car looking at the stars and dinner in the middle of the desert. I got back to my hotel at about 11 PM.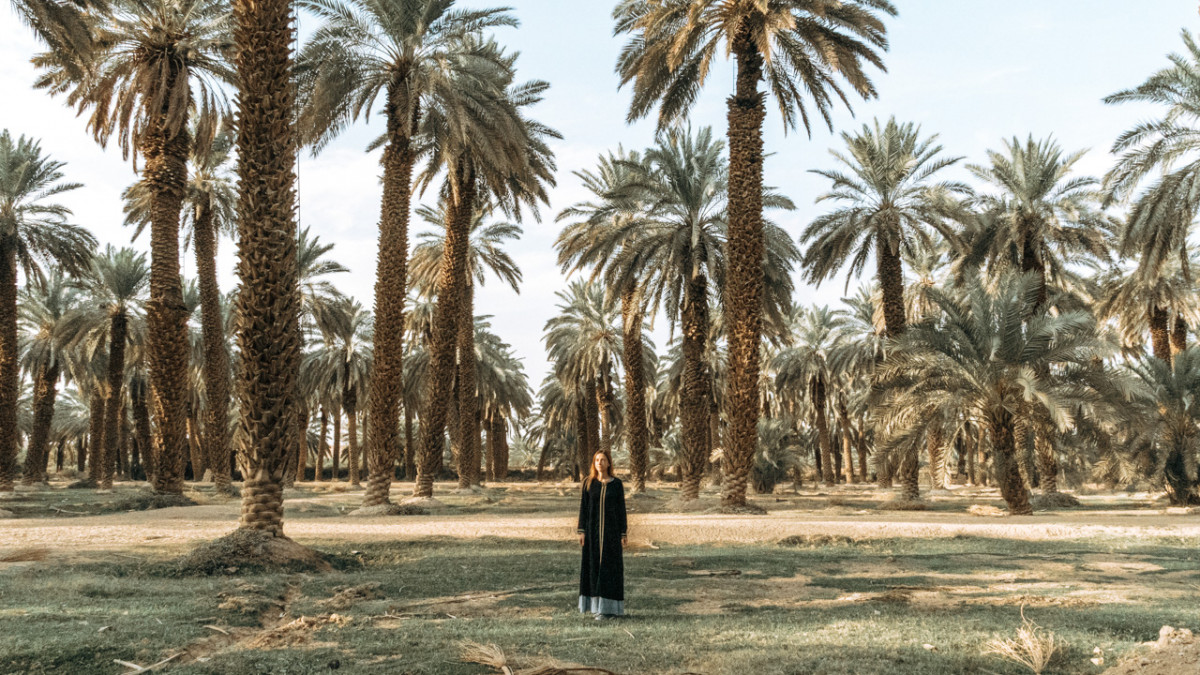 ---
What to Wear for a Trip to the Edge of the World
As a man:
Don't wear traditional Saudi clothing. I had a man in my group who did and he regretted his decision immensely.
It's a hiking ground with rocks and no trails, so if you're wearing something long you simply won't be comfortable.
As a woman:
As it's a trip to the middle of nowhere you can really whatever you like. However, I wouldn't go with short shorts and other non-lose clothing – it's not California 😉
As I traveled with Saudi women I wore my abaya most of the time, but removed it for a few photos and also as it was easier to hike without it.
I did it purely out of respect towards local women. The organizers told me that I'm free to remove it anytime if I feel like it.
While I'm comfortable hiking in dresses, many women would probably prefer to wear pants. Either way, comfortable and preferable closed-toe shoes are a must because there are no trails and everything you walk on is quite rocky.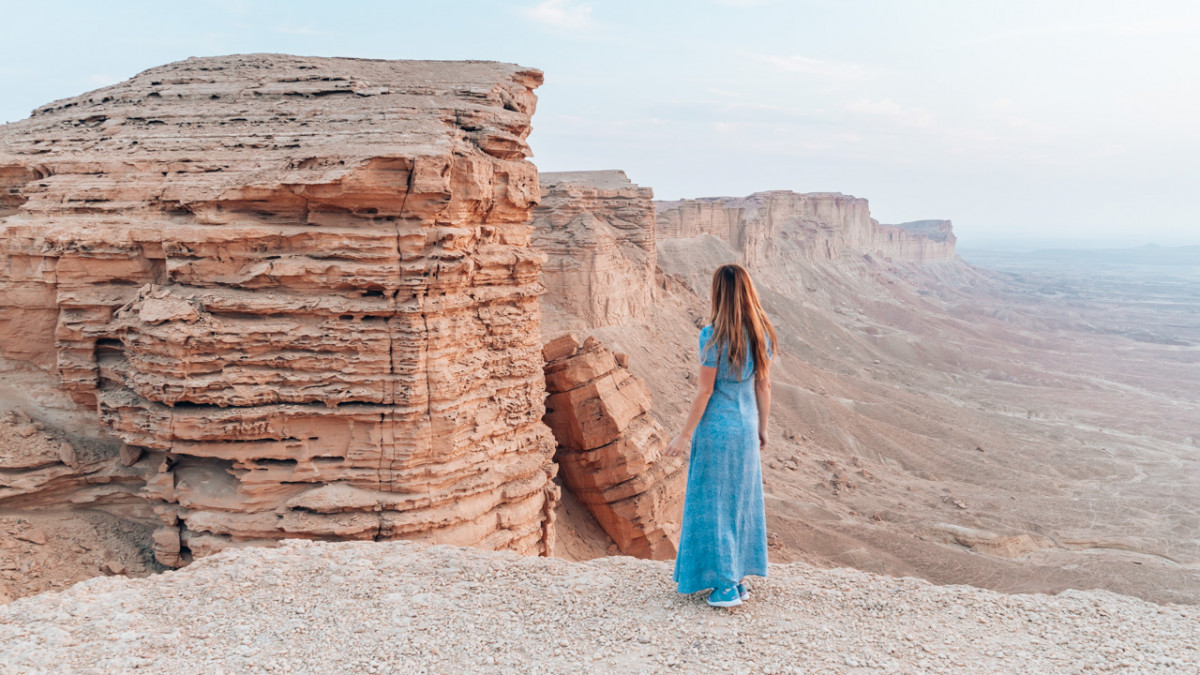 Any questions about the Edge of the World? If you're looking for more info on visiting Saudi Arabia, check out my other post.