What is Mexico famous for? What are the facts about Mexico that you might not have known? Mexico is famous for cacti, tacos, mariachis and other things, but a lot of these typical Mexican things are simply misconceptions. Despite over 30 mln tourists a year visit the country every year, there are some things that you might not have known about Mexico.
Interesting Facts About Mexico
---
1 – Cacti don't grow everywhere
That's right – cacti simply don't grow everywhere in Mexico, like for instance in the middle of the road in Mexico City. To be honest its kind of hard to find them in big cities unless you visit a northern part of the country or go to a desert.
However, finding a cactus (called nopal) to eat is pretty easy if you like tacos… and tasty.
---
2 – Street food is the best
I'd compare Mexico to Asia in the sense of food. The best tacos are those that one can buy from street stalls, not a posh restaurant.
---
3 – Mexicans dress very well to work
Mexican dress code is very strict, that's why you can see men wearing suits even when they're driving a bus. People do care how you dress, so if you're interviewing with a Mexican company no matter how good you are you should remember to dress nicely.
---
4 – Phone numbers are complicated
For instance, let's say my cell-phone number in Mexico was 55 59 89 51 56. Now, if you're calling or texting from another cell phone you dial this exact number. If you call from a local phone you need to add (0-44) before the number.
If you text from a foreign cellphone you need to add (+52), however, if you want to call from a foreign number you need to add (+52 1).
---
5 – Tampons are a sensitive topic
Tampons are still a novelty in Mexico, even tho a lot of people tend to argue that saying this makes Mexico look bad. A lot of people have either not heard about them at all or are scared to use them claiming they aren't very hygienic.
Obviously, there are some tampons available at the supermarket, but if you're used to American standards they would seem awful to you. Moreover, my friend and I got stopped for 30 min because the police didn't know what tampons are and had to check what do we use them for.
After reading your comments I see it's a sensitive topic. One way or another there's nothing bad in using tampons or not, it's just different.
---
6 – You shouldn't throw toilet paper in the toilet
Mexico isn't different than other places in Central America in this sense, especially considering the fact that it's not in Central but North America. You should throw toilet paper in a bin, not in a toilet bowl. Not surprisingly, many Latin Americans abroad have trouble adjusting to flushing toilet paper down the toilet.
Correct me if I'm wrong, but none of the hostels I've stayed in around Mexico allowed me to flush down toilet paper. Especially in Riviera Maya which is so close to the ocean.
---
7 – Local police pretends to check drivers
In Mexico, the majority of people just drive away after a few drinks. It's not a surprise when the police simply stop a car and ask the driver: 'Have you been drinking?'. When you answer 'no', you're free to go.
---
8 – Corona beer isn't considered good
In Mexico, Corona is considered a bad beer, but since it's cheap people do drink it. It's similar to the situation in Australia where only a few people drink Foster's and Holland where not so many people like Heineken. If someone does order a Corona in Mexico, it definitely won't be served with a lime on the top of the bottle.
---
9 – There are many words for corn
When it comes to the meaning of words that describe corn Mexico is like the North Pole and the words for snow. However the corn, in general, is called maiz, but there are various words for corn in different forms.
You were asking which ones, so there we go: elotes, panizo, millo, nixtamal. Compare it to English: CORN
---
10 – In 2008 the Mexican city of Torreon imposed fines for putting on make-up or shaving with an electric razor while driving
Clearly, there were too many accidents on the road.
---
11 – Mexican children do not receive presents on Christmas Day
Don't worry, kids do receive gifts, and they might even get them twice. The bigger celebration, however, is on the day of Three Kings on January 6th.
---
12 – You can buy colorful poultry
In Mexico, you can purchase unusual, at least for foreigners, pets. I personally had a duckling (don't worry, it wasn't blue or pink, I had a normal cute duckling), but people often keep chickens in regular apartments.
Some bigger street markets also offer colorful dyed birds – what's not a good thing. But you can see plenty of those at different markets.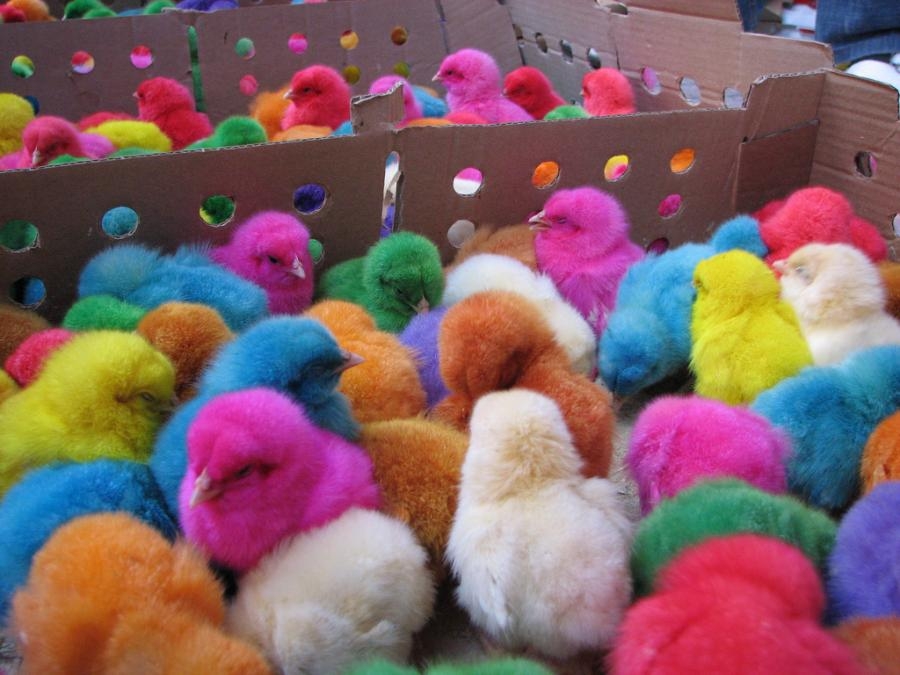 ---
13 – Mexicans are the 2nd fattest nation in the world
A lot of Mexicans are huge – over 70% of all Mexicans are overweight, what makes the country the 2nd most obese nation. After all tacos are very tasty.
It's a joke about tacos, don't get offended.
---
14 – Mexico City sinks 10 inches every year
I guess that's what you get when you build city on a big lake. However, don't take this too seriously, the city is more than just fine and there's no need to worry.
---
Movies about Mexico:
---
Books about Mexico: