The White Mountains of New Hampshire are an exciting destination for travelers. The area truly has something for everyone, from swimming holes and train rides to hiking, waterfalls, and gorgeous, woodsy scenery.
It can be tricky to decide what to do when time is limited and the options are so plentiful—so here are eight great activities to get you started!
1. Visit Mount Washington­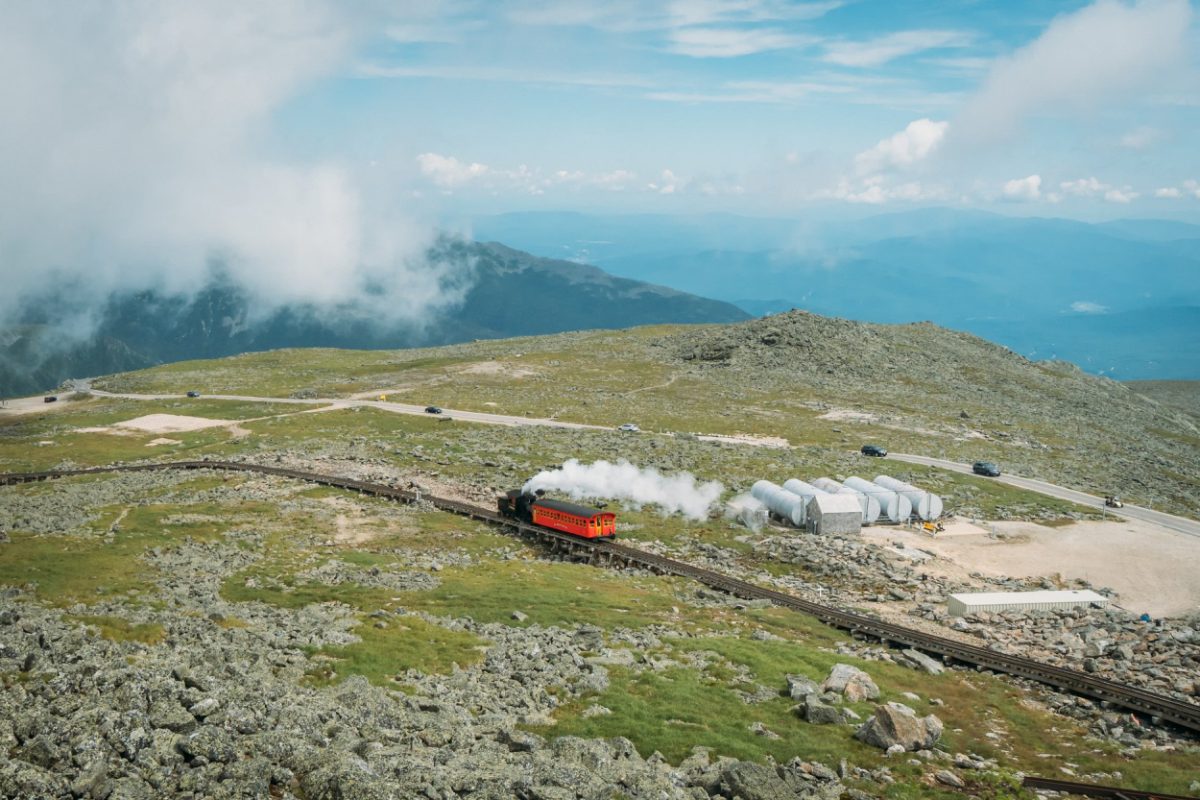 If you get a clear day on your trip, make it a priority to visit Mount Washington. This mountain held the record for the highest recorded wind gust for 62 years. (231 mph, recorded on April 12, 1934). That should give you some idea as to just how windy you might find conditions at the summit!
You can drive to the top if your nerves can take the steep and narrow roads, or take a guided van tour or the Cog Railway to the summit.
Tip: If you opt for the drive, be sure to download the audio tour from the website to listen to on your way up. It will take you through the history and ecology of this fascinating area.
On top of Mount Washington, you will find incredible views— especially on a clear day. You might be able to see into as many as five surrounding states, and sometimes as far as Canada.
If you get a foggy day, though, do not despair! There is a special, almost spooky, feeling amongst the clouds, and kids especially enjoy the atmosphere. Do pack heavy sweatshirts, and if it is spring or fall, a winter coat, hat, and gloves are highly recommended!
Even in the summer, temperatures at the summit can feel like winter and you might even spot some lingering snow. There is a lovely gift shop at the summit (which sells sweatshirts if you forgot yours), plus a café that offers warm drinks and snacks.
It's fun just to walk through the café and check out all the folks who hiked up the mountain. You might just be inspired to tackle the trek yourself one day!
Stays close to Mount Washington
The Inn at Thorn Hill
The Glen House
---
2. Have fun at Clark's Trading Post
Clark's Trading Post has been drawing travelers since 1928, who come to see the famous trained black bears. The half-hour show is a bit corny, but kids will love watching the bears balance on balls, play basketball, and perform other tricks.
There's a scenic 25-minute train ride on offer, but it may be too much for younger kids, so parents should use their discretion. At one point in the ride, the legendary "Wolfman" emerges to chase the train away from his secret mining operation.
If your kids aren't up for that, no worries! There is plenty to do here, including Merlin's Mystical Mansion (best for kids who aren't afraid of the dark), bumper boats, an Americana Museum, and a thirty-foot replica of New Hampshire's Old Man in the Mountain to scale. (Sneakers or other closed heel shoes are required!)
Stays close to Clark's Trading Post
Quality Inn & Suites
Launchpoint Lodge
Hampton Inn Lincoln White Mountains
---
3. Take a walk at the Flume Gorge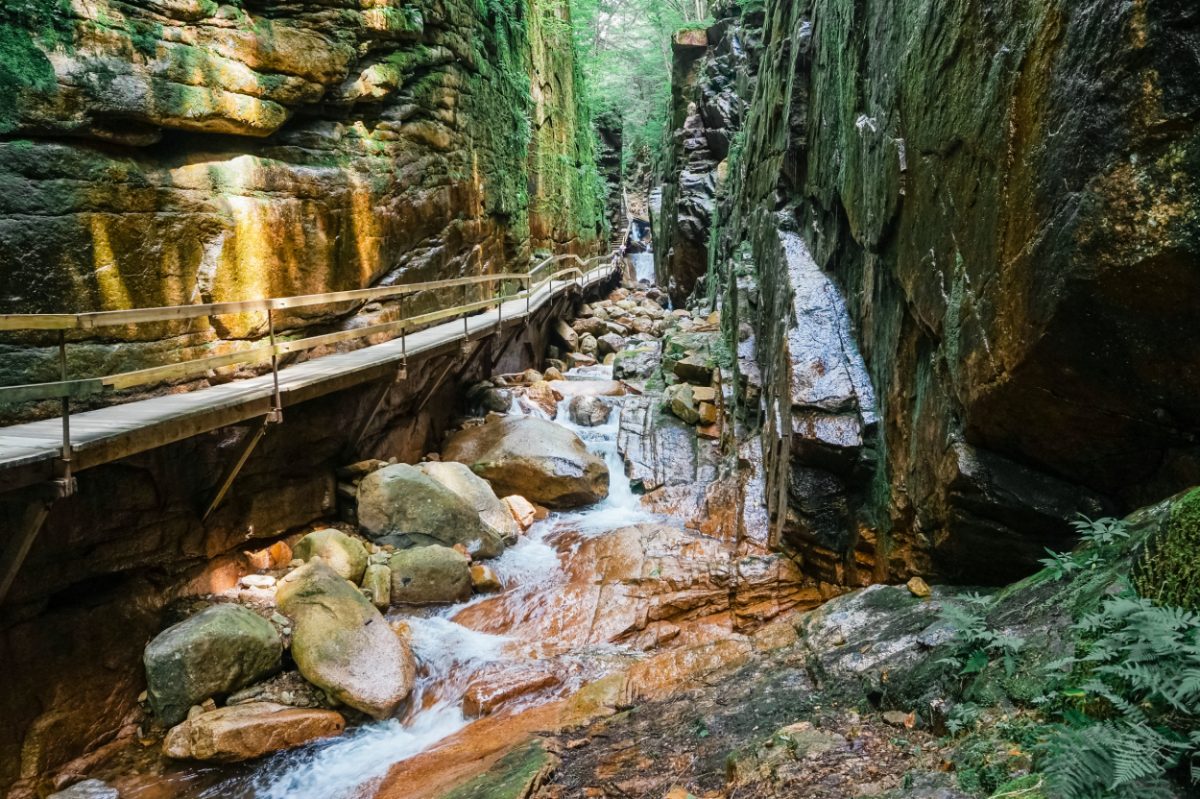 Admission is a bit pricey to this White Mountains attraction but it's considered a must-do in the area. This is a gorgeous two-mile walk through a natural granite gorge. Along the way, you'll encounter waterfalls, covered bridges, and lots of great photo-ops.
The terrain is fairly easy (though not stroller friendly due to the number of stairs). The Flume gets very crowded during peak tourist season so it's best to visit early in the day.
Tickets are cheaper if you buy them ahead online, so that might be worth considering. If you come with kids, print out the colorful scavenger hunt on the website. Searching for the wolf's den and spiderwebs might just keep kids' minds off the stairs!
Be sure to check out the well-organized visitor's center, if you are curious about how this area came to be (or if you just need a clean restroom and a snack stop).
Stays close to the Flume Gorge
Days Inn by Wyndham Lincoln
Woodwards White Mountain Resort BW Signature Collection
Holiday Inn Express & Suites – White Mountains
4. Go for a ride on the Hobo Railroad
Unlike the train ride at Clark's Trading Post, this is a great one for everyone—there are no scares! Enjoy the views as the train rumbles by the Pemigawasset River on its 15-mile route.
No matter the season, there is something to see, from colorful kayaks in the summer to blazing leaves in the autumn. And if you visit in winter, Santa will join the ride. (Though, if Santa and a Christmas theme is what you are after, know that the visit is very brief and there are no related holiday activities offered.)
You are welcome to bring a picnic lunch to enjoy as you take the 80-minute journey. Just keep in mind that you will need to carry out all of your trash.
There's also a decent playground and a gift shop at the station— with snacks, ice cream, and railroad souvenirs. It's a fun stop for the train enthusiast, young or old.
Advance reservations for the trip are required, and you can book through the website. Parents, no strollers are allowed on the journey, though the staff will go out of their way to help you entertain your children, and will gear their narration to those on board.
Stays close to the Hobo Railroad
Village of Loon Mountain – VI
Wilderness Inn Bed and Breakfast
InnSeason Resorts Pollard Brook
5. Explore Lost River Gorge
Kids of all ages, as well as adults, will enjoy a trip here, but it's best suited to ages five and up since there are a lot of stairs to climb. (No strollers are allowed.) You'll follow a boardwalk through the woods and along Lost River, spotting giant boulders and waterfalls along the way.
While the scenery is spectacular, most people come for the caves! As you walk along the mile-long boardwalk, you will encounter a total of eleven caves with exciting names like the "Lemon Squeezer." Keep in mind that you'll need to be on the small-ish side for some of the caves, but everything is well-signed and there are boardwalks to let you bypass any of the caves.
Sturdy shoes are a big help here, especially if conditions have been wet. Advance reservations (through the Lost River Gorge website) are recommended. At the site, you will find restrooms, a small gift shop, and some snack options.
A mining experience is available separately. You will be given a bag with a small amount of gemstones (and maybe even some sharks' teeth!) and staff will show you how to use the water-powered sluice to reveal your treasures.
Teens might enjoy signing up for the Lantern Tours here—the gorge is eerily beautiful by the light of a headlamp, and you even get to make s'mores to cap off your evening.
Stays close to the Lost River
Wilderness Inn Bed and Breakfast
Inn 32
Woodstock Inn, Station and Brewery
6. Take a hike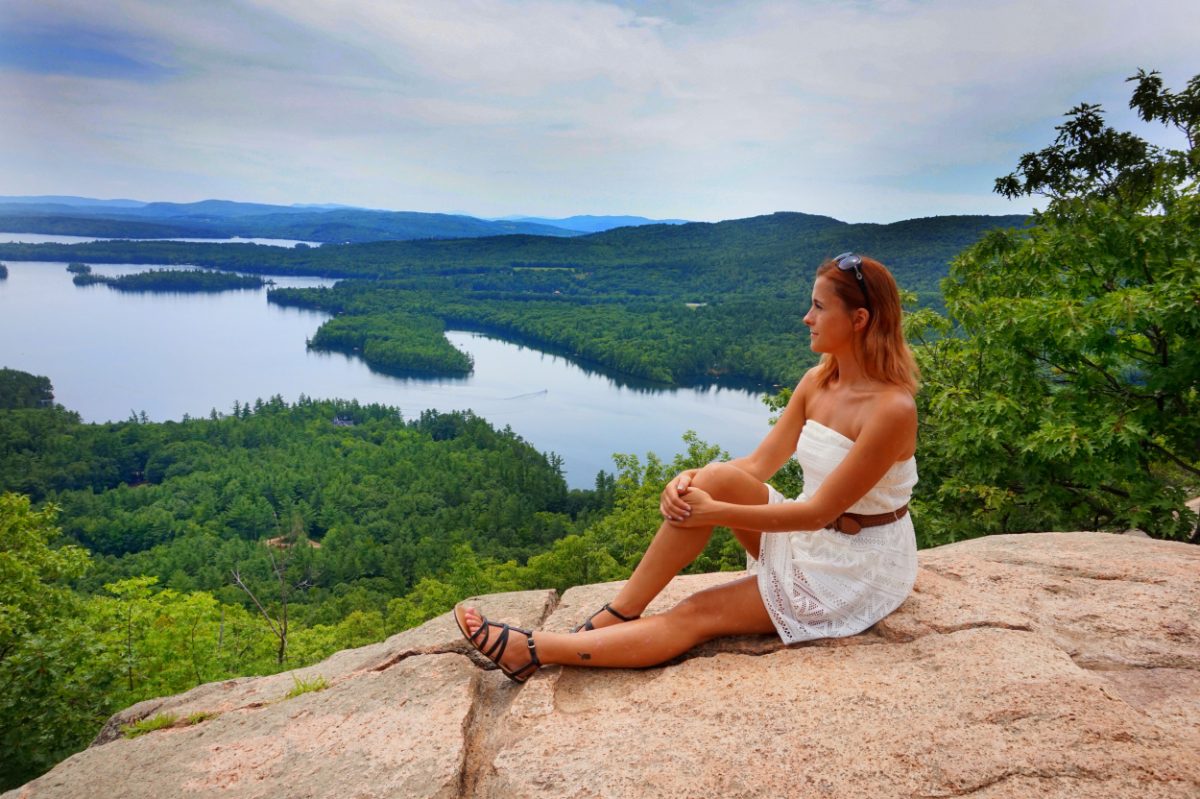 This area is known for its intense hiking opportunities—including Mount Washington itself. But if you aren't up for hiking any of the big peaks, there are still plenty of hiking opportunities to choose from.
Sabbaday Falls is an easy, rewarding hike. After 0.7 miles, you will reach a beautiful waterfall. You can add on a short loop above the falls, if you'd like a different view of the rushing water. This is highly recommended!
You will be able to walk on a bridge right over the waterfall, and photo opportunities abound. The bridge is sturdy and the sides are fenced in, so you will not need to worry about your children tumbling in.
No swimming is allowed, but you can bring a picnic lunch to enjoy. Do remember to bring cash for the self-serve pay station in the parking lot.
Stays within driving distance of Sabbaday Falls
Kancamagus Swift River Inn
Nordic Inn Condominium Resort
If you'd like a more challenging hike with a waterfall, check out Arethusa Falls. Many think that this is the best waterfall in New England, but you'll need to visit in order to form your own opinion.
The hike to the falls is 1.5 miles, and is steep and rocky at times, so do take your hiking experience into consideration. Wear good shoes, and definitely pack water. Collapsible water bottles are perfect for hiking, and really easy to carry.
Your reward will be a waterfall over 100 feet high—higher when conditions have been rainy. Head downstream to get the best views of the plummeting water. The height the water falls from is truly awe-inspiring!
You are welcome to dip your feet in the icy stream to cool off before heading back the way you came. As with Sabbaday Falls, you will need to leave payment at the self-serve station before heading out on your hike.
Stays within driving distance of Arethusa Falls
Bartlett Inn
North Colony Motel and Cottages
The Inn & More
7. Join the crowds at Polly's Pancake Parlor
Widely regarded as THE place to get pancakes in the White Mountains, Polly's is a must-see! The rambling, yet cozy, wooden structure is tucked into the scenic town of Sugar Hill and has been serving up breakfast for over 75 years.
Inside, you'll find tables jam-packed with customers enjoying the many flavors of pancakes on offer. You can completely customize your pancakes here, choosing a batter (such as gingerbread or oatmeal buttermilk) and then adding in blueberries, walnuts, or chocolate chips. If pancakes aren't your thing, there are other options on the menu to try, such as homemade quiche and waffles.
This restaurant strives to source local ingredients when possible, and that includes the delectable maple syrup you will receive alongside your stack of pancakes. Be sure to pause on your way back to your car to enjoy a photo-op with the brilliantly painted horse out front. (Your kids might like to know that its name is Trot Trot.)
You can even purchase pancake mix and syrup in the gift shop, if you'd like to take a bit of the White Mountains home with you.
Good to know: This restaurant is extremely popular, but it does not take reservations. Plan to call ahead, to see if your name can be added to the wait list.
Stays in and near Sugar Hills
Sugar Hill Inn
Franconia Inn
Best Western White Mountain Inn
8. Drive the Kancamagus Highway
The road that links many of the above sights together is called the Kancamagus Highway. Opinions differ about how to pronounce the name of this famous road, but people generally say "Kanc-ah-mah-gus."
It is one of the most spectacular drives in New England. You can't fail to drive on it as you go about your White Mountains visit, but it is also well worth taking a morning or afternoon to do the drive in its entirety. Let your interest guide you as you decide where to stop!
You can choose to begin your drive in either Lincoln or Conway, then drive toward the opposite town. The highway is nearly 70 miles long, and will take an hour to drive with no stops. But, you will want to stop!
Fall is an especially pretty time to take this drive, with orange and red leaves bursting all around you, but any time of year offers tons to explore—from mountain vistas to swimming holes to hikes. Along the way, you will find many scenic overlooks where you can pull over and take it all in.
Sabbaday Falls is right off this route, as is Rocky Gorge Scenic Area—which offers restrooms and picnic tables if you need a pit stop. The gorge is so incredibly narrow, that you will get to see water rushing through, even in drier parts of the year. The trail here is short and easy, and you can cross the footbridge in order to look directly into the gorge.
The Albany Covered Bridge is another great stop along the Kanc (as it is commonly known). The bridge is fun to photograph, and if you cross it, you can head down to the river to wade. If you are hungry when you end your drive, you'll be in either Lincoln or Conway, both of which have many options for dining.
Any time of day works well to travel this route, but dawn and dusk offer the best opportunity to see wildlife—including the local moose. There are no gas stations and few conveniences along the route, so packing a picnic and filling your tank is advised. With a bit of preparation, you'll be ready for a day of exploring one of the most scenic areas of New Hampshire!
If you'd rather spend your time looking out at the scenery than driving, take a guided fall foliage tour.
Stays in and near Kancamagus in Lincoln or Conway
Woodwards White Mountain Resort BW Signature Collection
Merrill Farm Inn
Scenic Inn
Those are the best things to see in New Hampshire's White Mountains. What are you going to do first?