Poland is often overlooked as a travel destination of choice. It's a good thing for you because you won't experience a crazy amount of tourists like in Italy, France or Croatia. While many travelers stop mainly in Cracow (Krakow) in the southern part of the country, the capital of Poland – Warsaw, is also an interesting place to visit with a sad history. There are plenty of things to do in Warsaw!
Many of you might not realize this, but I was actually born and raised in Warsaw. When I was a baby, my parents still had to use food ration cards to get food and supplies (like those in Cuba!). While communism ended in 1989, for many years Warsaw was still associated with old and destroyed gray walls of the industrial city in the eyes of foreign visitors.
Over the years things have changed, and Warsaw is neither gray anymore (in fact, when I was a kid they painted many apartment complexes with random bright colors), or in any way behind the rest of Europe. In Warsaw, you can find any foreign brands, restaurant chains, shops and many cool spots to hang out on top of museums and other attractions.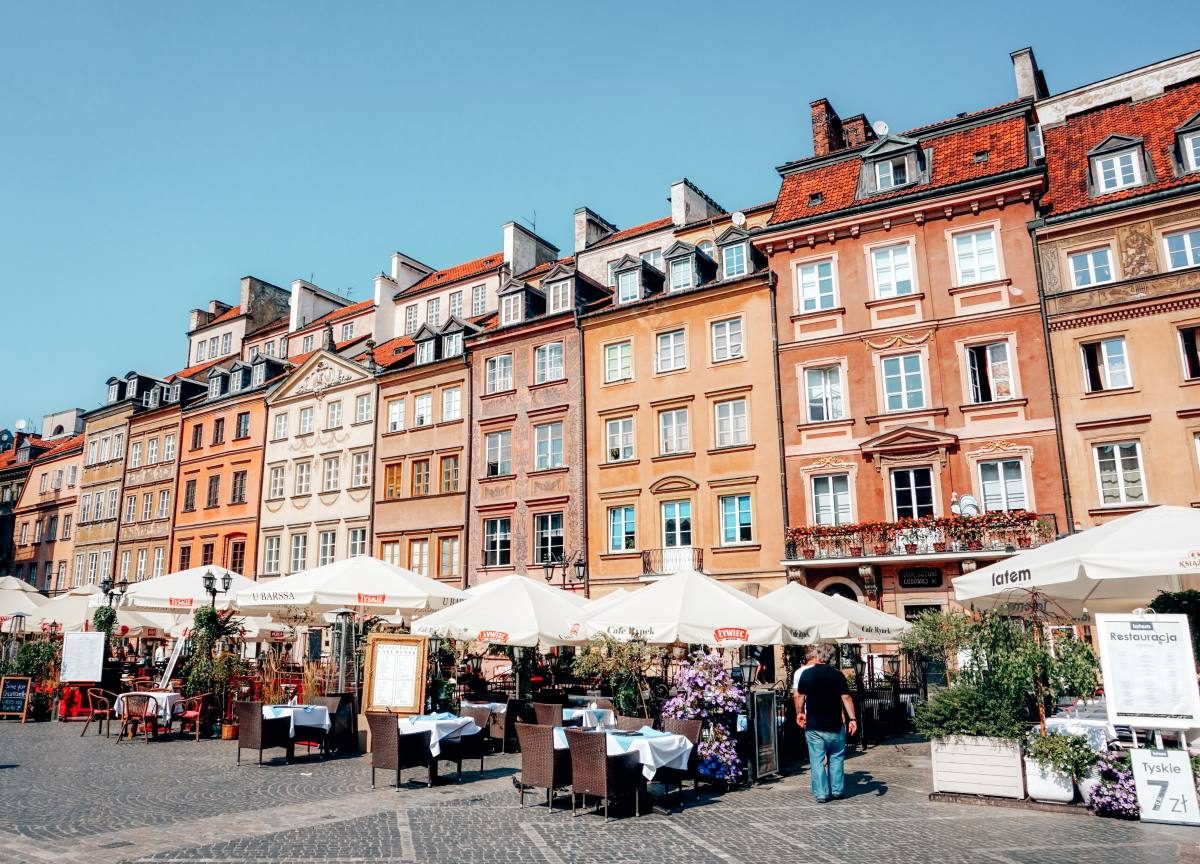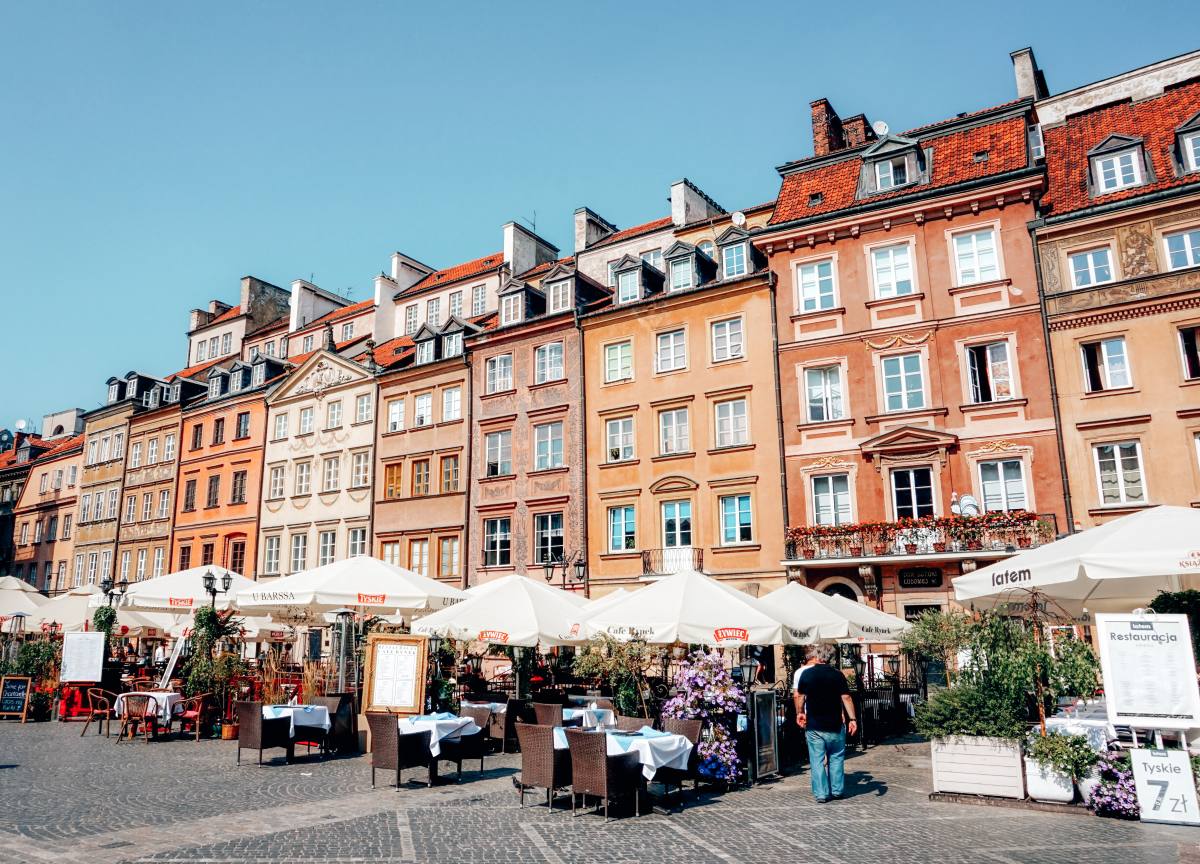 ---
The Complete Warsaw Poland Travel Guide
Current Conversion: $1 USD – 3.82 PLN (Polish Zloty)
---
Things to Do in Warsaw
HISTORICAL SITES

:

Palace of Culture and Science

Palace of Culture was an unfortunate 'gift' from Stalin who wanted to erect a similar monument like the one in Moscow, in order to mark his territory. The building is built in a way that makes it visible from many corners of the city, despite being surrounded by skyscrapers.

While it was planned to demolish it, it became a national monument in the meantime. You can go up to the 30th floor and see Warsaw from the top.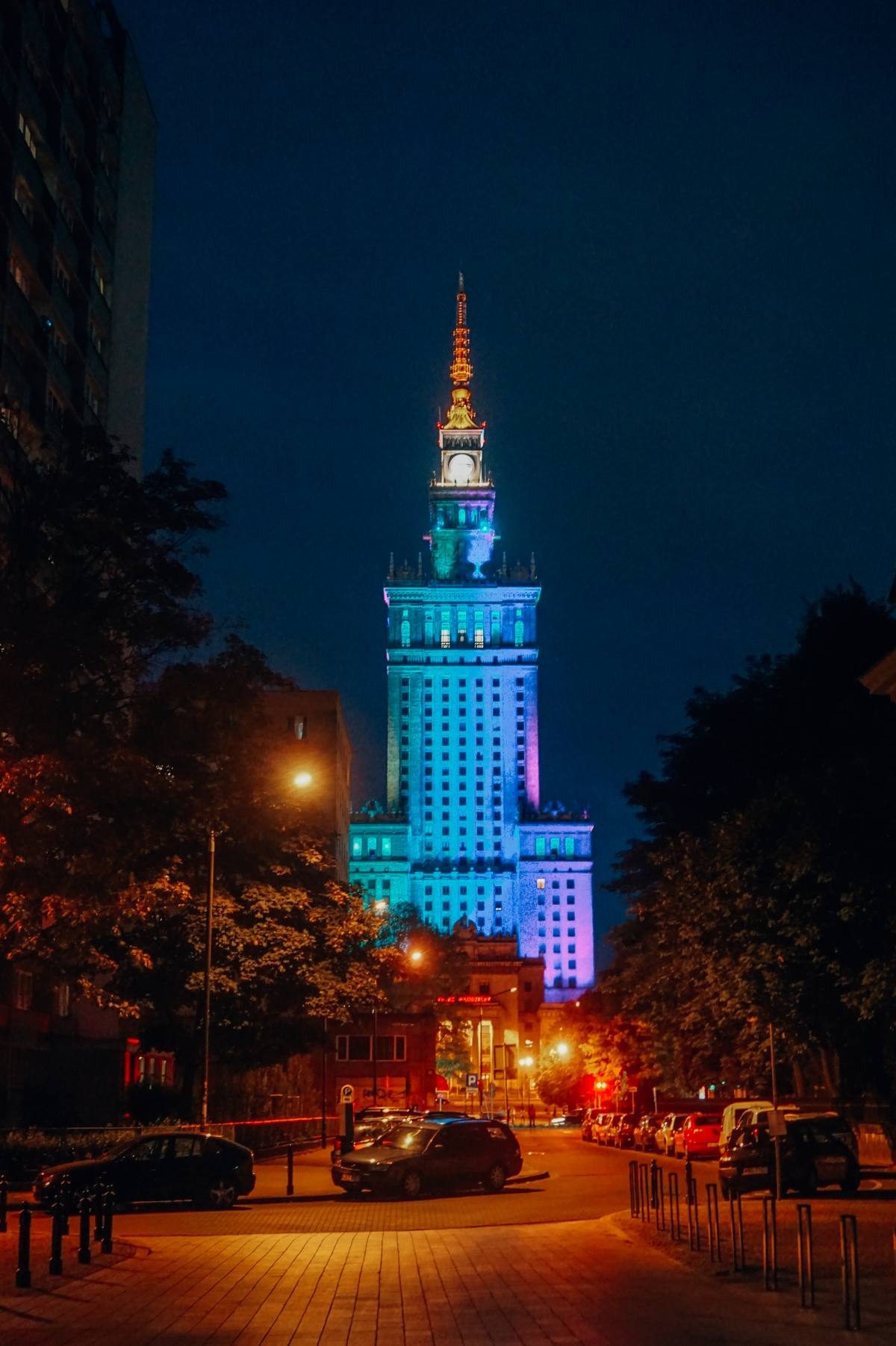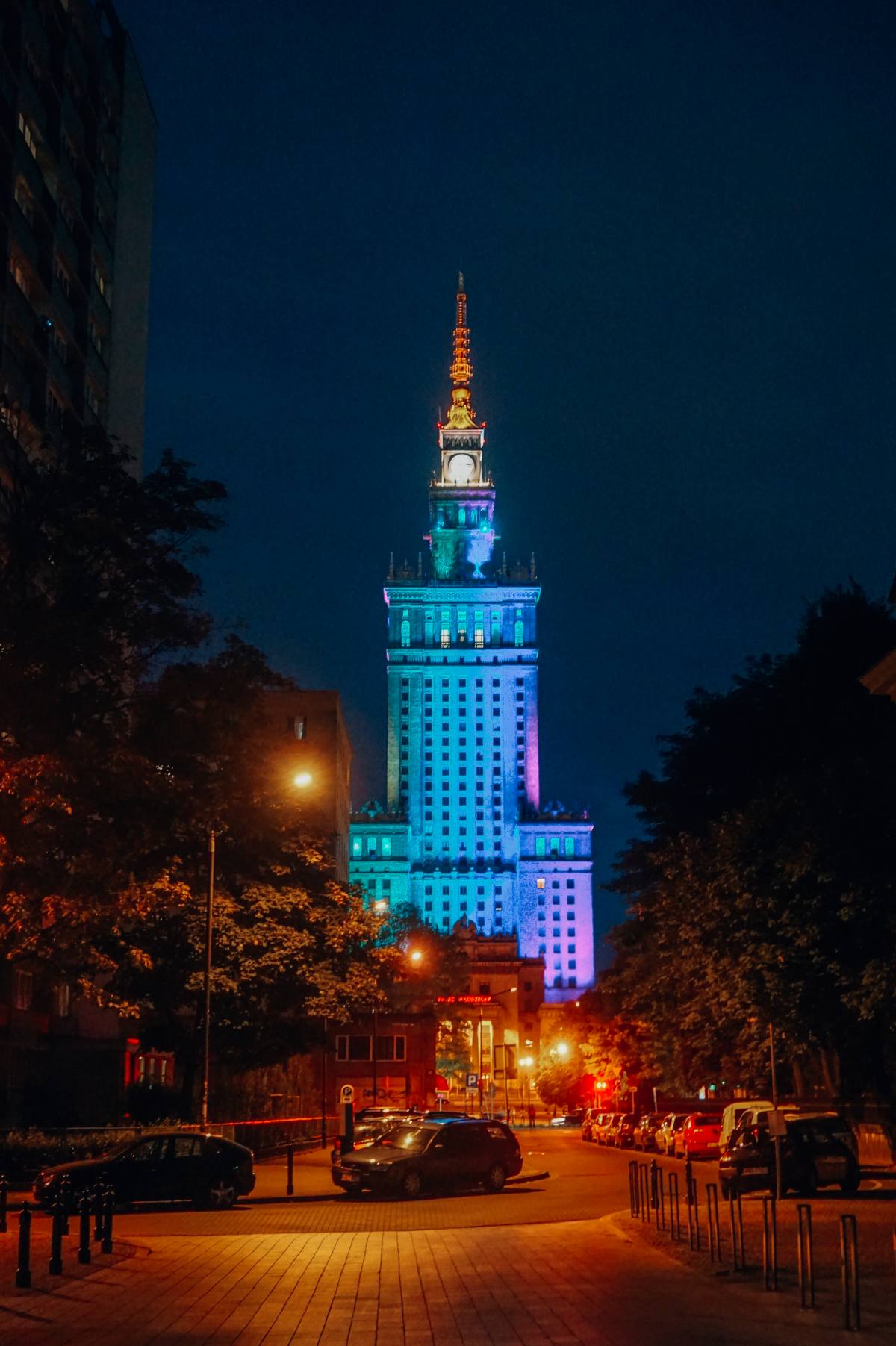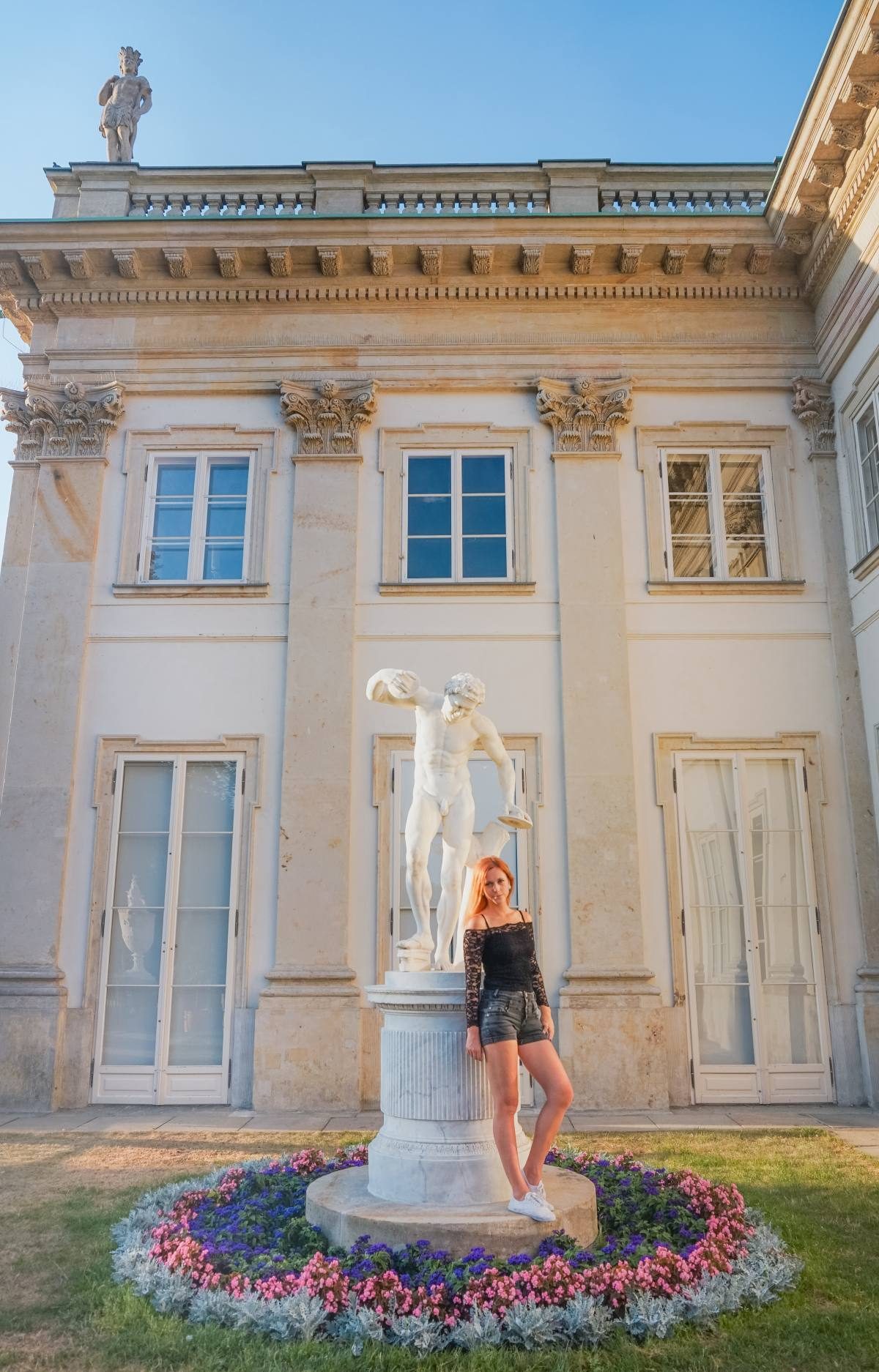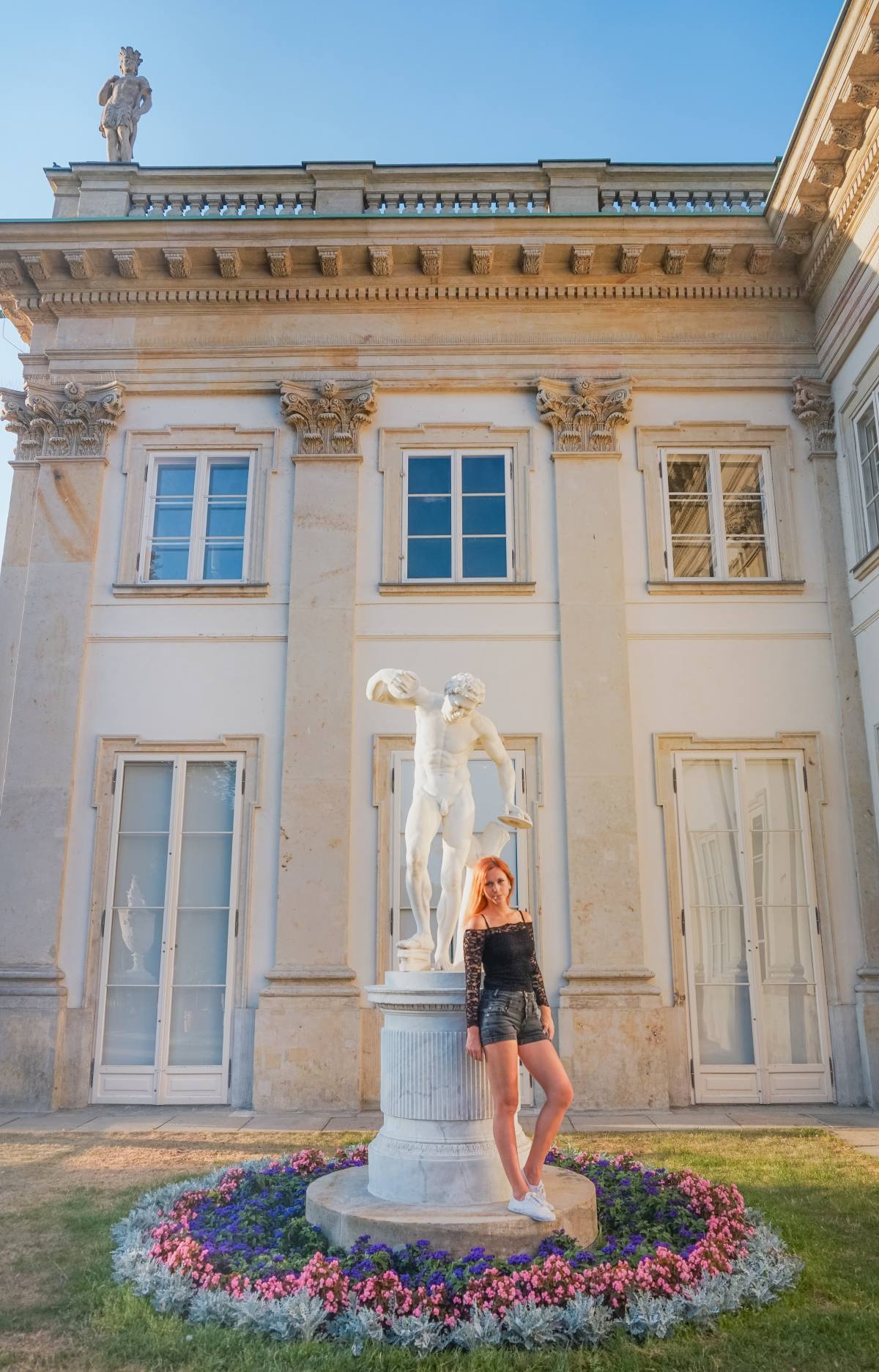 Old Town
Built during the 12th century, Warsaw Old Town was almost entirely destroyed during WWII, but got reconstructed after the war ended thanks to very detailed paintings by the Italian artist Canaletto who gave a template of how the city looked like before. This is where pastel colors on the ancient building facades meet a modern touch of restaurants and boutiques. The Old Town hides many additional activities, such as visiting the Royal Castle
The Old Town hides many additional activities, such as visiting the Royal Castle. The original castle only lasted 30 years, after moving the capital from Krakow to Warsaw by Zygmunt III Waza (whose monument stands in front of the castle). The castle is completely restored and totally worth a visit.
Another thing to see is Barbican, the ruins of the original late Medieval city fortification. Built by architect Giovanni Battista Venetian, it was only used in one fight in 1656. Today, it serves as a bridge between the Old and New Town.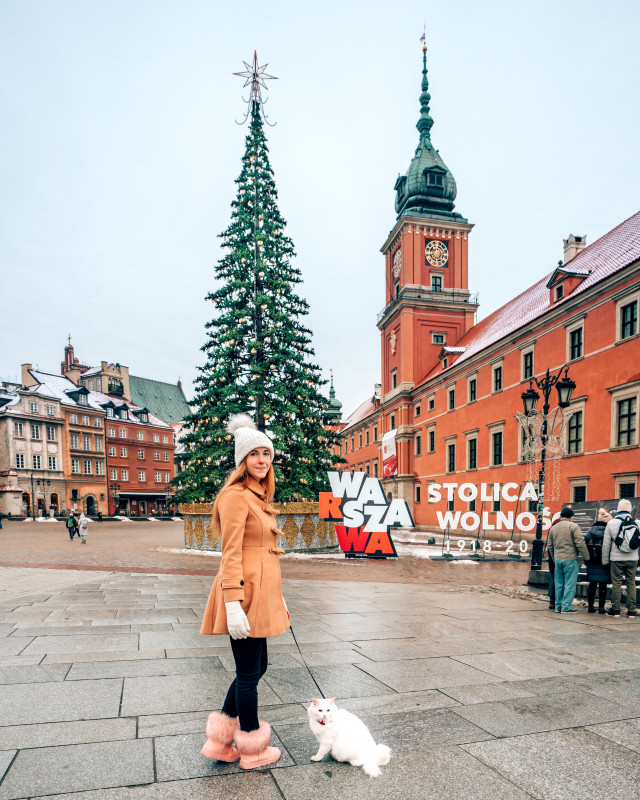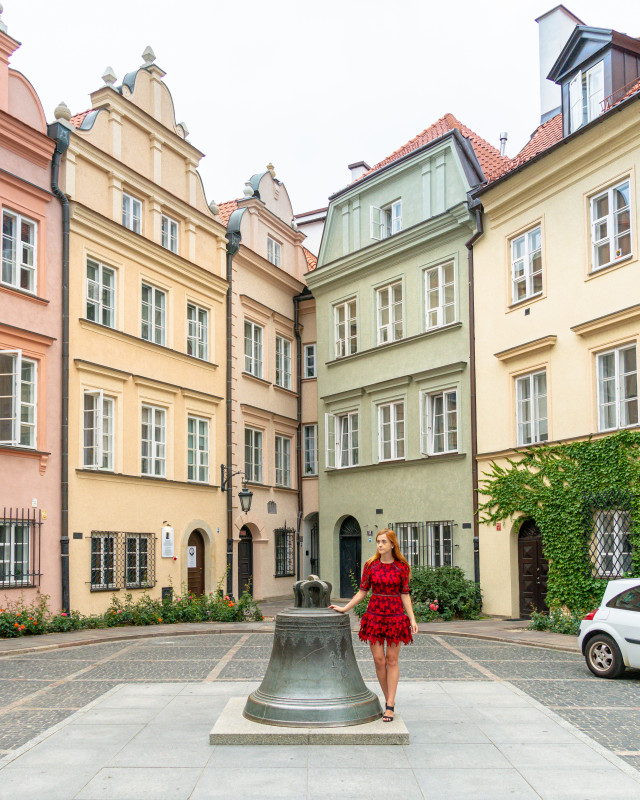 ---
Powazki Cemetery
One of the most beautiful cemeteries in the world. Founded in 1790, among over 1 million regular people resting there (including my grandparents) there are a great number of important people in Polish History. The cemetery is very unique with many interesting statues and tombs.
Krakowskie Przedmiescie & Nowy Swiat
Nowy Swiat & Krakowskie Przedmiescie are part of the Royal Route, one of the main historic thoroughfares of Warsaw, that run from the center (fake palm tree that became a permanent exhibition) right through to Warsaw's Royal Castle and into Old Town.
I highly recommend taking a walk from the beginning of Nowy Swiat (you'll see a giant palm tree) until the Royal Castle. On the way, you can see the Warsaw University, Presidential Palace (photo below), Tomb of the Unknown Soldiers, gorgeous churches, and important monuments.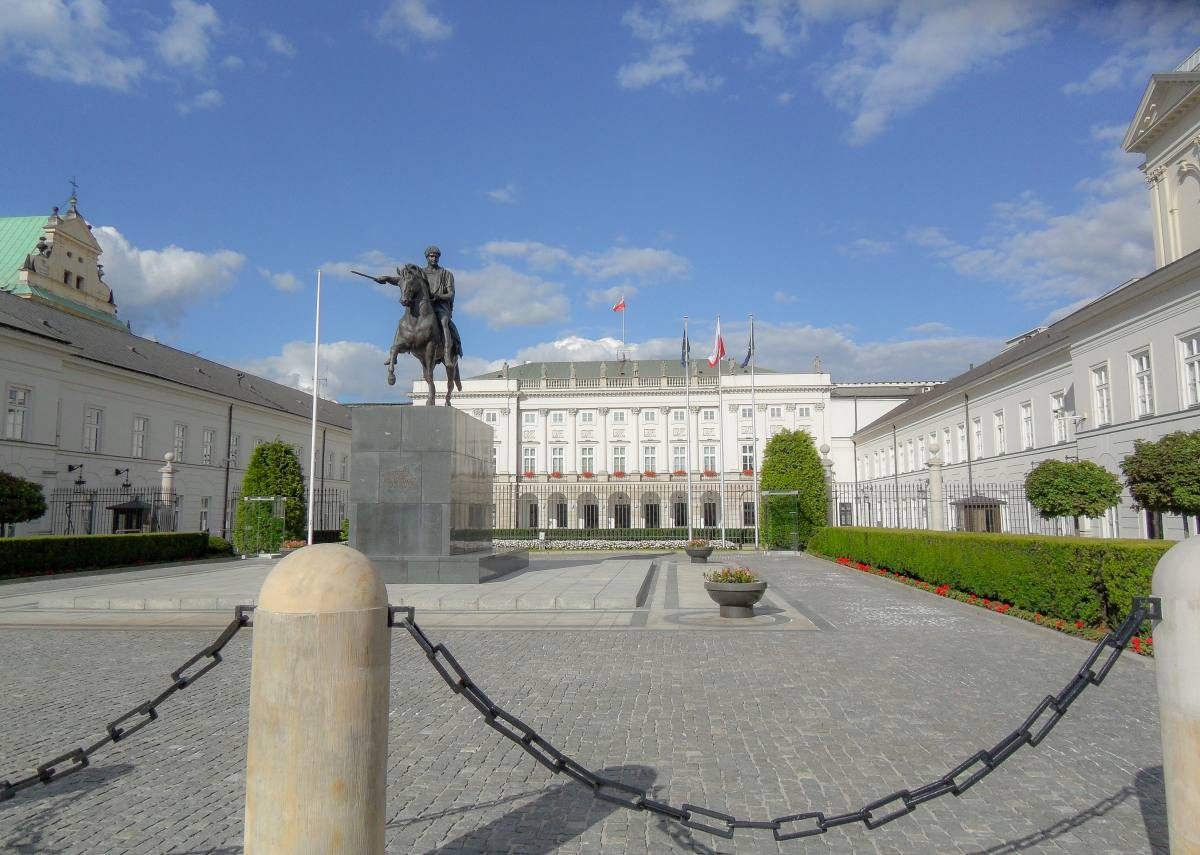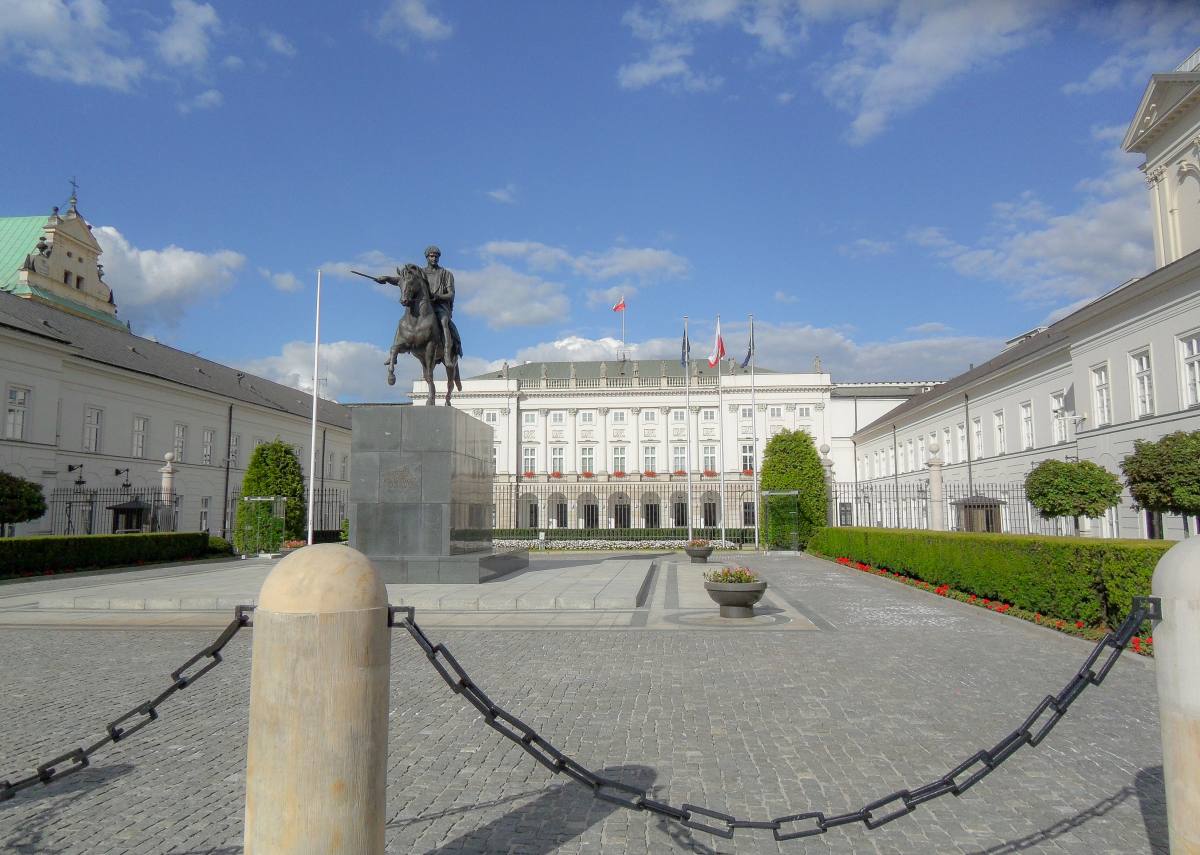 Churches
I'm not asking you to pray, but churches in Warsaw are surely interesting to stop by. A lot of them got almost completely restored to its original Baroque and/or neoclassical form, so the architecture is impressive.
Monuments
Warsaw kept up with its history with impressive monuments. Wherever you go, even in not-so-touristy areas, you might stumble upon a monument remembering something. While I could write down a list of all of them, it might be impossible to see them all, so just keep this in mind when you walk or drive around Warsaw.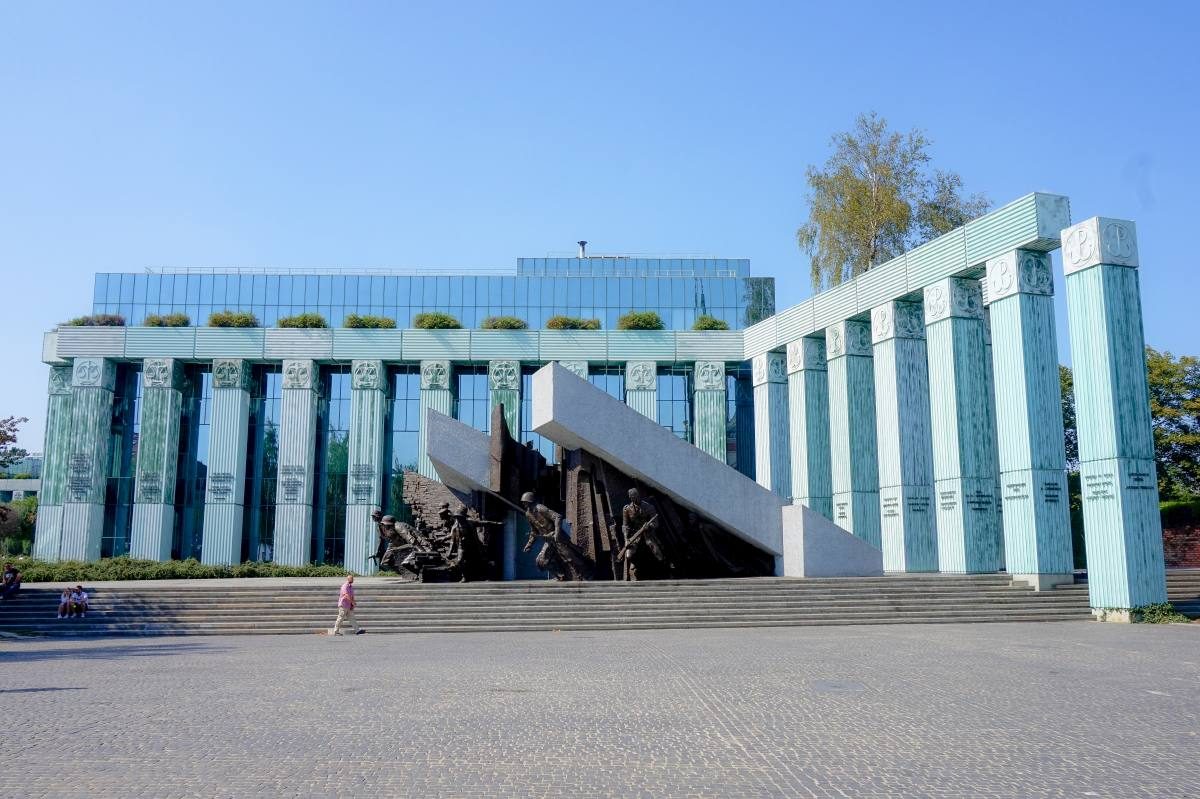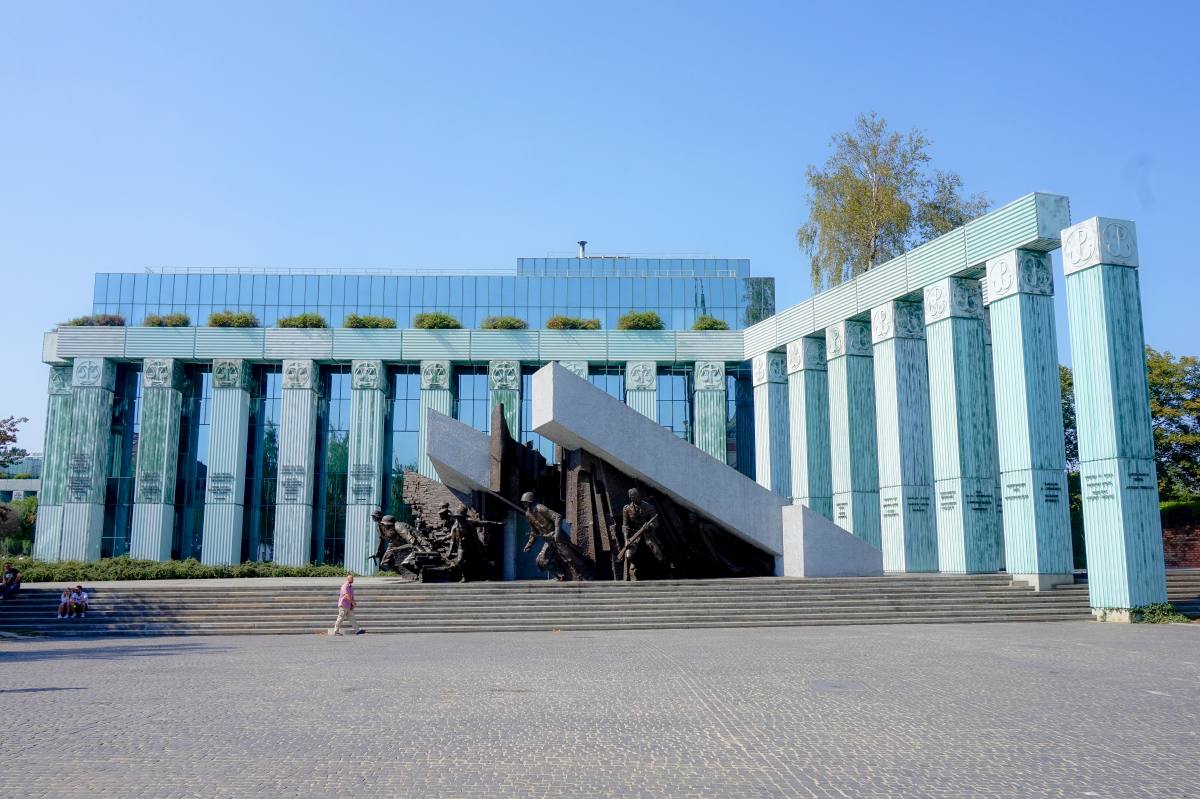 ---
MUSEUMS

:

Warsaw Uprising Museum

This interactive spot will keep you emotional long after the visit. You'll be put you in the shoes of citizens who witnessed the horrors of the 1944 uprising. You'll go down the sewers, touch everything and even see the plane that flew over Warsaw.

You can easily give your kids a history lesson due to this museum's interactive nature.

Free on Sundays, otherwise 25 PLN.

Neon Museum

Warsaw's Neon Museum holds a vintage neon advertising signs from the 1950s–1970s. In the Western world, the role of neons was always directly connected with advertising, but in the People's Republic of Poland with no free market, they served to provide information and prestige.

The governmental campaign, so-called "neonization", installed neon signs all over urban areas in accordance with a well-thought-out plan to be part of the architecture. They matched in size and colors and designed by the best artists, so they would not obscure each other.

Chopin Museum

A must-see for the music lover. Chopin Museum stretches over 4 floors presenting everything about Chopin's life and work. An additional bonus for music enthusiasts is Chopin benches located along Krakowskie Przedmiescie Street.

Free on Sundays, otherwise 22 PLN.

Polin Museum of the History of Polish Jews

Polish is a museum of the History of Polish Jews on the site of the former Warsaw Ghetto.

Free on Thursdays, otherwise 25 PLN.

Madame Marie Skłodowska Curie Museum & Gardens

French like to claim Marie as hers, but so do Polish. The museum is dedicated to the life of Nobel Prize-winning physicist, including letters and various personal belongings. Madam Curie also got gardens dedicated to her, with a monument standing in the middle of them.

National Museum (NMW)

One of the largest museums in the country, NMW is a place where the most iconic Polish art is being held, including some of the Chełmoński and Matejko's paintings.

From the international collections, the most well-known is the 15th-century Dutch and Flemish (Bosch, Brueghel), as well as several Botticelli's masterpieces.

Free on Tuesdays, otherwise 25 PLN.

WWII Museums

If you want to see some war tanks and planes, Warsaw won't disappoint. There are several places with real and used vehicles from WWII, but the most centrally located one is right next to the NMW.

You can wander around the courtyard free of charge, and if you want to see more, pay a few Zlotys to get inside unless you're visiting on Saturdays – then everything is free entry.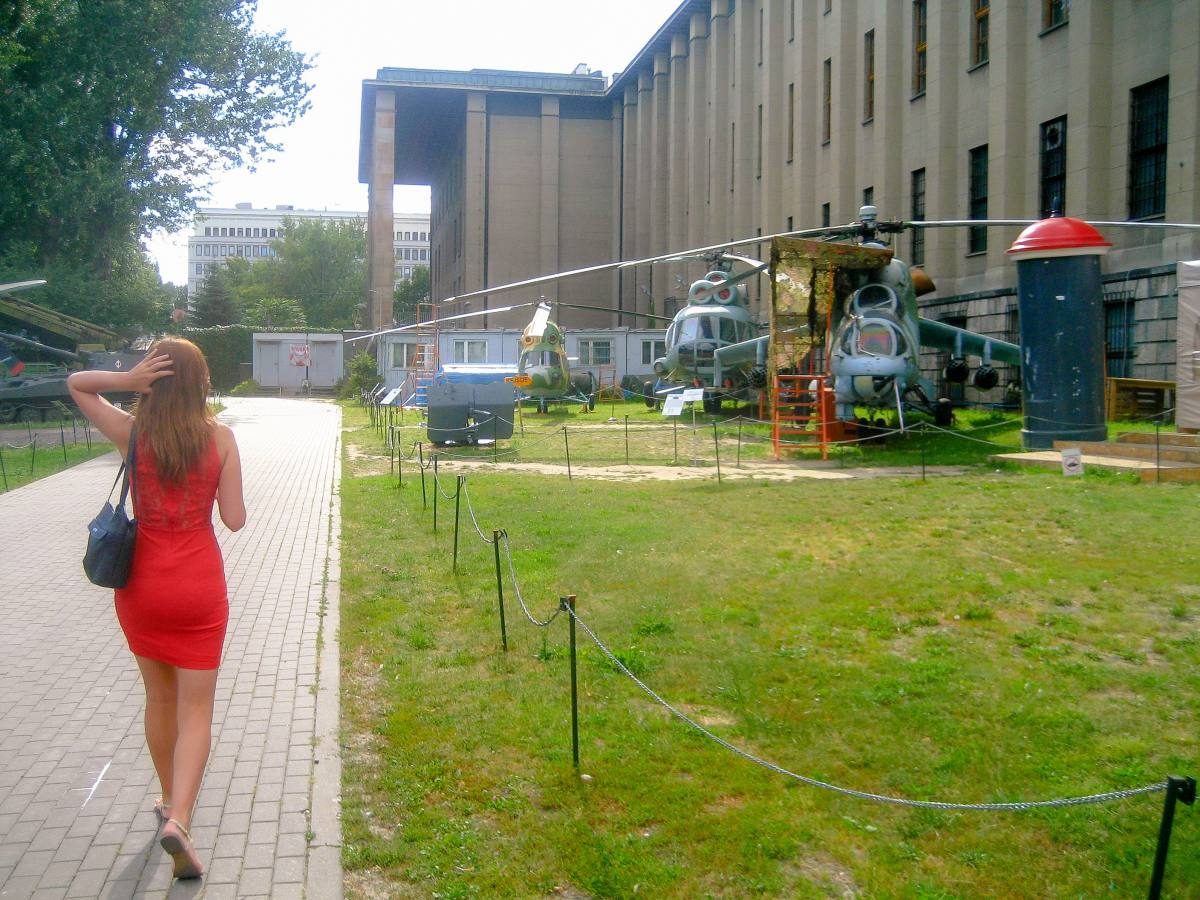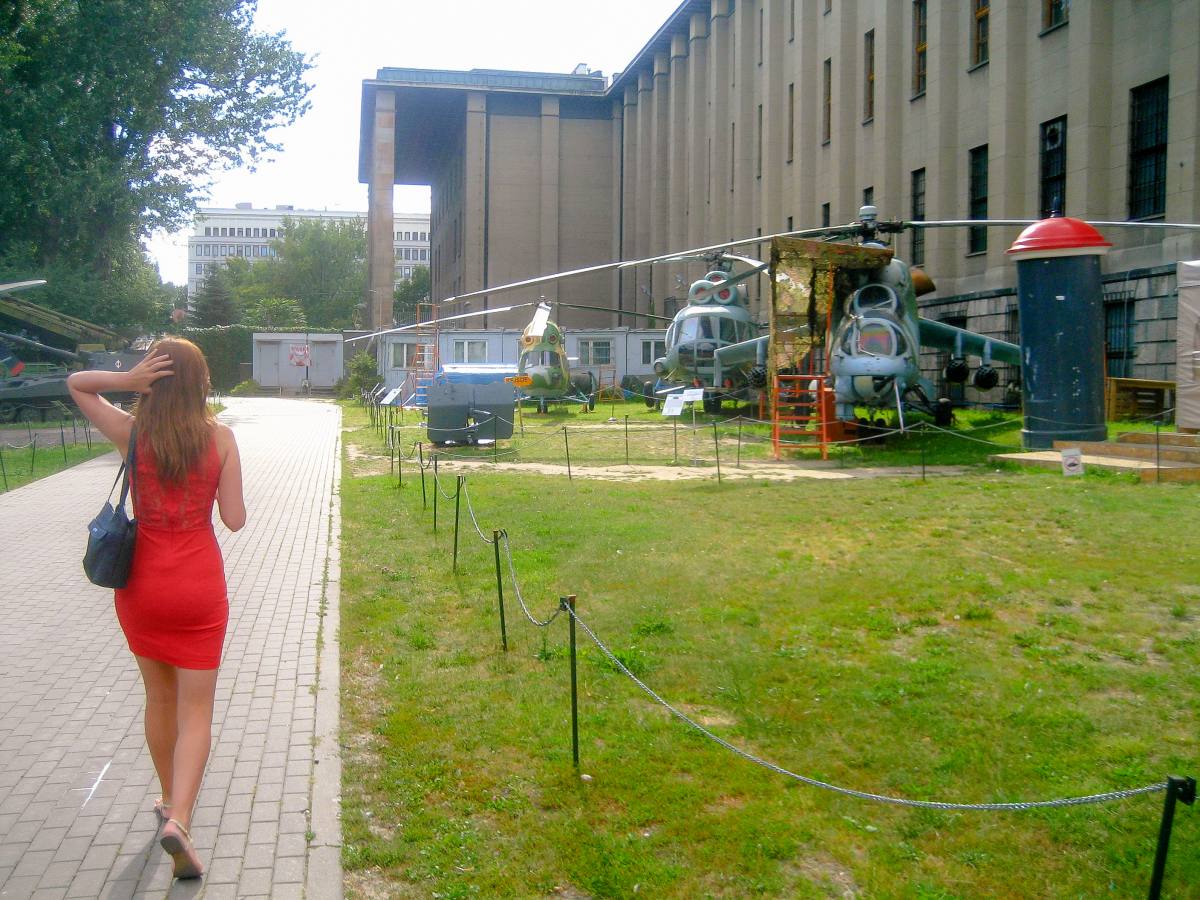 ---
OTHER ACTIVITIES:
Visit Warsaw Zoo
Warsaw Zoo has always been an attraction, but it became even more popular after the movie Zookeeper's Wife got released. And while the ZOO has remodeled almost entirely since the times of Antonia Zabinski, it's a nice place to walk around in the afternoon.
Climb the Rooftop of University Library
University Library might not seem very interesting at first, but it hides surprising gardens on a rooftop, filled with bridges, streams, pathways, sculptures and plant life that covers an entire hectare.
Stroll Around Lazienki Park
Lazienki is without a doubt, the most beautiful park in Warsaw. The neoclassicist park is stretching over 80 hectares and includes a lake and palace on the water, the summer residence of the last King of Poland, Stanislaw August Poniatowski.
There are also numerous amphitheaters, orangeries, and monuments to stumble upon. You can see plenty of peacocks walking around, friendly red squirrels begging for some nuts, ducks hungry for some bread and fish.
In front of the park, between Lazienki and Botanical Gardens, at the Chopin's Monument, there are often free Chopin concerts during the summer.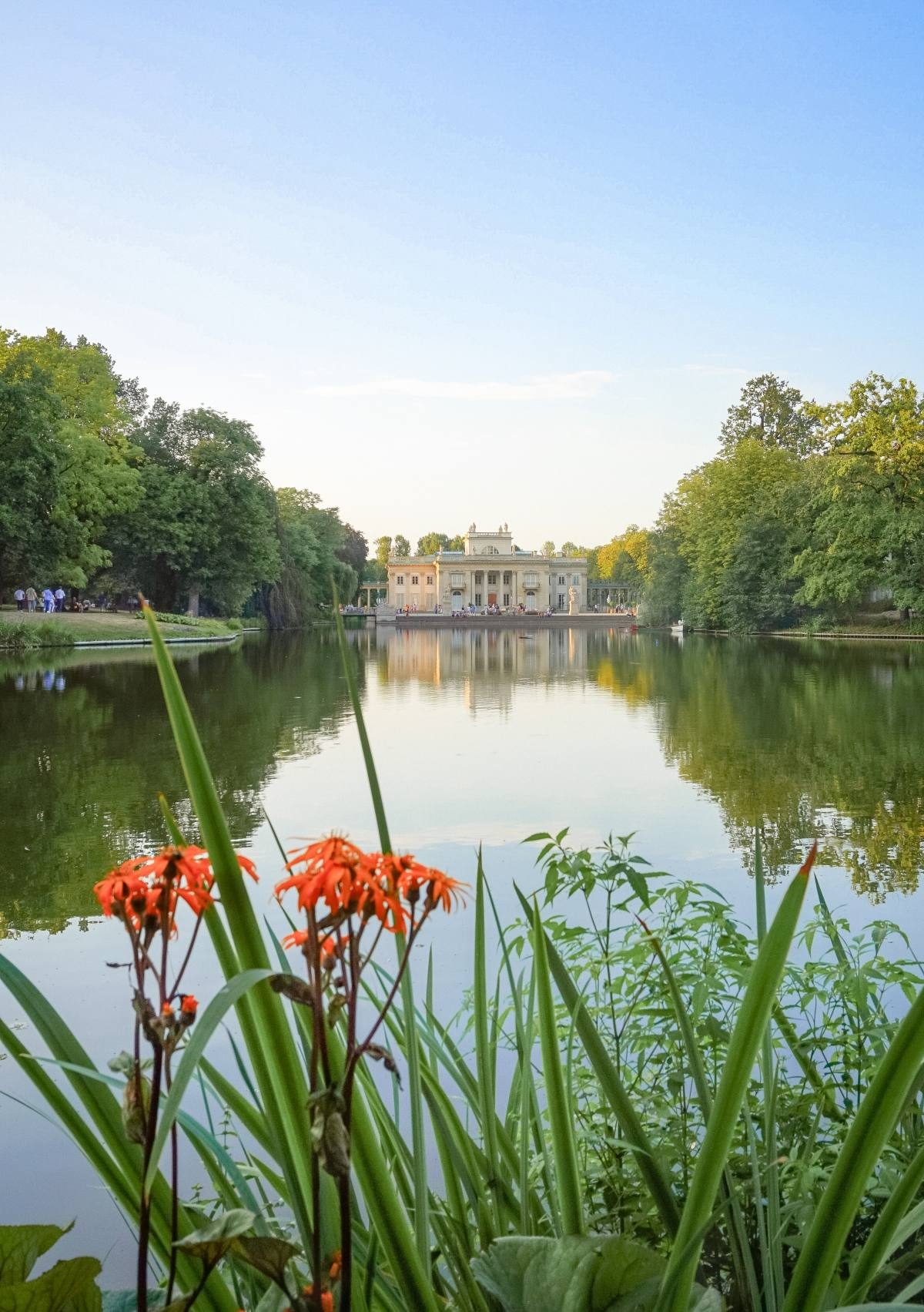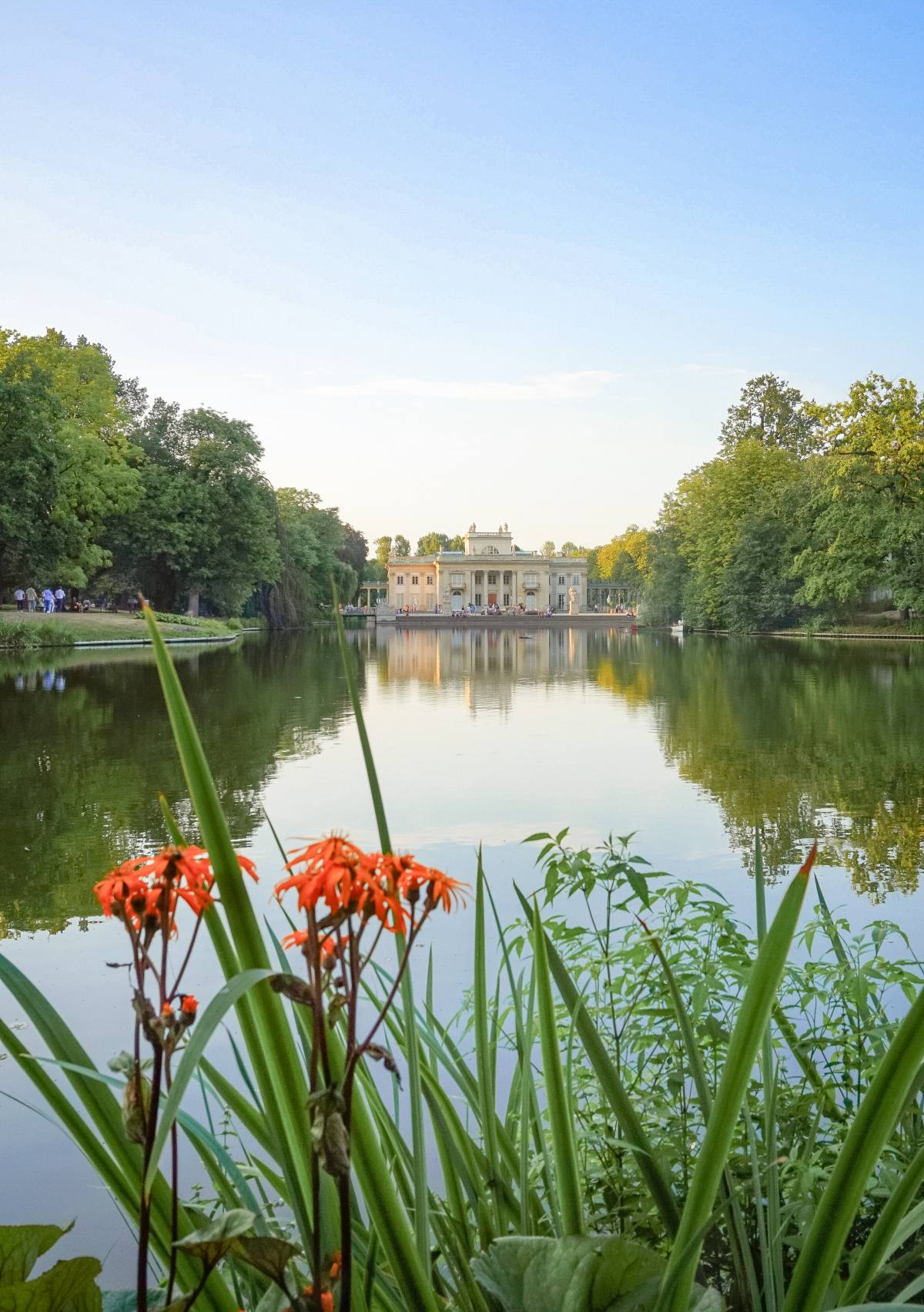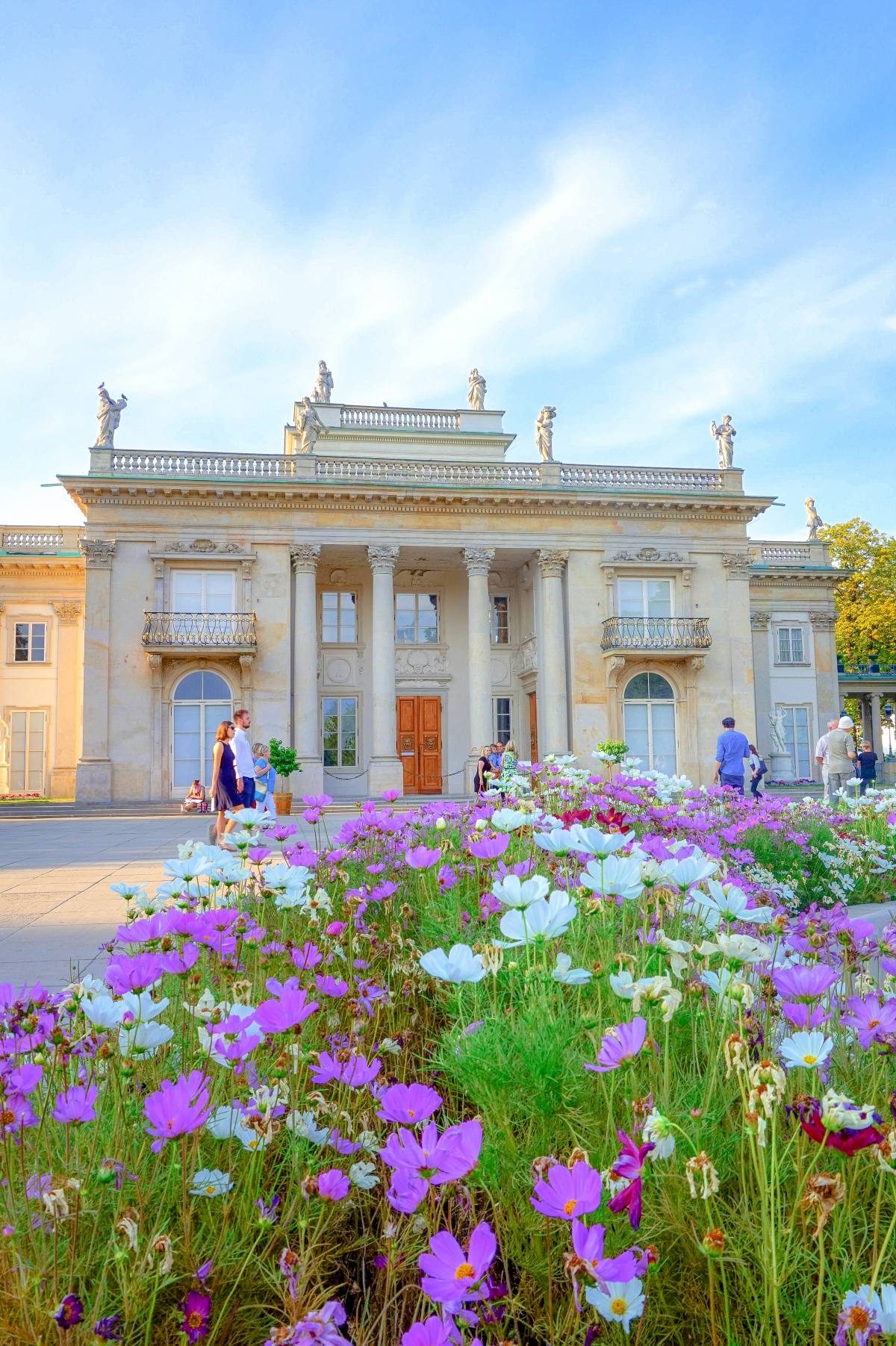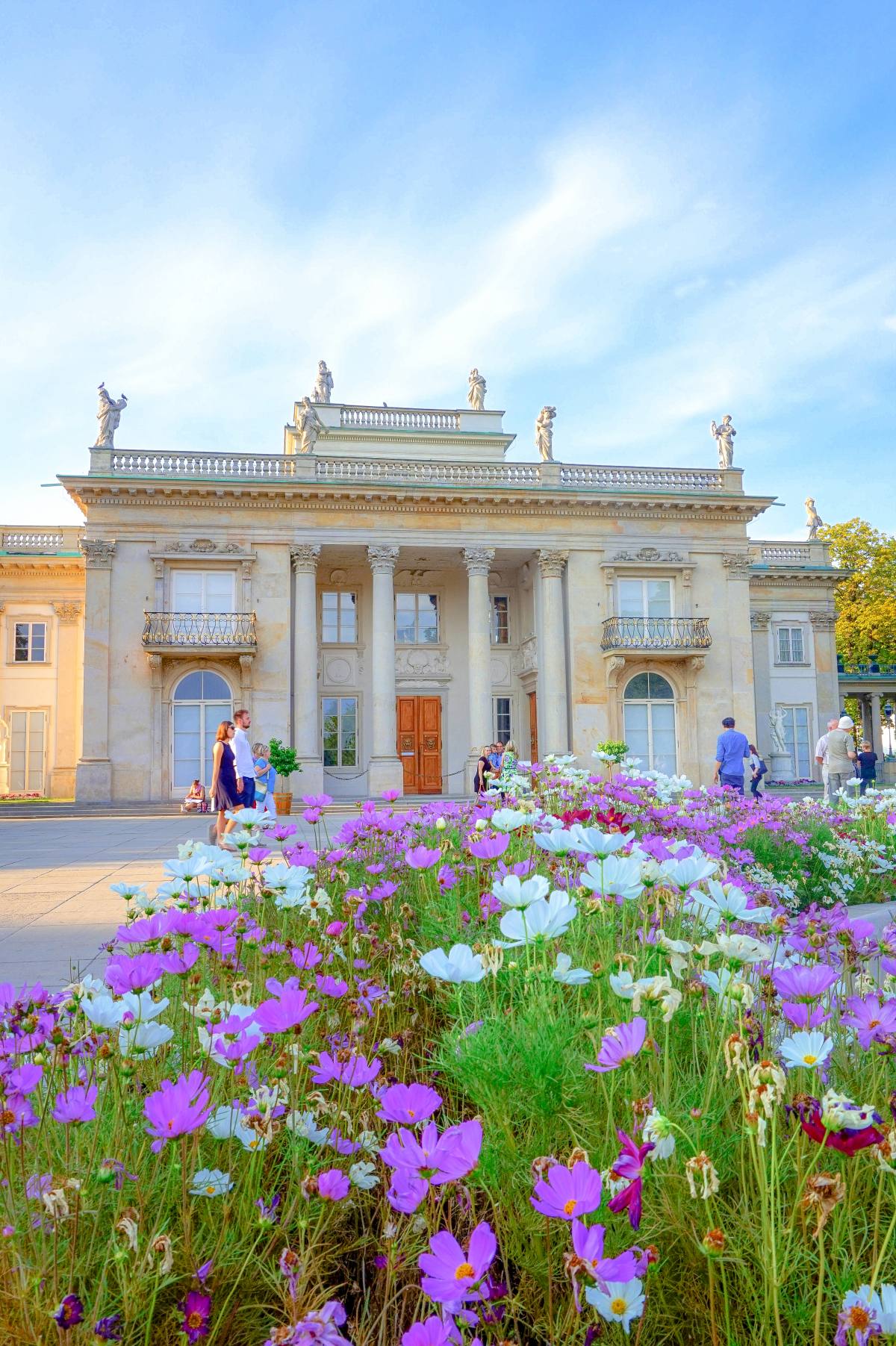 I actually once released a carp into the lake there. In Polish tradition, a carp is a typical fish to put on your Christmas Eve table (Polish celebrate Christmas Eve and this is when they open gifts) since you don't eat meat that day.
Therefore, for an entire December, supermarkets are selling alive carps that people buy to kill and cook later (I remember a carp swimming in a bathtub for days before Christmas). My dad and I thought it was a cruel thing to kill all carps, so each year we released one into the river or a lake. Who knows, maybe babies and grand-fish of my rescued carps are still there.
Sit by the River
For a glimpse of daily life, head to the Vistula river. The river is definitely not good for swimming (trust me!), but the holiday vibe is present on several man-made beaches with open-air bars in the Powisle district.
Horror House
Something slightly different than typical escape rooms is a Horror House in Warsaw. It's scary, creepy and you might want to leave, but if you're a fan of horrors you'll surely enjoy it.
Join a Walking Tour
If you want to get a guide, you can join some 'free' walking tours. The tour is free to join, but in the end, you're supposed to tip your guide. They aren't paid any salary, so they rely on how much do you want to give them. Check out Original Walking Tours.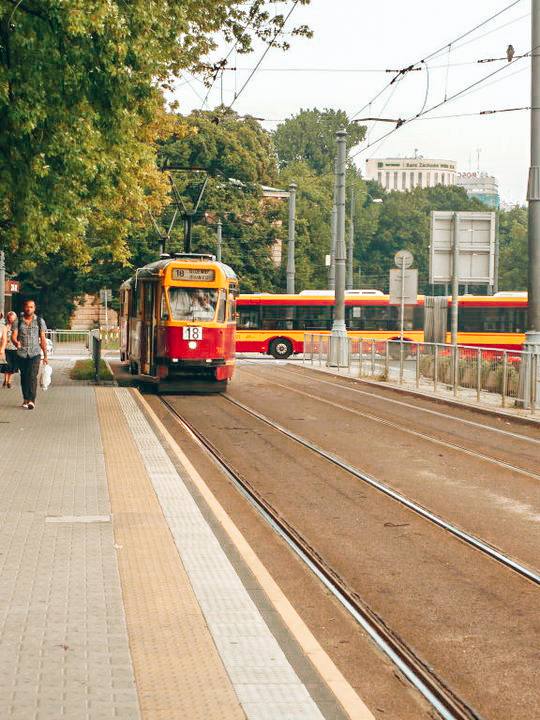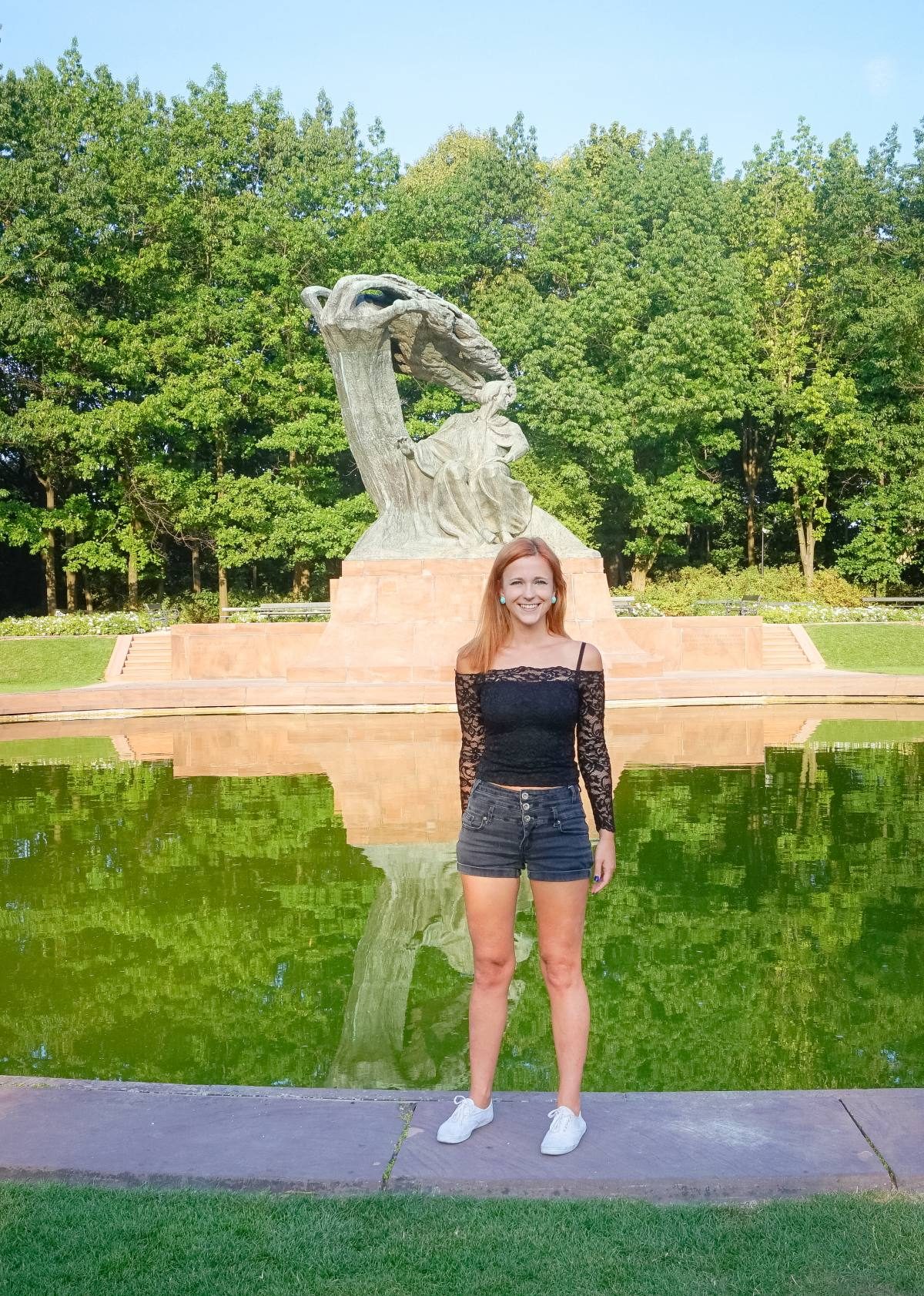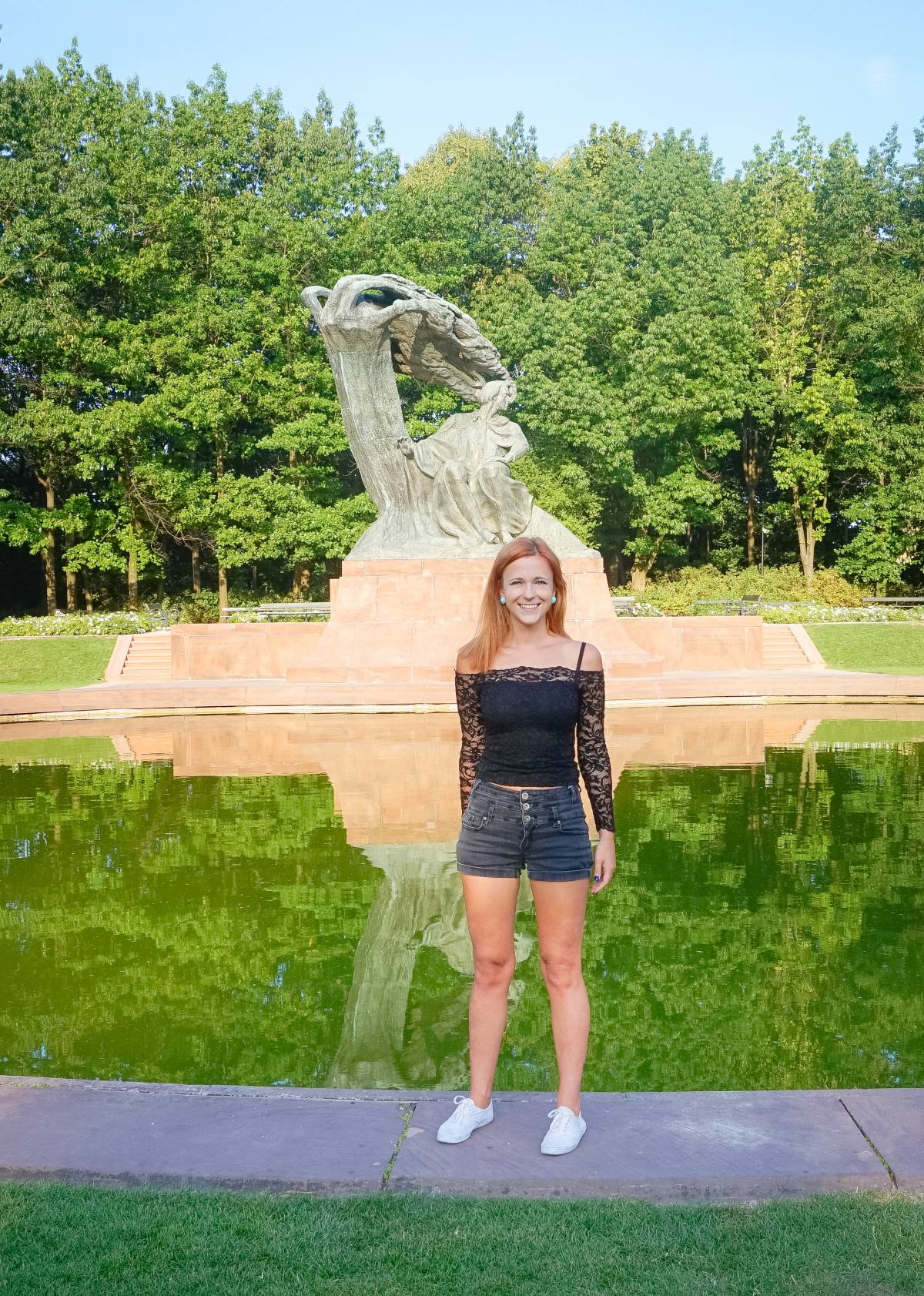 For more activities and organized tours check Viator here.
---
Where to Stay in Warsaw
There are plenty of amazing hotels, hostel and apartment options, but I highly suggest choosing one centrally located – between the Palace of Culture area and Old Town.
I had a chance to stay at quite a few hotels in Warsaw that I'd highly recommend. I also have many friends working in other hostels and hotels, so I can vouch for them. Here are my recommendations depending on your budget and expectations.
Best Luxury Hotel in Warsaw
Newly opened hotel in a very central location, right next to Central Train Station and Zlote Tarasy shopping mall. The hotel has an indoor swimming pool and spa, both with panoramic views of Warsaw from the 43rd floor.
Intercontinental Warsaw – Check Prices On: Booking.com
Best Old Town Hotel
Founded by the composer, pianist and statesman Ignacy Paderewski in 1901, this hotel has been considered the best in Warsaw for many years. Many presidential guests stayed in the top-floor suite.
Bristol – Check Prices On: Booking.com
Best Downtown Hotel
Located just opposite Warsaw's Palace of Culture and Science the hotel is more luxurious than others, for still an affordable price. I stayed there during my last visit and can tell you that breakfast is the best part! Especially including free unlimited champagne.
Polonia Palace – Check Prices On: Booking.com
Best Apartments
Ego is a chain of apartment rentals that offer good prices and nice locations.
Ego Apartments – Check Prices On: Booking.com
For more recommendations on different districts of Warsaw check out my tips on where to stay in Warsaw for different types of travelers.
---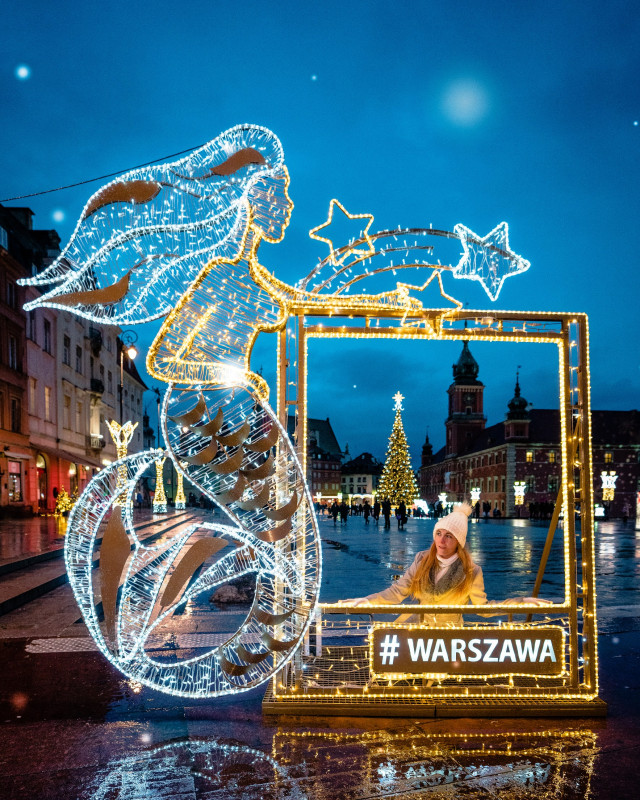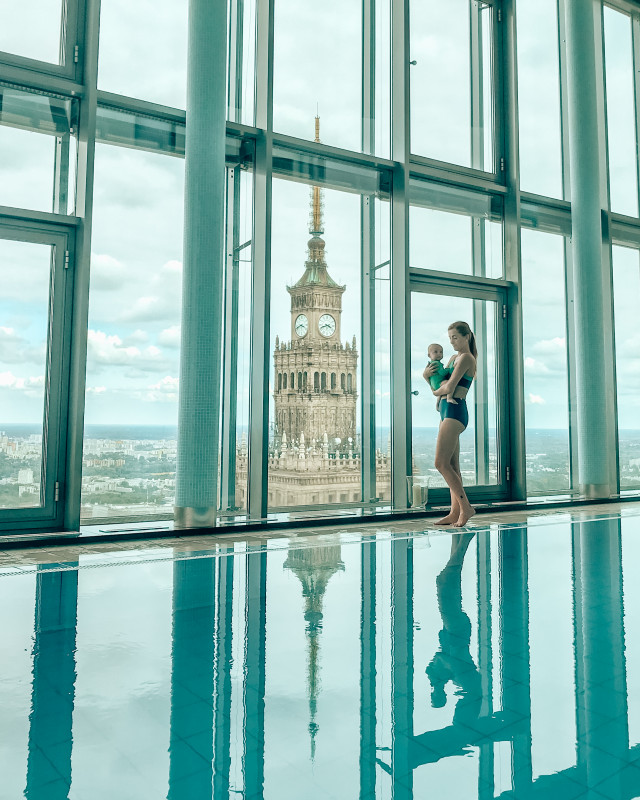 ---
How to Get to Warsaw
There are many direct flights to Warsaw from anywhere, with LOT Polish Airlines and many other major carriers. You can choose to fly to either Chopin Airport or Modlin where cheap airlines like RyanAir or WizzAir fly to (30 minutes away). Check on Skyscanner which one is cheaper to fly to.
Thanks to Warsaw's hosting of the Euro 2012 football championships, getting to and from the airport is now easy due to new train lines and bus routes.
If you're flying into Chopin Airport, you can simply take a taxi (approx. 40 PLN to downtown), train, or a local bus (no. 175, 188, 148, 331 during the day, and N32 at night). If you choose to travel by bus remember to validate your ticket inside the bus.
If you're flying into Modlin, then you have fewer options, but it's also doable. The fastest option is a train that runs every 20-30 minutes. There's also a Modlin Airport Bus that costs 9 PLN and takes 40 minutes to downtown.
There is free Wifi at both airports, so don't you can also easily navigate once you arrive. If you prefer to purchase a local SIM card instead, I recommend Orange as it has the cheapest and fastest 4G.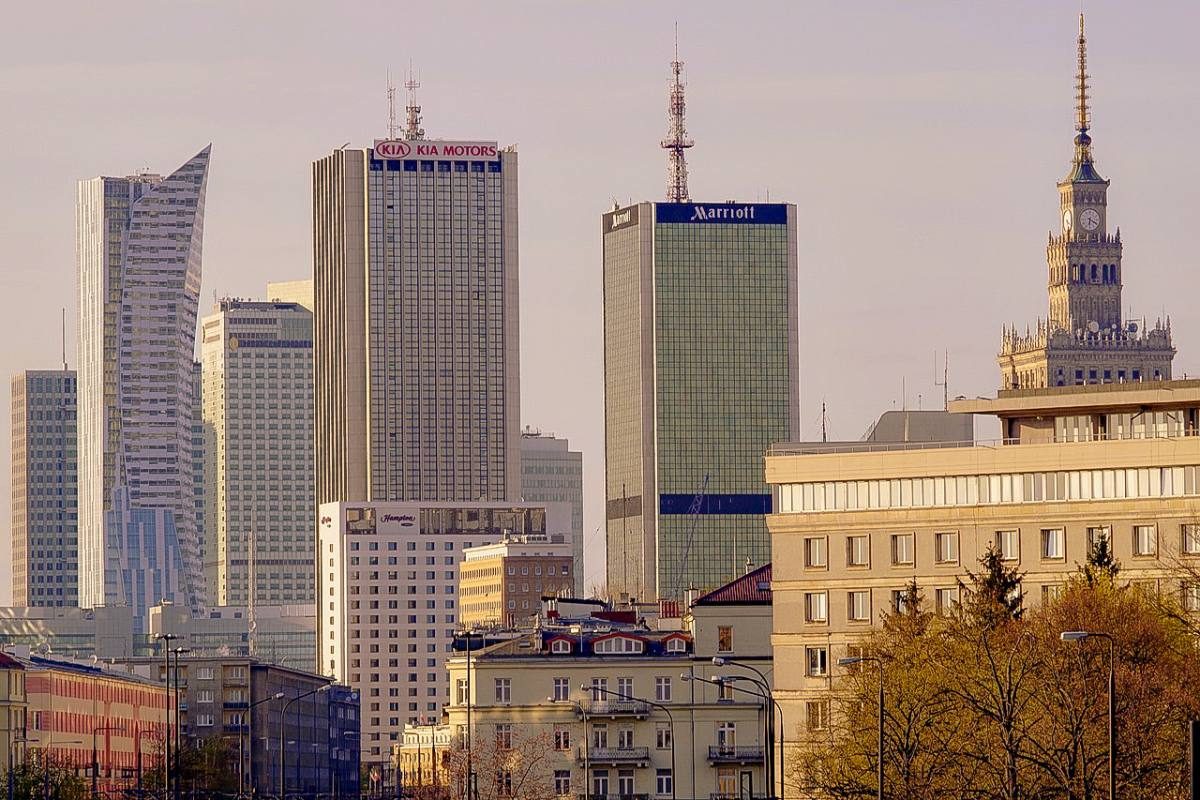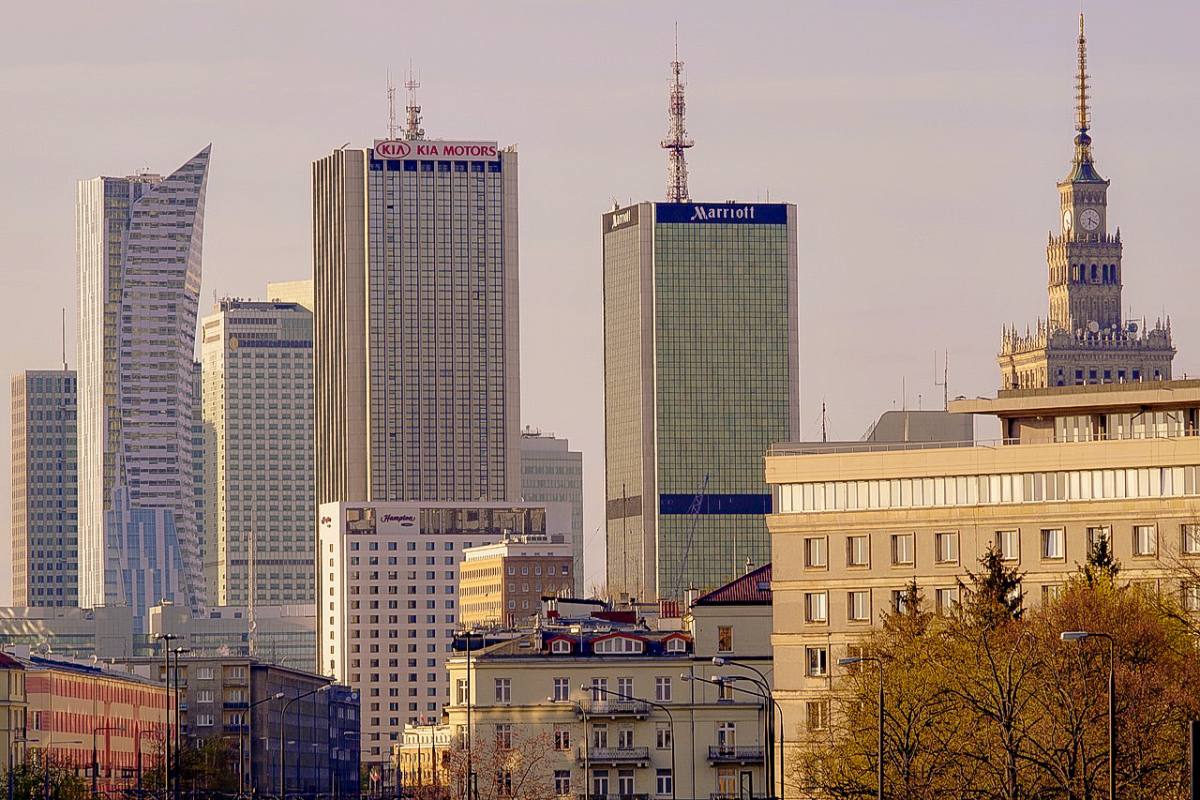 ---
Safety in Warsaw
Warsaw is relatively safe, but it isn't as safe to leave your belongings unattended. Keep on eye on your purse in crowded spaces (entrance to Metro or in public transportation). Basically, use some common sense.
---
When to Go to Warsaw
Choosing the best time to go to Warsaw depends on whether you want to experience heat or cold. Poland has a temperate climate with hot summers (up to +30 C) and cold winters (down to -20 C).
There are several public holidays in Poland. Many restaurants, stores, and public institutions will be closed, so plan accordingly.
| | |
| --- | --- |
| January 1st | New Year's Day |
| January 6th | Three Kings' Day |
| April 17th (2022) | Easter Sunday |
| April 18th (2022) | Easter Monday / Smigus Dyngus – on this day young people throw water at each other and have water fights. Similar to Songkran Festival in Thailand. |
| May 1st | Labour Day |
| May 3rd | Constitution Day (many Poles take the 2nd of May off and make a trip somewhere |
| June 19th | Corpus Christi |
| August 15th | Assumption of the Blessed Virgin Mary & Polish Armed Forces Day (celebrating the battle of Warsaw in 1920) |
| November 1st | All Saints' Day |
| November 11th | Independence Day |
| December 25th | Christmas Day |
| December 26th | St. Stephen's Day |
---
Warsaw Budget: How Expensive is Warsaw?
Compared to other European places and the US, Poland is definitely cheap.
For dinner, I'd usually prepare around $10-20 (40-80 PLN), including a cocktail or wine with your meal. If you decide to downtown and try a Milk Bar (Bar Mleczny), you can get a meal for $4-7.
Tips aren't mandatory in Poland and service charge is never automatically included in your bill. But the tips are quite common and always appreciated.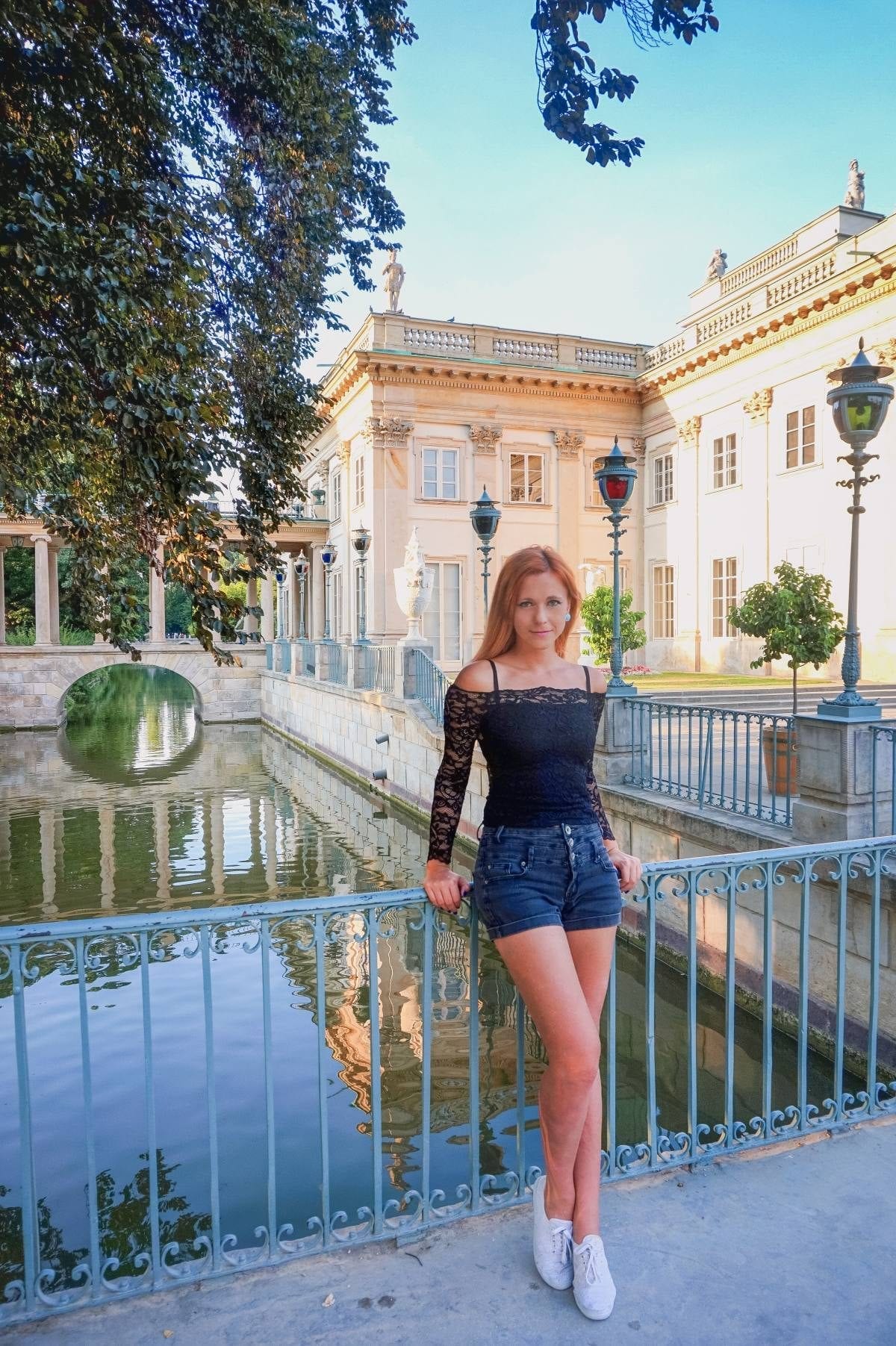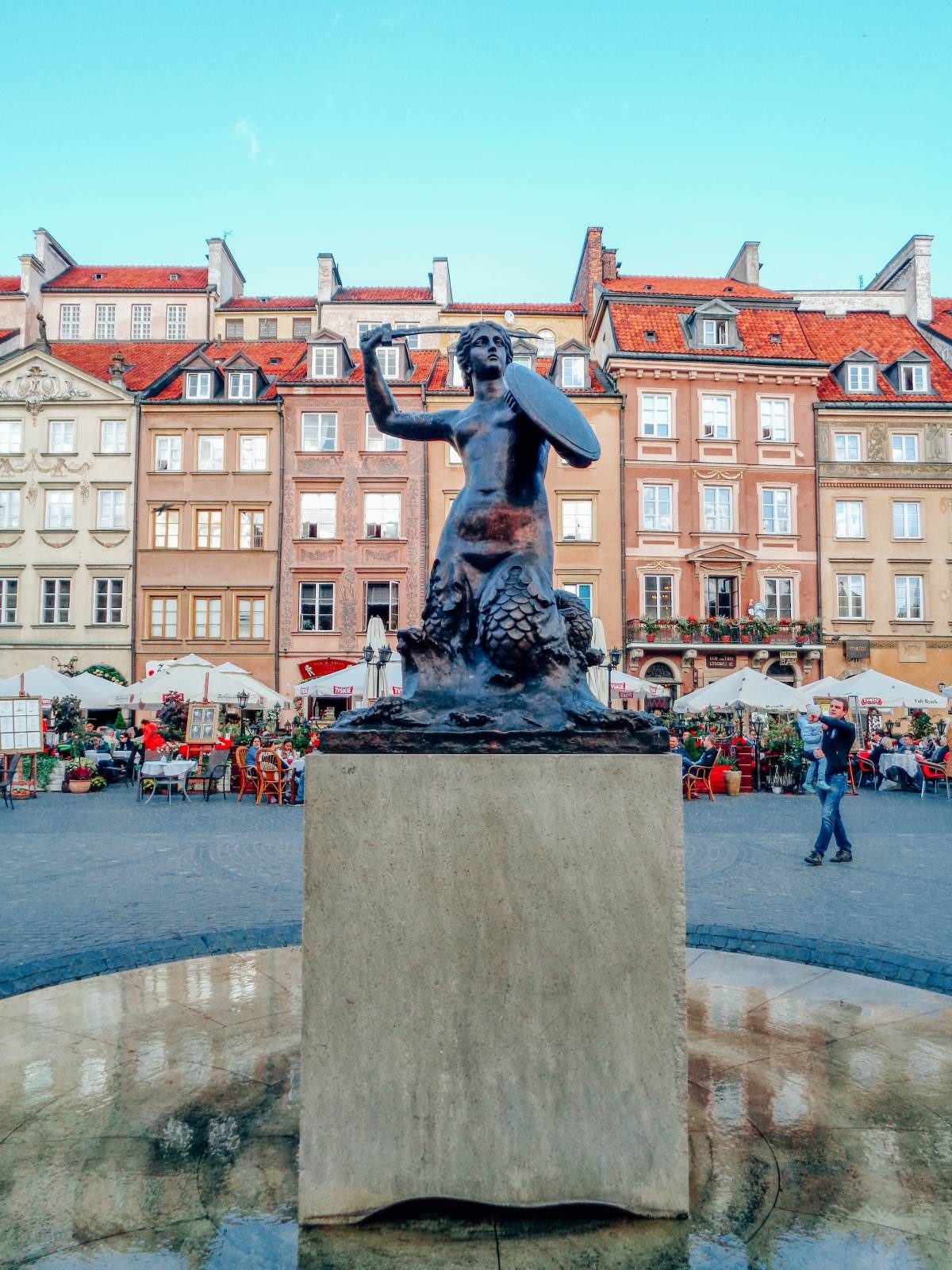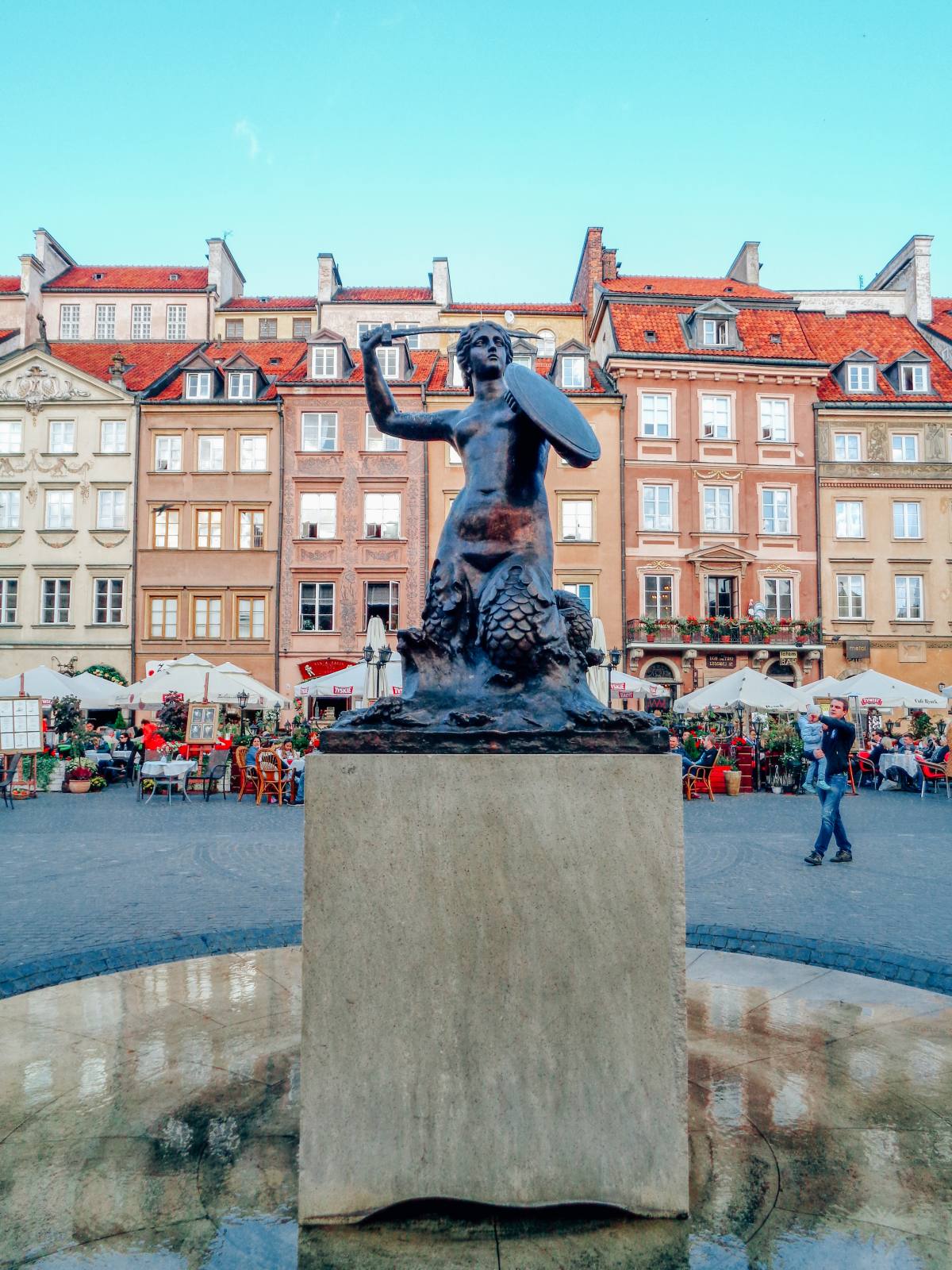 ---
Practical Info About Poland
The official language in Poland is Polish.
Poland is part of the EU and Schengen Zone, so you don't need a special separate visa to visit.
The currency in Poland is Zloty (PLN), despite the country being in the EU. At most places it's impossible to pay with Euros or US dollars, so always have Polish money with you. Like in some other European countries, American Express cards aren't widely accepted. Visa, Mastercard and Maestro are common.
Like in some other European countries, American Express cards aren't widely accepted. Visa, Mastercard, and Maestro are common.
You can drink tap water in Poland, but many locals are still afraid of doing so. Don't worry – it's perfectly safe!
It's common for Polish people to shake hands as part of the greeting. Friends will kiss each other on the cheeks – one or three times.
Men shouldn't wear hats or caps indoors, whether at houses, cars, or restaurants. Especially among older generations, it's considered rude.
"Staying on the right side of the law is significantly easier for tourists who accept that Polish beer and vodka are rocket fuel and drink accordingly. If you're determined to make an idiot of yourself then make sure it's not in front of the law. In recent years visitors ranging from folks in Chewbacca costumes to complete fools who've thought it's perfectly acceptable to drop trousers and urinate in a city center fountain have tested the patience of the local law enforcement. Their tolerance threshold is now decidedly low so don't push your luck. Those who do may well be treated to a trip to Warsaw's premier drunk tank (ul. Kolska 2/4), a chastening experience which will set you back 300zł for an up to 24-hour stay. In return for your cash expect a strip search, a set of blue pajamas and the company of a dozen mumbling vagrants. Not to mention a hefty fine (credit cards not accepted, of course)." – Warsaw Basics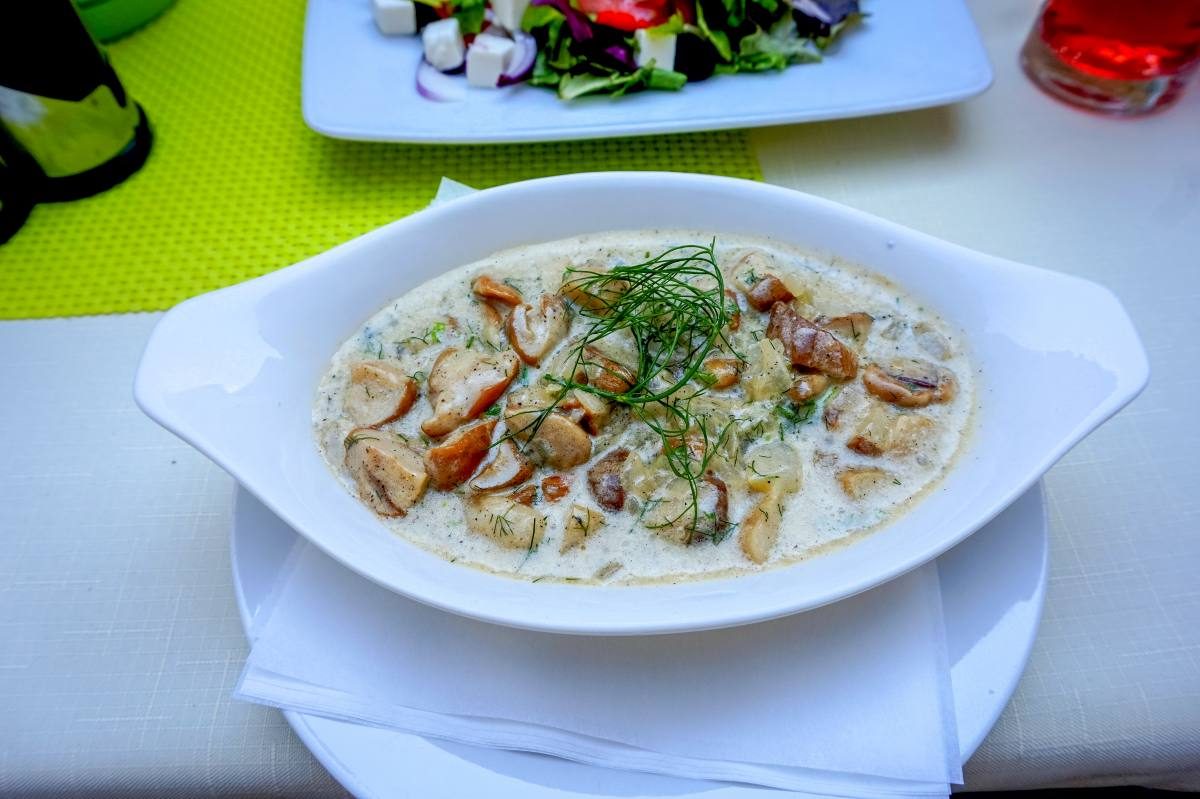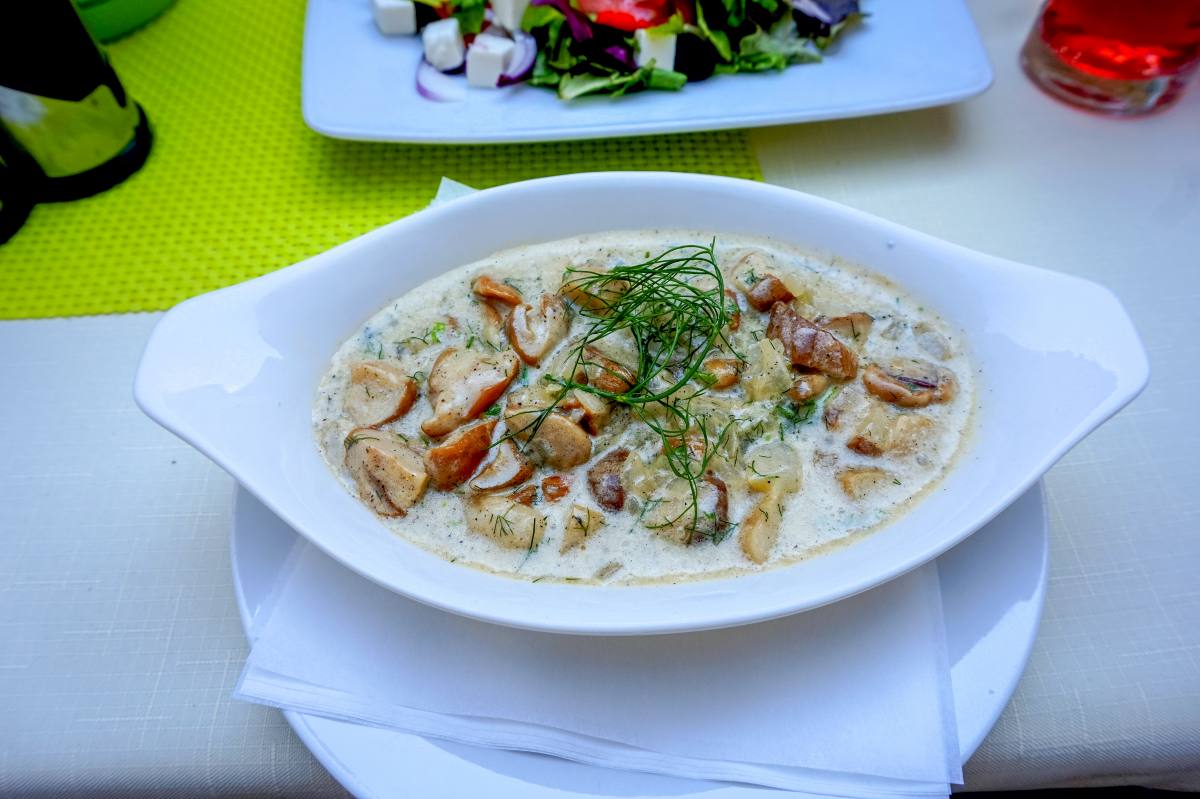 ---
How to Get Around Warsaw
Whether you choose to rent a car, public transportation, or Uber, you'll be fine. I'd generally advise against renting a car if you're staying only in Warsaw, simply because like in any other city you'll encounter few parking spots and traffic.
Taxis
Taxis are everywhere in Warsaw, and you can just stop one or call for one. However, Uber works totally fine too. Tipping your driver isn't common.
Public Transportation
Warsaw has an extensive bus and tram system across the city. There are many bus routes with each one having a number and at night all night buses display the letter N in front of the number. Marked red, are express buses that skip certain stops.
Standard fare is 4.40 PLN for adults. There is also a 20-minute ticket priced at 3.40 that allows you to change buses and go into trams and metro within a limited time frame. Tickets can be bought from some street kiosks, ticket machines (with English instructions) near stops or at metro stations, or anywhere with a sign saying Bilety.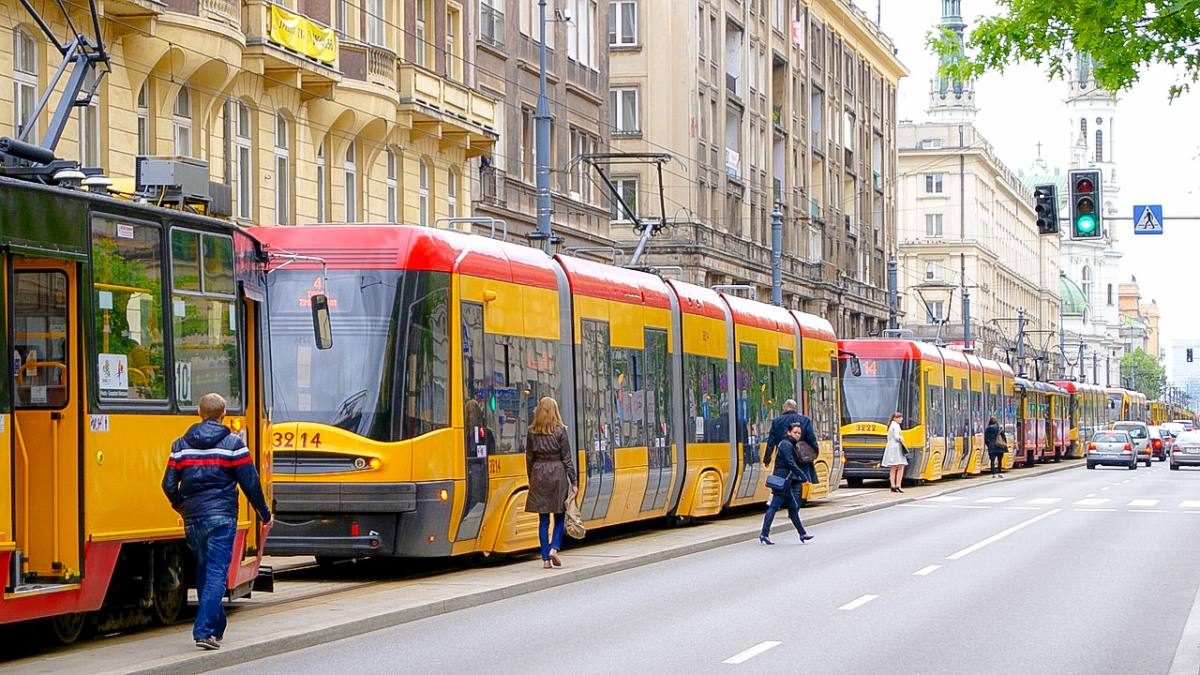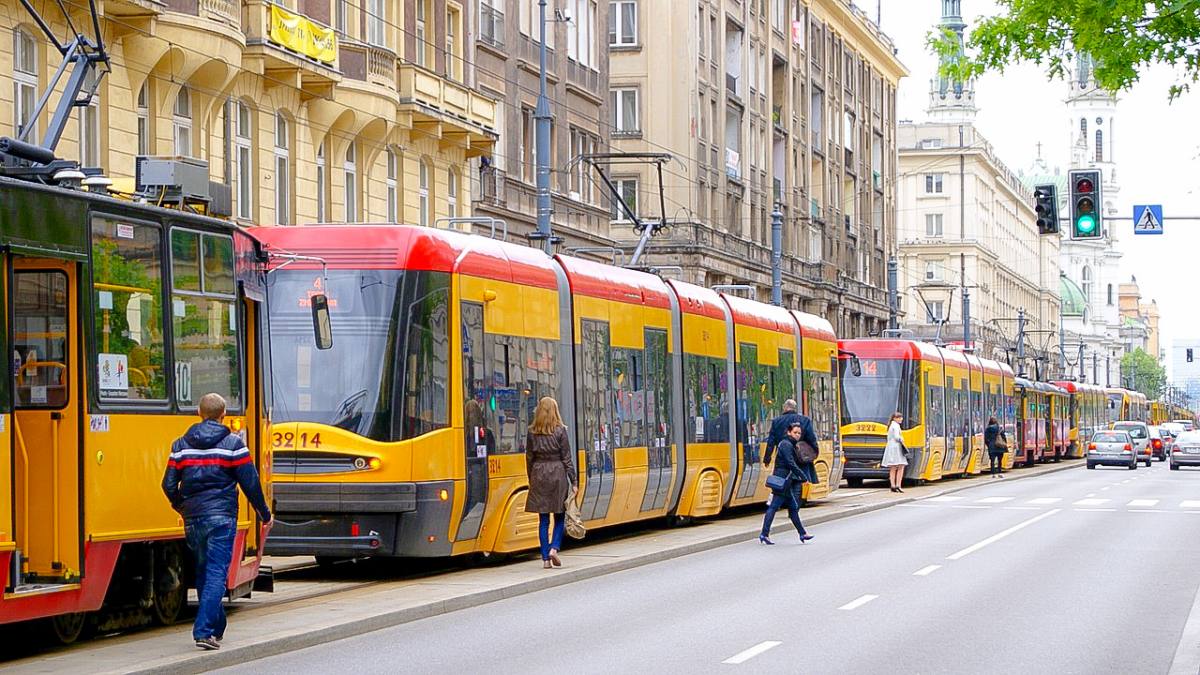 ---
Souvenirs from Warsaw
Most shops are closed on Sundays with an exception of touristy areas, so buy any souvenirs on a Saturday.
Amber jewelry – Amber jewelry is very typical to Poland and you can find it pretty much anywhere. There are plenty of stores in the Old Town selling beautiful amber items.
Pottery – Traditional pottery can make a good souvenir. There are stores called Cepelia, selling Polish folk art and handicrafts so you might want to head there. You can also discover some beautiful ornaments for Christmas and Easter while shopping at Cepelia.
Vodka & Liquor – Poland is in Eastern Europe after all, and therefore drinking vodka or liquors are very common. It's no surprise that many foreigners buy traditional liquor (Nalewka) as a gift. Bison Grass Vodka is also popular alcohol and makes a good gift in its fluffy bottle with a giant piece of bison grass inside.
Polish chocolate & Gingerbreads – Once you stop at E. Wedel for some hot chocolate, you'll want to buy it for your friends and family. If you want to take a step further, get some gingerbreads from Torun (but sold everywhere) as well.
Oscypek (Polish cheese) – Any cheese-lovers in your family? Bring them some Polish cheese from the mountains called Oscypek. It's made or either sheep or sheep-cow milk and can survive without a fridge for a while. It's perfect to eat on its own, or grilled with cranberry sauce on top.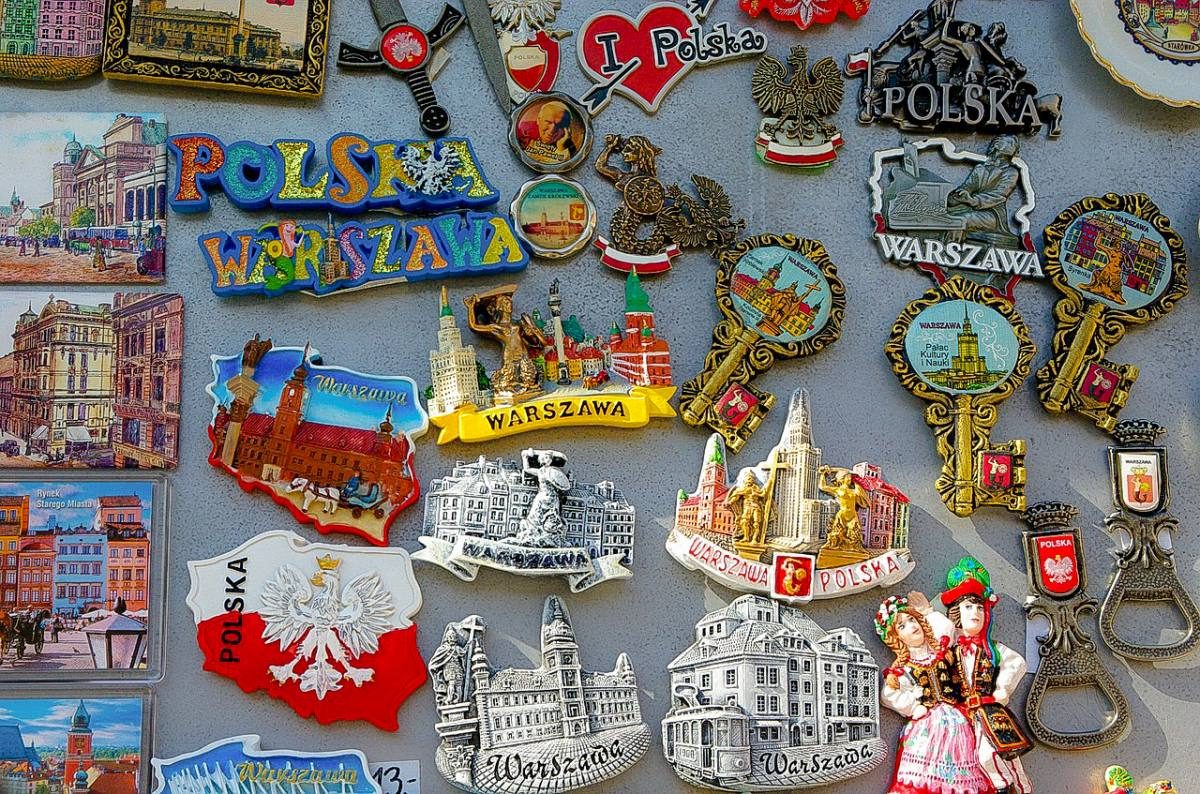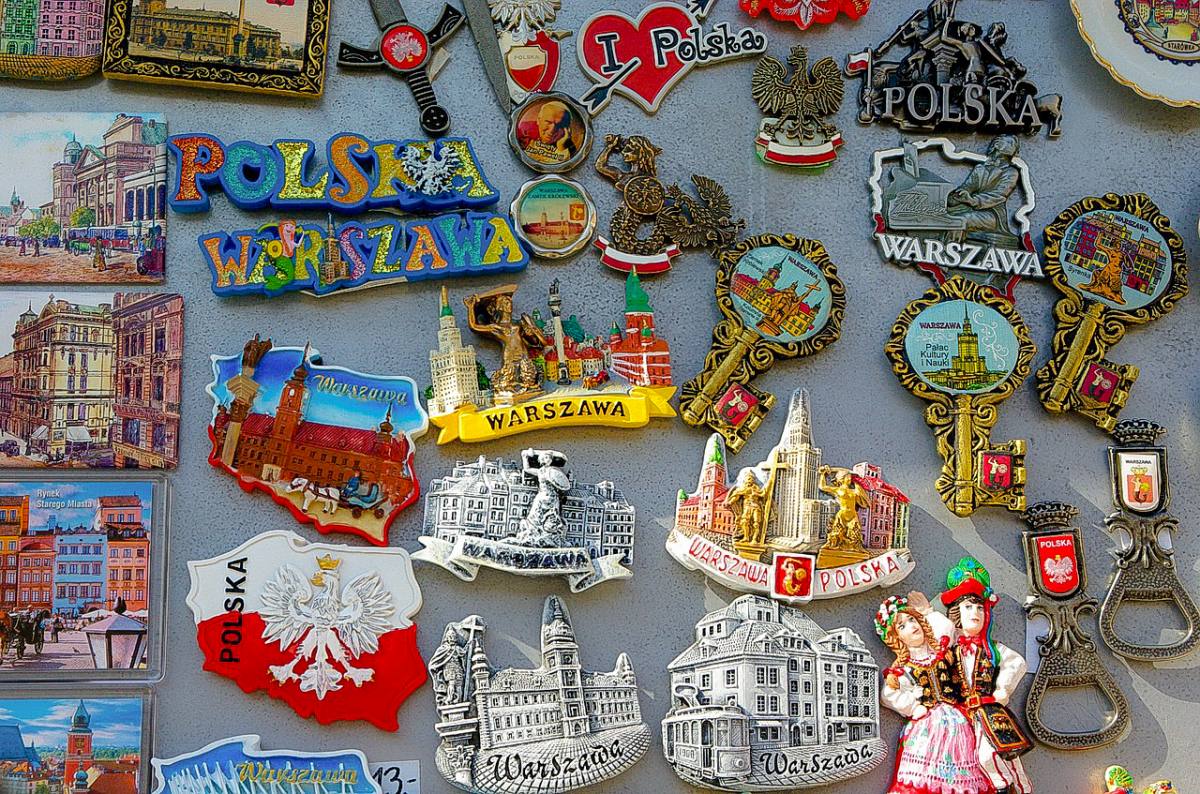 ---
Best Restaurants & Cafes in Warsaw Poland
Remember, most restaurants in Warsaw close earlier than in the US. You might struggle to find a place open after 10 PM. Polish cuisine is heavy on meat, potatoes, and cheese, but in this day and age vegans will also be able to find something for themselves.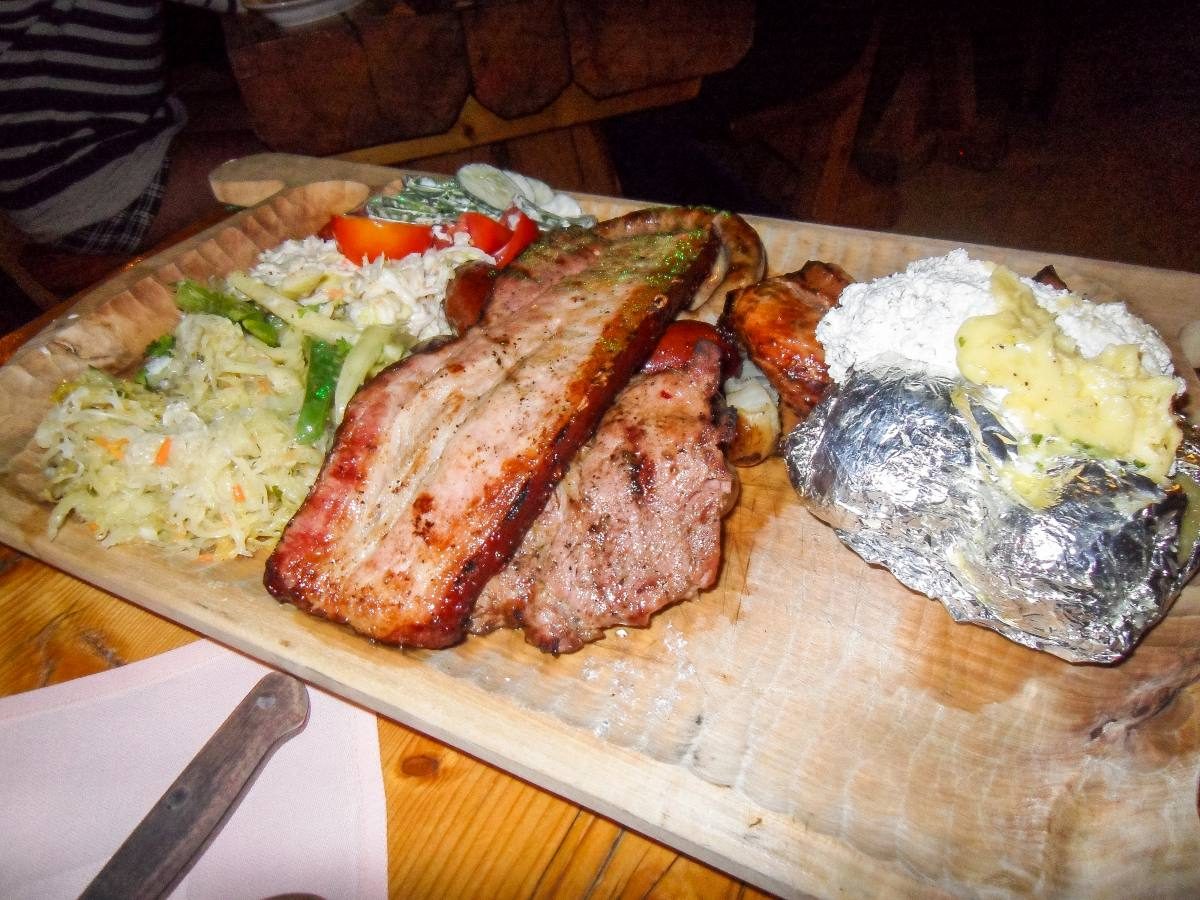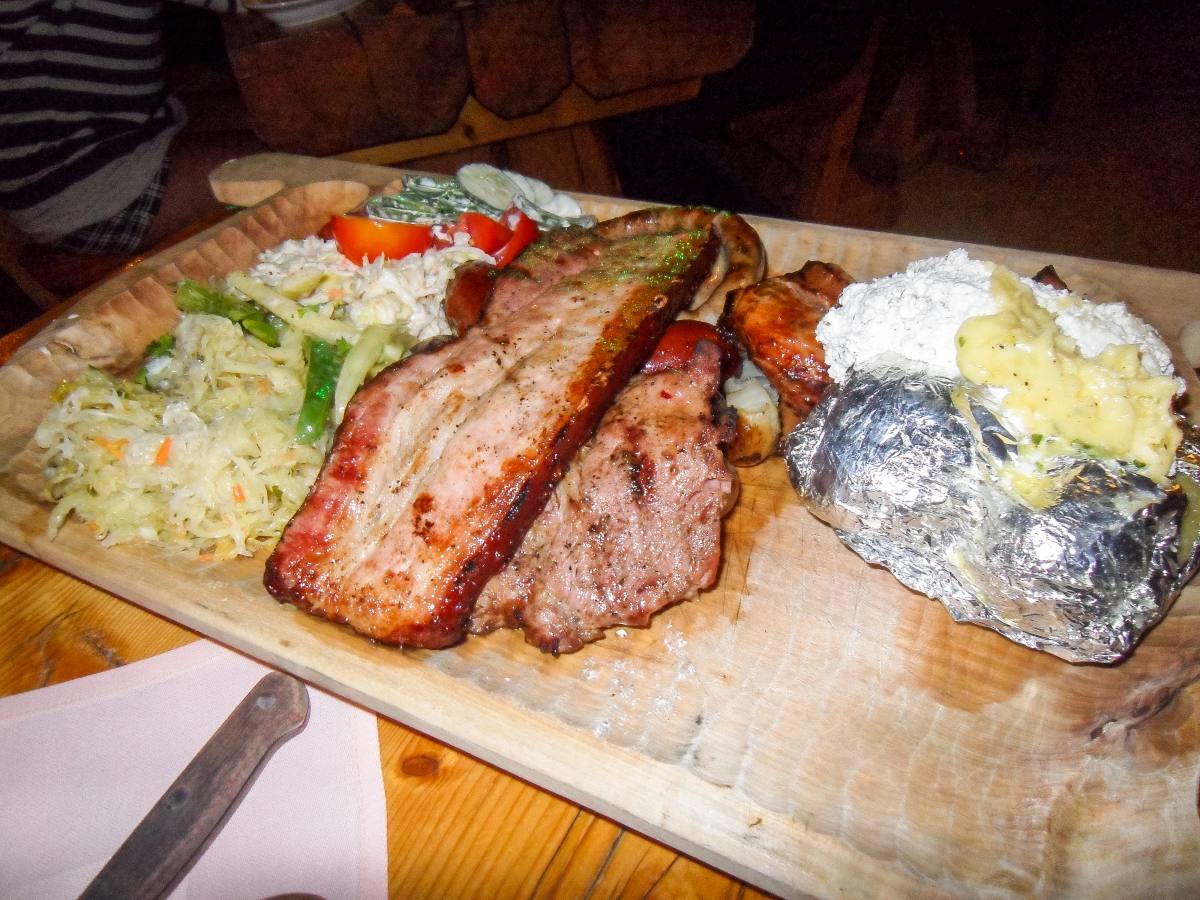 Specjaly Regionalne
It's a small, traditionally decorated restaurant located right on the Royal Way. If you're looking for a friendly atmosphere it could be your choice.
Folk Gospoda
Great Polish restaurants with unique folklore decor. I prefer their menu over other traditional Polish restaurants in Warsaw (like Stary Dom or Oberża Pod Czerwonym Wieprzem) as they have more non-meat dishes. Booking a table is recommended.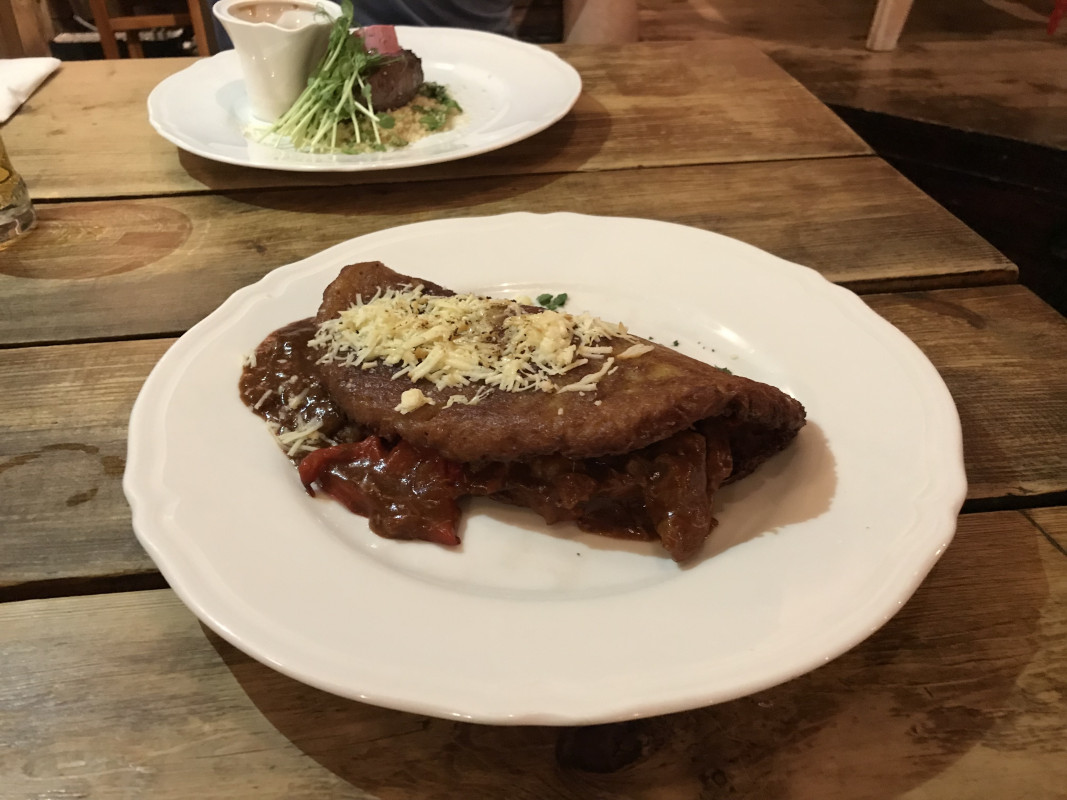 Wedel
Poland has one of the best liquid chocolate on the planet. It's thick and rich in flavor. Do yourself a favor and stop by one of the Wedel cafes for a cup of hot or cold chocolate.
For first-timers, I recommend a tasting menu containing three small cups of hot chocolate: traditional, dark and white. Another favorite of mine is Amaretto Milk Chocolate.
Grycan Ice Cream
A huge selection of ice creams and sorbets to choose from, including non-typical flavors like rose, poppyseed, gingerbread, or kiwi. You can choose a cone with a few scoops (Polish scoops aren't like American scoops – I'd say one American scoop is like 4 Polish scoops).
Bar Mleczny (Milk Bar)
Visiting a traditional milk bar is must-do on your trip to Poland and should be high on your food to-do list. Milk Bars were extremely popular in communist Poland where people used to come for super cheap traditional food. While most of them are gone, Warsaw decided to leave a few to keep the tradition going.
Don't expect the staff to speak much English, so be prepared for a surprise food. Some of the best milk bars include Rusałka (Floriańska 14), Familijny (Nowy Świat 39), and recently renovated Prasowy (Marszałkowska 10/16).
Pijalnia Wodki i Piwa
It's undeniable that vodka and beer is a big part of Polish culture. Pijalnia Wodki i Piwa is a place that's inspired by the shops and bars in the communist-style decor. It's not your conventional type bar, as treat it as an experience. For 1 Euro you can get a fancy shot of vodka, or a beer.
Along with your beverage, you should try typical Polish snacks that come along with alcohol: dill pickles and herring.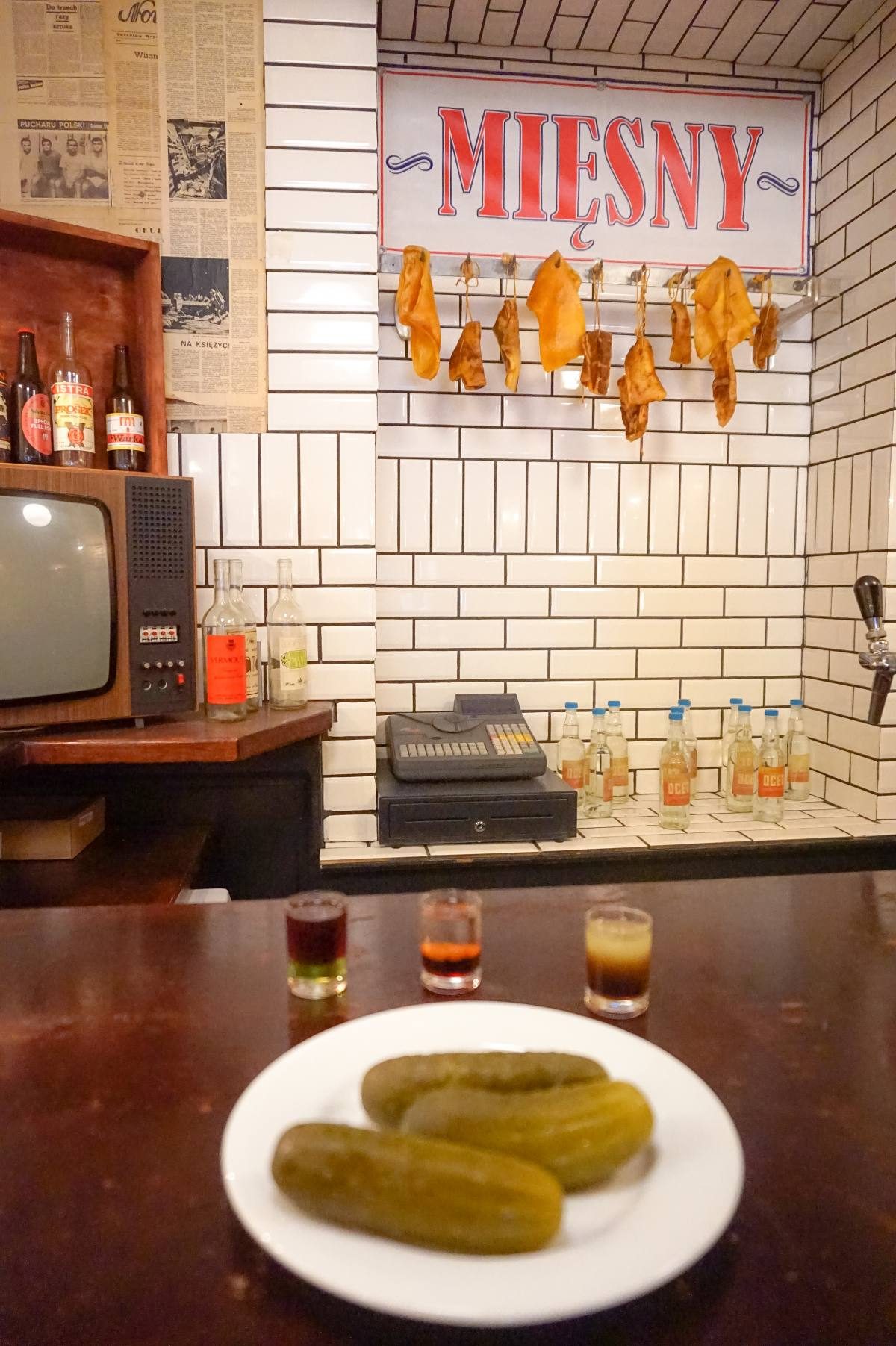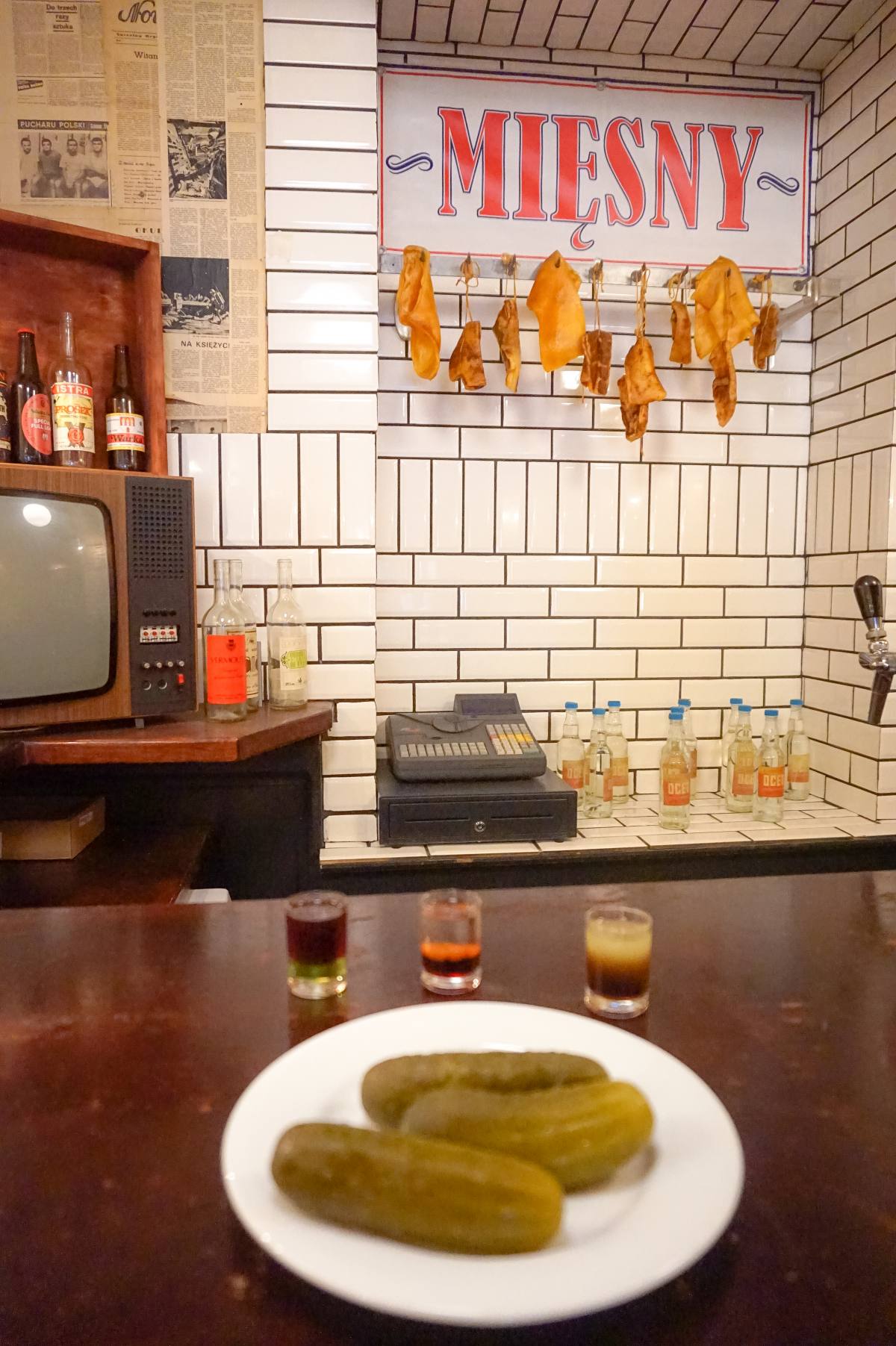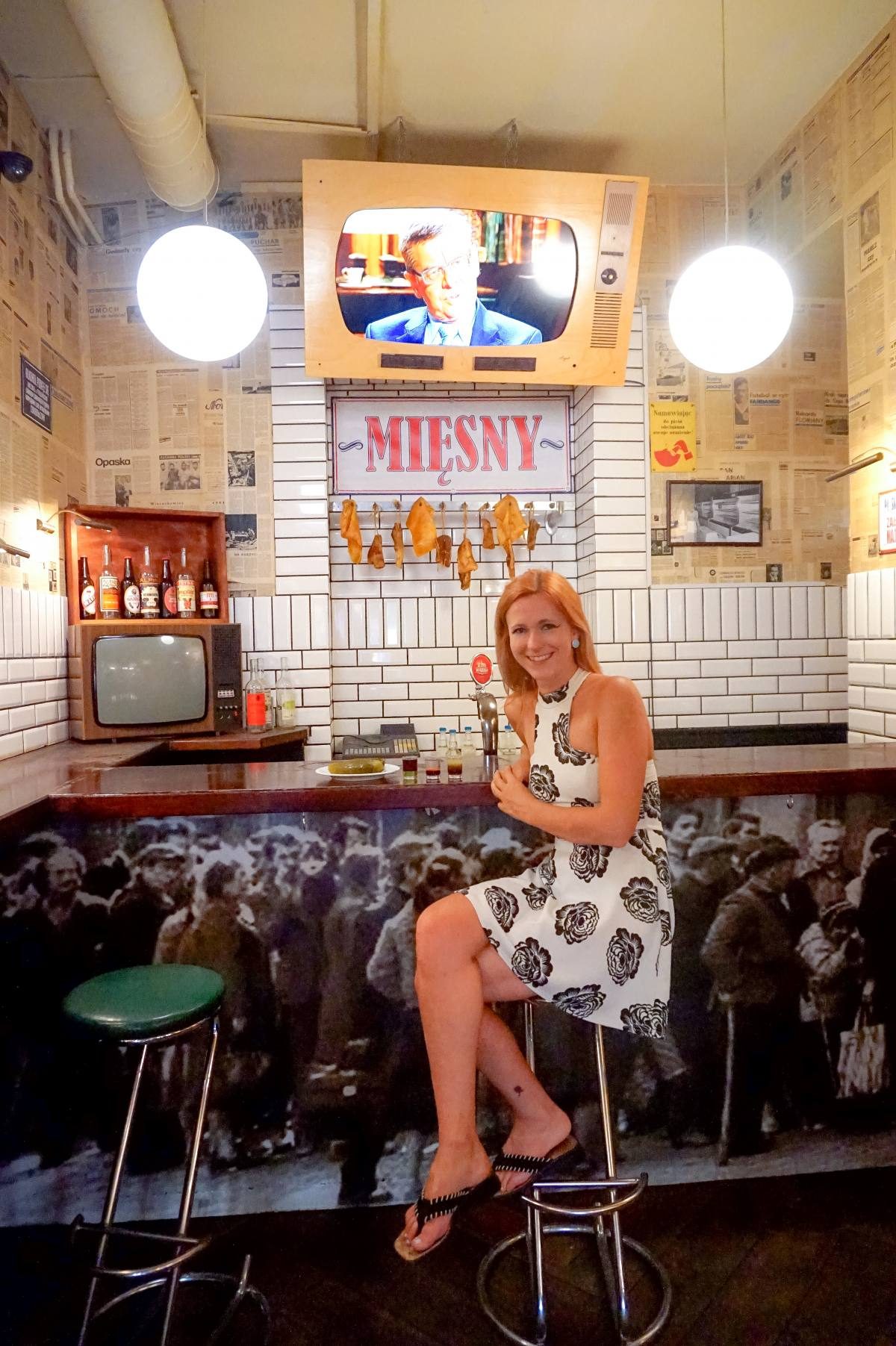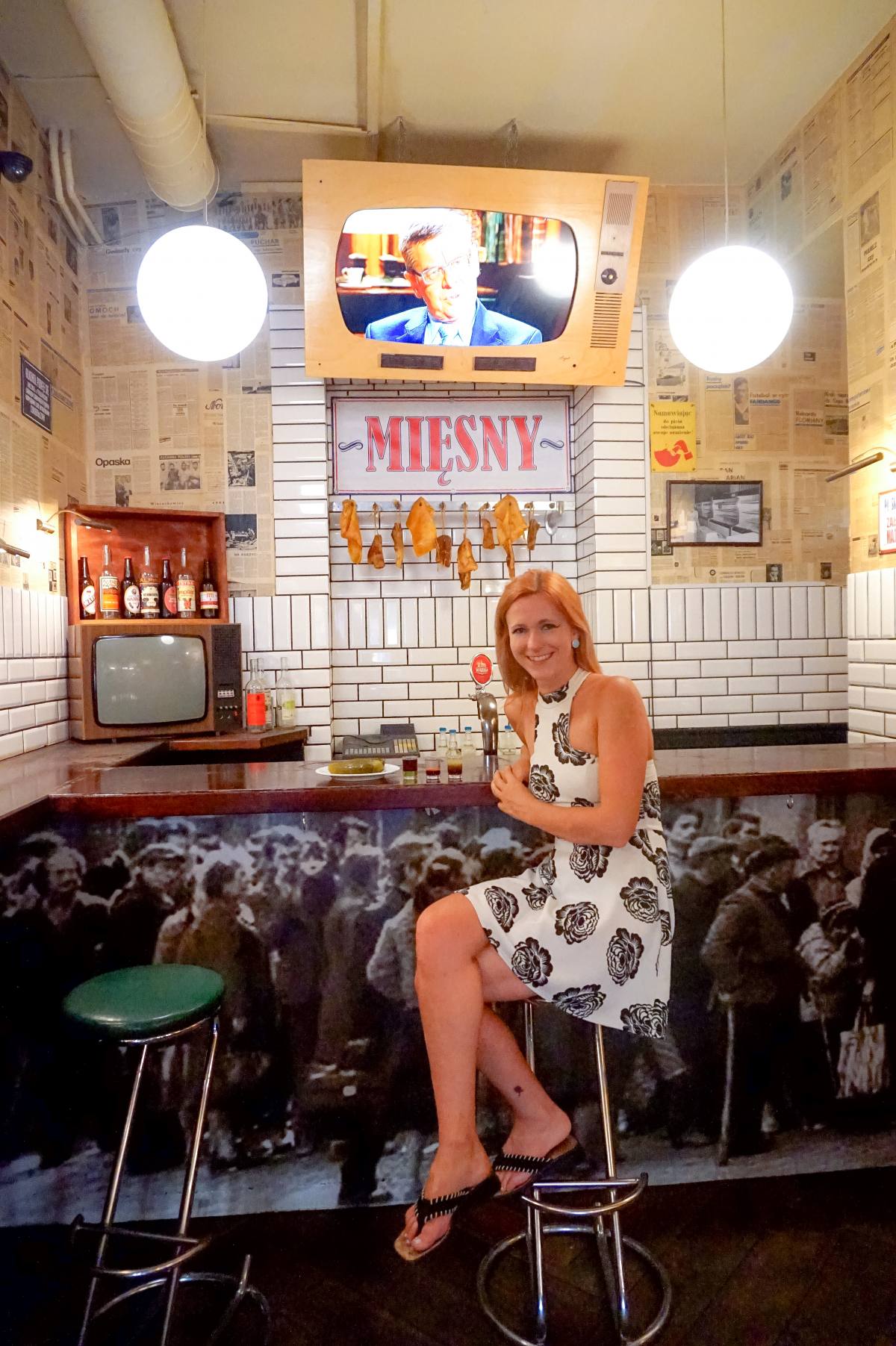 Zapiecek Polskie Pierogarnie
A trip to Poland is a trip lost without pierogi (important: pierogi is already plural, so don't call them pierogies like they do in the US). Pierogi can be eaten sweet or savory, with different fillings and toppings, either boiled, baked or fried.
Zapiecek is a chain restaurant with multiple locations that offer fresh and tasty pierogi, many with vegetarian filling.
Manekin
I got to know Manekin while studying in Torun, and since then the small restaurant created many branches across the whole country. There's always a line to get in, so I guess I'm not the only one who think the wait is worth it.
Manekin is the ultimate kingdom of crepes. There are over 100 fillings to choose from, both sweet and savory, with different sauces, toppings, and types of flour. The place also caters to gluten-free customers.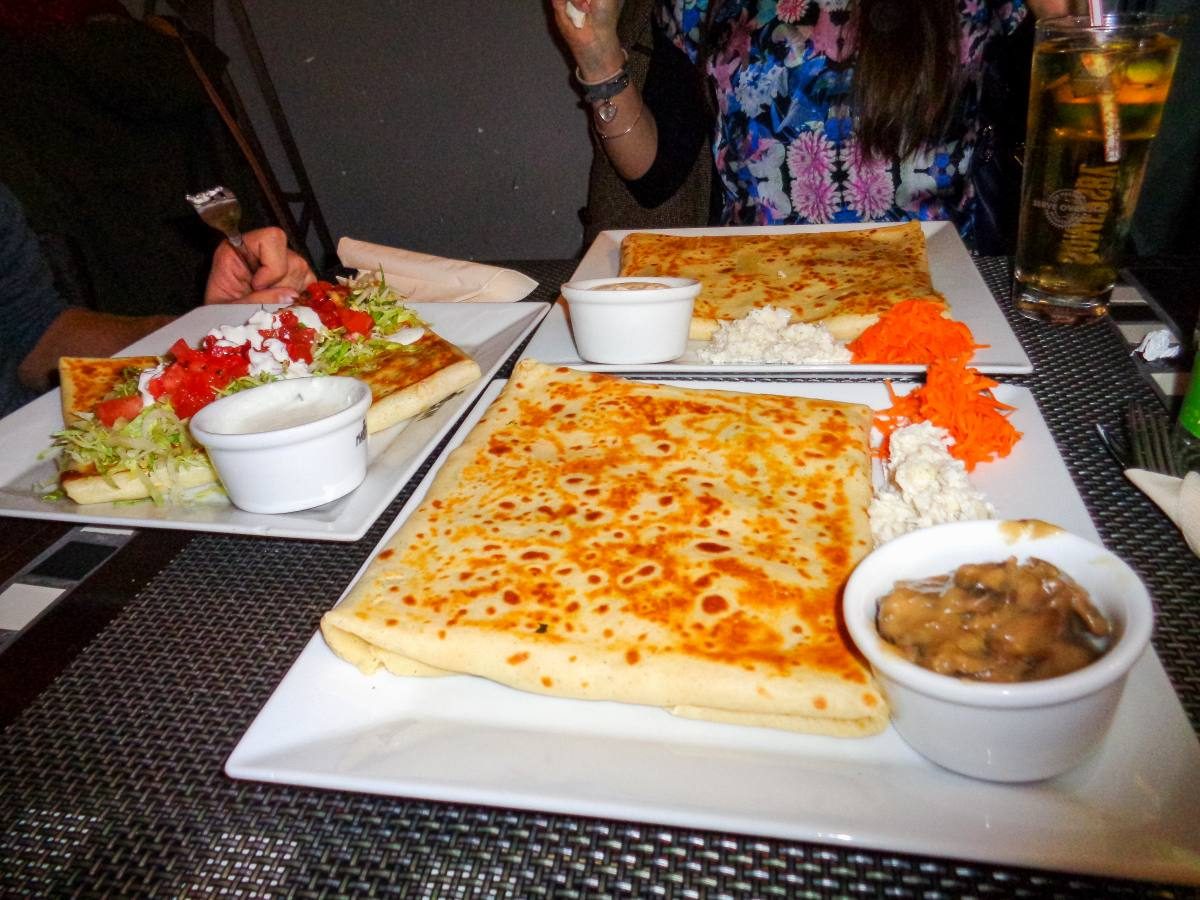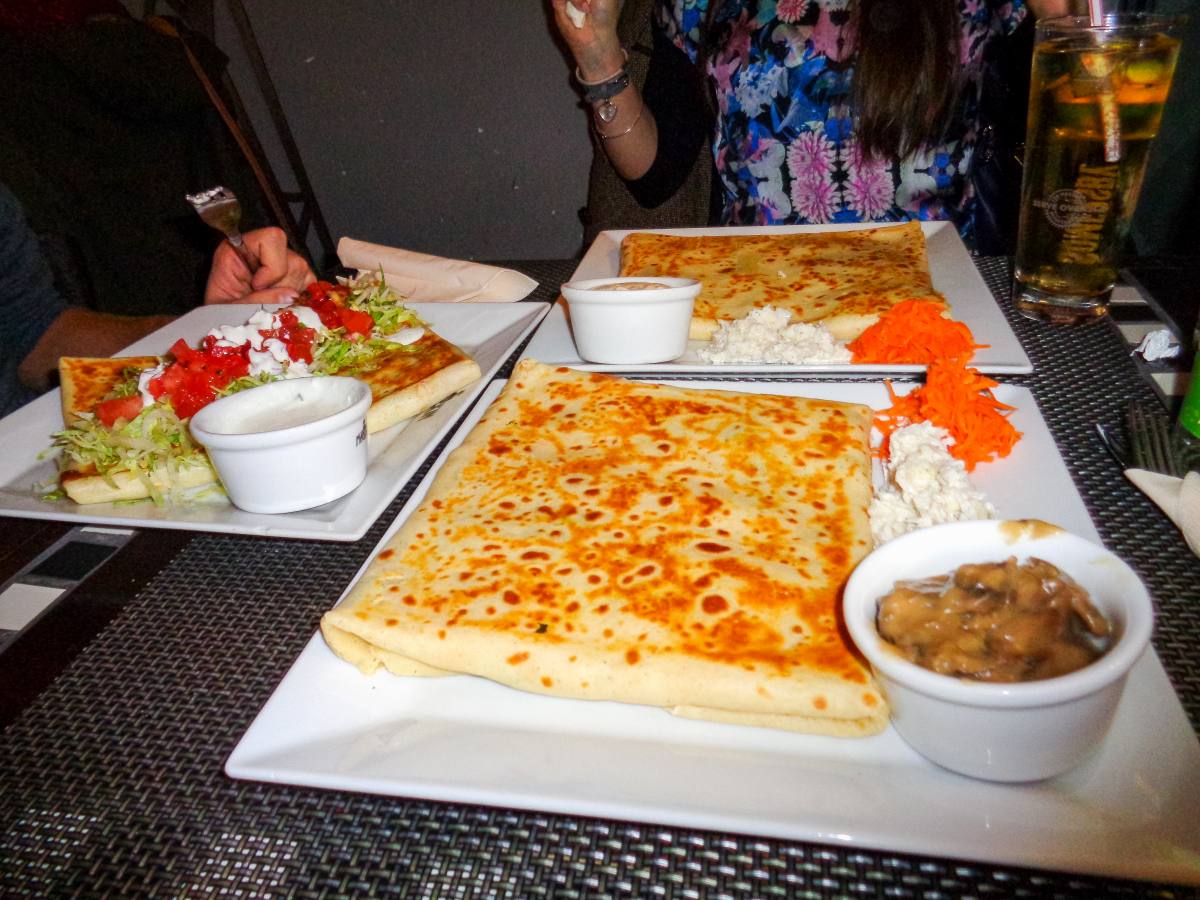 Street Food to Try in Poland:
Kebab – It might not sound very Polish at first, but kebabs are extremely popular in Poland. They're as authentic as they can get as they're run by immigrants from Egypt. After a night out, Poles head to a nearby kebab place to stuff their faces with delicious meat or falafel.
Spring Rolls & Vietnamese – Vietnamese food is huge in Poland for the same reason as kebabs, there's a huge Vietnamese community.
Unlike in the US, you won't find Banh Mi or Pho in Poland, as the food is more Europeanized. The most popular items are spring rolls, chicken in the dough, sweet & sour chicken, or fried soy noodles.
Zapiekanki – An item I never paid any attention to my entire life, until I guided a few Mexicans who demanded to eat it. Zapiekanka (plural: zapiekanki) is a grilled open-face sandwich (sidenote: noone eats closed sandwiches in Poland) made of half baguette, topped with cheese, sautee mushrooms and lots of ketchup.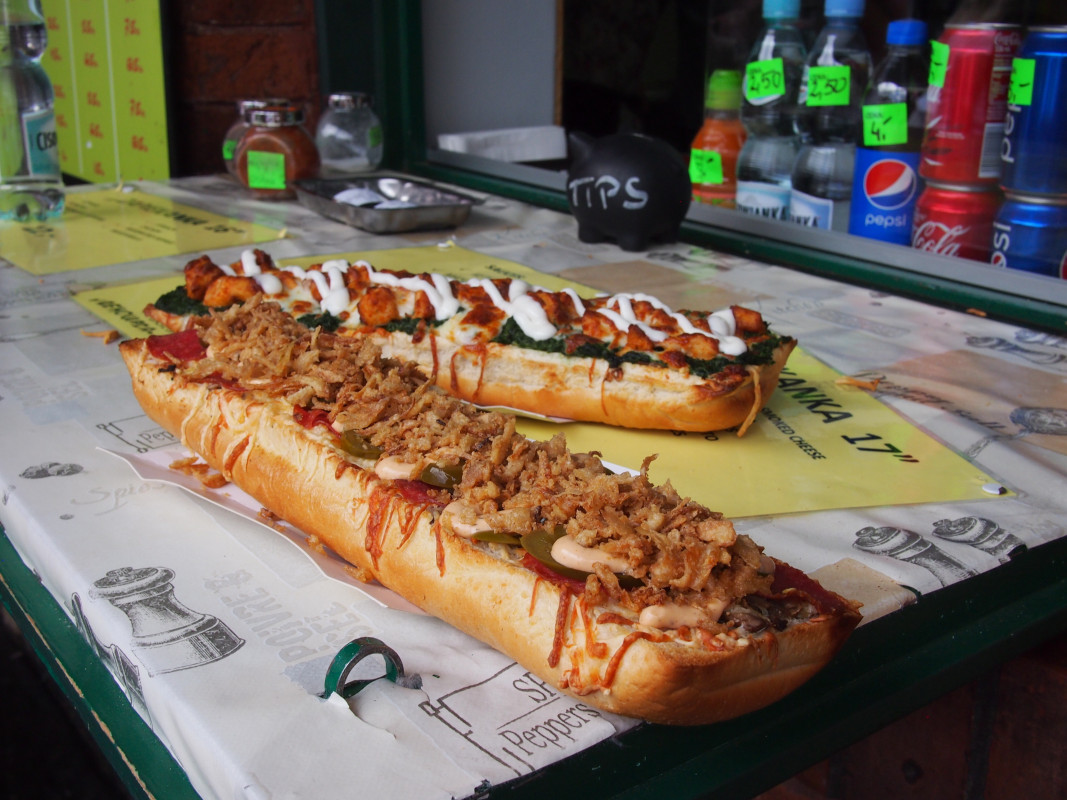 ---
What to Pack for Warsaw
The type of clothes to take depends on the time of your travel. You can get some inspiration from my Shop Instagram page 🙂
You don't need to take too much cash with you, there are numerous ATMs everywhere.
If you're coming from the US, remember to bring an electric converter. Electricity in Poland is 230 Volts, 50 Hertz.
>> Read more on carry-on packing.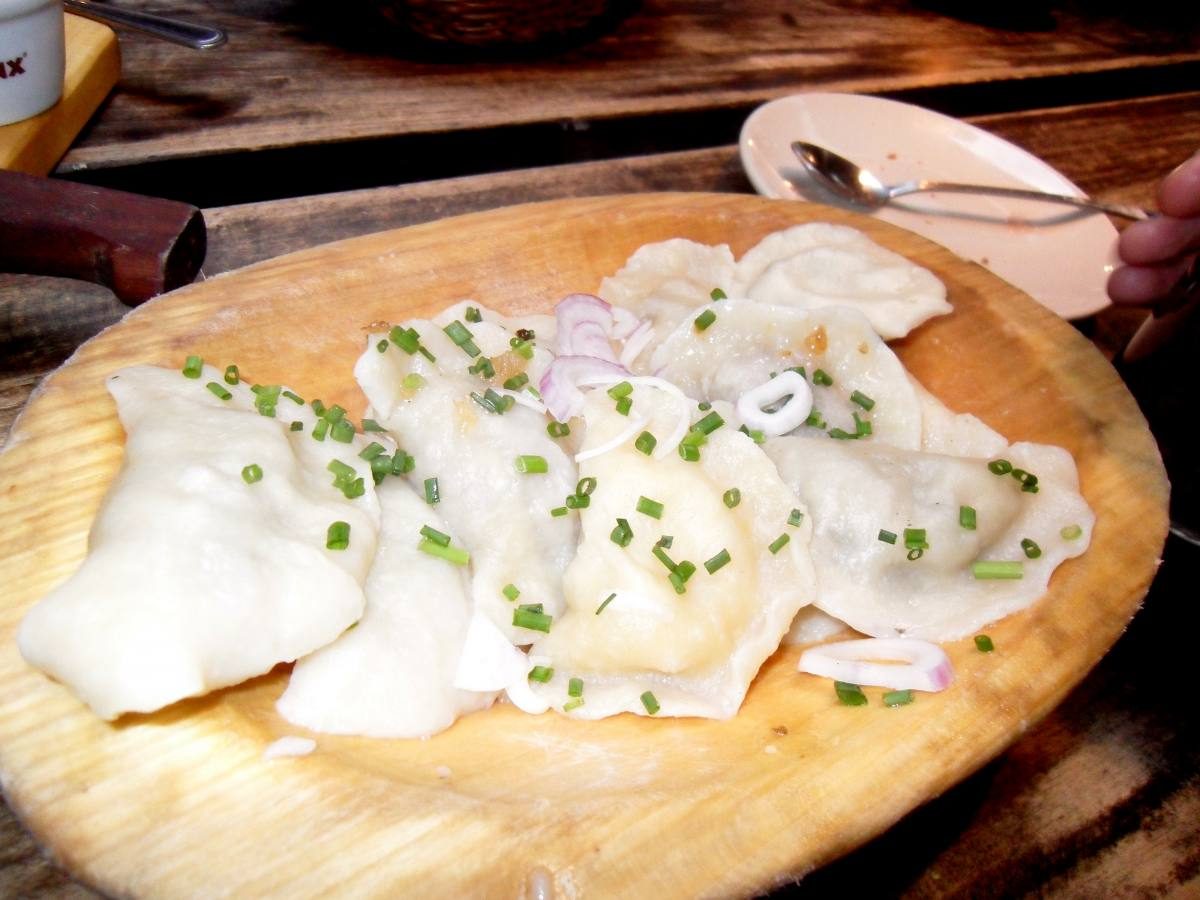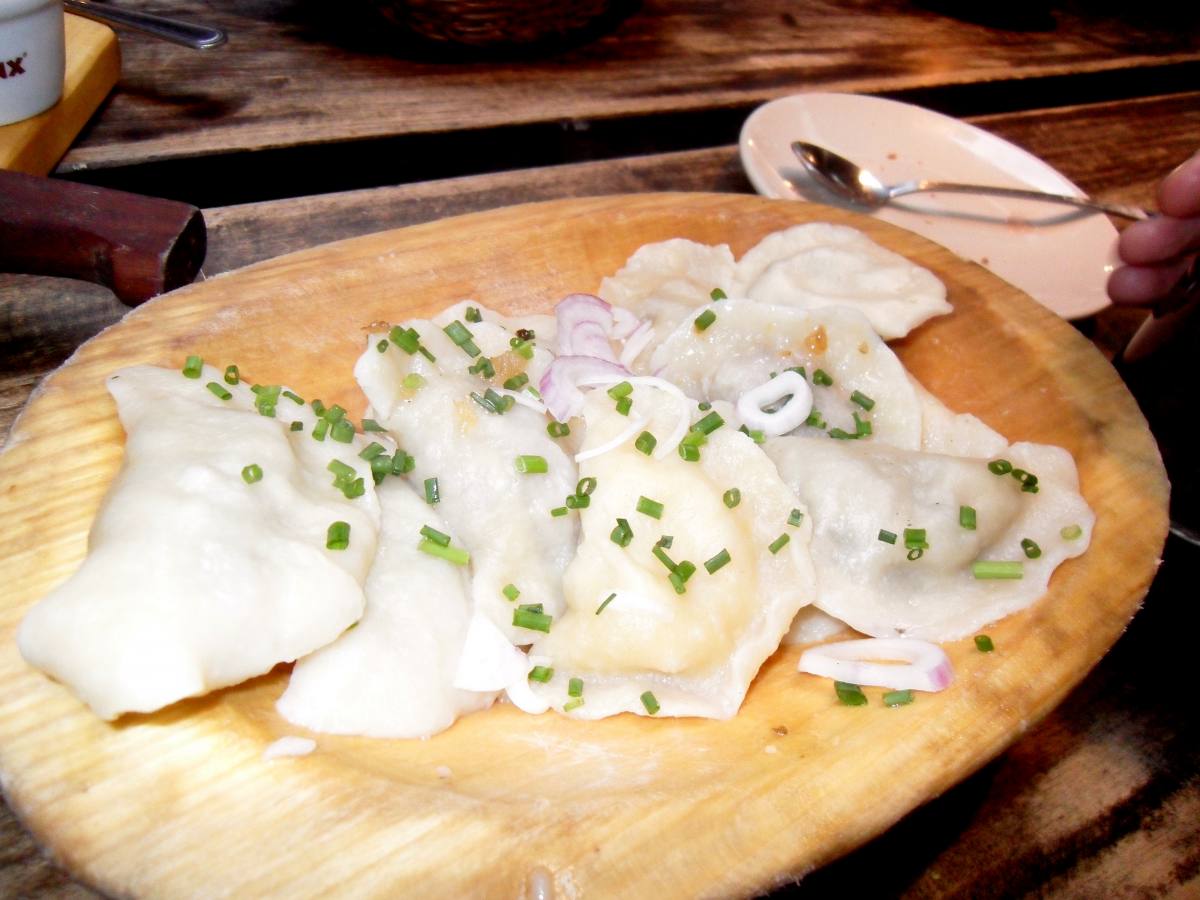 ---
Day Trips from Warsaw
There are many great things to do around Warsaw, so don't hesitate to get out of the city for a bit. If you want to travel to other bigger cities in Poland, I'd definitely advise planning for a few days. Krakow, Wroclaw, and Gdansk shouldn't be done on a day trip unless you want to be extremely rushed.
>> Read more on Things to Do in Krakow.
Wilanow Palace
The 'Polish Versailles was another Baroque summer residence of Polish royalty that gleams with white and yellow decor. The place is full of random artifacts facts from all over the world and represents an Epoque of which has been lost after Poland got wiped from the map of Europe.
Its gardens of 45 hectares are perfect for an afternoon walk. Wilanow is very easy to get to with buses 116 and 180 from the Old Town, or 519 from downtown.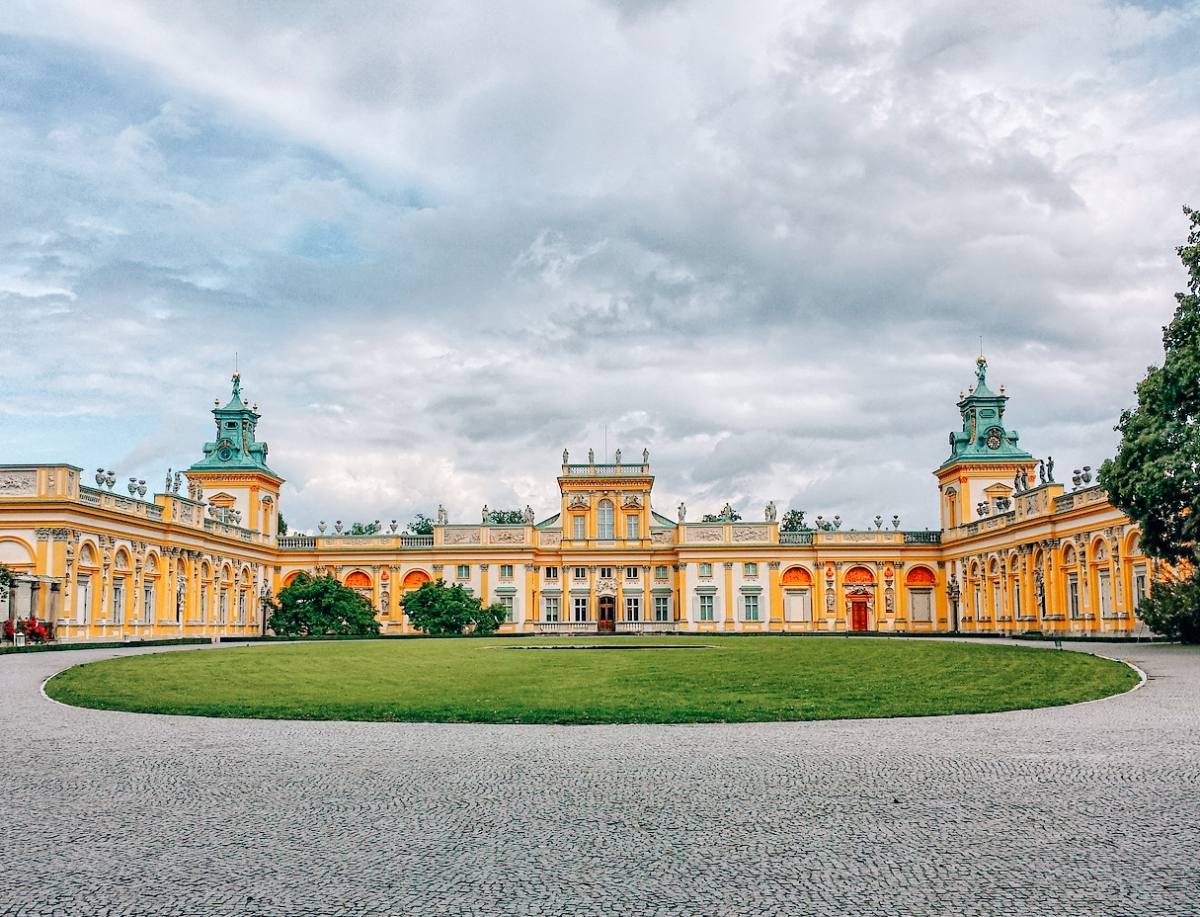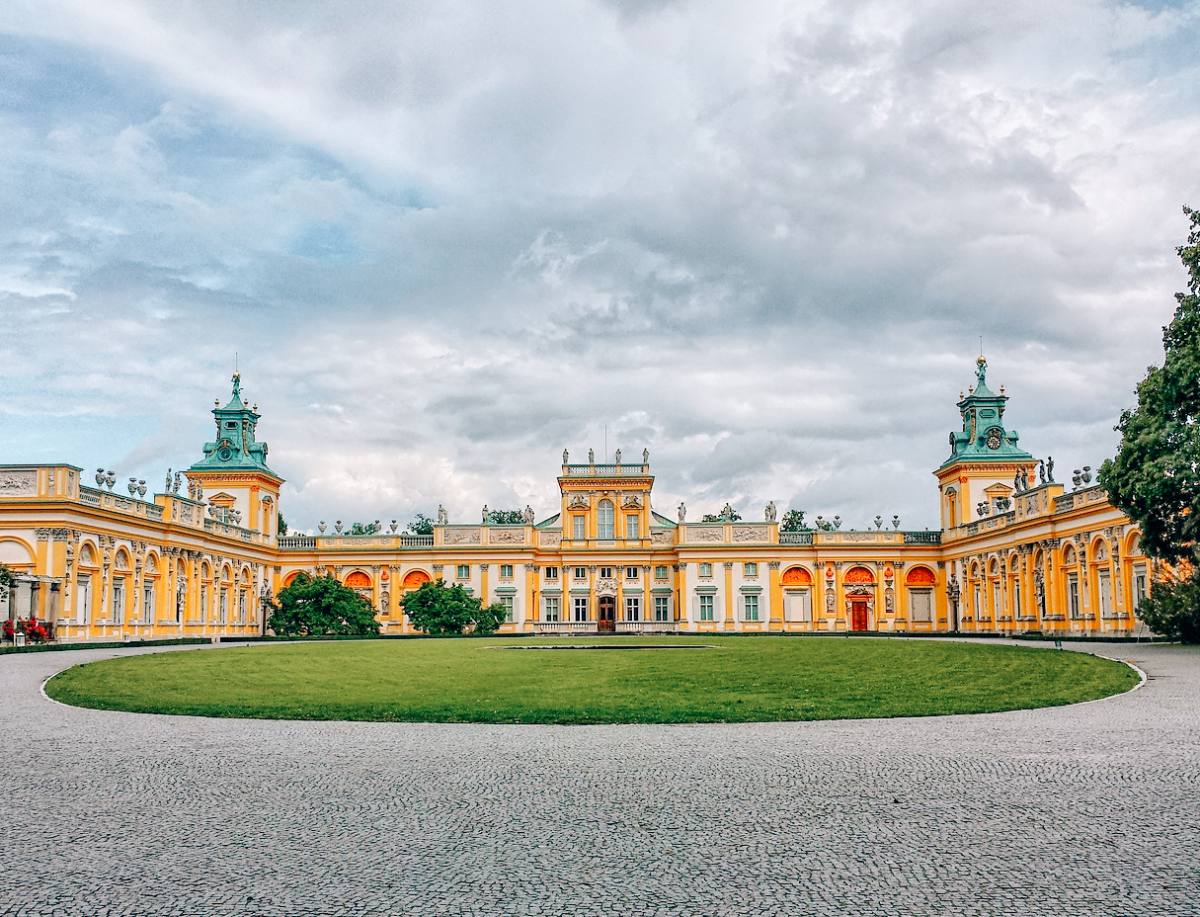 Malbork Castle
This UNESCO Heritage castle isn't usually a place that everyone talks about, but it should be. The Castle of the Teutonic Order is the largest in the world measured by the land area. It's a must-visit place in Poland.
The best way to get there is by train that goes to Gdansk (another beautiful place, full of history – it was an independent port city once) and getting off at Malbork station. It takes about 2:15h to get there. While it can be done on a day trip, I highly recommend spending one night in Gdansk before heading back to Warsaw.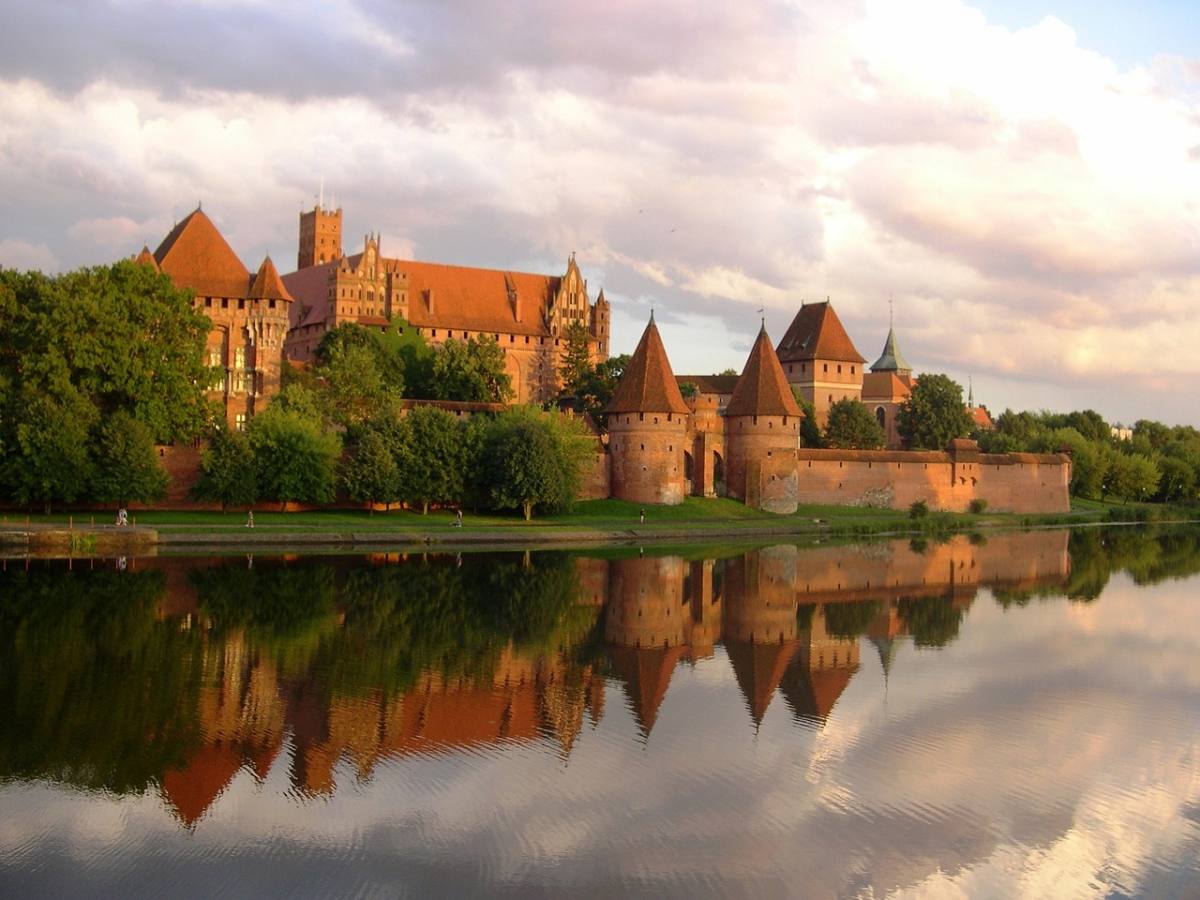 Fryderyk Chopin Birthplace & Park in Żelazowa Wola
You can visit the birthplace and early childhood house of Frederic Chopin in Zelazowa Wola. Half of the house has been filled with early 19th century keepsakes, instruments and paintings. The place is 54 km away and can be easily reached by a mini-bus from downtown at ul. Marszałkowska.
Torun
You probably heard of Nicolaus Copernicus? He was born in Torun. It's a beautiful and lively city that owes its origins to the Teutonic Order, which built a castle there in the mid-13th century. The old town is remarkably preserved and it's a pleasure just to stroll around and admire its architecture from the street level, or from the tower of the town hall. Think Bruges of Poland.
For museum enthusiasts, there's a Museum of Gingerbread, Astronomical Observatory and much more. I actually had a chance to study in Torun, so if you have any additional questions, don't hesitate to ask!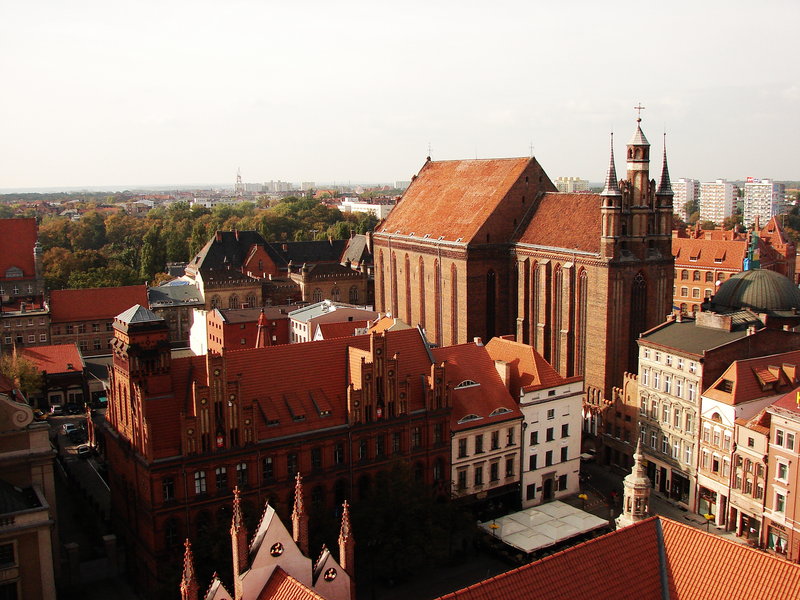 ---
DON'T FORGET ABOUT TRAVEL INSURANCE
Don't forget to arrange health insurance before heading to Poland. The easiest and most reliable travel insurance is Safety Wing. Get it before your trip to skip unnecessary troubles that might ruin your holidays!
---
Movies & Guides About Warsaw
The Zookeeper's Wife – A recent movie about Antonia Zabinska, a wife of a zookeeper during the war, who saved a lot of Jews on ZOO's premise. Starring Jessica Chastain.
The Pianist – A Biographical adaptation of a Jewish pianist from Warsaw – Wladyslaw Szpilman, and his journey during the occupation.
Suggested more extensive guides for Warsaw: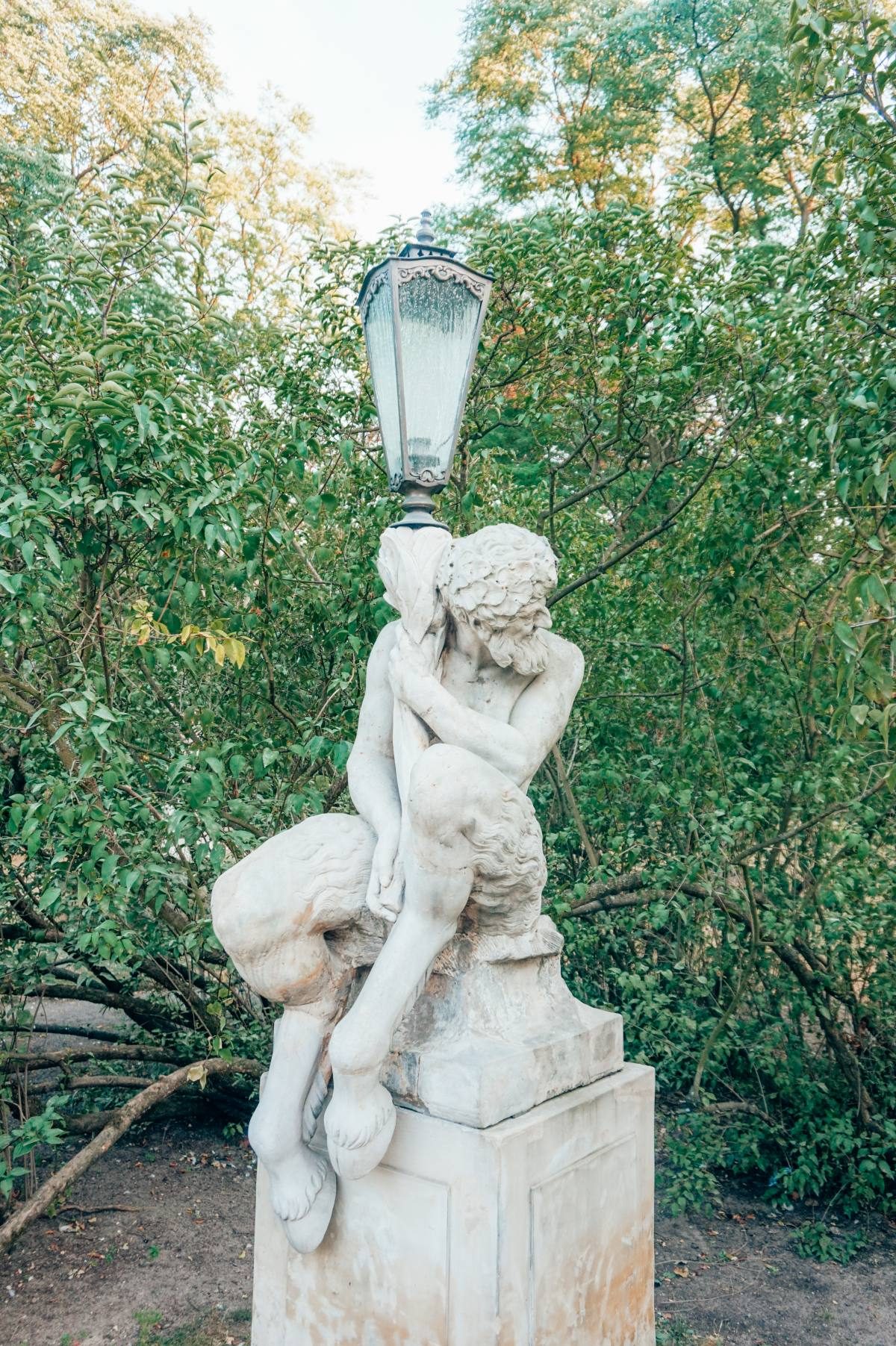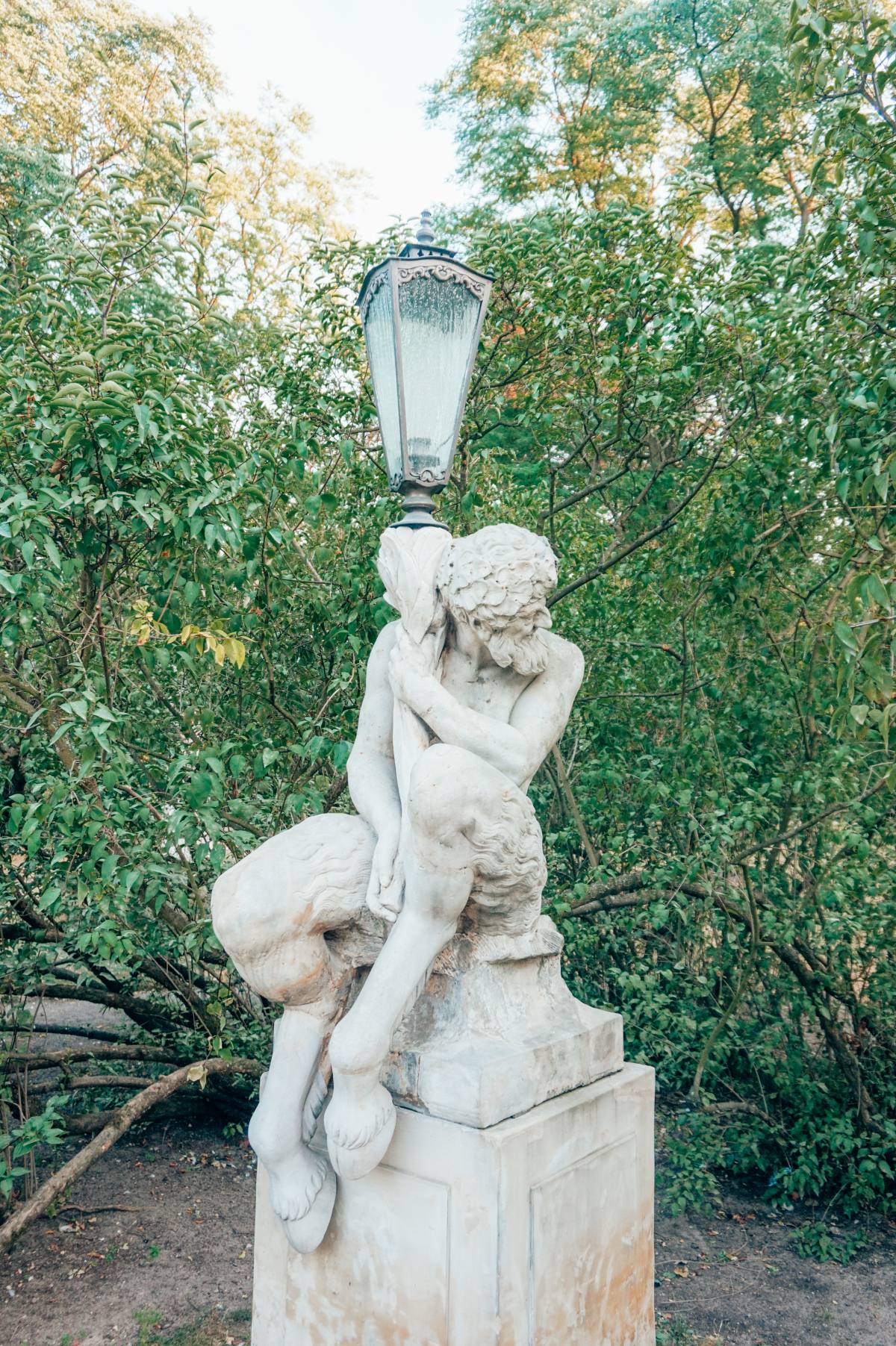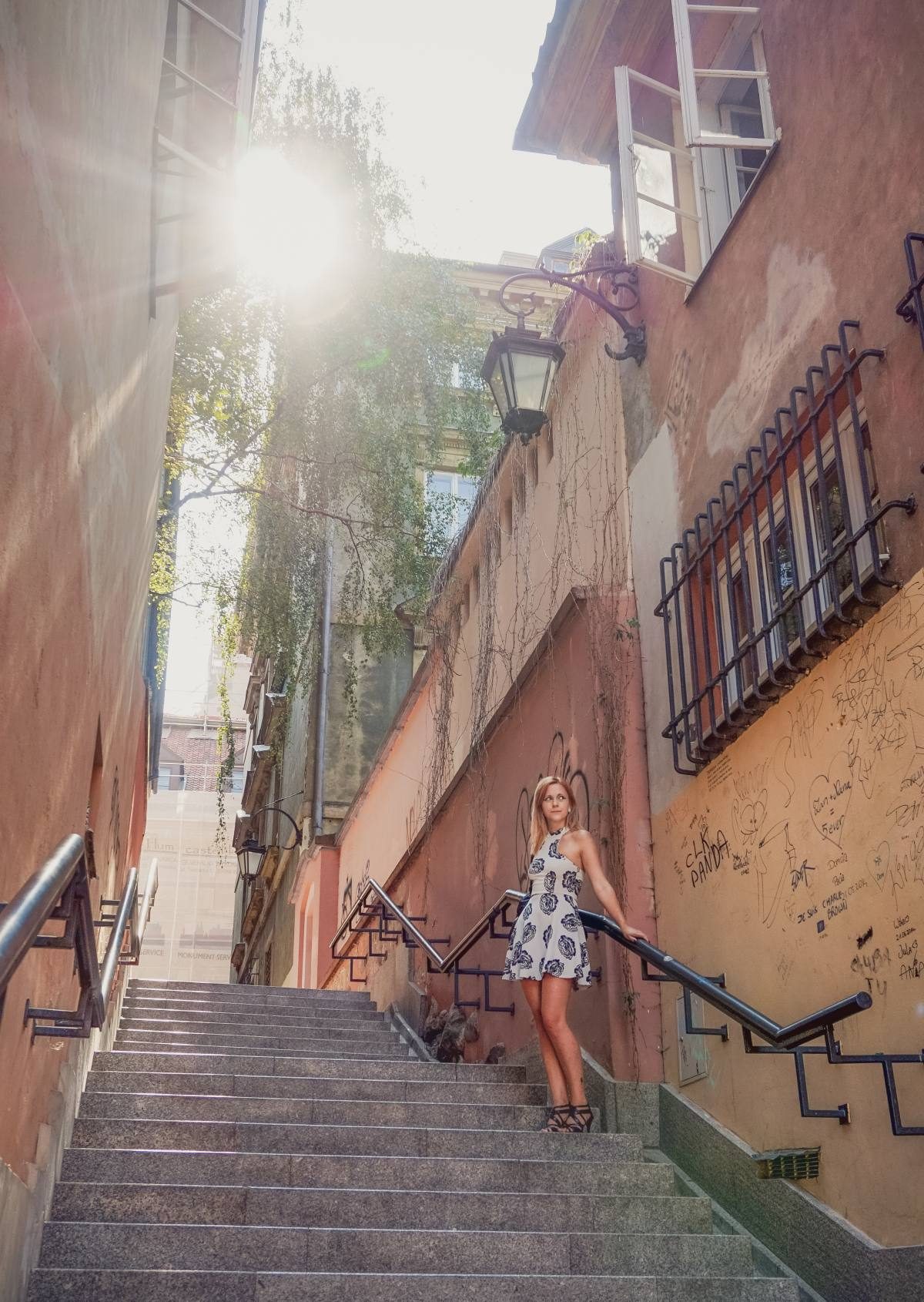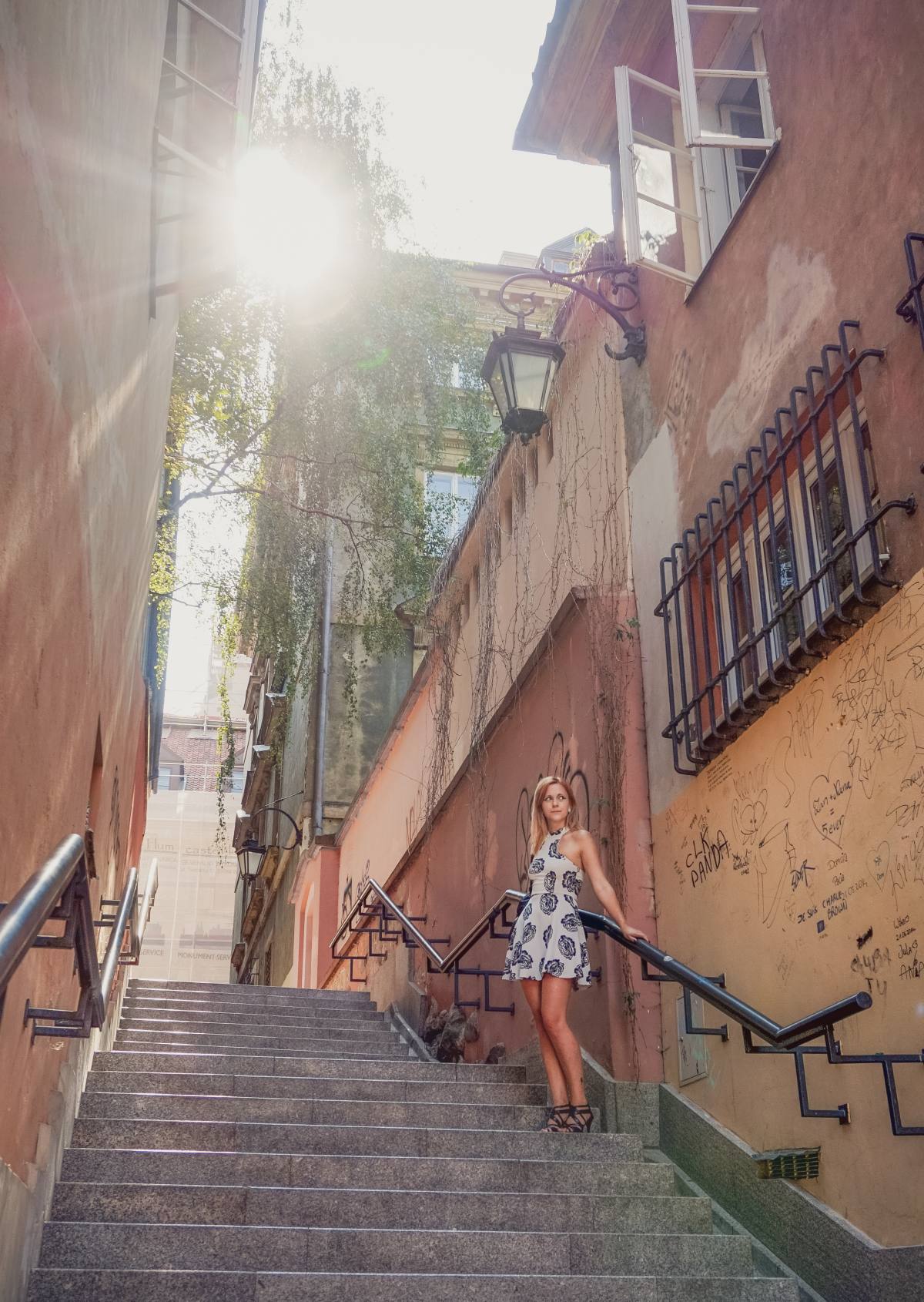 ---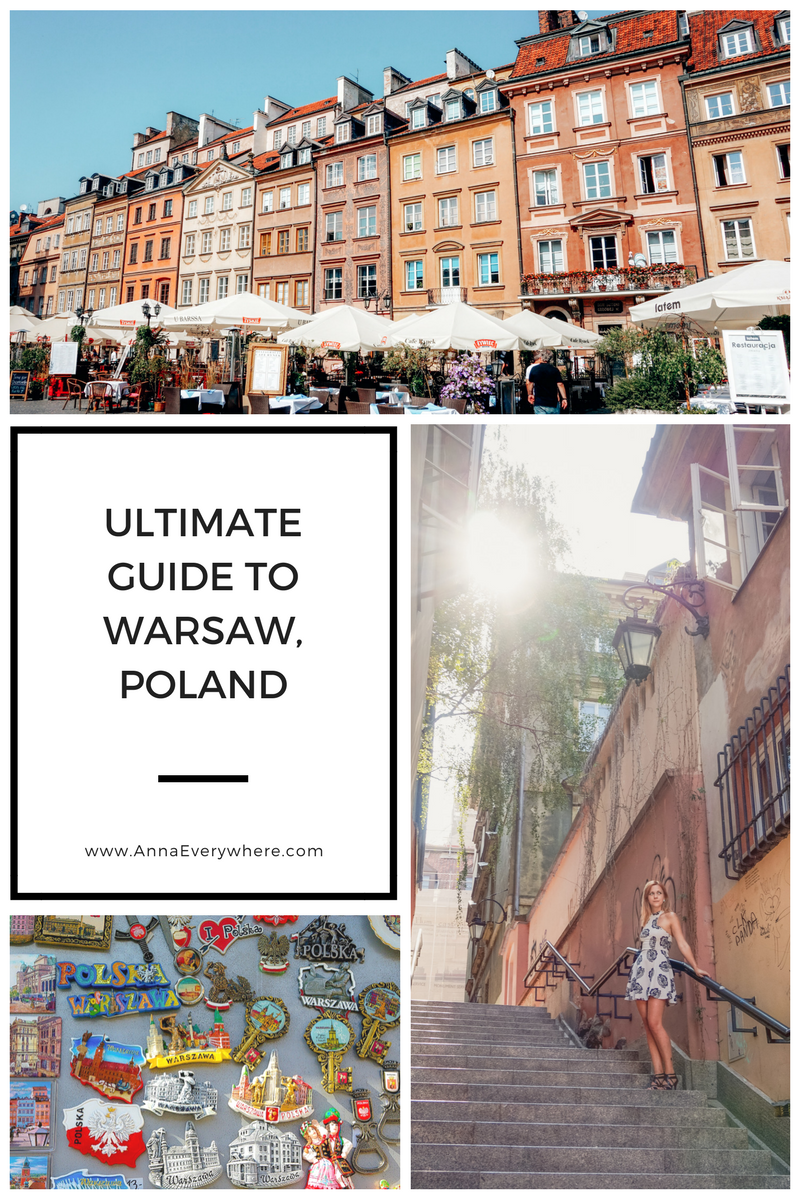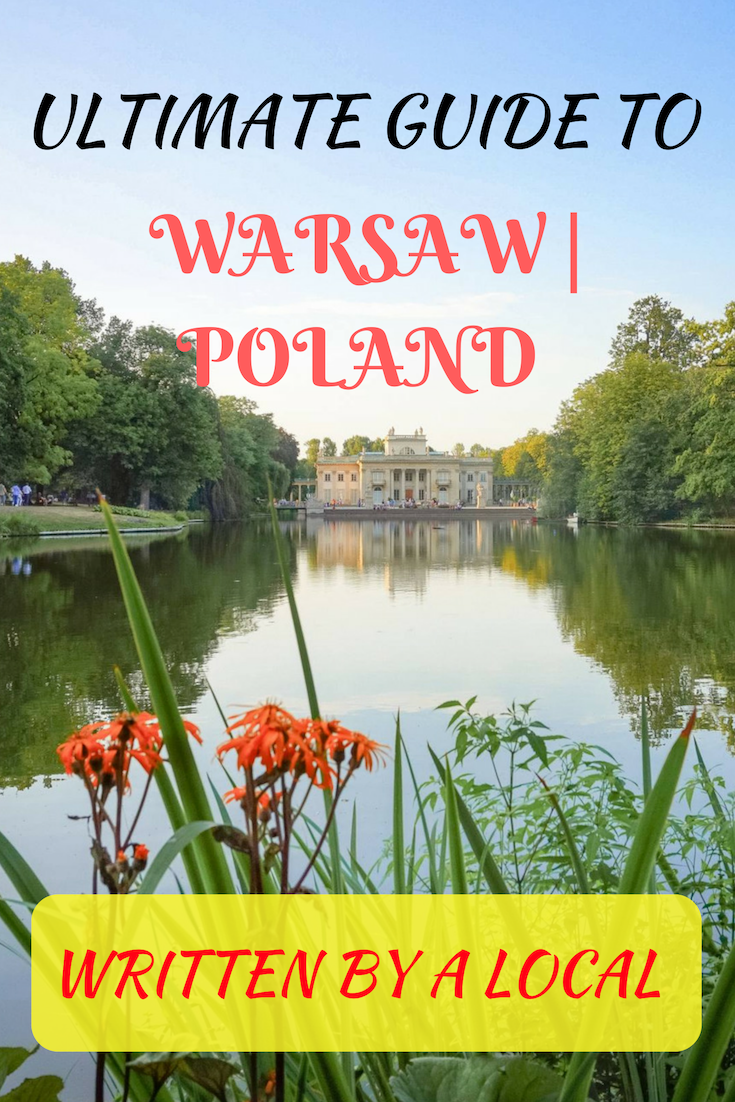 Did I miss something? Do you want to ask me anything about Warsaw? Post your question in the comment section below 🙂