Are you planning a trip to Warsaw, Poland, and have no idea where to stay? It's ok; it makes sense, it is the capital and largest city in Poland, after all. What was once considered to be a gloomy grey city in Eastern Europe has blossomed into a popular travel destination.
The juxtaposition of the new corporate skyscrapers against the historic neighborhoods is surely a sight to see. There are 18 Warsaw Districts, so choosing which one to stay in can be a challenge. I've narrowed it down to the very best areas Warsaw has to offer. Start planning your trip to this beautiful, historic city in Poland soon (that also happens to be my hometown, so feel free to ask me anything about it in the comments if you have any doubts)!
Best Hotels to Stay in Warsaw:
Best Luxury Hotels in Warsaw
Intercontinental Warsaw • Bristol • Polonia Palace
Best Boutique Hotels in Warsaw
Moxy Warsaw Praga • Castle Inn
Best Cheap Accommodation in Warsaw
Dream Hostel • Pokoje Gościnne Dom Literatury
---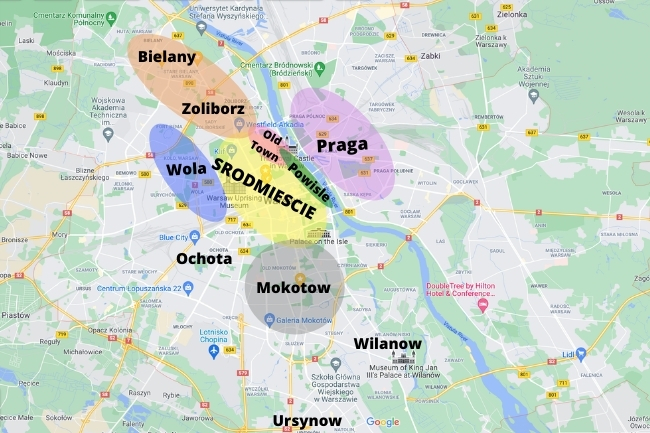 ★ First Time in Warsaw? Śródmieście
★ Best District in Warsaw for Nightlife: Powiśle (Vistula River Bank)
★ Best Neighbourhood in Warsaw for Families: Mokotów
★ Cool Neighbourhood of Warsaw: Praga
★ Most Romantic Neighborhood in Warsaw: Old Town
★ Local Neighborhood in Warsaw: Bielany & Zoliborz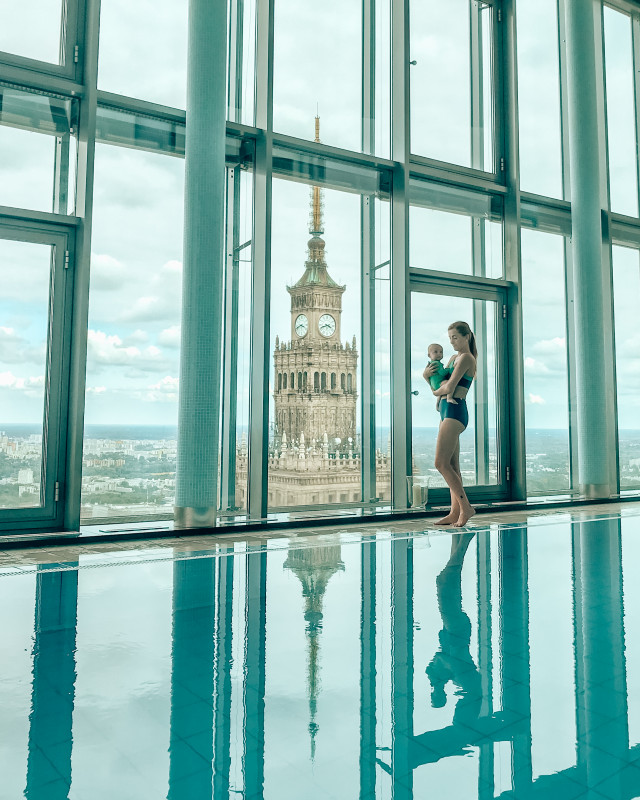 ---
Śródmieście District: For First Time in Warsaw
Śródmieście is considered to be the heart of Warsaw, and many first-timers will head here since it's the most central district. Here you will see a mash-up of old and new. Śródmieście is the financial hub of the city and also the oldest part of Warsaw.
Visitors can check out museums, art galleries, theatres, shopping and restaurants within the district. The Central Railway Station is here as well, making it the most connected of all Warsaw's areas.
Śródmieście also includes Warsaw's' Old City / Old Town, but this area deserves a separate mention, so we'll talk about it next.
Did you know that Śródmieście is also home to the narrowest street in the world (that's not an alley)? It's called the Ulica Bednarska and was officially given this name in 1770.
Top 3 Activites in Śródmieście
1. The tallest and most recognizable building in Warsaw is the Palace of Culture and Science, a must-see while on your trip to Warsaw. The building was first opened in 1955 by Joseph Stalin as a "gift of the Soviet people for the Poles". It tried to be removed but became a national monument and got to stay. It's a historical landmark that was built by Russian workers, and today the Palace of Culture and Science hosts concerts, concerts, exhibitions, fairs, shows, theatres, cinemas, museums, and trendy pubs.
2. You don't want to miss out on visiting the National Museum. Here you will find thousands of art pieces from both local and international artists. Check out diverse exhibits, including medieval Coptic Christian paintings, gems of Polish design, and incredible works of art from the 19th to 21st centuries. There are also some Rembrandt.
3. Spend an afternoon at Ujazdowski Park and Lazienki Park, Warsaw's most picturesque outdoor spaces. There are plenty of benches to sit on, birds to watch, trails and people to see in this clean, quiet oasis in the center of the hustle and bustle of the big city. Lazienki is also home to a summer residence of the former Kings and lake you can rent boats on. Park Ujazdowski also offers one of the coolest playgrounds in the city after it got remodeled a few years back.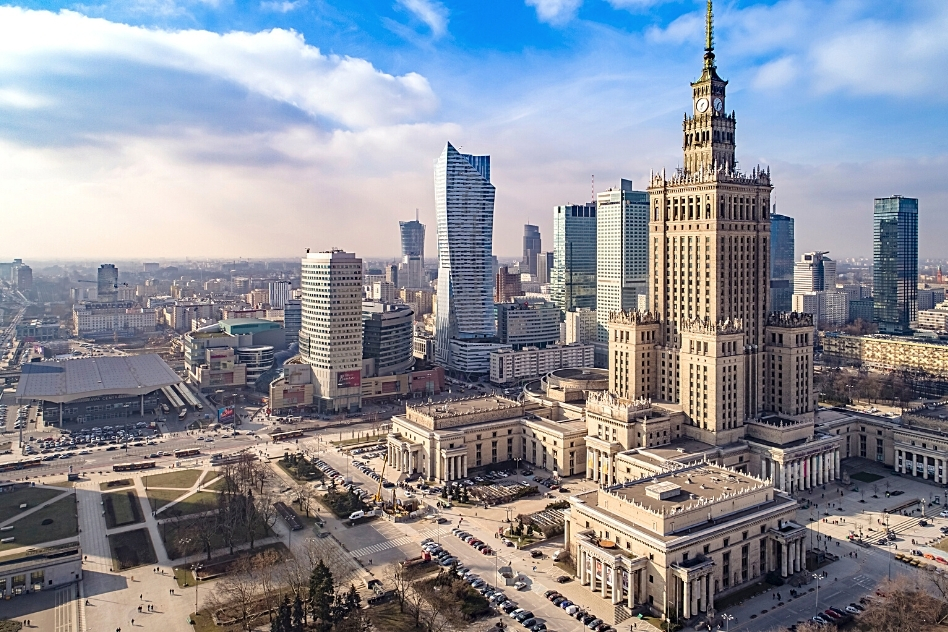 Fun Facts About Śródmieście
Śródmieście has a very high number of primary schools.
The best health care and education opportunities in the city are found here.
This area is generally more expensive than in other areas of the city.
Where To Stay In Śródmieście
Hotel Polonia Palace
Right opposite the Palace of Culture and close to Parade Square and Railway Station, this 4-star hotel offers stylish soundproof rooms and a variety of Polish and European cuisine (best breakfast buffet ever!)
Hotel Warszawa
Chicly-designed spacious rooms at this stylish hotel make your stay in Warsaw exceptional.
Mid-Range Hotels In Śródmieście
PURO Warszawa Centrum
Within walking distance of St. Alexander's Church, Norblin Museum and more, this amazing hotel with a terrace is close to the Central Station, the Złoty Tarasy commercial center.
Hampton by Hilton Warsaw City Centre
Colorful carpets line even more colorful rooms at this centrally located hotel. Often used by business travelers, this hotel is perfect for tourists too.
---
Old Town Warsaw: Romantic Neighbourhood of Warsaw
Stare Miasto or Old Town Warsaw is the best neighborhood to visit in the Śródmieście District.
This is by far the most touristy area of Warsaw, and you will often see travelers passing through. People flock to the cobblestone alleys and medieval buildings, which were reconstructed after WWII.
Here you will find some beautifully restored apartments and tasty traditional Polish street foods like dumplings (pierogies) and sweet pancakes (Placki ziemniaczane). Walk along the Royal Mile and find cafes and restaurants at the end where you can savor the local cuisine.
Old Town is also where you'll see the Presidential Palace, the POLIN Museum of the History of Polish Jews, Monument to the Ghetto Heroes, St. John's Cathedral, St. Martin's Church, Wilanov Palace, Warsaw Barbican, and more.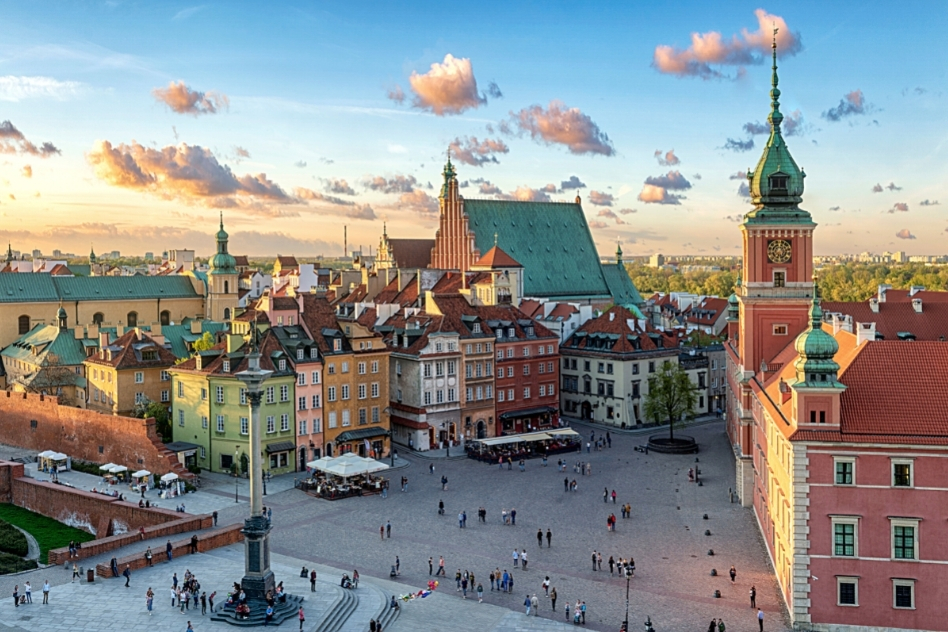 Top 3 Activities in Old Town Warsaw
The Old Town observation tower overlooking the cities rooftops is a must visit. If you make the 150-step climb to the top, try and spot Castle Square from there.

Visit the Old Town Market Place that originated in the 13th century, and see the Warsaw Mermaid that stands there since 1855. This is also the perfect area to try Polish meats and beer.

See the UNESCO Heritage Royal Castle that was started in the middle of the 14th century, with different parts added over time. More interesting though, you can visit the left wing in the evenings to hear Chopin concerts.
Fun Facts About Old Town – Stare Miasto
Stare Miasto or Old Town is the oldest part of Warsaw and locally called Starówka.
The town was founded in the 13th century and grew around the castle of the Dukes of Masovia. This castle later became the Royal Castle.
The 4-tower Warsaw Barbican was erected by Italian architect Jean Baptist the Venetian in 1540, but only found use in battle once in 1656 during the Swedish invasion of Poland.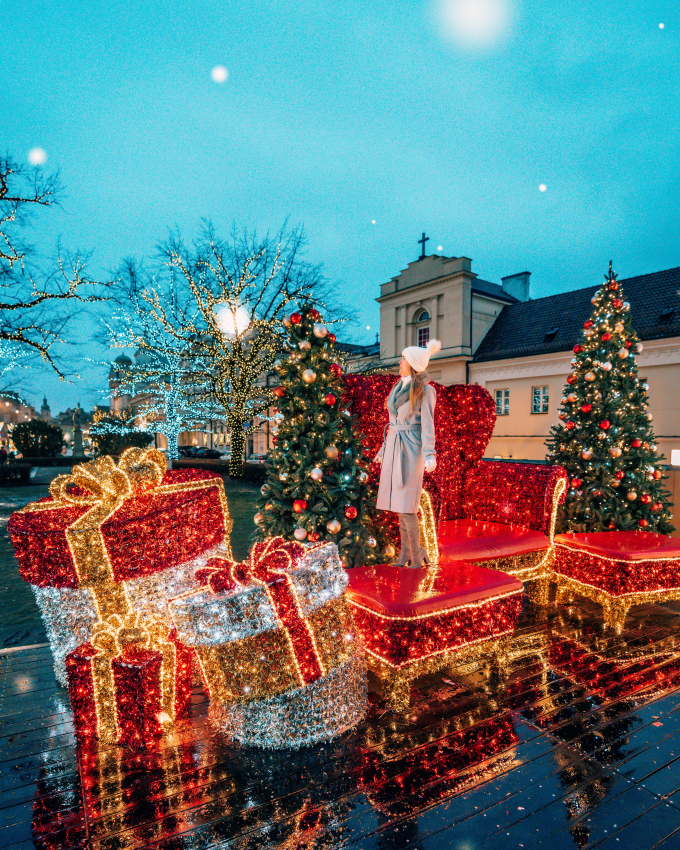 Where To Stay In Old Town – Stare Miasto
Hotel Bristol, A Luxury Collection Hotel, Warsaw
This luxury hotel features gorgeous decor, impeccable furnishings, romantic interiors, and a majestic neo-renaissance facade. 5-stars all the way!
Mamaison Hotel Le Regina Warsaw
An attraction itself, this hotel is housed in the historic Mokrowsky Palace. Elegantly decorated rooms and suites and an indoor swimming pool that's open all year round make this establishment perfect!
Hotel Belloto
Once a Bishop's Palace in the 16th-century, this luxurious hotel is just 200 meters from the Royal Castle. Well-appointed rooms with classical furnishings are splendidly decorated while the onsite spa and fitness center are there to pamper.
Castle Inn
Right opposite the Castle in the heart of Old Town, this Castle Square Hotel is within walking distance of everything you must see on a visit. The traditionally decorated room in this historic building are designed by Warsaw's artists.
---
Powisle: Best District in Warsaw for Nightlife
Set on the banks of the Vistula River, Powisle is another famous neighborhood in the Srodmiescie district.
Considered a slum for many years – from the 17th to the 19th centuries, the neighborhood was where the city's poor and unemployed once lived. It was also where the laborers, craftsmen, metal workers, coal workers, and fishermen lived. Even during my childhood it wasn't a fun place to hang out, but then got turned into the coolest place.
Powisle was almost fully destroyed in the Warsaw Uprising led by the Polish resistance Home Army in 1944. But after WWII ended, the area saw some development. You can visit the Uprising Museum in nearby Wola and learn about the history of the Polish Underground State. See the weapons used and other artifacts from the Uprising, and watch videos of survivors recounting stories.
Visit Powisle now and you'll find green parks, museums, outdoor cafes, restaurants, and a sense of still being back in the 60s and 70s. It's also home to the famous riverside Vistulan Boulevards where you can take a walk, skate, bike, grab a bite, or even go on a river cruise.
The Copernicus Science Center contains over 450 interactive exhibits where you can learn or test the laws of science. It's also home to the Heavens of Copernicus Planetarium where the spherical screen allows you to be surrounded by stars on all sides. It's an awesome place to take kids and go as adults.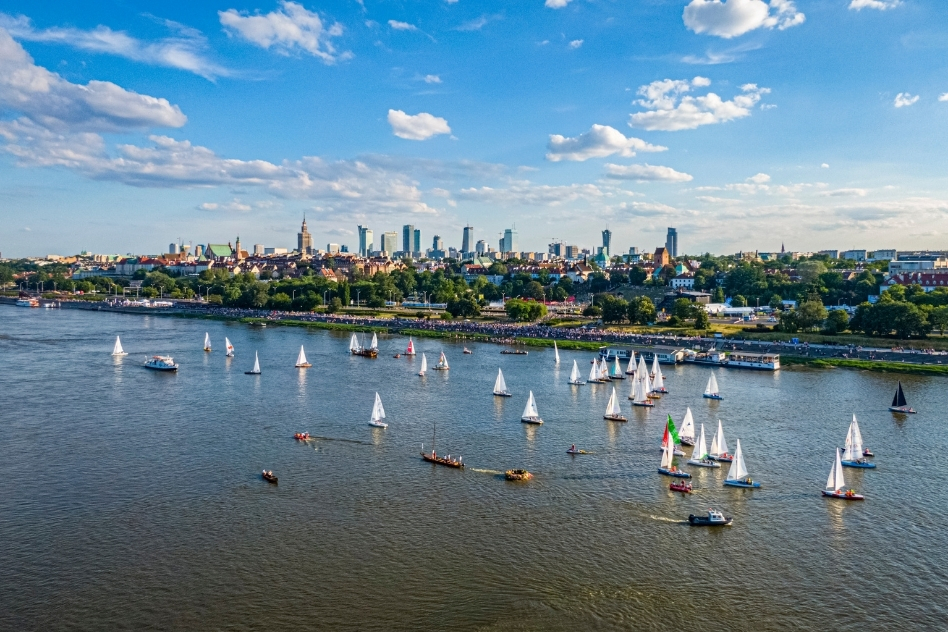 Top 3 Activities in Powisle
Visit the neo-renaissance Stanisław Markiewicz Viaduct built from 1902 to 05. It's adorned with 3 symbolic sculptures – a woman in a crown with a book and attributes of science that denotes Warsaw, a strongman with a mustache that symbolizes work, and a man with long wet beard and hair that symbolizes the River Wisła.

Visit the most beautiful rooftop gardens at the Warsaw unversity Library. The rooftop greenhouse also offers perfect views of the Vistula River.

Visit the Mariensztat area to the North of Powisle that became the first post-war housing complex. The picturesque neighbourhood filled with parks has no semblance of what it looked liked before the war.
Fun Facts About Powisle
The Elektrownia Powisle supplied the city with power for over 100 years before closing down. It's now a popular hangout with restaurants, cafes, boutiques and more. Visit here to watch the dancing light fountains in the evenings.
The charming Gdański Bridge built in 1959 has an upper layer for cars and a lower layer for trams, and looks brilliant against the night sky!
The Muzeum Sztuki Nowoczesnej w Warszawie or Museum of Modern Art situated along the Vistula Boulevards showcases many contemporary artists.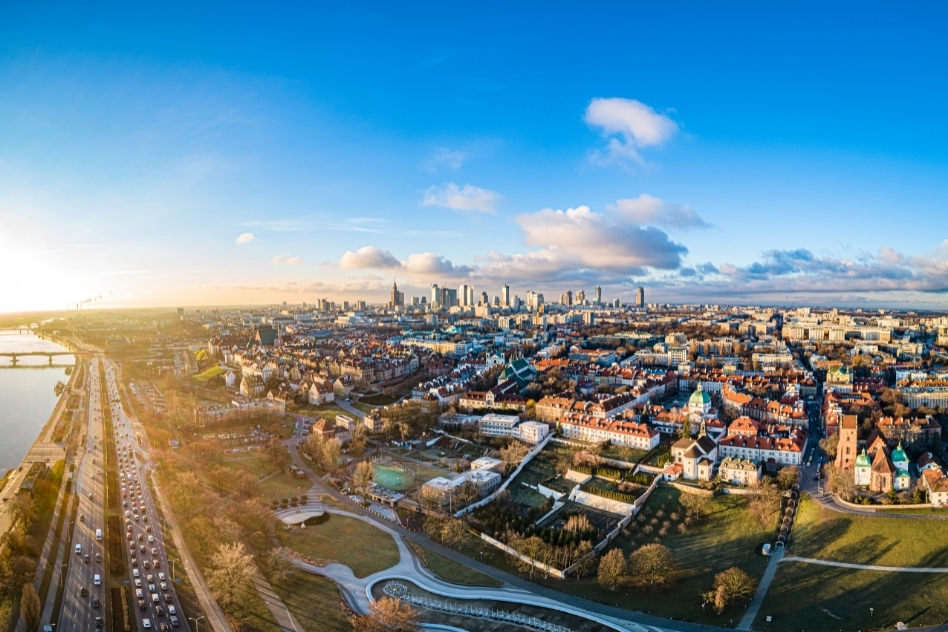 Where To Stay In Powisle
You won't find many hotels in or near Powisle, but you will many classy apartments for rent. Some of the top-rated ones are below.
Warsaw River View
Just 400 m from Copernicus Science Center, you can choose between rooms and suites with river or city views. The onsite bar and restaurant are perfect, and check-out can be as late as 12 pm.
Warsaw Concierge Vistula Apartment
Centrally located apartments in a residential area with a fully equipped kitchen and well-stocked library.
Studio Tamka
This clean, airy, and well-equipped apartment is close to the Copernicus Science Center and Pilsudski Square. The owner, Jerzy provides breakfast every morning, and there's a lovely bakery right across the road, while the river is a short walk away.
---
Bielany District: Best Local & Green Neighbourhood of Warsaw
If you're looking to get back to nature while on your Warsaw vacation, head to one of the greenest Warsaw districts, Bielany. This district is the northernmost in Warsaw and is filled with fresh oxygenated air from the Kampinos Reserve. This is especially beneficial for folks who are sensitive to smog and want to experience true local neighbourhood (I grew up there!).
Bielany has been an independent district in Warsaw since 1994, and it borders the stunning Vistula River, the longest and largest river in Poland.
There are plenty of museums, beautiful cathedrals, and natural parks and forests to visit here. This district is very well organized, and travelers can easily move through the city using the Bielany metro line, which opened in 2008.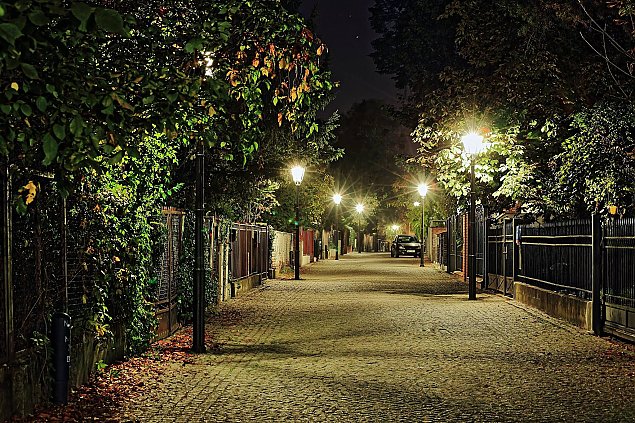 Top 3 Activities in Bielany
1. Animal lovers will enjoy a day at Las Bielanski , the wildlife park in Bielany. Here you will find native birds and plenty of trails you can walk, run, or bike down.
2. To see Mother Nature in all her beauty head over to the Bielany Forest. This is a remnant of the ancient medieval Forest Mazowsze. In this forest, you will see plenty of creatures like wild boars, moose, squirrels, deer, foxes, and over 40 different species of birds.
3. Stroll around Platnicza Street to see antique gas lanterns. They were moved there in the interwar period during the electrification of the center of Warsaw, when those from the center were moved to the outskirts of the city. Apart from the lanterns, Płatnicza also impresses with buildings as they were erected in the characteristic manor style.
Where To Stay in Bielany
There aren't any luxury hotels in Bielany, but you can choose between mid-range or self-catered apartments.
Wawabed Bed & Breakfast
Uniquely decorated bright and cheerful rooms at this bed and breakfast make you feel like you're at home.
Warszawa Stare Bielany
Rooms and apartments feature a well-equipped kitchenette and some include a balcony or terrace. Many restaurants and cafes are within walking distance, and the metro and bus station are close by.
Pepe Hostel
Compact rooms with shared or private bathrooms, free private parking and WiFi, and lockers. Good for those on a budget!
---
---
Mokotow District: Best Place to Stay in Warsaw with Kids
Just south of the Śródmieście District, you'll find the trendy Mokotow suburb. This is another green area of Warsaw. There's an abundance of grass, trees, and plenty of fun outdoor activities to do. Visitors enjoy spending time in the many parks, checking out the nature reserves, and biking through the longest network of bike paths in the city.
Mokotow is quite modern, and they have a handful of large shopping centers featuring Polish designer brands. There's also a good amount of fusion and global restaurants and playgrounds.
Trendy, residential Mokotów is famous for the Pole Mokotowskie park, and Park Morskie Oko. This area is not overpopulated with tourists either, so if you're looking to get away from the crowd, this underrated district is for you.
Top 3 Activities in Mokotow
1. Shop till you drop at Galeria Mokotow. Here you will find some of the best Polish designer brands. It's the first modern generation mall in the Warsaw metropolitan area and is a massive 62,000 square meters.
2. If you're looking to try a tasty meal, head over to La Madeleine. This chef restaurant is a hit among the locals and tourists. Expect a delicious dinner, a fantastic wine selection, and super friendly service.
3. Mokotów has tons of nightlife options. Check out one of the legendary dance parties at the Dekada Club. They also host plenty of special events and concerts, so be sure to check the schedule.
Fun Facts About Mokotow
Two hundred thousand people live in the Mokotow district, and they're known to offer one of the best public education in Warsaw.
Mokotow is the most populous suburb of Warsaw.
The highest number of sculptures in Poland can be found in Mokotow at the Królikarnia, which is a section of the National Museum.
Where To Stay In Mokotow
Four Points by Sheraton Warsaw Mokotow
A short walk from Marynarska Point, this chic hotel offers spacious rooms with modern amenities. There's also free access to the sauna and the onsite bar offers local craft beers.
Vienna House Mokotow Warsaw
The decor at this beautiful hotel takes you back in time. Stay here to enjoy the luxury of gourmet food and spacious rooms.
Centrum Barnabitów
Rooms and suites have the perfect ambiance and feature fridges and tea/coffee-making facilities.
Hotel Mokotow
This low-budget hotel gives you a cozy room that is also modern and stylish. Compact and comfortable, the price is a steal!
---
Praga District: Cool Neighbourhood of Warsaw
Praga is located in the northern part of Warsaw, opposite the river from the Śródmieście district. Once a town in its own right, Praga was situated on the eastern banks of the Vistula opposite Mariensztat and Old Warsaw.
Occupying a forested area that was burnt down, it got the name Praga from the Polish word meaning to burn – prażyć.
Now divided into Praga-Północ (Praga North) and Praga-Południe (Praga South), Praga is one of the districts that was untouched during WWII and still showcases pre-war Warsaw.
There are many things to see in Praga. St. John's Cathedral has been rebuilt after the war to showcase its original 14th-century Gothic architecture. Rothblith House on Targowa street was built for a Jewish merchant but later used as a house of prayer in the 19th-century.
And then there's Praga's oldest monument – the Church of Our Lady of Loreto, St. Florian's Cathedral with its 75-meter towers, the famous Różycki bazaar, the Soldiers of the Polish First Army Park or Praga Park, and the historical Praga Koneser Center that was part of the Warsaw Vodka Factory.
If you want to see historic Warsaw with all its charm retained, Praga is the place to be!
Top 3 Activities in Praga
The Polish Vodka Museum offers tours taking you through over 500 years of Polish vodka making tradition. Some of the premium tours at night also teach you how to make vodka cocktails at the Vodka academy bar .

Take a tour aboard a retro 1980s bus to see a former black market, followed by a visit to the chocolate facotry and the Praga "Bermuda Triangle".

Take walking tour to see where Roman Polanski's Oscar-winning movie "the Pianist" was filmed, and other famous Praga attractions!
Fun Facts About Praga
Because of its separate history, the Catholic Diocese of Warsaw-Praga is separate from the Catholic Archdiocese of Warsaw.
In 1791, Praga became a part or rather a borough of Warsaw during the reign of Stanisław August Poniatowski, King of Poland.
One of the buildings of the Muzeum Warszawskiej Pragi or Museum of Praga called Krzyżanowski's House is one of the oldest buildings in Praga.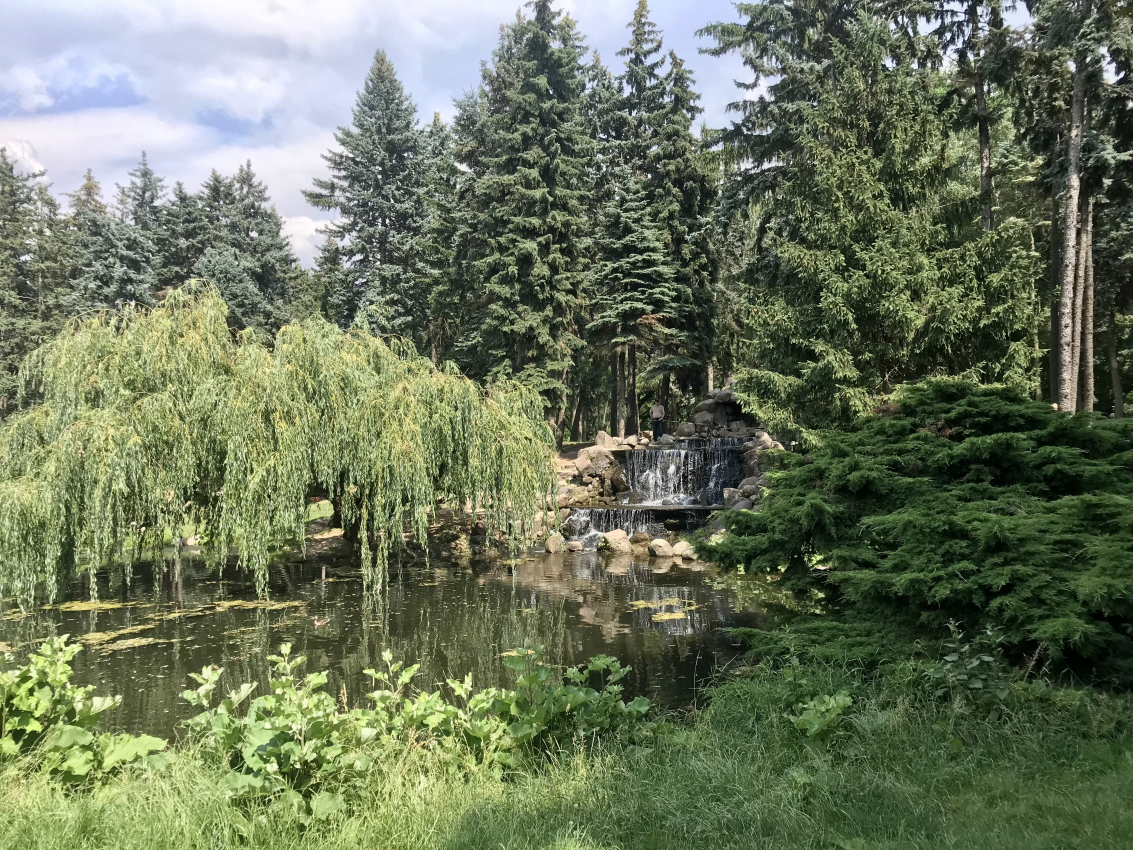 Where To Stay In Praga
Ibis Warszawa Ostrobramska
This comfortable 2-star hotel offers practical accommodation in a bright and contemporary setting close to the Promenada Shopping Mall.
Lull Hostel
This bright and cheery hotel on Saska Kępa offers rooms or bunk beds in dorm rooms close to Warsaw National Stadium, Le Guern Gallery and Skaryszewski Park.
Hotel Hetman
This hotel offers classically appointed clean and comfortable rooms within walking distance o Stare Miasto, St Florian Cathedral, and Port Praski.
Moxy Warsaw Praga
Set within walking distance of Koneser Vodka Factory, Klima Bochenska Gallery, Wilenska shopping center, and Port Praski, and close to railway station Wschodnia. This hip and relaxed hotel is the perfect base for a trip to Warsaw!
Warsaw can be such an underrated city to visit. When many of us are planning our next European vacation, Warsaw seems to get overlooked, which is such a shame. There are so many stunning sites to see in Warsaw, and a trip here is an opportunity to grow culturally.
Wola District: Historic Local District
The Wola District is an industrial district and a significant city center where multinational corporations are based from. Wola is the city's modern business center.
There's plenty of transportation in this district, and it's one of the most attractive areas in Warsaw for residents. As one of the most urbanized regions of Warsaw, and you can expect to see plenty of skyscrapers and large apartment complexes.
You will also find more of an eclectic dining scene here, with plenty of Asian and Spanish eateries throughout the district.
Top 3 Activities in Wola
1. While you're there, be sure to take a picture at the Wola District Mural. This stunning mural was created by Igor Cholda in 2018, to celebrate the Wola District. The wall showcases unique aspects of everyday life in Wola. You will see representations of Wola musicians and iconic buildings, like the gas works and the Warsaw Uprising Museum.
2. Are you looking to buy a keepsake on your trip to Warsaw, or a special gift for friends and family? Head over to Burakowska Street for some of the best designer boutiques in Warsaw. After you shop till you drop, head over to Sakana for a bite to eat. This is one of the top-rated sushi restaurants in Warsaw.
3. The Warsaw Uprising Museum covers Poland's 1944 battle against the German occupation. Between 40,000 and 50,000 Poles were killed in the Wola suburb. The massive genocide was ordered by Hitler and lasted for seven days. The Warsaw Rising Museum was opened to the public in 2004, marking the 60th anniversary of the uprising. The museum is a tribute to the brave residents of Warsaw who fought and lost their lives for Poland's independence and its free capital city. The museum also serves as a memorial for the thousands of men, women, and children who lost their lives at the hands of the armed forces of Nazi Germany.
Fun Facts About Wola
People here like to work out! There are more gyms in Wola than in any other district.
People here love to shop. There are more shopping centers here than any other district in Warsaw as well.
The word wola means "willingness" in Polish.
Where To Stay In Wola
The Westin Warsaw
A classy hotel that always meets your expectations, the Westin offers spacious rooms and suites with panoramic views of Warsaw from higher floors.
Hilton Warsaw City Hotel
In the heart of the financial district and within walking distance to many attractions, this sophisticated hotel with good views is perfect for a fancy stay.
NYX Hotel Warsaw by Leonardo Hotels
Stylish hotel with colorfully decorated walls and huge spacious rooms that are pleasing to the eye. The onsite bar and sun terrace are just picture perfect!
Campanile Varsovie / Warszawa
Part of the famous French hotel chain, the rooms here are well-equipped, modern, and bright.
Premiere Classe Varsovie/Warszawa
Pocket-friendly European hotel offering clean, comfortable, and compact rooms.
Are you ready to taste the flavors of Poland? Hope you like bread and sausages, the two main products many of their dishes are based around. While you're in Warsaw, we recommend trying bigos, kotlet schabowy, pierogi, and gołąbki. Get ready to immerse yourself in the Polish culture on your next trip to Warsaw.
I hope you find the best accommodation in Warsaw for your next trip. If you have any questions or suggestions about where to stay in Warsaw, comment and let us know!