I would love to take the credit for finding all the best pink destinations, but truth to be told the pink is finding me. I never make my own pink skies in Lightroom that don't exist in real life. Otherwise, everything could be pink. These places are truly pink that you'll be able to see with a naked eye.
Some call these places the 'millennial pink'. I call them just pink spots since older generations enjoy them as much as the millennials. Whatever your taste is, there's something for every jetsetter.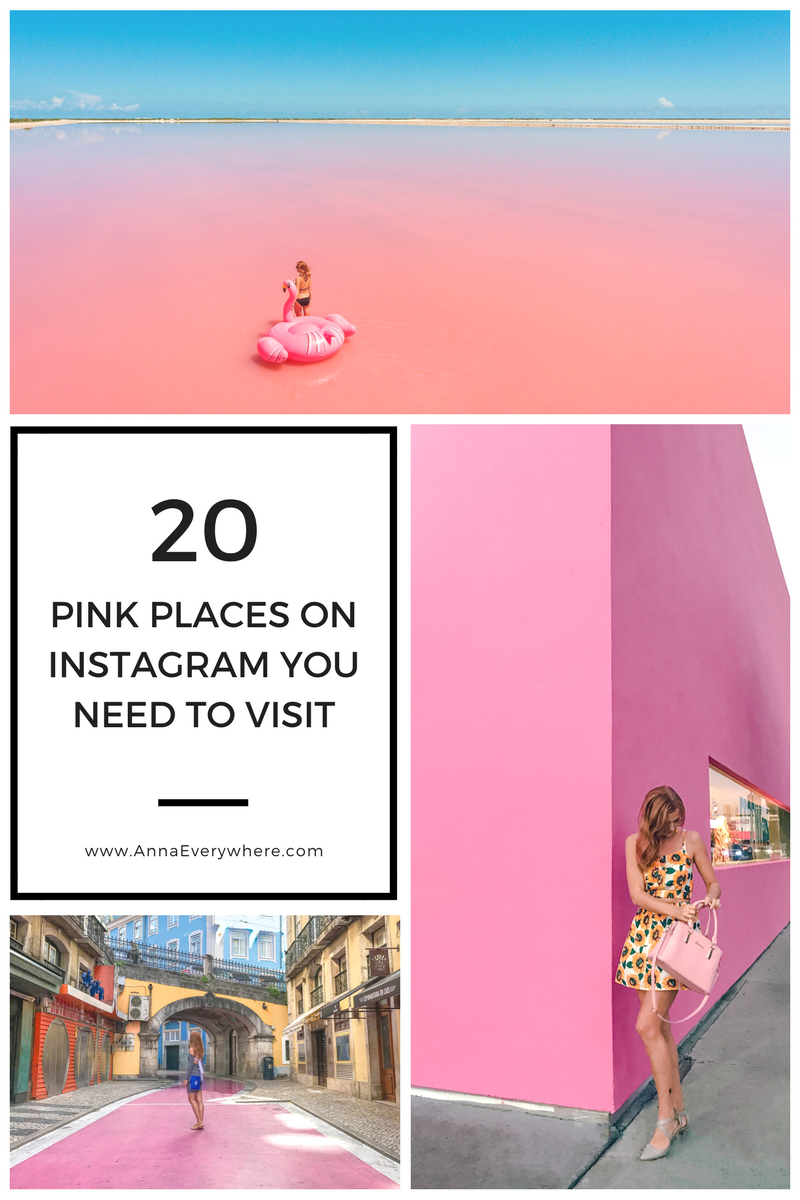 Gorgeous Pink Places on Instagram You Need to Visit
---
Las Coloradas Pink Lakes in Mexico
Salt lakes of Las Coloradas are naturally pink due to the amount of salt and red algae. These are the only pink lake that you can come to close, as Lake Hillier in Australia doesn't have a passage to it and can only be seen from the air.
My flamingo photo made Las Coloradas slightly too famous. Unfortunately, way too many tourists were trying to go there after the photo went viral, so walking or touching the water is now strictly forbidden. Police guarding the place will yell at you if you even get too close.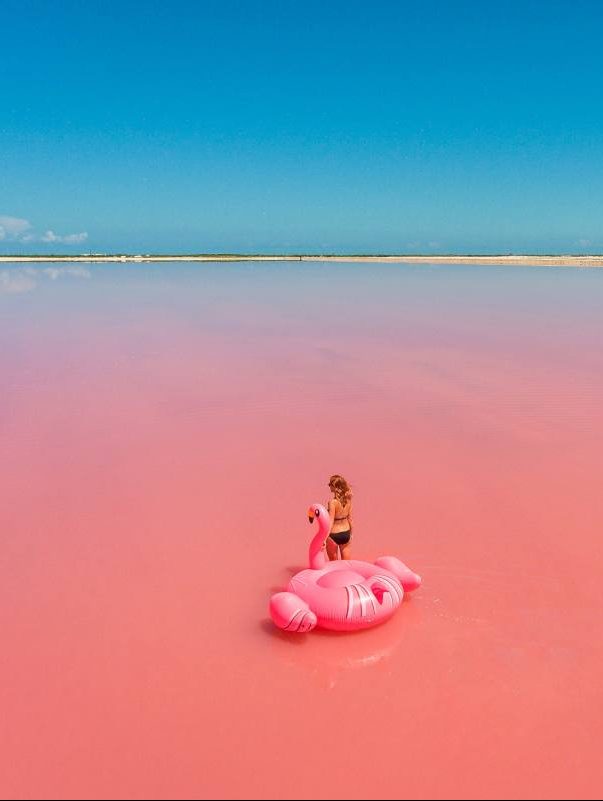 ---
Pink Street in Lisbon
There are many colorful streets around the world, but so far only one pink street in Lisbon, Portugal. If you stumble upon it at night, you might not even realize its pink as it's full of people drinking and early in the morning it's too dirty to see the pink color of it. Try it catch it early afternoon 😉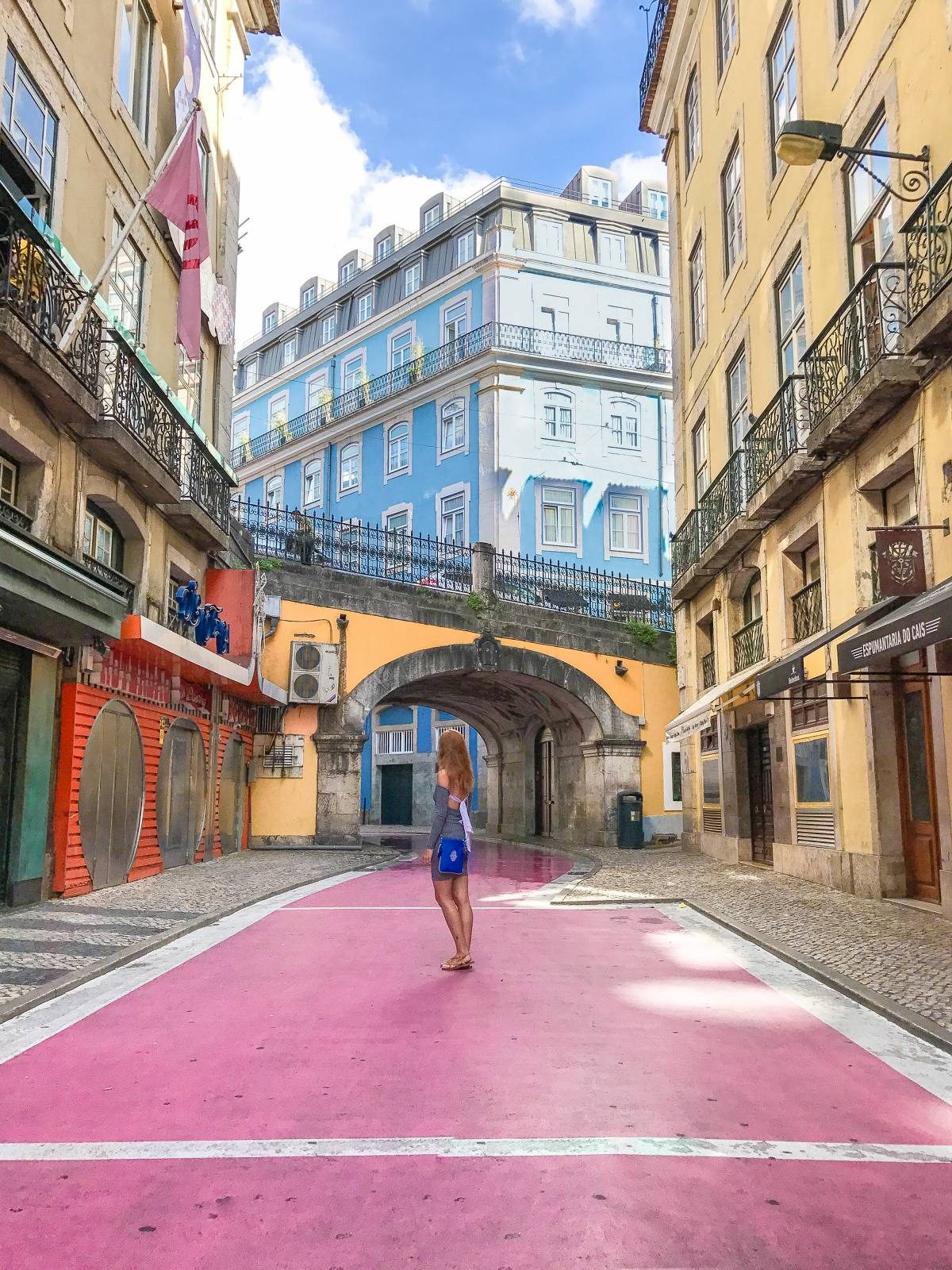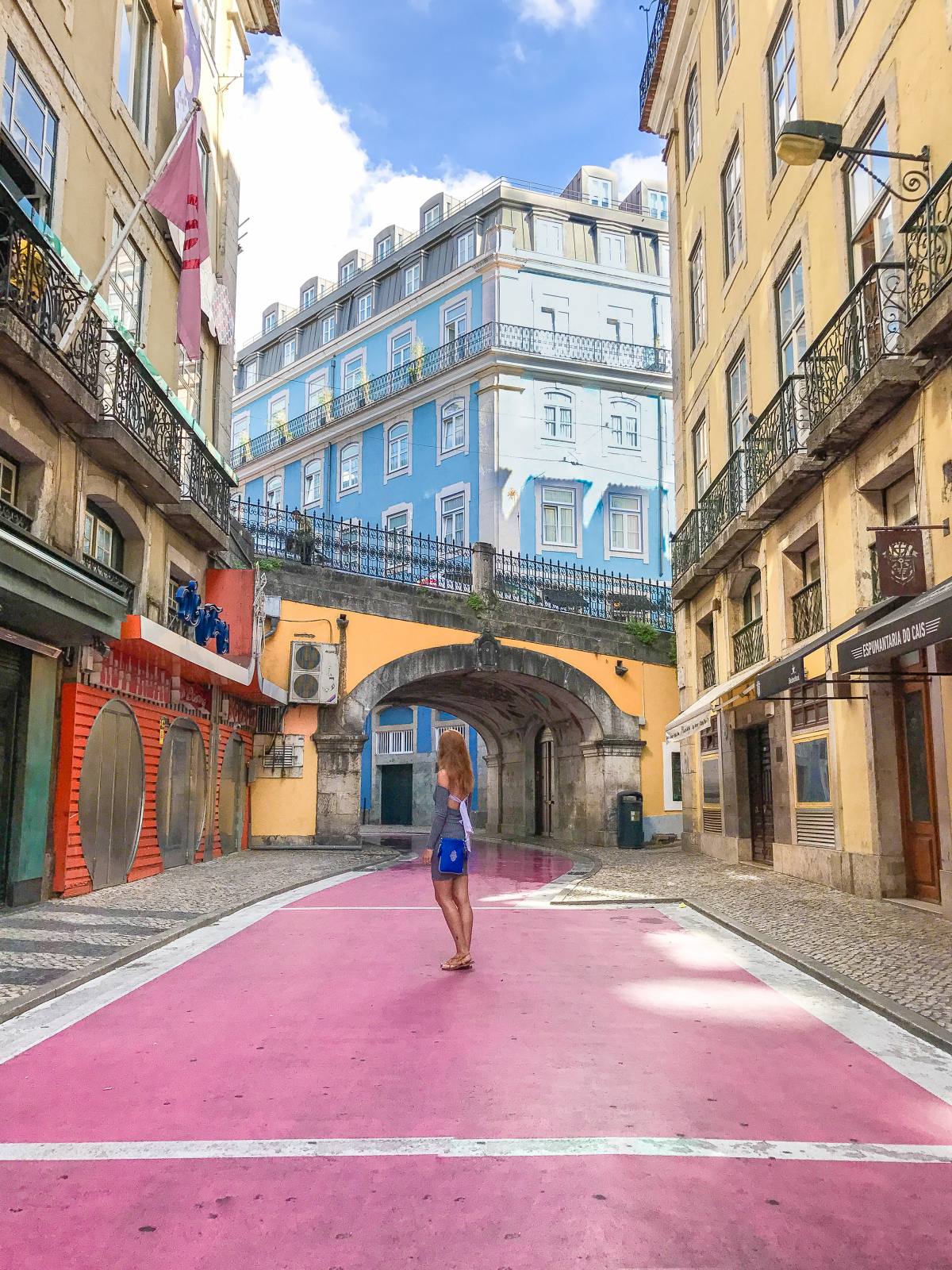 ---
Pietro Nolita restaurant in NYC
You must have seen Pietro Nolita restaurant in photos from the fashion week. The place is quite small, but you can easily spot it by looking at girls posing in front it. The majority of them though never get in for lunch, which is the biggest mistake one can ever make! This eco-friendly place offers a menu of just a few pasta and salad, but they're all delicious!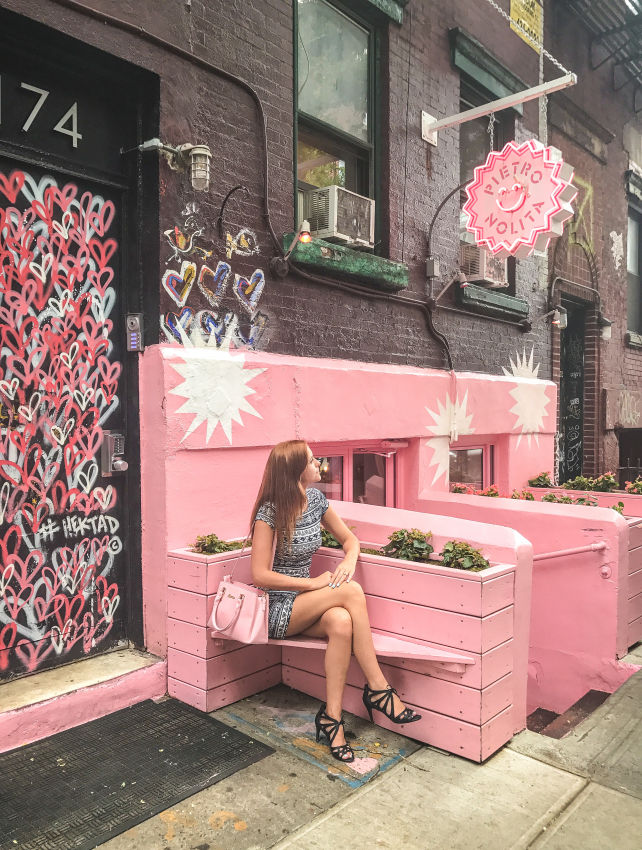 ---
The Royal Hawaiian in Waikiki, Hawaii
Waikiki beach in Oahu is full of big hotels with stunning ocean views, but there's only one hotel that stands out there because it's pink. Their beach umbrellas are pink, the building is pink, the rooms are pink – it's a real pink paradise!
---
Pink Wall, Los Angeles
If you search #pinkwall, Instagram instantly pulls up thousands and thousands pictures, about half of which are of the Paul Smith wall what makes it the most famous wall in LA.
Don't forget to check out Carrera Cafe across the street where you can print anything on your coffee. And pose with an old pink telephone.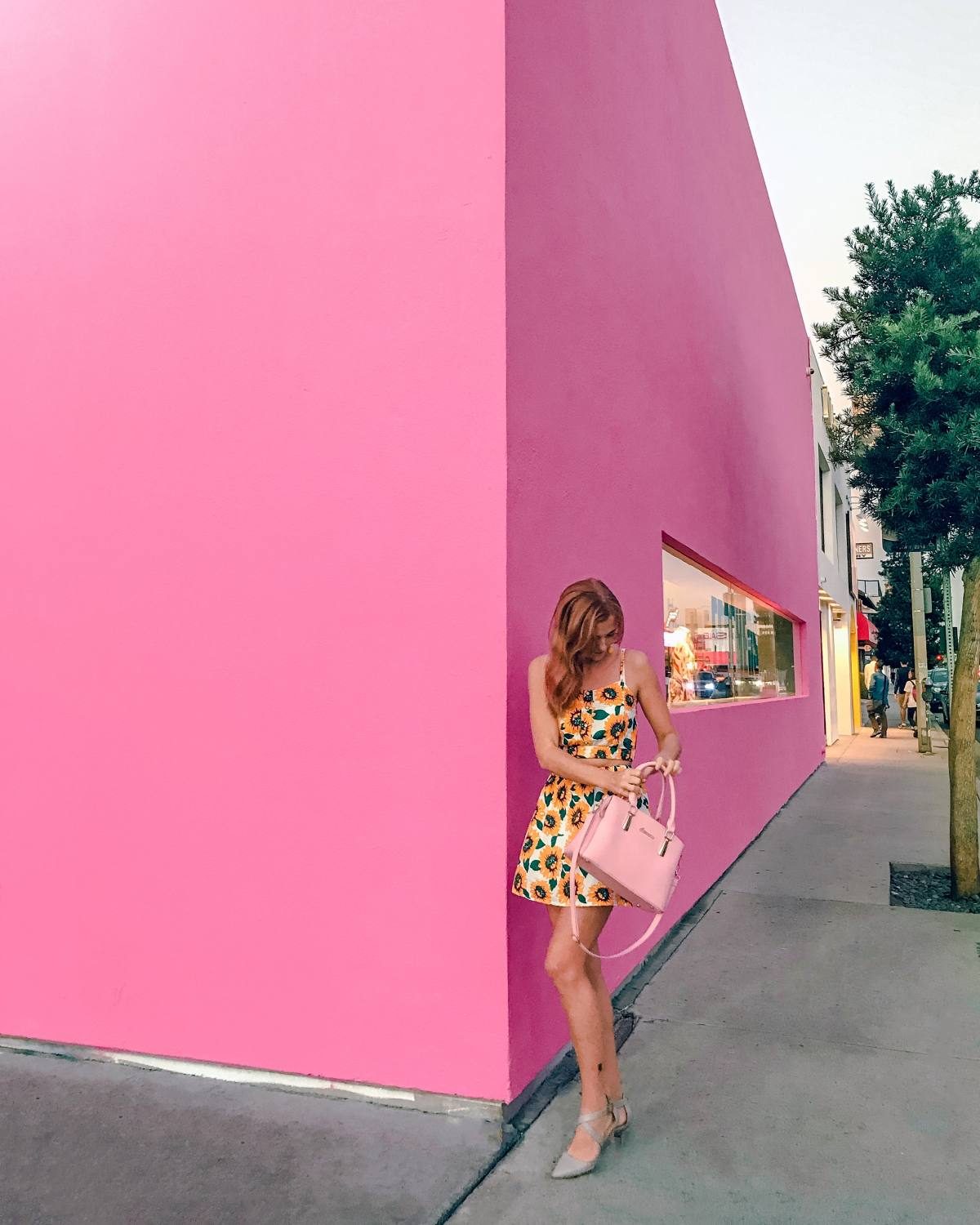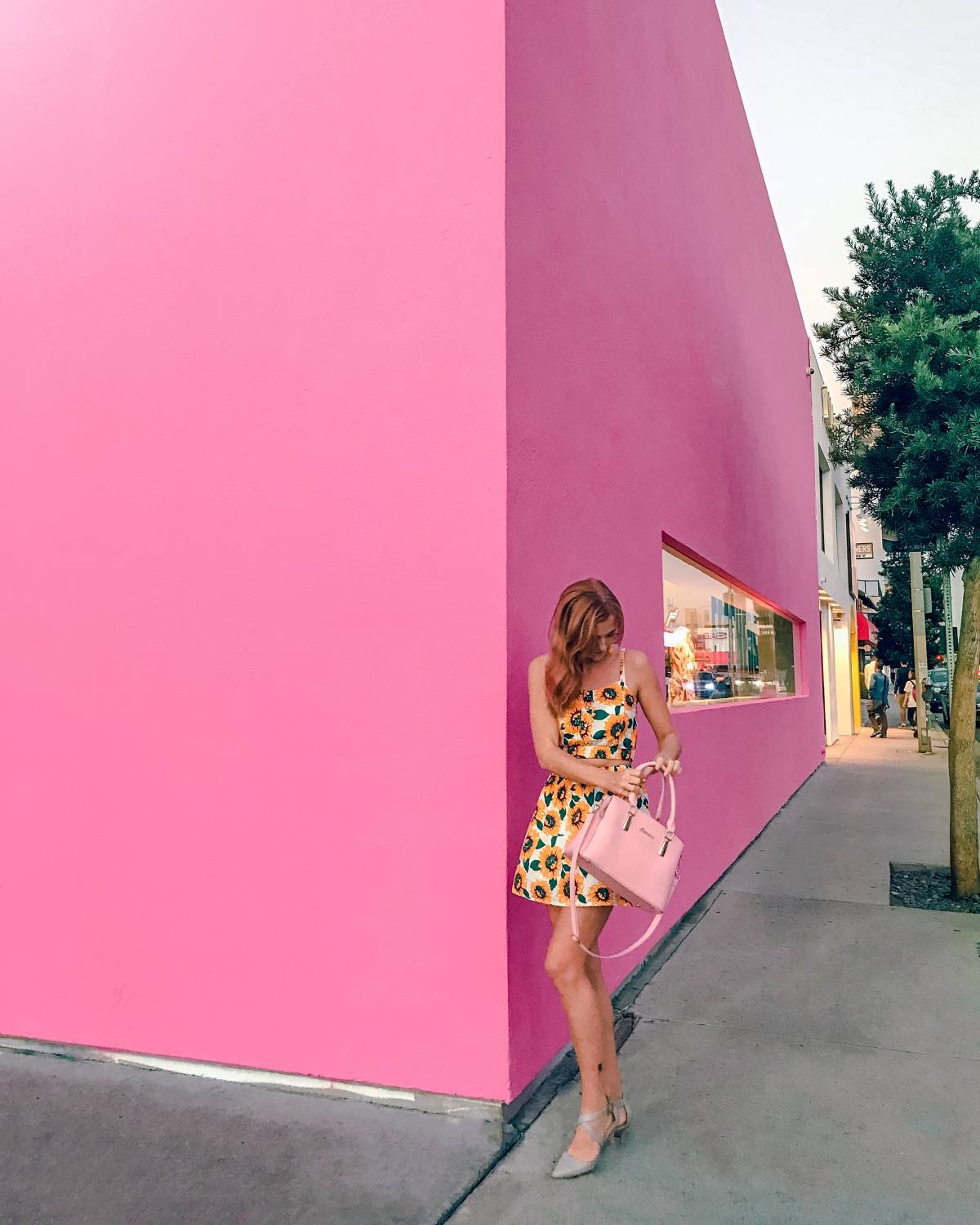 ---
Museum of Ice Cream, pop-up around the US
Scoring tickets to the Museum of Ice Cream pop-ups is a challenge. Trust me, I've done it. The place is full of pink and colorful exhibits, but the most popular is the pink pool of sprinkles.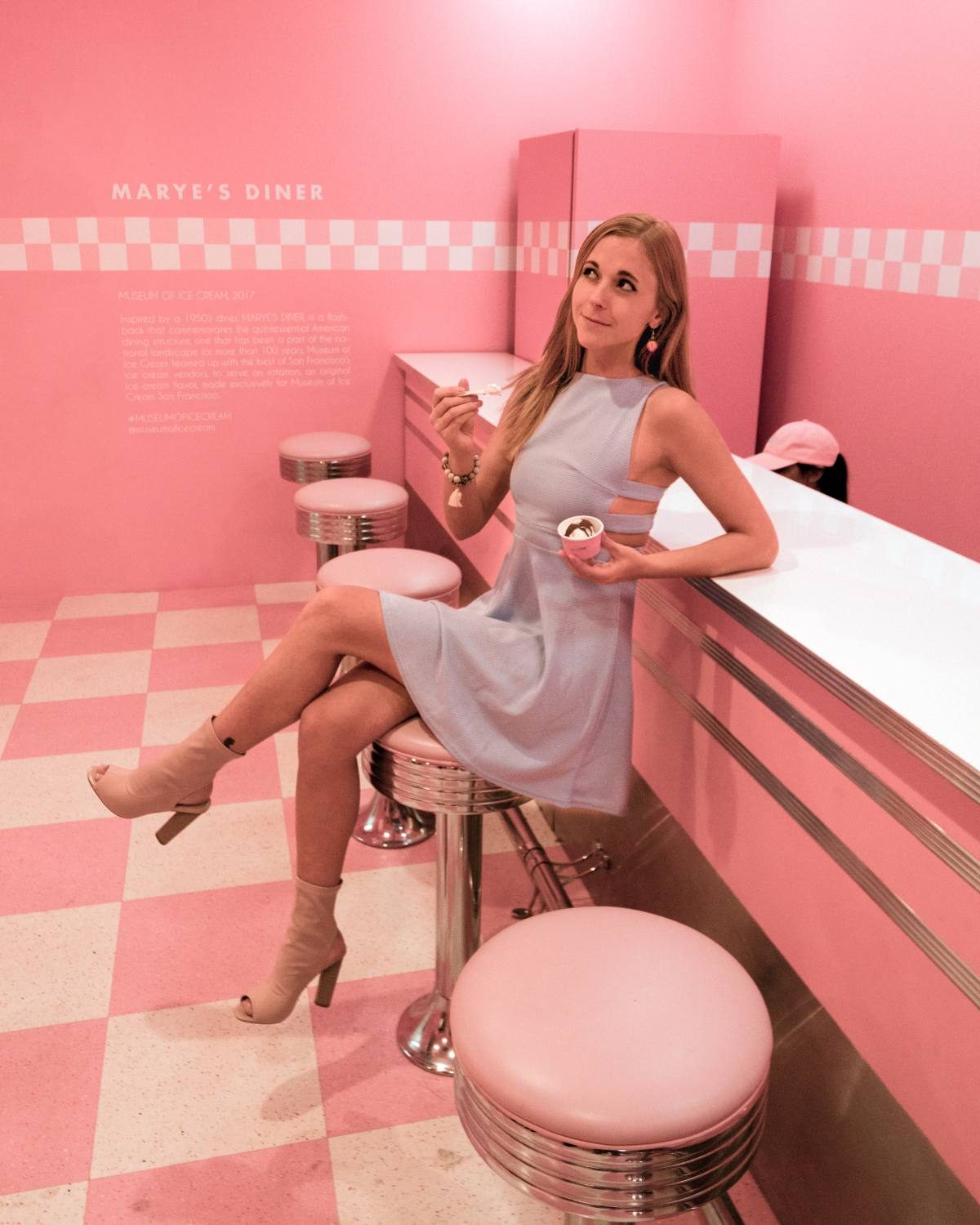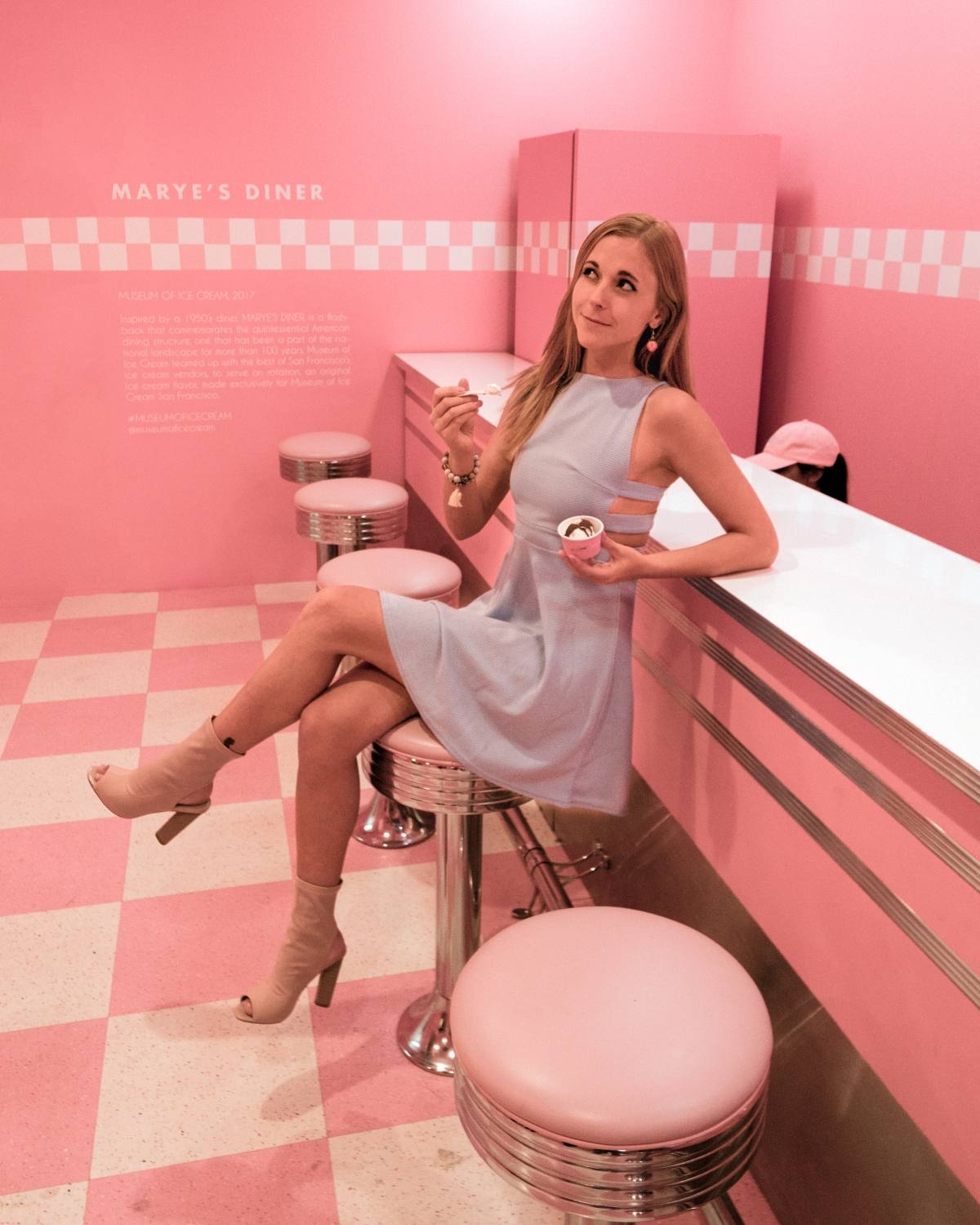 ---
Sketch restaurant, London
People don't seem to get enough of Sketch, as it's probably the most photogenic restaurant in London. Popular for its afternoon tea and late night drinks and dinners, the place has different themed rooms. As you can suspect, one of them is pink.
P.S. Don't forget to visit the toilets and do your business inside an egg!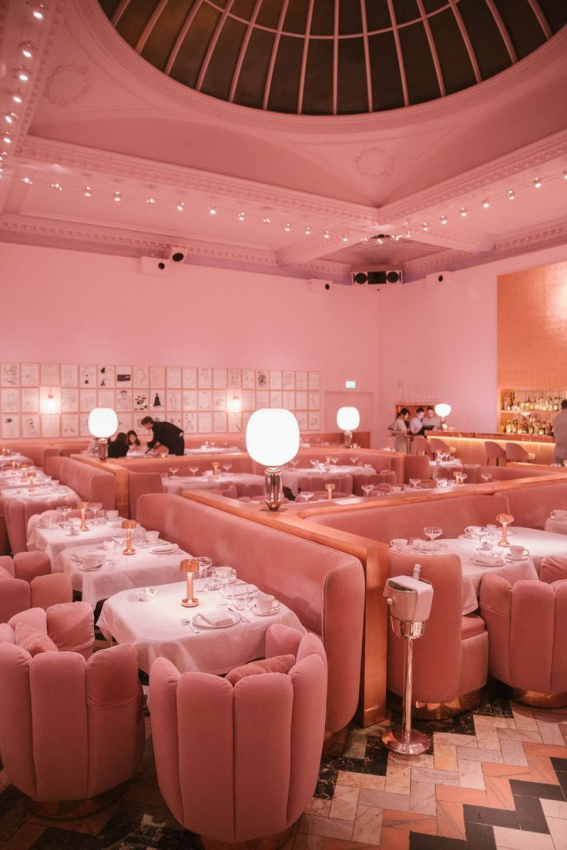 Unicorn Cafe in Bangkok, Thailand
A crazy cafe filled with rainbow food and pink unicorn decor. They also rent unicorn onesies if you want to have a full-on experience.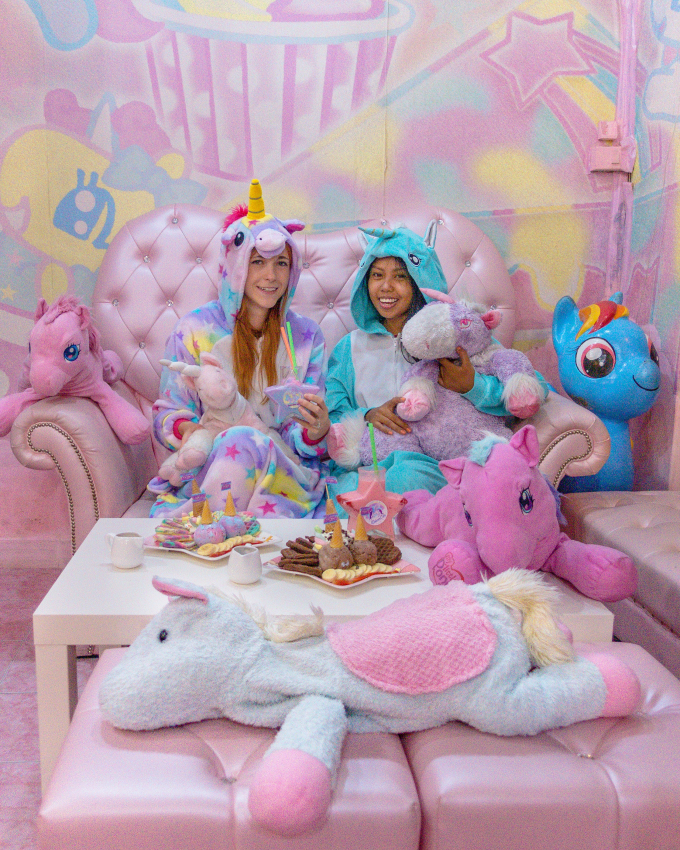 ---
Pink Flamingos from Aruba
We can't talk about pink places around the world and not mention the pinkiest animals on earth – flamingos. Renaissance Private Island is home to a few friendly flamingos that will pose for your photos (if they want to) and eat from your hand.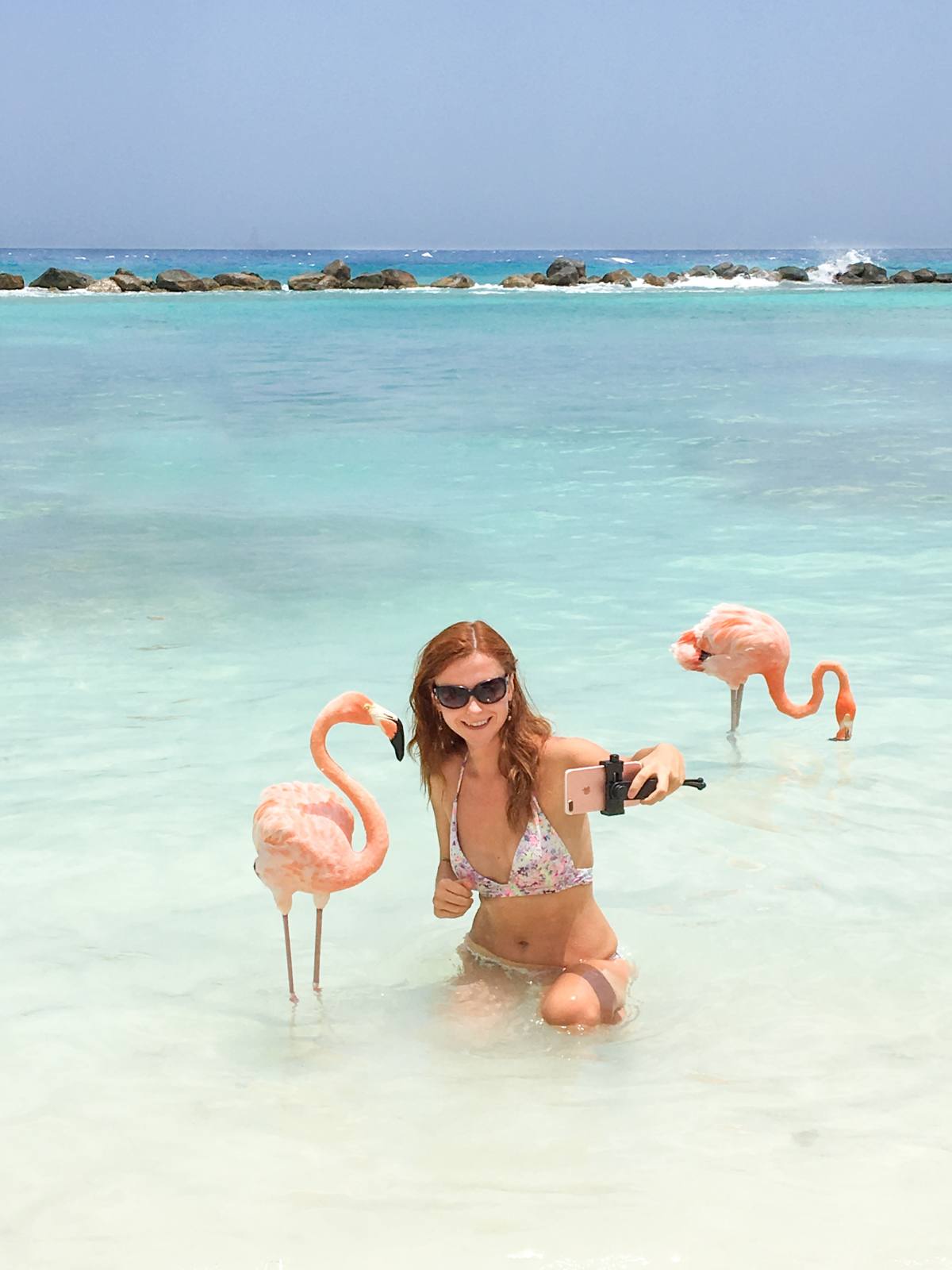 ---
That Pink Door in Palm Springs, California
If you go to Palm Springs and don't take a photo of That Pink Door, it's like you didn't go. That Pink Door can be found at 1100 Sierra Way.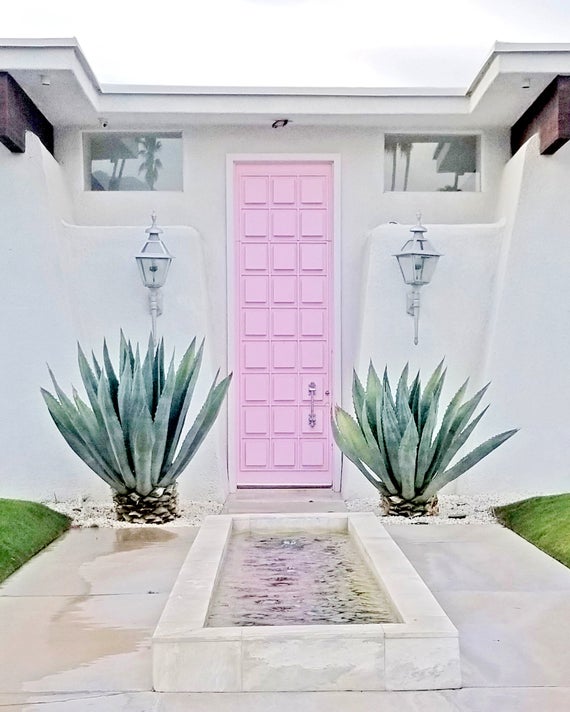 ---
Cherry Blossoms in Japan
Every year the entire country of Japan turns into a pink wonderland caused by cherry blossoms. I've been to Japan before but didn't see anything blooming so going to try next year again. Cross your fingers for me.
If you missed the cherry blossoms, you can also go see some pink fields at Takinoue Park.
Pink Flower fields in Hokkaido, Japan
If you missed the cherry blossoms, but still want to find something pink, head to Hokkaido. Hokkaido is inhabited by straight fluffy white creatures, living among pink flower blossoms.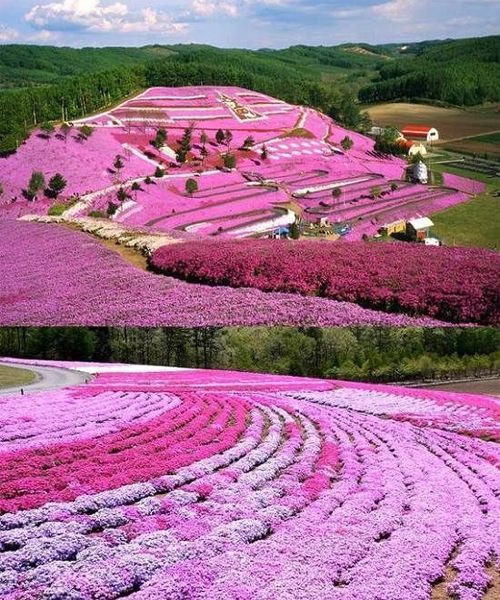 ---
Pink tennis court at Madonna Inn, California
Who said you can't make a tennis court pink? Madonna Inn on the Pacific Coast Highway presents the perfect combination of sports and pink trend. On top of their pink tennis courts, the rooms there are to die for – each has a completely different decor. I can't wait to go there and stay myself, but I'm seriously worried I'd spend a month there, just changing rooms every night.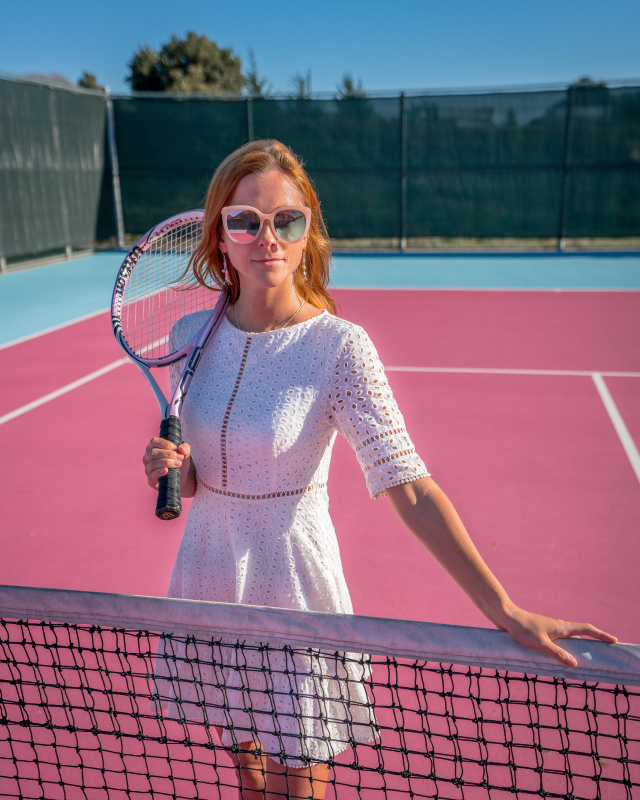 ---
Jaipur City, India
Jaipur is known as the pink city, but it all started with the terracotta color many of its buildings are painted in to symbolize hospitality. The Palace of the Winds, also known as The Hawa Mahal, is the most famous and oldest pink attraction in the old city.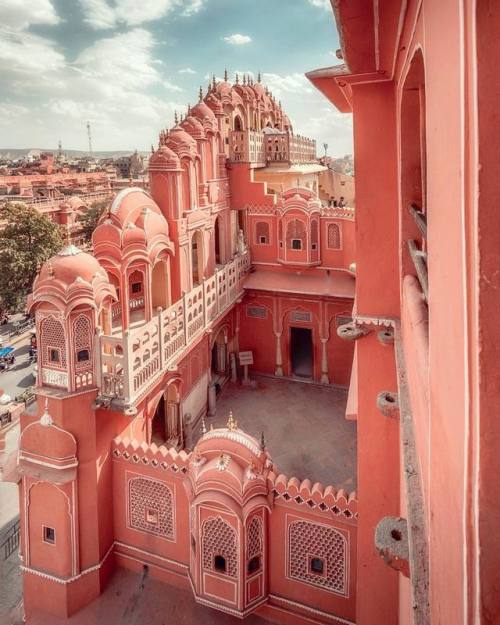 ---
Pink Mosque in Shiraz, Iran
A pink mosque is not your typical pink place, but gorgeous. While I visited Iran, I didn't get to Shiraz which I regret the most from my trip. Just look at this place and you'll understand why.
---
Craigievar Pink Castle in Scotland
Pink castles do exist outside of fairy tales. One of them is in Scotland and it's super cute. I wish I could live there.
---
Schloss Drachenburg pink castle in Germany
Another pink gem, this time a castle from Germany. It's definitely a winner when it comes to castles in Germany.
---
Pink Beach in Nassau, Bahamas
Many of the beaches in the Bahamas have light pink sands due to the red coral in the water. You can find your original pink spot there.
---
Peggy Porschen Cakes, London
If you haven't spotted Peggy Porschen's cafe in London on your Instagram feed, you must be living under a rock. The pink entrance is beautifully decorated with flowers and an extremely photogenic bike. But let's not forget the cupcakes which the cafe is famous for.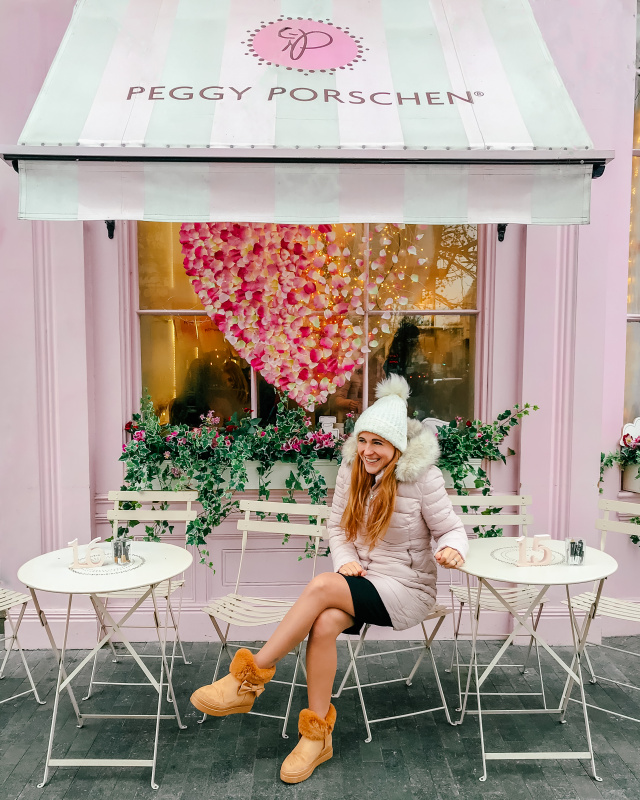 Elan Cafe in London
There are quite a few Elan Cafes in London and most of them are actually pink. Just that some are better than the others – start with the one at 42 Hans Cres, Knightsbridge, London SW1X 0LZ.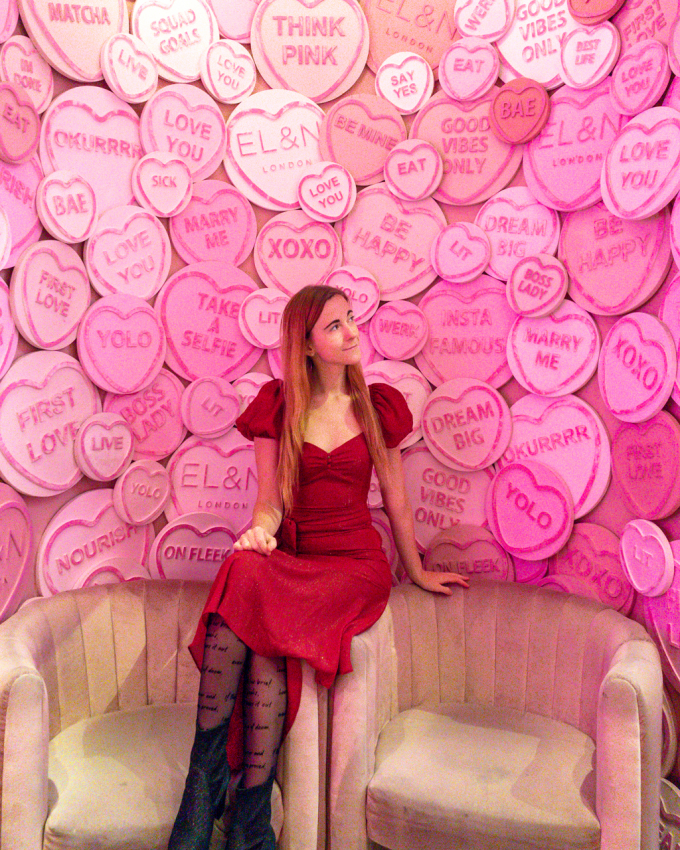 Ellyz Athens
This cafe in Athens is never busy as it's not as known as Elan or Peggy Porschen in London. The decor is pink, flower walls are pink, even the food is pink.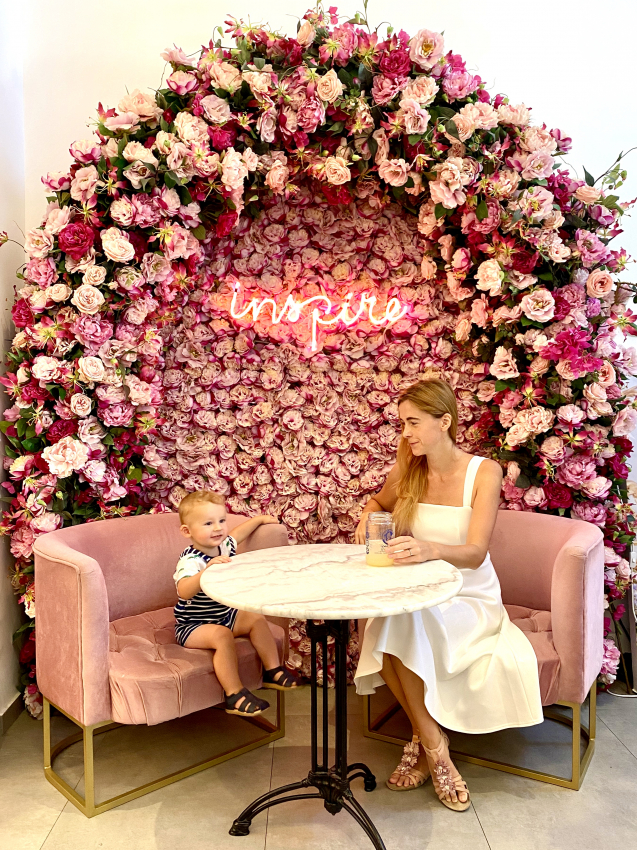 ---
Muralla Roja, Spain
This striking building is an Instagrammers' pink paradise. The apartment complex in Spain is a labyrinthine structure painted in pale pink pops.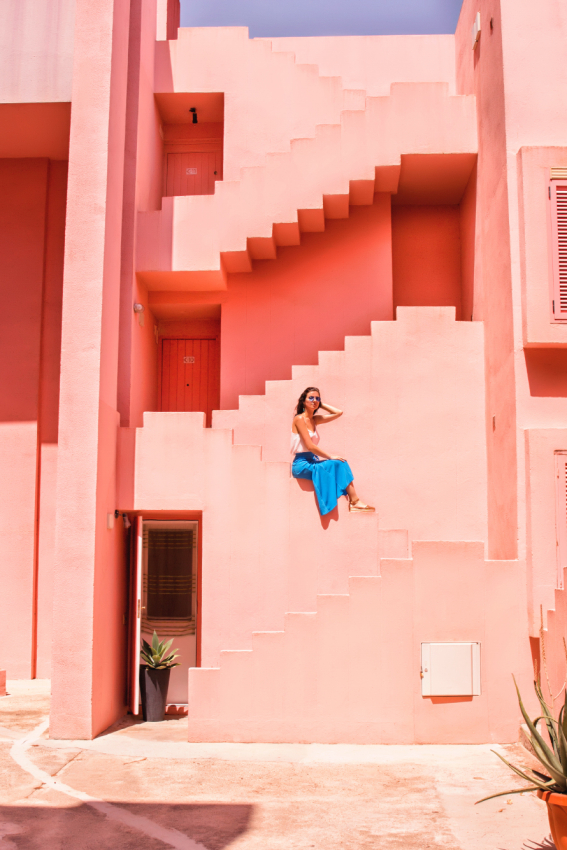 Got inspired? Or maybe you know some other pink destinations? Let me know in the comments below!