For a long time, I had been waiting for the perfect opportunity to visit Iceland. When WOW Air introduced extremely cheap flights to Iceland from Europe and the US, a trip was very tempting, but I was waiting for the perfect opportunity to do a layover in Reykjavik 'for free'. When I was moving to London from California, I chose to fly Icelandair because they gave me a stopover for a few days without any extra charge.
Icelandair seemed like a great choice because the airline allowed me to take 2 suitcases. However, to my surprise, Icelandair doesn't serve any food on intercontinental flights, not even snacks. There was food for purchase, but I guess it shouldn't be surprising that a small yogurt costs me $5.
Ideas for a Layover in Reykjavik, Iceland
---
Getting to Reykjavik from Keflavik Airport
Getting to the city from the airport couldn't be easier. The moment you pick up your luggage, there are two stalls where you can buy a bus ticket, to either a bus station or your hotel. There's no need to purchase your bus tickets earlier as the price is the same on arrival – with an exception of the Blue Lagoon. But if you like arranging everything beforehand you can prebook everything online.
If you have a limited time in Iceland, you might consider heading to the Blue Lagoon straight from the airport as it's on the way to the city. In that case, you can book your bus tickets along with your tickets to the Blue Lagoon.
You must pre-book your tickets to the Blue Lagoon – trust me, it gets busy and I witnessed many people being turned away because the tickets were sold out. More info on the Blue Lagoon here.
If you want to go on a road trip in Iceland the best place to pick up your car is the airport. If you rent your own car you might not need to overpay for tours and you can arrange your own self-drive tour in Iceland, right after you get off the plane.
---
Should you Rent a Car in Iceland?
Should I rent a car in Iceland is one of the most common questions I get asked. I think if you have over a week in Iceland driving on your own is the best way to explore the country. You should always pre-book your rental car (I recommend RentalCars.com) because Iceland is a busy destination.
However it's extremely pricey and if you're just there for a layover, I don't think it's worth a hassle. Why?
During the winter many roads can get blocked due to snowstorms and you might end up getting stuck in the middle of nowhere for hours. You also need to be confident driving in the rain and snow. Also, as small as Iceland may seem, the country isn't actually that tiny and it might take you ages to get somewhere.
For instance, I took an excellent tour from Arctic Adventures that brought me to the glacier and glacier lagoon in one day. The trip took over 14 hours and I was able to sleep on the bus, but I can't imagine driving this distance on my own.
---
What to Pack for Iceland?
You will find out pretty quickly that in Iceland everything depends on the unpredictable and usually uncooperative weather. In 15 minutes you can experience sun, snow, heavy rain, and the sun again. The first time I visited Reykjavik not only I couldn't fly in a helicopter, but during my stay, almost all of the northern lights cruises were canceled as well.
I was really disappointed because I've been wanting to see the aurora borealis for my entire life and despite visiting Finland, Tromso in Norway, and revisiting Iceland in the summer I still haven't seen them properly.
Anyways, I've never experienced a very hot weather in Iceland, even during the summer, so I'd recommend some warm clothes. Buying missing items in Reykjavik can get quite expensive. If you don't want to carry big boots, thick jackets and other items that take a lot of space you can rent them for specific excursions like I did.
---
Accommodation in Reykjavik
Reykjavik is a small city where you can get anywhere within a walking distance. As a result, there is no better or worse district to stay, but I can recommend a few places for every budget. The most popular option are self-catered apartments, but you can also easily get a hotel or hostel.
---
Where and What to Eat in Reykjavik + Qeird Icelandic food:
What about Icelandic food? While in Iceland I wanted to try some Icelandic food, but on the other hand, I was well aware that the local food is quite controversial… This is why I decided to ask a local friend about the best restaurants in Reykjavik.
She explained to me that while Icelanders eat whale meat, puffins and sharks and while you can find them everywhere around the country, it's not a typical Icelandic dish to them. They eat it for special occasions once or twice a year.
Skyr & Liquorice
My friend took me to the supermarket and I fell in love with Skyr, a thick and creamy traditional Icelandic yogurt similar to the Polish 'serek homogenizowany'. She also taught me that Icelandic licorice is very different from Danish licorice and it's not sour. I was skeptical but when I tried it I actually liked it.
However, under no circumstances buy Opal alcohol! It's produced by the same company as one of the local licorice. but it tastes like cough medicine mixed with detergent. Just the smell of it can knock you down!
Locals are crazy about candy and every Saturday the supermarket is full of people trying to get as much discounted candy as they can. As you can see in the photo below the choices of candy are limitless.
---
Burgers & Minke Whale
If you want to try some weird Icelandic delicacies I'd recommend you head to the Icelandic Bar. This restaurant served many traditional dishes including the controversial minke whale (read more on why is it controversial here).
If you don't fancy trying whale you can go for some lamb which Icelanders are very proud of, but be careful – during festive seasons you might be served a complete boiled lamb's head in Béarnaise sauce!
Don't worry if you're in a mood for something for western – the place has excellent burgers as well. In fact, burgers seem to be one of the most traditional dishes of Icelandic cuisine.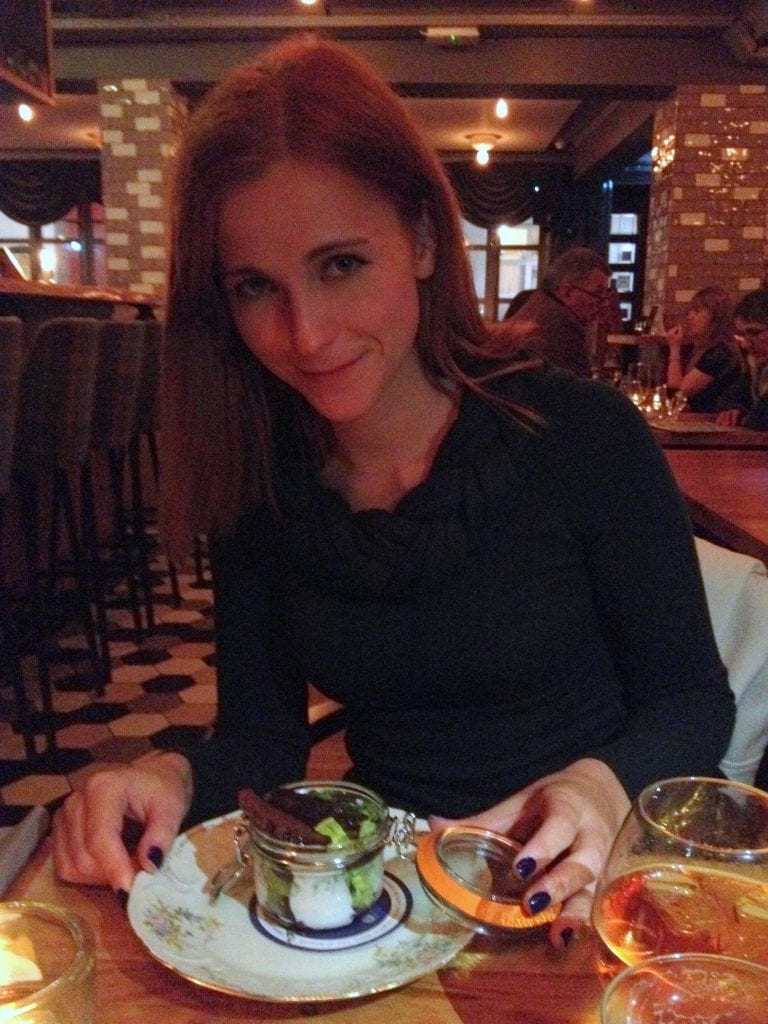 ---
Fermented Shark
Before coming to Iceland I didn't consider trying any of the weird local specialties. However, upon arrival, every local was telling me to try some of their 'exotic' meats.
In the end, I didn't try the famous fermented shark as I didn't hear one positive opinion about it and it's quite expensive, so I felt like it would simply go to waste.
Puffin
Another strange dish is a puffin. Yes, Icelanders eat these adorable birds. However, according to the hunters, they only kill non-feeding males so the birds won't become extinct.
It might be too cute to eat for some people but to be honest, I think pigs are extremely cute too… again, it's entirely up to you.
Lamb Roasted in Lamb Dung
Which foods surprised me the most? My answer would be the lamb roasted in lamb shit. You read correctly, it's lamb roasted in poo collected from the barn.
I was told that many Icelanders aren't aware of the process of preparing this traditional Christmas roast. If you're not in Iceland during December you can purchase the sandwich version of it at any supermarket all year round.
---
Icelandic Hot Dogs
If you're traveling on a budget you can join the local at the hot-dog stall. Every Icelanders know Reykjavik is famous for its hot-dogs that are sold basically everywhere, but the little stall at the bus station is the most famous place.
What's so special about hot-dogs? I'm still not sure, as you can find them in almost every country, but the Icelandic version is definitely tasty. It has a bit of lamb and more importantly, it's cheap food and that's not easy to find in Iceland.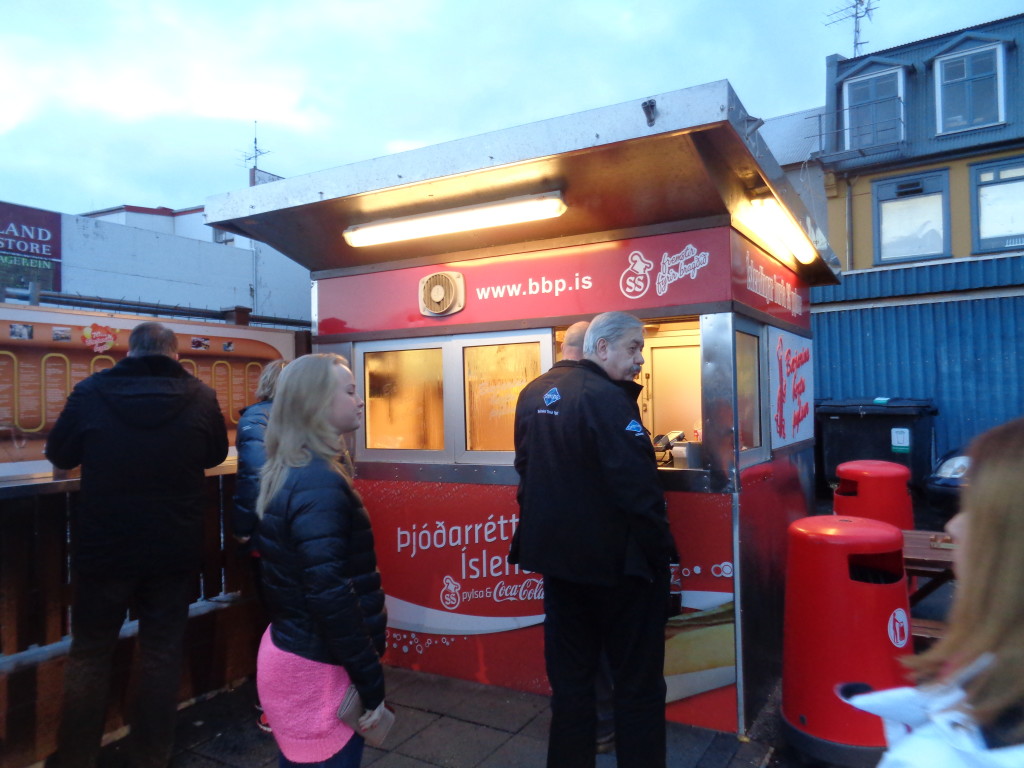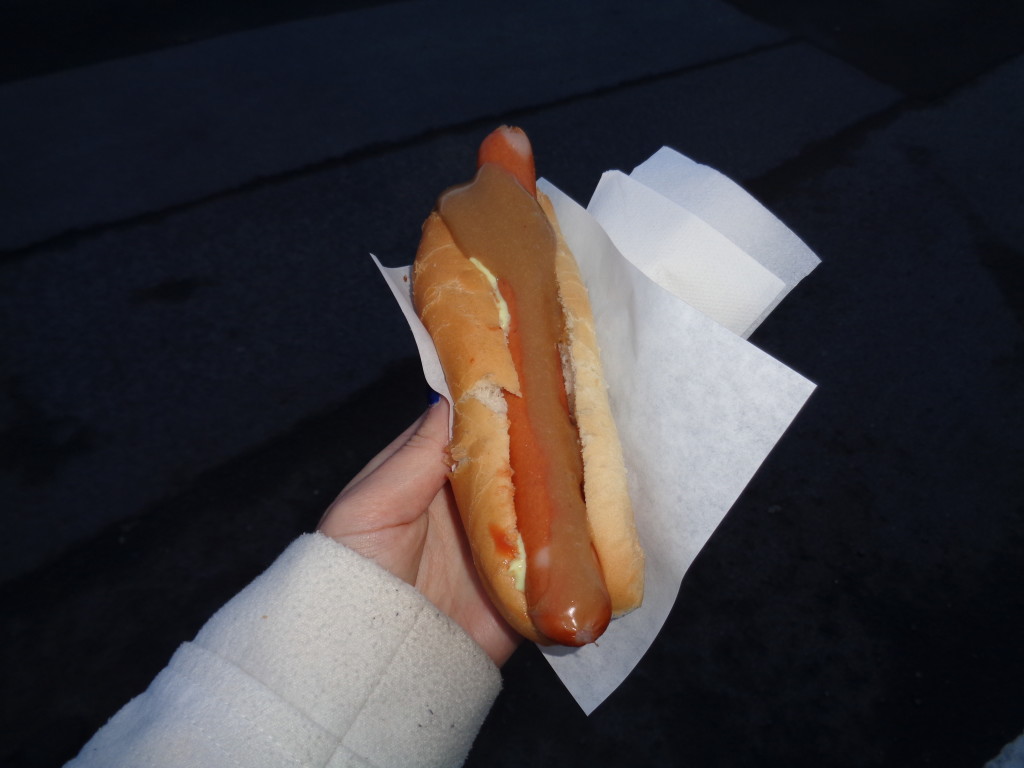 ---
After you finish eating dinner there is no better place to go out than Lebowski theme bar. This place was established to honor the Coen brothers' 1998 cult film The Big Lebowski.
---
What to Do in Reykjavik?
Many travelers skip Reykjavik and decide to start their road trip straight away. I think the city has a unique vibe that couldn't be missed. Especially during a layover, you can spend some time exploring the city. Possibly also take a day tours by bus or drive around on your own.
Visit Hallgrimskirkja Church
Take the elevator to the top of Hallgrimskirkja on Skolavorduhaed hill and check out the panoramic view of downtown Reykjavik. This largest Icelandic church is named after pastor and poet Hallgrimur Petursson, and its architecture is actually inspired by the beautiful columnar basalt of the Svartifoss waterfall in South Iceland.
Outside there is a statue of Leif Ericsson, who discovered North America in the year 1000, more than 500 years before Columbus.
Flying over Iceland with a helicopter was one of my ultimate dreams that didn't happen during my first visit in the country due to bad weather conditions. But when it finally happened it was the best thing I've ever done, and I'd recommend it to anyone traveling to Iceland.
---
Learn at Icelandic Phallological Museum
Yes, you read correctly – Reykjavik has a penis museum which is the world's largest display of penises and penile parts. The collection of 280 specimens from 93 species of animals is one of a kind.
---
Snorkel between Two Continental Plates in Silfra
Have you ever dreamed of snorkeling in the ice-cold water between two continental plates? Probably not, but in Iceland that's possible. It's a one of a kind experience that only takes half a day.
---
See Whales and/or Puffins
Get up close and personal with the whales on an evening whale watching cruise. Of course, there is no guarantee that you'll see a whale but you might as well try. If you want to see puffins there is a tour for you too. Gannets, gulls, cormorants and the Arctic tern can be easily spotted as well on a Puffin Express tour. You don't have to go all the way to the Faroe Islands to see these cute birds. Just take a boat out for a half-day cruise.
---
ARRANGE YOUR TRAVEL INSURANCE
Don't forget to arrange a health insurance before heading to Iceland. The easiest and the most reliable travel insurance is World Nomads Travel Insurance. Get it before your trip to avoid unnecessary troubles that might ruin your holidays!
---
I hope this article has helped you plan your layover in Reykjavik. If you have any other suggestions please let me know in comments, so we can make this article even better. Thanks!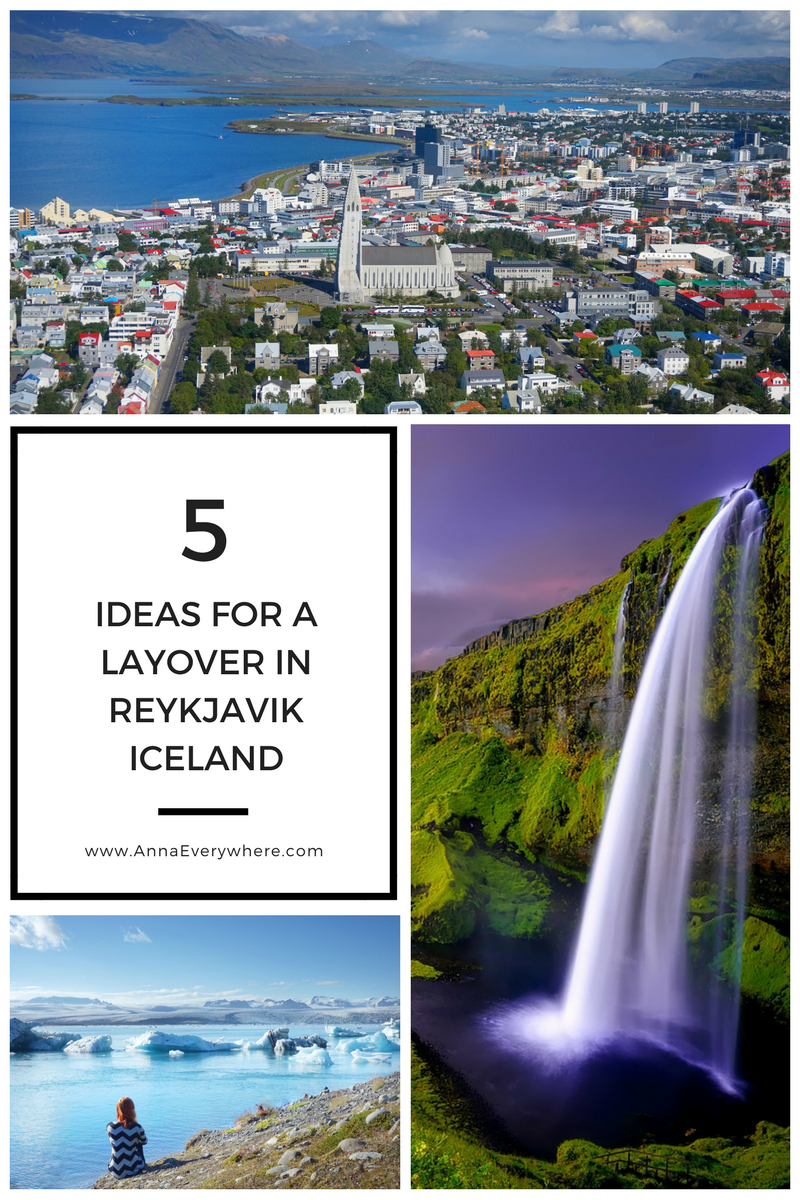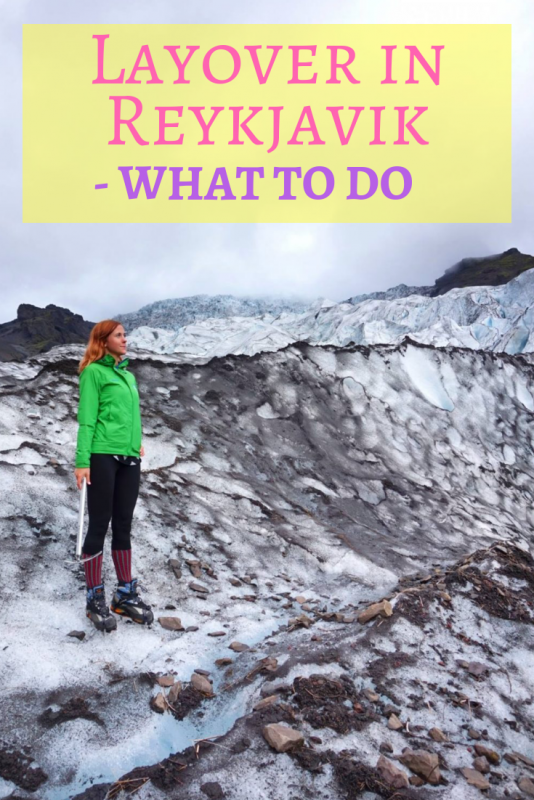 ---