Visiting "The Top of Europe" should be on the bucket list for anyone visiting Switzerland for the first time.
Known for the dramatic peaks of the Alps, Switzerland is full of incredibly beautiful mountains and countless gondolas or cable cars waiting to wiz you to the top for some amazing views.
But if you're looking for the best of the best, it has to be Jungfraujoch. Located at a crazy 3,463 m (11,361 ft), Jungfraujoch is known as the top of Europe as it is home to the highest train station in Europe.
Since this is a very famous tourist attraction in Switzerland, it does come with quite a bit of a price tag. This trip is absolutely worth the price but it's important to do your research and make the most out of your experience. That's why I wrote this guide to Jungfraujoch to help you save time and money.
1. What is Jungfraujoch
Jungfraujoch is actually the saddle between two 4,000m peaks, Jungfrau and the Mönch.
Surrounded by glaciers, this area in the Berner Oberland region of Switzerland is famous for its accessibility. Being home to the highest train station in Europe, Jungfraujoch makes a relatively simple day trip with a dramatic reward from either Interlaken, Lauterbrunnen, or Grindelwald.
This snowy destination is accessible year-round and is actually a part of the UNESCO world heritage area of the Swiss Alps.
2. Who Can Visit Jungfraujoch
While anyone of any age or ability can visit Jungraujoch unrestricted, you have to remember that you will gain a lot of elevation in a very short amount of time.
At 3,463 m it can be a little harder to breathe meaning you may experience dizziness, shortness of breath, and fatigue. It's common for this to be a larger issue for those who are on either end of the age spectrum (young children and older adults), and people with additional health problems.
That being said, it is completely safe for most people to spend a day at this altitude and many people will not even notice the changes in air.
The mountain is also completely accessible for those in wheelchairs. It's recommended you travel on the Eiger Express tri-cable gondola from the Grindelwald Terminal for the easiest route, but if you choose to travel a different route you will just need to contact them in advance to organize your trip.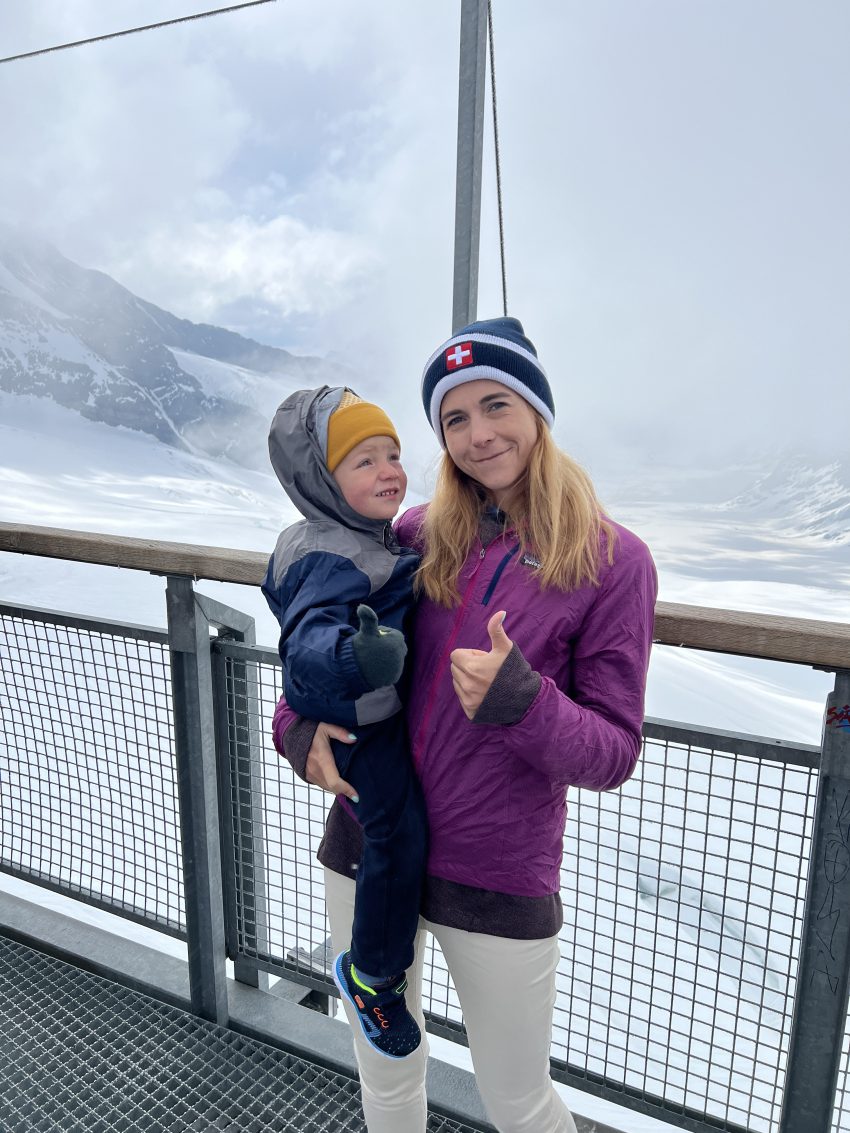 ---
3. Getting to Jungfraujoch
Getting to Jungfraujoch can be a little complex to understand since you need to take a number of different trains and cable cars to reach the top. But, that just means it's even more accessible, regardless of where you stay in the region since there are some of the best cities in Europe to visit here!
I was super confused by all the routes, but it's pretty simple: you can get there from either Grindelwald or Lauterbrunnen.

If you're staying in Grindelwald your first part of the journey will be by cable car, while from Lauterbrunnen you'll be taking a train.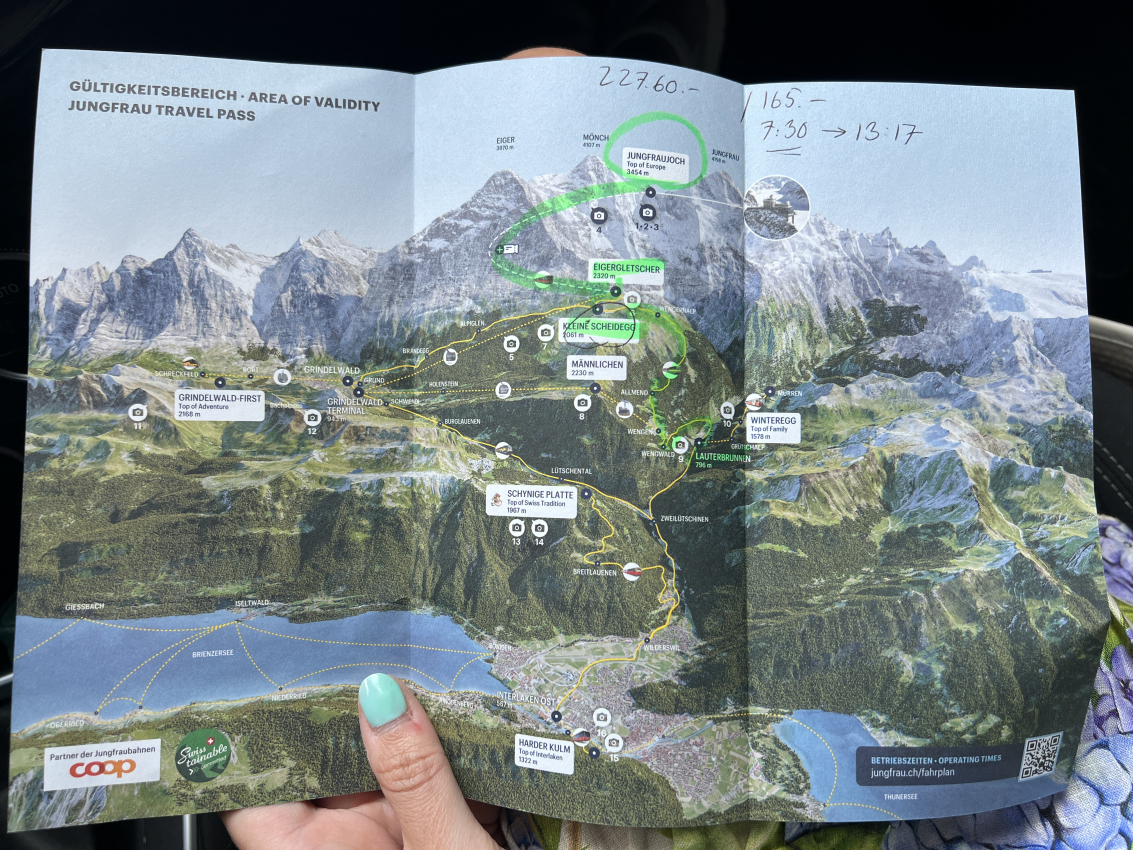 Regardless of where you start, all the routes converge at the train which runs from Kleine Scheidegg via Eigergletscher, right up to Jungfraujoch.
Note that the first train leaves Klein Scheidegg for Jungfraujoch at 8 am so if you want to be on the first train you will need to be ready to board in Klein Scheidegg earlier than this.
The first train is significantly cheaper as long as you descend by 1:30 pm (which seems like a lot of time, but it's the absolute minimum in my opinion). Unless you're doing other activities in the region, it's a good deal – price-wise and also there are fewer people making the experience nicer.
---
If you're not staying in Grindelwald or Lauterbrunnen you must either drive there or the take train.
Not to worry if you don't have a rental car, you can also reach these destinations by train depending on where you start.
Getting to Jungfraujoch via Grindelwald (from Interlaken, Zurich or Lucerne)
From Grindelwald, there is a new gondola called the Eiger Express Tri-Cable Gondola which takes you up to Eiger (Eigergletscher), skipping the need to transfer to Klein Scheidegg.
From here you will jump on the final train to Jungfraujoch.
This is the fastest and cheapest way to get to Jungfraujoch however if you would prefer not to ride in a gondola, you can still take the train from Grindelwald to Kleine Scheidegg and then onto Jungfraujoch However this will add more time to your journey.
Getting to Jungfraujoch via Kleine Scheidegg (from Lauterbrunnen, Wengen, Murren or Grindelwald.)
If you are coming from Wegen you will have to go via Klein Scheidegg where you can board the train to Junggraujoch (with a swap in Eigergletscher).
From Lauterbrunnen, Murren, or Gimmelwald you have a choice of whether you would like to go via Kleine Scheidegg or Grindelwald.
The time of your journey either way does not vary by much so it's best to look up the different train times and compare these with the times of the Jungfraujoch train to find the best connections for you.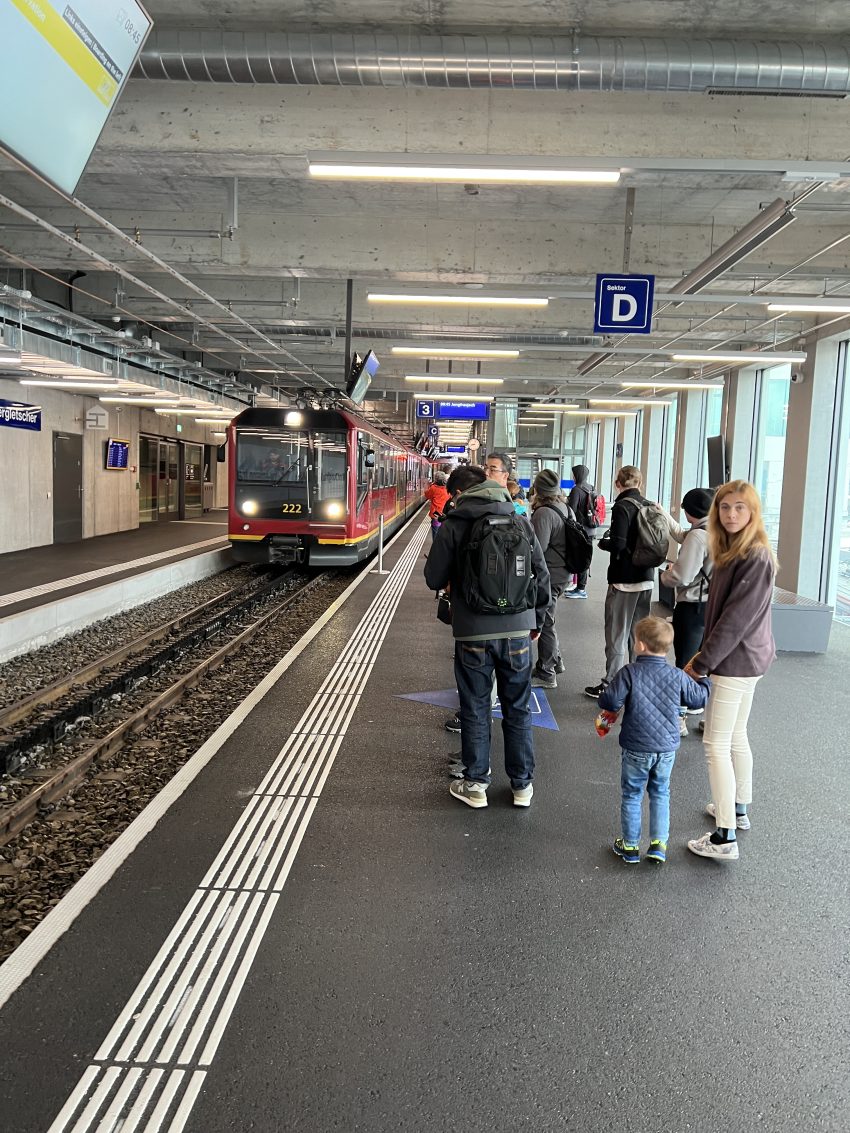 ---
How Long Does it Take to Get to Jungfraujoch?
As you can see from above, the time it takes to get to Jungfraujoch will vary massively depending on where you start.
To give you an idea of how to calculate your own journey, here are the approximate times for each leg of the journey so you can add up which ones will apply to you:
Klein Scheidegg – Jungfraujoch (train): 44 mins
Eigergletscher – Jungfraujoch (train): 26 mins
Grindelwald – Eigergletscher (Express Tri-Cable Gondola): 20 mins
Wegen – Kleine Scheidegg: 22 mins
Lauterbrunnen – Kleine Scheidegg: 38 mins
Interlaken Ost – Grindekwakd: 29 mins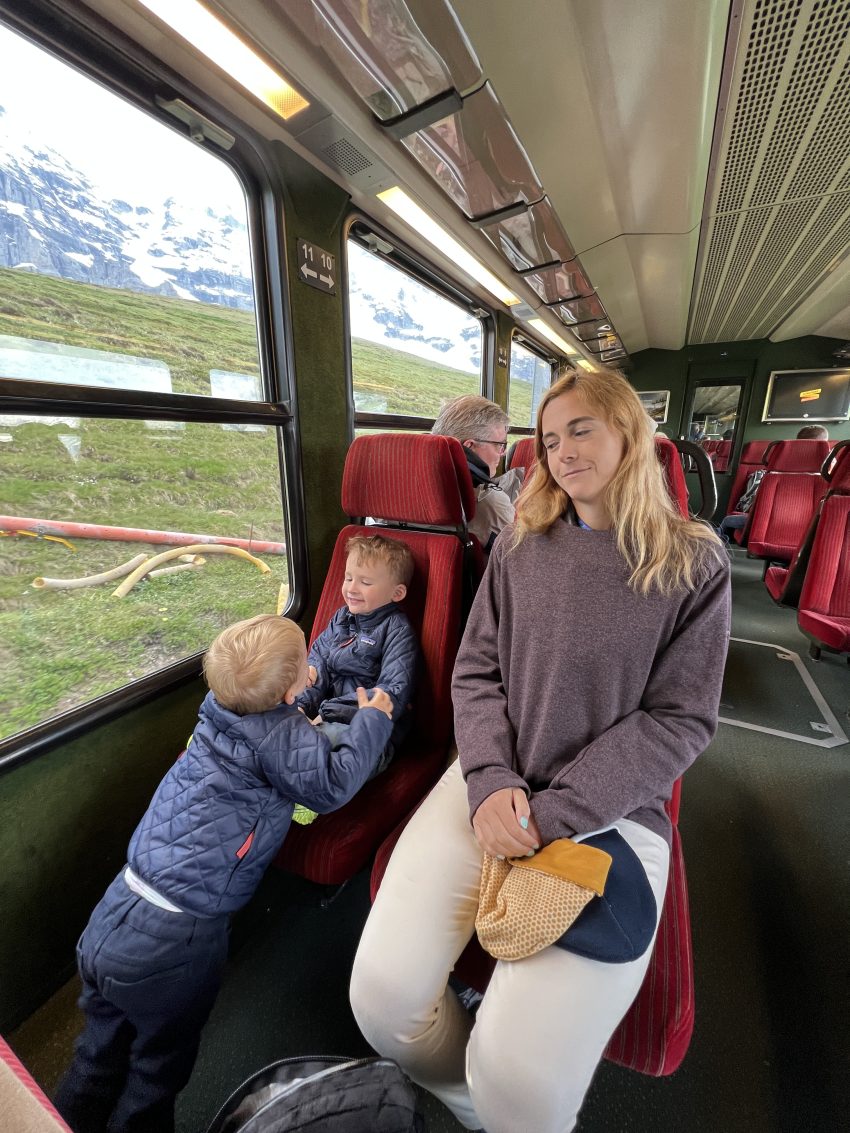 ---
4. Jungfraujoch Tickets
The price of tickets to Jungfraujoch consists only of the transport to get there. Aside from any additional activities you can try for an extra fee once at the top, there is no entrance fee for the station itself.
Prices for the Jungfrau Railwaychange throughout the year ​​with higher fees during the peak summer period. But to give you an idea, here are some of the return prices you can expect for each leg of the journey.
Discounted Jungfraujoch Tickets
Since these prices are quite expensive for a day trip, here are some helpful ways to get a discount on your fares if you are spending some time exploring Switzerland or the Jungfrau region.
Swiss Travel Pass – all regular train tickets up to Wengen are included in your pass so you can travel for free. The trains above Wengen to Jungfraujoch are discounted by 25%.
Jungfrau Travel Pass – You can receive discounted tickets to Jungfrauhoch with this pass.
Kids – Children under 6 travel free and kids between 6-25 years of pay half the fare with a junior Travel Card.
Tours of Jungfrauhoch
If all of this is confusing or the prices are at peak rates, sometimes it is actually cheaper to join a tour of Jungrauhoch than buying the tickets yourself. This is because groups also get a discounted rate.
Here are some great tours to Jungfrauhock that you can join: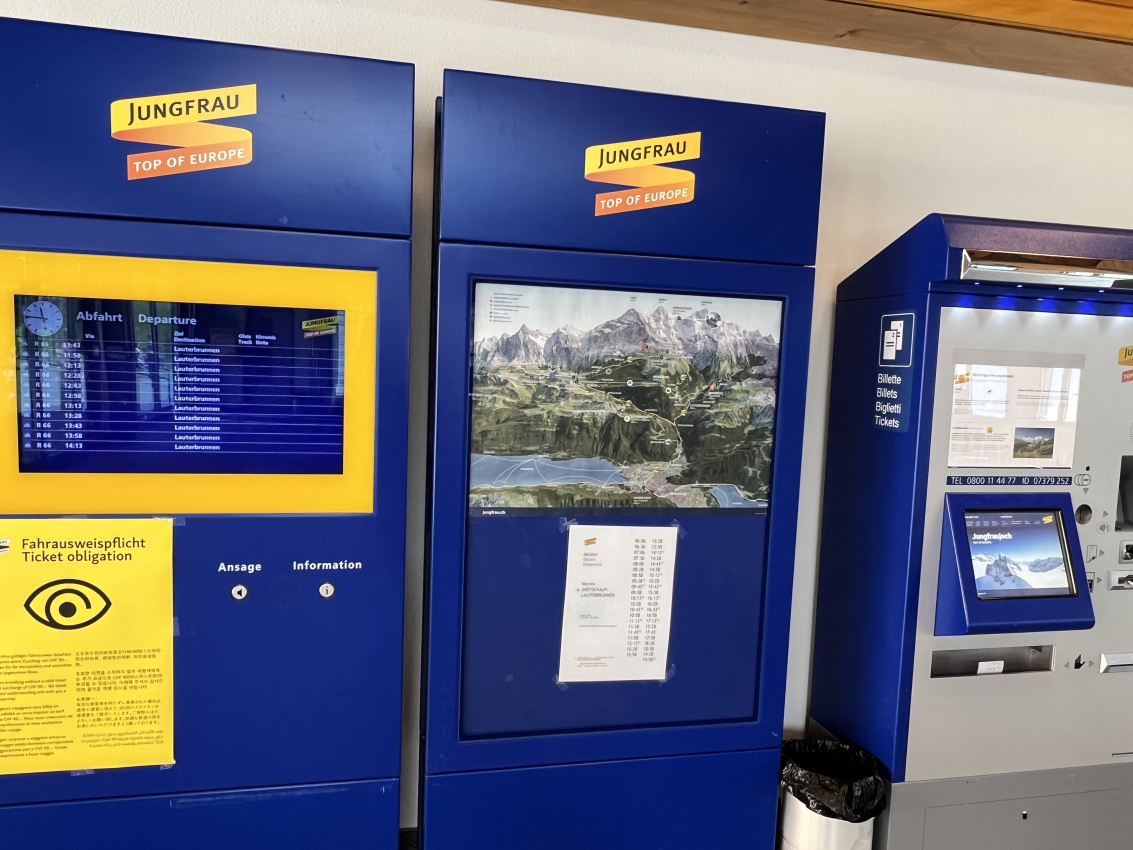 ---
5. Things to do at Jungfraujoch
Even though the journey just to get to Jungfraujoch is an amazing activity in itself, there is so much to do at the top of Jungfraujoch that you need to make sure you leave yourself enough time to enjoy it all!
Unlike the Aiguille du Midi in Chamonix, France, Jungfraujoch is located on a glacier in the saddle between two mountains (rather than on the peak). This means you can actually get outside and touch the snow and ice.
Here is a list of the top things to do at Jungfraujoch to get you started:
4.1 Jungfrau Panorama
This is a 4-minute cinematic experience that lets you experience the top of Jungrau from 360°. It's one of the first things you will come across when you get off the train and it shows you what the mountain is like in all different types of weather throughout the year.
4.2 Sphinx Terrace Observation Deck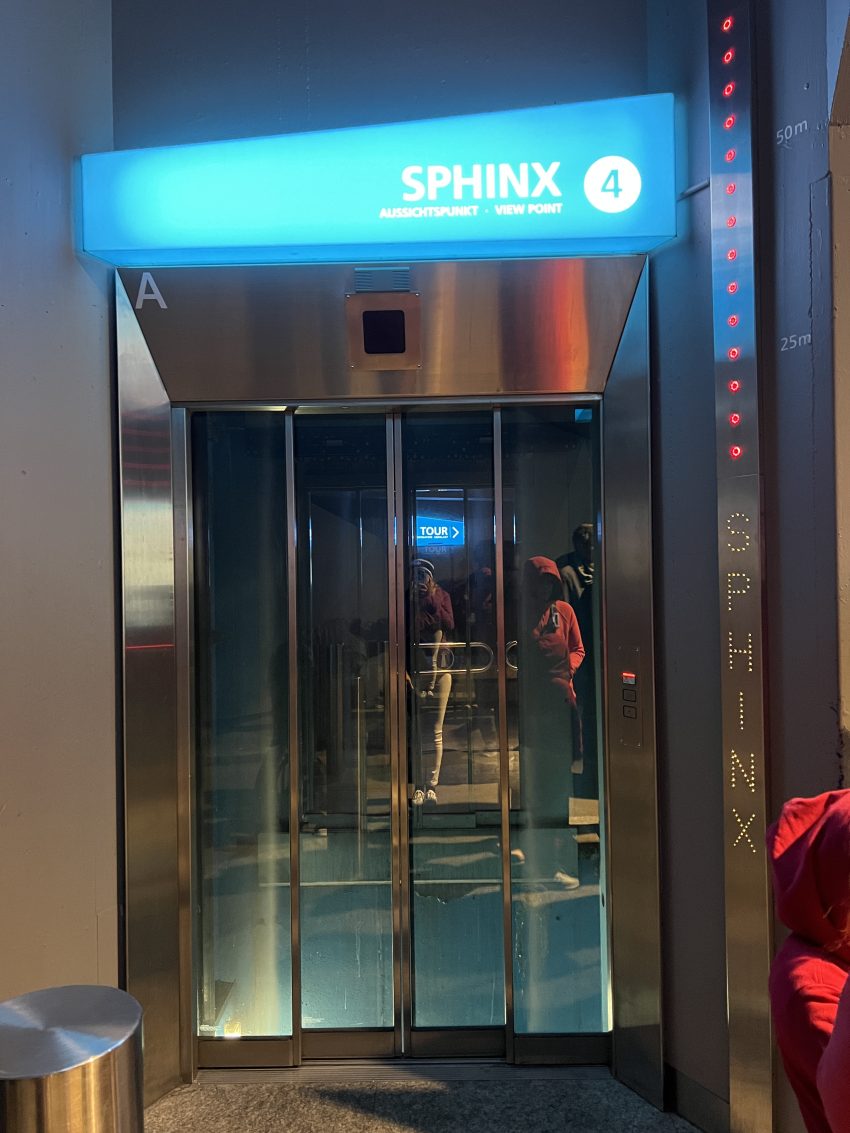 Next, you will want to take the elevator up to the Sphinx Terrace. This is the first time you will go outdoors at Jungfraujoch so be prepared to be amazed (and perhaps a little cold).

This viewing platform gives you incredible views over the entire mountain range, its surrounding peaks, the scientific research station, and all the way down the Aletsch Glacier which is the longest glacier in Europe!
4.3 Tour of the Main building
If you're already feeling a little cold at this point it might be best to go back inside and tour the remainder of the internal building at Jungfraujoch.
You'll find restaurants, souvenir shops, information signs, and much more. There are even convenient blue "tour" signs that you can follow to make sure you have seen it all.
Once you're all warmed up again, it's time to return back to the outside.
---
4.4 Snow Fun Park (Aletscg Glacier)
Finally, it's time to touch the Aletschg Glacier and get ready for some snowy fun!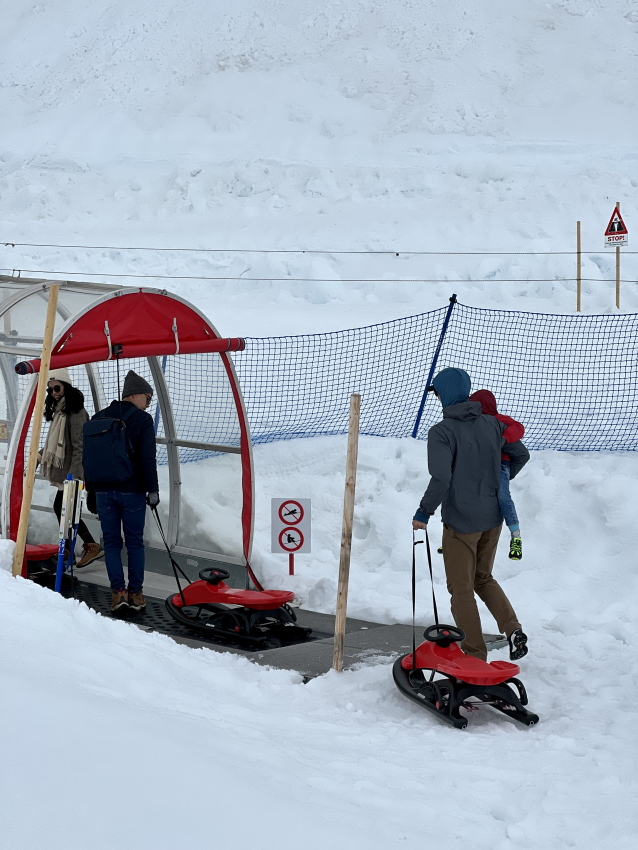 Head to the Snow Fun Park to try tubing, skiing or snowboarding, ziplining, have a snowball fight or simply experience the magic of this glacier.
Aside from regular snow play, the additional activities here come with an extra fee. You can check the current prices here but you don't have to book in advance so you can decide on the day what you feel like.
---
4.5 Monchsjochhutte Hike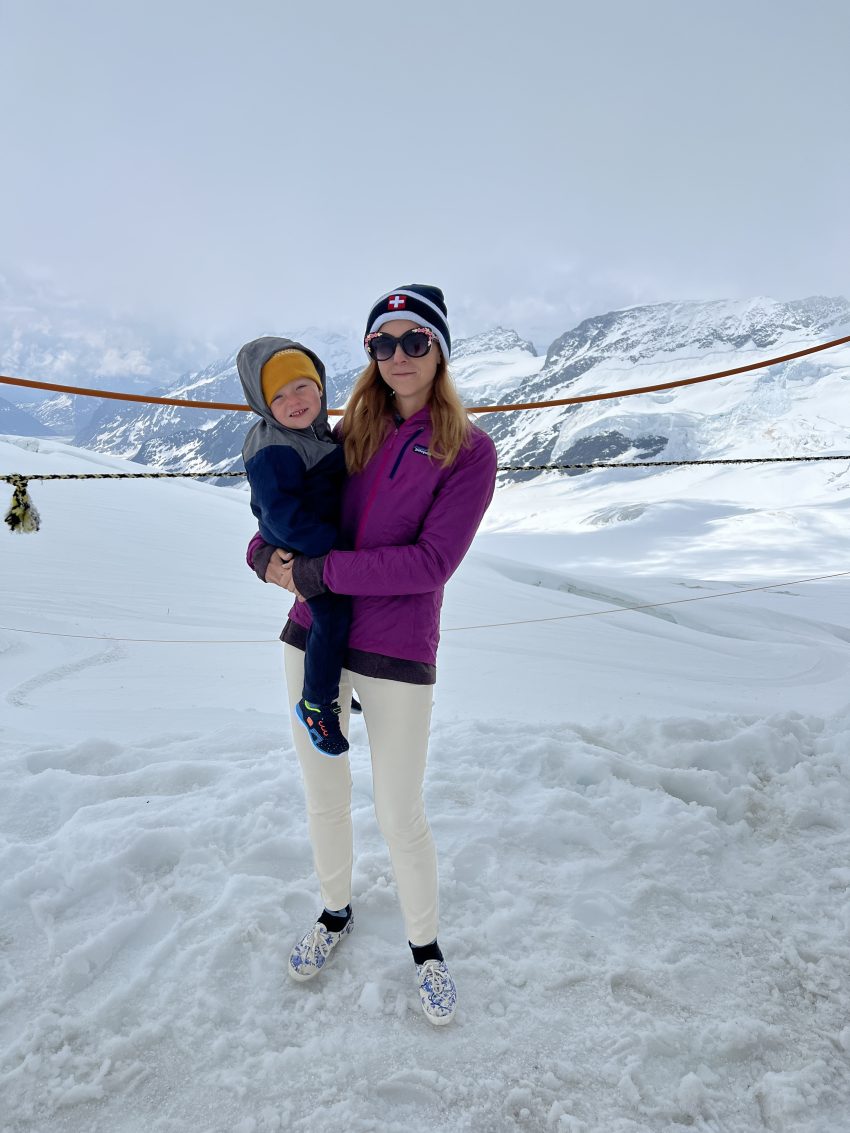 While the 2.4km groomed trail out to the Monchsjoch Hut doesn't look very far, this hike actually takes 45 mins- 1 hour each way.
The trail there is groomed well each day, but even though it's relatively flat, the small hills will really take your breath away at this altitude. So make sure you slow down and walk at a comfortable pace so you can enjoy the incredible scenery.
Once you reach the hut you can go inside to warm up, grab a drink, snack, or lunch and enjoy the traditional cozy mountain atmosphere.
Walking back will be a little easier as it is mostly downhill but be careful if you visit on a hotter day as the snow may have melted a little, becoming much more slippery slush!
---
4.6 Glacier Plateau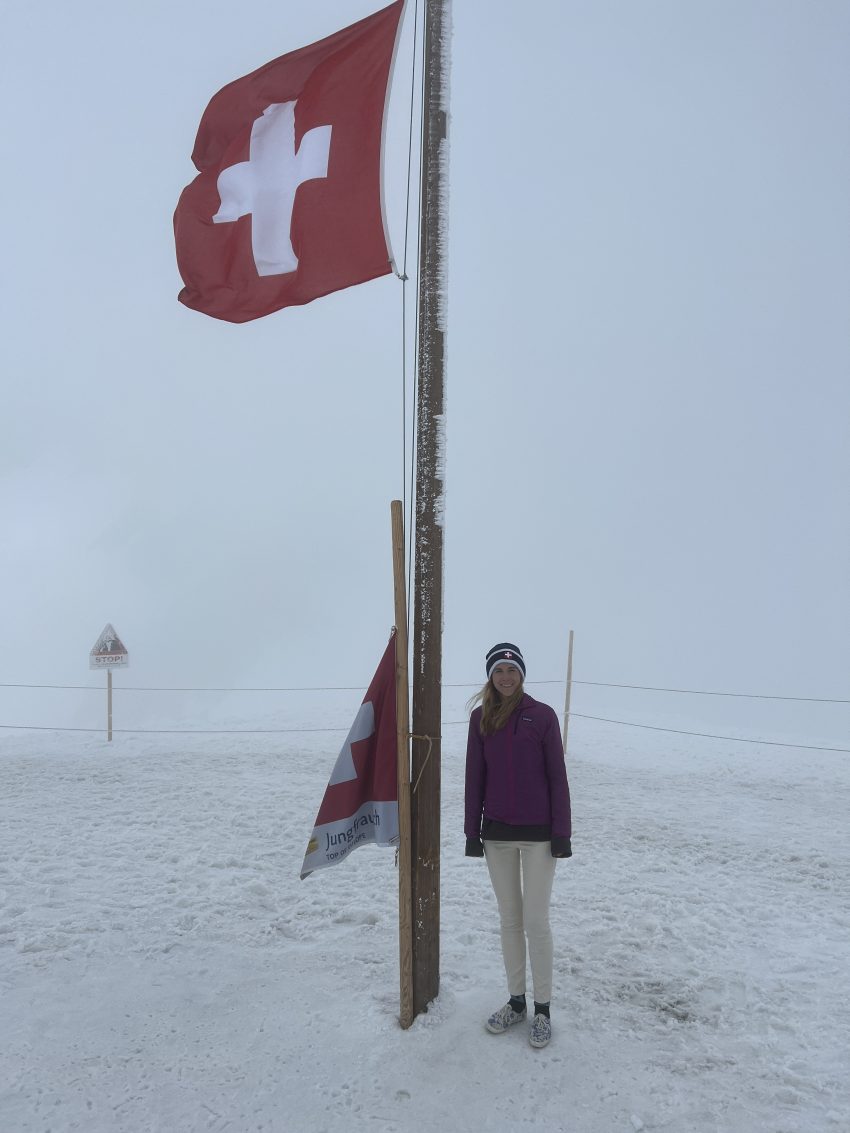 Once you've returned to the main part of Jungfraujoch, make sure you stop by the Glacier Plateau to get an iconic picture taken with the Swiss flag.
This is an essential part of any trip to Jungfrauhoch and a great (free) souvenir to take home!
4.7 Ice Palace
Back inside you have to visit one of the best parts of Jungfrauhoch. The Ice Palace is a series of tunnels and sculptures carved out of the icy glacier.
Since you will be walking through the glacier itself, it's quite cold in here (-3 °C) so make sure you stay rugged up to keep warm!
There are a lot of sculptures to spot in here and they change them frequently so even if you've been before, keep an eye out for new additions.
---
4.8 Alpine Sensation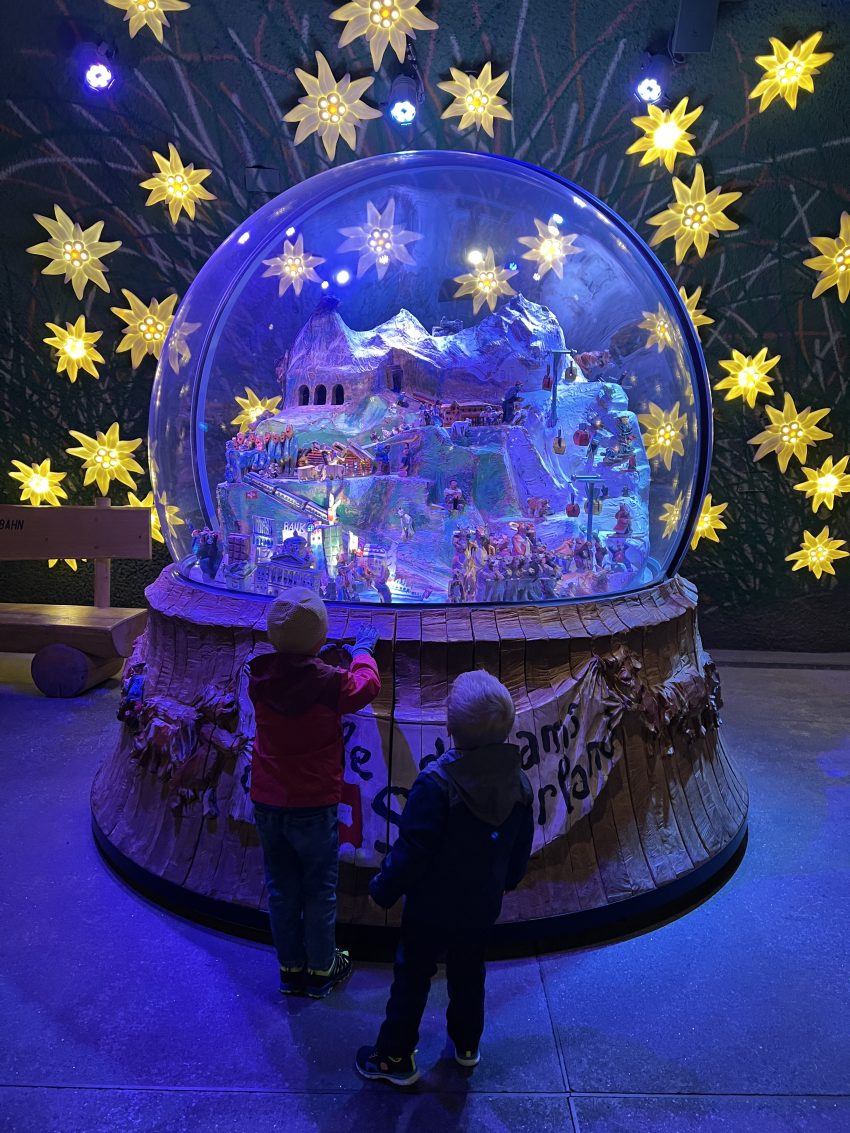 Next, you should walk through the 250 m-long corridor between the Ice Palace and the Sphinx Hall known as Alpine Sensation.
This multi-media exhibition shows a bit of the history of Jungfraujoch and gives tribute to the miners who built the railway.
The corridor is light up by beautiful flowers that look like giant stars in the night but the coolest part for kids is the giant snowglobe which contains a miniature world inside.
My kids were absolutely obsessed and we returned to it once again after finishing the whole tour.
---
4.9 Lindt Swiss Chocolate Experience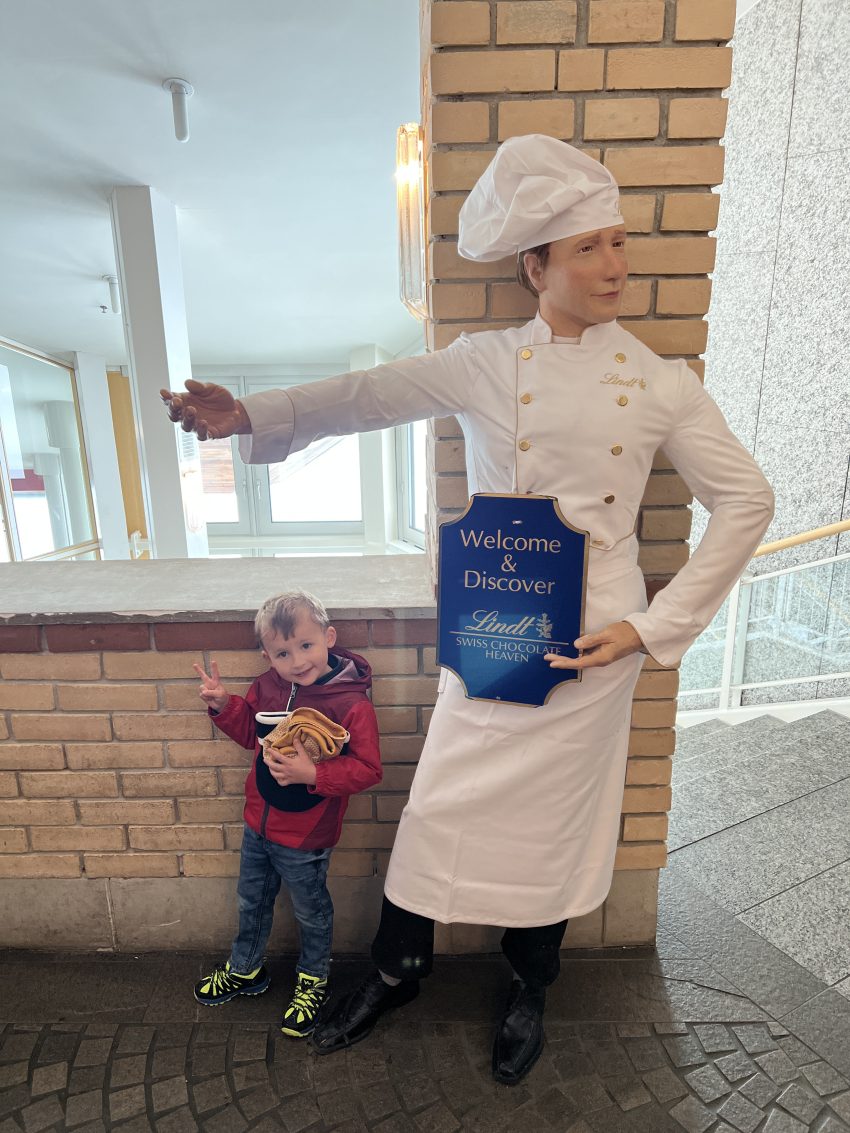 And lastly, can you go to Switzerland without sampling their chocolate? Inside Jungfraujoch is the highest Lindt Chocolate shop in the world where you can learn about how chocolate is made and buy some delicious bars to take home.
---
6. When to Visit Jungfraujoch
Jungfraujoch is open from 8 AM to 4:20 PM daily, all year ​​round, but the best time to visit is during the summer (June – August/September).
Visiting in the summer means that you are more likely to be fortunate enough to have good weather, allowing you to enjoy more activities outside with the best views possible.
That being said, mountain weather can be extremely unpredictable so make sure to check the forecast before booking your tickets. If the forecast looks like varied conditions, try to get up to Jungfraujoch as early as possible as summer storms in the mountains generally tend to roll in around the afternoon.
And remember that even though it can be hot in the valley during the summer, up here there will still be snow on the ground with cold temperatures in the air as Jungfraujoch is located on a glacier!
7. What to Bring to Jungfraujoch
Since you will be going up to quite a high elevation and hanging out outside on a glacier, being prepared with the right gear is pretty important for your trip to Jungfraujoch. Here is a list of things not to forget when packing for your day trip!
Good sunglasses – The glare from the sun reflects off the white snow directly into your eyes when you are surrounded by glaciers so it's important that your eyes are protected. On a sunny day, you will actually find it very difficult to open your eyes outside without protection.
Sturdy shoes – If you don't plan on walking far in the snow, regular trainers would be okay. However, if you want to spend a long time outside including walking to the hut, hiking boots or sturdy shoes with grip will help you stay dry and on your feet for longer.
Warm clothes & lots of layers – Even if it's hot when you leave your hotel, bring lots of layers or warm and waterproof clothing that you can add on or take off as you need. Going inside and outside frequently at this high of an elevation will mean your day will consist of lots of temperature changes and you don't want the cold to spoil your experience.
Beanie and gloves – Again, staying warm is vital up here and you will need both a warm hat and gloves to enjoy your time outside at Jungfraujoch.
Sunscreen – Easy to forget when we talk so much about the cold but the sun is super brutal. Same as protecting your eyes, you need to protect your skin extra well as the sun is amplified by the white snow.
8. FAQS about Jungfraujoch
How much time do you need at Jungfraujoch?
For the whole trip, you will want at least 5-6 hours to make it from Grindelwald up to Jungfrajoch and back with enough time to explore everything. This will give you around 4 hours to explore the top of Europe.
Is Jungfraujoch worth the price?
Jungfraujoch is absolutly worth the price. There is a lot to do for free once you reach the top and the journey to get there is absolutely spectacular. This is a once-in-a-lifetime experience.
How long is the train to Jungfraujoch?
The last train from either Klein Scheidegg or Eigergletscher to Jungfraujoch takes 44 mins or 26 mins respectively. But to reach either of these destinations you will generally need to take a combination of different trains from your accommodation which can take anywhere from 1.5 – 3 hours.
Are there toilets on the train to Jungfraujoch?
There are no toilets on the train itself however there are multiple stops on the way up where you have enough time to use the bathroom.
---
So there you have it, everything you need to know about visiting Jungfraujoch and how to get to the top of Europe!

Hopefully, you found everything you need in this guide but if you have further questions, feel free to leave them in the comments below!