It's no secret that Switzerland is one of the most beautiful places in Europe. With the majestic Swiss Alps and the pristine natural beauty as the backdrop, the quaint and historic towns, villages, and cities have a magical feel to them.
From stunning ski towns to picturesque lakes to historic villages with storybook charm, there is something for every type of traveler in Switzerland.
It can be hard to choose where to visit during your time in this beautiful country, even if you are living there, there's so much to see. To make it easier for you, I've gathered a list of the most beautiful places to visit in Switzerland.
Whether you're planning a multi-stop vacation or you have just a couple of days and want one truly amazing stop, this list will get you dreaming about your next Swiss holiday!
1. Geneva
The international city of Geneva not only has all the facilities of a larger city but it's also set on a lake surrounded by mountains, what's not to like?
Lake Geneva is the largest lake in the Swiss Alps and has crystal-clear water thanks to the water flowing down from the surrounding mountains.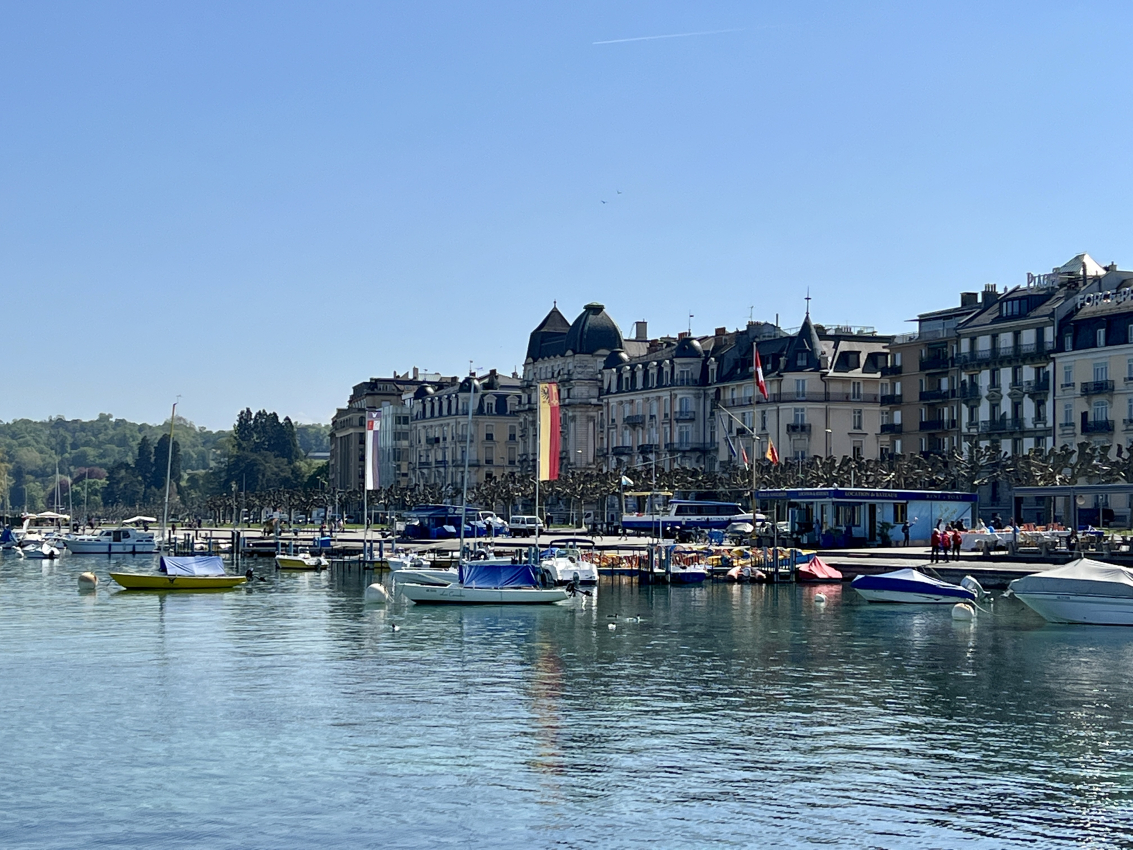 Whether you spend your time exploring all that Geneva has to offer or simply sit on a bench by the lake and take in the views, you will be amazed by the beauty of Geneva.
Highlights of Geneva include the Saint Pierre Cathedral, the Geneva Botanical Gardens, and Jet d'Eau (a large fountain in Lake Geneva). Plus, many day trips around Geneva are possible–from Château de Chillon to Chamonix to see Mont-Blanc mountain to the charming French town of Annecy.
If you're looking for a great hotel here, check out Les Armures.
Recommended Tours:
Scenic Lake Cruise with Snacks and Wine
Geneva City Tour
---
2. Zermatt
If you've seen a Toberlone chocolate bar, then you've seen a picture of the famous Matterhorn mountain that is found near Zermatt, Switzerland.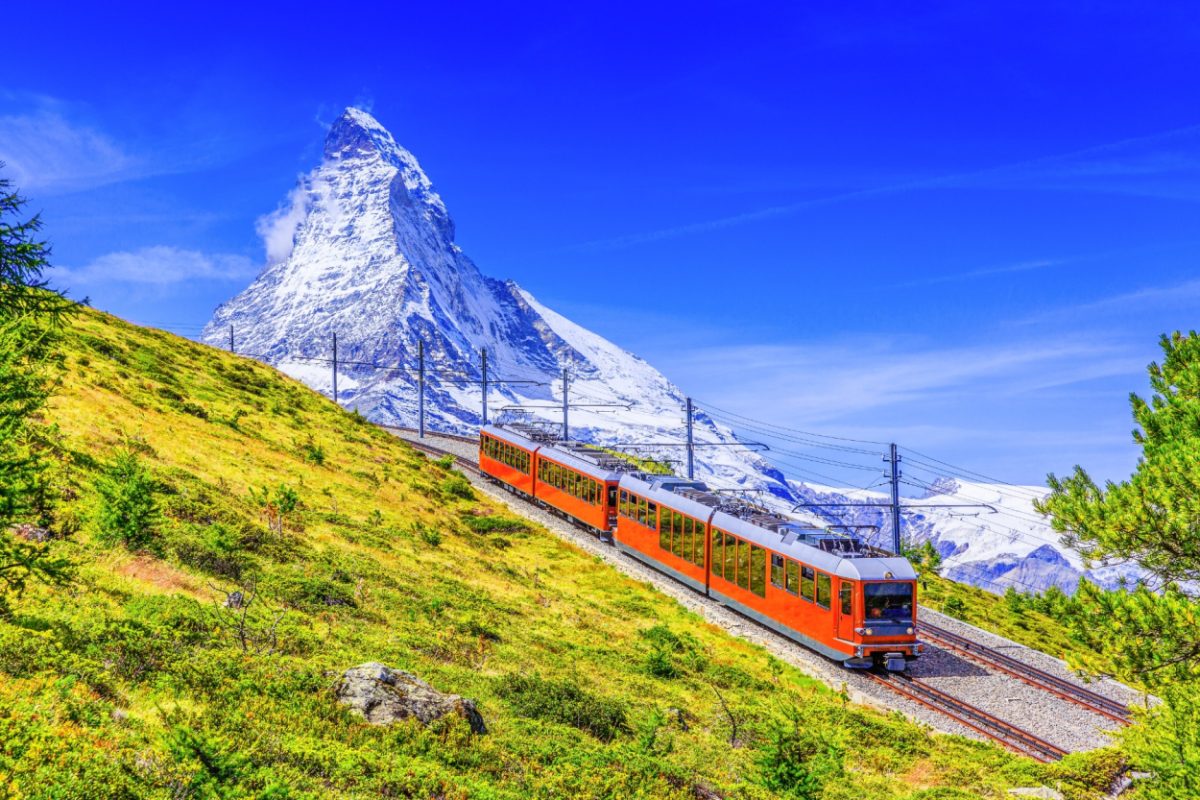 This iconic mountain peak is famous for its unique pyramid shape. Even if you just have one day to see the Matterhorn, it is definitely worth the trip to take in this amazing sight.
Luckily you can see the Matterhorn from the city center of Zermatt. But for better views, there are many ways to get to viewing places including cable cars, railways, and gondolas. For the adventurous, there are four routes to hike on Matterhorn Mountain, but these trails are not for the faint of heart!
Zermatt itself is a charming, quaint car-free mountain town car-free, which means the only way to get there is by train or taxi. But once you're in Zermatt, it's quite small making it easy to navigate the city on foot. I recommend checking out Riffelalp Resort if you're looking for an incredible hotel to stay high in the mountains!
With 3 amazing ski resorts in the area and plenty to do for those who don't ski, Zermatt is the perfect place to go if you're looking for a winter wonderland. But whether you spend your time shopping, exploring nature or taking in the Matterhorn, you will never forget your time spent in this iconic Swiss town.
Recommended Tours:
Zermatt and Mt. Gornergrat: Small Group Tour from Zürich
Paragliding tandem flight in Zermatt – the Spectacular
---
3. Zurich
Set along Lake Zurich, this Swiss city has something for everyone. Whether you go on a boat cruise, take a walk along the lake, take advantage of the fun nightlife, or go shopping on the iconic Bahnhofstrasse street, there's plenty to do to fill your time in Zurich.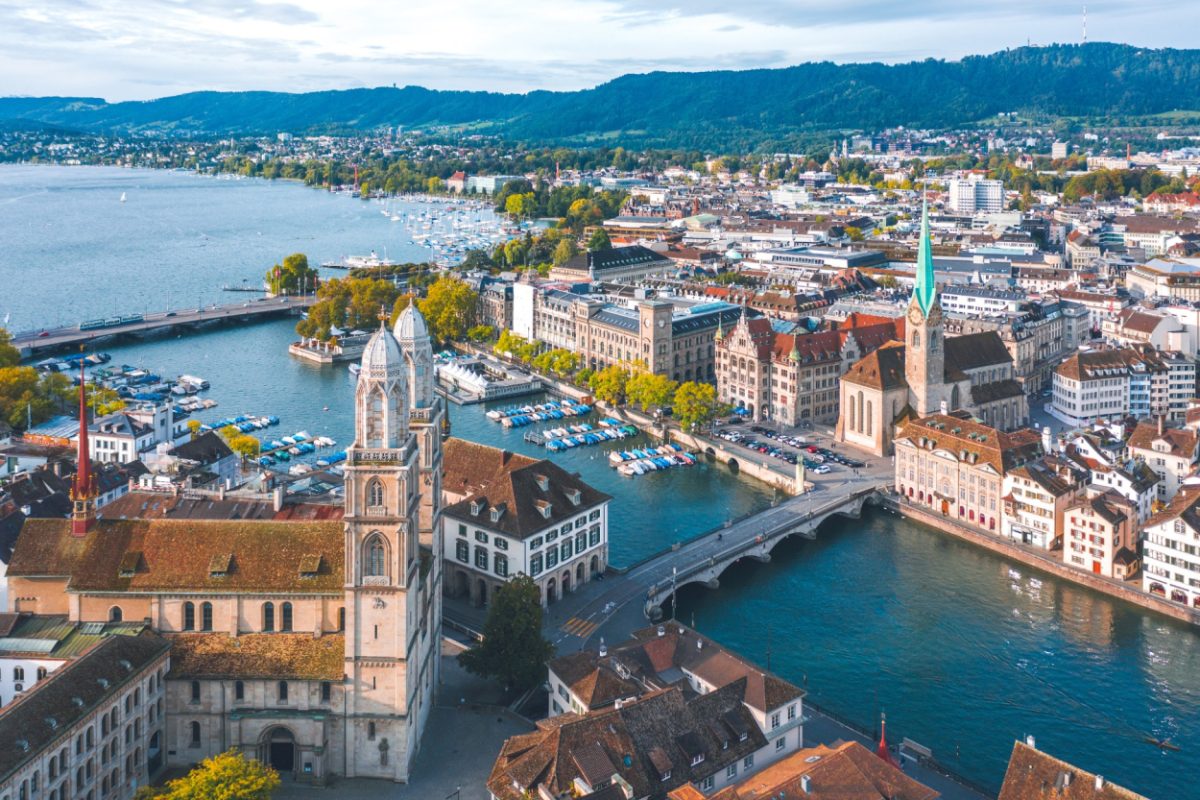 While you're here, don't miss exploring Altstadt (Zurich's Old Town) and take it all in as you wander the cobblestone streets. If you have more time in the city, check out one of the many museums, head out for a hike at the nearby Uetliberg Mountain or marvel at any of the amazing architecture around the city.
Zurich also makes for a great base to explore the city and do a few days' trips (Lucerne, Bern, and Interlaken are all great choices).
For bookworms or lovers of unique experiences, make sure to head to B2 Hotel in Zurich and check out their library bar. I'll never forget the feeling of sipping on a glass of delicious red wine while being surrounded floor to ceiling by 33,000 picturesque books. It's a perfect place to have a drink during your stay in Zurich!
Recommended Tours:
Zurich Tour Including Lake Cruise and Lindt Home of Chocolate
Mount Titlis Day Tour
---
4. Lucerne
Competing with the bigger towns for the top spot on our list is the amazing city of Lucerne (Luzern in German).
This relatively small city in central Switzerland sits along Lake Lucerne and is surrounded by the Swiss Alps. With historic architecture, charming cobblestone streets, and genuinely amazing views, it's no wonder that Lucerne is thought of as one of the best places to visit in Switzerland.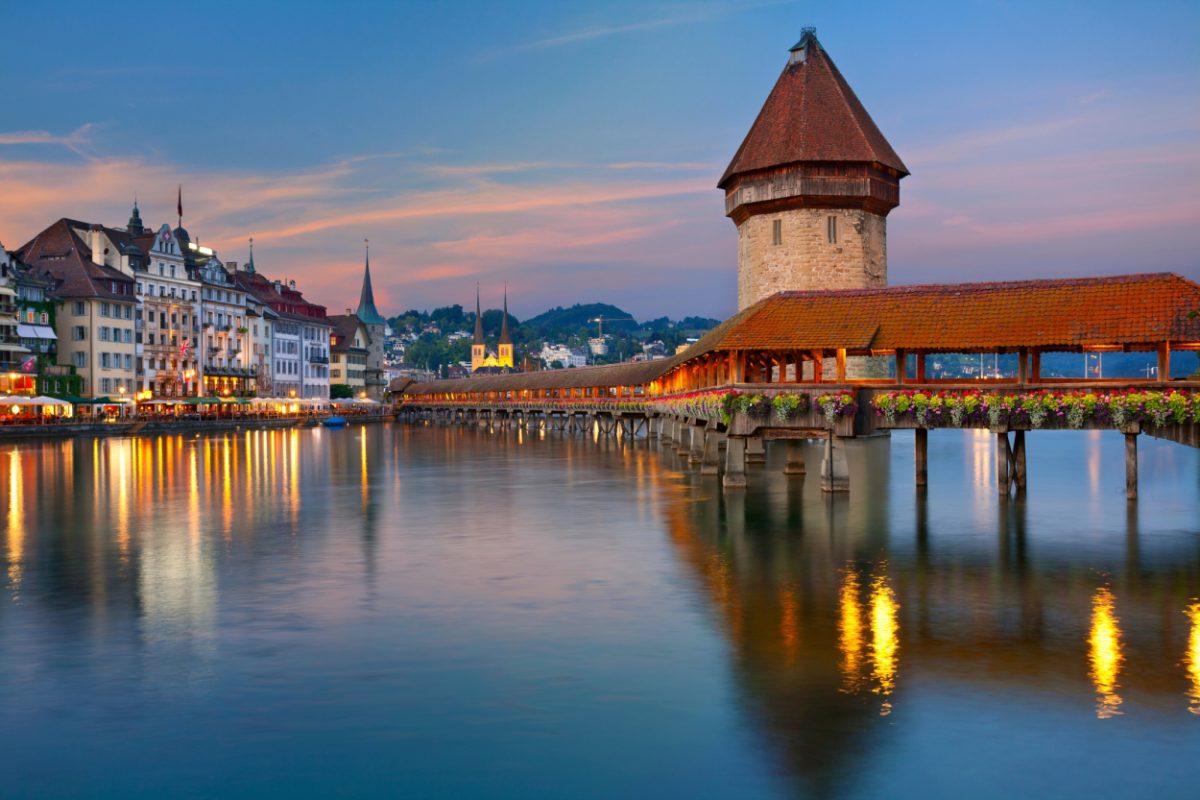 You can't miss taking a stroll across the river on the famous Kapellbrücke, the largest wooden covered bridge in Europe dating back to the 17th century.
In summer the bridge is decorated with colorful flowers which makes the contrast with the blue river even more magnificent. Stay at Hotel des Balances for great views of the bridge all day long!
While in Lucerne, the other must-visit is Mount Pilatus. This legendary mountain overlooks Lucerne and the cable car up to the top offers one of the most beautiful sights I've ever seen–a panoramic view of the Swiss Alps.
Whether you see the bright green grass and shining lake on a summer day or head up the mountain in the winter and see the snow-covered Alps, the view from the top will leave you speechless.
Pro tip: Make sure to head to the Visitor Center at the Lucerne train station or check the live cam of Mount Pilatus to see real-time conditions on the mountain. While most days are beautiful at the top, some days there can be low visibility and you won't be able to see much. For more information about visiting the iconic mountain, head here.
Recommended Tours:
Lucerne Walking and Boat Tour: The Best Swiss Experience
Mt. Pilatus Gondola, Cable Car, and Boat Trip
---
5. Interlaken
This resort town is located between two lakes (Lake Brienz and Lake Thun) and is one of Switzerland's most visited places.
With panoramic mountain views, a plethora of railways and cable cars to explore the area, and the stunning scenery of the lakes, we couldn't round out our list of beautiful places in Switzerland and not include Interlaken.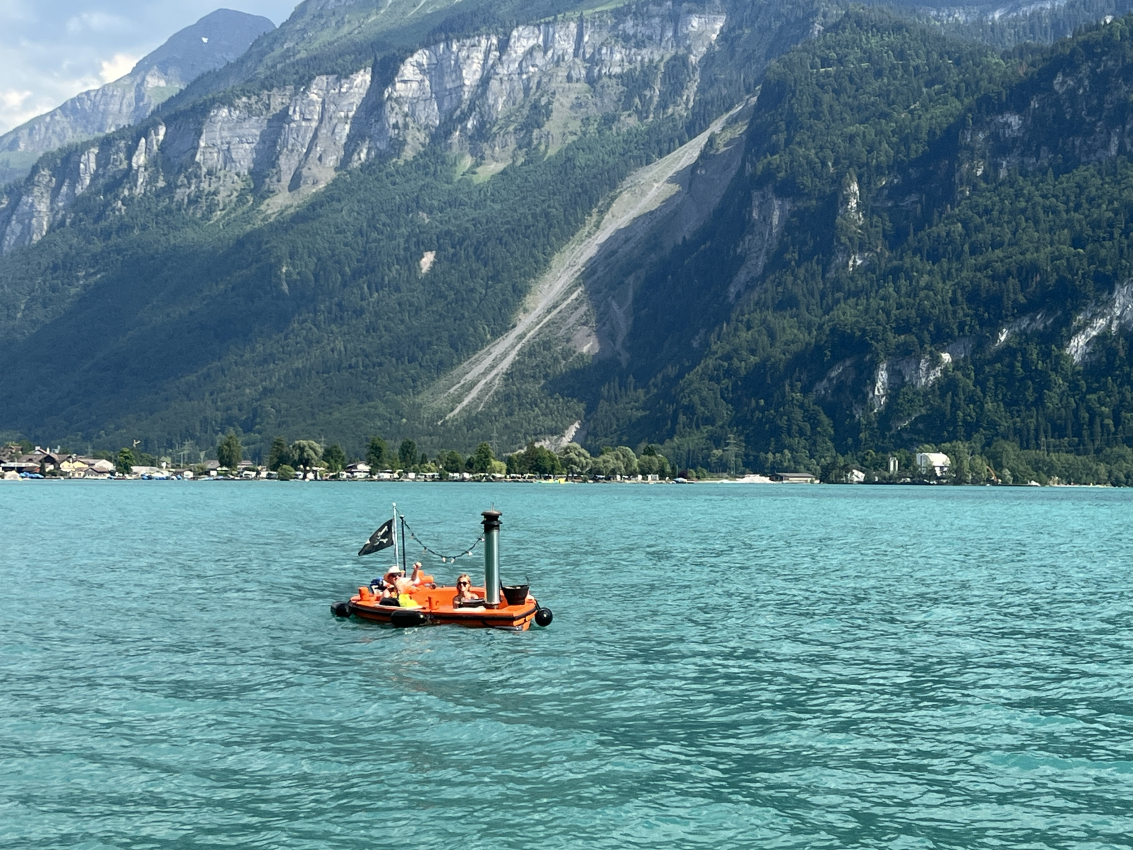 From Interlaken, you can also make the trip up to Jungfraujoch ("The Top of Europe") or choose from many other viewpoints around the area. The St Beatus Caves on Lake Thun is a unique sight, and in the summer, there are many activities constantly going on in the town.
Interlaken is beautiful in itself and has the most accommodation options in the area. If you want to stay at a hotel here try the Hotel Royal St George, a wonderful base to take a few day trips around the area. But if you want to be even more immersed in the mountains, you can also stay in nearby Lauterbrunnen (next on the list).
Recommended Tours:
Day Trip to Jungfraujoch Mountain
Guided e-bike tour to Lauterbrunnen 72 Waterfalls Valley and Swiss Picnic
---
6. Lauterbrunnen
This quintessential Swiss town will blow your mind with its natural beauty, so head to Lauterbrunnen if you are looking for a getaway into nature!
Highlights include mountain views, 72 different waterfalls in the area (with Trummelbach and Staubbach waterfalls being the most popular), and many places to hike. Plus, in the winter you can also enjoy their great ski resorts and ski in the Swiss Alps!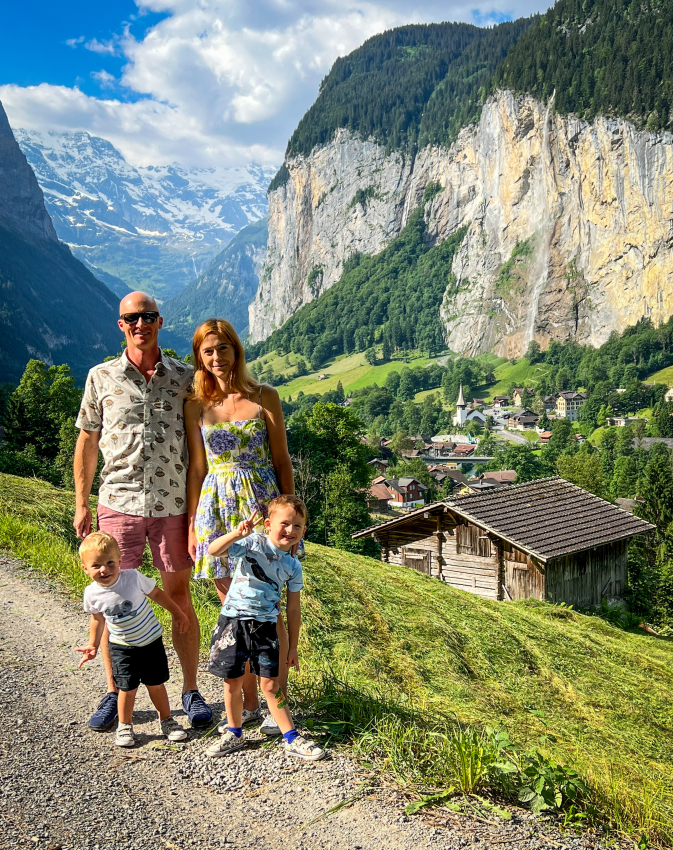 Although it's a small village, there are a few places to stay here which will give you the ultimate Swiss mountain experience, I recommend checking out Wasserfallhüsli.
From Lauterbrunnen, take a train and a funicular railway to see Jungfraujoch, which is one of the highest points in the Swiss Alps that you can visit. Known as the "Top of Europe", you'll feel like you're on top of the world while standing at the top of this mountain! Though it comes with a high price tag to make the trip up, it's worth the amazing views.
Recommended Tours:
Roundtrip Train and Jungfraujoch Ticket
---
7. St. Moritz
If you are looking for the ultimate winter getaway, St. Moritz takes the cake as the best place to go for a luxury ski trip in the Swiss Alps.
Having hosted the Winter Olympics twice, there's no shortage of activities to try here including bobsledding, cross-country skiing, or ice skating on an outdoor Olympic size ring.
They even host cricket, horse racing, and polo events on the ice here, something you probably won't see anywhere else!
But don't worry if you're visiting in summer there is still plenty for you to try too! See the leaning tower of St.Moritz, relax in one of its countless spas, eat all the cheese you can stomach, try spotting celebrities, have a beach day at the lake, or hike the many mountain peaks that surround the town.
Being such a famous resort town, there are countless amazing hotels here, but Kulm Hotel is a great choice!
Recommended Tours:
St. Moritz: Bernina Express Red Train Tour
---
8. Stoos
This tiny village may only have a population of 100, but the views are among the most stunning in all of Switzerland.
Located about 45 minutes from Zurich or Lucerne, Stoos has the steepest funicular railway in the world that will bring you up Fronalpstock Mountain into the village. From there, you'll have panoramic views of the Alps and ten lakes. It's truly breathtaking!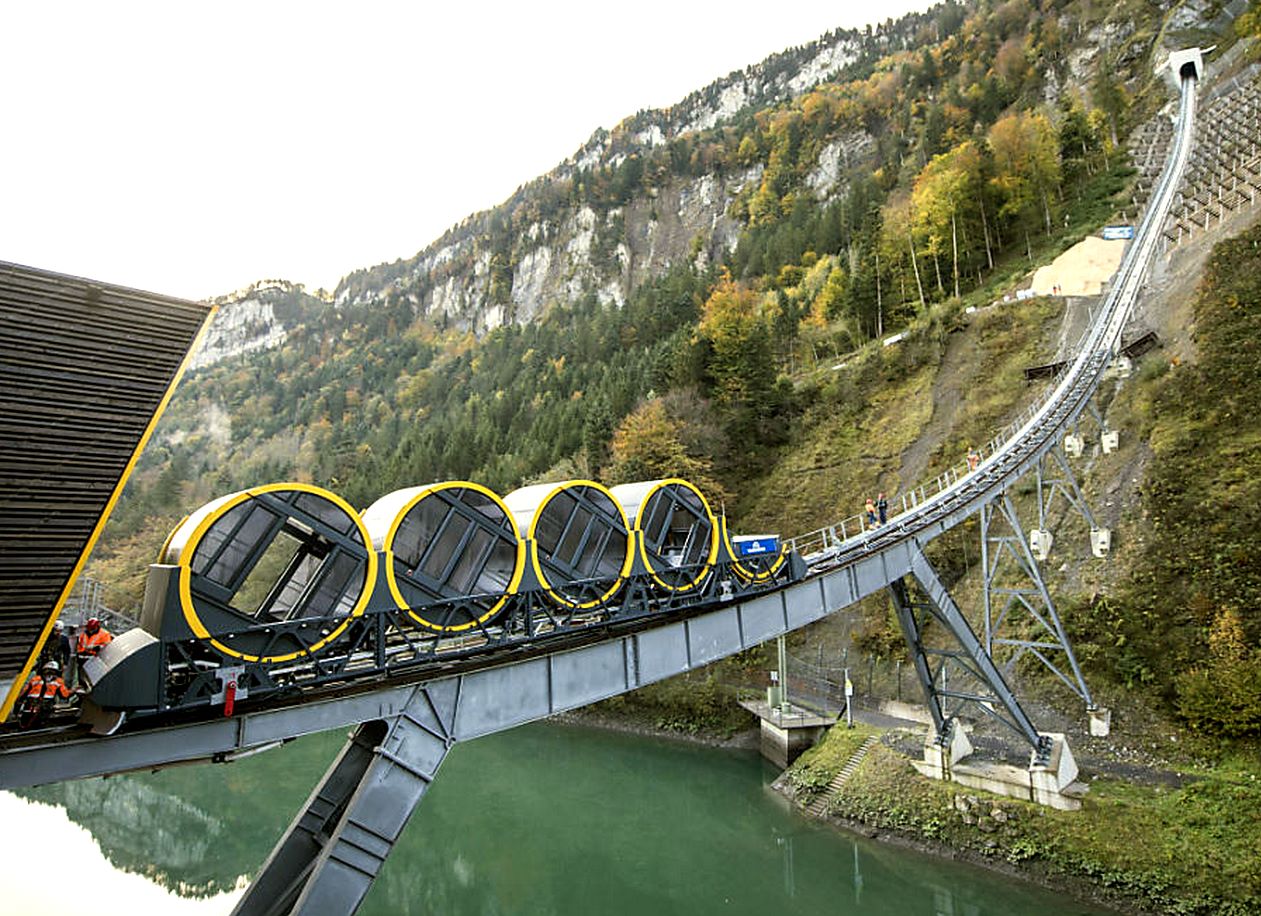 The most popular thing to do once in Stoos is complete the two-hour moderate to difficult hike, Stoos Ridge Hike. The ridge hike trail will take you between Klingenstock and Fronalpstock mountains and give you amazing views of the lakes in the area.
In the summer, the Alpine flowers along with the stunning views will leave you speechless. There aren't many places to stay here but Wellness Hotel Stoos is very lovely. And regardless of if you choose to spend a night here, this tiny village is definitely worth a day trip when in Switzerland!
---
9. Basel
Located along the Rhine River, this quintessential Swiss town makes for a quaint and relaxed holiday in a beautiful location.
Start your time in Basel by taking a stroll around the charming Old Town and make sure to see the Basel Minster Cathedral. Then, take a boat ride on the Rhine River or if it's a hot day, grab your swimsuit and go for a dip!
The public transit in the city makes it easy to navigate as you explore, and the beautiful train station has daily departures to nearby cities for day trips.
You could do this city in a day or two and stay at the beautiful Hotel Märthof Basel, or plan to spend more time here and go on a few day trips with Basel as your base.
With its location so close to Germany and France, there are many popular day trips from Basel including Lucerne and Geneva in Switzerland and Strasbourg and Colmar in France.
Recommended Tours:
Basel's Cheese, Chocolate, and Local Pastry Tasting Private Tour
City Tour in a Vintage Streetcar
Viator link above
10. Chur
This charming city in eastern Switzerland is a car-free city in the heart of the Alps. It's the oldest city in Switzerland and many have worked hard to preserve the rich history and architecture within the town.
This is a popular place to spend a night if you are traveling through Switzerland by train, either on the Glacier Express or Bernina Express. I recommend ABC Swiss Quality Hotel.
Stroll the streets of Old Town while admiring the mountain views in the distance, or take a walking tour through Chur to learn more about the rich history here.
There are many opportunities to explore the surrounding natural beauty including cable cars, hikes to beautiful viewpoints, or renting a bicycle to cycle through the picturesque area.
---
11. Sion
The town of Sion, Switzerland will make you feel like you are on a set of a medieval fairytale movie.
With the amazing 13th-century Tourbillon Castle set right between the Bernese and Pennine Alps, you'll constantly be in awe of the magic of Sion.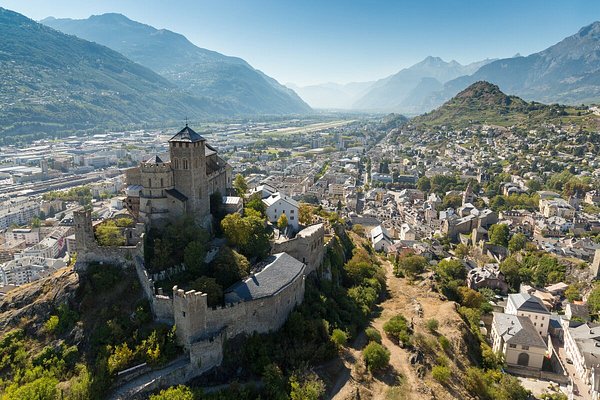 Other amazing architecture includes the Sorcerer's Tower, the Chapelle de Tous-Les-Saints, and the stunning Valere Basilica that sits on a hilltop near town.
Sion is known to be the town in Switzerland that gets the most days of sun per year, and April through October will be particularly beautiful with the bright green landscape surrounding you.
Plus, Sion makes for a great base to explore the Swiss or French wine regions in this area, so if you visit in the summer make sure to head to a vineyard! If you're here in the winter, though, there's a special magic to this town when you're surrounded by the snow-capped mountains.
If you're looking for a place to stay, have a look at Hôtel des Vignes