As the closest town to Rocky Mountain National Park, Estes Park is the perfect location to set up basecamp for an epic mountain adventure.
Surrounded by the peaks of these majestic mountains, the landscape alone makes Estes Park a world-renowned vacation destination.
With unique stays for all your friends or family – from rustic cabins to historic luxury hotels, there are dozens of different choices of quality accommodation that will check all the boxes on your mountain vacation checklist.
However, there are some places that stand out above the rest, so to save you some time, I compiled a list of the best of the best places to stay in Estes Park.
1. Woodlands on Fall River
Location: 1888 Fall River Road, Estes Park, CO 80517
Phone: (970) 586-0404
Stars: ★★★★★
Woodlands on Fall River is an excellent family-friendly mountain lodge that accommodates budgets of all sizes.
Located in the foothills of the Rocky Mountains, Woodlands supplies a unique blend of a luxury hotel and rustic cabins. With wonderful views overlooking Fall River, Woodlands on Fall River's scenery is only matched by its comfort.
The hotel is accented with woodsy décor, resulting in a cozy vibe with a calm ambiance. There are several accommodation options for your visit to Estes Park with one-bedroom suites as well as two-bedroom.
For a premium charge, you can upgrade to high-level, panoramic suites. Depending on the side of the hotel, you will enjoy views of either Castle Mountain or expansive views of the sparkling waters of the Fall River.
Woodlands on Fall River offers quick access to Rocky Mountain National Park and its 350 different hiking trails. After a long day of exploring, recover at the hotel with one of many incredible amenities. There are few better cold weather experiences than relaxing in a hot tub after exploring, followed by an evening by the fireplace.
2. Della Terra Mountain Chateau
Location: 3501 Fall River Road, Estes Park, CO 80517
Phone: (970) 586-2501
Stars: ★★★★
If you are planning a wedding or a family reunion, there is no better choice in Estes Park than Della Terra Mountain Chateau. This large, romantic resort offers a distinct experience of classical luxury.
Della Terra Mountain Chateau can accommodate parties of all sizes. With the choice of cabins, condos, or townhouses, each stay is unique from one another.
There are different themes for each room – all of which celebrate the Earth's seasons, elements, and skies, designed with cozy sitting nooks with large archway windows.
In addition to the luxurious décor, the chateau offers stunning amenities. Each suite has a fireplace, soaking tubs, jetted showers, and a hot tub on your own private balcony. The chateau also comes equipped with a spa, dry heat sauna, an espresso bar, a theatre, and a library.
The highlight of the Della Terra Mountain Chateau is the extraordinary reception hall. The rustic woodsy hall is illuminated with a romantic atmosphere of warmth. With tall, arched windows, the room offers breathtaking views of the Rocky Mountains while enjoying your celebrated event.
3. Estes Park Resort
Location: 1700 Big Thompson Avenue, Estes Park, CO 80517
Phone: (970) 577-6400
Stars: ★★★★
Estes Park Resort is the perfect getaway opportunity for families who would like to experience the posh amenities of a luxury hotel, without breaking the bank. This hotel is a resort with plenty of amenities for a traveler who values that precious relaxation time.
Estes Park Resort is one of the newest additions to Estes Park's lodging options. This resort offers a relaxed dining experience at the Waterfront Grill. If you prefer fine dining, be sure to stop by Dunraven for Italian fare, steaks, and seafood.
A major draw to the Estes Park resort is the incredible scenery surrounding it. While some hotels have great creek-side views, Estes Park Resort is on the shores of stunning Lake Estes. From your room, you will have panoramic views of the lake as well as the Rocky Mountains as your backdrop.
In addition to being an incredible lakeside location, Estes Park Resort is also within walking distance of Estes Park's lively downtown. Discover Estes Park by strolling down Riverwalk – exploring the town's many eateries and shops.
4. The Stanley Hotel
Location: 333 East Wonderview Avenue, Estes Park, CO 80517
Phone: (970) 586-3371
Stars: ★★★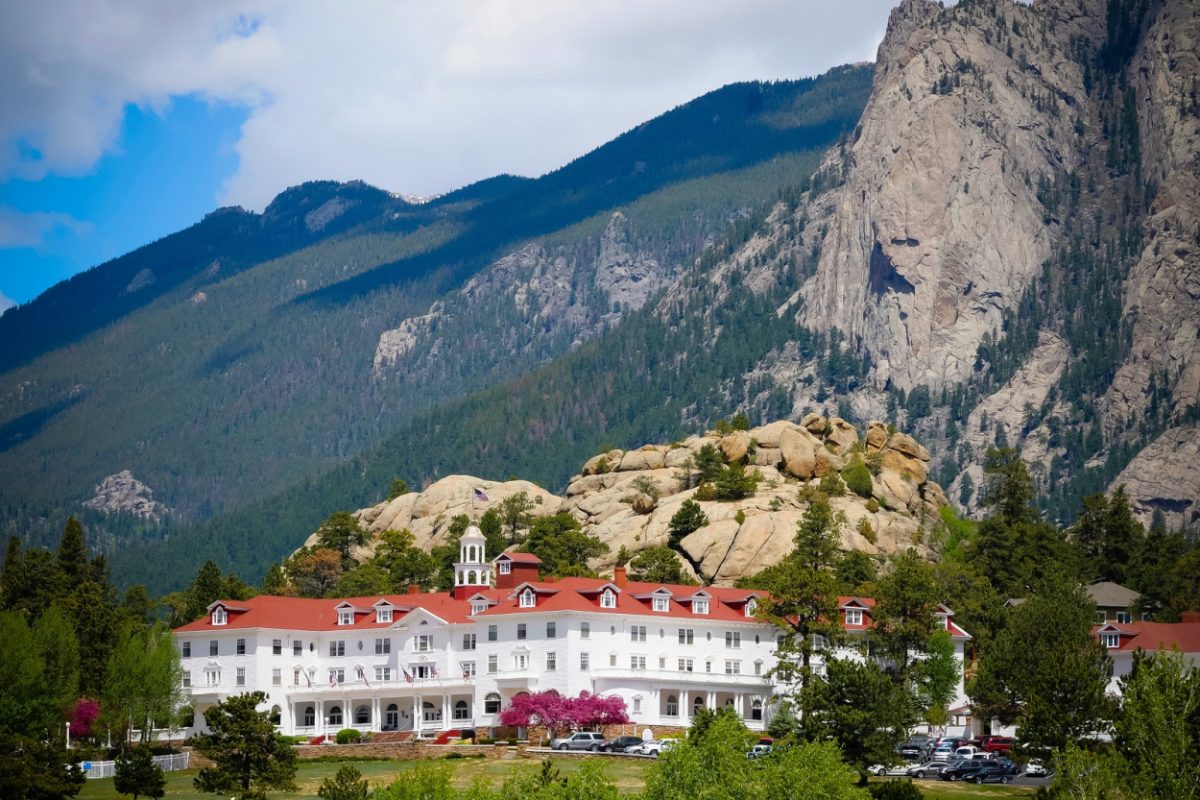 The legendary Stanley Hotel has been an iconic mountain centerpiece since 1903. Renovations have been completed over a number of years and the rooms have been restored to their original grandeur, offering more than 14,000 square feet of luxury rooms and sophisticated event spaces.
For film fans, the Stanley Hotel should look very familiar. In the 1970s, the hotel was a shell of its former self. Due to a lack of care, the Stanley Hotel was a dilapidated mess. That was until the fortuitous visit by a young Stephen King. After just one night, Stephen King found the inspiration for his first major landmark novel – The Shining.
Since the hotel's portrayal in the novel, the rumors of a haunted hotel in the Rocky Mountains brought an influx of tourism to Estes Park and most notably – The Stanley Hotel.
Today, this hotel is the standard bearer for ultimate luxury. Within its historic walls are opportunities for luxurious spa treatments and incredible culinary experiences.
Here's Johnny! Fans of The Shining, be sure to take one of the hotel's daily tours that highlight both the glory days of the historic structure as well as its Hollywood history.
For adults, check out Stanley Hotel's Cascades Whiskey Bar & Lounge. Enjoy an Old Fashioned and let the hotel's history speak to you as it once did Jack Torrance.
5. The Landing at Estes Park
Location: 1774 CO-66, Estes Park, CO 80517
Phone: (970) 820-0118
Stars: ★★★
The Landing at Estes Park is the perfect combination of luxury and authenticity. Hidden away downriver from historic downtown Estes Park, The Landing is the ultimate mountain escape.
The property offers delightful villas and cabins with fireplaces overlooking the cascading river. Each room has a balcony with natural privacy – ideal for taking in the calming sounds of the river, which the cabins or villas are waterfront, with a full-sized kitchen or kitchenette and satellite television.
While The Landing is great for a weekend visit, it is also a prized location for weddings and events. The intimate setting of the lodge is the ideal meeting place for friends and family. With the calm river and the Rocky Mountains as your background, The Landing at Estes Park is the definitive wedding photo destination.
6. Historic Crags Lodge
Location: 300 Riverside Drive, Estes Park, CO 80517
Phone: (970) 586-6066
Stars: ★★★
Next, we have the Historic Crags Lodge – the outdoor adventurer's hidden treasure in the foothills of the Rocky Mountains. This classic lodge was established over 100 years ago in 1917 and to this day is a popular place for hikers, anglers, and explorers.
The lodge is understated, but over-delivers. Tucked away along the north side of Prospect Mountain, the Historic Crags Lodge is a cozy hideaway encased in a dense green forest.
Inside, the lodge is crafted with a rustic décor with classic wood furnishings. On the property is a community hot tub and pool in a charming mountain setting.
Located about three miles from downtown Estes Park, the lodge is far enough from town to give outdoor enthusiasts a naturally beautiful place to lay their heads with close access to Estes Park's many outdoor activities and hiking trails.
7. The Evergreens on Fall River
Location: 1500 Fish Hatchery Road, Estes Park, CO 80517
Phone: (970) 577-9786
Stars: ★★★
The Evergreens on Fall River is very similar to Woodlands on Fall River – but more upscale. Advertised as a cabin retreat, Evergreens of Fall River is a woodland escape with incredibly luxurious amenities.
Tucked away into the foothills of the Rocky Mountains, this popular resort is surrounded by 300-year-old pines. This beautifully shaded property creates an aromatic atmosphere from the lush pines and clean mountain air.
Where this resort stands above the rest are the personal amenities and accommodations. While this beautiful lodge is fit for families, a visit to Evergreens of Fall River is best enjoyed by couples for a romantic retreat.
You can choose from one-bedroom and two-bedroom cabins – all of which offer overlooking views of Fall River. In the premium suites, not only do you get a living room fireplace and your own private balcony, but you will also have access to your very own private hot tub overlooking the river.
Don't have a premium suite? No sweat. There is a beautiful picnic area with a community hot tub for all to enjoy.
8. Seven Keys Lodge
Location: 4900 South Highway 7, Estes Park, CO 80517
Phone: (970) 586-5397
Stars: ★★
The Seven Keys Lodge (formerly The Baldpate Inn) is a beautifully rustic, yet luxurious mountain retreat with both history and leisure. Open seasonally from Memorial Day to Mid-October, this early 20th-century resort blends the past and the present of Estes Park.
Seven Keys Lodge got its namesake from its rare collection of keys in its renowned Key Museum. In this museum, there is a growing collection of over 30,000 keys from around the world. Some of these keys are extremely unique and rare – including the key to Mozart's wine cellar and the former keys to Westminster Abbey in London.
After a long restoration process concluded in 2021, the Seven Keys Lodge has remained a centerpiece of Estes Park's rich history since 1917. New to the world-renowned Key Room is the addition of the 'Seven Keys Tasting Room' – a lavish coffee and cocktail bar found in the center of the historic room.
There are a variety of lodging options depending on your tastes. You can choose to stay in Seven Keys Lodge's many luxurious hotel rooms or under the roof of one of the lodge's stunningly rustic wood cabins.
9. YMCA of the Rockies
Location: 2515 Tunnel Road, Estes Park, CO 80511
Phone: (970) 586-3341
Stars: ★★
After exploring many hotels with grandeur and history, a visit to the YMCA of the Rockies may seem out of place here. But let's be honest, not everyone can afford or desires to stay in lavish resorts. At the YMCA of the Rockies, you can enjoy an affordable stay with many family-friendly activities at your fingertips.
Whether you are traveling with children or young adults, there is plenty of nature-based fun for all ages. Sign up for a number of group excursions, including but not limited to archery, sports, fishing, snowshoeing, and camping.
The lodge at the YMCA offers comfortable, yet affordable accommodations. Spend the day exploring the hidden corners of the park before returning to recover. For a unique experience, swap stories and share dinner at the lodge with other adventuring families. If done right, a visit to the YMCA of the Rockies will bring your family and friends memories for a lifetime.
10. Rustic River Cabins
Location: 2550 Big Thompson Canyon Road, Drake, CO 80515
Phone: (970) 586-8493
Stars: ★
If you are looking for an authentic Rocky Mountain experience, be sure to check out Rustic River Cabins. Built in the mid-1940s, Rustic River Cabins is remote, far enough outside of town to escape from beautiful, yet touristy Estes Park.
The drive to the cabins is especially beautiful – a four-mile drive through Big Thompson Canyon.
These rustic cabins are no frills but have all the necessary amenities to enjoy a mountain retreat. The property covers about 16 acres but there are only 7 cabins – plenty of open land for guests to enjoy their privacy in nature.
These modern cabins come equipped with a flat-screen TV with satellite service, free Wi-Fi, and a microwave. Five of the seven cabins come equipped with a private hot tub, although there is also a community hot tub for all guests to enjoy.
The remote nature of the property also brings on the possibility of seeing the local wildlife in action. Try to be camp-conscious and keep all food stored away to avoid any unwanted animal encounters.