What to eat in Paris and where to eat it? French cuisine is known and renowned worldwide, so naturally visitors don't want to fall for any tourist trap restaurants.
I've spent extensive time in Paris and visited many times over the years and even studied and lived in Paris. Naturally, I got to eat and while I still haven't found the best place for every fish as many restaurants are unique, there are surely certain products and dishes that you should try when visiting Paris.
What to Eat in Paris
1. Baguettes, croissants and other breads
Bread is one food that you cannot and should not miss in Paris. Most boulangeries in Paris are within walking distance of each other. And why not? French bread is heavenly.
The smells that waft out in the area of a boulangerie are tantalizing, to say the least. Baking bread is an art, and the French have mastered it really well. From the humble baguette to the exquisitely shaped croissants, no bread will leave you longing for more like these.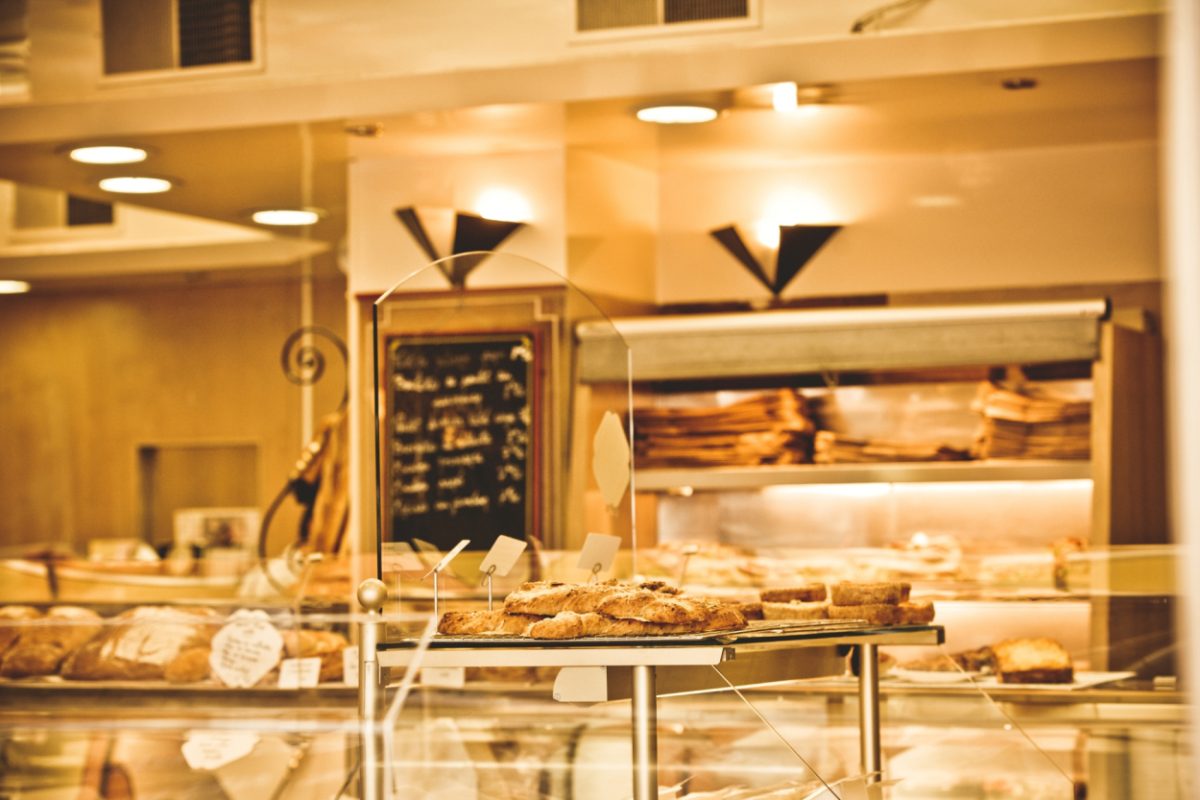 Where to buy bread:
Find the chewiest and crustiest baugettes at Maison Landemaine on Rue du Poteau, Maison Julien Les Sauveurs on Rue Pierre Demours, brioche at Farine&O, or stand in line for a pain de mie at Mamiche on Rue Condorcet. Croissants from Maison d'Isabelle Leday on Boulevard Saint-Germain, Maison Pichard on Rue Cambronne and Maison Lendemaine on Rue des Martyrs cannot be missed.
2. Cheese
In France, cheese is eaten with all meals, be it breakfast, lunch, or dinner. Plus, it's so affordable, you could save money by living on a diet of only cheese and baguettes on your Parisian trip.
Some of the best cheese you'll find on the planet is made in France. From soft creamy cheese to hard-aged cheese, you can't go wrong with French cheese.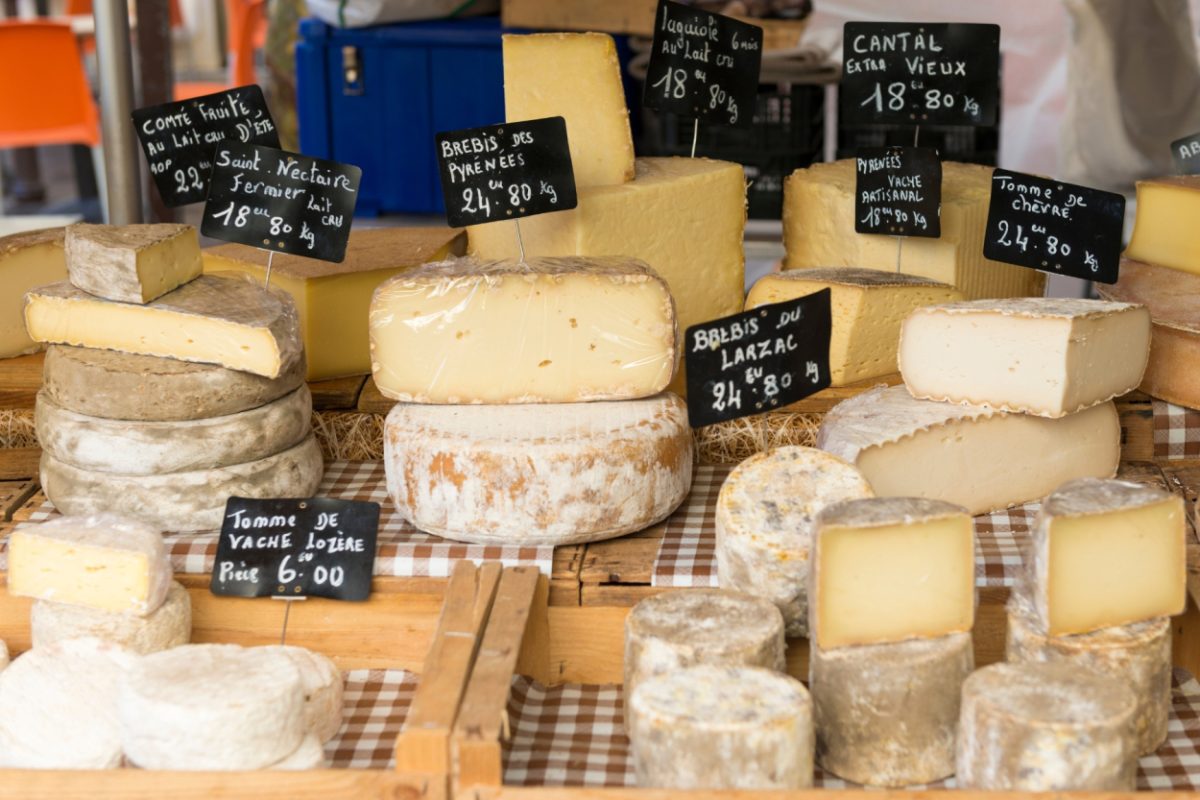 Where to buy cheese:
Every fromagerie in Paris sells perfect cheese, but you will want to try some from Le Ferme Saint-Aubin on Ile st. Louis, La Fermette on Rue Montorgueil, La Fromagerie on Rue Cler or Fromagerie Jounnault on Rue de Bretagne.
3. Macarons
Colorful and pretty, these French cookies made of almond flour and meringue are sandwiched together with a ganache or buttercream. Macarons are quintessentially French and a must-try in Paris. They're also a 'must carry home in many boxes' type of food.
Traditionally gluten-free, they're available in all sorts of colors and flavors. Make sure you take a pastry tour in Paris to learn about the best Parisian desserts. And take your love of French macarons home with you by joining a cooking class at Les Secrets Gourmand de Noémie or the infamous Galeries Lafayette.
Where to buy macarons:
While every French macaron is delicious, the ones from Maison Ladurée are the most sought-after. They have three stores in Paris on Rue Royale, Avenue des Champs-Elysées and Beaugrenelle.
4. Crepes
Originating in Brittany, crepes can be described as an ultra-thin pancake. You'll find them served for all meals, and in many versions – plain, with toppings, fried, flambeed, turned into a roll, and more.
Sweet or savory, have them with cheese or jam, Nutella or ham, eggs and mushrooms, and other combinations. In Paris, you can buy them to-go from street vendors or eat them in a cozy cafe.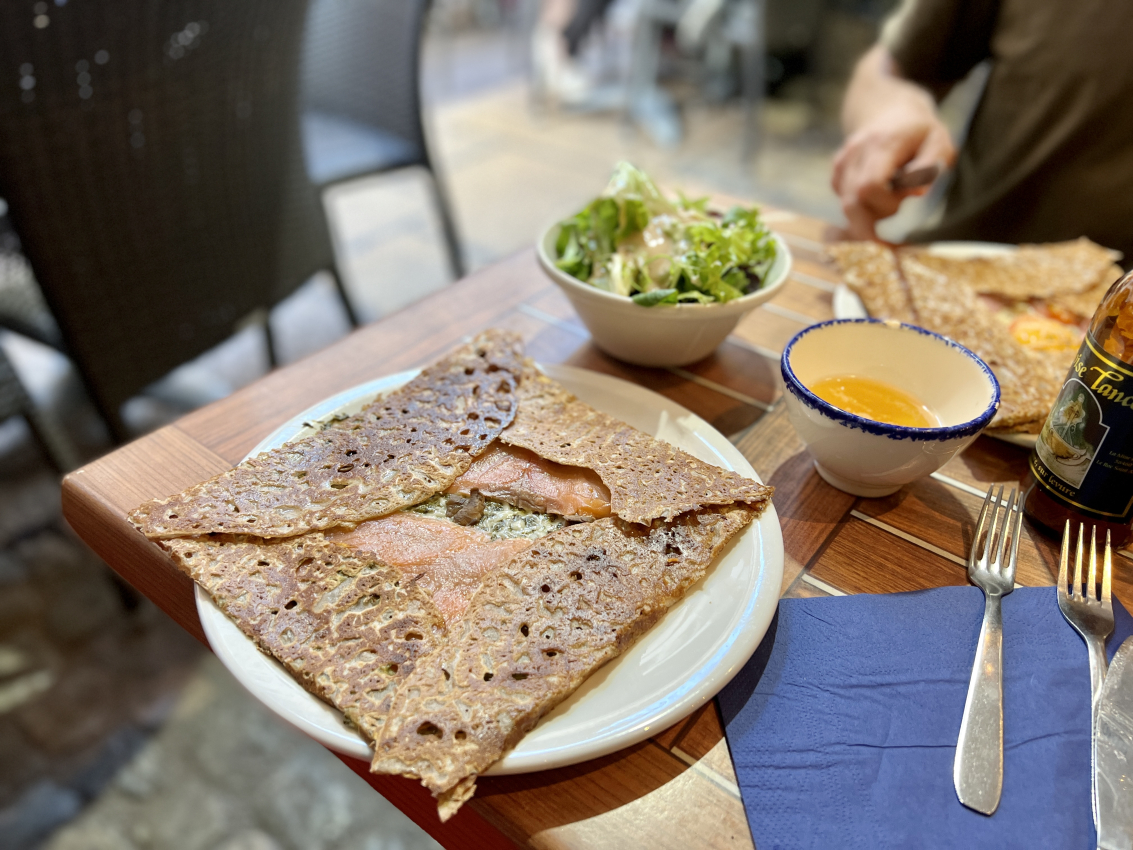 Where to taste crepes:
Breizh Cafe in Le Marais or Bretons on Avenue de la Republique make the most amazing crepes!
5. Croque Monsieur
Another grab-and-go favorite in Paris is the Croque Monsieur. A simple and hearty sandwich, it consists of a buttered baguette simply filled with cheese and ham, and topped with melted cheese.
When it's topped with a fried egg, it's called a croque madame. The veggie version made with cheese, cucumber and lettuce is called a croque-mademoiselle.
Where to buy croque monsieur:
You'll find addictive croque monsieurs at The French Bastards on Rue Oberkampf, Chez Aline on Rue de la Roquette, or at Le Petit Cler on Rue Cler.
6. Escargot
When you think of fancy food, snails don't exactly come to mind, but they are a delicacy in France. Served at brasseries and bistros across Paris, escargot is a pricey case of simple snails drenched in butter and garlic sauce and served with a side of bread.
Surprisingly delicious, they're a favorite of locals and tourists alike.
Where to eat Escargot:
The Michelin-starred Benoit on Rue Saint Martin is the best place to enjoy escargot. Other popular places include L'eEscargot Montorgueil on Rue Montorgueil and Allard on Rue Saint-André des Arts.
7. Onion Soup
Soupe à l'oignon or onion soup is as comforting as it gets. Made with real beef broth, onions, French bread, and oodles of cheese, onion soup is the perfect dish for cool evenings in Paris.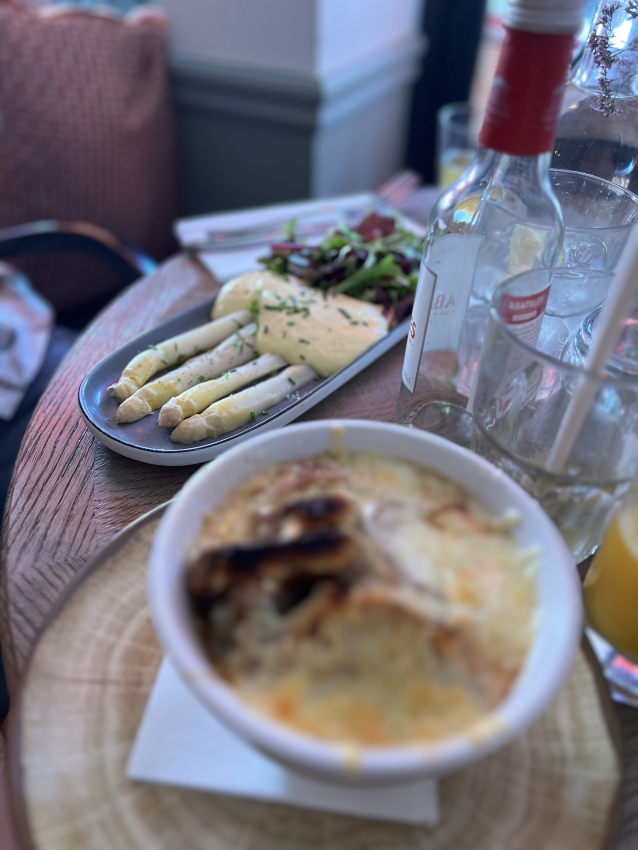 Where to eat the best onion soups:
La Jacobine on Rue Saint-André des Arts, Au Pied de Cochon on Rue Coquilliere, and Les Philosophes on Rue Vielle du Temple will give you the tastiest onion soup.
8. Frog Legs
Tasting just like chicken, frog legs are a delicacy you must try in France. Served in bouillons and fancy restaurants, they're usually breaded and fried; and served with a buttery garlic sauce or parsley sauce.
Where to eat the tastiest frog legs:
Au Moulin A Vent on Rue des Fosses Saint Bernard, Le Square Trousseau on Rue Antoine Vollon and Le Grand Colbert on Rue Vivienne.
9. Steak Tartare
Made with raw beef, and sometimes with raw horsemeat, steak tartare is a popular appetizer in France. The dish is made by mixing the raw meat with and egg yolk, onions, capers, Tabasco sauce, and other ingredients.
Served with sauces such as tartare and a side of bread, it's a love-it-or-leave-it dish.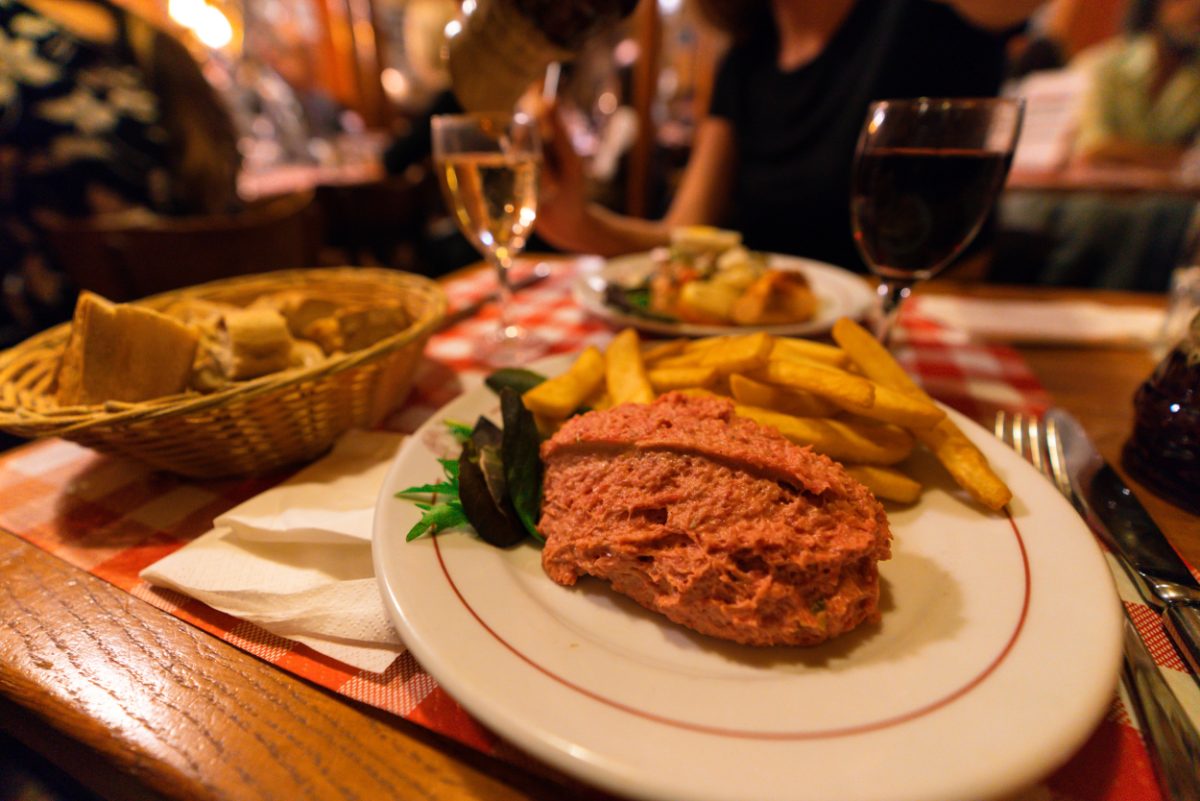 Where to eat steak tartare:
La Bourse et la Vie on Rue Vivienne, Bistro Paul Bert on Rue Paul Bert, Le Severo on Rue des Plantes, and Les Fines Gueles on Rue Croix des Petits Champs are just some of the establishments offering special takes on the steak tartare.
10. Huitres
Huîtres are oysters or bivalve mollusks caught in salt water and popularly eaten fresh in France. Usually preserved on ice, they can be opened right in front of you. You then sprinkle with lime juice and salt and consume. Some people add Tabasco sauce to camouflage the taste.
If you're not a fan of raw oysters, eat some oysters in butter garlic sauce. They're more than tasty!
Where to eat Oysters:
Find delicious oysters at Au Cancale de Rocher on Rue Montorgueil, Huitrerie Regis on Rue Montfacon, and Le Mary Celeste on Rue Commines.
---
Where to Eat in Paris
1. Restaurants
There are so many amazing restaurants in Paris that it's difficult to choose just a few to try on your Parisian trip. Here are a few things you can keep in mind when picking a place to eat. If the menu's in English, it might be a for-tourists-restaurant.
Try to eat at a restaurant that has the menu in French. That way, you'll know that locals eat here too. Apart from those mentioned earlier, here are just a few of the French restaurants to add to your Paris bucket list.
Sacree Fleur on Rue de Clignancourt in Montmarte
Les Papilles on Rue Gay-Lussac
Le Train Bleu in Paris Gare de Lyon (Doublon), Pl. Louis-Armand Hall 1
Le Baron Rouge, 1 Rue Théophile Roussel
Epicure, 61 Rue La Boétie
Le Cinq, 31 Av. George V
Pierre Gagnaire, Rue Balzac
L'Arpege, Rue du Varenne
Les Deux Magots at 6 Pl. Saint-Germain des Prés
2. Brasseries
Large ornate dining halls that are brightly lit and full of splendor, the brasseries emerged during the 1870s when Alsace was annexed by Germany. The Alsatians fled to Paris and took their traditions with them. This included drinking beer and eating in large noisy bistros. These bistros called brasseries still exist.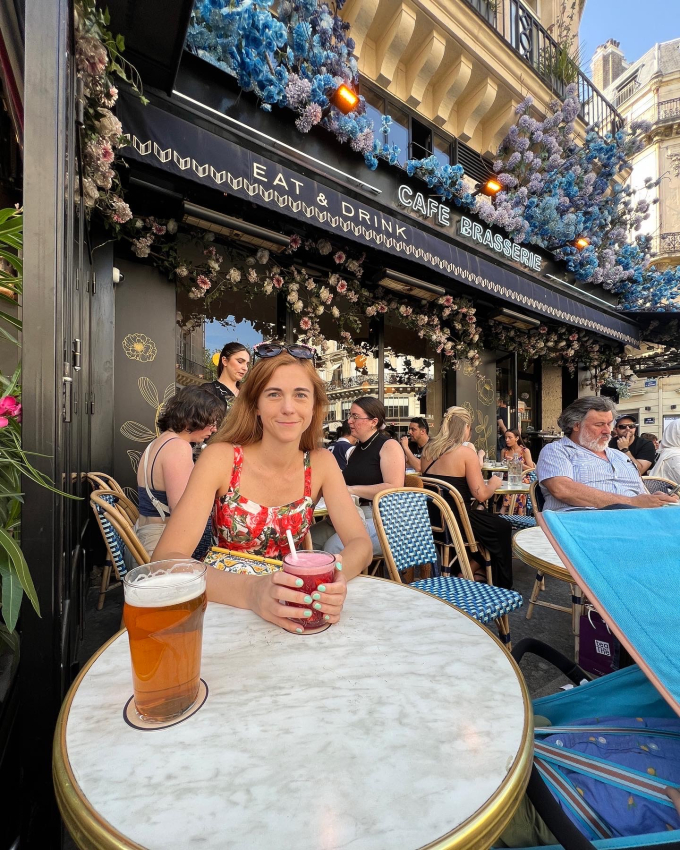 Some of the most popular include:
Brasserie Bofinger that was established in 1864 in the Marais
Chez Jenny, the wine and beer bar established in 1932 on 39 Boulevard du Temple
Brasserie Floderer, an Art Nouveau brasserie from 1918 at 7 Cour des Petites Ecuries
Brasserie Balzar, established in 1886 at 49 Rue des Ecoles
3. Bistro
Bistros are small intimate places that are a bit more personal and less polished than restaurants. More of the real French bistros have tiny tables arranged end to end, with you almost touching elbows with the person at the next table. But, don't go by the size of the place. The food is as exceptional as Michelin-starred restaurants.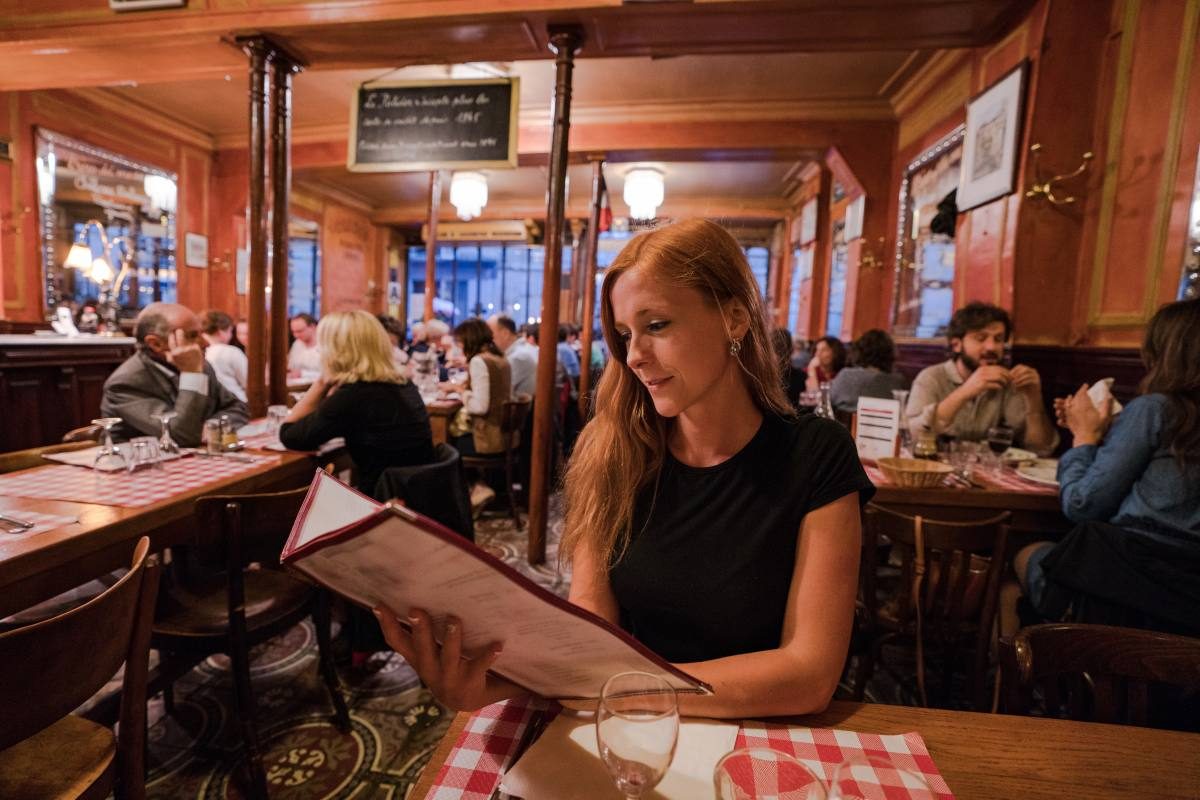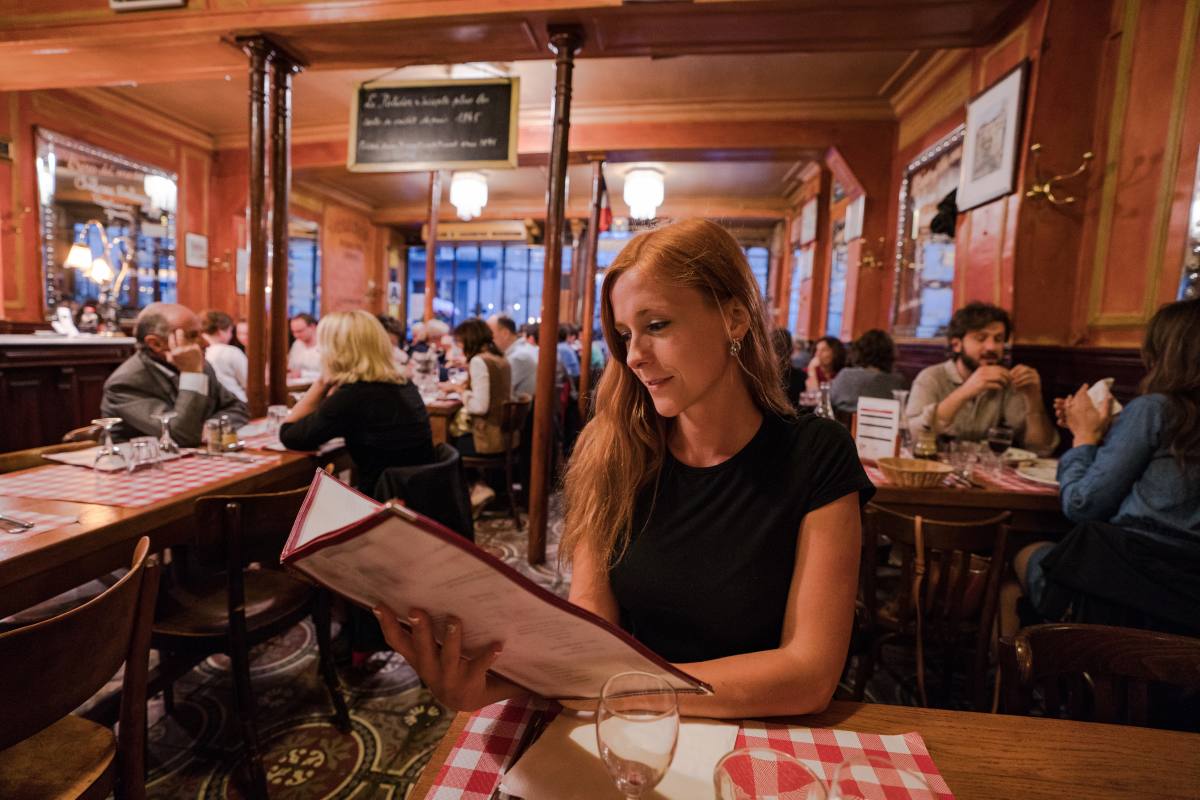 Make sure you visit these:
Polidor
Chez Georges at 11, Rue des Canettes
Le Griffonier, at 8 Rue des Saussaies
Le Cornichon, at 34, Rue Gassendi
Chez Casimir at 6 Rue de Belzunce
There are so many more amazing bistros in Paris. Just walk around and take your pick.
4. Bouillons
Bouillons are sort of like brasseries, but more suited to budget diners. Originating in the mid-19th century, they're where the working class would gather after work to eat affordable meals.
Le Bouillon Julien at 16, rue du Faubourg Saint-Denisis where Edith Piaf loved to eat. Le Bouillon Racine at 3 Rue Racine, Bouillon 47 at 47 Rue Marguerite de Rochechouart, Le Bouillon Chartier at 7 rue du Faubourg Montmartre are also worth visiting.
5. Street Food & Markets
Street food anywhere in Paris is mouth-watering. Whether you're buying crepes to go or chocolates and croissants, Parisian markets won't fail to satisfy.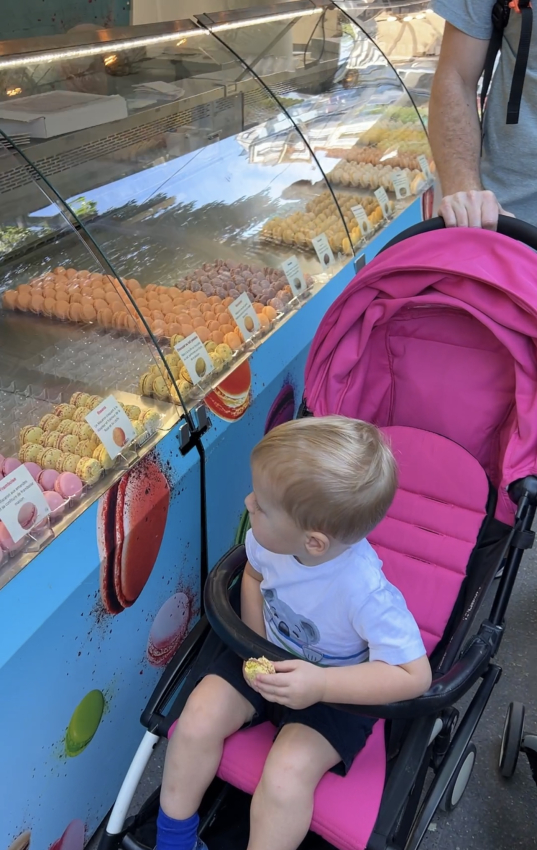 Visit Rue Saint Antoine, Rue de Levis, Rue des Martyrs, Rue Cler, Marché d'Aligre, and if you visit in Spring visit the Bac Sucre food festival on Rue du Bac.
6. Cafes
With iconic Paris cafes everywhere you look, you'll be spoiled for choice about where to enjoy your morning coffee and croissant. Many of these quaint charming cafes are instagram-worthy too!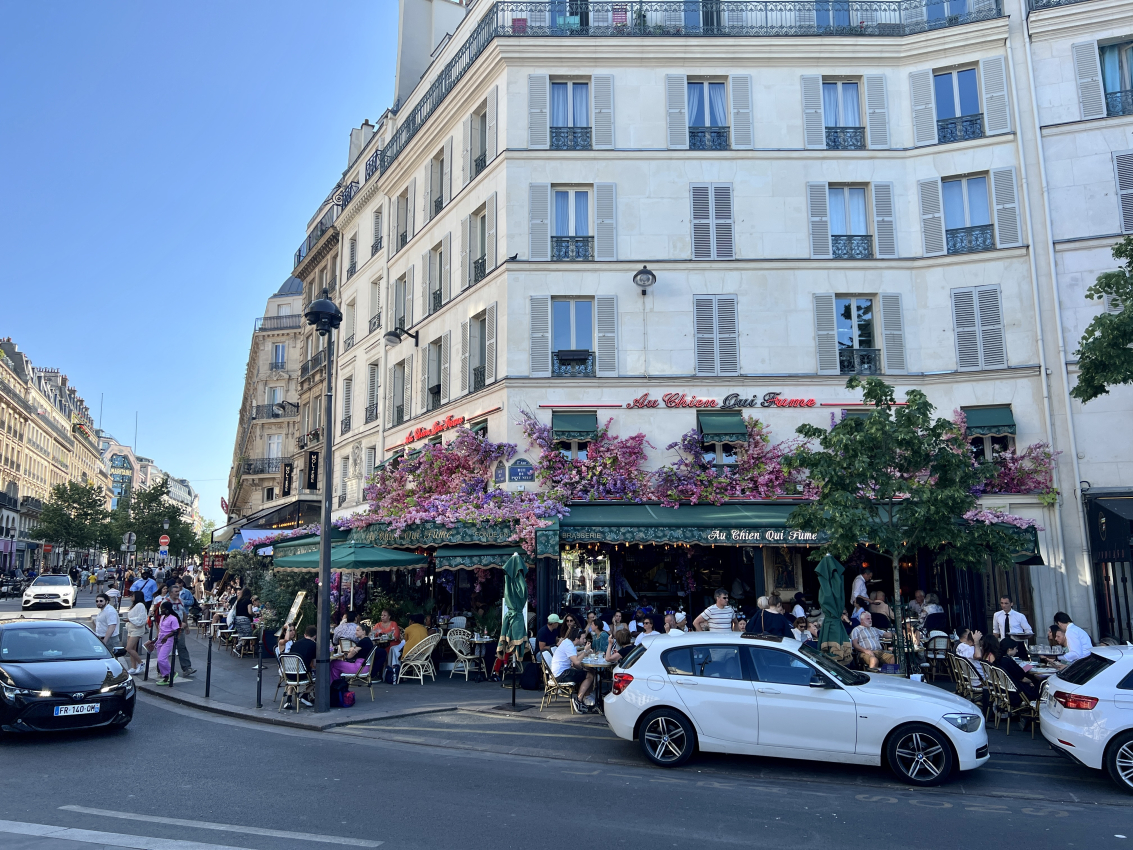 Make sure you visit Cafe de Flore at 172 Bd Saint-Germain, La Caféothèque de Paris on Rue de l'Hôtel de ville, La Brûlerie de Jourdain on Rue de Belleville, La Fontaine de Belleville at 31-33, Rue Juliette Dodu, Odette at 77 Rue Galande, and Le Petit Moulin at 17 Rue Tholozé.
There are many more modern and historic cafes and restaurants to visit in Paris. You could spend months there and not have enough time to visit them all. But I hope I've whetted your appetite for food in Paris.
Which place on this list are you visiting first and what will you have there?