'What do you do with your cat when you travel?' has become the most common question asked on my Instagram. If you want to take holidays but have a cat, don't worry – there are many options.
You'll be happy to hear that traveling with a cat is not as dreadful as you may think, as long as you're prepared. Some cats, like mine, love to travel, but when I go on a busy work project or when place isn't cat-friend I prefer to leave him at home.
Once you have a cat when you need to travel, you basically have four options:
Take Your Cat With You (Travel with Your Cat)
Book a Cat Hotel for Your Cat
Use Rover App
Get a house sitter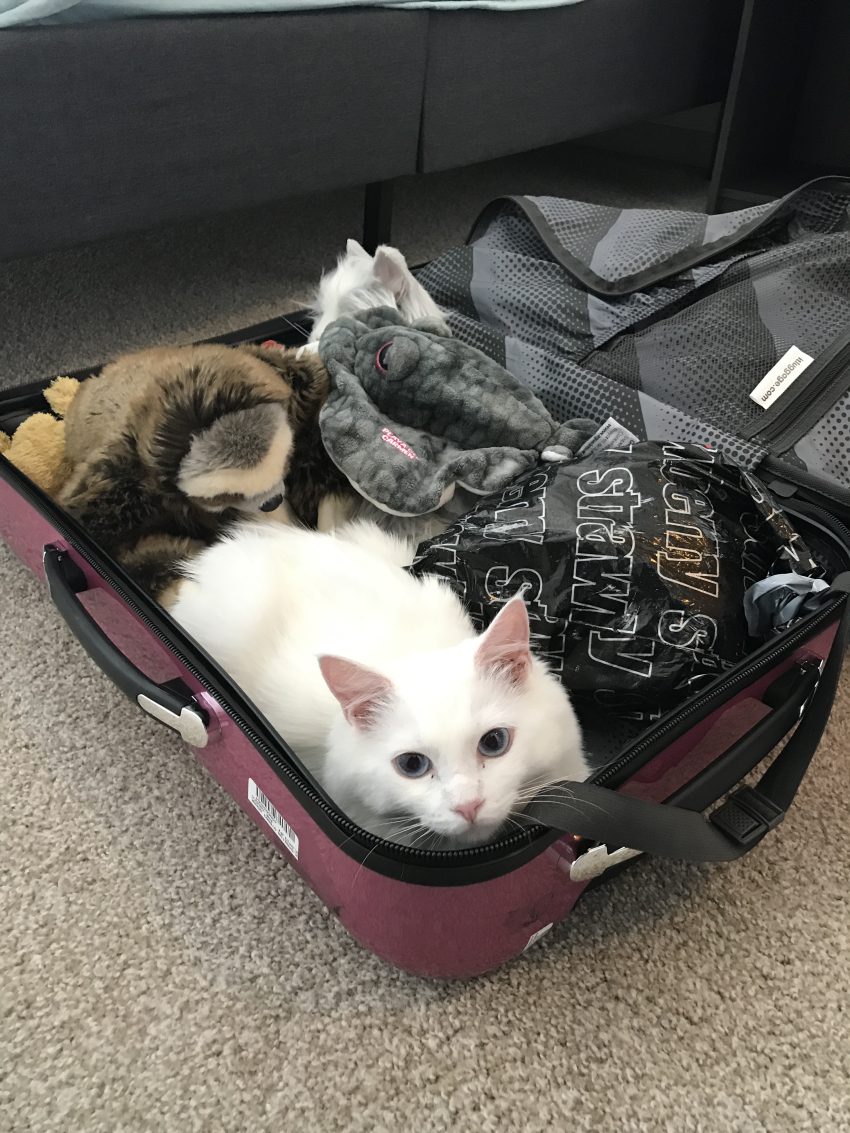 ---
Decide Where the Cat Will Stay
If you don't want your cat to stay at home alone while you are away, the first thing you need to decide is what to do with your cat when you travel.
You have a few different options for this so let's go through each one by one to help you decide.
Cat Hotel
If you want to guarantee that your cat will have the best treatment possible while being cared for by professionals, checking them into a cat hotel can be a great idea.
While cat hotels can provide spacious cat quarters, plenty of exercise, and round-the-clock supervision, it's important to make sure your cat won't be too stressed out by a new environment before deciding on this option.
If your cat was a rescue or shows any signs of separation anxiety when you leave the house, they may be more comfortable staying at home in an environment that is familiar to them.
However, if your cat is happy to be moved around, staying at a hat hotel means they will have access to the best treatment in a timely manner should something unfortunate occur while you're gone.
Make sure to do your research when choosing a boarding house, some accept both cats and dogs and others specialize in one, providing more space and a relaxed, dedicated environment for your fluffy friend.
Pros
Cons
– Supervised 100% of the time by professionals
– Plenty of space for exercise
– New environment could be stressful
– Boarding house may also have dogs
– Expensive
---
Housesitters
Hiring a housesitter is another good choice if you want the assurance of having full supervision for your cat without needing to take them to a new environment.
Housesitters typically stay in your house full time while you are away so they can take over your role as cat mum or dad for this time. This allows your cat to retain its own routine without too much stress-inducing change.
Another benefit of hiring a cat sitter is that you can usually ask them to water your plants or do other small house tasks during their stay!
Some houseitters will look after your pets for free in exchange for the accommodation while others will ask for payment on top of their stay. Just remember to set clear expectations and boundaries with any potential pet sitter before you agree on the stay.
Pros
Cons
– Cat gets to stay in its home environment
– Same amount of attention and supervision as if you were home
– Can be cheap cost or even free
– Must trust someone in your home
– A cat sitter may not have the same standard of care as you
---
Rover App
If you don't want to send your cat off to a boarding house while you're gone but also don't feel comfortable with someone living in your house, using the Rover App to find a cat minder is a great compromise.
The rover app connects you with like-minded animal lovers in your area who you can pay to make drop-in visits to check on your cat while you're away.
Your cat sitter will check on your cat's food, water, and litter box, clean anything that has been soiled, and top up food when required. They'll also typically spend some time playing with your cat to give them the daily attention they deserve.
Pros
Cons
– Don't have to provide accommodation for your cat sitter
– Very affordable option
– Cat gets to keep his comfortable surroundings and routine
– Still need to trust someone with keys to your house
– Not supervised around the clock
---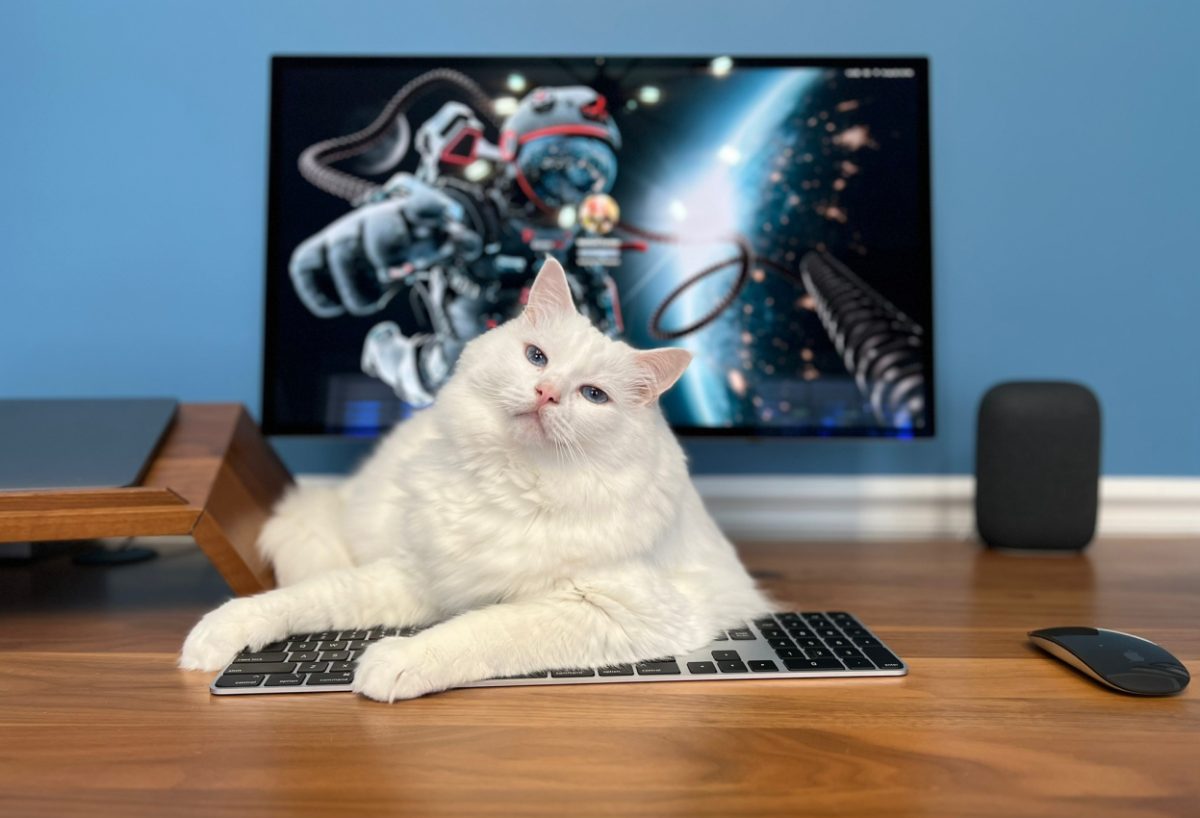 ---
If the Cat is Staying Home Alone
Whether you decide to leave your cat at home alone for a weekend getaway or you have hired someone to check in on them while you're away, there are a few things you should do to prepare your cat for your trip.
If it's your first time leaving your cat home alone, it's a good idea to introduce each of the following things a few weeks in advance so your cat has the chance to get used to them all while you are still around.
Get Automatic Feeder
You may be tempted to simply leave out a large bowl of food and water if you're leaving for a short trip, but this can not only encourage overeating but also risks your cat being left without water should they knock it over on day one.
Automatic cat food dispensers can be programmed to release a certain amount of food at given intervals that you choose. Some of them even let you record an audio note for your pets so they can be comforted by the sound of your voice while you're gone!
As I mentioned before, it's also important to have a fresh source of water for your cat while you're gone. This water fountain can hold up to 95 oz of water and is constantly flowing, circulating the water through a 4-stage filtration system in the holding tank.
Get a Self-Cleaning Litter Box
If you have a cat yourself I'm sure by now you will know just how messing their litter box can become, even within a short period of time.
Getting a self-cleaning litter box is not only going to allow your furry friend to have a fresh place to do their business while you're away but also save you from having to do the not-so-fun job of cleaning it when you're home!
Many of these litter boxes even connect to an app on your phone so you can check in on your cat's movements should you be concerned.
Buy Self-Playing Cat Toys
Lastly, to keep your cat engaged and entertained while you are unable to play with them, it's a good idea to get them some self-play cat toys.
There is a huge range of these toys available online so you can easily find something that is similar to your current favorite or try something new with a more sophisticated option.
There is a vast range of complexities of toys too, ranging from this simple hanging mouse toy to interactive lasers and electric balls.