Each town on South African Garden Route offers a lot for tourists and it's hard to choose the best one. However, there is only one town where you can find the world largest birds: ostriches. Sounds strange? It's the world's largest population of ostriches in Oudtshoorn. This is why it became my absolute favorite stop on a Garden Route!
There is no way you can miss the ostriches in Oudtshoorn, because they are running around everywhere on their huge farms throughout and around town. Entering Oudtshoorn I felt like getting into their kingdom.
Visit Ostriches in Oudtshoorn!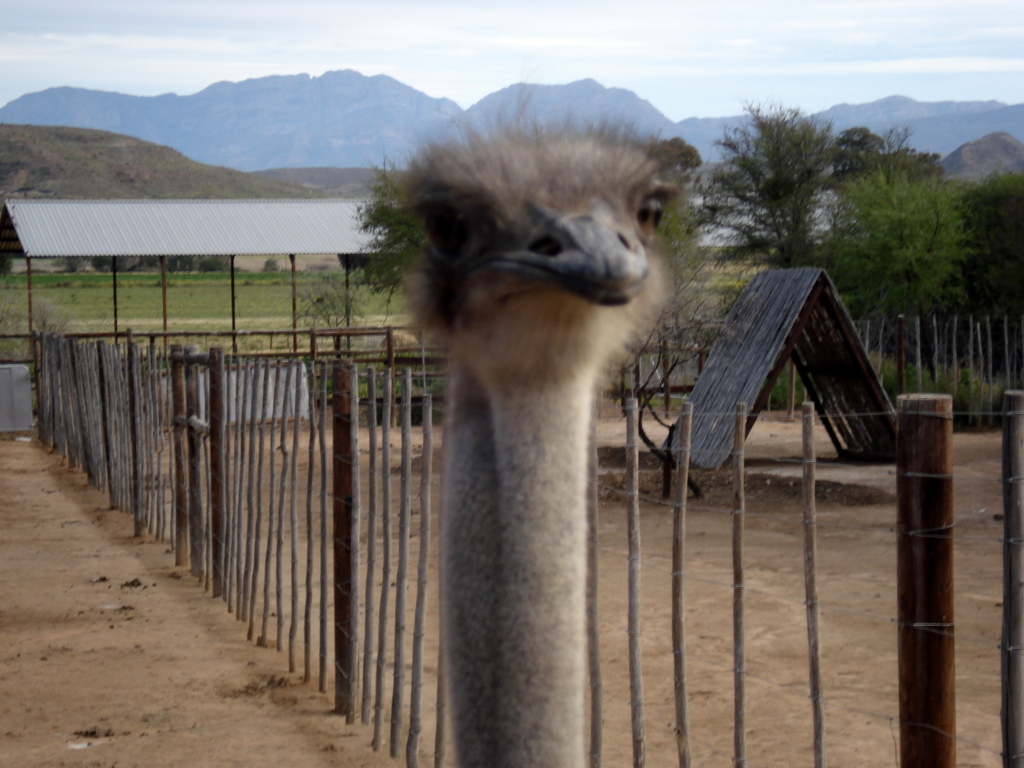 ---
Accommodation in Oudtshoorn
Accommodation in Oudtshoorn is truly amazing and affordable. I stayed in a simple hostel (if you can even call it a hostel when we had a private room) for just $12 per person. In the morning I was served some tasty scrambled ostrich egg to my table outside, surrounded by some amazing mountains. Obviously not even one egg, because one ostrich egg can feed up to 12 people!
Talking about food the ostrich delights don't finish after breakfast. Every restaurant I went to served ostrich meat, as steaks, burgers, meatballs and many other variations. However it doesn't only taste good, it's a great option for red meat lovers since ostrich hasway less fat, cholesterol and calories than beef.
My favorite is still ostrich fillet from a braai, a South African version of a barbecue, finished with a glass of local wine. I can eat ostriches forever!
Recommended hotels & hostels:
---
Ostrich farms
In the early afternoon I went to check out some of the ostrich farms. People often asked me, what can you do on ostrich farms? The tour around the farm started by showing us many different types of ostriches and teaching us fun facts about them.
We were warned not to get too excited about their cute faces, because won't hesitate to bite anybody. One interesting fact about their eggs is that they are so hard an adult human can jump on one without breaking it. It's pretty amazing!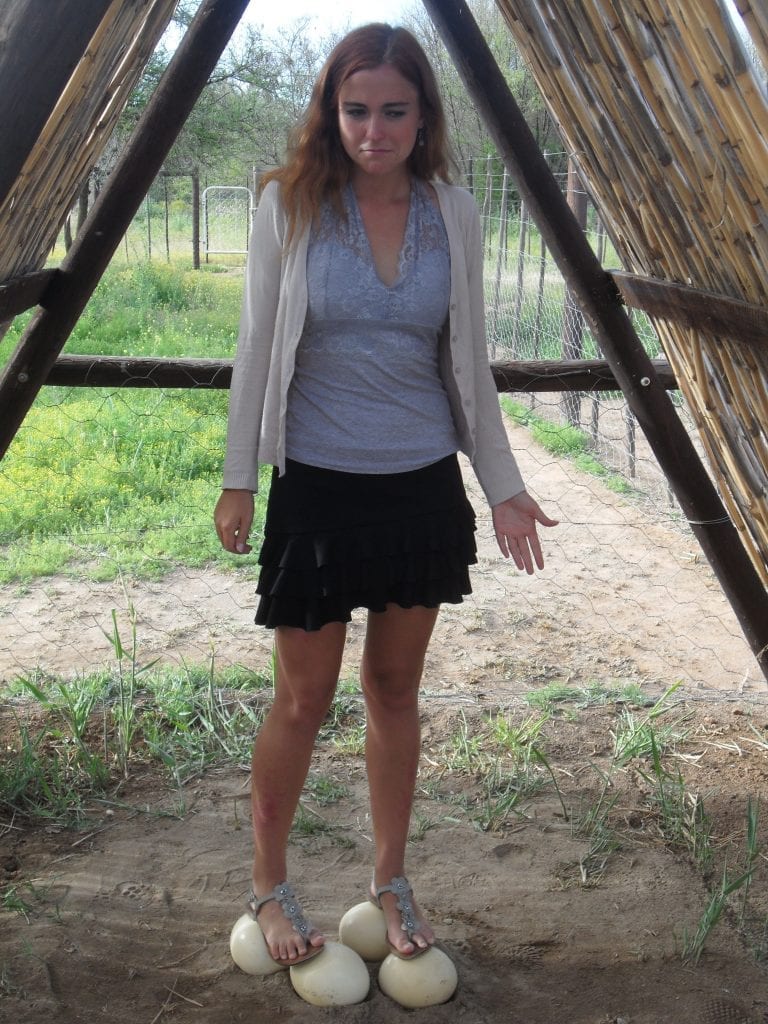 ---
Riding an ostrich
If you weigh less than 75kg (like me, hurray!) it means you're eligible to ride an ostrich! I have to admit that riding this big bird has always been on my bucket list, but after seeing how strong and fast they are, I got a bit anxious about falling off. I've done it, however and it's been a lot of fun!
The rancher grabbed my ostrich and put a white bag over its head. Poor ostriches don't usually recall what's happening, because of their tiny brains that are smaller than their eyes, so it calms them down. I was put on the top of the bird and told to hold the neck tight and keep calm.
The moment the bag got removed from the ostrich's head, the bird started running around like crazy. I was glad my ostrich didn't get to leave the ranch, because it could run up to 70 km/h.
Some might say that riding an ostrich is unethical, but same people also argue the same about riding a horse. Truth to be told, upon my research these ostriches didn't seem to suffer. I was also explained that they don't even feel when you're grabbing their neck as they have no nerves there. Again, the choice is yours.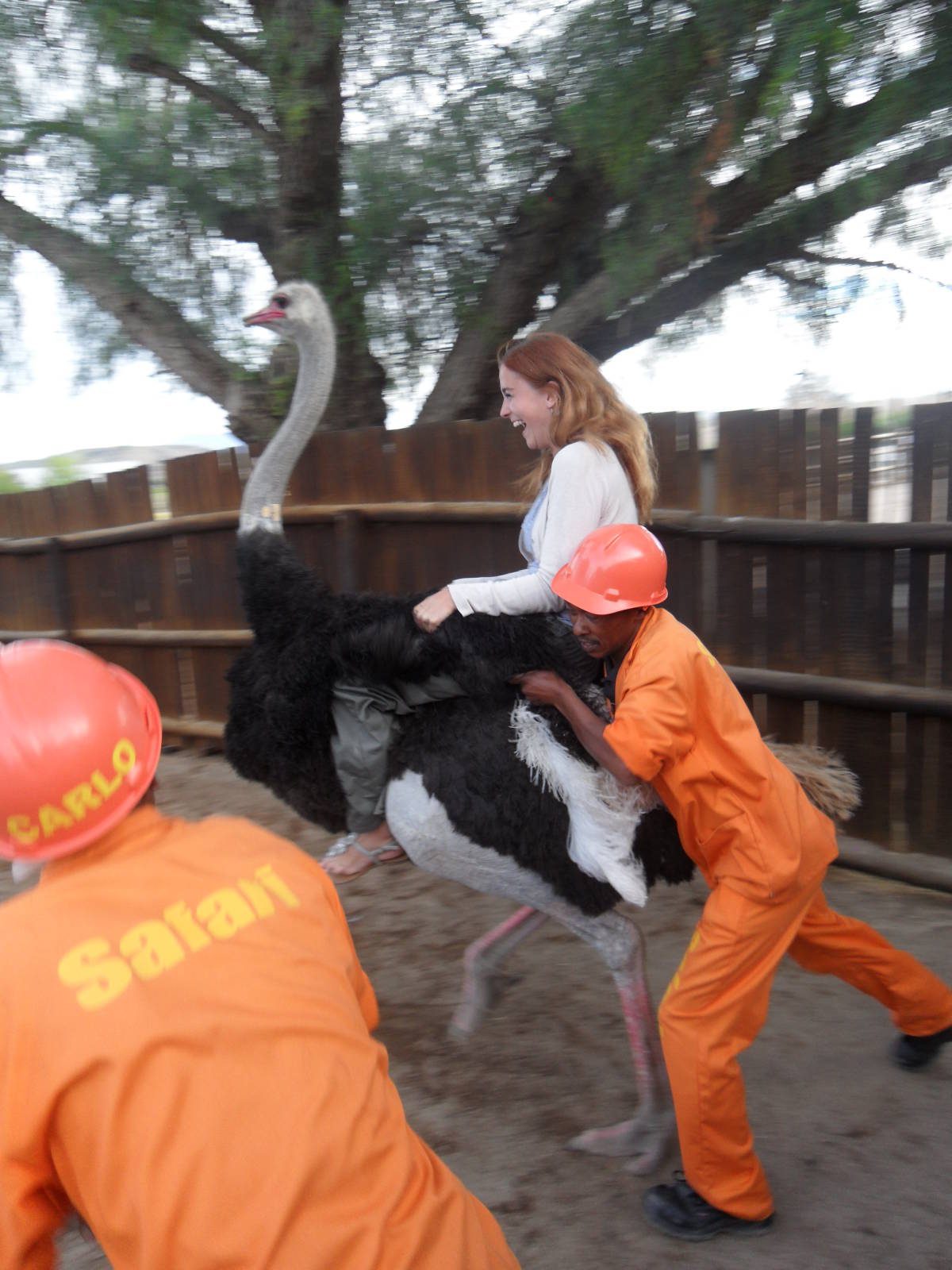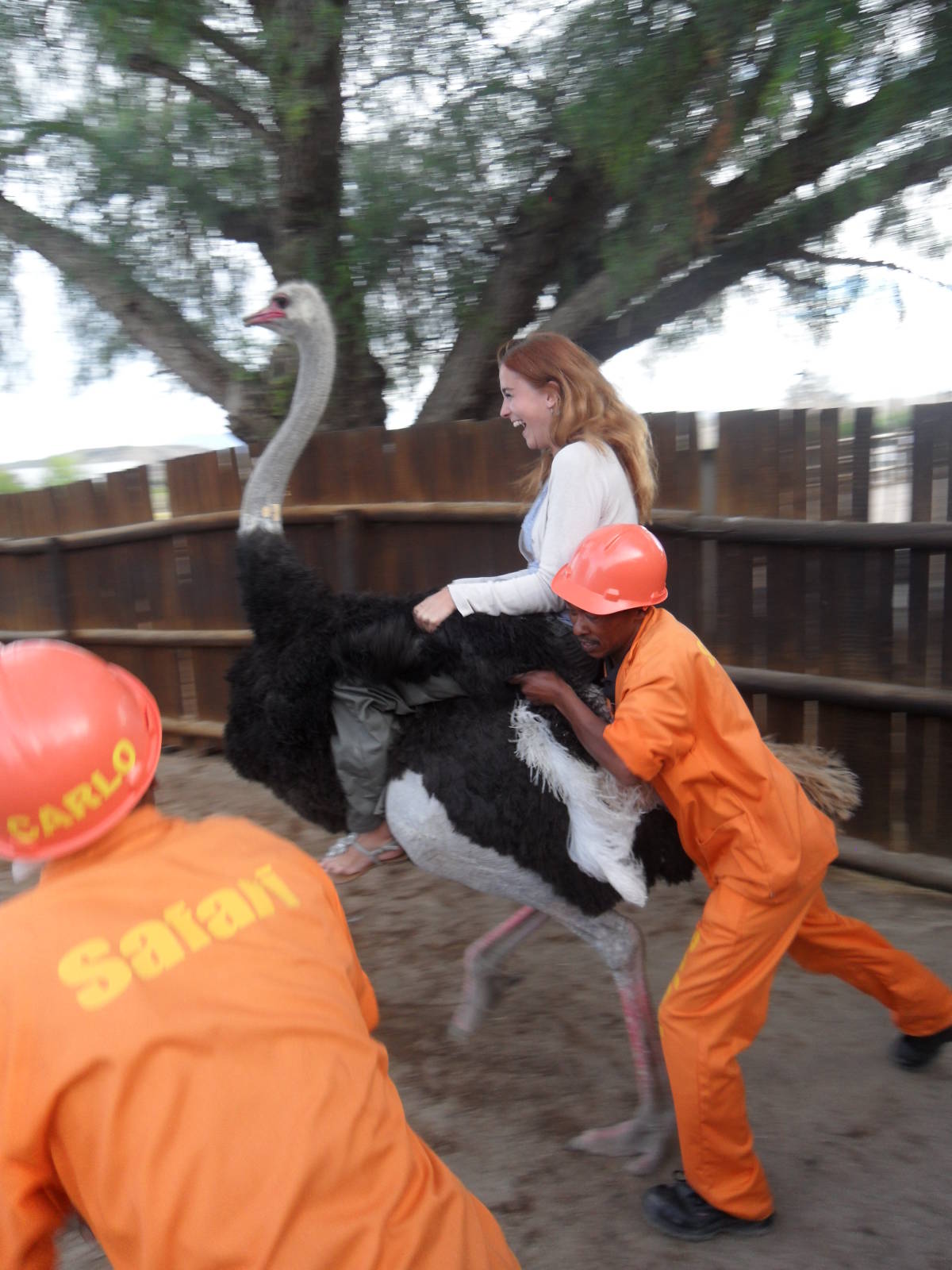 At the end of my farm tour I visited the gift shop. Even if you usually hate trashy souvenirs, I strongly recommend a visit to one of the shops. You see why an ostrich farm can be an excellent idea for a business (my boyfriend wants to kill me that I'm constantly saying that opening an ostrich farm is a great business). Let me tell you why… because nothing is wasted from an ostrich!
You can get ostrich leather wallets, ostrich feather brooms, and perhaps the most fascinating lamps made of their eggs. Each ostrich egg lamp has a unique design carved carefully onto the egg that customers love and buy. Do I need to repeat how delicious ostrich meat and eggs are? Nothing goes it waste from this bird!
---
More things to do in Oudtshoorn
Is there anything else in Oudtshoorn apart from ostriches? The answer is YES, much more than you think! Oudtshoorn offers a wide range of activities at Cango Wildlife Ranch for the most endangered species in Africa, such as getting in a cage with cheetahs and petting them.
The park is mostly dedicated to kids, but I wasn't the oldest visitor there, especially because of the wildlife encounters the place offers. I got to do crocodile cage diving out there, but I wouldn't recommend it as much as other activities.
Most of the time I was under the impressions that these poor crocodiles were scared of me. The moment the cage with me inside was approaching one of the crocs there were swimming away! Call me crazy, but I expected something way more daunting from crocodiles!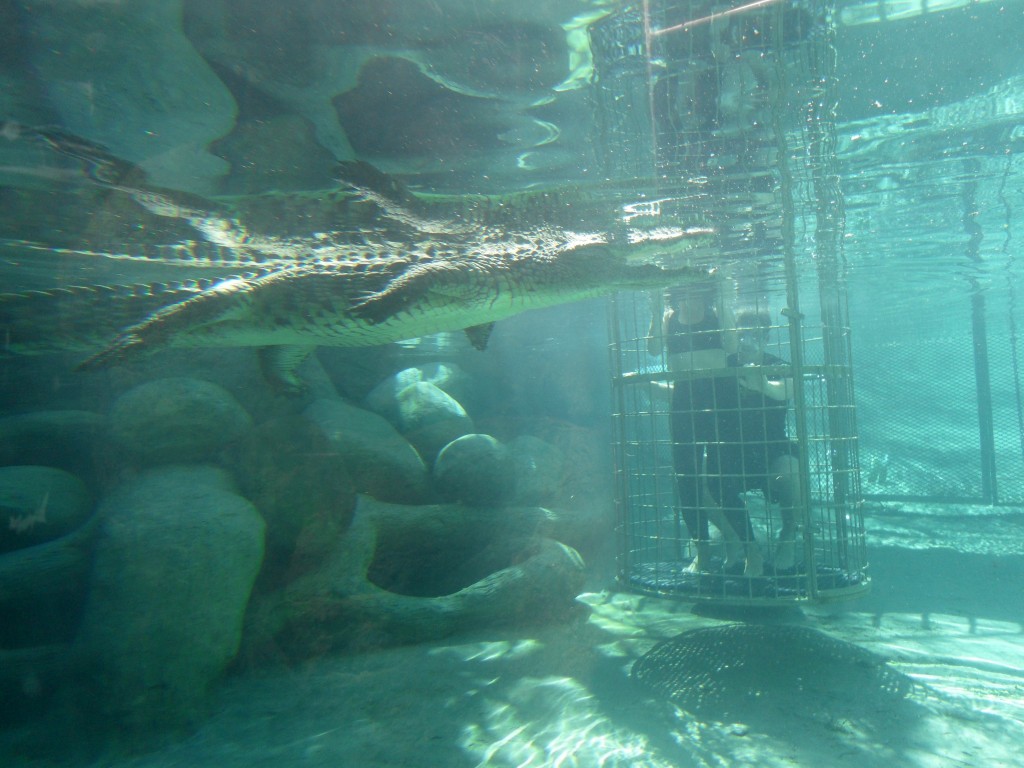 ---
A better alternative to a croc cage diving is visiting one of the local crocodile farms where you get to hold your own baby crocodile while standing among hundred of crocodiles. If you're lucky you can even spot the albino and no-tailed one.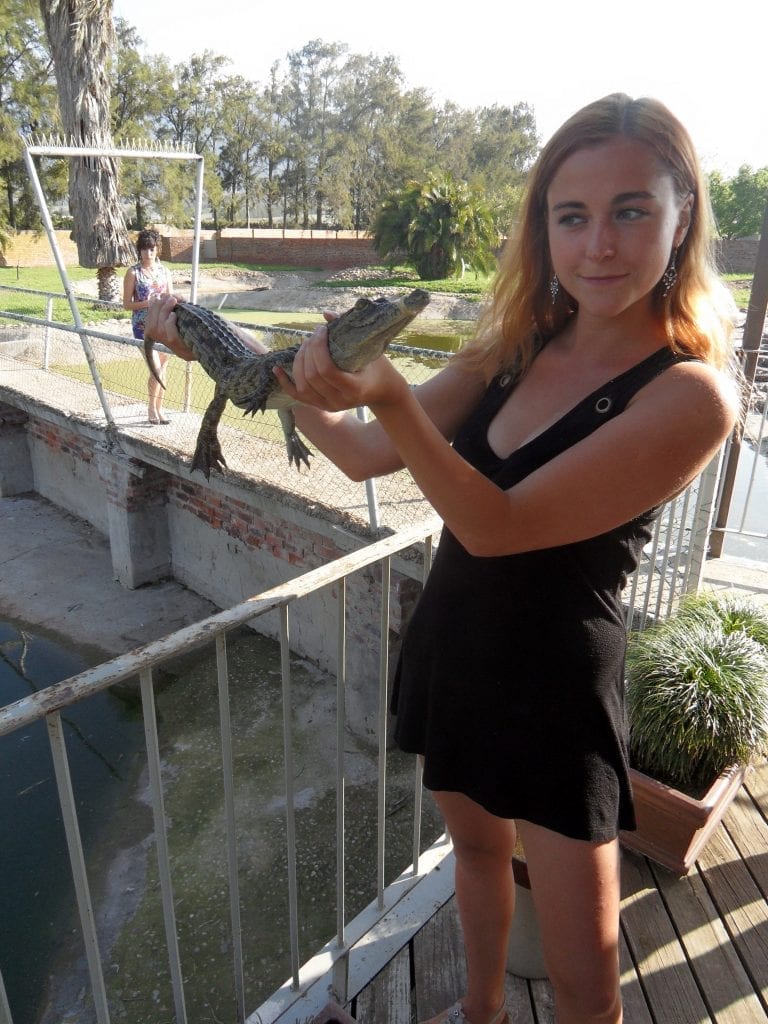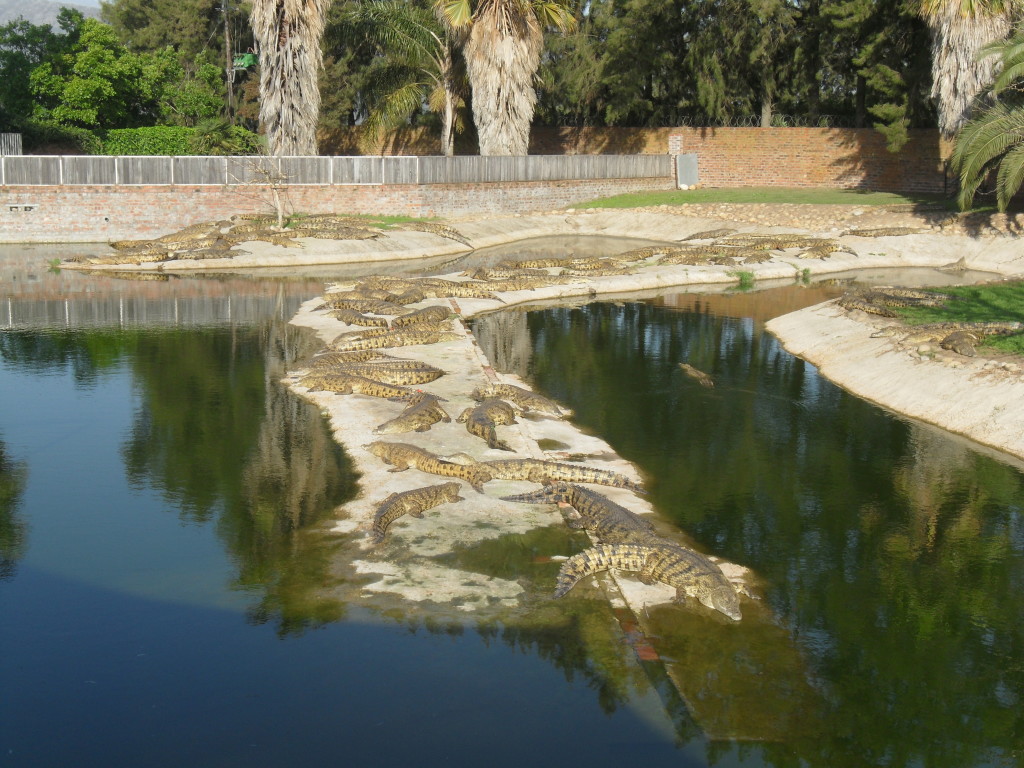 ---
I also got to visit Cango Caves, situated 30 km from Oudtshoorn, are knows as one of the most spectacular cavern and tunnel formations in the world. Visitors can take a simple tour that takes you on a journey through the caves. They can learn about their history while the more adventurous ones can take the adventure tour that takes you through the smallest tunnel. Some are as narrow as 27 centimeters, so get prepared for some crawling!
Unfortunately, I was able to take only the normal tour as I had no idea you have to book the activity in advance. Oudtshoorn is in my opinion one of the most fun places in South Africa. You can't miss it the ostriches in Oudtshoorn!