Gdansk is a Polish city located in the Baltic Sea region of Pomerania. Gdansk is a highly underrated travel destination, which is sure to attract more visitors in the near future. It's a great choice for travelers who want to avoid tourist crowds.
Gdansk is actually part of the Tricity (Trojmiasto) together with Gdynia and Sopot, so you can explore them as well when you're visiting Gdansk. Tricity is three independent cities but turned into one continuous coastal conurbation.
There are many activities and interesting sites in Gdansk, as well as architectural wonders and delicious food. Here is a guide to the top sites, as well as off-the-beaten-path attractions of Gdansk.
I've been to Gdansk and surrounding cities and towns million times, as my dad is from Sopot and we used to go to the Baltic sea every year.
Short History of Gdansk
Gdansk has a wealth of sociopolitical history. For a period, it was ruled by the Teutonic Knights, a ground of Germanic Christian Crusaders. It experienced many tumultuous changes in leadership and even spent time as an independent of Poland's free state as the Free City of Danzig.
Most people know that World War II began on September 1st 1939 with the German invasion of Poland, but it was actually the invasion of the Westerplatte peninsula in the port of Gdańsk.
Gdansk city flourished during the medieval period, which is greatly reflected in its architecture, and was home to the Polish Solidarity movement of 1980s led by Lech Walesa, which included civil resistance against communist leaders. You can learn more about this history through many of Gdansk's museums and historic sites!
Transportation & Logistics
Gdansk has an airport: Gdansk Lech Walesa Airport, which primarily serves European flight routes. From the airport, you can take bus 210 to the city center, or get a taxi – it's only around a 9-mile (15 km) journey.
There are buses and trains to Gdansk available from other European cities, and even a ferry from Sweden. You can rent a car, but parking in Gdansk may be a problem so do it only if you're planning on doing a Polish road trip.
When in Gdansk, most sites in the city are walkable. However, there are also buses and trams. You can find more extensive information and routes on the Visit Gdansk site. Taxis and rideshare services (such as Uber) are also available in the city.
The currency in Gdansk is the Polish zloty (PLN), and it is currently weak in comparison to the USD and EUR. (which makes it the perfect time to save cents and pennies on your trip). When you're in Gdansk, you may want to spend your zloty on a souvenir of Polish or Baltic amber, a beautiful natural phenomenon used in jewelry and other decorations.
Poland is also known for its folk art, which you can find and purchase in one of Gdansk's many shops.
Make sure to pack an umbrella- Gdansk is a rainy city! Walking shoes are also advised, since most of your sightseeing will be on foot.
---
15 Best Things to Do in Gdansk in Poland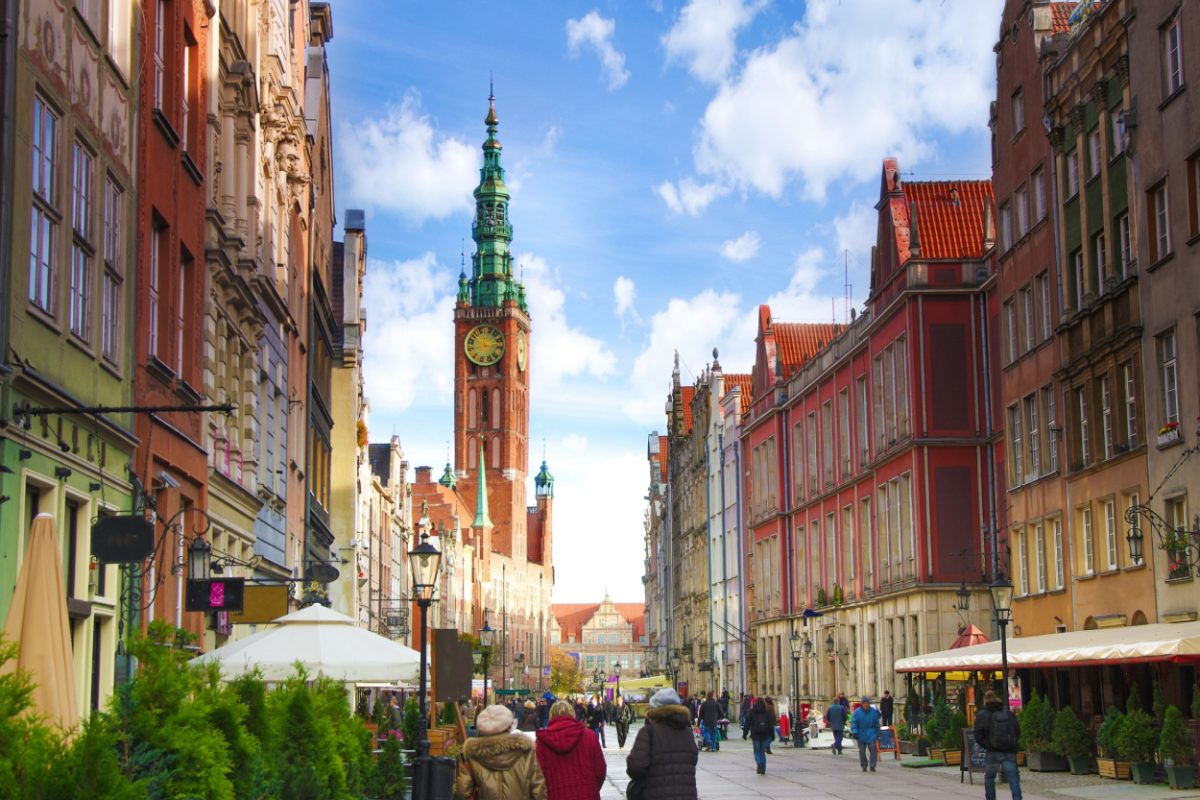 1. Old Town and Old Town Hall
The Old Town is a part of Gdansk that has the longest history and architecture that reflects its longevity. This area is situated north of the modern city center, on the Motlawa River. Walk around and check out the beautiful gothic architecture or wander down the quaint alleys and cobblestone streets.
Gdansk's Old Town Hall (ulica Korzenna 33) was built in the late 1500s for the Old Town Council, and later served as a base for the Soviet Army (during WWII). This historic brick and stone building is a beautiful sight and also holds exhibitions and a Great Hall. The Town Hall is open Monday to Friday 8 AM to 6 PM.
Recommended Tours:
Two-hour old town walking tour
90-minute tour of Old Town
2. Dlugi Targ & Neptune Fountain
The Dlugi Targ or "Long Market" is a main thoroughfare that was the primary market area of Gdansk. This road also served as part of the Royal Way, where Polish Kings would pass enroute to their palace.
There is still a lot of shopping on Dlugi Targ, but now it is primarily filled with souvenir shops. Check out the Green Gate to the east, which served as a defense and royal residence.
The Neptune Fountain is a bronze fountain that was cast in the 17th century. It is located on the Dlugi Targ near Artus Court. The fountain was taken down and hidden during WWII. Many legends surround this fountain (one that includes Goldwasser, a specialty alcohol), and serves as a symbol of the city.
If you don't want to find sites on your own, You can walk through the city on a guided tour and see sites from St. Mary's Basilica to a medieval crane.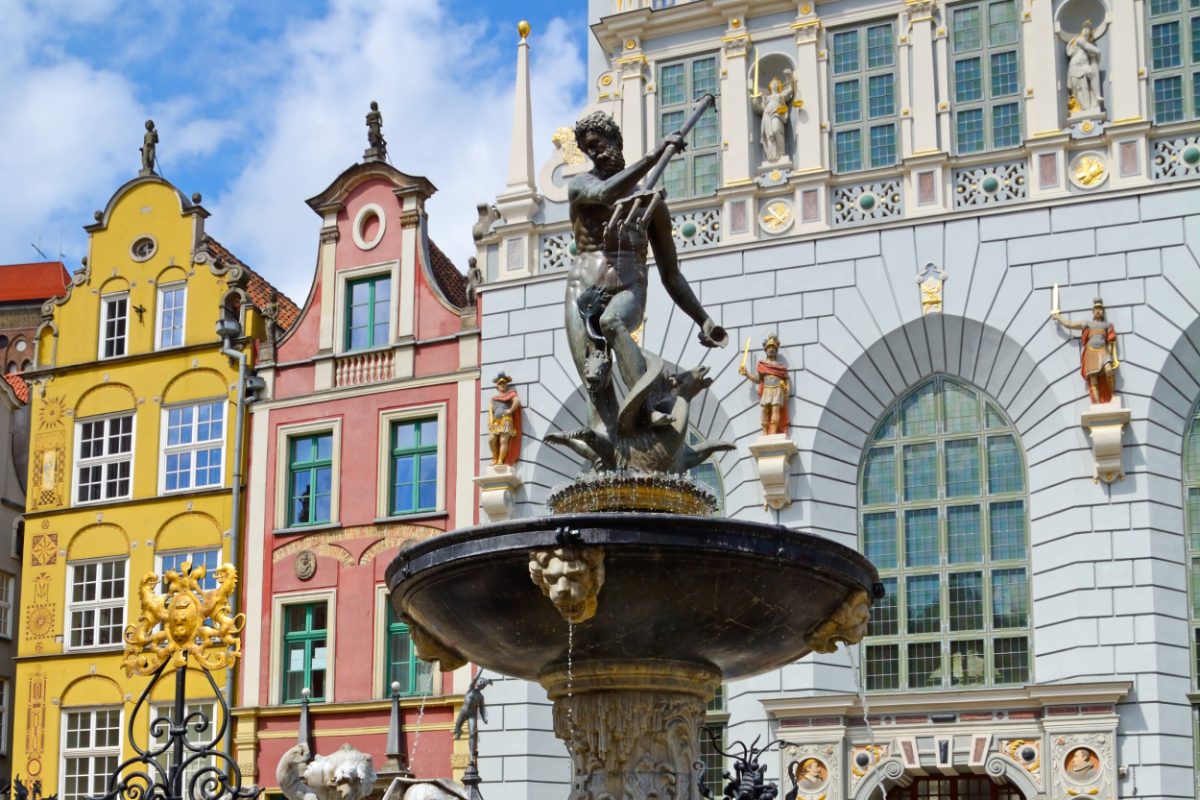 3. St. Mary's Basilica
St. Mary's Basilica (ul. Podkramarska 5, Gdansk) is a beautiful brick church located in the Old Town of Gdansk (at one end of St. Mary's Street). Construction of this Roman Catholic church began in the 14th century.
This massive structure is also home to a 15th-century astronomical clock, made of wood, which is over 500 years old and resides in the church. There's also an excellent viewing platform. Unfortunately, the Basilica was damaged during WWII, but there's still a lot to view.
Entrance to the church is free and it's open from Monday-Saturday 8:30 AM – 5:30 PM, and Sunday 11AM – 12PM and 1PM – 5PM, with longer hours in the summer. The Tower costs 10 PLN, and is typically open from 9 or 10 AM until anywhere from 4 to 9 PM depending on the season.
4. Ulica Mariacka / St. Mary's Street
Running from St. Mary's Basilica to the river, St. Mary's Street was recreated from the rubble following its destruction during WWII. The street itself is beautiful, with cobbles and gargoyles (see the rain gutters). Also of note are the terraced houses and reputable amber dealers/shops along this road.
Walk down this street and imagine Gdansk several years in the past, and make sure to take some Instagrammable pictures!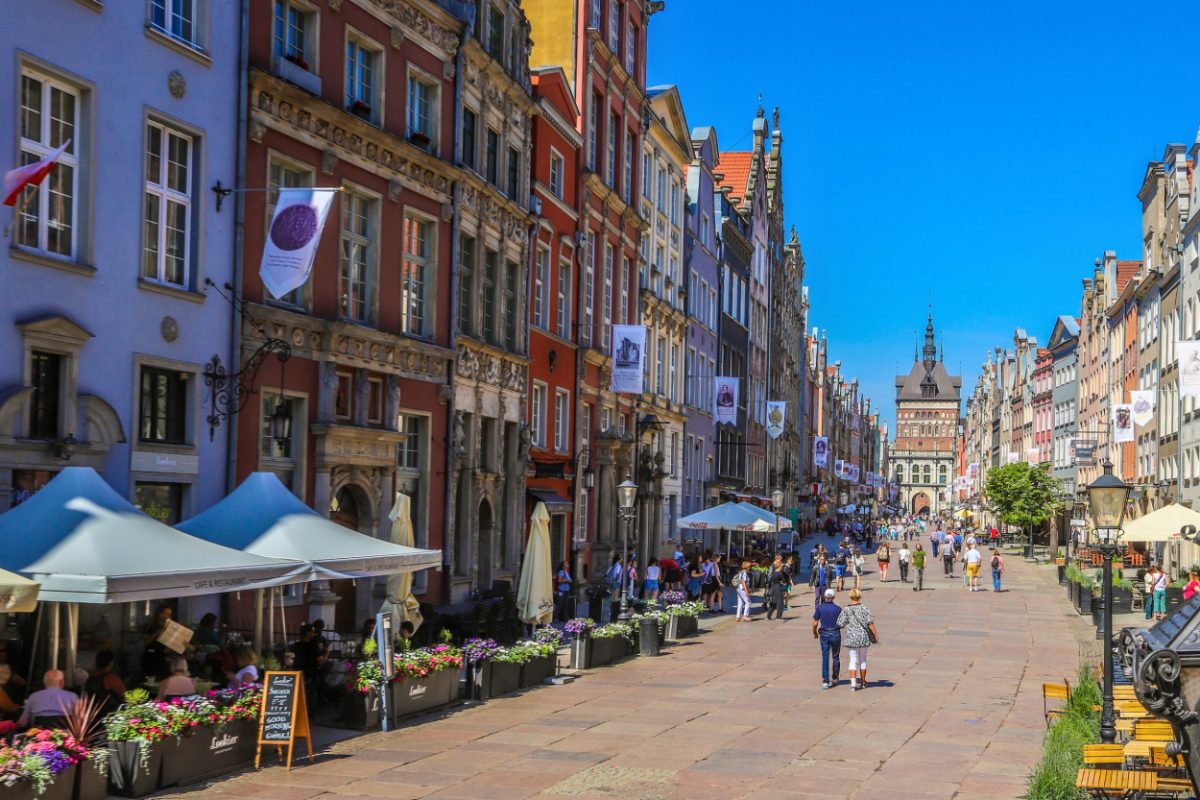 5. Museum of WWII
The Museum of the Second World War (pl. W. Bartoszewskiego 1, 80-862) includes exhibits on WWII's impact, particularly on Gdansk and Poland as a whole. This country was in the center of the conflict and suffered immeasurable damage.
In fact, the museum itself is located on an area that was destroyed during the war. Tickets cost 23 PLN, and the museum is open Tuesday-Sunday. Hours vary depending on season, so check the website before you visit.
To avoid the queues at the Museum of the Second World War, consider booking a skip-the-line ticket with a private guide.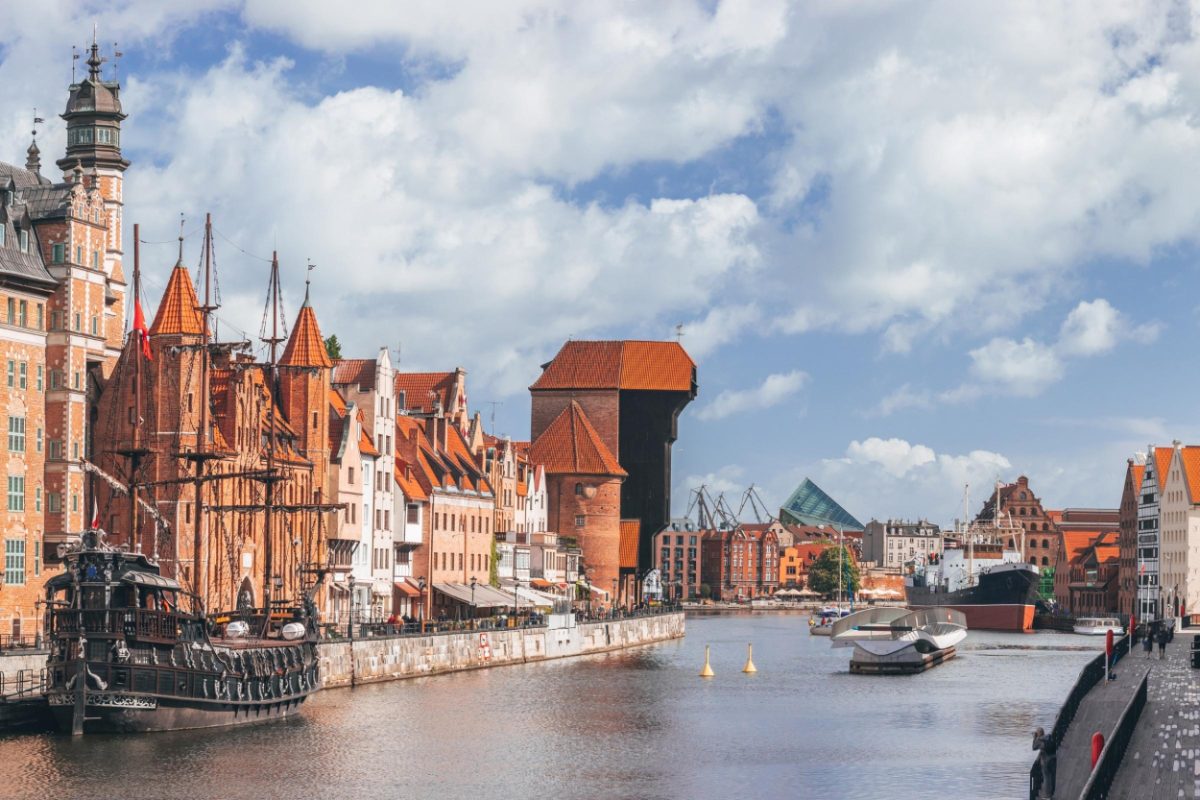 6. Waterfront and Zuraw (Crane)
Located in Gdansk Old Town, the Waterfront and Zuraw (ul. Szeroka 67/68) are blasts from the past, transporting you back to Gdank's trading and shipping days.
What's interesting about the Zaraw (crane) is that it was originally built in the 14th century to help load cargo and for shipbuilding. If you want to learn more you can also visit the Polish Maritime Museum.
If you're not planning on visiting the Maritime Museum, you can see the rest of these sites on a catamaran cruise, or a yacht cruise of the Motlawa River.
7. European Solidarity Center and Gdansk Shipyard
This contemporary museum delves deeper into Gdansk's past, and the history of the fall of communism in Eastern Europe. The museum is located in the vicinity of the former Lenin Shipyard, where the Solidarity Movement began as part of labor organizing, spearheaded by worker Lech Walesa.
The building itself also has interesting architectural elements and is an intriguing sight. Tickets to The European Solidarity Center (pl. Solidarnosci 1, 80-863) cost around 20 PLN to view the permanent exhibit, and hours vary by season. Check their website for more details.
Skip-the-line tickets are also available with free entrance to the Gdansk Shipyard and Sala BHP. This skip-the-line ticket also includes a licensed tour guide and a shot of traditional vodka.
---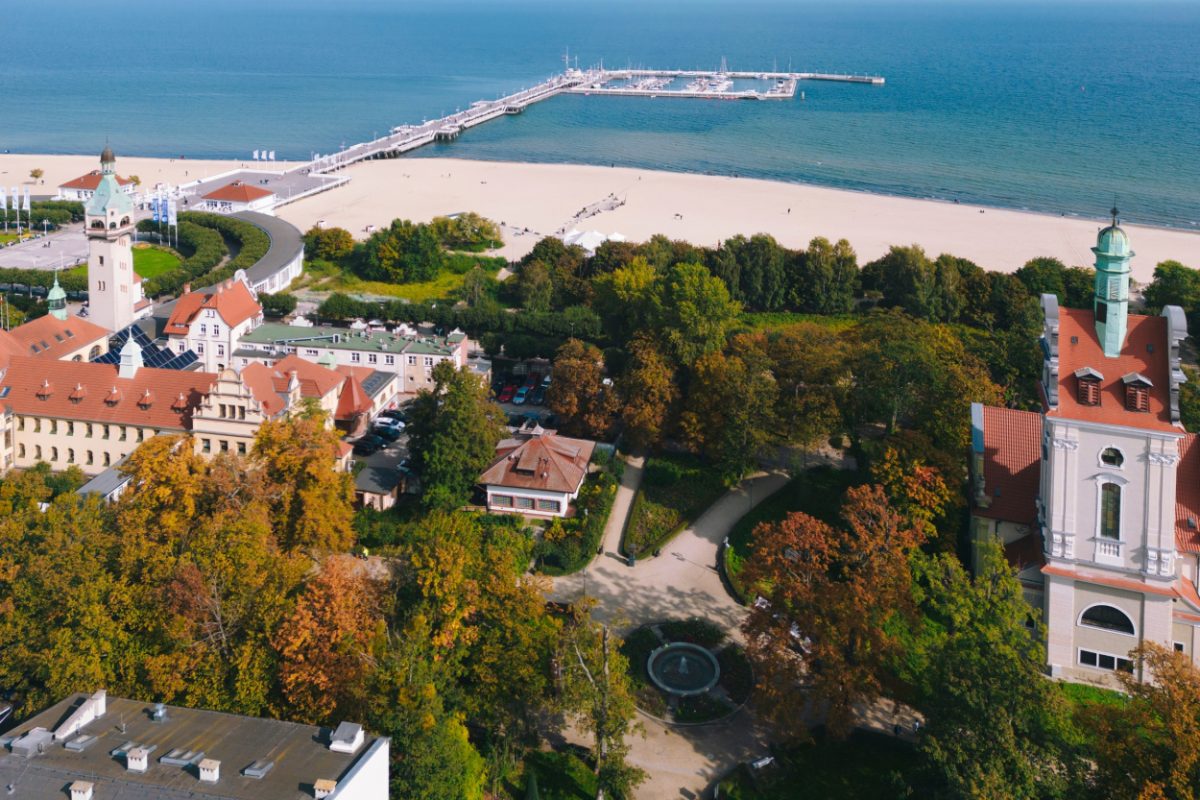 8. Gdansk Beaches
When you think of Gdansk, beaches probably don't come to mind. However, this city is home to several beautiful Baltic seaside spots. Available beaches include Stogi, Brzezno, Jelitkowo, and Sobieszewo.
There is also a pier in Brzezno (Extension of al. Jana Pawla II), which provides games, activities, sports facilities, food, and restrooms. To get to the beach and Brzezno Pier, you can take a tram from the city (line 3).
Stogi beach is a great option for sunbathing or beach activities, as there are many facilities for rent. There are also water slides- lots of fun for kids! To get to Stogi take tram line 8. Brzezno and Stogi both have lifeguards in the summer.
Jelitkowo beach is known for its beautiful clear water. The line 8 tram will get you to this district and its beach in less than an hour.
Sobieszewo is actually an island, and it has two guarded beaches (during summer months) and three unguarded beaches. These beaches are more low-key with amenities but not extensive sights and restaurants. Sobieszewo also offers great outdoor activities such as kayaking and biking. To reach this island take bus 186 or 112 from the city.
The beaches are best enjoyed in the summer, however, it's also nice to visit Gdansk's beaches in the spring or fall (although it's usually too cold to sunbathe!).
You can also pop into Sopot and see the famous boardwalk and wooden walking jetty.
Recommended tours:
Evening kayak tour
Private canals and islands kayak tour
Winter kayak tour of Olowianka and Granary Island
9. Malbork Castle
Take a half-day trip to the largest castle in the world is located less than an hour's drive from Gdansk. Malbork Castle was completed in the 14th century by the Teutonic Knights and then switched between German and Polish rule.
There are many things to see within this extensive castle and fortress, including the Grand Master's Palace, the High Castle Courtyard, the Amber Museum, and Tower (which provides great views!).
The castle is typically open from 10 AM to 4 or 7 PM depending on the season. Check the official website for more information or to buy tickets (which cost around 45 PLN) in advance. If you don't have your own transportation, there are tours available from Gdansk. You can also get to Malbork via train.
Private half-day tours are also available costing around $150 a person. But the benefits are a dedicated guide and skip-the-line entrance.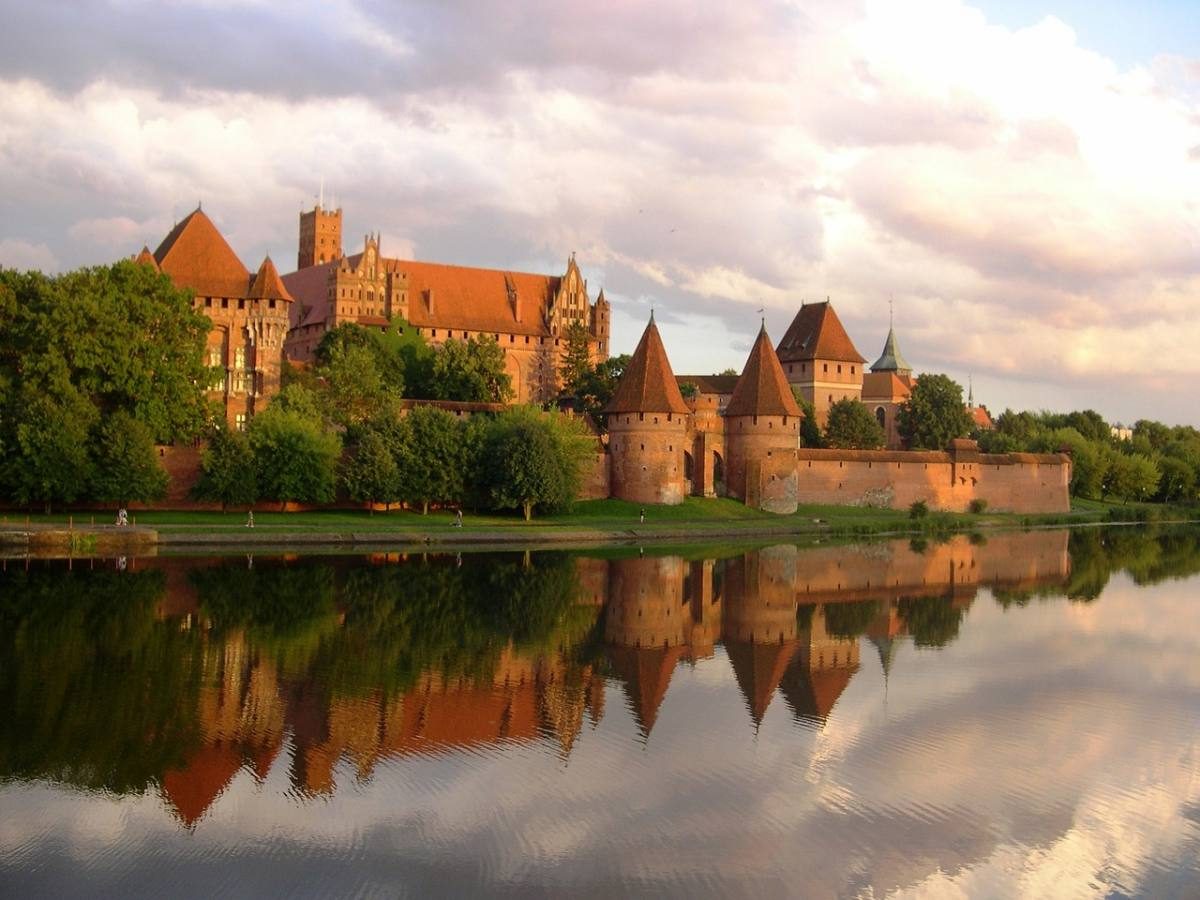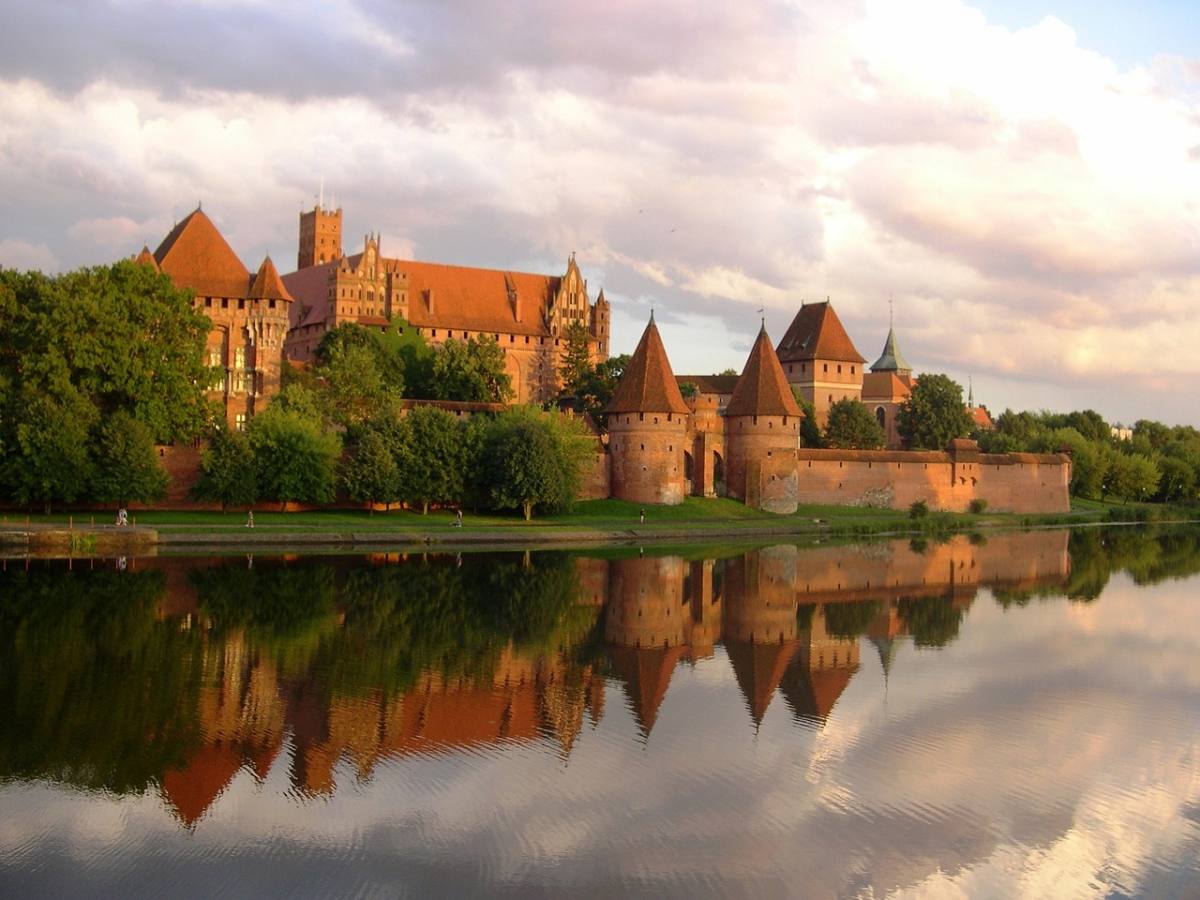 10. Westerplatte
Westerplatte (80-001 Gdansk) is a peninsula in Gdansk where the first battle of WWII began, when a German battleship fired at this Polish base. This area was a hotbed of tension because the population of Gdansk (Danzig at the time) was largely German and supported being annexed by Hitler.
The Germans defeated the Poles in the Battle of Westerplatte, but the Poles put up a good fight. Visit Westerplatte to see the battlefield ruins and an (outdoor) exhibition about the conflict.
Note: It's possible to combine your visit to Westerplatte with a tour of Malbork Castle and a lunch in the Zulawy Vislane delta.
11. Cemetery of Lost Cemeteries
The Cemetery of Lost Cemeteries is a unique monument that was constructed to honor the dead whose graveyards were destroyed during and after WWII. A fairly recent addition to Gdansk, the monument was completed in 2002 and is located between a bus station and the Church of Corpus Christi.
The memorial is reminiscent of a temple, and includes a grey stone slab, trees, and pieces of broken gravestones. It is a small but haunting tribute to those who lost their resting places.
12. Wisloujscie Fortress
The Wisloujscie Fortress is a 700-year-old circular fort on the mouth of the Vistula River and the Bay of Gdansk. During its long history, the fortress was used as a lighthouse, a defensive post, and a prison.
Visit the exterior of the fort, or climb it for great views (10 AM-6 PM spring and summer months only, 15 PLN). The fortress is maintained by the Gdansk Historical Museum.
13. St. Catherine's Church Tower
St. Catherine's is a brick church located in the Old Town of Gdansk usually included in walking tours of Gdansk. This church is the oldest monument in the area (nearly 800 years old).
Its most prominent feature is the tall baroque bell tower (built later) which also contains an exhibit about bell towers. Entrance to the church is free, but there is a fee to climb the tower. The view is definitely worth the climb!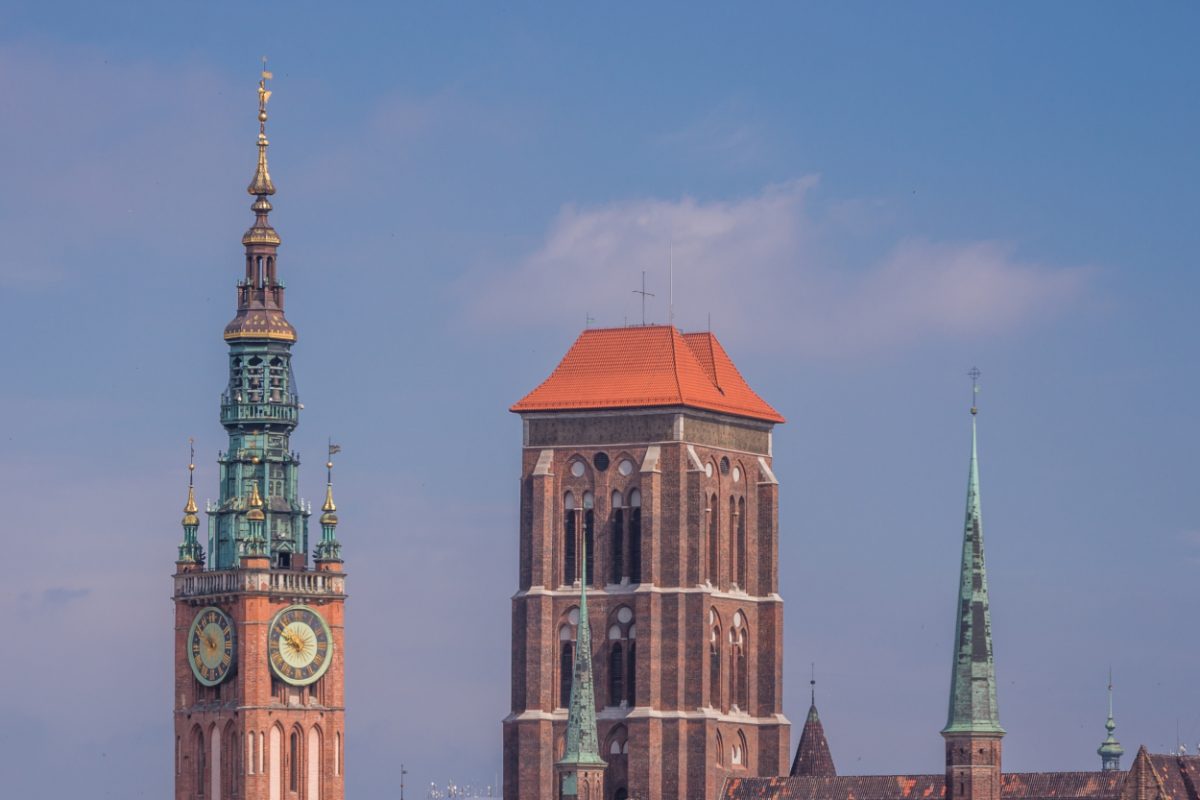 14. St. Dominic's Fair
This three-week festival occurs every summer, and dates back to the 13th century. St. Dominic's Fair includes food, performances, market stalls, and art.
If you visit Gdansk in the summer check to see if your travels will align with the festival, it's not to be missed. Nearly 6 million people attend!
---
Places to Eat in Gdansk
Gdansk is home to restaurants, cafes, and bars serving traditional Polish food as well as international cuisine. You must try a Polish milk bar when you're in the city.
A milk bar is a subsidized cafeteria that was created to provide cheap meals for workers. Stop by Stagiewna bar mleczny for lunch to experience this Polish staple yourself.
A trip to Poland also wouldn't be complete without trying some pierogies (Polish dumplings)! Pierogarnia Mandu offers traditional and international spins on this classic Polish dish.
Check out the Goldwasser Bar and Restaurant to try Gdansk's signature drink, a liqueur with small flakes of gold. The restaurant is on the river, so it provides a nice view, and they serve delicious steaks.
To try Gdansk beer, head to Brovarina Gdansk, the only brewery in the city. In addition to beer, they offer food and live music.
If you want to sample the Gdansk food scene, you can also take a food and/or vodka tour. A four-hour tour with 10 tastings costs around 200 to 450 PLN (around $50 to $100 USD) depending on the group size.
Some recommended tours include:
Small group tour to taste 6 vodkas with snacks at 4 different pubs
Enjoy 6 types of vodka and 3 appetizers at a local Polish tavern
Private tour to taste 7 different Polish vodkas with snacks and learn the history of Polish vodka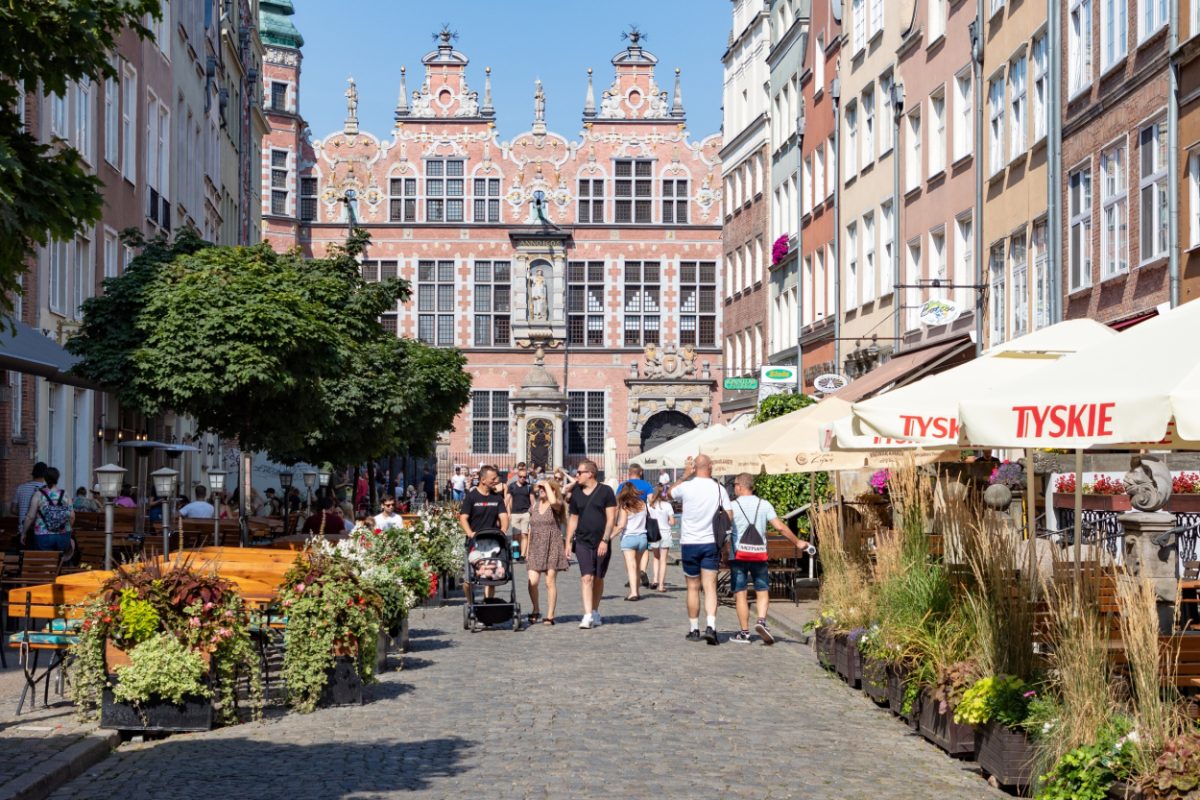 ---
Where to Stay in Gdansk
Some good places to stay at while in Gdansk are here below.
Boutique and Luxury Stays:
Podewils Old Town Gdansk • Hotel Gdańsk Boutique • Hilton Gdansk
Mid-range Stays
Qubus Hotel Gdańsk • Radisson Hotel & Suites, Gdansk • Hotel Sadova
Pocket-friendly Stays
Hotel Impresja • Hotel Wolne Miasto Old Town Gdańsk • Hotel Artus – Old Town
---
Gdansk is a uniquely beautiful city with much to offer. Make Gdansk your next destination if you enjoy European culture and history, as well as delicious Polish food. From museums to monuments to beaches, there is plenty to do, eat, and drink! Do Widzenia!