If you're looking for a beautiful place to relax and enjoy the scenery, Lake Bled is the perfect destination. This charming area has plenty to offer tourists, from world-famous landmarks like the Church of the Assumption and the nearby castle to delicious restaurants with stellar landscape views!
It's a perfect stop on a road trip around Slovenia, combined on the itinerary with Croatia, or even a weekend getaway from Venice in Italy!
You will not want to miss a visit to the gothic Bled Castle, settled on the shores of the lake. The Assumption of Maria Church is located in the middle of the lake and has a wishing bell to bring you good luck! Along with lots of hikes and water activities, there is plenty to do at Lake Bled.
Lake Bled is home to some of the best stretches of water in Slovenia, making it the perfect spot for a day swim or a picnic lunch. Follow along to learn about some of the best things to do in Lake Bled.
How to Visit Lake Bled?
The best way to visit Bled is by a rental car. You can combine it with a road trip around Croatia.
Lake Bled can also be visited by taking a tour from Llubljana.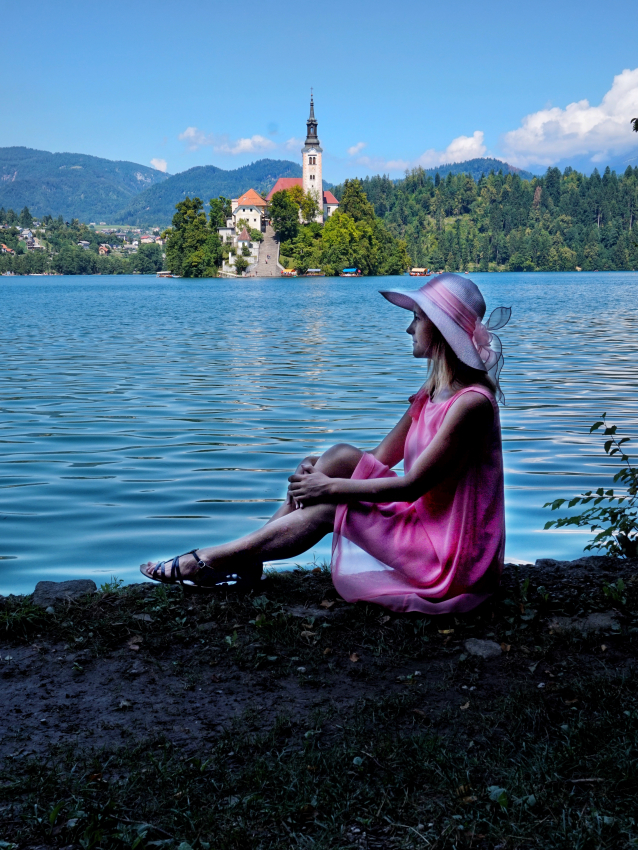 ---
1. Visit Bled Castle
Lake Bled, Slovenia is a beautiful place and one of the best things to do in the area is visit Lake Bled Castle. This stunning castle was originally built in 1342 by the Counts of Bužim as their primary residence. It was later rebuilt several times over the centuries, but it remained essentially unchanged until 1986 when it became a museum.
Today, it is open to visitors daily and features exhibits on Slovene history and culture as well as art from around Europe. There is a bell inside the church of this castle that is said to grant wishes if you ring it.
So be sure to stop by this area and make your wish! If you are looking for a peaceful weekend getaway, Lake Bled Castle is definitely worth visiting.
Bled Castle also has a restaurant with the best Bled Cake in town!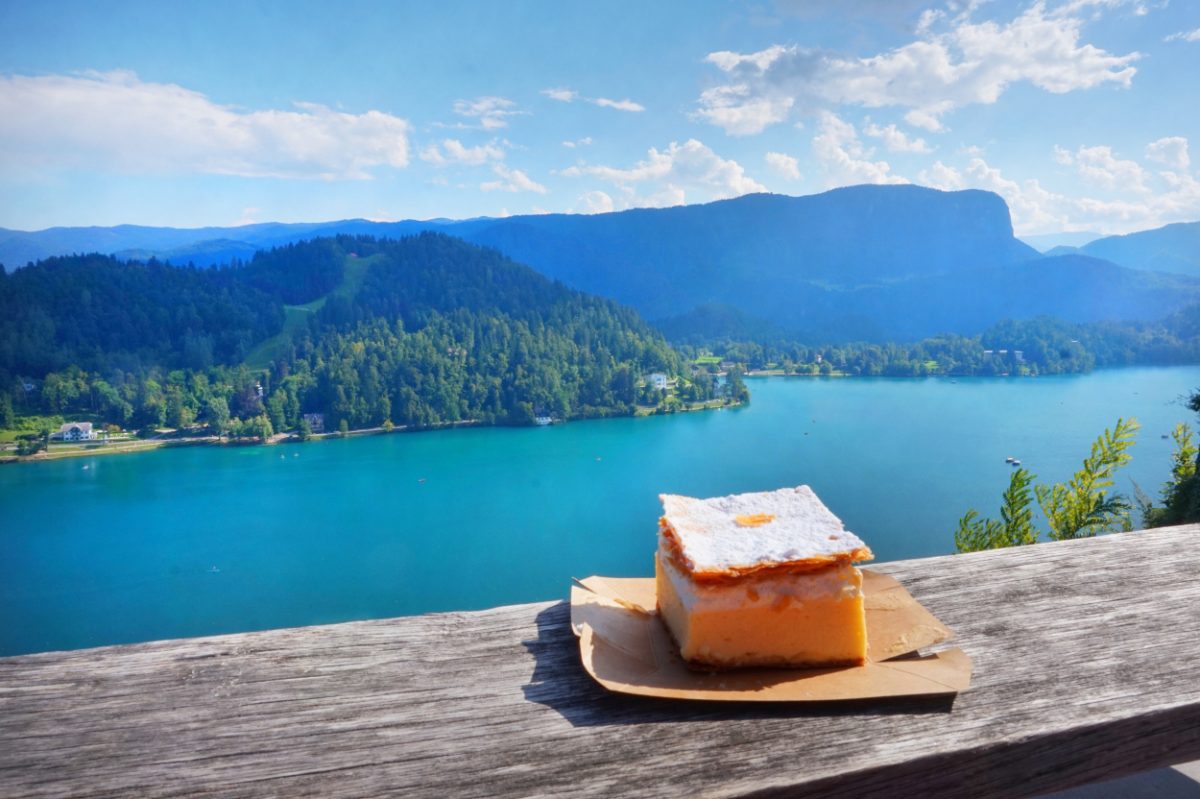 2. Take in Assumption of Maria Church
If you're in Lake Bled, Slovenia, and want to experience something special, make your way to the Assumption of Maria Church. This Gothic-style church is located on an island in the lake, and it's a must-see attraction if you're visiting this beautiful country.
The church was built between 1892 and 1895 by master craftsman Janko Kamnitzer. It features intricate wood carvings, stained glass windows (including one that features portraits of all 12 apostles), and an elaborate altar. The church is also home to the world's largest sacred chalice (believed to have been used during ceremonies held at Assumption).
The interior of the church is simply enchanting – don't miss out on this unique opportunity to visit one of Europe's most famous churches.
How to get there though? Rent a boat:
3. Do a Pletna Boat Trip
It's hard to pick just one thing to do in Lake Bled, Slovenia – the country's stunningly beautiful lake has something for everyone. However, if you're looking for a thrilling and scenic experience that will leave you feeling exhilarated and excited, then consider booking a Pletna Boat Trip. These tours take visitors on breathtaking cruises around the crystal-clear waters of the lake.
You'll have plenty of opportunity to soak up the natural beauty while enjoying spectacular views of Mount Triglav (the highest peak in Slovenia), Škocjan Caves, and much more.
Plus, who wouldn't love spending an afternoon out on the water surrounded by gorgeous scenery?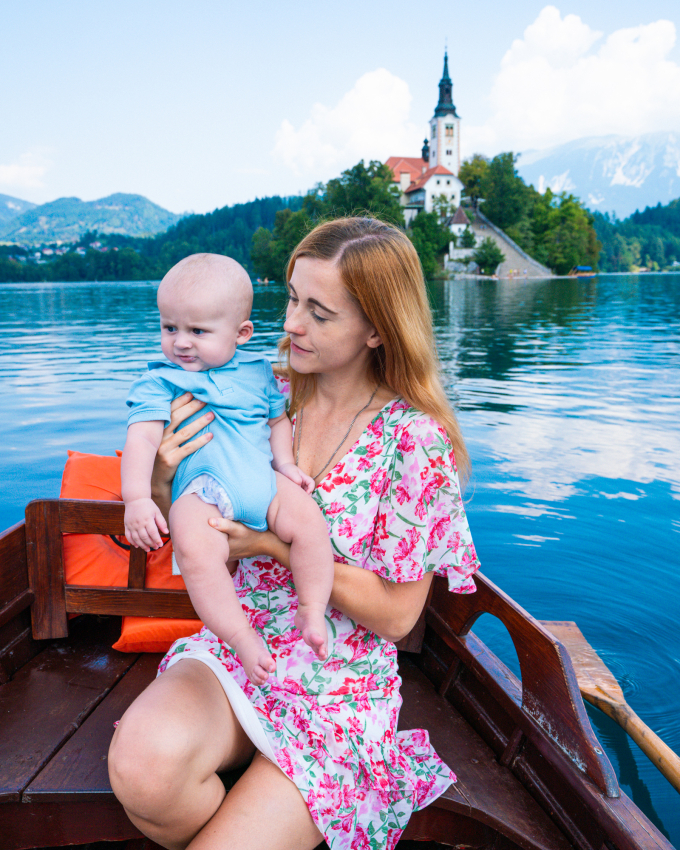 4. Hike to Mala Osojnica
Are you looking for a scenic hike to take in the beautiful scenery of Lake Bled? Mala Osojnica is the best place to go.
This hiking trail takes hikers up into the mountains and offers stunning views of the lake below. The lookout point gives you a perfect panoramic view of the area. Making it a perfect photo spot to remember your trip!
It's a steep and challenging hike, so be sure to bring a pair of good shoes along for the trek. This beautiful lookout point is enjoyed by both tourists and locals alike.
There are several maps online to look up before the hike, but it's a very well-marked trail. If you're an adventurer who loves a good view, make sure to check out the Mala Osojnica hiking trail.
5. Swim in Lake Bled
Lake Bled is a great place to swim and there are many places where you can do so. One popular spot is Krizna jama, which means Devil's Waterhole. This lake has steep cliffs on each side that make for amazing swimming opportunities.
On top of swimming, you can also rent a paddleboard or kayak for an alternate water activity. These are often available through different agencies on the shore.
If you love the water, there are more options available nearby. There are also numerous other lakes around the area where you can swim, including Samoborjek and Radovljica Lakes. So the water fun does not need to start and end with Lake Bled!
6. Go Rafting & Canoeing
One of the best things to do in Lake Bled is canoeing. The Sava Dolinka river near Bled offers a perfect rafting trip for beginners, groups and families. It's a fun option to descent into secret passages.
7. Enjoy Kralov Med Spa
One of the best things to do in Lake Bled is to enjoy the Kralov Med spa. This popular resort offers a variety of treatments that are designed to improve your overall health and well-being.
You can choose from massages, facials, body wraps, and more – all of which are effective at reducing stress levels, improving circulation, and detoxing the body.
The Spa at Kralov Med also has an excellent cafe that serves healthy snack options from breakfast through dinner (including vegan dishes). So whether you're looking for relaxation or treatment that will help you achieve your goals, Kralov Med should definitely be on your list!
8. Bike or Walk Around Lake Bled
One of the best things to do in Lake Bled is to walk or bike around its circumference. This will give you a chance to see all of its scenic beauty while also getting some exercise. There are plenty of trails around the lake to choose from and even bikes available to rent in town!
If cycling isn't your thing, then walking can be just as enjoyable – it's easy enough that even beginner hikers can participate!
These activities allow you to enjoy every scenic perspective around the lake. Either way, spending time near this beautiful lake will be sure to leave you feeling relaxed and refreshed.
9. Visit Triglav National Park
If you're looking for a scenic and peaceful place to spend your vacation, then Triglav National Park is the perfect destination. It is one of the most important treasures of Slovenia and the oldest park in Europe! Not only does it offer stunning views of the Alps, but its rich history makes it an interesting site to visit as well.
The park is nearly 84,000 hectares big and protects the majority of the Julian Alps. It has been protected for about 100, with the first attempts to save this land starting in 1906. This is also the only national park in Slovenia, making it a very special place for its people!
Highlights of the park include Mount Triglav, Lake Bled, and Kodeljica Falls. The trails in Triglav National Park are also excellent for hiking or cycling.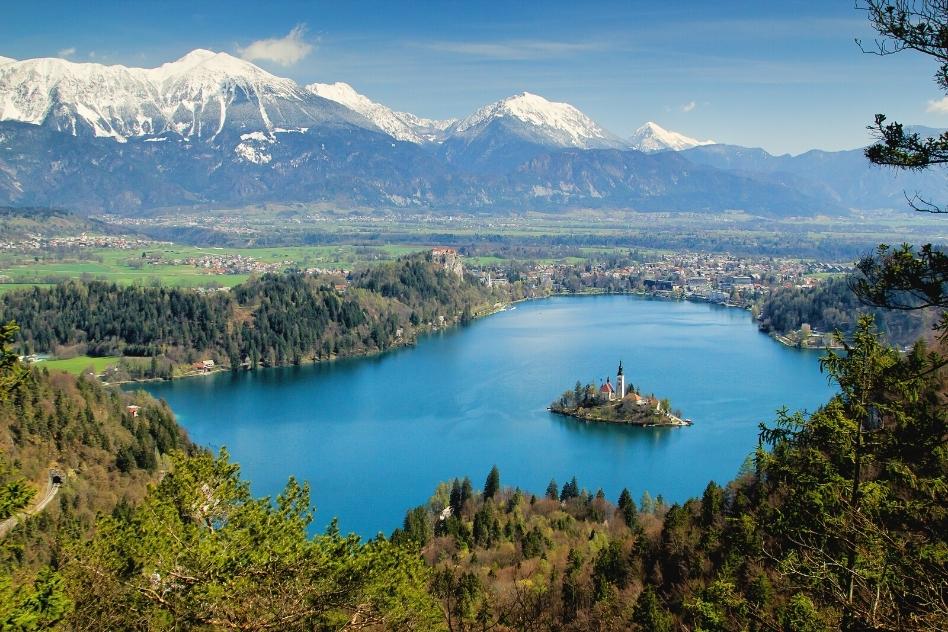 10. Go Scuba Diving
Lake Bled is a beautiful spot in Slovenia that is perfect for scuba diving. The clear water and rocky reefs make it an ideal place to see some of the best fish species in the world, including rare white-tailed sea eagles and Mediterranean monk seals. There are also plenty of other aquatic creatures to be seen, such as catfish, barracuda, turtles, seagulls, and more.
The best time to go diving at Lake Bled is from May through September because this is when the water temperature is warmest. However, any month can be enjoyed thanks to the amazing weather conditions that abound in Slovenia year round!
So whether you're looking for a thrilling dive experience or just want to relax on a sun-drenched beach with stunning views.
11. Explore The Cave Under Babji Zob
If you're in Lake Bled, Slovenia, and want to experience something different, then the Cave Under Babji Zob is a must-visit. This hidden cave complex was once used as a hideout by the Slovene peasantry during World War II.
Nowadays it's home to stunningly beautiful subterranean caverns filled with crystal clear water that makes for an amazing place to swim or take a relaxing bath.
The trip to the cave takes about 1 to 1.5 hours of walking uphill to reach it. But once you are there the view is incredible. Striking rocky formations and a new type of hike make this a great day trip activity you should not miss out on.
12. Soteska Vintgar
If you're looking for a scenic drive to take in some beautiful sights, then head to Soteska Vintgar. It's a 30-minute drive from Lake Bled, and it's well worth the trip.
This gorge hike will let you see stunning rock formations and intense blue-green waters. You'll also get to experience an old water mill and a natural swimming pool.
13. Kayak to the Island
If you're looking for a unique adventure that will let you explore some of Slovenia's most beautiful waterways, then consider kayaking on the island in the middle of the lake.
You can rent kayaks at various locations in town based on how many hours you use them. Which grants you the freedom to explore the lake and take in the views as you approach the island!
This trip takes around two hours and it's perfect if you want to see some amazing views while also getting exercise. The island itself is home to a historic church, wildflowers, and birds so it makes for an incredible stop on your travels through Lake Bled.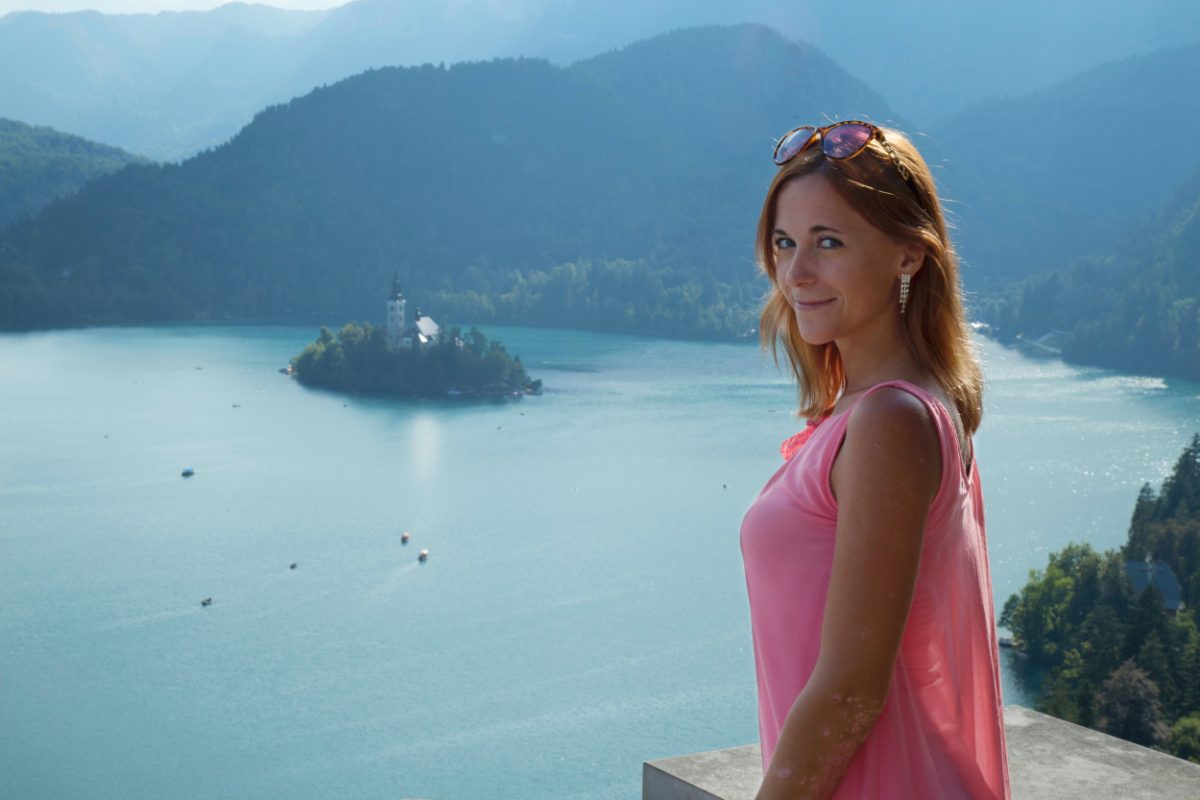 14. Zdraviliški Park (Spa Park)
Lake Bled is a beautiful place located in the eastern part of Slovenia. It's also known for its Zdraviliški Park, which features several lakes, gardens, and spas. If you're looking to escape the crowds and relax in nature, Zdraviliški Park is definitely the best option out there.
When you first arrive at the park, take time to wander around and explore all of the different areas. You won't regret it! One of my favorite parts about this spa park is that it has plenty of options for relaxation (both physical and mental).
Overall, Zdraviliški Park is an incredible destination that offers everything from peaceful tranquility to invigorating exercise. I highly recommend spending some time here if you're visiting Lake Bled!
15. Glamp Around the Lake
There are various glamping options about Bled, so if you want to rest after a full day of activities look no further. Glamping Ribno is a gorgeous secluded option for all ages.
There are acres of forested areas where you can walk or cycle without interruption. And if hot weather gets you down, there are several cabins with their own little barrel pools.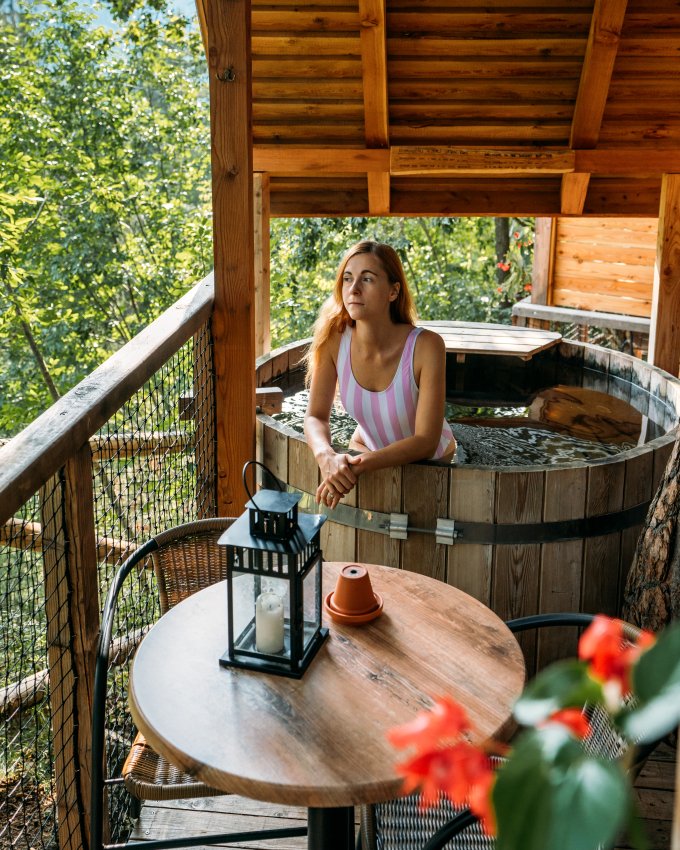 ---
Is Lake Bled Worth Visiting?
After reading through everything we have about Lake Bled, it is clear that this lake has something for everyone. Whether you are a nature enthusiast or just love exploring beautiful places, there is something for everyone in the city of Bled.
Don't forget to check out the nearby sights as well such as Julian Alps, Kremna Cave, and Beram Hills (which overlooks the lake). With so many things to explore around Lake Bled, you won't want to leave anytime soon!