Costa Rica inspires wanderlust and a spirit for exploration for travelers from all over the world. Visitors flock to the small Central American country to explore everything from ethereal forests, picturesque beaches, incredible wildlife, active volcanoes, and misty jungles.
Have you started planning your tropical adventure in Costa Rica? Surely the first thing that comes to mind is, where is the best place to stay in Costa Rica?
After two lengthy trips to Costa Rica I have narrowed down the top vacation spots for every traveler's budget and style and plenty of things to do. Costa Rica has every kind of accommodation imaginable and offers a vast range of incredible activities. There's something for everyone here.
Whether you want to sit on the beach with a pina colada or bungee jump off a cliff, Costa Rica has you covered. Read on for the best places to stay in Costa Rica and learn about the most popular activities are in that area.
Puerto Viejo – Best Beaches in Costa Rica
If you're looking for the ultimate beach vacation head to Puerto Viejo, a town in southeast Costa Rica along the Caribbean Coast. The stunning turquoise waters, ultra-soft white sand, and palm trees make this place any beach bum's paradise.
It's one of the best cities to go to for some much-needed rest and relaxation, bask in nature, and get a glimpse of wildlife. Some of the best surf breaks in the world can be found here. Surfers from all over the world come to Puerto Viejo to try and catch one of the famous Salsa Brava waves. If you're a young traveler looking to catch some waves and bask in the sun, look no further than Puerto Viejo.
You can camp in your RV or just drive around with a rental car and stay at hotels – or do both (which I actually highly recommend, as it rains a lot on this coast).
While you're there be sure to taste some of the local food. You will definitely want to eat a dish of Gallo Pinto for breakfast and Casado for lunch or dinner.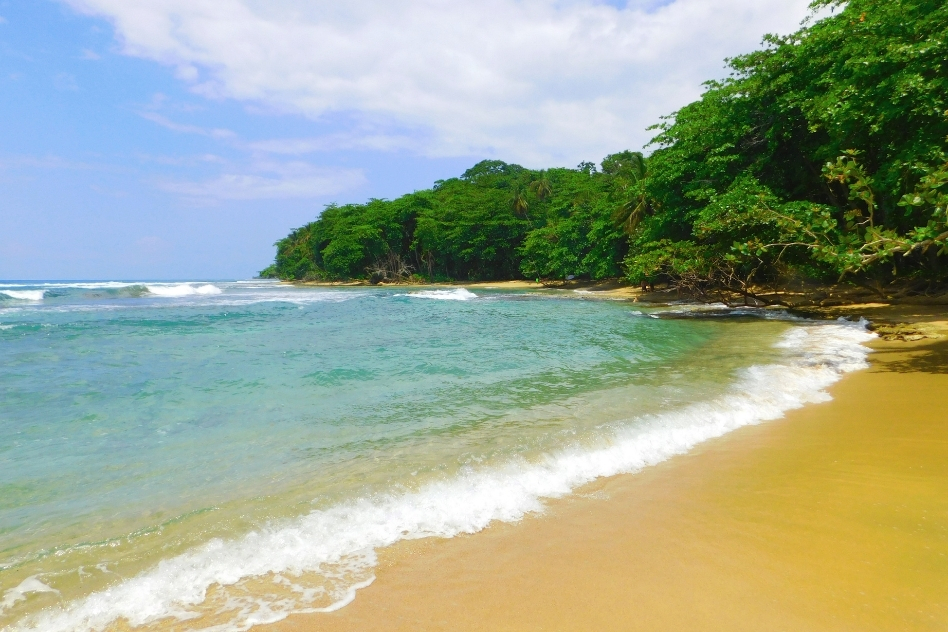 Top 3 Activities in Puerto Viejo
1. Go on a chocolate tour
Have you ever wondered how chocolate is made? Take a tour to learn everything about cacao, the history of chocolate, and chocolate making. They grow all of their own cacao and produce their chocolate on-site. Plus, there's plenty of taste tests involved!
2. Go Whitewater Rafting
Experience catching the wave of a lifetime under the instruction of professionals. You'll learn all the basics of rafting while gaining a better sense of awareness for your body, health, and the environment. They offer various levels for people of all ages and skill levels.
3. Learn about some incredible animals and their backstories at the Jaguar Rescue Foundation
This center is doing incredible things for wildlife in Costa Rica. It's an animal rehab/sanctuary for injured wildlife. They nurse wounded animals back to health and release them back into the wild. If you have ever wanted to see a sloth up close, this is your chance. They are extremely common in Puerto Viejo.
Fun Facts About Puerto Viejo
Puerto Viejo used to be a fishing village.
Many people in the Indigenous community in Puerto Viejo believe only women can make chocolate. (They believe the cacao tree used to be a woman and the god Sibu turned her into a tree.)
September and October are the best months for snorkeling in Puerto Viejo.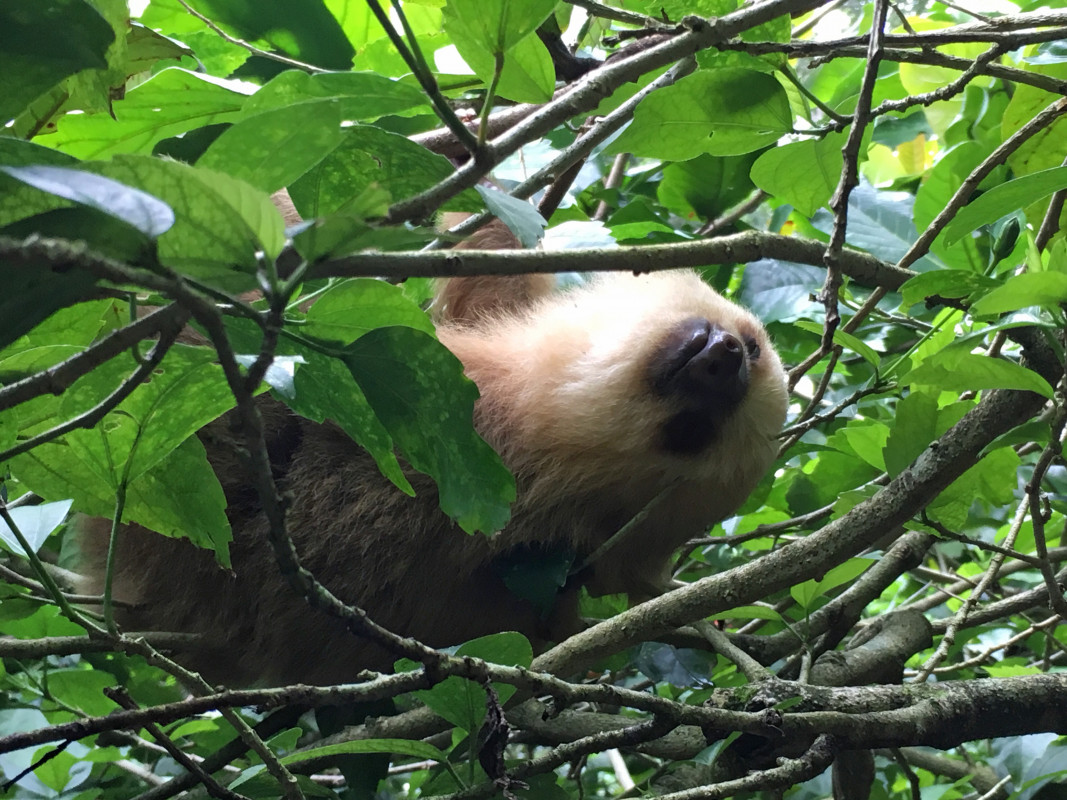 Where to Stay in Puerto Viejo:
Luxury Hotels in Puerto Viejo
Hotel Aguas Claras
700 meters from Chiquita Beach, this hotel offers free bike usage and free parking. Surrounded by beautiful nature, the uniquely designed luxurious hotel is a gem.
Le Cameleon Boutique Hotel
Walking distance from Cocles Beach, this tropical hotel is a minimalist's paradise. The beautiful white decor and spacious rooms are perfect.
Umami Hotel – Adults Only
Serene beauty and classy chic designs mark this adults-only hotel in a quiet area of Puerto Viejo. The best place for privacy and luxury.
Budget Hotels in Puerto Viejo
Selina Puerto Viejo
400 meters from Cocles Beach, this accommodation offers budget-friendly rooms, teepee tents, and dorm coordination. The artsy room decorations are perfect and the common areas are energetic.

Caribe Town
Rustic and charming bungalows and suites are just 200 meters walk from Cocles Beach. The saltwater pool swim-up bar and tropical gardens surrounding the resort are just perfect.
Villas del Caribe
Colorfully decorated rooms and villas are surrounded by thatched-roof terraces and common areas. Just 300 meters walk from Chiquita Beach, family suites are also available.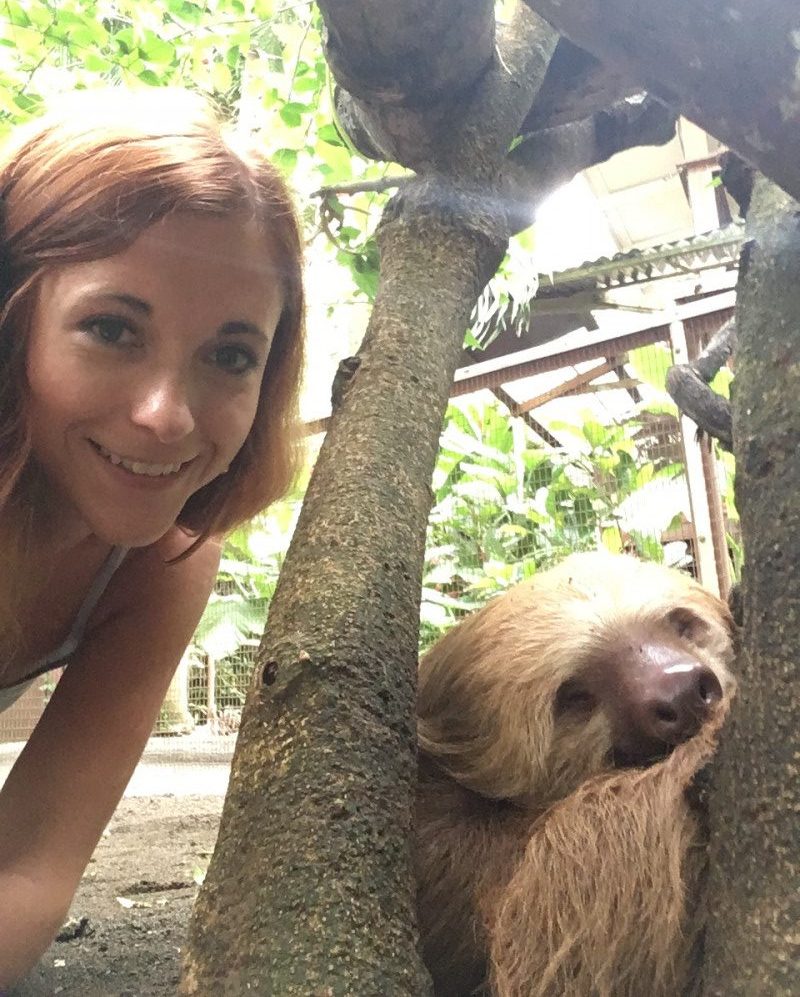 ---
San Jose – The Capital and Heart of the Country
We had to include the capital city of San Jose on our list. The most populous city in Costa Rica sees hundreds of visitors daily from all around the world. San Jose in the center of the country so you can easily access many other major towns and tourist centers from here.
A lot of people begin their trips in San Jose and then veer off to the islands. While you're here, be sure to take a look at the stunning architecture, check out the nightlife, taste the delicious food, and spend time in the beautiful parks. The atmosphere in San Jose is incredibly unique; there's a distinctly cosmopolitan vibe with the buildings reflecting traditional central American history.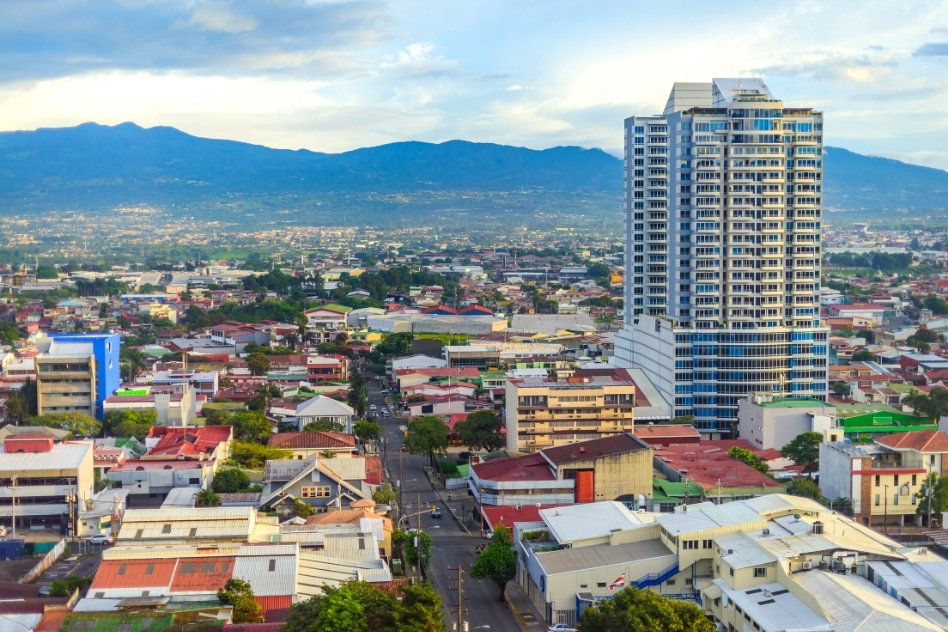 Top 3 Activities in San Jose
1. Pay a visit to the Jade Museum
The Museo del Jade focuses on the protection and conservation of jade in Central America. Take a look at all five levels of exhibits showcasing objects created by artisans along with many other pre-Colombian artifacts. Learn all about what jade represents and how it went from being used as a weapon to jewelry.
2. Enjoy a hot cup of Costa Rican coffee at Alma de Cafe
If you have a sweet tooth, be sure to sample one of their homemade desserts made from local Costa Rican chocolate.
3. Spend some time in the outdoors
'La Sabina Park' is the most popular park in San Jose. You will see plenty of kids kicking around the soccer ball and workers on their lunch break. This is the perfect afternoon picnic spot. Grab a bite to eat from a local bakery or sandwich shop, bring a blanket, and enjoy lunch in the beautiful weather.
Fun Facts About San Jose
San Jose is much less crowded than other Latin American capitals.
The city of San Jose doesn't have an airport; the closest international airport is about 45 minutes away.
The crime rate is very low here, making it one of the safest cities in Central America.
Where to Stay in San Jose
Luxury Hotels in San Jose
Gran Hotel Costa Rica, Curio Collection By Hilton
The only hotel in San Jose that was declared as an architectural and historical monument by the government, the Gran Hotel Costa Rica was built in the 1930s. This luxurious Costa Rican hotel is within walking distance of the main plazas and museums.
Radisson Hotel San Jose
Located in central San Jose, this hotel offers spacious and stylish rooms to featuring classic decor and elegant wooden furnishings.
Hotel Presidente
Spacious and modern, this elegant hotel is located on Avenida Central right in the heart of San Jose.
Budget Hotels in San Jose
Hotel Colonial
The neo-classical design, large comfy rooms, and wooden furnishings make for a very pleasant stay at the Hotel Colonial. The National Theatre, Jade Museum, Metropolitan Cathedral, and most major attractions are within walking distance of the hotel.
Sleep Inn Hotel Paseo Las Damas
Clean and classy, yet affordable, this hotel is in the center of the city within walking distance of most attractions.
Fleur de Lys
This Victorian mansion turned hotel is very well run. Spacious rooms at the Fleur de Lys include the best amenities while all attractions are within walking distance.
---
Monteverde – The Best Forests in Costa Rica
If you're a nature buff and animal lover, you'll enjoy Monteverde. It's here where you will find the best forests in Costa Rica. This area is also hugely popular with bird watchers and wildlife photographers. They all come to Monteverde to try and catch a glimpse of the Quetzal bird or snap a photo of a wild animal.
While you get back to nature and bask in its beauty, there are also plenty of fun and adventurous activities! Monteverde is a perfect destination for single travelers, families with young children, and couples.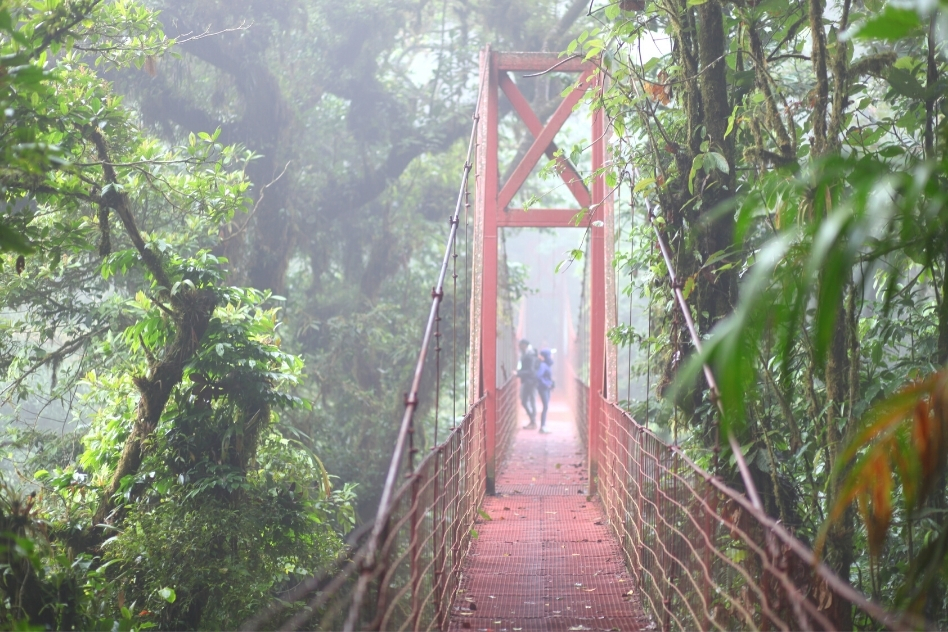 Top 3 Activities in Monteverde
1. Definitely check out the Monteverde Cloud Forest Reserve. They have some incredible animals like jaguars, ocelots, sloths, monkeys, and more exotic species.
2. While you're visiting the Cloud Forest, take a ride on one of the zip-lines for an incredible aerial view of the forest.
Tip: If you're afraid of heights you might want to pass on this activity!
3. To see astonishing hummingbird and butterfly gardens head over to Selvatura Adventure Park. They also have special offers if you're traveling with your family or as a couple.
Fun Facts About Monteverde
The best time to travel to Monteverde is between December to March; this is during their dry season.
They see an average of 118 inches of rainfall per year.
It's a tiny town! There's a population of only 6,750.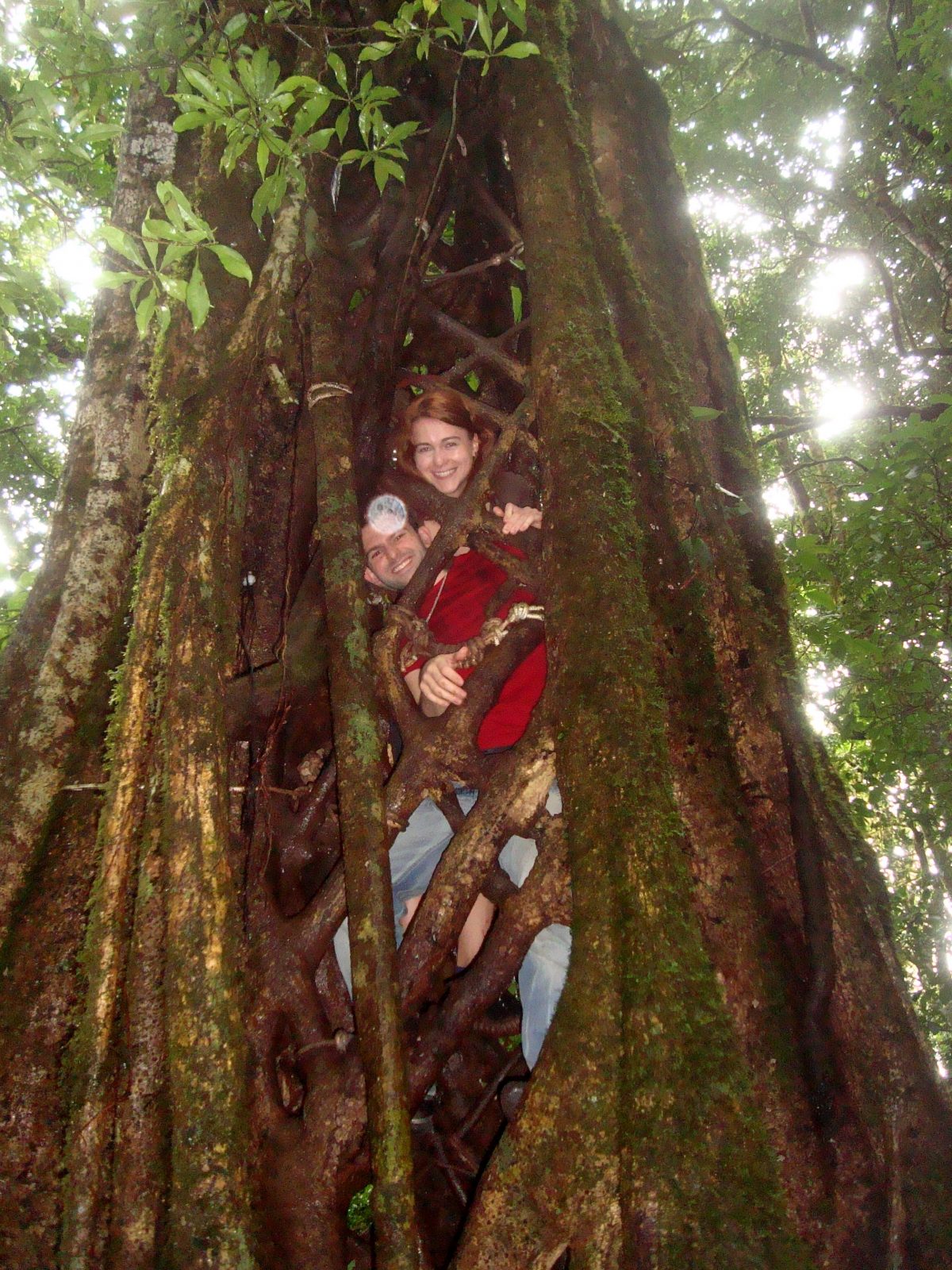 Where to Stay in Monteverde:
Luxury Hotels in Monteverde
Senda Monteverde Hotel
Individual cabin suites with a seating area and balcony feature wooden flooring and seclusion surrounded by nature. Monteverde Ecological Sanctuary and Butterfly Gardens are within walking distance of this luxurious hotel.
Hotel Belmar
The magical atmosphere at this elegant jungle lodge and the spectacular views of the sunset will take your breath away. The hotel also has private trails on the hotel property.
Koora Hotel
This 4-star jungle lodge is surrounded by beautiful nature and you can hike for free in the surrounding park. Cosy rooms and bungalows have modern amenities and private balconies.
Budget Hotels in Monteverde
Trapp Family Lodge Monteverde
Beautifully decorated bedrooms at this lodge feature wooden paneling with an old feel on the inside and a contemporary modern look on the outside. The hotel's perfectly landscaped gardens are good to amble in.
Selina Monteverde
The Selina Monteverde is located in the hills overlooking Santa Elena. Set walking distance from the Bosque Nuboso reserve, it's the perfect classy yet affordable accommodation. This hotel also offers family rooms and dorm rooms.
Monteverde Country Lodge
Set in downtown Santa Elena, this lodge offers nicely decorated chalet-styled rooms with views of the nearby tropical gardens. Guests love the lamb stew at the onsite restaurant.
---
Tamarindo Beach – Busy Surfer's Paradise
If you can't get enough of the sand and sun, head to Tamarindo Beach. Probably the most famous beach in Costa Rica, Tamarindo is the place to come for cool bars, surf shops, good vibes, delicious food, and warm weather.
If you're traveling with your family or small kids, you'll be glad to know they have plenty of kid-friendly resorts and activities for your little ones, as well. This is a buzzing area filled with locals and tourists looking to catch some waves, enjoy the laid-back atmosphere, and enjoy life.
They're also known to have some of the best street food in Costa Rica. Vendors make food fresh daily and sell it at very reasonable prices.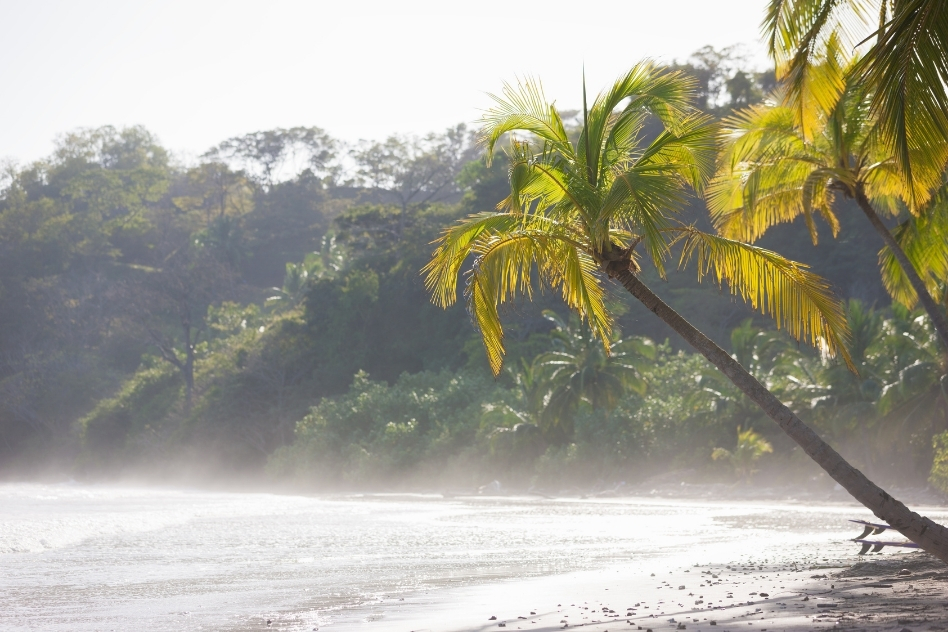 Top 3 Activities in Tamarindo Beach
1. Book a catamaran with a private skipper to experience Tamarindo from the bay. If you're lucky, you may even see dolphins, sea turtles, and whales depending on the time of year.
2. Take an ATV tour. Many of the stops on the tour are only accessible by a dirt road, so be sure to wear something you won't mind getting a little muddy.
3. Go surfing! If you're already in one of the world's top surfing destinations, no doubt, you'll want to try to catch a wave of your own. You can rent a board from the local shacks on the beaches. Many local surf shops also offer lessons at reasonable prices.
Fun Facts About Tamarindo Beach
Tamarindo beach can be very crowded during the peak season.
The sunsets at Tamarindo beach are world-famous! Photographers from all over the world flock here to try and snap a shot of the stunning red, orange, and pink skyline.
Robert August, who is one of the greatest surfing legends the world has ever seen, lives in Tamarindo. He is known to roam around the city and is always willing to take a photo with a fan.
Where to Stay in Tamarindo:
Luxury Hotels in Tamarindo
Wyndham Tamarindo
Surrounded by lush greenery, this luxurious hotel in Tamarindo offers incredible views of the sunset. Tamarindo Beach and Grande Beach are within walking distance.
Jardin del Eden Boutique Hotel
This exceptional property filled with gardens overlooks the beautiful Drake Bay. Plush rooms, lovely pool, immaculate gardens, and fantastic staff make the stay here unforgettable.
Hotel Arco Iris
This boutique hotel offers brightly decorated bungalows and rooms surrounded by tropical gardens. It's perfectly situated just 500 meters from Tamarindo Beach, and within walking distance of the nightlife and restaurants.
Budget Hotels in Tamarindo
Best Western Tamarindo Vista Villas
This hotel features villas and cabana-style rooms overlooking Tamarindo Bay and a swim-up bar at the pool. Family-oriented rooms feature free WiFi, kitchenettes, and seating areas, some of the rooms can sleep up to 6 adults.
Selina Tamarindo
Colorful hues decorate this lively property while live music plays in the common areas. Artfully and minimally decorated rooms provide the perfect beach holiday setting.
---
La Fortuna – Where Every Kind of Traveler is Satisfied
La Fortuna de San Carlos is perfect for all kinds of travelers. The town is known to be the gateway to the Arenal Volcano, which is the third most active in the country. If you're in La Fortuna on a clear day, chances are you will see the volcano puff smoke.
This quaint town is home to charming restaurants, relaxing spas, and stunning night skies that are illuminated with thousands of stars. From soaking in the natural hot springs to taking a hike through the lava fields, La Fortuna has something for everyone.
La Fortuna is only home to around 6,000 people; however, this small town sees thousands of tourists from all around the world each year.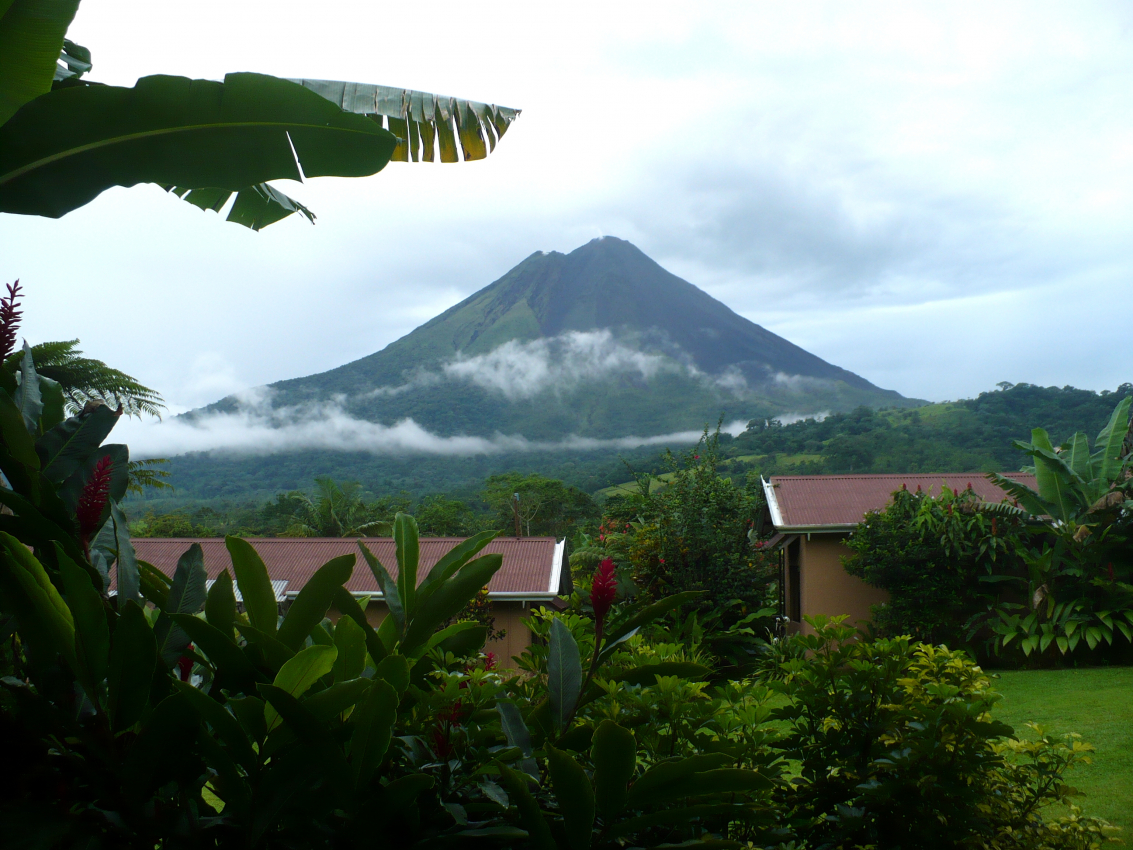 Top 3 Activities in La Fortuna
1. If you're an adrenaline junkie, head over to one of the rivers and go white water rafting. If you're looking for something more on the smooth side, book a trip down the Balsa River. If you want to get your blood pumping, then book this tour. They offer rides going through all the different classes of rapids from easy to extremely challenging.
2. Jump into the El Salto. It's a local swimming spot on the Fortuna River. This swimming hole is completely free, and there is a rope swing and a small waterfall. It's about 2 miles from the center of town, so depending on where you stay in La Fortuna, you can walk, bike, or taxi.
3. Walk through the rainforest at night for the best chance to see incredible animals. A lot of the animals in Costa Rica are nocturnal, so if you want to see a sloth, snake, or armadillos, your best chance is at night. It's best not to wander around the rainforest at night alone though.
Fun Facts About La Fortuna
The most popular time to visit La Fortuna is the dry season, which runs from December through April. Note that this is also the busiest time for the small city.
Farmers in La Fortuna export beans, ginger roots, pineapples, papayas, sugar canes, and more to Europe and the United States. Exporting goods and tourism is how many of the locals earn a living.
La Fortuna is about 70 miles from the country's capital, San Jose.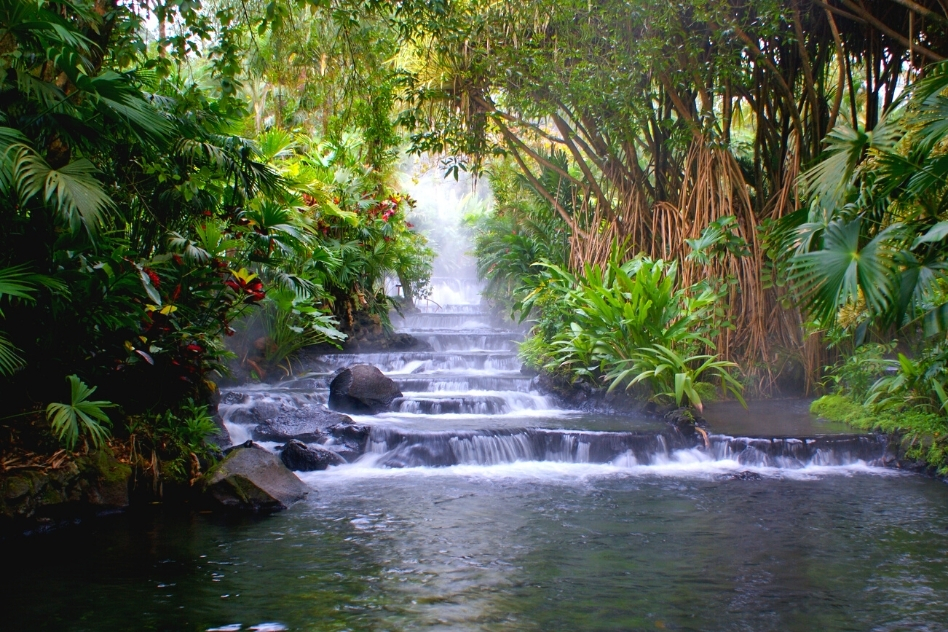 Where to Stay in Fortuna:
La Fortuna is THE place to stay for nice lodges, so it's a tough choice. I stayed at 4 different places and every year new gorgeous spots are popping up trying to outdo the older ones.
Luxury Hotels in Fortuna
Arenal Springs Resort & Spa
It's the most instagrammable hotel for a reason – it has gorgeous pools filled with hot springs at the property. They even have some wildlife at the property.
Baldi Hot Springs Hotel & Spa
The epitome of luxury, the Baldi Hot Springs Hotel & Spa is located about 2.5 km from Arenal Volcano. Stylish suites, landscaped gardens, a spa that uses volcanic mineral water and 25 thermal pools. What more could one ask for?
Hotel Arenal Kioro Suites & Spa
Spacious rooms with tiled flooring and rustic decor offer amazing views of the Arenal volcano from literally any point in the hotel. Apart from the onsite hot springs bath, the hotel can arrange for horseback riding, Sarapiqui river rafting, or hiking to Arenal Volcano.
Budget Hotels in Fortuna
Volcano Lodge, Hotel & Thermal Experience
This value-for-money lodge surrounded by gardens offers comfortable rooms with modern amenities, as well as access to an onsite pool and a thermal pool filled with mineral water. Some of the rooms include private pools filled with thermal mineral water.
La Tigra Rainforest Lodge
An eco-friendly glamping spot with tents, pools and multiple jacuzzis. La Tigra is surrounded by tropical gardens and features views of the rainforest and volcano.
Selina La Fortuna
Typical colorful and artsy decorations cover the walls in the rooms and co-living areas. The minimalistic dorm rooms, tepee tents, and family rooms are all well-maintained.
---
Costa Rica is a dream destination for so many.
People travel from near and far to explore the rainforests, beaches, and landscapes. In recent years, Costa Rica has experienced a boom in tourism from North America; it's one of the top destinations for adventure seekers and nature lovers to travel to.
One of the best things about Costa Rica is its diversity. There's something for everyone and every age group. You can spend the day basking in the sun, trekking through a rainforest, or zip-lining through the trees. With so many options, the hard part will be choosing where to stay in Costa Rica.
Use this guide to help you decide which city in Costa Rica is best for you. No matter where your Costa Rican journey takes you, know that you are in for a trip of a lifetime!