The first thing that comes to mind when you think about Dubai is money. With lavish hotels and attractions, everyone tends to think that a city built from scratch in the middle of the desert in the United Arab Emirates must be expensive to live in and visit. Is Dubai really expensive to visit?
I hate when I'm unable to do an activity I want to do when I'm already at a location. So before organizing my trips to Dubai I was concerned about the potential financial burden it could be. But after my trip, I realized I couldn't have been more wrong!
Dubai can be affordable for anyone if you pick your accommodation and activities wisely.
Is Dubai Expensive?
---
Visa
First of all, unlike most Asian countries, a visa to Dubai is completely free for most nationalities. Whether it's just a layover, or you're planning to spend your entire vacation there. You can organize everything at the airport without any hassle.
---
Luggage storage
If you have a layover in Dubai, don't worry about taking your luggage with you as you explore the city because, at the airport, storage is secure and cheap. The luggage deposit price is 20 AED (around $5) for every 12h, less than half of what you would pay at Singapore's Changi Airport for example.
---
---
How Expensive are Taxis in Dubai?
The Dubai Metro is very cheap and definitely worth taking. For about 8 AED I got from the airport to the Dubai Mall in the city center in an air-conditioned, clean, and modern train. Compared to the standards of trains in some alpha world cities such as Paris or New York, Dubai's metro was not only cheaper but more luxurious.
Fares start at 2 AED for an adult, and the most you will pay is 6.50 for all five zones. If you're really on a budget, you can also use trams for approximately 3 AED per ride, but I wouldn't recommend them as they're extremely slow.
Suppose you'd like to go to a location that isn't serviced by metro? The best example would the world famous Palm Jumeirah, an artificial peninsula constructed in the shape of a palm tree. Both the metro and the trams don't reach it but there is the option of taking the monorail.
A ticket for the monorail costs 16 AED per person one-way. However, if you're not traveling by yourself it's way cheaper to simply get a taxi.
I'm not surprised there are plenty of taxis in Dubai, as they're pretty affordable. For a ride longer than 30 minutes I paid 50 AED ($13) – super cheap when you consider how far I went. It's safer to take them than driving – I'd not want to drive in Dubai.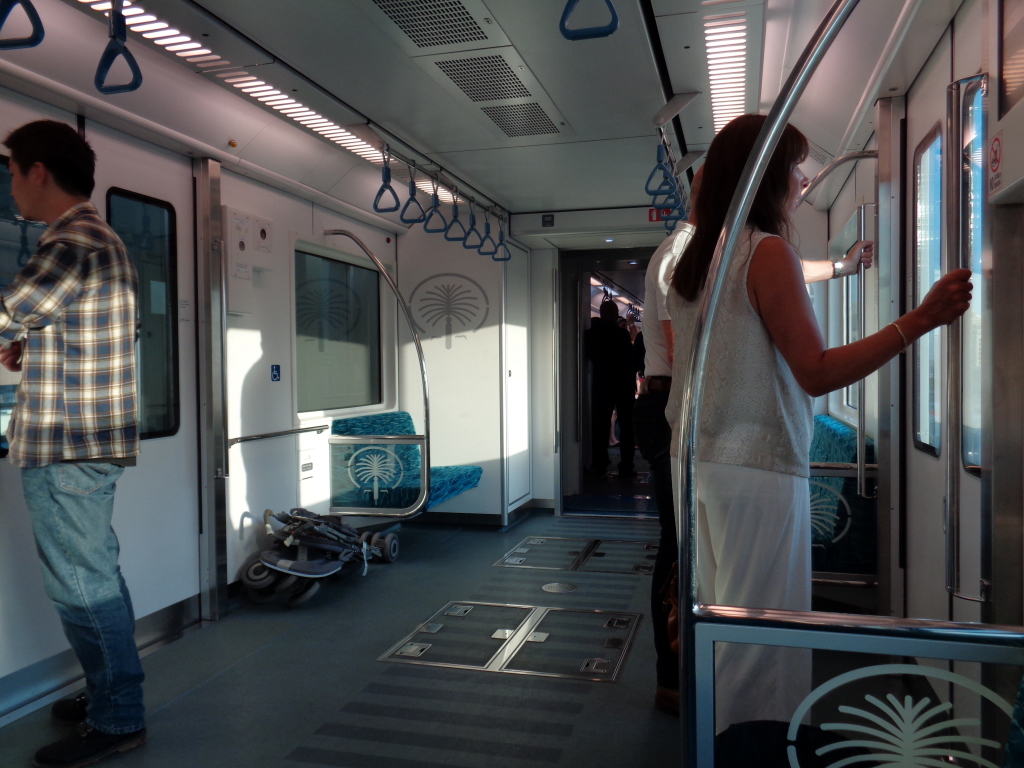 ---
Is Food Expensive in Dubai?
Food and drink prices are varied and depend on what you would like to have. You can find itthe most expensive Michelin-star restaurants or affordable mid-range restaurants. Plus, plenty of fast food options as well.
Expect to pay about $50-60 for a dinner for two as main dishes are about $10-30, even at restaurants with a fountain view. However, reservations are essential – otherwise, you'll be doomed to find something last minute and it might end up more expensive.
Alcohol is expensive, but not too crazy. I find it often being more expensive in the US than Dubai.
Enjoying a frozen cappuccino from Tim Horton's cost me only 17AED ($4.5), which if I'm not mistaken is even less than in Canada where the chain is originally from.
---
Where to Stay in Dubai
It's possible to find affordable accommodation in Dubai. Here are some options:
The best areas to stay will depend on what do you want to do. For example, The Palm will be too far from downtown activities so not truly convenient.
Jumeirah Beach is a good area to stay or anywhere near Dubai Mall.
---
How to see the best of the most luxurious places
A trip to Dubai isn't complete without at least a bit of luxury, no matter if you have a bunch of money or not. A stroll in Dubai Mall is free of charge and you can still see some really amazing things like the star-filled ceiling and the huge aquarium complete with sharks, manta rays, and an assortment of exotic fish.
When it comes to dining out in luxury, the first thing that comes to mind is the Burj Al Arab hotel, the only hotel in the world that has been awarded 7 stars. Don't even think about dining there unless you are really rich!
A more affordable option is the 'Sky High Tea' at sunset where you can see stunning views of the man-made islands of The Palm Jumeirah. You have to make a reservation and pay 425 AED ($115) per person in order to access the hotel – security won't let you in otherwise. If that's too expensive for you, there is still a way to enjoy the view and the hotel's light show without spending much money.
There are plenty of restaurants around the Burj Al Arab Marina, and their prices are a bit more down to earth – approximately 150 AED for the main course. However, if you want to have some alcohol with your meal, it's going to double your bill as alcohol is never cheap in Dubai.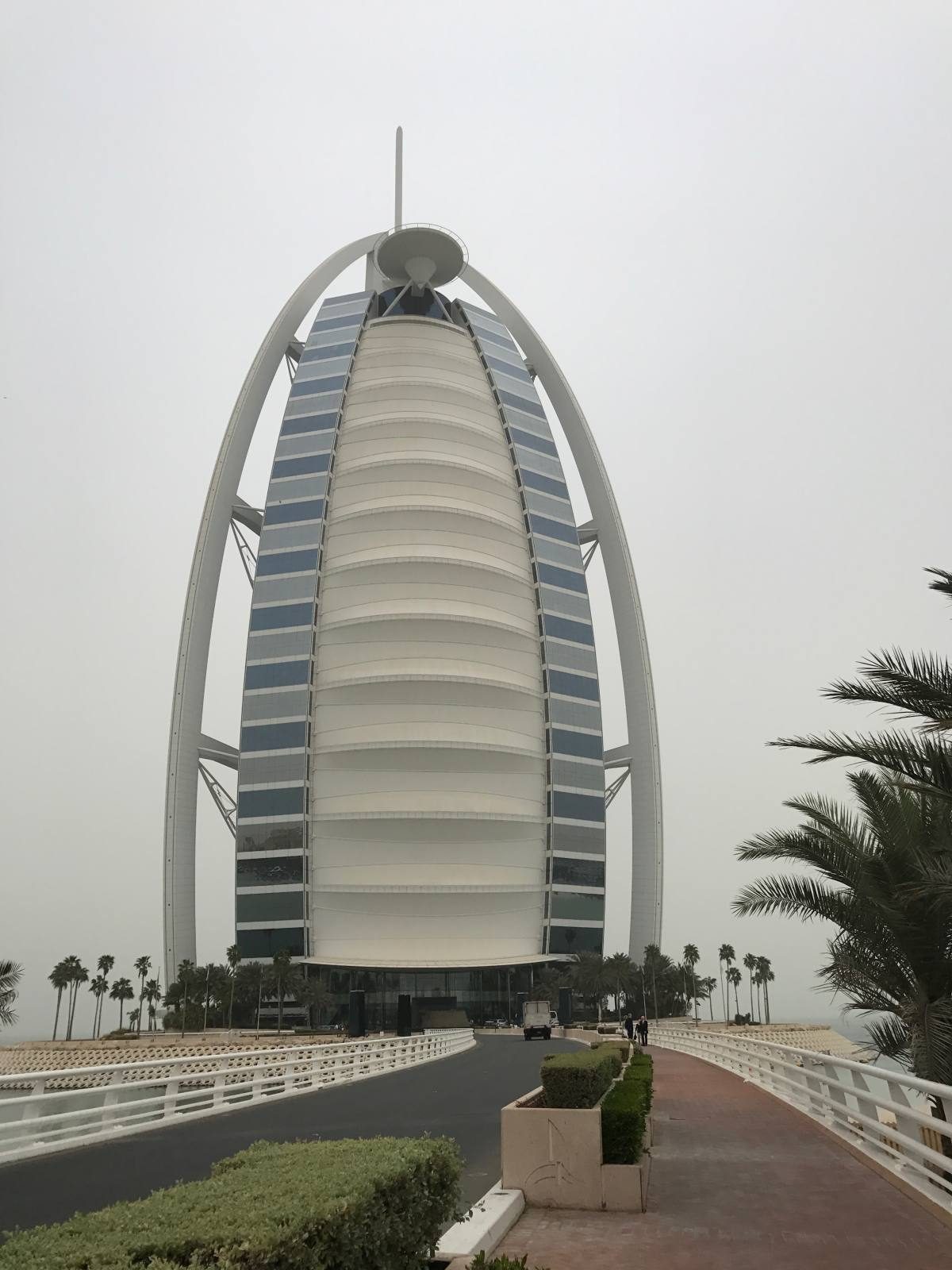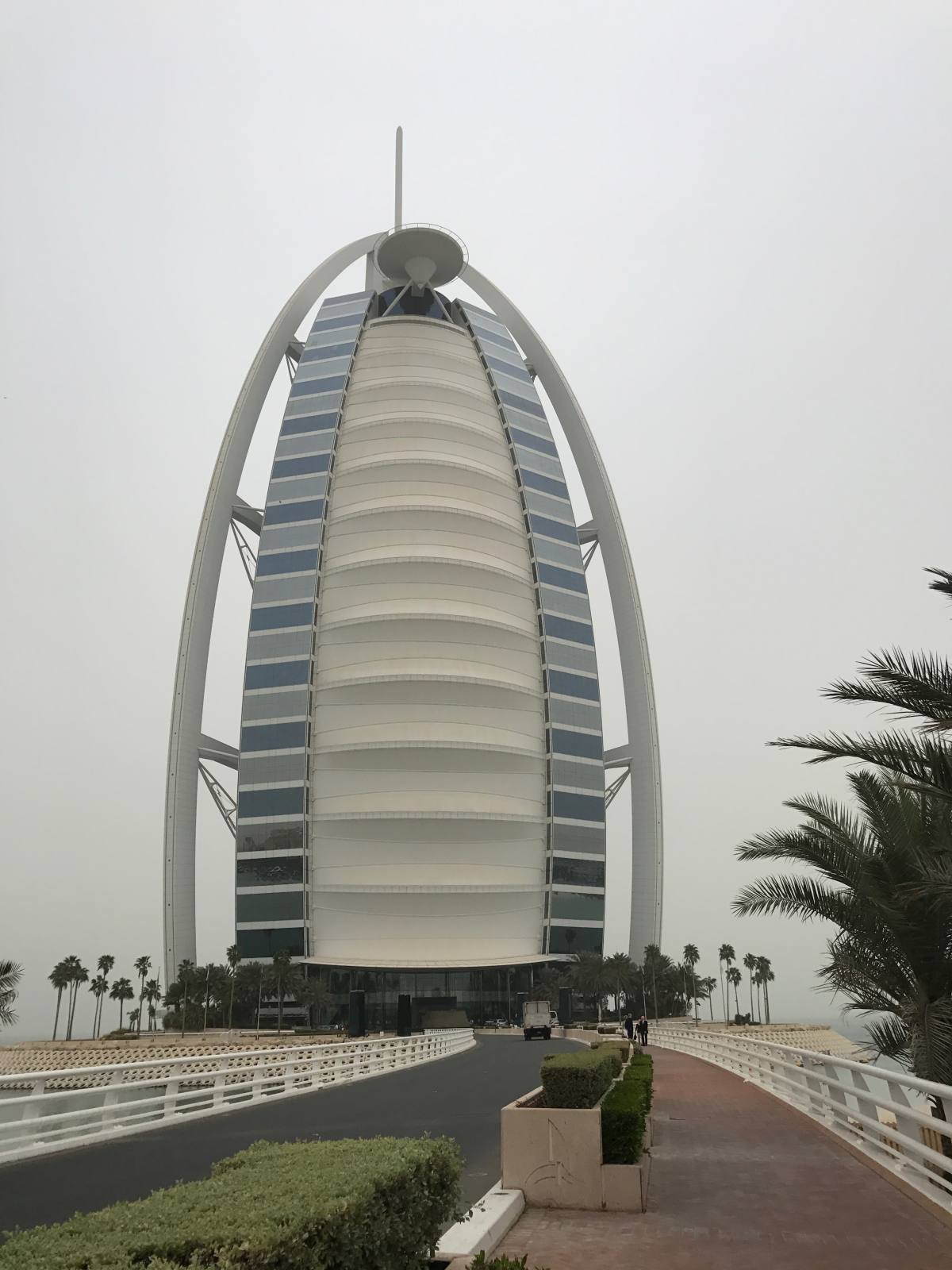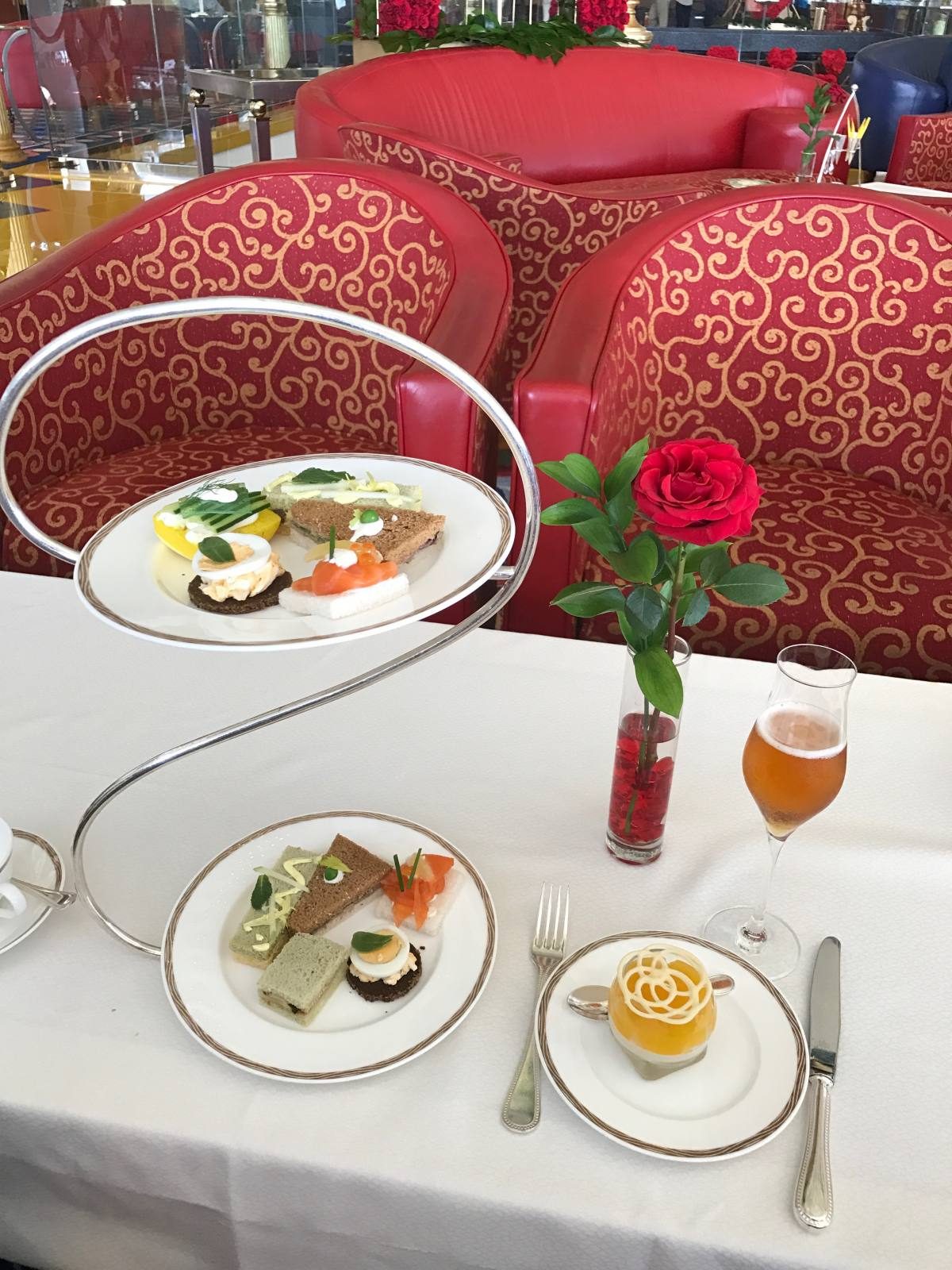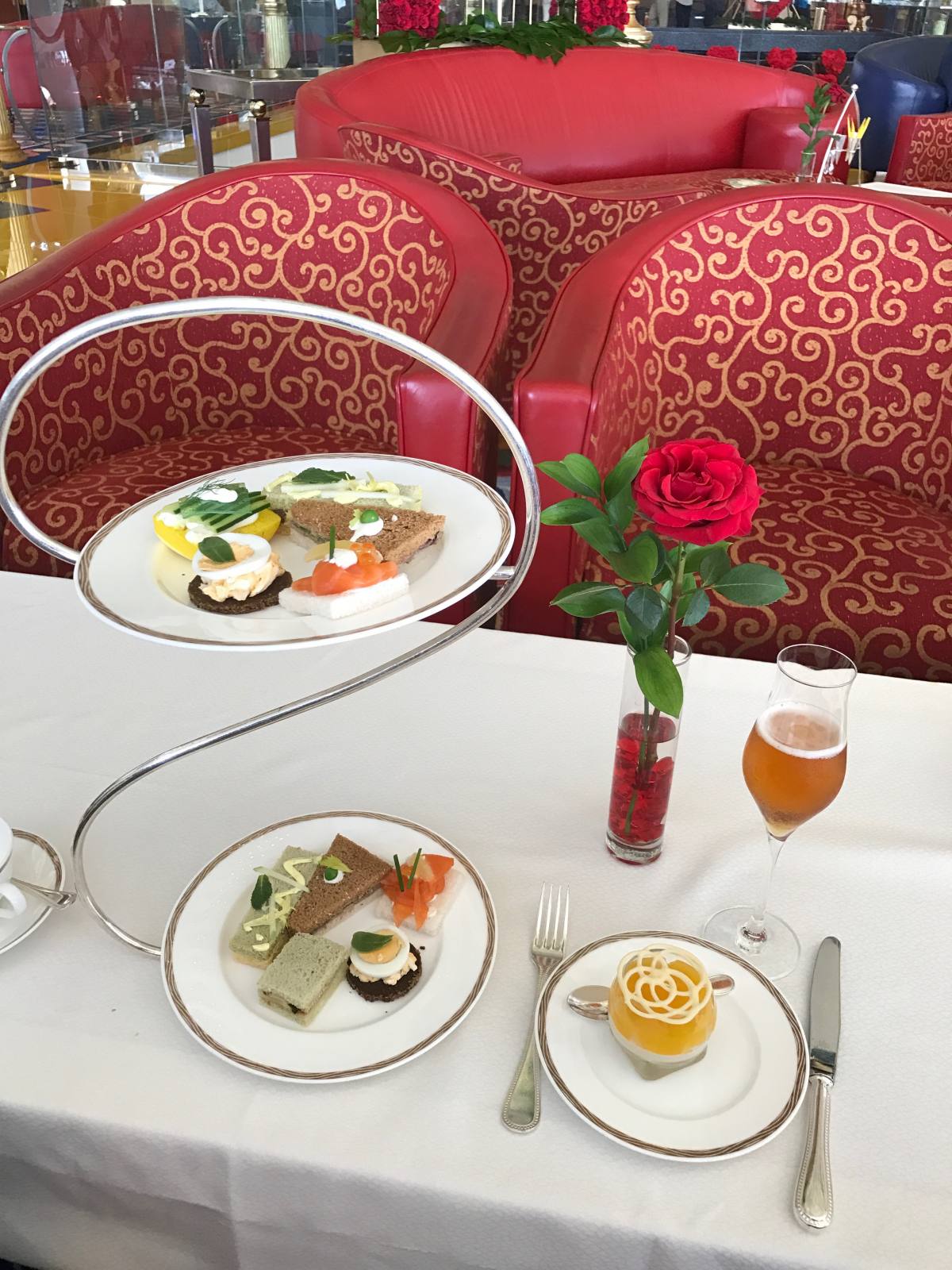 ---
To show you how much I spent in a day traveling solo, I broke the costs down below. You can answer your own question is Dubai expensive. Personally, I did everything I wanted to do and didn't break the bank.
1 USD = 3.60 AED
I started my day with a Red Bull - 6 AED
Metro from the airport to Dubai Mall – 8 AED
Tim Horton's ice-cup – 17 AED
Taxi from the Mall to Atlantis the Palm – 53 AED
Zatar croissant – 11 AED
Entry to the Aquaventure Waterpark + locker – 290 AED (the most expensive activity!)
Monorail from the Palm – 16 AED
Tram to Jumeirah – 3 AED
Keychain (I collect them from every country I visit) – 15 AED
Taxi to & from Jumeirah to Burj Al Arab – 35 AED
Dinner & cocktails – 200 AED
Taxi to the airport – 40 AED
TOTAL: 675 AED → 180 USD Not bad for a day of spoiling myself!
---
P.S. Trick for saving on water: If you want to save money on water get a LifeStraw Water Bottle. It's a water bottle with a special filter that will allow you to drink tap water (or even some from the pond, puddle or waterfall) everywhere!
---
SUGGESTED BOOKS FOR VISITING DUBAI & SURROUNDINGS: