If you've ever been to the Northeast, you've probably heard people encourage you to shop in New Hampshire. If you've never been to New Hampshire, you might be confused. How does such a small state have such a good reputation for shopping? Is shopping cheaper in New Hampshire?
New Hampshire is one of the five states in the US, and one of two on the East Coast, that doesn't have a sales tax. Shopping here is cheap and easy, which is why many come to shop as your money simply goes further.
While many shopping malls and outlets have been hit hard all across the US, New Hampshire is fortunate to still have many great shopping options for locals and visitors alike to try out.
Here are the best shopping outlets in New Hampshire. Go shop 'till you drop!
1. Pheasant Lane Mall
The Pheasant Lane Mall is not only one of the biggest malls in the state, but it is also one of the most frequently shopped at. The mall, located in Nashua off Route 3, provides convenient access to southern New Hampshire and northern Massachusetts residents.
The mall includes a diverse array of shops including Apple, Sephora, Dicks, Macy's, Victoria's Secret, and more. The mall also has a wide food selection available at the food court, including one of the only Chick-fil-As in the state.
Even better, you never need to fight for parking at the mall. While it's almost always busy, there is wide parking availability in and around the mall, making it highly accessible for the many of us who rely on personal vehicles as our way of transport.
The Pheasant Lane Mall provides everything you can think of that you might need in a mall, all at a more affordable price than many in the Northeast.
2. Mall At Rockingham Park
The Mall At Rockingham Park is the largest shopping mall in the state of New Hampshire, allowing it to house more stores than many shopping centers in the state. This, combined with tax-free shopping, puts the outlet high on our list of shopping centers in the region.
The Mall At Rockingham Park is also unique from many other malls in New Hampshire in that it houses some of the more expensive brands. While you often need to go to Boston to find these stores, the Mall at Rockingham Park includes a Vera Bradly, Coach, Lululemon, and more.
The mall is located off of I-93 in Salem, the state's central corridor. This makes it incredibly easy to access from both the north and south, but also means it is a little bit more crowded often.
The mall's location is also beneficial in that it's near a few other shopping areas in Salem. If you can't find something here, you can check out the other nearby stores.
3. Mall Of New Hampshire
Back at its peak, the Mall of New Hampshire was the place to go shopping in the state. While the COVID-19 pandemic has put a strain on some of the stores, the mall is still high quality with a lot of great things to do.
The mall has the benefit of being located in Manchester, the state's largest city. It also happens to be near the intersection of I-93, Route 101 (the access to the seacoast), and Route 3. Its central location makes it easy for anyone who needs to shop to get there.
The Mall of New Hampshire has a nice combination of stores that makes shopping easy and affordable. Some of the stores include Apple, Old Navy, Vans, Versona, and more. If you're not super into shopping, the mall also has the state's only Dave and Buster's.
Personally, I always buy a new iPhone or MacBook there when I'm visiting the family. It's so much cheaper than buying it elsewhere since these items aren't cheap.
To top it off, the Mall of New Hampshire also has some of the best food options for a shopping center in the state. There is a Bertucci's and Red Robin in the mall, with a TGI Friday's, Texas Roadhouse, and LongHorn Steakhouse across the street.
4. Mall At Fox Run
As you'll come to find out, most of the malls and shopping outlets in New Hampshire are located either in resort areas or in southern New Hampshire in the population centers. There isn't a ton of shopping on the outskirts of the state. The Mall at Fox Run is the exception.
The Mall at Fox Run is located in Newington, New Hampshire, not too far from Portsmouth, and just a small drive away from the beaches of the seacoast. It's also right across the border from Maine, giving a tax-free oasis to those on the Maine coast.
The mall has a wide selection of shops to fit whatever your needs or wants. It includes Aeropostale, American Eagle, Footlocker, H&M, Hot Topic, Loft, Macy's, and Kay Jewelers. With some exceptions, you can find anything and everything you need.
The Mall at Fox Run is a great spot to seek refuge on a rainy day on the seacoast. On your next vacation to Portsmouth, make sure to make a stop here.
5. Tanger Outlets
If you've spent any time in northern or central New Hampshire, you know that things can be fairly spread out, with certain attractions somewhat difficult to get to. The Tanger Outlets in Tilton provide a relatively easy spot to get to where shopping centers are less common.
The outlets might not be the biggest in terms of square footage but have almost everything you could hope for in a shopping center. Shops include American Eagle, Banana Republic, Columbia, Eddie Bower, Gap, Kate Spade, Rue21, Polo Ralph Lauren, and more.
The outlets are also conveniently located near Lake Winnisquam, Lake Winnipesaukee, and the tourist destinations in the region.
Plus, the outlets include some items for purchase that are less expensive than what you might find in malls in southern New Hampshire, just because they are further north. This combined with many food choices, and no sales tax makes the outlets phenomenal.
6. Settlers Green Outlet Village
Once you get north of Tilton, you begin to enter the White Mountains and the Lakes Region. These areas, because of their geography, make urbanization difficult, so you'll find most large communities are tourist towns. Many of these towns have some great shopping options.
North Conway follows true with this trend. The Settlers Green Outlet Village is a great shopping location just minutes away from some of the best skiing in the state. It's also easily accessible from southern Maine.
You'll find that many shopping centers are oriented toward nature lovers; the outlet has a Columbia, Eddie Bower, REI, and Under Armor store. It also has some other options, including Talbots, American Eagle, J. Crew, Gap, Timberland, and more.
Since the outlet is one of the major hubs of activity, there are also many dining options. Our favorite is the Black Cap Grille, but the Sea Dog Brewing Company and Tuckerman Brewing a short drive away are also great options.
7. PowerHouse Mall
If you're someone that is on the western border of the state, you might be wondering if there are any good shopping options available for you. Fortunately, you get the unique treat of shopping at the PowerHouse Mall in West Lebanon.
The Power House Mall, as the name suggests, is located inside an old mill on the Mascoma River. The old building now houses a few exciting stores that can help you to get your shopping fix. Additionally, the mall is located just across the river from Vermont, providing tax-free options.
The mall hosts a unique combination of local businesses and national chains. You'll find big names like Eastern Mountain Sports, L.L. Bean, and Yankee Candle, as well as local shops like Vermont Violins, Adorn, Griff and Company, and Lui Lui's.
Power House Mall also has a ton of other stores in the area and falls on the I-91 corridor south of Hanover. It's very easy to get to from anywhere along the Connecticut River, and makes for a great day!
8. Merrimack Premium Outlets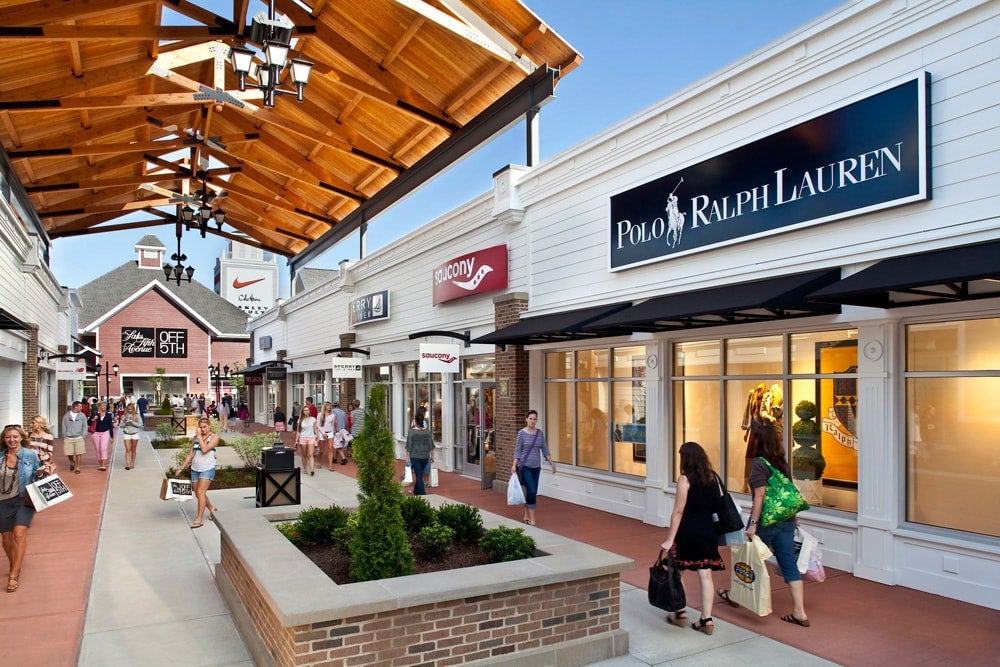 Sometimes, there are days when you have a lot to do, but you don't really want to talk or interact with a lot of people. It can be easier to go to a more local, smaller store to get what you need rather than a large mall.
If this is you, the Merrimack Premium Outlets have got you covered. Located in Merrimack (just south of Manchester and north of Nashua), the premium outlets are far smaller than those in the two nearby cities but can accommodate your needs nonetheless.
The outlets include a number of stores to help fit your needs. Shops include stores like Lids, Vineyard Vines, Tommy Hilfiger, Calvin Klein, Converse, and more. Just north, you'll find a Shaws and Liquor and Wine Outlet. Talk about two birds with one stone!
The best time of day to head to these outlets is during the lunch hour, if possible. The outlets are very quiet at this time, and you can stop up the street for a delicious lunch at QDOBA Mexican Eats for lunch!
9. Mill Falls Marketplace
While at most shopping outlets in New Hampshire you'll find a combination of national and local businesses, there are some shopping centers focused exclusively on local chains. If you love to support small businesses, Mill Falls Marketplace is the spot for you.
Mill Falls Marketplace is located in Meredith, New Hampshire right across from Lake Winnipesaukee. Meredith is a major tourist center in the spring, summer, and fall, and the local hotels provide a steady stream of visitors to this high-quality outlet.
The marketplace includes shops like Innisfree Bookshop, The Nest, Great Northern Trading Company, Cozy Cabins Rustic, and more. Whether you forgot something from home on your vacation, want a souvenir, or just want to browse the shelves, you'll find something to love.
Additionally, Mill Falls has some phenomenal dining options. Giuseppe's Pizzeria and Ristorante has some of the best Italian around, and you can end the night with a quick dessert at Ben and Jerry's!
---
No matter your reason for your trip, be sure to take advantage of our many shopping outlets in New Hampshire. With lower prices and no sales tax, New Hampshire is the place to shop!