Add to Flipboard Magazine.
I definitely won't recommend anyone to go for the Sahara trip in Morocco. However, I wouldn't say the same thing about heading to Sahara in Tunisia. Below I'll explain what to expect from each tour and basically 'which Sahara desert to choose'.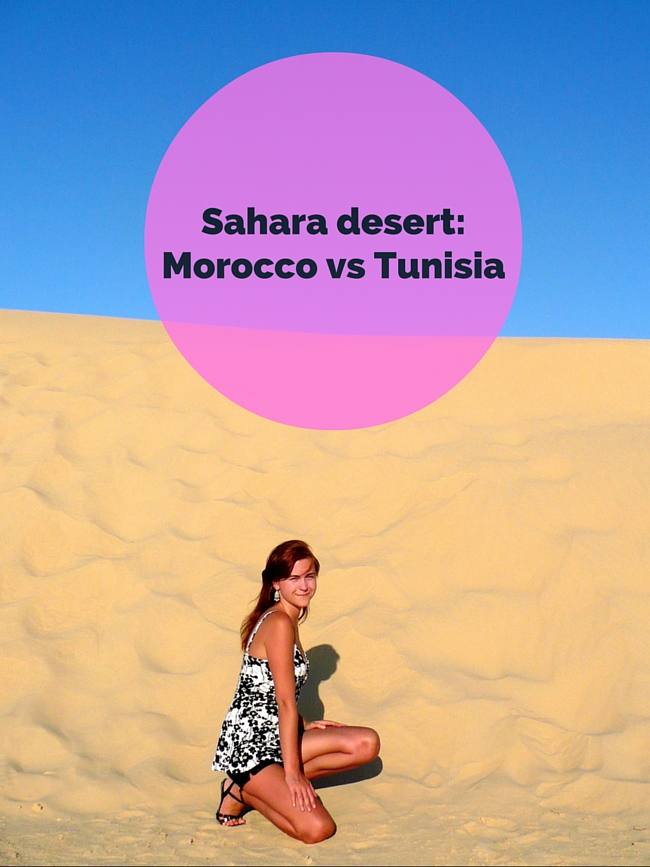 Getting to Sahara & places to see on the way
In Tunisia getting to the desert doesn't seem that long as in Morocco, because you simply don't just drive for hours. In Tunisia you get to see some interesting cities and walk around during your breaks. Among the other places, you even get to see the famous El Jam amphitheater which is way bigger than the Roman Colosseum. You also stop at various Berber houses and enjoy the local hospitality.
The only interesting place to stop at in Morocco is Querzarate town. where many movies were filmed, such as Gladiator, Laurence of Arabia, Babel and much more. When I visited they were filming The Queen of the Desert with Nicole Kidman, but unfortunately I didn't manage to spot Nicole anywhere. The other stops are basically quick breaks at cafes on the road.
Sleeping on the desert & sunrise
Tunisia: You get to sleep in a super nice hotel with a huge swimming pool. In the evening there was a dinner buffet with everything you could imagine to eat. In the morning we've been woken up at 3:30am for breakfast which was another buffet with plenty of different things. After this feast the bus drove us to the salt desert where we could see the sunrise. It was a bit overcrowded with tourists, however it was extremely beautiful and standing on a salt lake added even more to the whole effect.
Morocco: When I imagined sleeping in a tent on a desert I thought of a cool camp in the middle of nowhere. However, our tents were surrounded by cars and shops within 5 km. Moreover we were surprised to discover that the tents, decorated in 1950s Russian style, were equipped with electricity and the camp offered a regular bathroom in another tent.
We were served a regular tagine – meat and vegetables cooked in a triangular pot. There was not much going on apart from chip-chat conversations with locals, although I was very happy to get a chance to play with 3-weeks old kittens. There was a sand storm at night, so getting to our tents was quite difficult and at night I turned into an ice cube – it was freezing. The sunrise itself wasn't very entertaining and our breakfast was a leftover bread from dinner with butter.
Which place do I recommend more?
I'd go for Tunisia, as there are way more attractions on the way and the trips are better organized. However, on the other hand it's fun to experience both desert visits – in Tunisia and Morocco!