You might have seen these incredible Moroccan sand dunes full of camels and luxury tents on Instagram. They can look dreamy. But don't be fooled – not every desert tour company will take you there, as each desert camp looks different.
Wherever you go in Marrakech or search online, you'll find hundreds of tour operators offering desert tours ranging from 1 to 3 nights and the abundance of options can be a little overwhelming.
Desert Tour in Morocco: Merzouga vs Zagora
One thing to understand about desert tours in Morocco is that there are two desert spots, quite far from each other: Merzouga and Zagora.
Since most trips start in Marrakesh, you need to keep in mind that getting to any desert spot in Morocco will take a long time. And I mean a VERY long time.
---
Different Types of Desert Tours
1 Day Tour
The one day tour is for people who have a limited amount of time to see the desert and want to see some sand dunes. Don't expect to see any incredible and tall dunes. You'll be taken to a desert region around the city and might get a camel ride. I'd generally advise against taking this tour, but it's your choice!
Alternatively, if you just want to ride some camels and see Atlas Mountains from above, consider a sunrise hot-air balloon tour. This s a fantastic opportunity that's much better than a one-day desert tour.
2 Days 1 Night Tour
The 1 night/2 days tour will take you to Zagora desert, as it's 6.5 hours away. On the way, you'll stop in Ouarzazate and see the village ofït Benhaddou and on the way back at Atlas Film Studios. While you'll sleep in the desert and complete a camel trek, you won't see any golden sand dunes.
3 Days 2 Nights Tour
Usually, a 3 day / 2 nights tour will put you in a hotel for the first night to split a 10-hour drive, before moving further to Erg Chebbi dunes (Merzouga). You'll see the same spots as on a shorter trip, but you'll have more time at each place of interest. Merzouga has many camps for different standards, but unlike in Zagora you'll be able to find glamping tents with private working shower and toilet.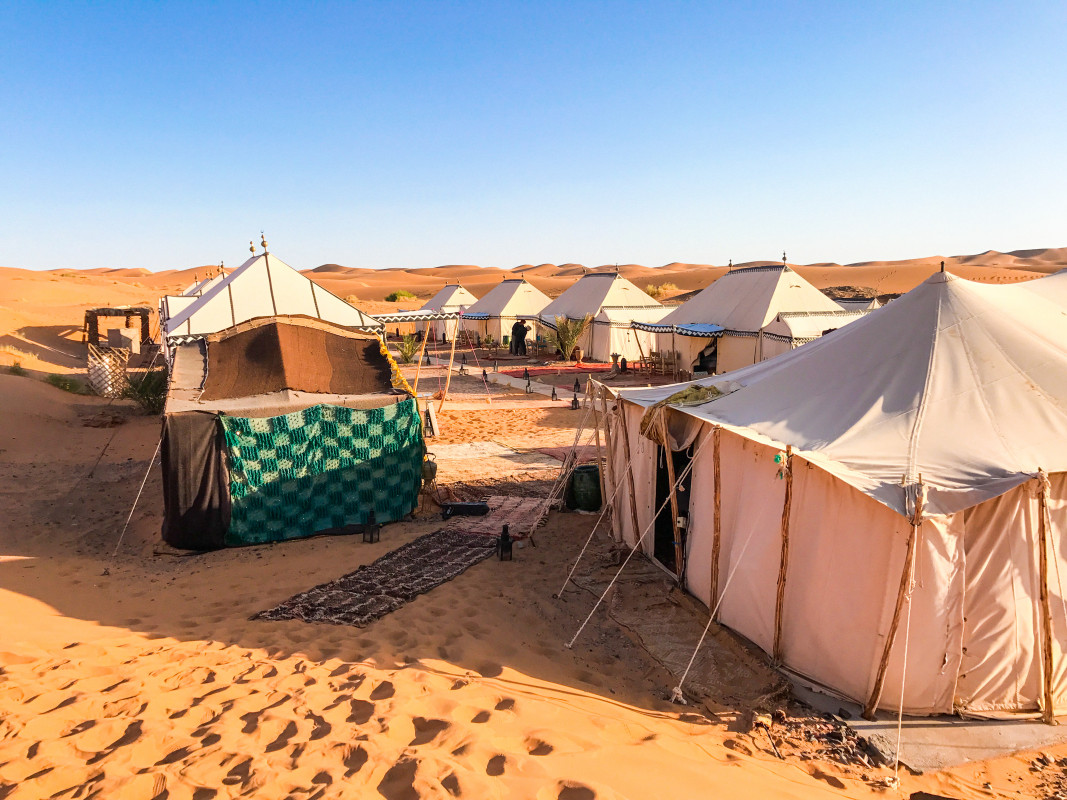 ---
How to Book a Desert Trip in Morocco
If you want things booked in advance: You can simply book a tour on Viator. This way, you can have a guarantee that you'll be able to do it on certain dates.
If you want to save money: Book something at your riad upon arrival. You can save up to $50 if you book and pay things upon arrival.
Alternative option: If you'd rather not take a group tour and private tours are too expensive, you can surely follow my example and do the whole thing on your own.
My husband and I rented a car and drove to Ouarzazate on my own, seeing all the spots by ourselves.
After a night spent in a local riad in Ouarzazate, we drove further to Merzouga and got picked by a camp manager.
We booked my car on Discover Cars and stayed at this desert camp.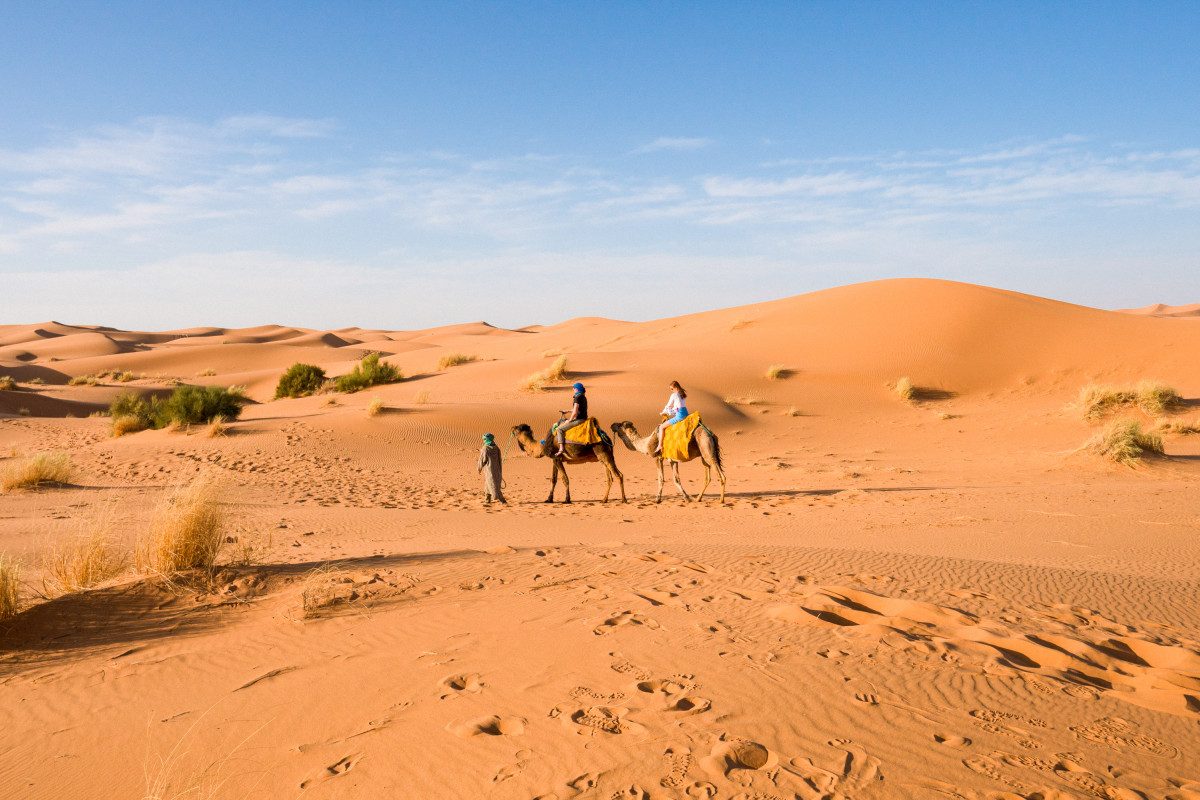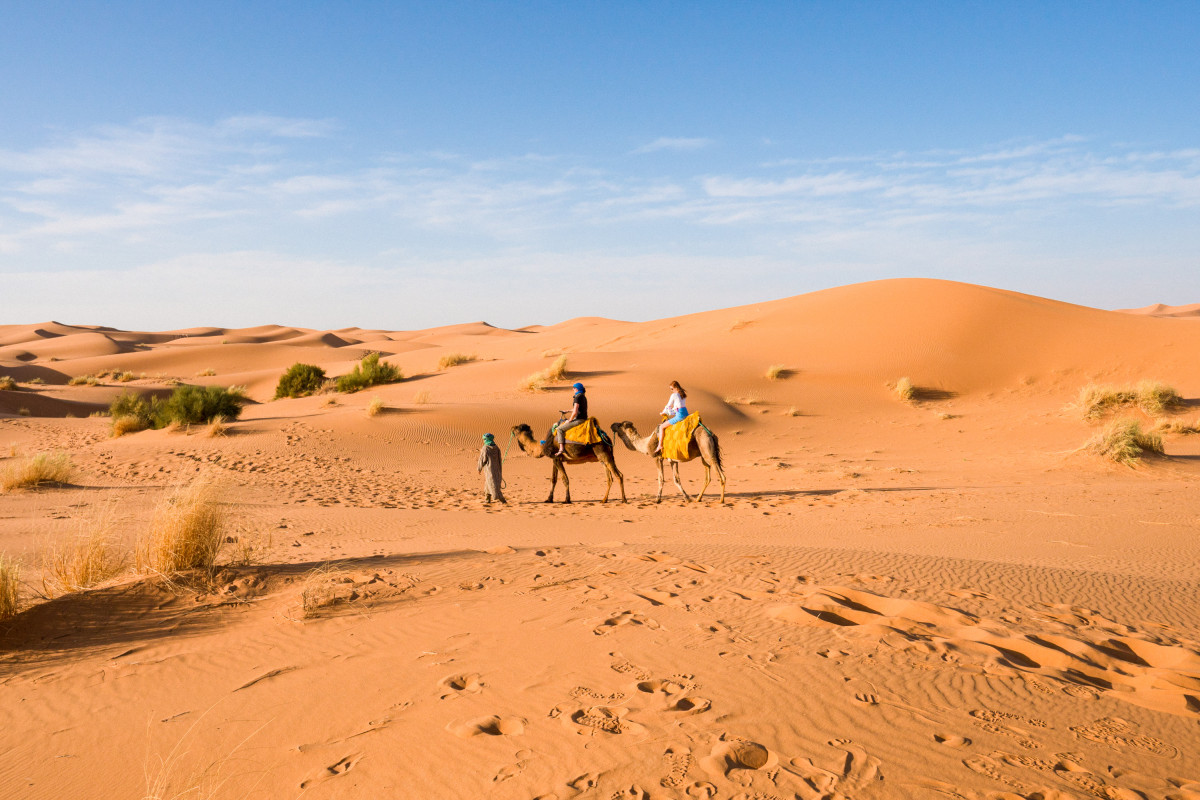 ---
Morocco Desert Tour Price
Price really depends on the tour you pick and the standard of your camp. Some 3-day tours can cost as little as $70 but they usually exclude food. If you want to glamp I'd say a good price would be between $200 to $300 per person including transportation.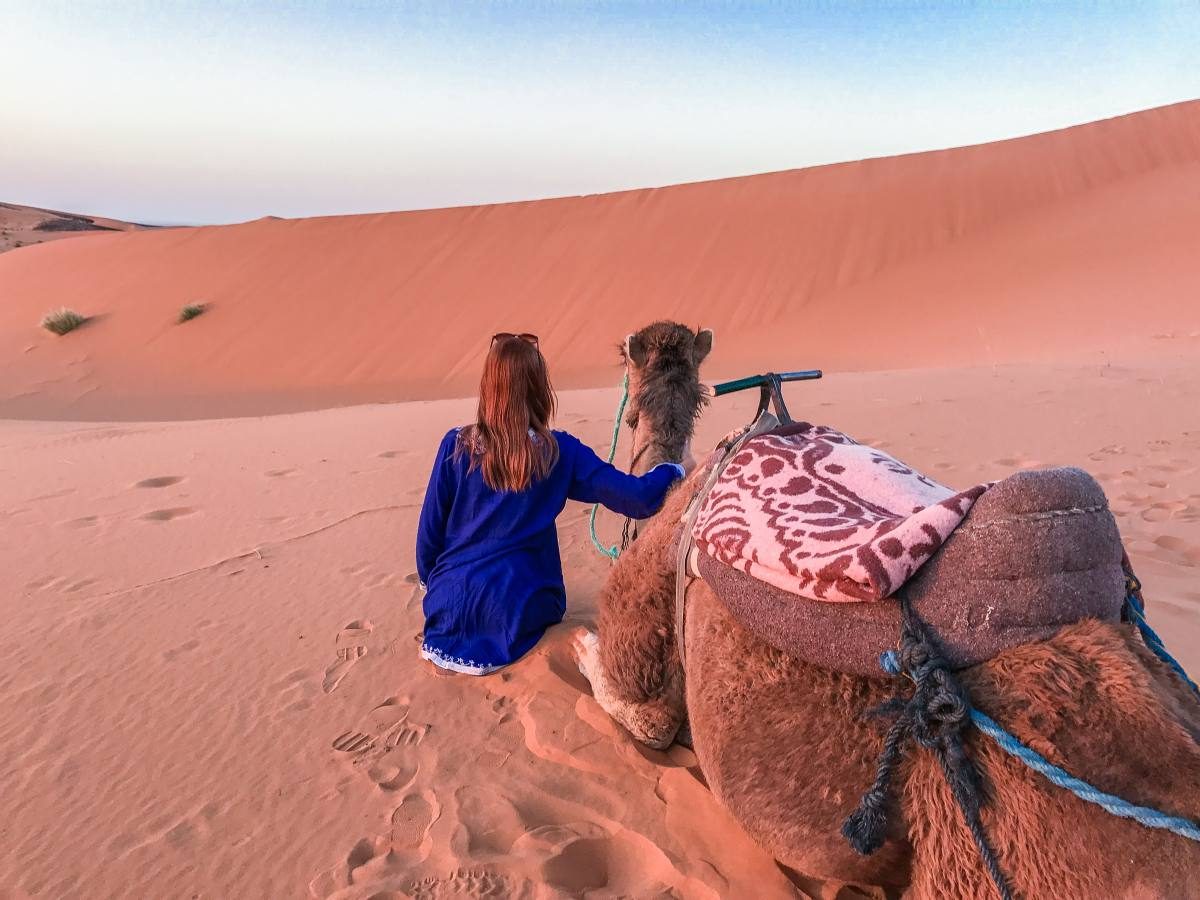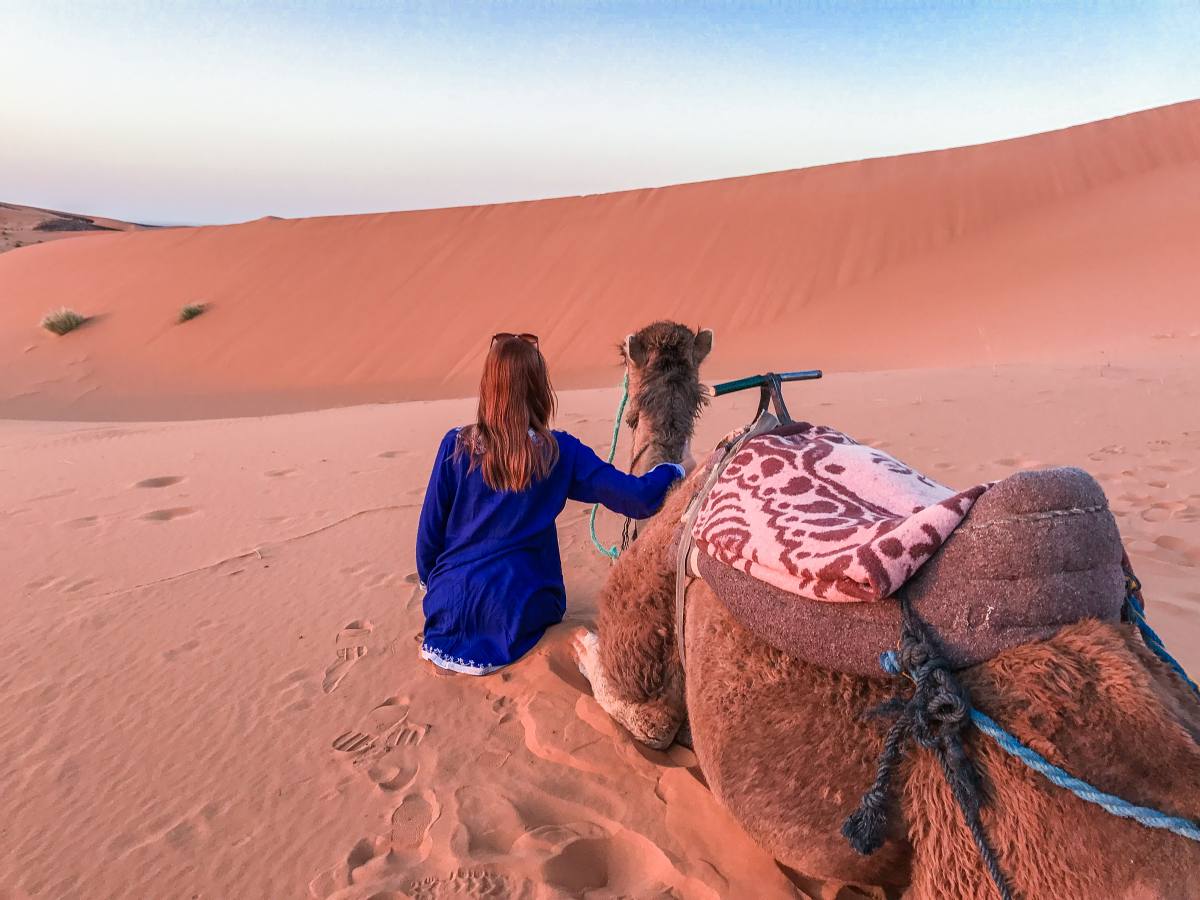 ---
Zagora Desert in Morocco
Zagora is a desert in the southern part of Morocco. While it's a desert, it's a dry stone desert so don't expect any magnificent sand dunes. Camps in Zagora are usually budget style, similar to those in Oman, so toilet facilities will be shared.
Honestly, I haven't encountered a camp with a working shower, but this might have changed recently as new camps are popping up like mushrooms after the rain.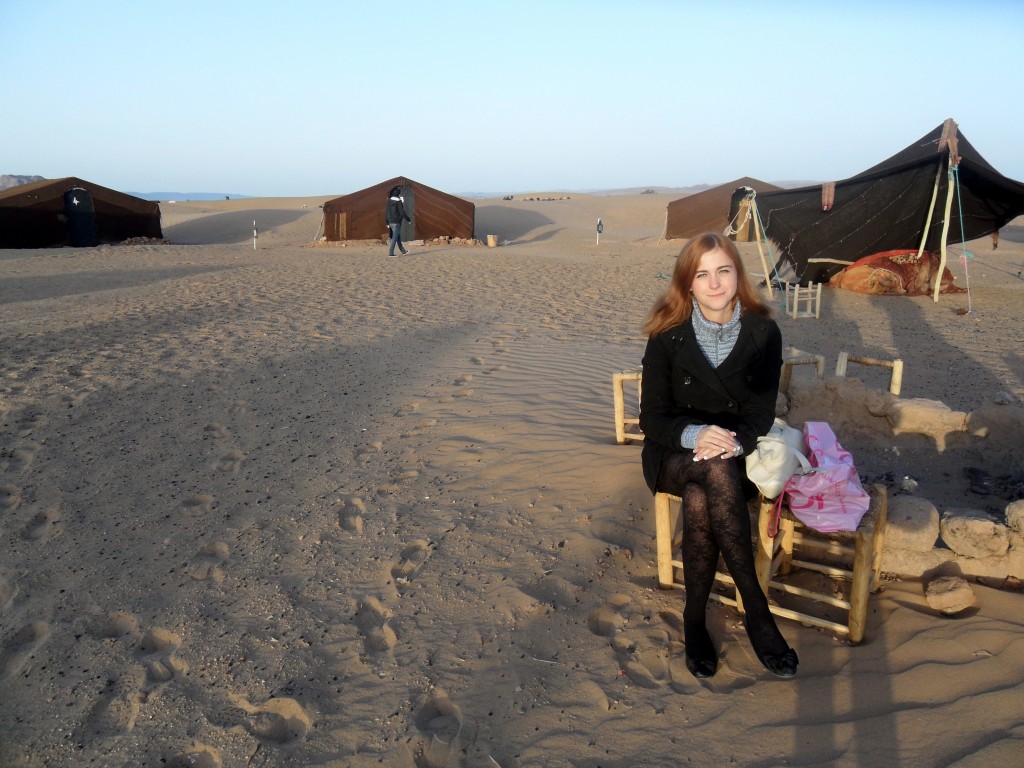 After arriving at a camel camp, we had to bring all our belonging with us and attach them to our fluffy vehicle. As I wasn't aware of that I ended up packing all my stuff into plastic bags which made me look like I went shopping on a camel. Quite ridiculous.
An hour more of camel riding and we reached our camp for the night. There was not much going on apart from chit-chat conversations with locals, although I was very happy to get a chance to play with 3-weeks old kittens.
An evening was spent eating chicken tagine, listening to our guides play Berber music and playing with some desert kittens that I ended up finding in the main tent.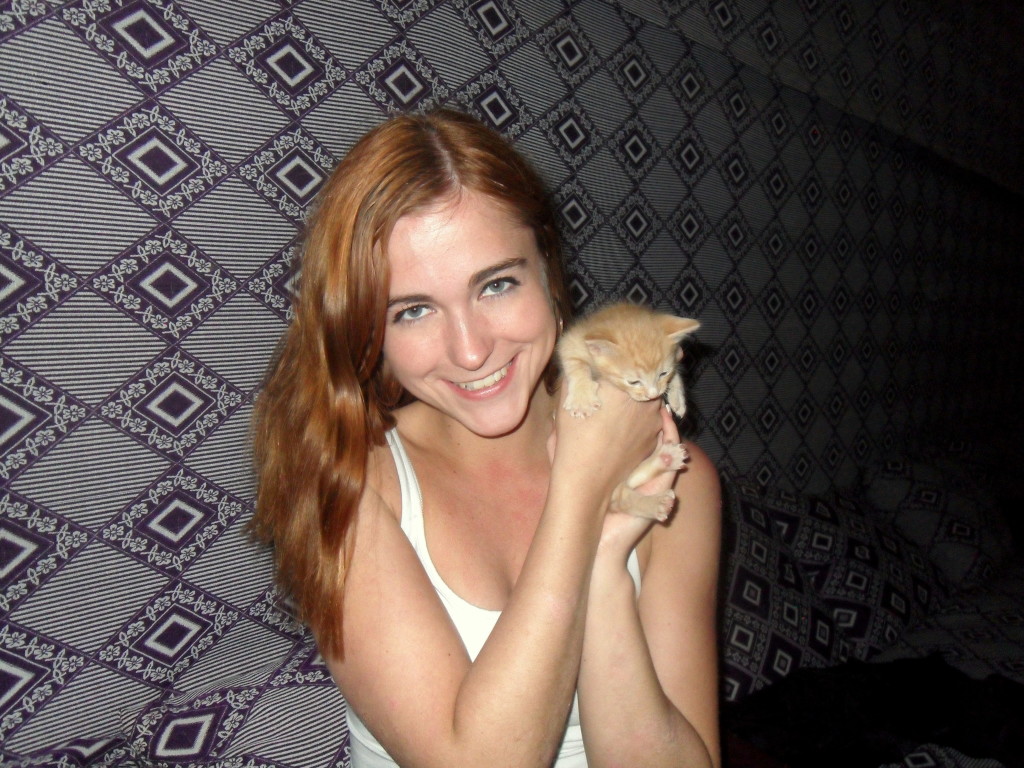 The tents were extremely basic and freezing at night. I ended up sleeping in my clothes, covered with a blanket, but the sand still got inside it. I tried to see the stars at night, but as the camp isn't located too far from towns I didn't get to see any.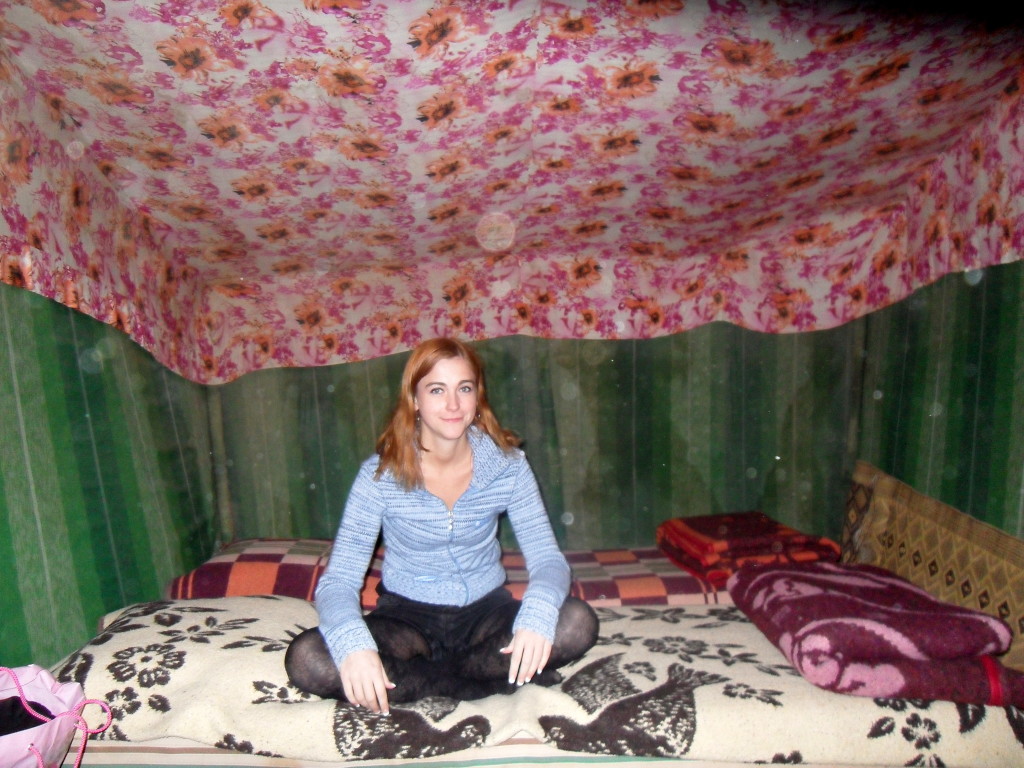 ---
Merzouga Desert in Morocco
Measuring around 22km by 5km, the Erg Chebbi dunes in Merzouga form an intriguing in the otherwise flat and rocky desert that marks out the Moroccan portion of the Sahara Desert. If you think of a sandy desert, Merzouga area is your answer.
Most desert camps in Merzouga are luxury camps and even cheaper spots are more focused on an individual, rather than mass experience. As a result, you won't find giant camel meeting spots and won't see huge groups riding camels together. There are other camps around, but the dunes are so vast that we only saw people in the distance.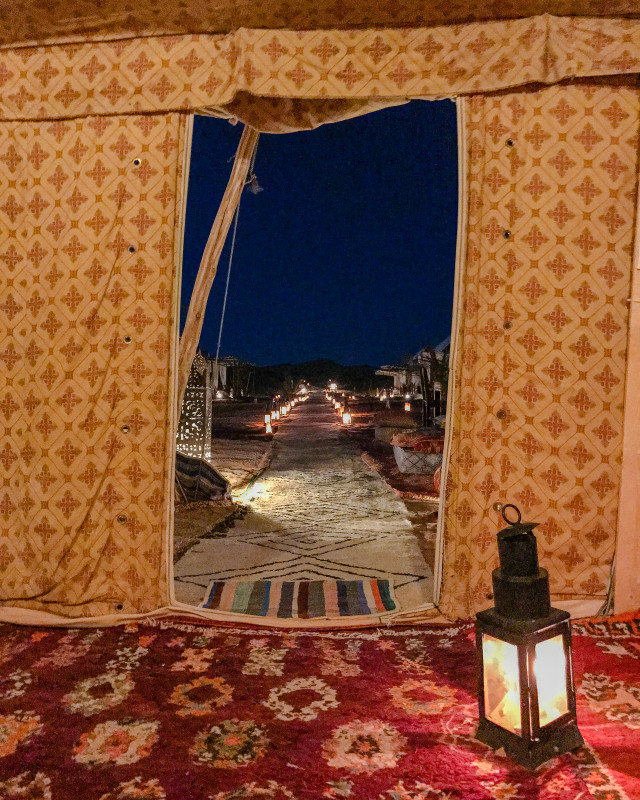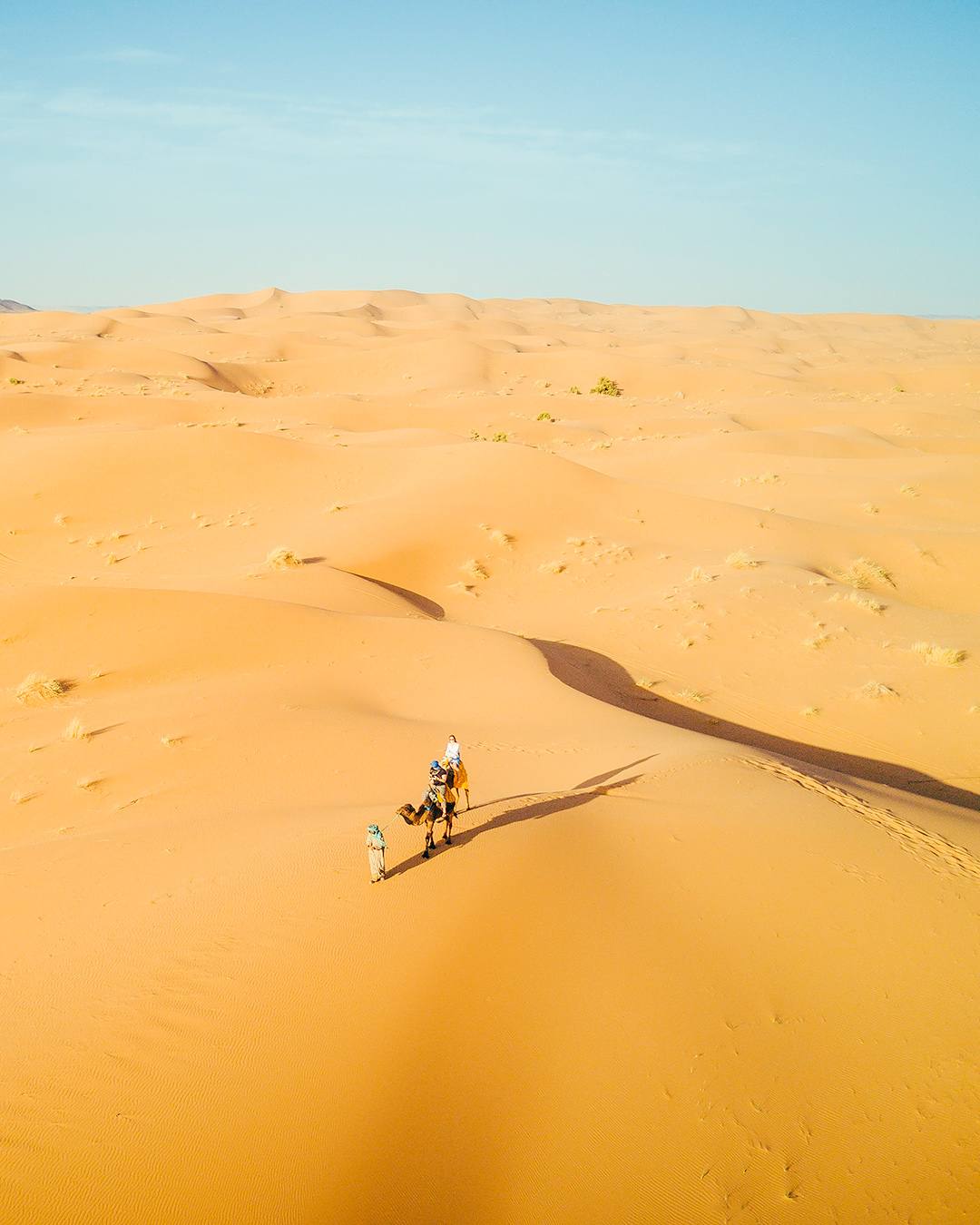 Unlike in Zagora, we're brought to the camp by car, so I could throw even my small suitcase in and I wouldn't look like I just got back from a camel shopping trip.
Each private tent had its own bathroom, with a fully working shower (on the desert!) and electric fan. Once everyone unpacked it was time to hop on a camel and 'drive' around before sunset and dinner tagine.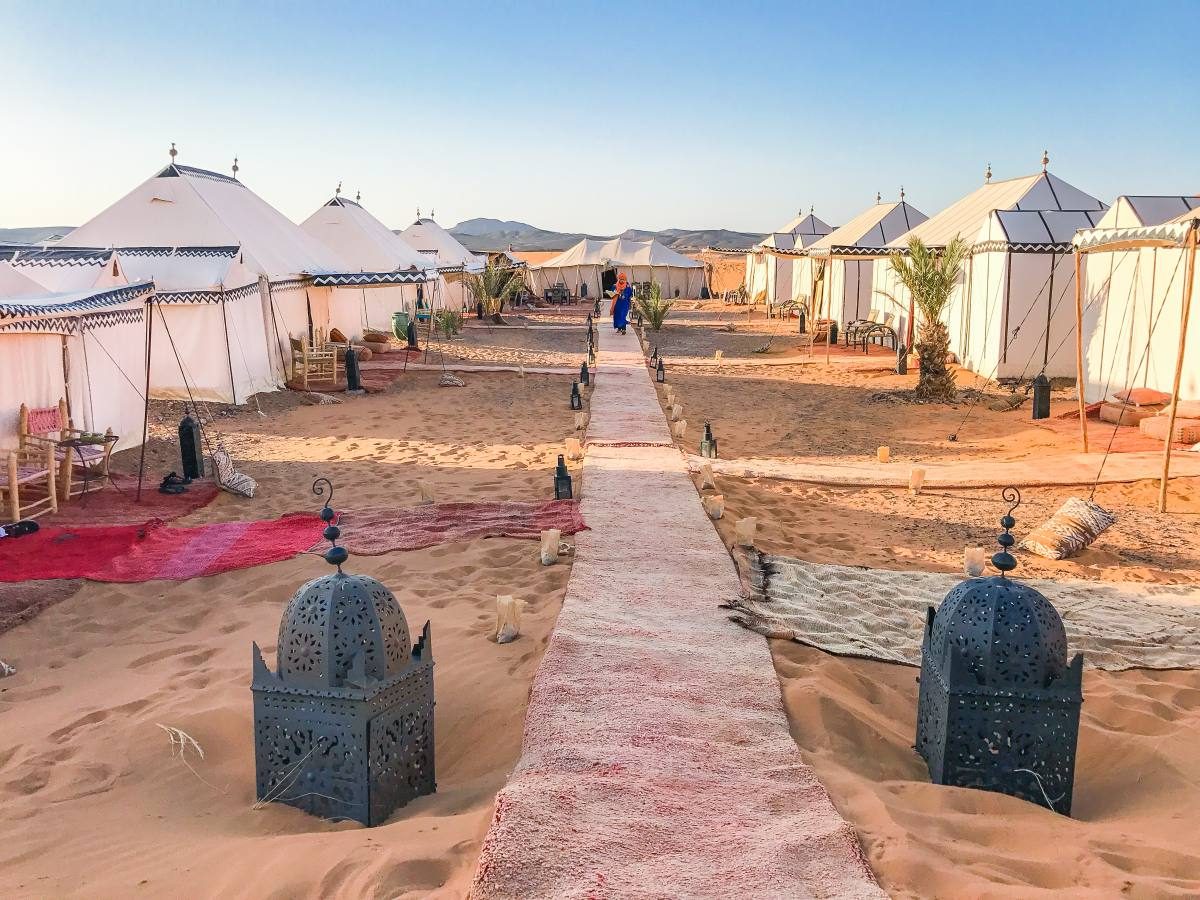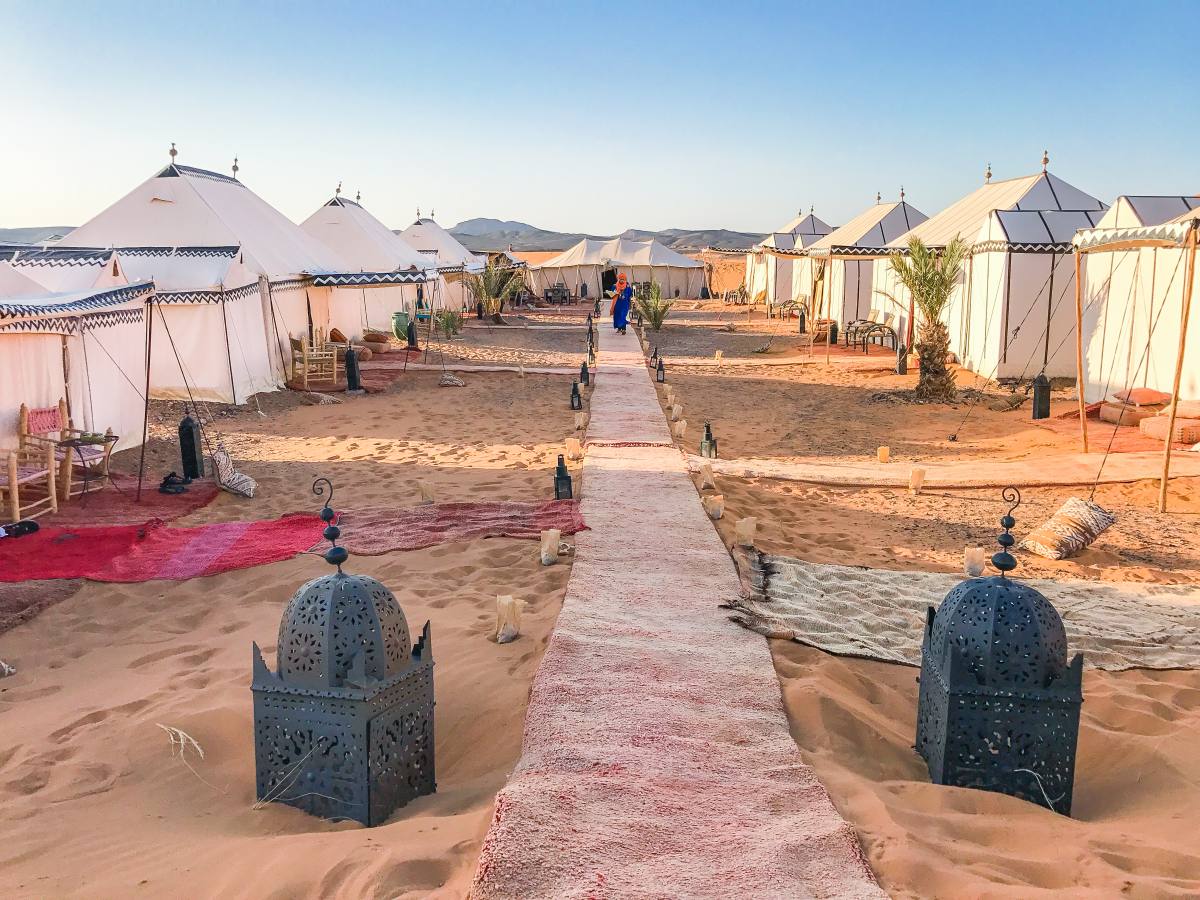 In the morning I had time to do some sandboarding and actually ride a camel again upon request, simply because we wanted to get more photos. We were free to do whatever we wanted with just 6 other people staying at the camp.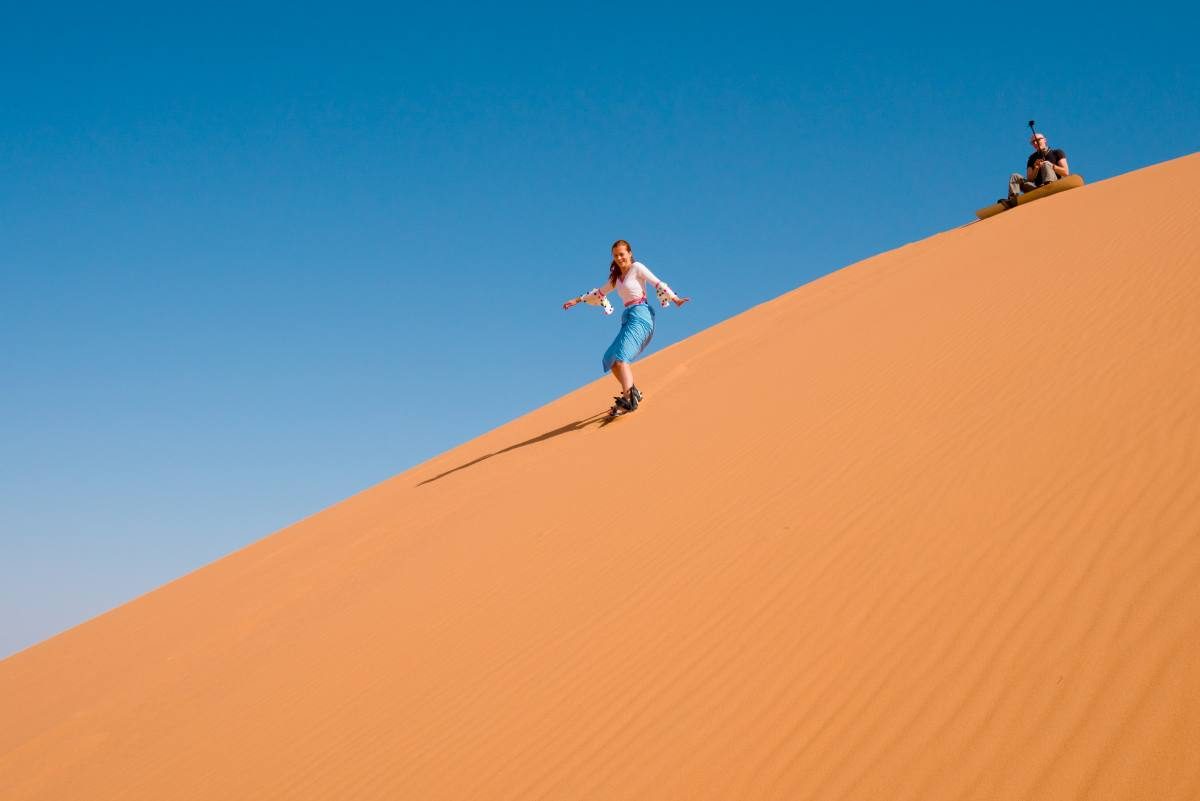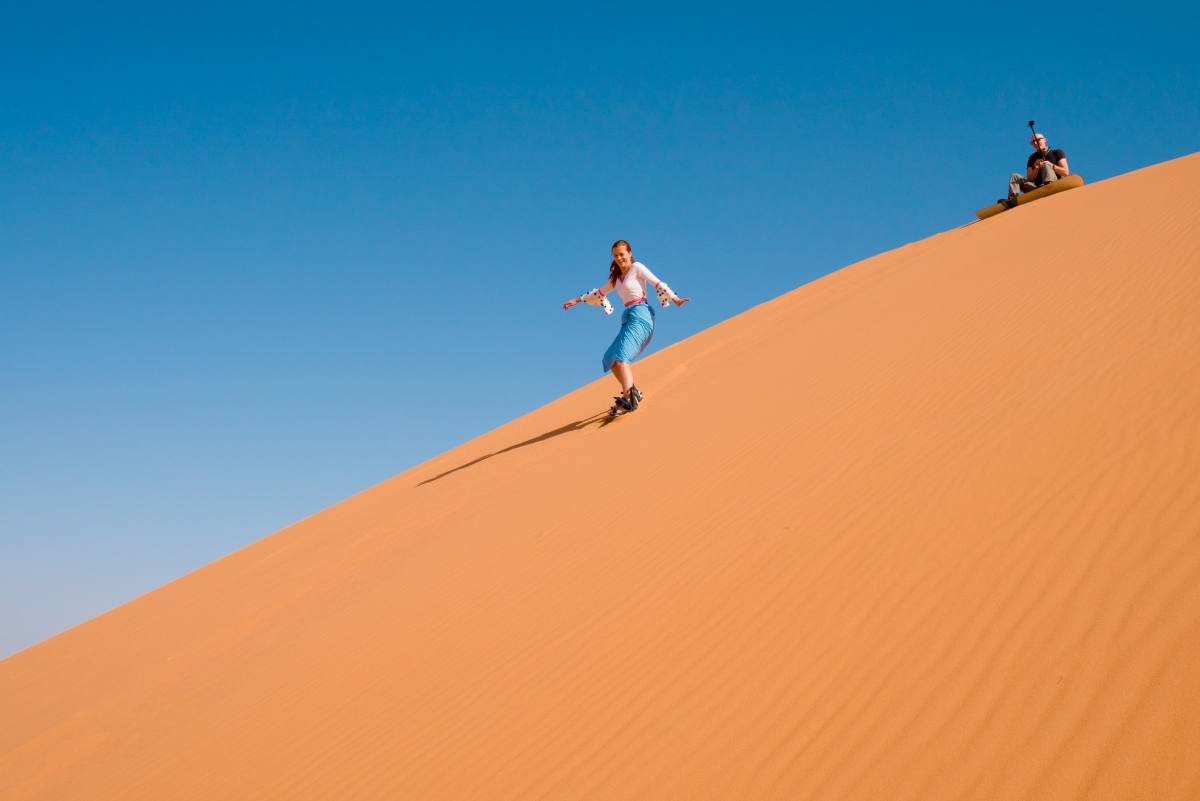 ---
Places to See on the Way to the Desert in Morocco
Both places will offer you a chance to stop at some fascinating spots and let you dive into Berber culture. Most of these spots are located in Ouarzazate area.
Village of Ait Benhaddou
Ait Benhaddou is usually the first stop on any tour as it's UNESCO Heritage Site. It's a mud-brick village in the Atlas Mountains, used in many TV series and movies. Once you see it, you'll recognize it from everywhere: Game of Thrones, Queen of the Desert, Lawrence of Arabia, Gladiator, Babel and many more.
After talking to the inhabitants I found out that most of the star in the movies all the time and the village transforms for every movie. In fact, they built a separate entrance to the village for the Lawrence of Arabia, as the actual one looked unappealing on the big screen. The fake one has never served an actual function of an entrance.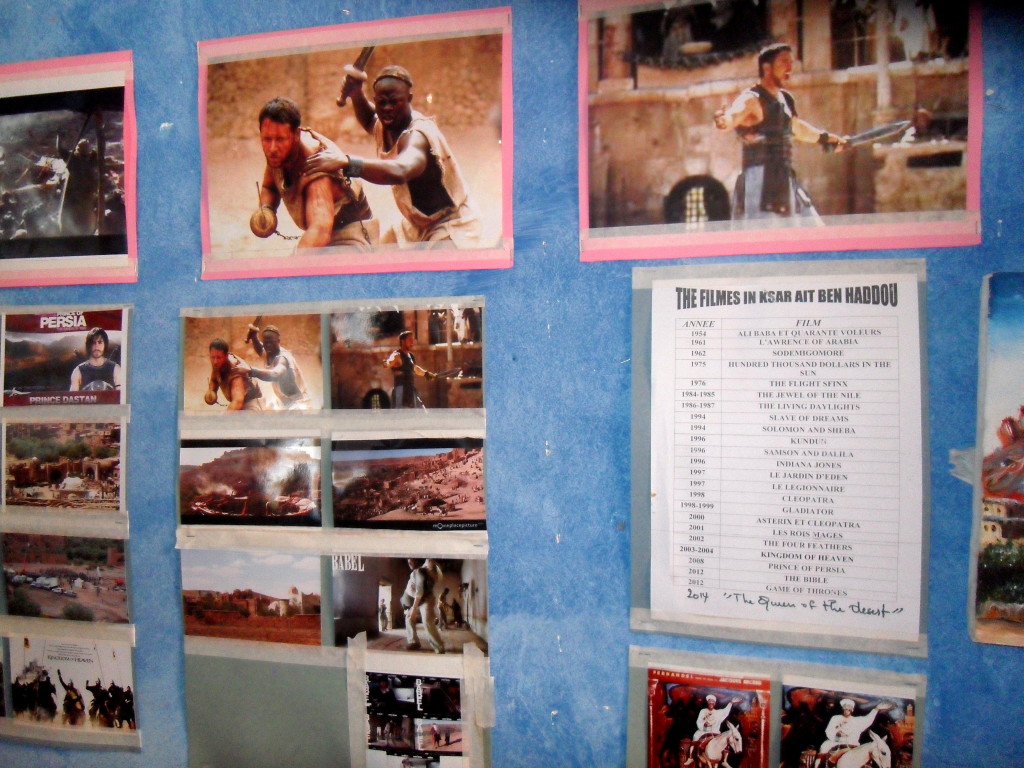 There you can meet one of the artists who make these gorgeous traditional paintings using saffron, tea, indigo, water and an open flame. Or simply drink some Moroccan mint tea on top of the kasbah (small village).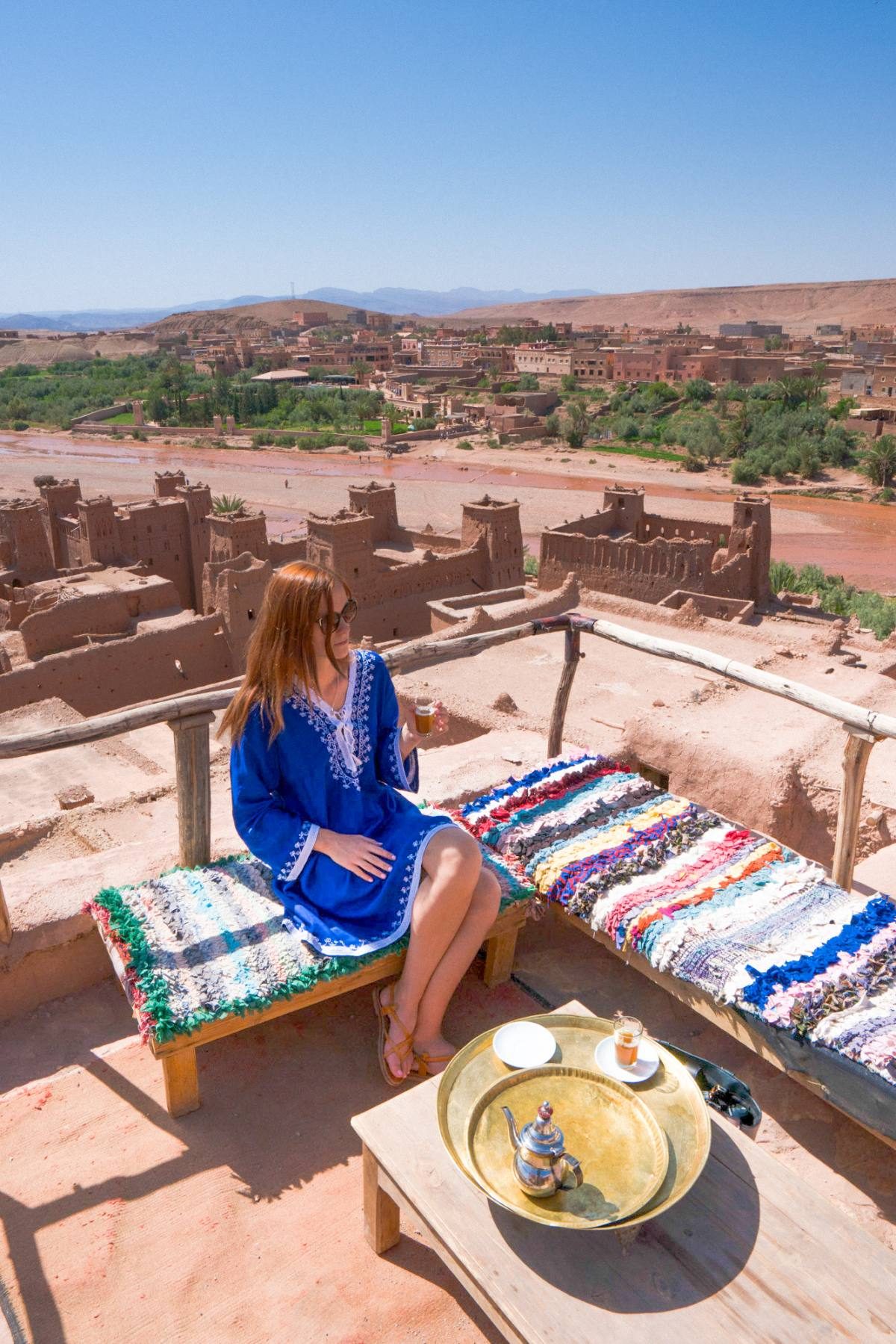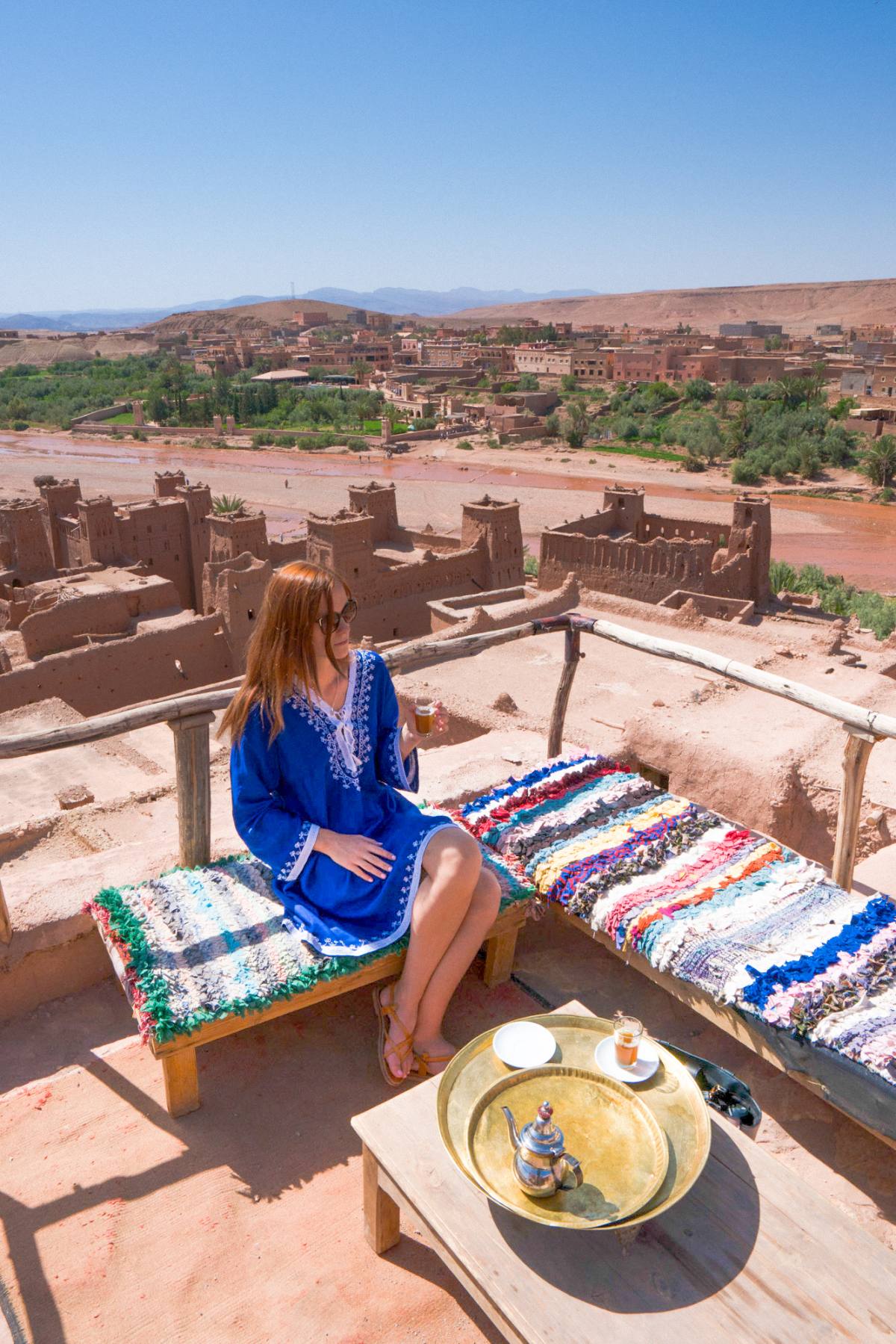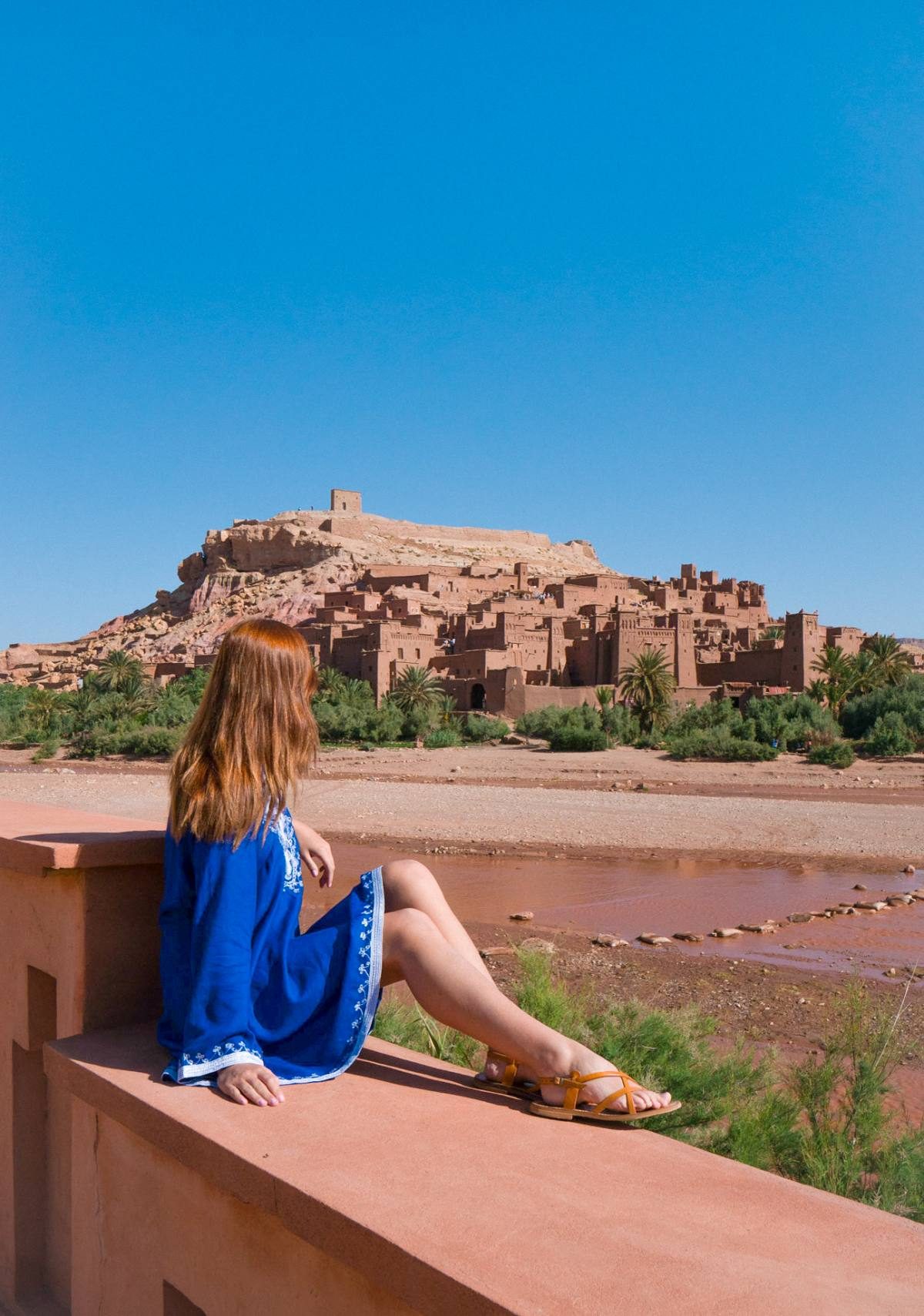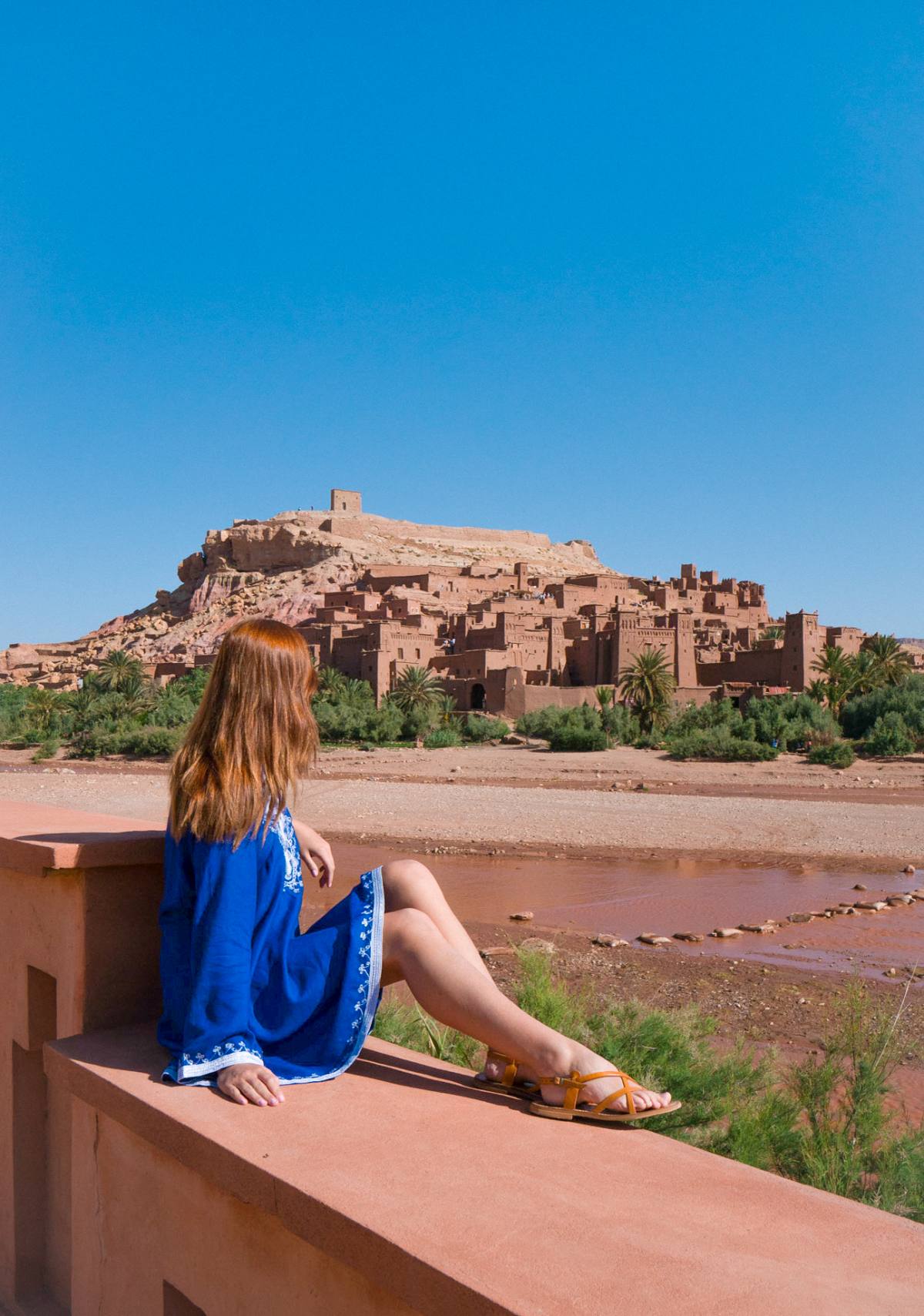 Dades Valley
Another spot you'll pass on the way is Dades Valley, also known as the Valley of Roses. Rose petals are really important for Morocco export, as they produce rose oil that works similar to the argan oil, also Moroccan. It's very easy to spot an argan tree as it's the one with goats on it!
Entire valley smells like roses, so if you're driving remember to lower your windows. I ended up purchasing a bottle of rose water which I kept putting on Matt. While he hated it at first, he admitted that this stuff really works and smoothes your skin.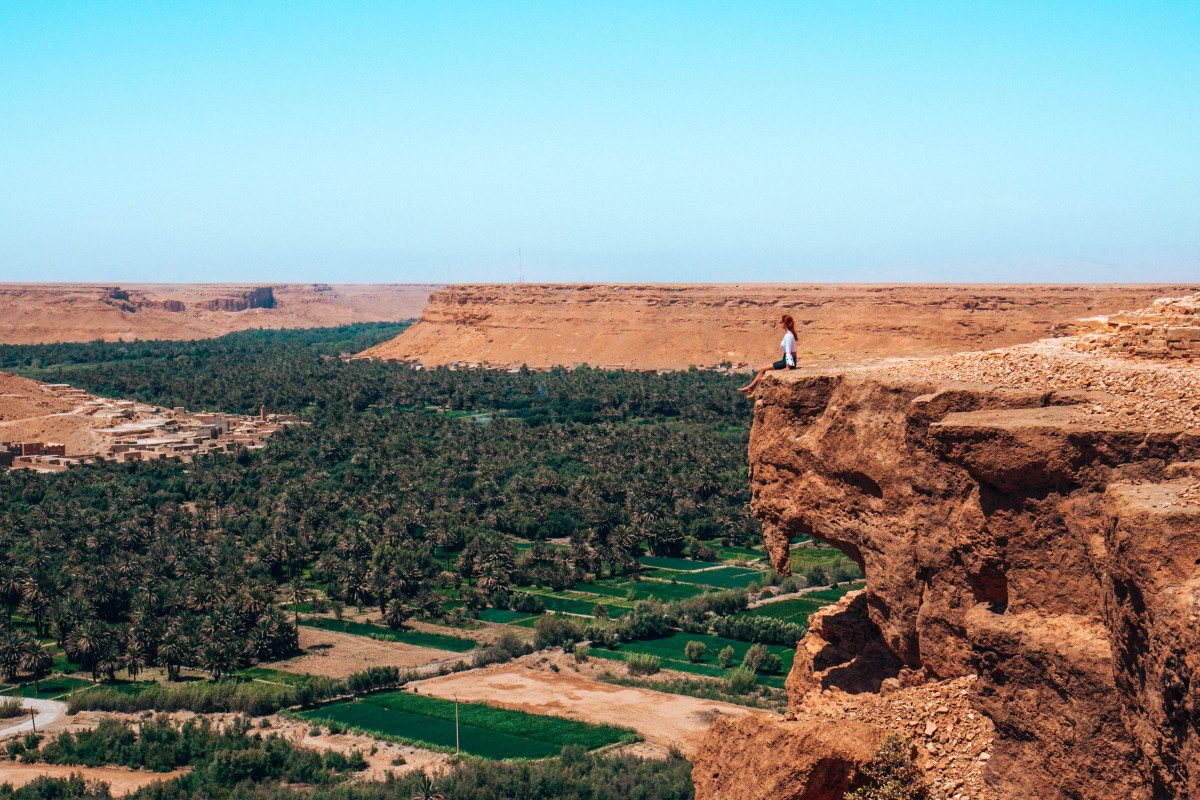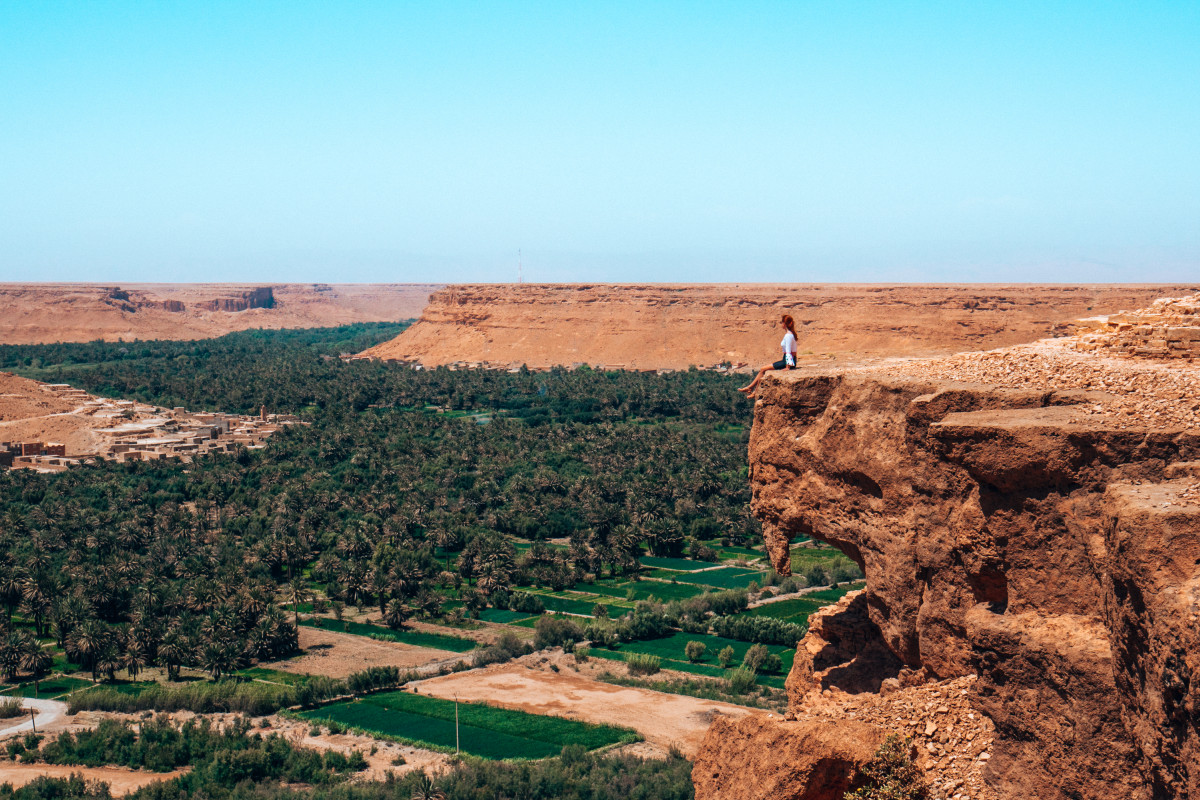 ---
---
Atlas Film Studios
Atlas Film Studios is where all the movie magic happens. There are plenty of used movie scenes, including a giant ancient Egypt from Cleopatra and Asterix and Obelix (sidenote: Matt had no idea what it was! I'm not sure if it wasn't popular in the US at all, but in Europe people are crazy about these comic books.)
Visiting Atlas felt quite surreal to me because I expected something similar to my tour of Warner Bros Studios. But it's quite the opposite. You can wait for a tour at certain hours to hear what a guide has to say about each spot but… You can also wander on your own, touch everything, play on set and film everything. Matt and I even did a mini-movie for fun!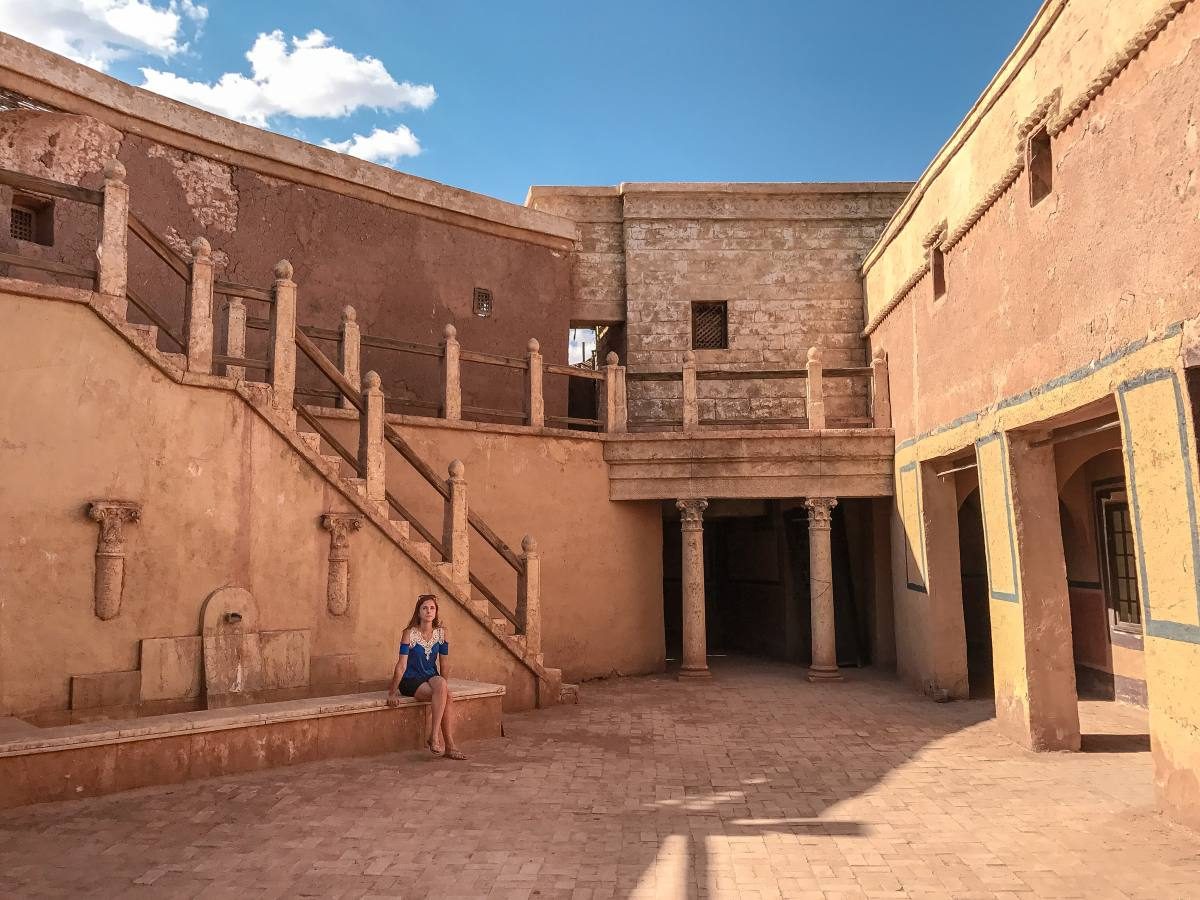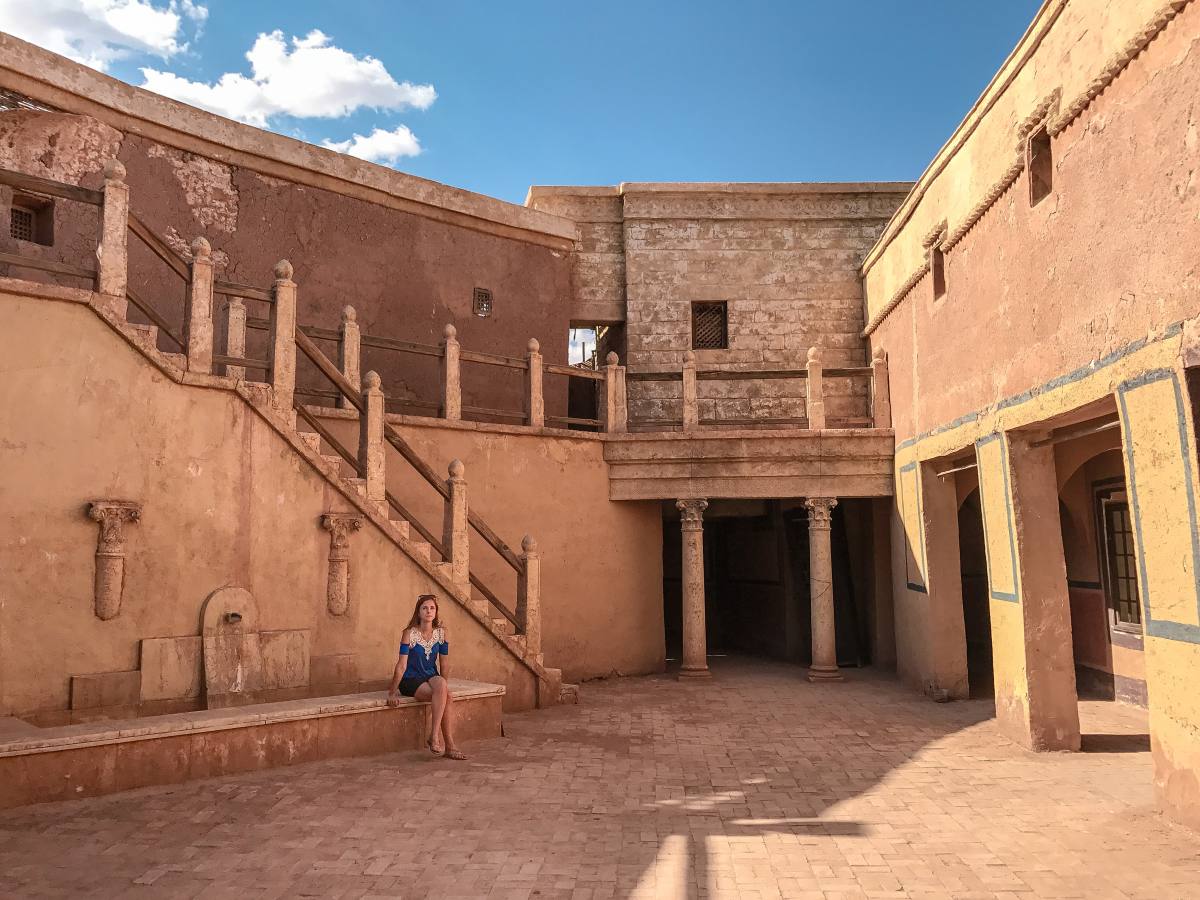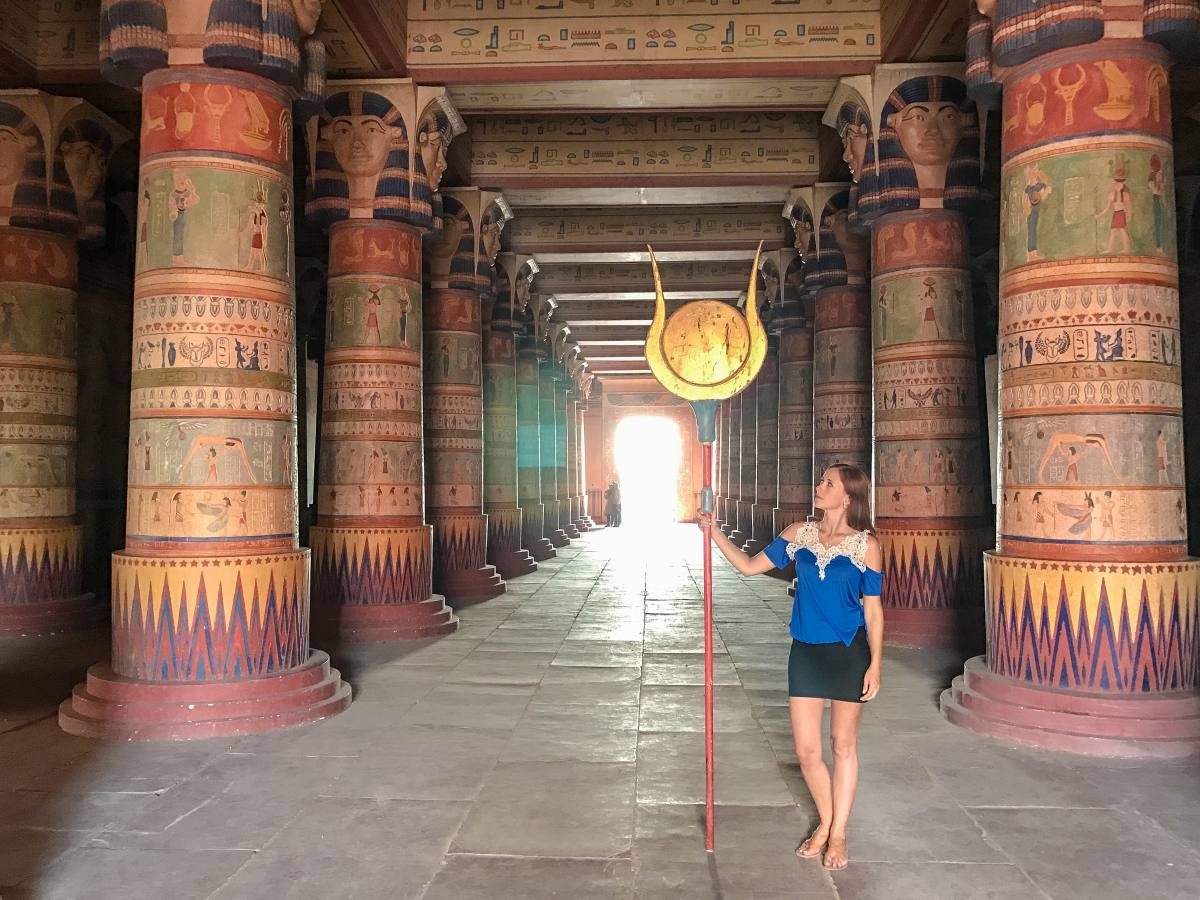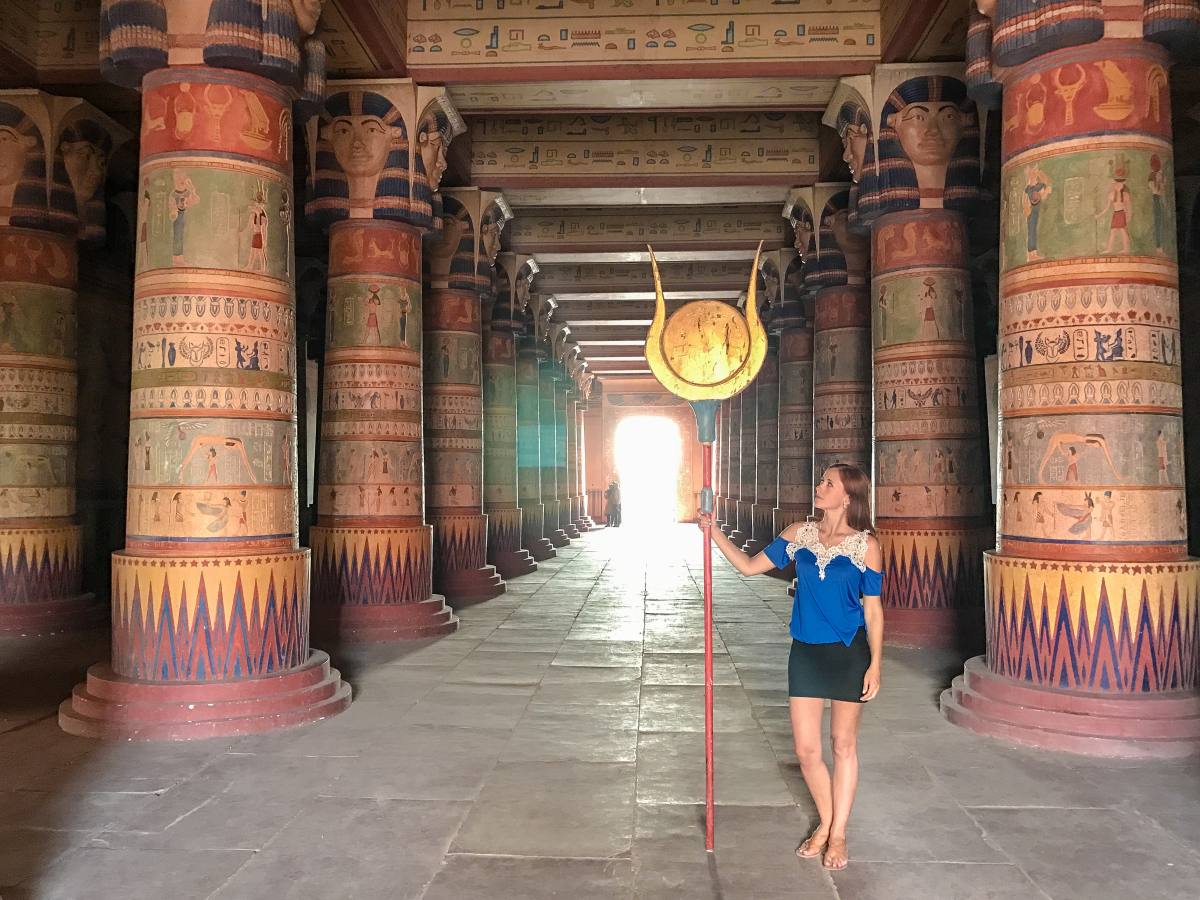 ---
Personal Note:
I've done my fair share of desert experiences in different countries. While the choice is yours, I'd ultimately advise against going on a desert trip to Zagora. The majority of people I met on my trip and from what I read online later were disappointed. So was I.
If you don't have an extra day, I'd recommend skipping the desert tour and exploring more of Marrakesh. There are plenty of things to see and do in Marrakesh, so you won't be bored.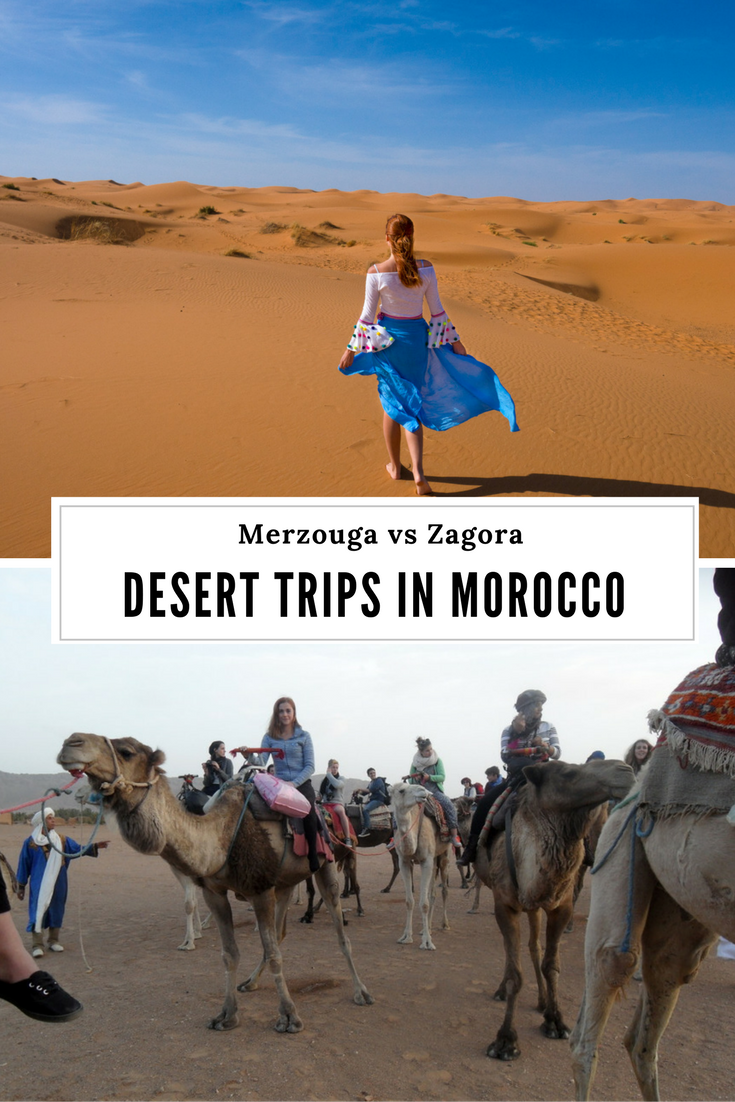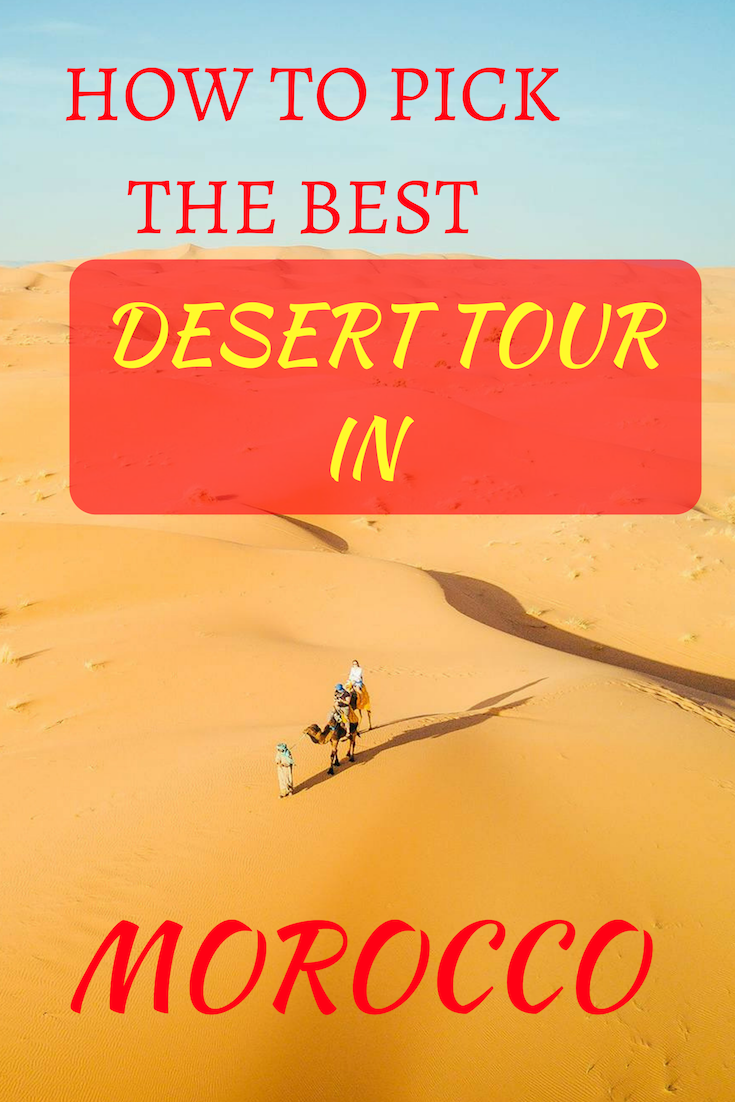 Any questions about the desert in Morocco? Let me know in the comments!