Paris is usually one of the most popular destinations in Europe that every tourist wants to visit. I visited Paris for the first time at the age of 16 but ended up coming back many times. I was fortunate enough to also study French in Paris with EF.
Study Abroad at EF Paris – Review
While there are plenty of language schools in the city, the majority of them are not only expensive but also provide no accommodation. Hotels in Paris are extremely pricey and hostels aren't cheap either, and more importantly, they aren't for everyone. This is why I decided to study with EF – Education First language school in Paris.
---
Staying with a host family
I chose the option to stay with a host family with half-board meals, as I wanted to interact with local French people. Unfortunately, I have to say that after my third attempt, I will never do it again. When my host family picked me up from the bus station, I found out that they actually didn't even live in Paris. Moreover, they lived in a closed Gendarmerie (French police) district, so to enter I had to get a special permit.
The family dropped me off and informed me that they're actually never at home. Not to mention that they fed me with only 1 loaf of toast with only a half slice of cheese per day. After I spent over 2 hours on the train, Metro, and bus to get to school, I decided to change. Probably not something you'd like to experience when studying in Paris.
None of the other host families had space, so I got a placement at the student residence without extra charge.
---
Living in a student residence
The location of the EF Paris student residence was perfect. It was right in the center of Paris, and only a five minute walk away from the school. Unfortunately, the praise ends here. The moment I arrived at the reception instead of a friendly, 'Bonjour, ca va?', I heard 'Hello, you're the new student?
Here are the rules to sign and the deposit to pay!'.
There was a deposit of 300 euros and the rules indicated:
The kitchen was closed between 10 PM and 8 AM, meaning I had no access to my fridge. Not only that, there was a 50 euro fine to pay for keeping food in my room.
No visitors were allowed from school or outside, or there was a 50 euro fine to pay.
Persons of the opposite sex could not enter the room and if he/she did, there was a fine of 150 euros.
Friends could not ever visit, or you would pay 100 euros, etc, etc.
I think you can get a sense that the place was quite strict. It sounds terrible, but I still had plenty of fun. Even though I had to pay a 100 euro fine because my classmate entered my room for only 10 minutes!
By living in the residence hall, I think I also bonded with other students way better. I made more friends than those who lived with host families and had to go back home for dinner every day. One can see this as an advantage, but because most of the students were from Mexico, I ended up speaking more Spanish than French. So it totally depends on what do you want.
When Parisians heard us speaking Spanish in restaurants, they wanted to practice their Spanish instead of giving us the opportunity to practice our French. So if you want to practice French, don't use any Spanish. Anywhere.
---
Studying at EF language school
Because the language school was located in the center of Paris, this gave all of us the opportunity to easily get lunch or hang out after classes. On our first day, we had to take a written and oral placement exam to determine our language level.
If you fail a test and end up on a wrong level, you might end up wasting a week of classes. I was put in a class where the level wasn't high enough for me. But there was a stupid rule that I could only change my level after a week, regardless of your teacher's opinion.
Besides this small issue, the school was more than fine and I couldn't really complain. The teachers were French native speakers and only spoke to us in French, with no English at all. However, if you really want to learn a language quickly, I would never recommend taking a language course with a group and sign up for individual classes. This is how I've learned Spanish in 6 weeks.
It might be more fun to study with other people and it's definitely less costly. But I think individual classes can give you much more in a shorter time. At EF you could also do courses with a few individual classes on top of a regular group course.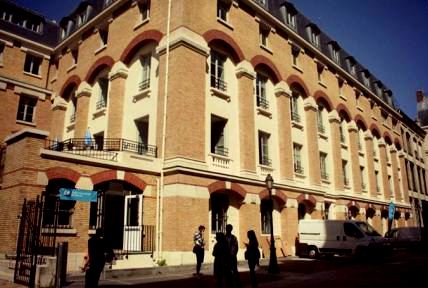 ---
Free time
The school was organizing activities for their students every week. I attended various nights out to best nightclubs in Paris, gatherings with locals, and weekend trips. Trust me, you won't be able to attend everything. While I missed out on some weekend trips, I remember the school arranged a trip to Mont St-Michel, Loire Valley castles, and Amiens.
Advantages of studying at EF Paris:
Studying in Paris can give you the unique opportunity to live in the French capital. All of that without going through a ton of trouble finding accommodation and getting a residence permit.
Would I study at EF again?
I'd surely recommend EF to anyone wanting to learn a new language. It's a professional organization, one of the best out there, and even if you experience any issues, they'll fix it for you. I'd totally study at EF again.
I was not sponsored by EF to attend the course and write about it. All opinions are my own as usual. Don't be afraid of asking any additional questions in the comments below?