The fishing village of Cassis in France is one of the most beautiful spots in Provence. Yet, it's often skipped by visitors who skip coastal towns and head straight inland to see famous villages like Gorges or Arles.
While Cassis is charming, the town isn't the only reason why you should visit Cassis. It's also blessed with some of the most dramatic beaches on the French Riviera. There's also Calanques National Park (also known as Calanques de Cassis) – one of the most beautiful places to hike.
How to Get to Cassis?
Cassis is easily accessible as it's right next to Marseille, the largest city along this coast. Cassis can be easily accessed via train, bus, or rental car.
Trains run regularly between Marseille and Cassis, and take about 30 minutes each way. There's also a bus schedule, but you'll be safer taking a train as it's pretty irregular.
Once you arrive in Cassis, no car will be necessary because the town is very walkable and easy to get around. However, you will need a car again if you're planning on doing some hikes in Calanques.
In fact, most likely you'll need to find a spot at one of the garages outside of town, but if you visited any other French or even Italian towns you know the drill – cars aren't welcome in downtowns because the parking is impossible.
Alternatively, you can also take a tour. This day trip from Aix-en-Provence and this day trip from Marseille make excellent options for visiting Cassis.
When to Visit Cassis
Cassis has a Mediterranean climate, with hot, dry summers and lots of sun but I did like visiting in the summer. The town gets very busy in the summer holidays on weekends, but weekday was fine.
Rainfall in Cassis is highest in autumn but there are still only 8 days of rain on average so nothing that will ruin your trip. That said, shoulder season (either late spring or early fall) is the best to visit to avoid crowds.
If you're planning to hike the Calanques, access is often restricted in the summer because of the high risk of wildfires. The best time to hike Calanques is in May/early June and September/October.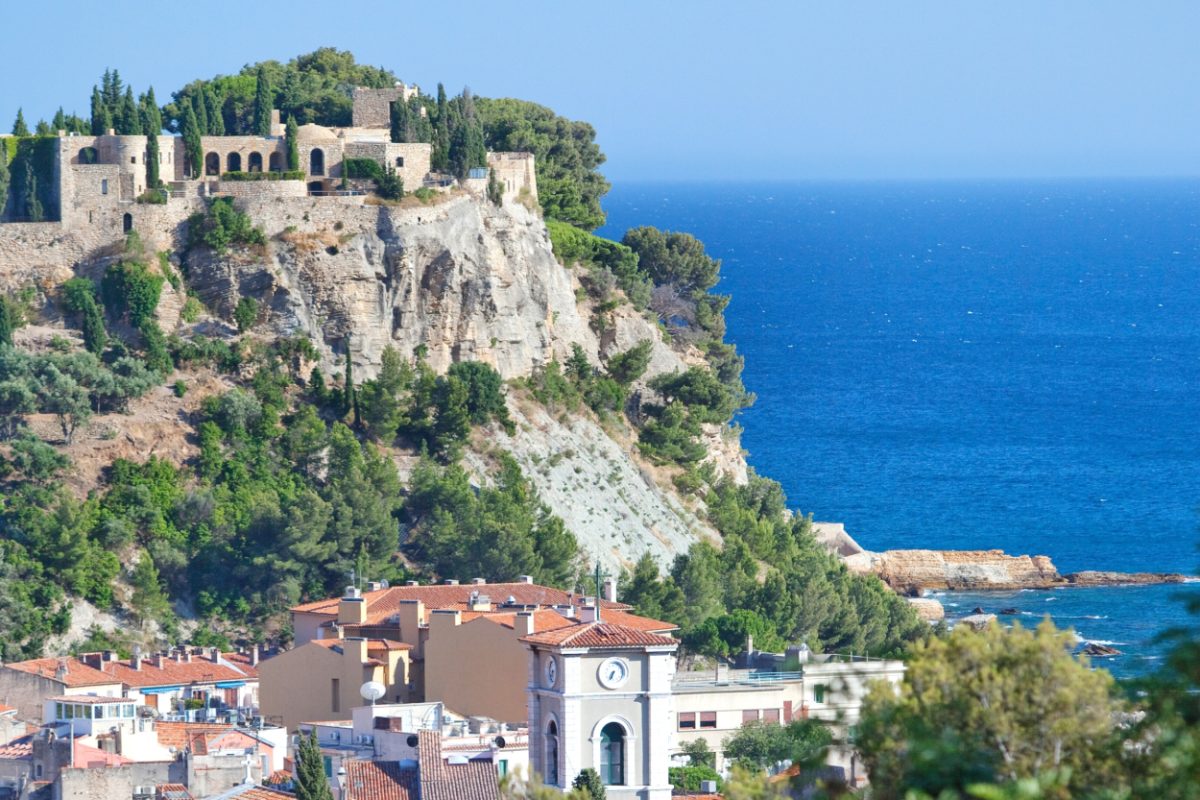 Where to Stay in Cassis
The glamorous Hôtel Les Roches Blanches* is a five-star hotel on the seafront. It's a luxury option with an infinity pool, Art Deco-style décor and terraced gardens leading down to the sea.
The Les Barques is a good option in a tranquil location close to the town center, but with amazing views. The same goes for The Address Cassis.
What to Do in Cassis, France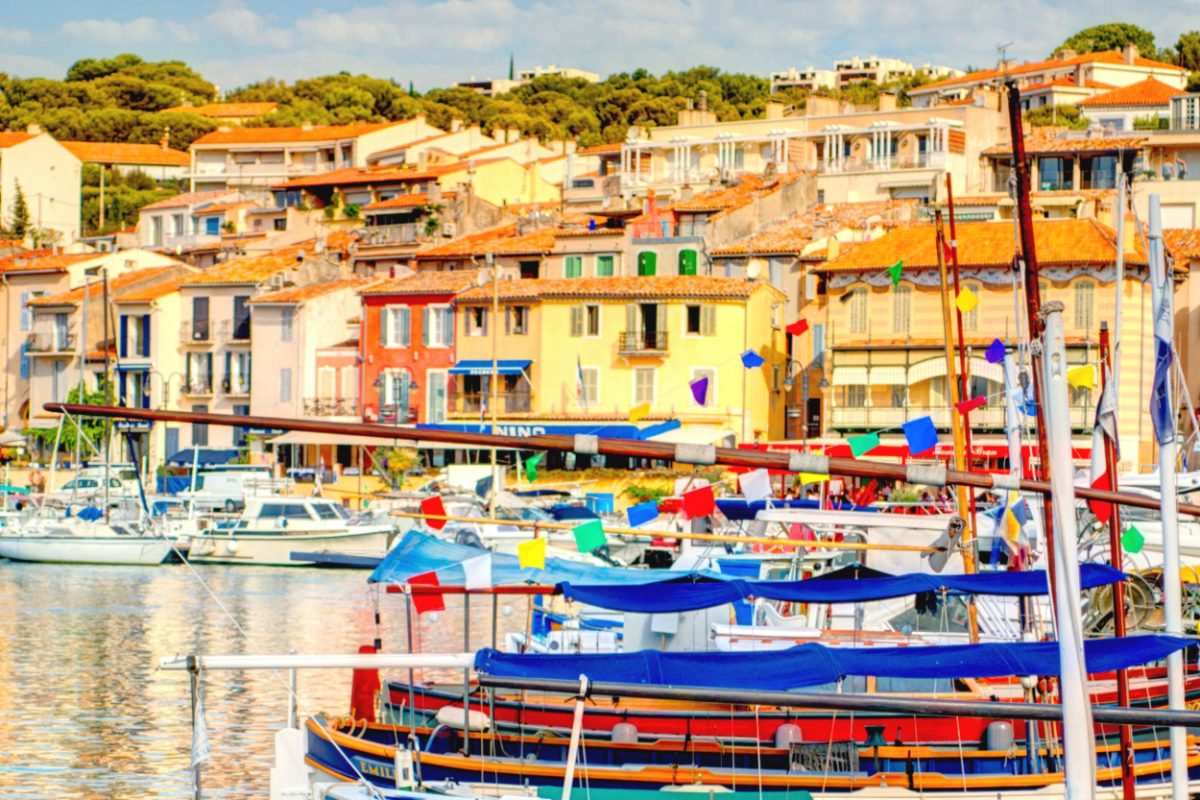 Explore the Town
Cassis is beautiful! Buildings are painted in pale pastel shades, with colorful wooden shutters, cobbled streets, and pots of leafy plants and flowers in typical Provençal style. You can get lost in back streets but there is also a miniature train that does a 45-minute circuit of the town.
The port is the heart of life in Cassis, and has been since the Roman era when it was an important trading post between Europe and North Africa. Head there very early to see a small fish market where local fishermen sell the catch of the day.
Eat Bouillabaisse
Cassis is also known for its bouillabaisse, a traditional Provençal fish stew. The most famous place to try is at Chez Gilbert, but as it's not cheap I recommend heading there for sunset so you can also enjoy the view.
Do Some Wine Tasting
Despite sharing its name with the French blackcurrant liqueur, cassis isn't made in Cassis! Cassis is actually produced in Burgundy.
But, the town of Cassis is home to the Appellation d'Origine Protégée de Cassis wine-making region, with vineyards spread over the hills around the village. There are 12 wineries you can visit.
Which wines can you try? Cassis produces over 70% white wines, using mainly Marsanne, Clairette and Ugni Blanc grapes.
Hike to Calanques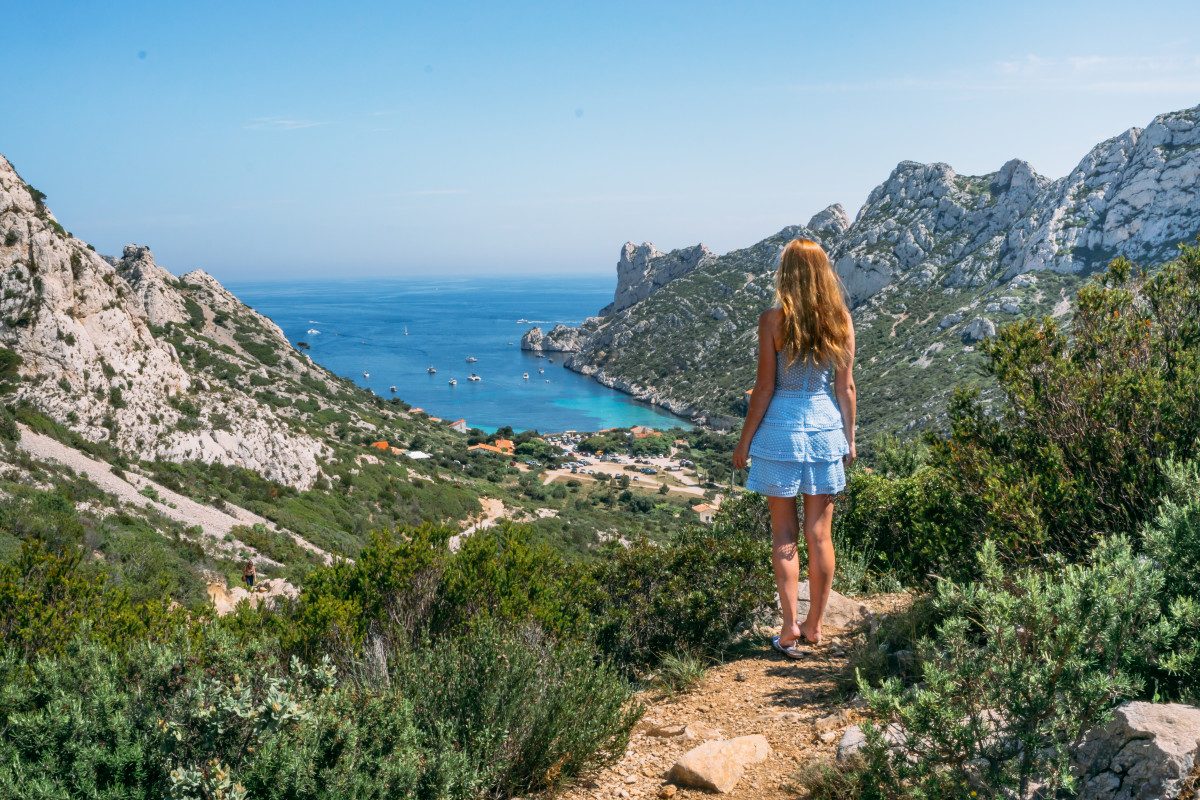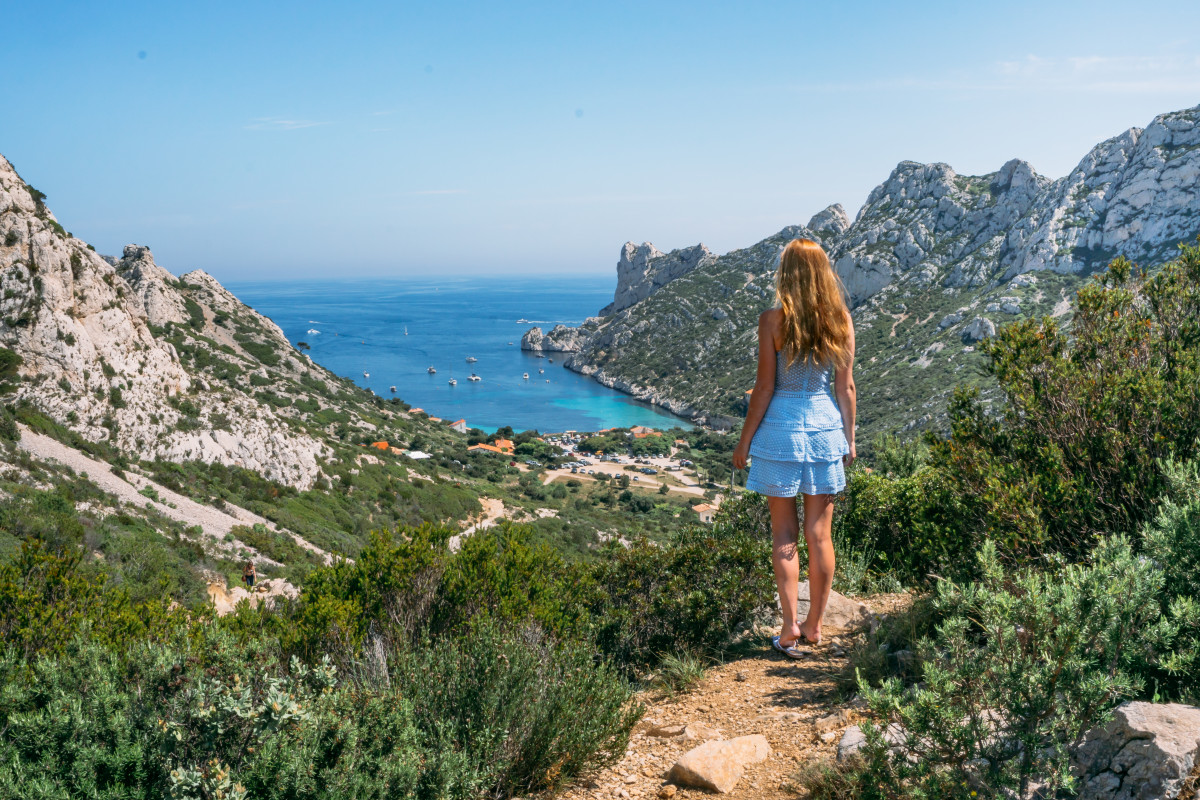 My favorite part of visiting Cassis was its proximity to Calanques de Cassis National Park. And I can say it as someone who isn't normally the most hiking-loving person.
The views are gorgeous, the trails aren't that difficult and very rewarding. There were plenty of people rock climbing around the area as well, so that's something to consider too if you're a rock climber.
There are various Calanques but the famous three; Calanque de Port Miou, Calanque de Port Pin and Calanque d'En-Vau, can be accessed from Cassis. I think Calanque d'En-Vau is the most spectacular one.
Make sure to pack a swimming kit as the water feels amazing after a hot and sweaty hike.
Beware: if you're visiting between 1 June and 30 September, the park is closed if there is a high fire risk. When I hiked in the summer parts of the trails were closed. You can check the latest fire risk level online.
Take a Boat Trip
While I do think hikes to Calanques are relatively easy, you can skip hiking and take a boat. It's an easy way to see the park when the hiking paths are closed or for people with reduced mobility or kids.
Tours visit 3, 5, 8 or 9 calanques. You don't need to book in advance but can just buy tickets from the kiosk in the harbor.
Remember that you cannot get into the water, so if you want to swim you might want to switch into a kayaking tour.
Go Kayaking
Kayaking or paddleboarding are the only options to reach calanques closer and swim nearby. Kayaking is something that requires pre-booking. If you're feeling braver you can take a paddleboarding tour instead.
Sleep at the Castle
The medieval Château de Cassis towers over the harbor from a rocky hilltop and now got turned into a luxury B&B.
Go to the Beach
The Plage de la Grande Mer is the village's largest beach and most popular one. There are a couple of beach cafés where you can rent sunbeds and pedalos. Keep in mind that it's a pebble beach like most of them in the area.
Some other beaches to check out are Plage de Corton and the Plage Bleu, a beach further out on one of the inlets that leads to the Calanques.
If you're looking for a sandy beach, head to the Calanques National Park.