Add to Flipboard Magazine.

In April 2010 I took part in my first volunteering project at Antelope Park, based in Gweru in Zimbabwe. When I announced my decision to friends and family their emotions were mixed. I heard why am I going to the middle of Africa and if I lost my mind to walk the lions… YES, you read well. 'Where else in the world' – like the motto of Antelope Park says, you can walk the lions?
And before you assume – NO, lions aren't abused and it's not a ZOO. Nobody poses with them for photos against their will they're also not trained to pretend that they like it. And while you can interact with the lions, it's their decision, not humans, on when and how it's going to be done. 
Volunteering in Zimbabwe
---
Lion Alert
Before I tell you how did the project go I want to address an important issue of wildlife conservation. After a lot of cases describing animal abuse in Asia and recently unfortunately in my beloved South Africa people have an impression that EVERY animal activity is bad, what isn't always the case.
Fortunately, national parks in Zimbabwe and Zambia are way different than these abusive "ZOOs" elsewhere. Animals live in their own habitat and they are being released into the wild later. Lion Encounter in Zimbabwe is an active conservation program that is passionate about ensuring a secure future for the African lion.
The lion population in the last 30 years has declined by 80%-90%, from an estimated 450,000 down to 20,000-30,000. In partnership with ALERT, Lion Encounter operates the African Lion Rehabilitation & Release into the Wild Program.
---
When the plane started approaching Bulawayo airport I thought 'Are we really going to land here?' It was nothing there, just a grass field. Later on I've realized that Bulawayo airport is the creepiest airport I've ever seen in my life. It looked like an old abandoned shed with two entrances with no doors, supposedly for departures and international arrivals. 
Bulawayo
I was picked up and taken to a nice lodge for an overnight stay. Everyone was very nice and helpful, took me to chill at the pool and tried to convince that Zimbabwe is way safer than South Africa. They were right, it felt safe.
The next morning I had to take a bus to Gweru by myself. Surprisingly, the bus was much more comfortable than American buses. Sam – the lion project manager picked me from the station with his truck explaining me everything about the handlers working in a park, about their funny names like Lovemore, Jealous, Bigboy. In Zimbabwe even 'Iloveny' is a name when the parents saw one of the famous American 'I love NY' T-shirt.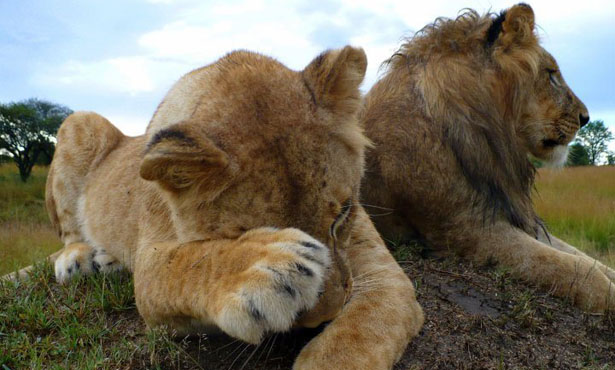 ---
Antelope Park
Antelope Park is specialized in breeding lions that are slowly becoming extinct in Africa. Obviously it's main mission is to help lions survive working directly with Lion Alert mentioned above. However, the park earns money on its unique range of activities, such as lion walks, elephant swims and African horse rides. This is when my role came along.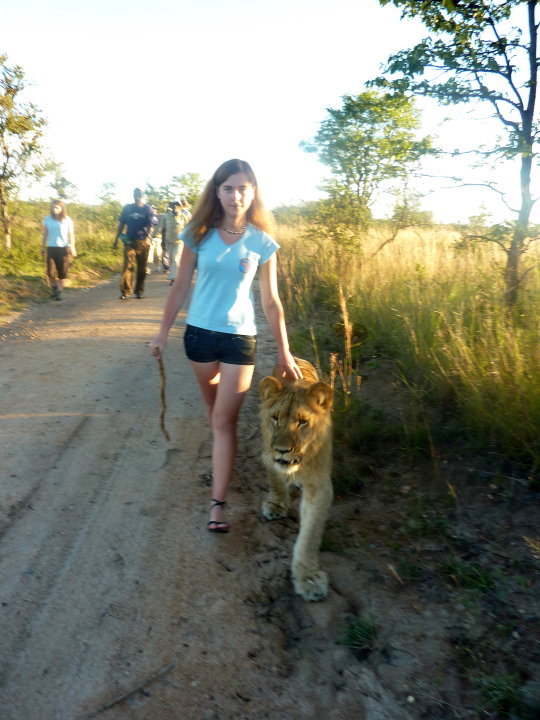 ---
As a volunteer, I was involved in bunch of activities. The main activity, however, was taking lions for a walk starting early in the morning: no collars, no leashes, no enclosures. It's an unforgettable feeling when the lions were coming to me behaving like kittens – touching with a head, walking around the legs without leashes and reacting when I called them by name!
There was no fear coming from volunteers, because they were not going to bite, they were listening to people. Moreover we were supposed to prepare meat for younger cubs and feed them with a baby bottle.

---
Sometimes we also had to tame the lions. There were two of them that were brought to the park from another place and were afraid of people. Every day we were sitting in their enclosures trying to play with them with lion's favorite toy – a dry elephant poo wrapped in leaves.
---
Volunteer's duties also included delicately speaking dirty ones – like cleaning the enclosures or repairing fences. Believe me, lion's poo stinks very, very bad! Park's policy also included the rule that in order to ride one of the 4 elephants you had it clean its poo first 😉 An interesting activity was also meat preparation… that was basically chopping the whole cow into pieces.
---
A daily conversation between volunteers looked like this:
'You know what… you smell like a dead cow.'
'I was chopping a cow and later shuffling some shit, how am I supposed to smell?'
'Yeah… right.'
'Why are your pants wet?'
'Elephant just sneezed on me.'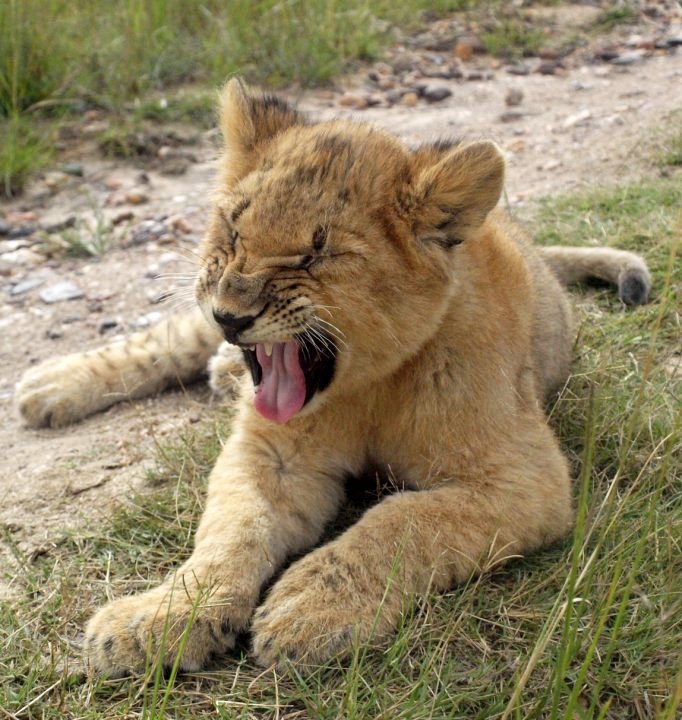 ---
How to get to Antelope Park?
Fly in to either Bulawayo or Harare and take a local bus to Gweru where you'd be picked up by the park staff. I flew South African Airlines via Johannesburg and returned through Windhoek with Air Namibia.
---
Was I only interacting with lions during my project?
Every Sunday all volunteers were going to visit a local town of Gweru to meet local kids. I have to admit I didn't like kids at all and had an impression that kids don't really like me either, so I was hesitant to go and meet local kids. When I finally decided to go I was amazed to discover that we were going on a meat-truck.
We had some mattresses on the truck, but it didn't help jumping on it on every whole of the Zimbabwean road. However, it seemed like we became the biggest attraction for the people in Gweru – a group of white people on a meat truck driving through town.
---
The moment I entered the orphanage I've realized that those kids enjoy the company of pretty much any visitor. The conditions they lived in weren't great, but at least they had food and a place to sleep. The kids were intelligent and curious. I'd go even as far to say that a lot of them were way smarter than an average kid from the Western world. We were asked million questions about the world, playing with out electronic and singing songs with us.
Disclaimer: I'm aware that many volunteerism projects, especially those in local orphanages, are bad due to the possible abuse of the children and many other factors. However, this wasn't a place like this and in fact many volunteers stayed in touch with the kids. 
---
Coming back to the issue of meat-truck… On the way back I turned back and saw the bus driving straight into us. None got hurt, but we spent almost 2h sitting on the truck in front of the police station when the storm started.
We had to drive home for an hour in the pouring rain and again, became a main attraction for the locals who laughed at us. Well, at least we made their day.
---
A day with locals
When working at Antelope Park one afternoon all volunteers were invited to the house of a woman who worked at the park. When we got there it turned out it's not actually a house, but two sheds for over 20 people to live in. However, for a very long time I haven't seen people that happy as those two families living there.
With a smile on their faces they served each of us a slice of bread with jam, while cooking sadza – traditional Zimbabwean meal and scud – local beer. During the meal I had to sit on the ground to respect the tribe customs. Women sit on the ground while men get a place on the bench. 
After the meal some women started playing some music on hand-made instruments. We were all taken to dance and sing with them for the rest of the afternoon. It was amazing to see that despite having nothing those people seemed to be the happiest family on the planet earth.