Due to my extensive experience in traveling I often get a 'wow' reaction from people. Straight after I'm being bombarded with questions like 'Were you moving because of your family?', 'How did you fund your travels' or 'Why did you move a lot?'. This is my story in a nutshell.
I got a travelbug pretty early, when I was still a child in Warsaw, Poland. My mom was telling me her stories from the time she spent in Africa, while my dad was constantly traveling for work and the rest of my family moved to Canada. Although I was quite discouraged to live abroad when I was a teenager – older Polish generation often thinks that one can never make a good life and career outside of its home country. Probably that's why I'm not feeling very attached to Poland, because opposite to what most Poles think I don't believe in impossible things. Even tho I've grew up and studies in Poland I was mostly too busy or too ill to enjoy it. I never went out, never seriously dated any Polish guy and in my late teenage years I became closer to my international friends.
My first trip abroad happened in 1995 when my dad took my and my mom along for his business trip. Yes, I went on my first business trip to London and Vienna at the age of 7! Apart from England and Austria on the way we visited CzechRepublic, Slovakia, Germany, Luxembourg, France and Belgium. I loved traveling, even as a little kid and even tho I couldn't communicate with anyone I was enjoying it.
Wanting to live abroad I've learned English, German, French and Dutch and saved all my pocket money for travels. In 2005, as 15-year old, I traveled on my own to Italy, Crete and Turkey using my own money. I've also spent some extensive time with my family in Canada, but due to financial reasons I was unable to pursue my undergraduate studies in Toronto.
In 2007, straight after my final high school exams, I decided to pursue my Bachelor degree in Inter-faculty Individual Studies in the Humanities at Nicolaus Copernicus University in Torun, Poland. While studying I fought for and achieved a permission to graduate in 1,5 instead of 3 years – graduating in March 2009. I also managed to do a summer school in Miami Beach in 2008. In Miami I discovered that I loved an international environment way too much and pretty much came back to Poland only to pack my things up. During my time in Torun I've also spent a NYE in the Netherlands and traveled to Belgium and Czech Republic.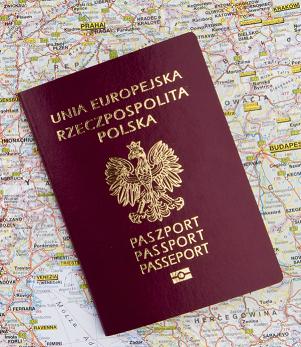 2009 was probably the first year that I can call the beginning of my constant journey. I got accepted to UCL (University College London) for my Master in Dutch Studies, but because of an early graduation I had 4 months off and compulsory 2 months course to attend in New York City. I spontaneously decided to travel to Thailand for my first trip to Asia and straight after I got back I made my first crazy decision to move to Israel for a while. After Israel I went to Tunisia to get my first experience on a desert. I guess that's when my parents realized that this is who I am – a constant traveler.
How was I able to afford it? My Polish University gave me a scholarship for my academic achievements and I saved money by tutoring and working at local restaurant.
The same year, after traveling for a while I came to NYC on a very low budget. Somehow made a deal with a course director to transfer me to the San Diego, California branch, where most of my friends were. I was incredibly lucky to bond with people who allowed me to enjoy NYC without worrying about the money. I was was even more lucky to travel to from San Diego Los Angeles and Las Vegas for free. I felt in love with California and after my visit in Toronto I flew back west to spend my 21st birthday in San Diego.
By the time I got to London I knew I needed more time in the US. Moreover I didn't enjoy my Master and realized that PhD track is definitely not something I wanted to pursue. While looking for some scholarship options in the US, I worked in a bar and interned at Polish tourism office. I saved the money for tickets to Zimbabwe where I volunteered on a lion project in April 2010 and my trip to Sri Lanka right after. Convinced that scholarship in America wasn't an option I thought I'd be staying in London for a while. However, very last minute I found out that I was able to study Journalism at Harvard University
Without hesitation I moved to Cambridge, Massachusetts and worked as a freelance intern for a magazine in New York City. Despite my plans to travel around South America and learn Spanish I ended up organizing myself a placement in a wine magazine in Mendoza, Argentina. In the meantime I traveled with my Mexican ex-boyfriend to Costa Rica and Mexico City where I moved, straight after my internship in Argentina where I've managed to learn Spanish.
Between 2010 and 2011 I've lived in Mexico teaching business English, working for a luxury goods magazine, translating and managing operations of an advertising agency. I almost forgot – I also received a diploma in Fashion Marketing from University Iberoamericana
in Mexico City. I've traveled to Peru, Hawaii, Poland,San Francisco and New York. How could I afford my trips? By working and saving the money in a smart way.
In December 2011 I came back to London, due to the illness and further death of my mom. I stayed in London, while working at the bar, to be able to fly to Poland every few weeks. I had to keep myself busy due to those circumstances, so in April 2012 I left Europe again and went to HongKong, New Zealand and the CookIslands. I've improved my French in Paris, learned Italian in Florence and reconnected with my Mexican friends in Berlin. In the middle of the summer I headed to Cape Town, South Africa for a few months where I improved my Dutch. Because of my connecting flights I was also able to see Copenhagen, Switzerland and Barcelona.
After my stay in South Africa I came back to England at the end of the year to study another Master in International Law at Oxford Brookes University
and again and worked in London as a property administrator. How could I afford it all? Believe it or not – I saved a lot of money when working in London, but I have to say I was extremely lucky to find a cheap room to rent.
At the beginning of 2013 I spontaneously took off to Ecuador, Galapagos and Colombia, right before moving to Leiden, the Netherlands to pursue another degree – in Latin American Public Policies. It was a crazy decision, because I had to commute to Oxford every 1-2 weeks. I started working at Leiden University where I was responsible for PR, but had to leave the job due to my compulsory research in Mexicothat resulted in a publication on Mexican abortion rights. Straight after coming back from Mexico I begun a job at Booking.com where I worked as a Spanish-English editor. At the end of the year I finally went to Australia and Fiji islands. How could I afford it all? I guess the answer is easy: by working all the time.
Added in January 2015: At the beginning of 2014 I got a job at Imbull where I was a project manager for the Flipit.com website. I also got to visit Morocco, revisit California – this time with my (*former) boyfriend, and take a super spontaneous,booked a day before departure, trip to Tokyo for a long weekend. In the meantime I've managed to visit my friends in London a couple of times. Plans have changed and I decided that the Netherlands wasn't the best base for me, therefore I left on a 2-month long trip to south-east Asia. I saw Dubai during my layover and visited Singapore, Bali, Vietnam, Cambodia and returned to Thailand where I met a lot of fellow travel bloggers, Later I flew to the Philippines where I got super sick and came back to Europe a bit earlier than expected spending my New Year's Eve in London. I'm currently in San Diego in California till I decide where to go next 🙂
Curious what happened in 2015? See what really happened in 2015 and understand behind the scenes of blogging.