Parents are often stressed about long journeys with little kids and how they'll be able to sleep. One of the ways to help your children sleep while traveling is having kids travel pillow – something they're familiar with that also brings comfort.
Are children travel pillows safe?
Travel pillows for kids are safe as long as they're used correctly. Make sure to choose a travel pillow that provides support for your child's head and neck according to their size, on top of the comfort naturally.
If you're looking for a travel pillow for a road trip in a car, make sure that it doesn't interfere with car seat safety. Most pillows are suitable for kids in a booster seat or older. Younger kids can use travel pillows on a plane, train or bus.
What Type of Travel Pillows is the Best?
The best travel pillow is the one that suits your child. I like different ones, my husband likes different ones, my sons like different ones. Pay attention to the color of the neck pillow when choosing one for your child – we all know kids are very particular about the design!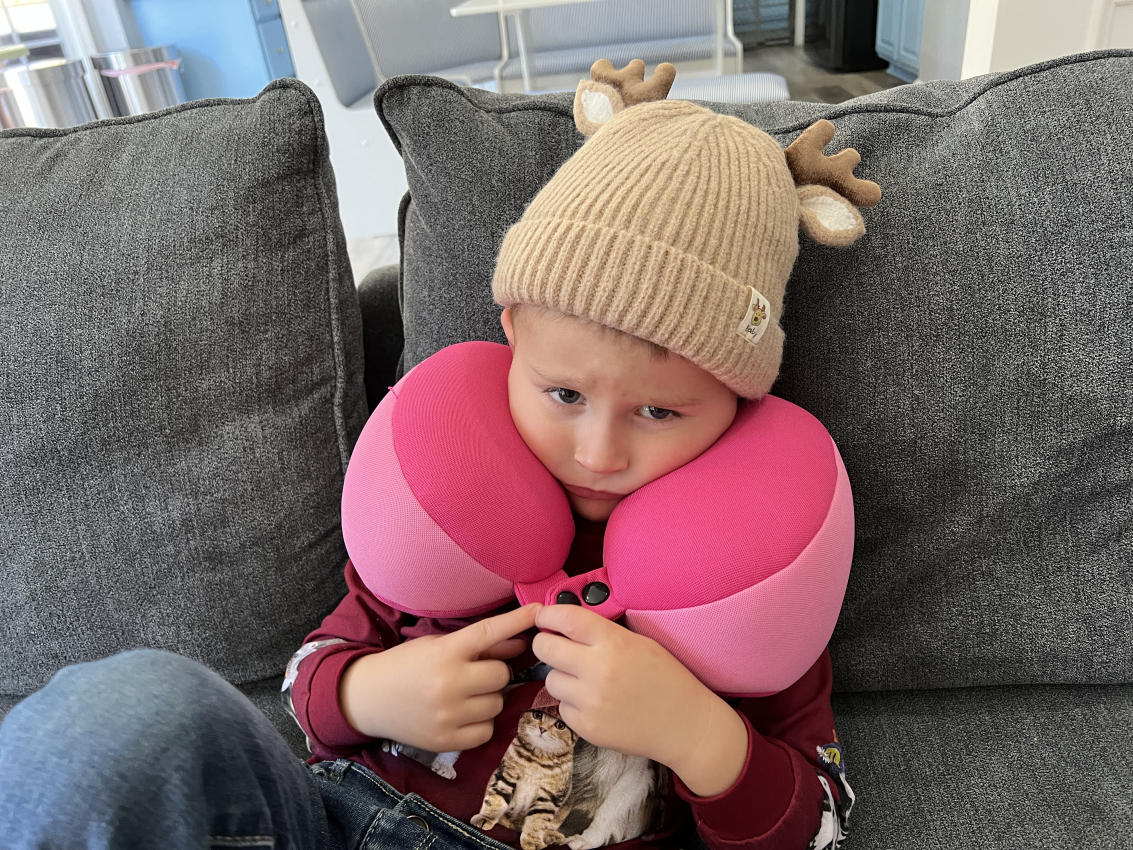 Best Travel Pillows for Kids
Adult neck pillows come in a variety of materials, including down, memory foam, cotton, and synthetics that can wick away heat and sweat. So do the kids ones!
Take into consideration that a toddler neck pillow might be slightly different than kids neck pillow.
Discover the perfect suitcase option for your little ones. Pay attention to the size, the weight limit, and the reviews online to make the perfect choice for your toddler and family travel needs.
---
---
---
---
FAQ about Kids Travel Pillows for Travel
Can you use a travel pillow in a car seat?
A car seat should provide the cushioning kids need to take a nap and adding anything isn't ideal. Kids neck pillow products work best in cars once a child has graduated to a booster.
The most important factor is that most pillows require you to lose the straps of the car seat to make it work because of the amount of "stuffing" in the back. Losing the straps makes the car seat unsafe, so never do that.
Are you allowed leg pillows on the plane?
The bad news is that many airlines have banned leg pillows. These include Emirates, Korean Air, Asiana, British Airways, South African, Thai, Qantas, Jetstar, United, Etihad, Thai Airways and South African Airways. Singapore Airlines allows it only on specific seats.
Airlines have come out and specifically banned them on safety grounds, but many other airlines have simply said nothing which means it's up to the crew.