'What do you actually do?' is the most common question I get when I tell people I'm a travel blogger. As surprising as it sounds travel blogging can be an actual job and it became mine in 2015. Unfortunately, you can't just 'get this job' overnight. Whether you want to blog professionally or privately here's a mini guide on how to start a travel blog. You'll also find out what to consider when you start, as some things are irreversible.
Why do you want to become a travel blogger?
Why do you want to blog is the most important question and you should answer – before you even start considering getting a website. After seeing all my pretty photos online which make me look like I'm not working at all. I know, a lot of you think that you want my job. Travel blogging isn't easy. I often work hours and hours without any break. Anyway… here's my guide on how can you start a travel blog.
How to start a travel blog?
Those of you who want to start a simple blog for friends and family can do it for free at WordPress.com. However, if you ever want to take your blogging adventures to the next level you shouldn't start your blog on WordPress and follow my guidelines instead. Trust me, I started my blog on WordPress and it was a pain to transfer to another host later.
---
Find a good blog name
Finding a great name for your blog might be a challenge, so take your time as it's very important. This is how you're going to recognized, remembered and it cannot be changed later. Your blog should be telling your readers what is it all about.
I wanted to write about my journey throughout the whole world and that's how Anna Everywhere came to life. It's a name easy to remember and you can always assume from its name that it's a travel blog and that it's about me. Here are a few things you should consider when choosing a name:
Don't limit yourself! Don't try to create a name that describes your current travel route like "Anna in Africa" as it might limit you later on. What if you decide to move to Asia later? Names as 'Twenty-Something Travel" might sound great at first, but are you going to be in your twenties forever?
Think internationally! I'd also avoid names that might not be clear to everyone as if you're planning on writing in English your audience is going to be international, not just Australian or American. For instance, a blog of my friends 'Peanuts or Pretzels' (sorry guys!) might be clear to Americans as it refers to a complimentary snack choice on major American airlines, but a lot of foreigners have no idea about it. When people ask what is their blog name people usually respond 'something with peanuts', which probably isn't how you're going to be remembered, right?
Be original! As great as Nomadic X, Adventurous X or Wandering X may sound at first if you do a quick google search you'll realize that there are way too many blogs named like that. Your blog won't stand out and as a result you'll have less chance to succeed in the industry. Take a look at a list of best travel blogs created by Matt to give you an idea of what kind of blog names are being used already.
---
Set up your social media channels
At least half of the blogging success nowadays are your social media channels. After you've chosen a name for your blog and checked if the domain name is available (more about it below) you should go ahead and secure your social media handles. In my case it wasn't easy as Anna is a popular name and social media handles 'annaeverywhere' were already taken.
While I managed to get a facebook page Anna Everywhere a handle 'annaeverywhere' has already been taken on Twitter, Instagram and YouTube. As a result I had to add '_', '-' and '.' to my handles what isn't an ideal solution, but I simply had no choice.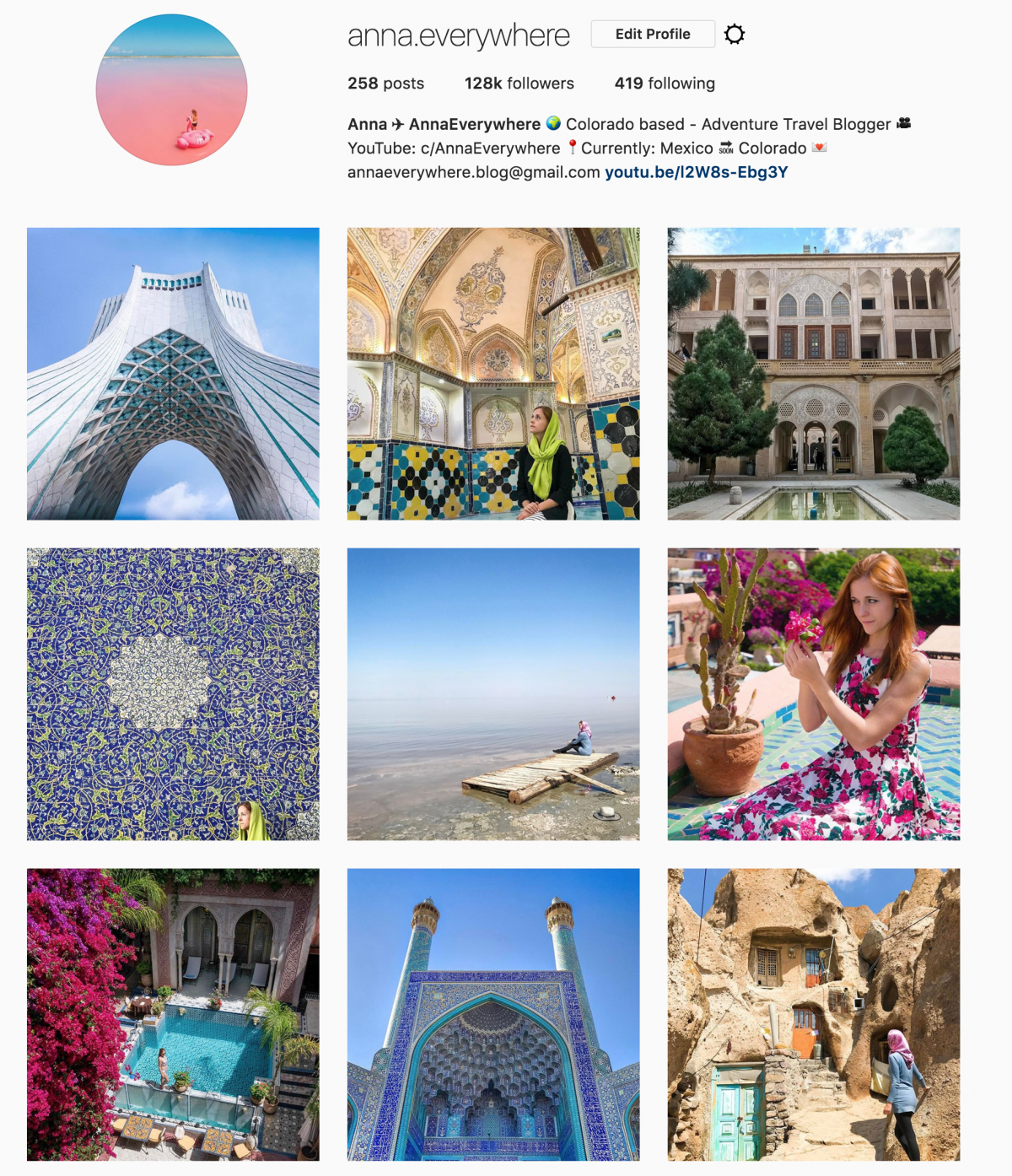 You won't know everything about social media straight away. I recommend you to follow me and some other travel bloggers on social media and see what we're all doing on each of our channels in order to learn.
---
Set up your hosting platform
There are many different platforms that can host your website. What exactly is a host? A host can be compared to a small base where your website will be stores will all its content, photos and files. While the most popular hosting platform wordpress.com can seem like a great option because it's free.
Unfortunately, it doesn't give you many options when it comes to design, selling adds and the most important thing it doesn't allow you to attach Google Analytics account that will be important to track you visitors and send your stats to potential sponsors later.
For new users I recommend hosting your blog on Bluehost as it's cheap ($6.95 a month), safe and easy to set up. How to set it all up?
Step 1: Go to BLUEHOST, click on Get Started website and pick a plan.
2: Check if your domain name is available.
3: Install WordPress.org on your website.
---
Why install WordPress.org?
WordPress.ORG is often confused with wordpress.COM, but as similar as they can look it's a totally different thing. WordPress.ORG is a program that runs on self-hosting websites and you'll need it on your website. The panel is the same as on a free wordpress.com with possibilities to add more widgets, plugins etc. Don't feel overwhelmed by this – you'll learn in the process. After you install wordpress you can log in to your website throught the dashboard. Voila!
---
Choose the right theme to design your blog
Your blog is finally live, but unfortunately it won't look good until you redesign it. You can hire a designer/developer (like myself for example!) who can install everything on your blog quickly if you're too scared to do it yourself. Don't worry about your theme too much, as you can change it many times during your blogging career, I changed mine 4 times in 2 years.
I'm currently using Pipdig Tundra theme with a self-designed home page. I can recommend Pipdig to anyone who doesn't want to deal with problems. Pipdig themes are relatively cheap and easy to use. Also, you can always send their team of developers an email if you're struggling with something. If you like simplicity that's the right design for you, but there are way more available online.
---
Install plugins
You're going to need some plugins on your website. What are plugins? They are third-party additional apps that make your website look cooler. You can search for them in your plugin section of your wordpress panel or simply google them. I struggled to find the right plugins, so here's what I recommend:
Akismet – This plugin will protect you from spam.
Really Simple Share – Do you want your articles to be shared on social media? Of course you do!
Broken Link Checker – It's an easy way to see if some fo the links on your blog aren't working anymore. Your readers don't want to click on a link that leads nowhere.
Thank Me Later – When your readers comment on your post they'll receive a thank you message along with some links to your social media channels. It's a great way to gain more followers.
Yoast SEO – Easy plugin to improve your SEO.
---
Voila! Start writing!
That's basically it! You can now start writing, starting from your 'About' page which will be the most viewed page of your blog. Don't give up if your blog won't have that many visitors straight away. It takes months to develop an audience and you should focus on getting noticed first. Reach out to other travel bloggers and online magazines and ask to write a guest post or take part in collaborative articles on other blogs.
I cannot explain you everything about blogging here as it would be as long as a book. But blogging courses can do it better than me.
My recommendations for courses:
I also can recommend you joining a few Facebook groups in which you can ask questions and get some tips. To name a few groups: Under 1000 Club for beginners and We Travel We Blog for more advanced bloggers, but in fact there are many more groups.
You can also attend travel blogging conferences such as TBEX, WTM or Traverse to meet other bloggers and learn some tricks! You never know who you can meet and how it could help you in the future. My boyfriend and I actually met at TBEX Florida 🙂
---
Learn more as you go…
You shouldn't worry about SEO when you start your blog, but you can start thinking about it already. SEO stands for Search Engine Optimization and it basically refers to being easily found on in google search. There are many ways to improve your SEO, but it's a topic for another article.
If you want to learn how to improve your traffic you should check out this e-book.
Travel blogging isn't as easy as it seems. You shouldn't expect to see any large benefits from it for at least a year or two. Most of us full-time bloggers work over 30h a week while juggling press trips and brainstorming ideas for new projects. The most important thing is not to give up! Happy blogging everyone!
If you're looking for ways to make money blogging and how to monetize a travel blog, check out this article.
Any questions? Troubles? Ask me below!