London is one of these cities where I've lived on and off for a while. I can't really answer the question of how long I lived there as I always leave and come back. When I first moved to London to study at University College London not only did I study but I also worked at a bar and did an internship so I didn't really have time to go out and enjoy the city.
When I returned to the city again a few years later I was able to experience what I had missed before. I'm a fan of fine dining as well as cheap and fast restaurants. Here are some of many unusual and cool places to eat in London.
---
1. Sketch
Price range: $$$
Best feature: Toilets.
The first time I entered Sketch was in the middle of the night after a few drinks and the place really freaked me out. Sketch has a few different restaurants and cafes, each decorated in a different way. There is a forest, an American diner, a space shuttle, and a fancy cafe. The food is always excellent and the service couldn't be better.
However, that's not my favorite part of Sketch. What Sketch is known for are its toilets, white egg shaped cabins with a nest of geese on top. It feels even stranger when you hear geese honking while you're doing your thing inside the egg!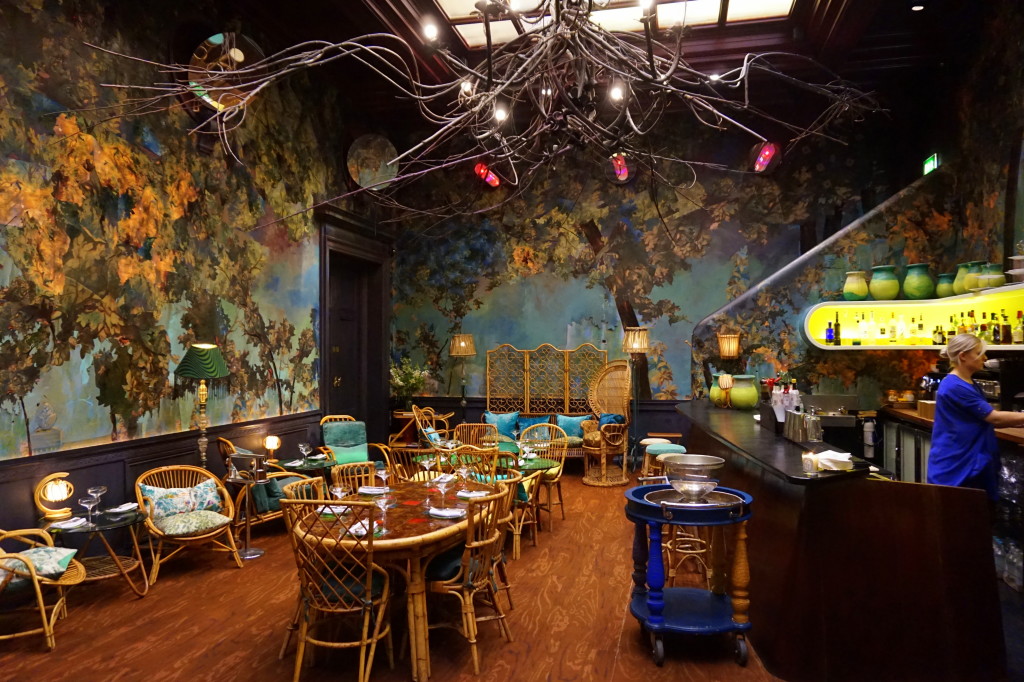 ---
2. Bob Bob Ricard
Price range: $$$
Best feature: Press for champagne button.
I'm not sure how I found out about Bob Bob Ricard, but it was probably somewhere on social media as it's one of the most Instagrammed restaurants in London. This place is famous for having a button that says "Press for champagne" at every table and despite being afraid, when I pressed the button a glass of Prosecco arrived shortly to my table. The food at BBR is Eastern European and Russian in style and it all looks spectacular. I ordered a pie and it was almost too pretty to eat. If you ever visit BBR don't forget about their signature dessert served in a ball that's prepared at your table where it melts giving you quite the show!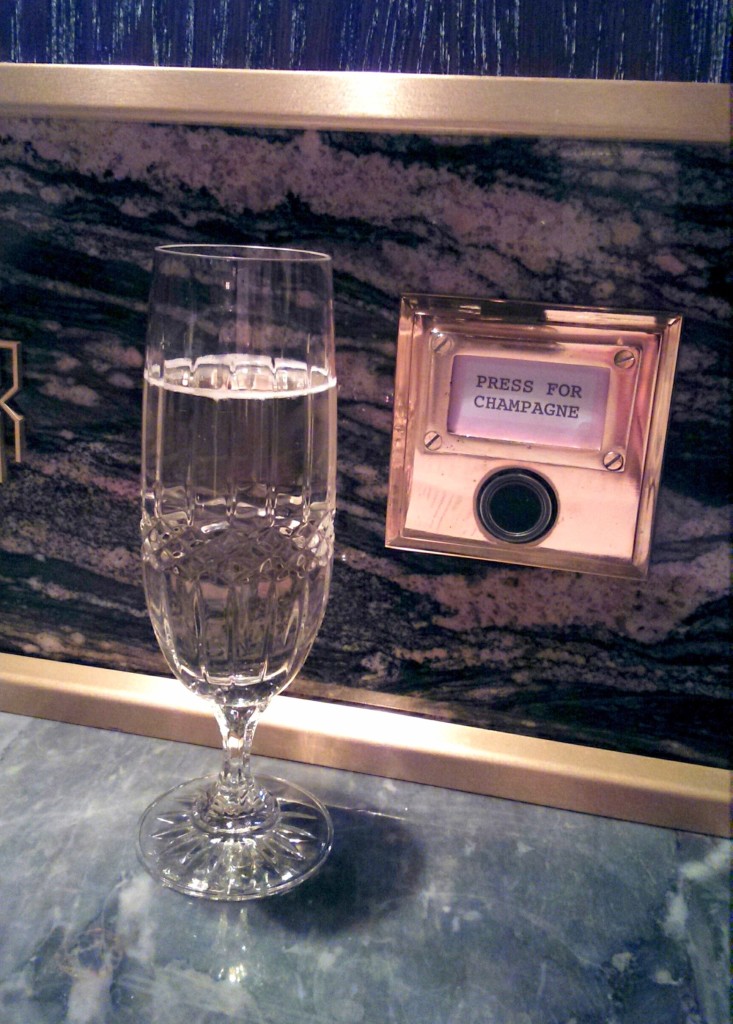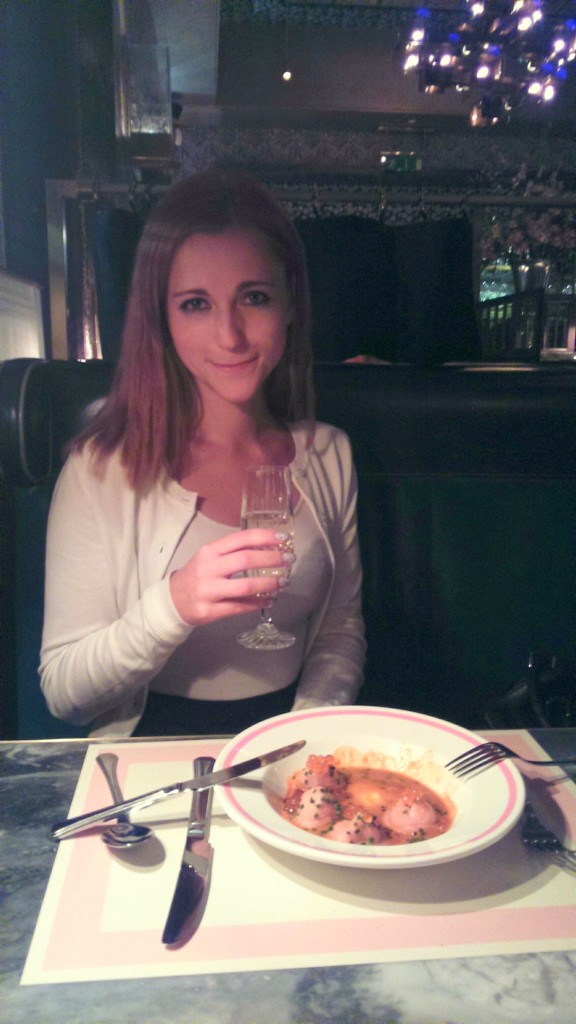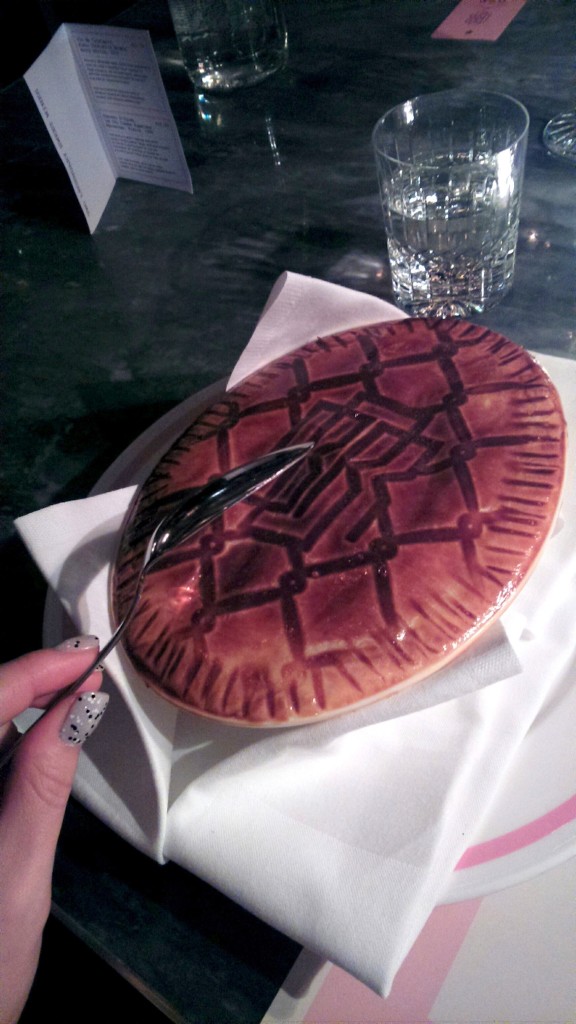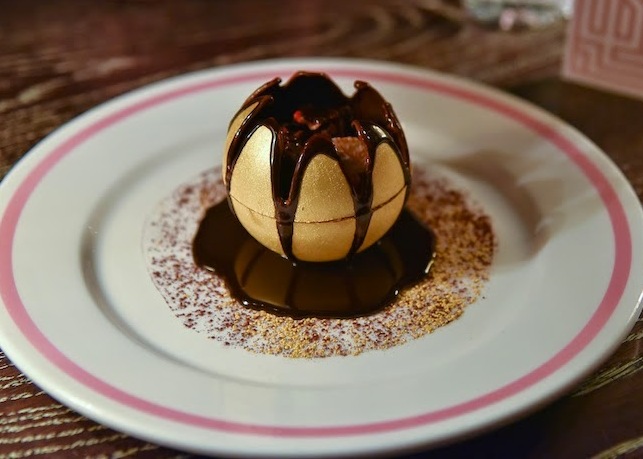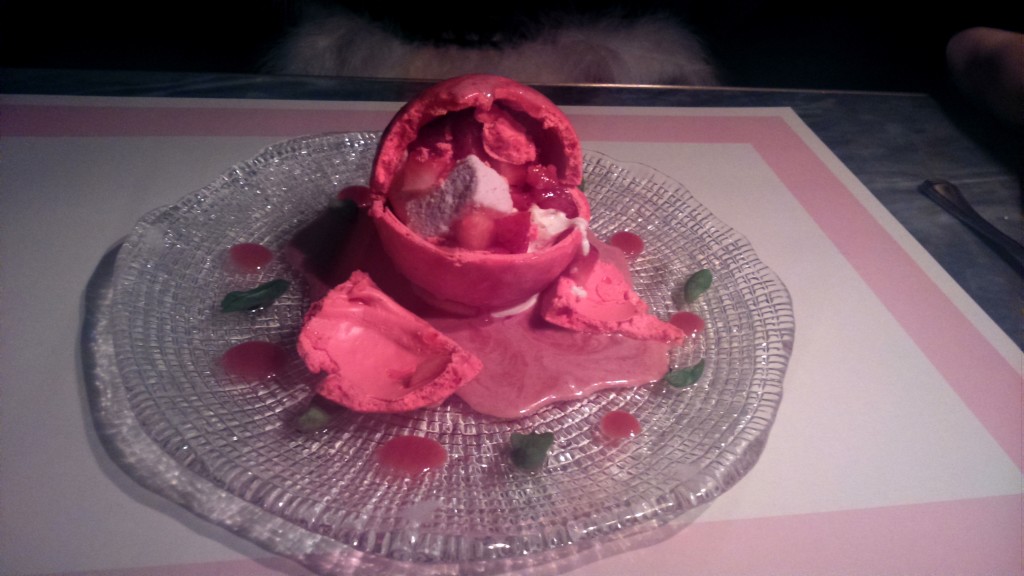 ---
3. Oblix
Price range: $$$
Best feature: The view.
Oblix is one of the restaurants at the top of the Shard so people mostly visit it for the view. It's an ideal place for a date as the view is simply amazing! Also, I don't think I've been to another place that serves such big bottles of champagne. The food is nice, but if you're a vegetarian I'd recommend you pick another place for a date as the menu almost doesn't serve anything vegetarian and you need to pass through a corridor decorated with fresh meat at the entrance.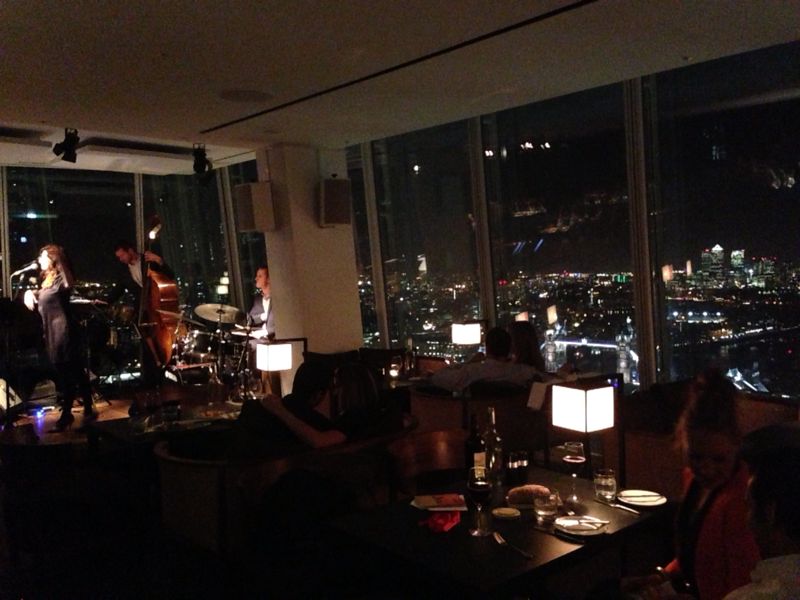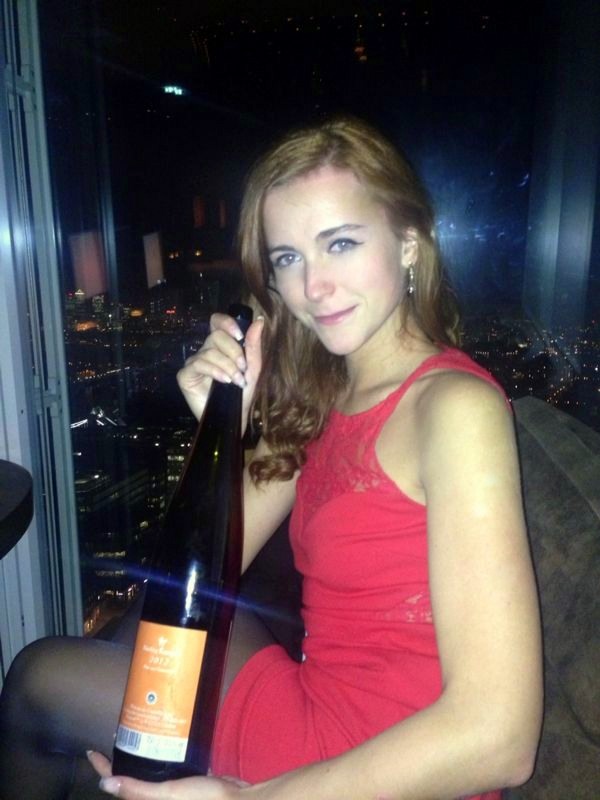 ---
4. Sushi Samba
Price range: $$$$
Best feature: Flower cocktails.
Despite Sushi Samba being a chain, the one in London doesn't disappoint. From the moment you step onto the transparent elevator that takes you all the way to the top of the Heron Towers, the experience is amazing. The view from Heron Towers is a bit different from the one at the top of the Shard and that's why it's interesting to see both. While you're there, why not add some sushi with Peruvian accents and cocktails to this experience? Try the rose cocktail as it's just mindblowing!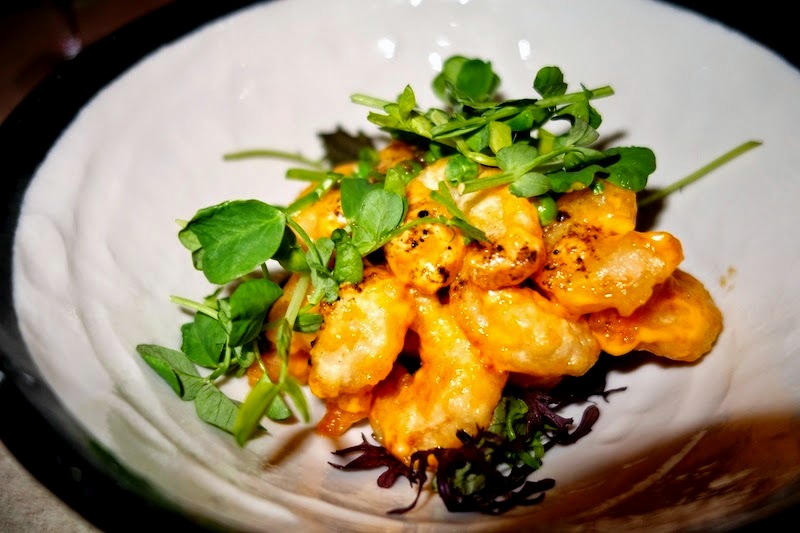 ---
5. Circus Restaurant
Price range: $$$
Best feature: Circus performance on your table.
As an aerial acrobat I feel the need to mention the Circus Restaurant where you can watch a simple circus performance happening right above your table. Don't expect Cirque du Soleil, but it's still cool to see some acrobatic feats while you're eating. The food at Circus is great, but not cheap and punctuality regarding your reservation is absolutely necessary.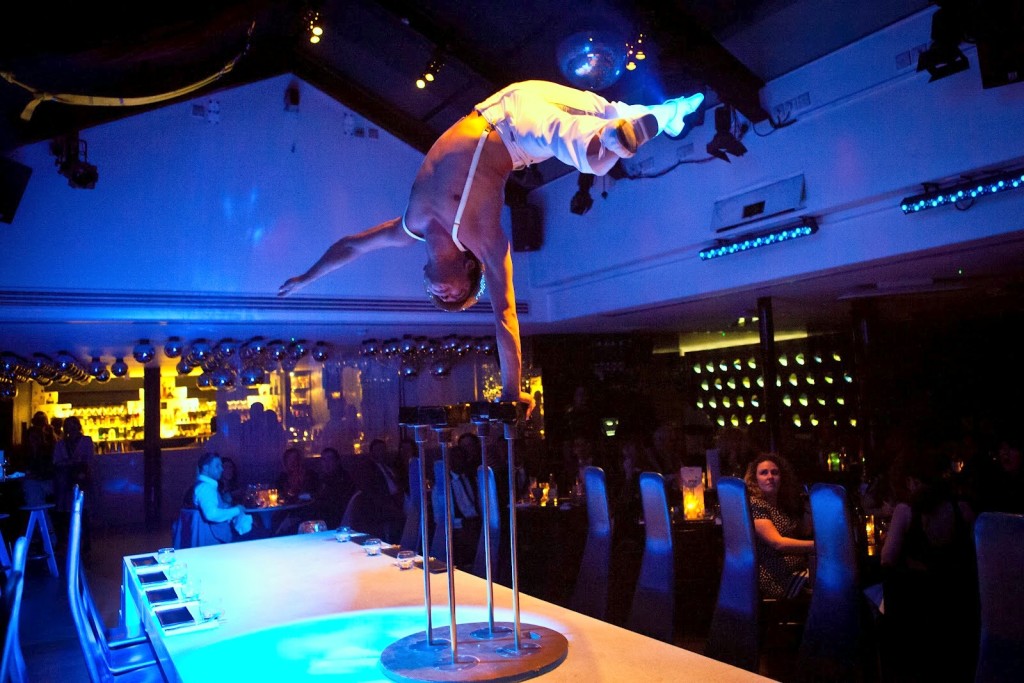 ---
6. Hakkasan
Price range: $$$$$
Best feature: Food being cooked on your table.
If you like Michelin star dining I probably don't need to introduce you to Hakkasan. This Cantonese restaurant earned their Michelin star quite a while ago and they improve their dishes every year. Their absolute specialty is the duck salad prepared by a chef directly at your table, but if it's your first time get a tasting menu!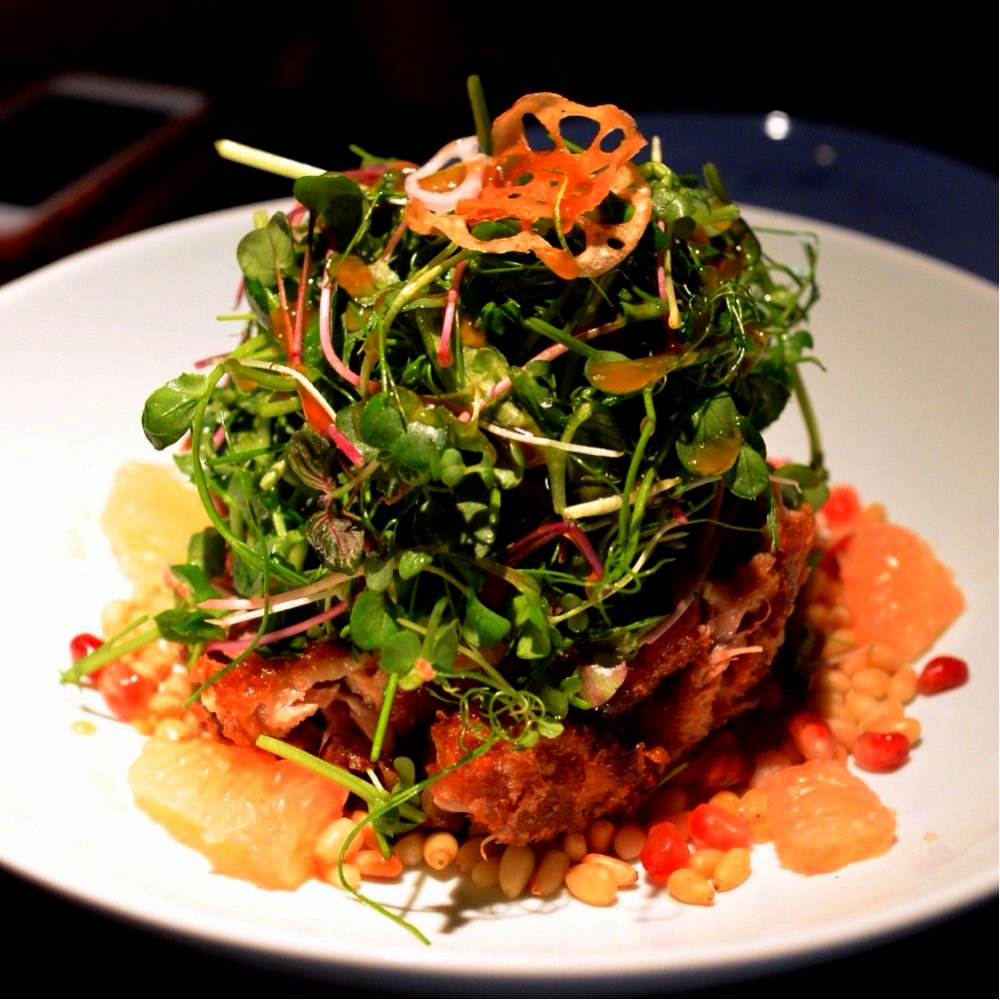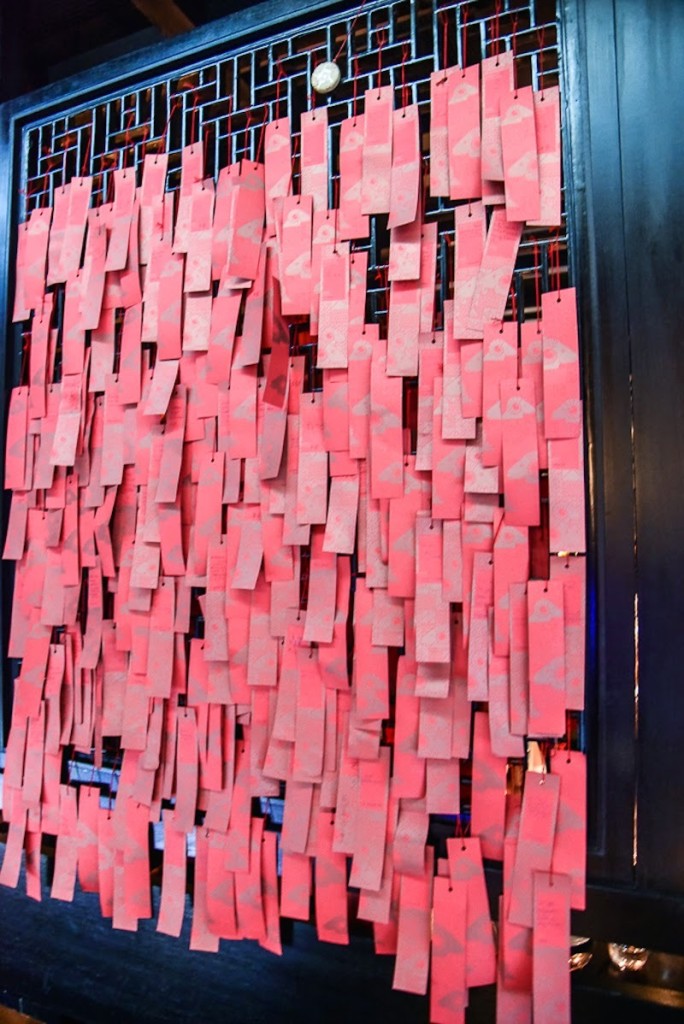 ---
7. Babylon at Kensington Roofgardens
Price range: $$$$
Best feature: Flamingos.
This venue can be a restaurant, lounge, or nightclub and no matter what do you feel like it cannot disappoint. Decorated in a Near Eastern style with a huge outdoor patio, Babylon is stunning. The restaurant located high up on the 7th floor also has breathtaking views over London's skyline and The Roof Gardens. Babylon serves posh British dishes, so don't expect anything new – just served in an exquisite atmosphere! In the summer (don't get fooled, it's only in the summer!) you can also hang out with some flamingos in the rooftop garden!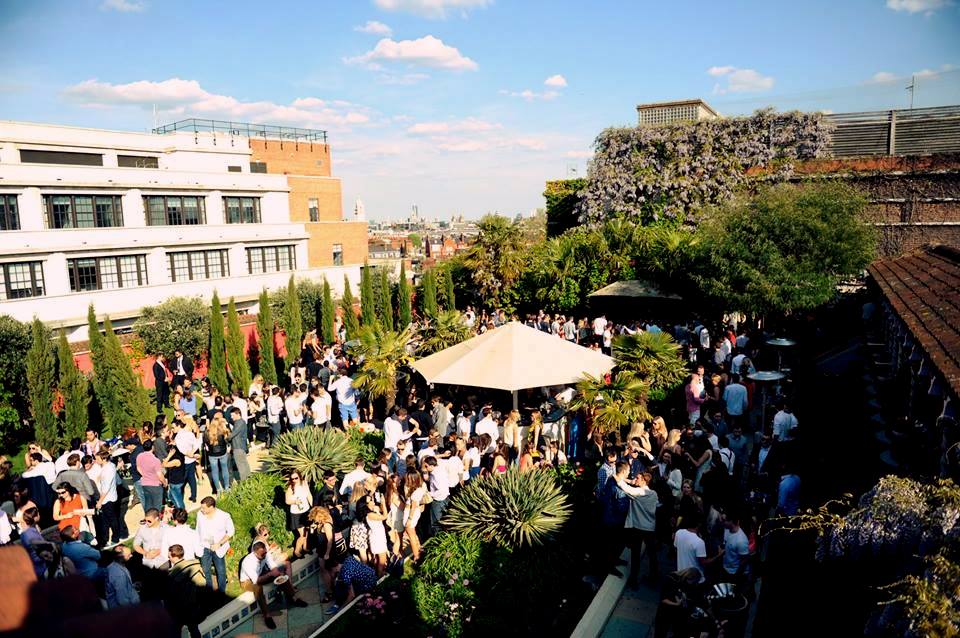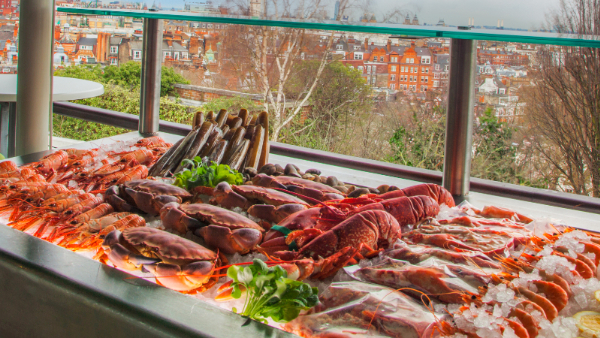 ---
8. Bombay Brasserie
Price range: $$
Best feature: Indian red wine.
Another unique place in Kensington is Bombay Brasserie. There are tons of Indian restaurants in London, but Bombay Brasserie is one of a kind and one of the few that actually gives you gourmet Indian food made on the spot.
You can discuss your dish with the chef and he can make you anything you want. I had a fish masala combined with an Indian red wine (yes, I was surprised too!). It was marvelous!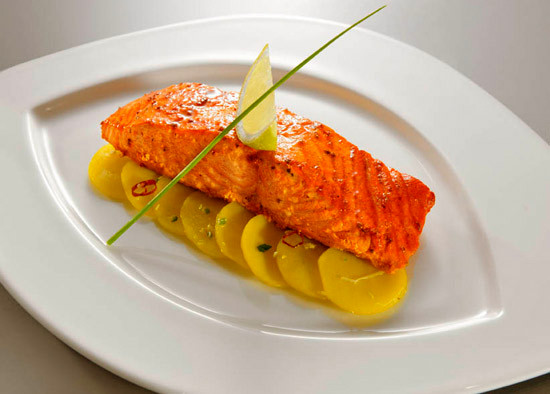 ---
9. Roka
Price range: $$$$
Best feature: Food presentation.
I had a chance to try Roka for the first time at the Taste of London food festival. Obviously at the food festival sample portions are smaller and made faster, but no matter what, the line to Roka was the longest and everyone was talking about it. I just had to try it!
I wasn't disappointed despite the fact that the place might be a bit overpriced and extremely trendy so don't be surprised if Cameron Diaz is going to dine next to you. You just have to try Roka as their food presentation is beyond words! They have lots of seafood dishes with my favorite being the lobster-edamame dumplings!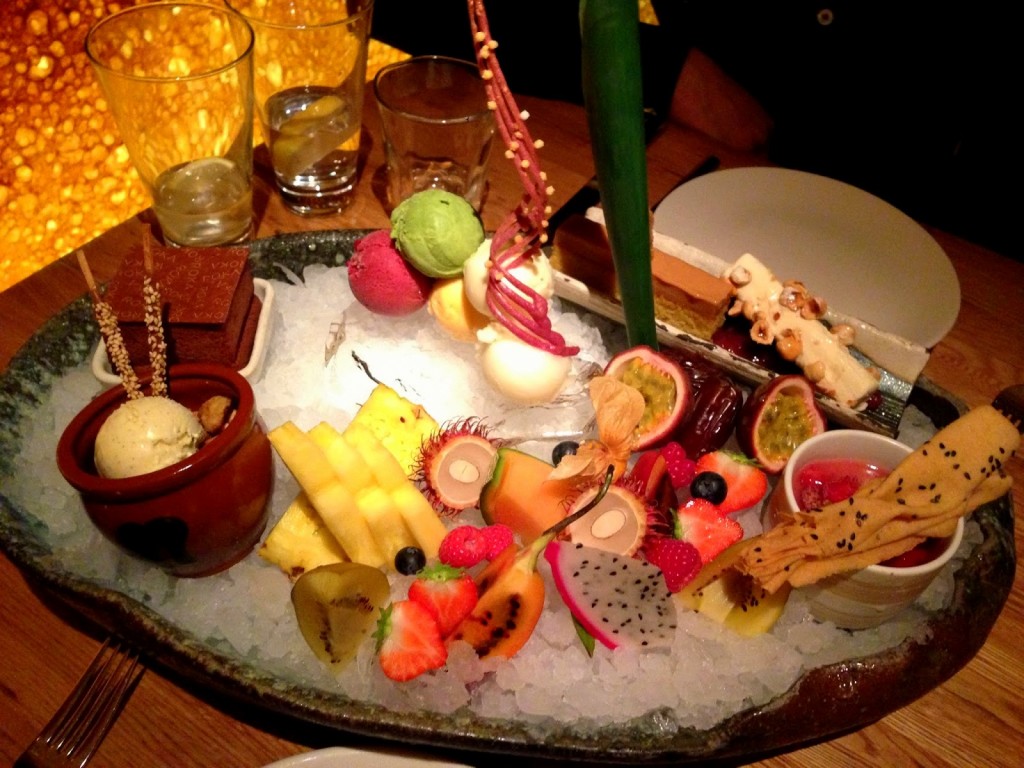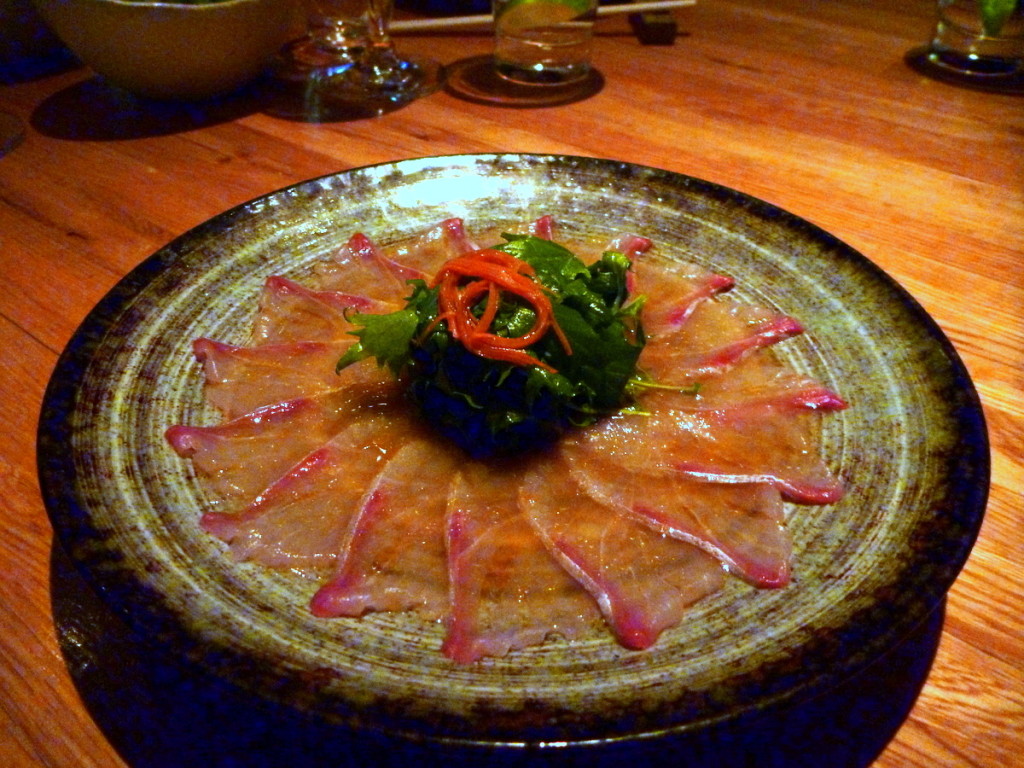 ---
10. Dans le Noir
Price range:
Best feature: Eat in the dark!.
If you already discovered all my favorite places why don't you try to surprise yourself by eating in the dark? I had a pleasure to review Dans le Noir a while ago and I'd definitely come back again. Incredible food but more importantly, an eye-opening experience!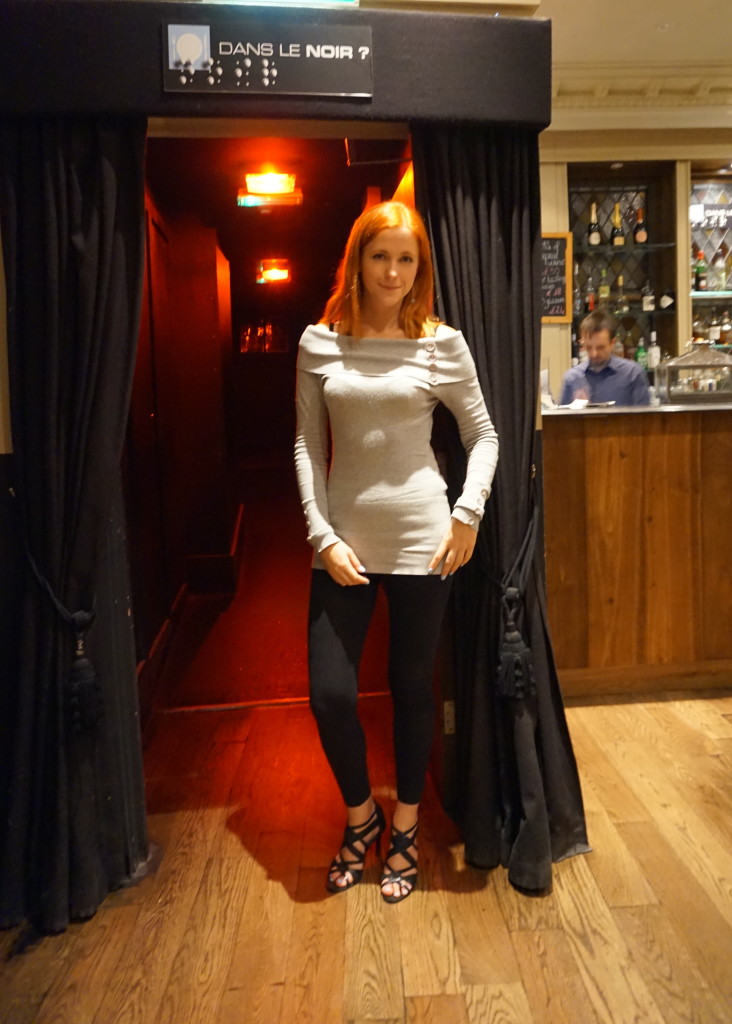 ---
11. La Bodega Negra
Price range: $$
Best feature: Decor.
Accessed via a sex shop, this already promises to be interesting place to eat. The menu is truly surprising and the venue itself is like a cool dungeon.
---
12. Archipelago
Price range: $$
Best feature: Exotic menu.
Archipelago is a kidn of restaurant that you cannot visit just once. The venue offer strange foods such as scorpions, crocodile kebabs and even bugs. The menu keeps changing depending on the season, so you won't get bored. However, you have to be slightly adventurous to visit this place.
---
13. restaurant at the Pullman London St Pancras Hotel 
Price range: $$
Best feature: Personal touch.
It might seem quite strange to you that a hotel made a list of my top 10 places to eat. When I was invited to participate in a Accorhotels cocktail making class at their restaurant I wasn't expecting much of it, especially as a former cocktail bartender.
I must admit that the cocktail we've made were amazing and as a result I won a dinner voucher to the hotel restaurant. The dinner was simply amazing! My friend and I really enjoyed our delicious food and I'm looking forward to revisiting this restaurant in the future. If you're around King's Cross Station and looking for a posh place to eat consider Pullman Hotel a good spot!