Add to Flipboard Magazine.
This past year has been one of the craziest years of my entire life. It involved a lot of moving around the world, traveling even more than ever, defining friendships, building up my first own business and the most important learning a lot about myself. In 2015 I was constantly being called insane by people who knew me, or rather thought they've known me, as rarely anyone actually had an idea what was happening in my life.
I also didn't necessarily wanted to share all my ups and down with the entire world. The truth is that only my very close friends had a slight idea of what was really happening and why my life could have looked so chaotic.
All the past events eventually led to me almost completely quitting blogging. In fact, I actually stopped writing for an extensive amount of time as I couldn't find any inspiration. It took me a long time and a travel blogging conference to thankfully regaining my confidence in Anna Everywhere and deciding to carry on.
What really happened in 2015? [*Be aware this article is VERY long!]
2015 was meant to be new, exciting and full of great memories, however it ended up as one of the messiest years of my life. I haven't written an article as honest as this one since my post on chronic diseases and I wasn't sure if I even wanted to share this story with the world. However, I'm happy to introduce my readers and friends to the new honest tone of my website, but I have to say that I'm extremely nervous about the reception of this post.
In January I moved to California…
On January 1st 2015, after recovering from Xmas dengue fever, I flew to New York City for a few days before embarking on my next flight to San Diego, California. I was excited, as me and my fiancee (yes, I was engaged) were making a move from the Netherlands to sunny California, right after finishing our pre-honeymoon in South-East Asia at the end of 2014.
As fairy tale as it might sound to you it was far off from being a beautiful romantic story. The amount of legal documents, money and stress needed in order to get married in the US as a non-US citizen is unbelievable, to the extend that one can easily forget about love in order to focus on actually getting things done.
I used to live in California before in 2009, but this time was slightly different. Incapable to work for months due to various immigration rules I had to spend my days alone at home. Without a car in California I was practically unable to do anything on my own and moreover we neither had the money to do much nor had any friends in the area. Basically, life wasn't easy.
That was the time when my blog came in handy. When I started Anna Everywhere in March 2014 I had no will or plans to ever make it my full-time job, in fact I released the website thinking it could help my career in the future if I'm going to be recognizable. Fortunately or not, pushed by the circumstances I had no other choice but to work online and make my blog my job. When my story on Boracay went super viral in January it opened a lot of doors for me to work on various freelance gigs and I made it happen – I started to live off my blog.
While bored out of my mind in San Diego I set up a few side trips to have something to do. I revisited Los Angeles after many years and this time I actually fell in love with the city. I went to Las Vegas, also on my own, as my fiancee said he has no interest in going on a fully sponsored (!) trip to any of these places. His loss. I still enjoyed my trip regardless, however that was the time when several friends of mine began to send me messages assuming I suddenly inherited a huge amount of money and live like a spoiled girl staying in luxury hotels and flying helicopters over Sin City. I guess that's all people saw throughout my social media channels and didn't bother to look and see what I was actually doing.
At the beginning on March we made a decision of not getting married as planned. We neither had the money for a proper wedding, nor weren't we ready for it. Unfortunately, intercontinental unions often require either getting married quickly or staying in a long-distance relationship and often neither of these options look realistic. Looking back, I think the situation became way too overwhelming and I didn't want to just sign papers in order to stay together. My friends didn't understand my actions and I can't blame them for it, as I probably wouldn't get my situation either unless I was in it myself. At the end of March I returned to London and my fiancee was meant to join me right after I found a job to be able to sponsor him.
I returned to London at the end of March…
I was sad to leave California, but using the opportunity of IcelandAir free layover on the way to London I stayed in Iceland for a few days. I had a blast and genuinely enjoyed my trip. As I didn't share any details of my life with my readers my blogging audience was able to see my pretty photos from Iceland from a girl who's in a joyful relationship. How far away from reality, right?
Being back in London made me realize that getting a proper job as a travel blogger might not be as easy as I thought it would be. Despite gaining an enormous amount of skills related to online marketing, social media management and website developing there was one big problem with my CV. Potential employees were genuinely impressed by me, however first interview questions were: 'How long are you planning on staying in the company? Aren't you going to take off and travel again soon?' Little did they know that I actually wanted to stay in Europe in order to sponsor my partner, but I guess the majority of people were too afraid to hire me.
Forced to freelance and therefore having a flexible schedule, allowed me to start an intense aerial acrobatics training and return to practicing ballet. I used to be a dancer when I was a kid, but I was forced to quit it all in order to pursue my dream of studying and living abroad.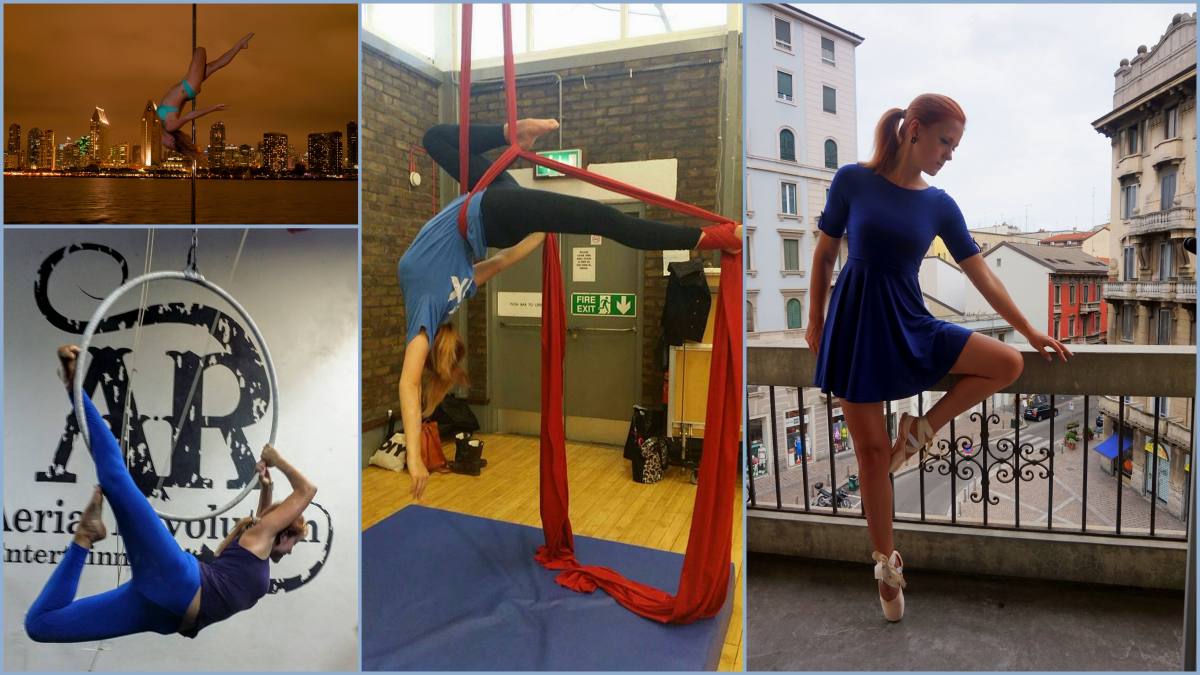 When I was went to Africa in May things just couldn't get more wrong, but again, noone had the slightest idea of what was actually going on in my life. My amazing plan of visiting 3 countries in Africa fell into pieces when I reached the northern Zanzibar and my fiancee broke up with me as he couldn't handle the distance and had no desire to move back to Europe afterall. Adding the fact that my computer containing all my files and photos broke down completely I was a complete mess and all I wanted was to go home, although as I thought my home was California I had no idea what should I even call 'home'. I somehow managed to schedule a bunch of photos for my facebook page, so nobody even realized anything. Moreover, as my trip was fully sponsored I had to smile to hotel owners, look beautiful in all my photos and cry alone in my hotel room.
It was the first time when I canceled my projects in Uganda, bought another flight and returned to Europe sooner than expected realizing that professional travel blogging isn't always bed and roses. It requires a lot of fake smile and plenty of strength.
As incredible my trip may sound you can trust me that I ended up having a complete breakdown at the airport in Addis Ababa that ended up probably the worst bottle of wine in my life, before staying in a hotel with no electricity or water in Kampala and got almost refused an entry to the UK due to my crazy travel record and inability to prove what am I actually doing because of my disfunctioned laptop.
I went back in California…
When I came back to California in June to sort out my own visa I ended up reconnecting with my fiancee. We spent a fantastic month together thinking that things could be like this forever. Without a pressure of getting married again so quickly I thought I can just come back to California, live my own life and happily date my boy. Disgracefully, upon my return to Europe it turned out that our marvelous idea of me coming back to the US on my own wasn't going to work afterall. We made a choice to pursue the plan of getting married with a proper wedding in Las Vegas.
I almost forgot to mention that while in California I was finally fulfill my dreams of becoming a My childhood dream came true when I visited the home of the Oscars – Dolby Theater, but I was also interviewed on travel writing by Jimmy Kimmel and met a decent amount of celebrities at various movie premieres and TV shows I was invited to. It seemed to be that everything finally fell into place in both professional and private life.
I decided to rediscover Europe again…
Before moving back to California I decided to rediscover Europe again. I left London in order to stay in my original hometown – Warsaw for a month to get to know it a bit better. It might sound strange to some people, but I had no idea how does life in Poland actually looked like as I left Warsaw as a teenager. My childhood friends kind of don't even think of me as a real Polish person and when I visit I'm often told that I act like a foreigner, what's probably the truth.
In a post-communist country such as Poland things changed drastically over the last couple of years. I still remember the times when we didn't have any imported products and fancy bars when nowadays one can find anything in Warsaw and the nightlife is simply amazing, as I happened to experience back in August.
I also went on several work trips: to Cote d'Azur which I absolutely loved, followed by a short visit to Venice, Verona and Budapest. Right before I moved back to the US I also managed to go on a first group press trip to Romania which made ma doubt the whole blogging community. Here's why.
I quit blogging for a while…
As I never actually wanted to be a full-time blogger, combined with a strong disapproval from my ex-fiancee and mixed feelings about my press trip I thought I'm never going back to writing again. I couldn't write a word for weeks, as I felt ashamed of my messy life situation and disgusted by wannabe travelers. I didn't want to belong to this community and represent more than just an empty bunch of articles begging for more traffic.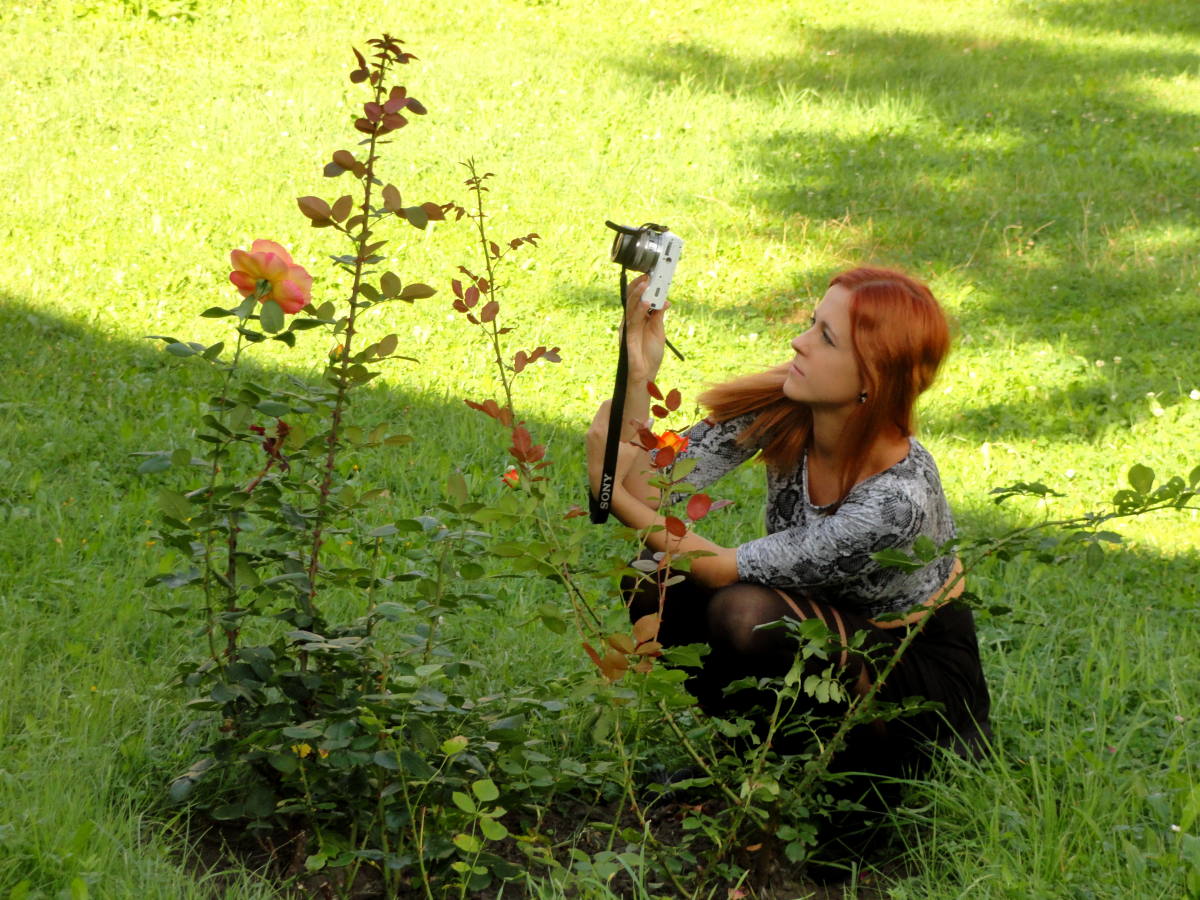 Once again, I returned to California…
Privately, I was often close to canceling my flight to San Diego as my ex-fiancee kept backing off our wedding plans. My friends weren't supportive of my decision to try to get married again and it even began to be a running joke among my closest friends that I should marry the guy before he runs away again. The truth is that I wanted to be able to say to myself that I did everything I could to make things work between us. What I haven't realized quickly enough was the fact that I was the only one actually trying to make things work as I made friends, found myself an amazing aerial studio and made my blog a job while it nothing happen on his end. It's not my point to trash him as he's not a bad person per se, but looking back I probably should have seen that my relationship was destined to failure this time as he wasn't supportive of my work, my hobbies and therefore simply of who I was. We were simply mismatched.
I moved out of the apartment countless times and in the end never actually unpacked my things and sent back some furniture we ordered for the house. Thanks to my blog I met a girl who was able to host me in Los Angeles during my time of crisis and thanks to her and endless support from my other friends I was able to make my speaking debut at the travel conference in Orlando where I met genuine bloggers and had a fantastic time.
I attended and spoke at travel conferences…
While my relationship was basically over as without trust I wasn't able to go through the wedding arrangements, I canceled everything a week in advance. Months of choosing the best wedding dress, arranging documents and trying to build a new home fell into pieces. Moreover, my health was very bad as my skin looked horrible and I somehow managed to get another pneumonia.
Again, looking at my facebook page at the time one could say that I was this crazy girl traveling throughout Florida and California living the dream…
This is when I attended my first TBEX conference in Fort Lauderdale which rescued Anna Everywhere. I met an amazing bunch of people from the industry that weren't ashamed of blogging, understood me to pieces and more important genuinely enjoyed my blog and encouraged me to continue working on it. TBEX might be a week of constant party which in fact is a great networking opportunity, so I couldn't be more grateful that I attended this conference. Words can't describe how I felt when a random lady came to me asking me if I'm really 'Anna Everywhere' and told me that she encourages her daughter to be like me whilst another guy told me that I've been his inspiration. I knew that I had to continue doing what I'm doing if not for myself then to show others that they can get out of their countries and become who they want to become.
Right after TBEX I left to Mexico for the most unplanned trip in my entire life as I was booking my flights a few hours before departure or even at the airport. I traveled all over the country, revisiting my old home – Mexico City, exploring Chiapas where my bus got kidnapped (that's a story for another occasion) and spending an extensive time in Playa del Carmen with friends.  I'm currently writing this post from London where I spent the last month of this year with a short break for a trip to Finland.
What I've learned this year?
Unfortunately, for many people I became 'this girl in dresses and heels traveling the world' and people started treating me like a mindless pretty doll that doesn't work or do anything meaningful. I think everyone already forgot or never even knew that I actually have a few degrees in the pocket including Harvard University and even published a serious book on legal issues in Mexico.
I also realized that having a life plan isn't always the greatest solution. I thought that I had a plan to get married and live happily ever after, but when it didn't happen I had to come up with a space B, C and D plans… This year has definitely made me stronger and made me understood what I want and where do I go from here.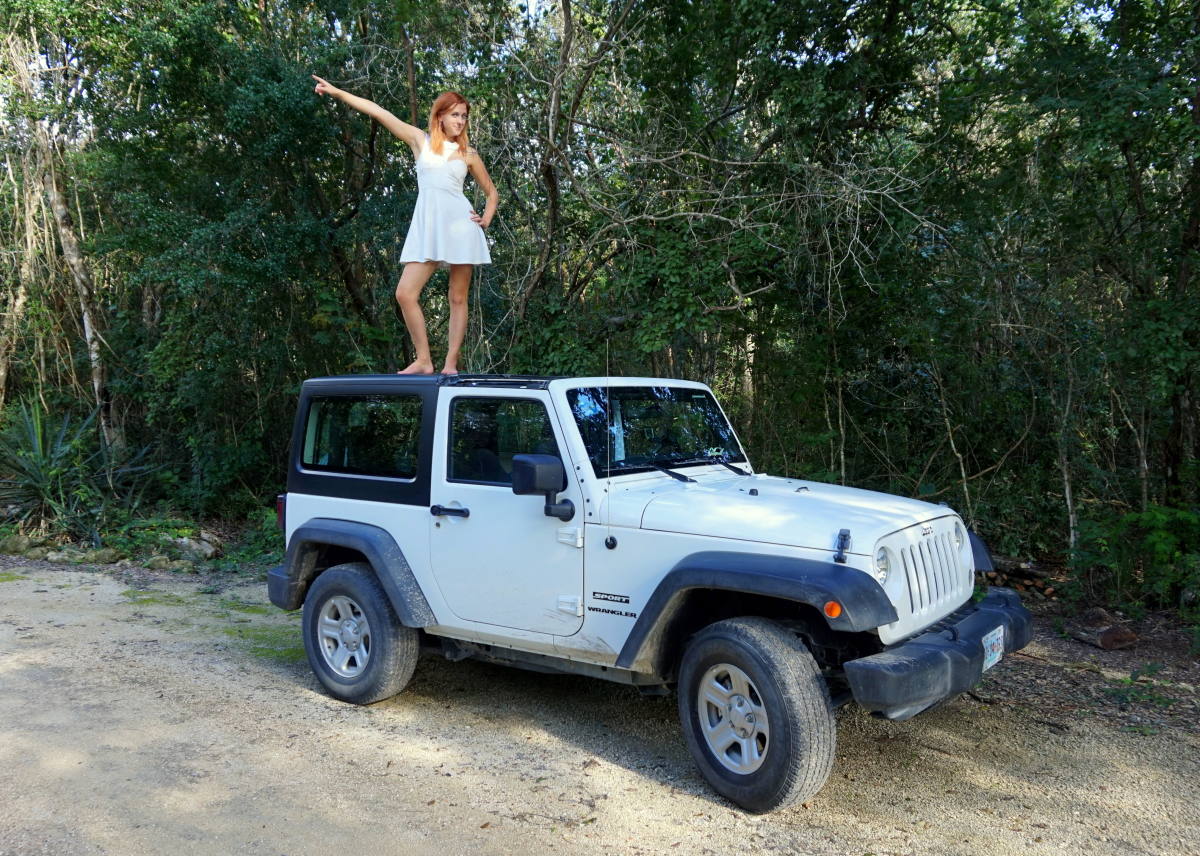 What are my plans for 2016…
On January 1st I'll hop on a plane to Mexico as I decided that Playa del Carmen will be the perfect hub to work as a digital nomad and give my website a little push before I come back to London and get busier with regular daytime job. After a messy year I want to spend more time with friends instead of working on projects abroad most of the year. Therefore stay tuned for my updates from Tacoland soon!
An urge to settle down for a little bit in 2016 doesn't mean that I'll stop traveling. Actually, I have a few crazy trip ideas, but I'm not going to reveal them just yet. All I can say for now is that I want to visit less explored places focusing on a deeper issue than just tourism. After all I'm a historian, journalist and human rights lawyer in case you didn't know that. I might not be the next Martha Gellhorn (who is my personal idol), but I want to show my audience more than just pretty fashion photos.
That's all for now and I hope you guys didn't fall asleep when reading this post…
---